What you will do
What does FODMAP mean? The term FODMAP is an acronym, derived from "Fermentable Oligo-, Di-, Mono-saccharides and Polyols. FODMAPs are a collection of short-chain carbohydrates (sugars) that aren't absorbed properly in the gut, which can trigger symptoms in people with IBS. FODMAPs are found naturally in many foods and food additives. By following a low FODMAP diet, it will help to improve digestive symptoms. Certain foods such as some fruits, vegetables (onion and garlic), a few proteins, breads, sugar & refined foods will trigger attacks. The aim of the low FODMAP diet is to eliminate such foods and to heal your gut and to reintroduce certain foods back into your diet over a controlled period of time. It is recommended that the Low FODMAP Diet is only followed for 2-6 weeks. It is advisable to see a Nutritionist or Dietician to monitor your progress. Foods (and how much of them) can be gradually added back to your diet. Diets should be tailored for each individual's needs. After the initial restrictive diet, many people are able to return to their usual eating habits, with just a few high FODMAP foods that need to be avoided in large amounts. Ideally low FODMAP foods are some vegetables, fruits, almond milk, eggs, dark chocolate and grains such as quinoa.
Our evening medicinal cookery class is an introduction to nutritional cooking which incorporates the low FODMAP diet into exciting and tasty recipes in a simplistic way, providing advice on low and high FODMAP foods. Adopting healthy lifestyle changes can make a real difference to how you feel.
You will learn to cook a wide range of simple, healthy dishes using fresh and easily available ingredients You will discover the medicinal benefits of selected herbs and spices with an explanation of the importance of certain nutrient groups which will supply your body while following a low FODMAP diet.
Sample recipes will include:
Almond milk, strawberries, cucumber, walnuts & pumpkin seeds smoothie

Roasted miso glazed aubergine

Baked salmon steak with zesty oat & dill topping + greens with tahini dressing

Chocolate courgette brownies
Our hands-on cookery classes at Kitchen Joy's Kitchen in Chiswick include the ingredients, food preparation and cooking equipment, and drinks. You will prepare and cook dishes around the Kitchen Joy island and can enjoy eating your dishes together with the group on the long dining table. There will also be some left over foods for you to take home to share with your loved ones.
Obby Guarantee
We ensure quality. If your class doesn't reach your expectations, we'll give your money back.
Class location
Chiswick
26 Brackley Road
Chiswick
W4 2HN
London
Gallery (7)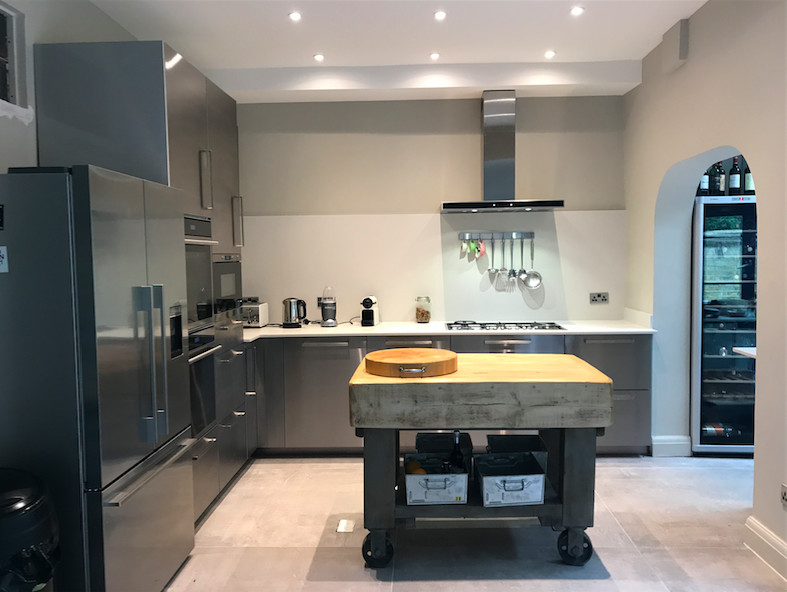 About your host, KitchenJoy
Joy started out her career in Corporate I.T Banking Technology but when her young daughter became ill and the medics could not diagnose the cause, Joy turned to alternative medicine to find a cure. She enrolled at Westminster University to study Natural Medicine and with the help of a Naturopath, they found out her daughter was allergic to Aspartame which is an artificial sweetener found in many processed foods. Joy and her daughter changed their lifestyles completely, and enjoyed plant based foods & organically sourced poultry, fish & grass fed beef. After extensive travel to far flung countries, Joy encountered many cuisines and returning back to London, decided to take up a full time career offering Nutritional & Medicinal based cookery classes, founded on her travel experiences, and past Medicine course.
Joy then embarked on an 18 month journey enrolling at Institute of Optimal Nutritional College (ION) in Richmond for one year on Nutritional modules relating to food, health & wellbeing. Whilst studying at ION, the construction of the cookery school, an extension at Joy's house in Chiswick began. Joy wanted to make the space personal, yet professional, practical and chic. October 2017 - KitchenJoy was launched with a number of exciting nutritional classes offered and the passion of Joy's culinary skills and personality, make KitchenJoy an event to remember!
Flexible cancellation policy
Any class can be cancelled and fully refunded within 24 hours of purchase. See cancellation policy.