What you will do
Using an axe, an adze and gouges, make your own carved wooden bowl from a tree grown in Hackney. This is our most intensive and physically demanding course. Beginners are welcome but we recommend coming to our other one-day courses, Make a Spatula or Spoon Carving, first. You'll enjoy this course more if you've had a bit of practice beforehand.
In this workshop
Learning how to safely use an axe, an adze and gouges, you will make a hand carved bowl from a log of wood. Using a locally grown tree and hand tools, you'll create a bowl, perfect for as small fruit bowl and for picnic-ing. We'll be working outdoors all day but you'll definitely keep warm.
Now you can
Take home your own bowl to keep or give away
Build on your new green woodwork skills and continue making in wood
Select a class time
Fri 21 Aug 2020, 10:00am - 5:00pm
Sat 22 Aug 2020, 10:00am - 5:00pm
Fri 25 Sep 2020, 10:00am - 5:00pm
Sat 26 Sep 2020, 10:00am - 5:00pm
Fri 30 Oct 2020, 9:30am - 4:30pm
Sat 31 Oct 2020, 9:30am - 4:30pm
None of the dates work for you? Let the host know and you will be notified when new dates are added.
You will only receive an email from us if new dates are added for this class, you will not receive any marketing emails, and that's a promise!
Did you know?
Trees grow from the top, not the bottom. Watch for 100 years and you'll notice the branches only move a few inches up the trunk as the tree grows
Obby Guarantee
We ensure quality. If your class doesn't reach your expectations, we'll give your money back.
Flexitime Class
This is a Flexitime class, which means the teacher can run this class around your schedule.
You need to be a group of 4
I need 21

days

notice
I am available any day
Stoke Newington, N16 0LH
Time & Location
Select a date and location you want and your teacher will get back to you to confirm their availability.
Really enjoyable day learning new skills working with an Adze and using an axe to carve a rustic bowl . Plenty of excellent tuition from Jo.
Reviews
Really enjoyable day learning new skills working with an Adze and using an axe to carve a rustic bowl . Plenty of excellent tuition from Jo.
What a blast, it was so nice. Dave was very patient with us and used different teaching techniques depending on the audience, which was very thoughtful. I can only highly recommend the Bowl Carving Workshop with London Green Wood team. Thank you
A really enjoyable day. The pace felt steady and unhurried, and we got to try a good variety of tools and techniques throughout the course. Abney Park is a lovely location for the course and it's easy to forget that you're in the middle of London as you adze, gouge and chop your way towards an enchantingly rustic wooden bowl!
Great experience - highly recommended
The bowl carving workshop takes place outside in the peaceful surrounds of the cemetery at Stoke Newington. Jo the workshop leader has infinite patience and a great deal of knowledge that she is happy to share. A cup of tea, a chat and a chocolate biscuit whilst taking a break made for a great day.
Wonderful workshop! Skilled teacher giving thorough explications and tips, high quality tools and a step by step approach to reach our goal and carve beautiful bowl! I highly recommend this course to anyone who wants to know how to carve and also how to safely use the different tools. An enjoyable experience!
Another brilliant workshop from London Green Wood. Excellent and patient tuition from Jo, a great atmosphere and very lovely biscuits. Would recommend!
First rate teaching from a first rate teacher. Great day of learning and activity in a superb setting inside Abney Park cemetary in Hackney. Will go back for more.
Jo, the tutor, is amazing - so knowledgeable and patient. The class was just fantastic from start to finish! It was so beautiful to be outside all day and the fire and ever replenishing cups of tea kept us warm when we weren't working hard. I would recommend this to anyone - I had the best day. I couldn't stop smiling and looking at my bowl all evening!
I very much enjoyed the Bowl Carving workshop yesterday. It was wonderful to be working outdoors, in the beautiful surroundings of Abney Park. There were five of us doing the workshop with instructor Jo and volunteer helper Paul and all the work was carried out in a friendly and relaxed atmosphere. The bowl carving workshop gave us an excellent introduction to the use of different tools for working with green wood. Jo was an excellent instructor: she kept an eye on us all and gave instruction without being intrusive, with little bits of help here and there where necessary to ensure we would have a completed item by the end of the day. I will be coming back to London Green Wood for more!
So wonderful to work with natural materials and feel the accomplishment of the making something on the day. We would have loved a much more informative workshop however. More information about different woods, tools and their purpose, how to achieve different results and what to expect while using the tools we have. We know one can ask but it is not the same as experiencing a workshop that is more structured in terms of knowledge. Plus we are introverts and rely on the teacher to lead the class rather than students to know which questions will bring more appropriate results. We have got a bowl but neither of us knows whether we would know which wood to use next, we don't know how to take care of the wood afterwards and what to do in case of trouble shooting. We have only been assured that nothing bad will happen. We don't know where to get tools from and how to acquire them and we don't know what we could use this experience for next. Another bowl would be great, but it would be nice to know there is a follow up or continuation if we enjoyed the workshop and would wish to learn more. It was lovely to have a very laid back approach but we didn't think that would compromise the overall amount of education. Jo and Dave are really nice people. They both seemed really tired towards the end of the day, so we hope they are all well and happy. We wish them the very best of luck in the future with their workshops. xxx
Great day spent carving a bowl. Hard work paid off thanks to excellent teachers.
Hard to believe I was able to turn a log into a bowl in a few hours with no previous experience. Jo guided the group expertly, adapting the demonstrated techniques according to dexterity, physical capability so everyone had a bowl to be proud of at the end. I'd recommend this course. It was a very therapeutic day outside, regardless of the rain.
We had a great day carving fruit bowls. Our efforts may not be works of art, but we feel very proud of what we achieved. Dave was very patient with us and there was a lovely atmosphere. We came away with a much greater appreciation of the skills and strength required in woodworking.
Had a really good time! Was definitely tired at the end of the day but would 100% recommend.
Class location
Stoke Newington
Stoke Newington High Street
N16 0LH
London
Gallery (1)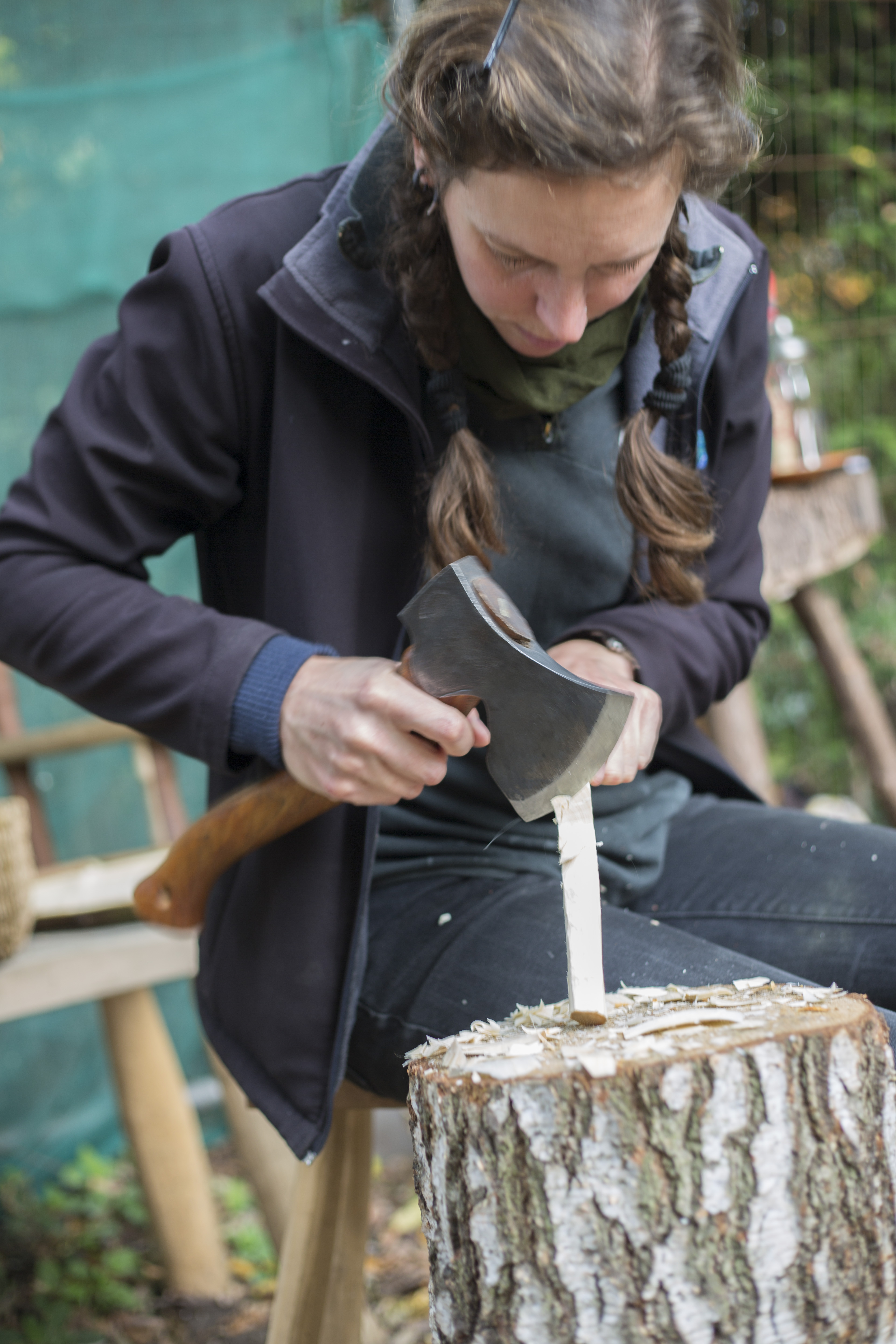 About your host, London Green Wood
London Green Wood is a non-profit community of woodworkers practising rural crafts in the city. Based at Abney Park Cemetery, a small woodland in Hackney, we work with green wood straight from the log and hand tools. All the wood we use has been felled locally.
We have been running events and teaching courses at our woodland workshop since 2011. We promise a beautiful setting, friendly people, the satisfaction of learning new skills and a fire when it gets chilly. We run courses for adults, for groups and for families. We also run a twice weekly 'Wood Club' community workshop and monthly volunteering days to build equipment at the workshop.
Notes
We have no indoor space and will be working outside in all weathers (under a tarp if it rains) so please come prepared. No sandals or bare feet please. Walking boots or work boots if you can, a thick sole will help to keep your feet warm in cold weather. In winter, fingerless gloves can be good, but no full gloves when working with tools. If you use reading glasses please bring them with you, you will need these when we practice tool sharpening. Tea and coffee are provided, snacks to share with the group are always welcome. Although this class has specific dates when it runs, you can also book it for a private group of 4-6 people on a day of your choosing! The cost of this is £80 per head and all you have to do is click [this link](https://obby.co.uk/group-workshops/london), enter the necessary details and then leave us to do our magic and arrange it for you. It couldn't be simpler!
Flexible cancellation policy
Any class can be cancelled and fully refunded within 24 hours of purchase. See cancellation policy.