Classes
This regular class in spoon carving, introduces the art of carving with an axe, a knife and a crook knife. By carving a spoon, which is by nature a functional object and one we are all familiar with, we are free from the pressure of knowing what to carve and instead we can become familiar with the tools of this craft. As you gain confidence with the tools, you begin to build a relationship with small scale carving and understand the subtle and addictive qualities of this new hobby. We will use green wood, freshly cut with a high moisture content. This is a beautiful and easy way to carve wood. You are supported through the whole process and encouraged to explore carving in your own way and at your own pace. This is an exercise in slowing down and settling your attention. All tools and materials are supplied and at the end of the session you will have your first carving started. Creative nature HQ is located within Thames-Side Studios, a 7-acre site of studios and workshops occupied by makers, artists, craftspeople and designers. We are right next to the river Thames, have three cafes in walking distance and plenty of free parking. If I have missed anything out, please drop me a line and ask me a question. Hope to meet you soon.
Select a class time
Fri 26 Jul 2019, 7:00pm - 9:30pm
Sat 10 Aug 2019, 10:00am - 4:00pm
Tue 10 Sep 2019, 7:00pm - 9:30pm
Sat 21 Sep 2019, 10:00am - 4:00pm
Fri 27 Sep 2019, 7:00pm - 9:30pm
None of the dates work for you? Let the host know and you will be notified when new dates are added.
You will only receive an email from us if new dates are added for this class, you will not receive any marketing emails, and that's a promise!
Did you know?
Did you know the word bodger has two definitions? a person who makes or repairs something badly or clumsily In the traditional craft world a bodger is a very specific term. Craftsman known as bodgers were highly skilled workers, originating in the Chilton's in Buckinghamshire. Bodgers were pole lathe turners who worked in temporary workshops out in the woods; producing rungs, stretchers and legs for the local Windsor chair industry based in High Wycombe.
Obby Guarantee
We ensure quality. If your class doesn't reach your expectations, we'll give your money back.
Flexitime Class
This is a Flexitime class, which means the teacher can run this class around your schedule.
You need to be a group of 4
I need 1

day

notice
I am only available on Saturday
Woolwich, SE18 5NR
Time & Location
Select a date and location you want and your teacher will get back to you to confirm their availability.
An amazing experience in a wonderful workshop with expert tuition. A really fun and informative class resulting in a wooden spoon- what more could you ask!?!
Really enjoyed the class - clear and helpful instructions in a very calm environment. The carving itself was very therapeutic.
Reviews
An amazing experience in a wonderful workshop with expert tuition. A really fun and informative class resulting in a wooden spoon- what more could you ask!?!
Really enjoyed the class - clear and helpful instructions in a very calm environment. The carving itself was very therapeutic.
We learnt to fashion a spoon with an axe and carve it with straight and curved knives. A very enjoyable afternoon with a helpful and friendly teacher.
Amazing day, learnt all the basics and laughed a lot with a lovely bunch of people, the time flew by without realising!
Amazing class and teacher, strongly recommended to all age groups
Really enjoyed the spoon carving course. A relaxed and informative afternoon. Stephen is a great teacher: knowledgeable and enthusiastic. Look forward to the next one!
What a delightful afternoon! Learning to use an axe as well as knife exceeded any expectation I may have had about the class. Stephen was knowledgeable, enthusiastic and as helpful as we wanted him to be. I would certainly recommend the class to anyone - I did it with my daughter and her beau and we all three enjoyed it.
Fantastic afternoon spent making a wooden spoon. Stephen was very friendly, welcoming and knowledgeable about the craft. He encourages your own artistic style to develop and guides without imposing his view. His anything and everything is possible attitude is refreshing. Using your hands deepens your appreciation of what's actually involved in the process and at the end of the session, you have a spoon that you have bonded with and that will last forever! The venue is clean warm and is well equipped with everything you need to carve and make a spoon. I can't recommend this course highly enough and I'd love to go back!!
Stephen was a really nice guy and is very knowledgable. The class had quite a meditative spin and made for a pleasant morning! My spoon didn't end up being anything special, I didn't even get to hollowing out the bowl, but I really enjoyed myself and it was great to learn some new skills. The work does get quite tiring, but if you aren't very strong Stephen had other strategies for carving that were a little easier on the arms. Can't recommend this enough if you're looking to try something a little bit different.
Great introductory course to spoon carving. Fantastic workshop with free flowing tea. Stephen was an excellent instructor and very knowledgeable.
Had a great time. Steve is an amazing teacher. All I've done is tell everyone I know about the course and making them sign up for it I learnt new skills and over came a fear of certain tools! Will be going back to do more!
Great workshop and even better teacher!
Class location
East Greenwich
Unit 1- 02
Thames-side Studios
SE18 5NR
London
Gallery (7)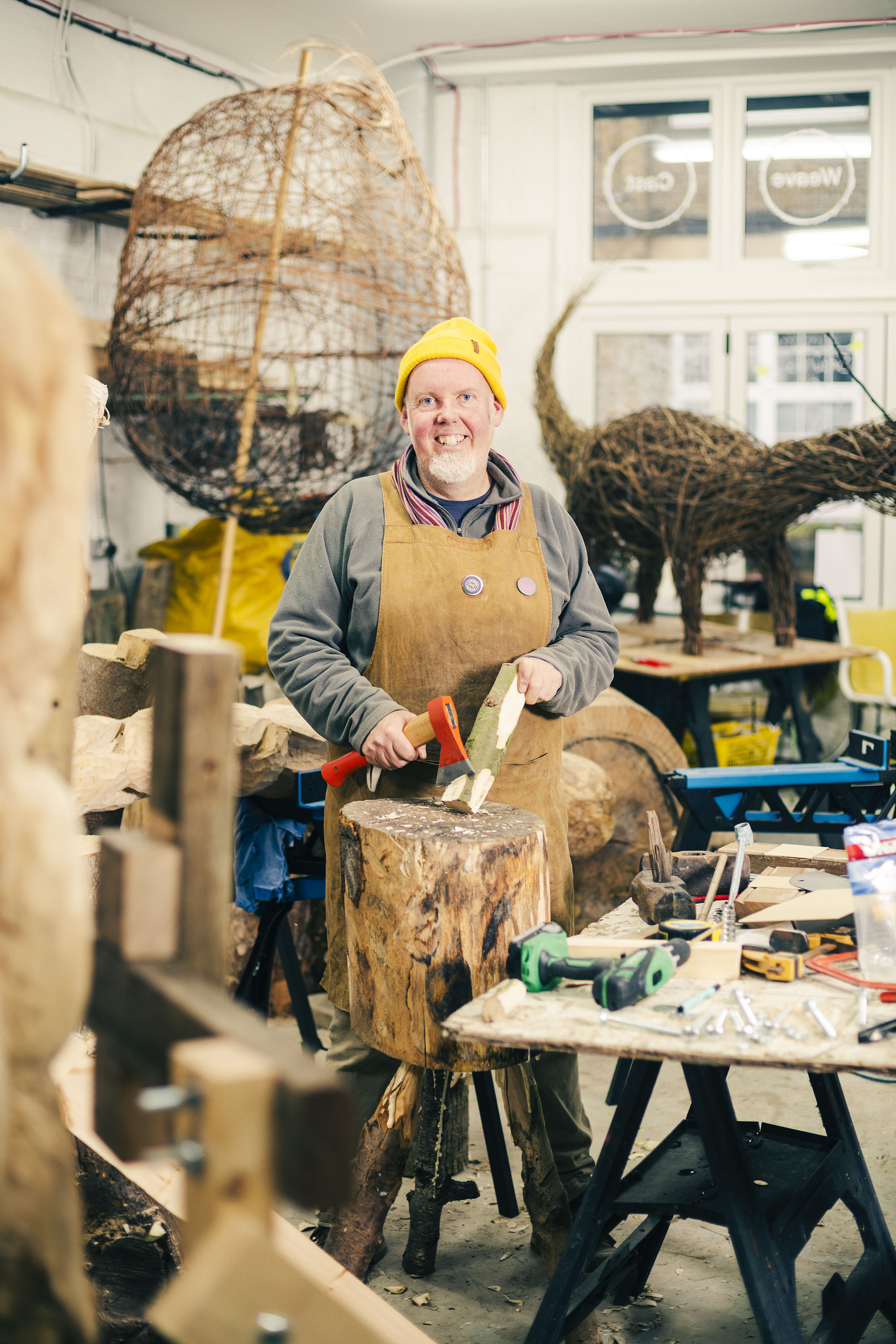 About your host, Creative nature HQ
Creative nature HQ is a collective of artists, makers and designers who believe that we are all inherently creative. It is their job as teachers to nurture and reveal these qualities in every one we teach. Creative nature HQ have defined five disciplines that encompass all the skills of our group: to draw, carve, build, weave and cast.
You can access these workshops in different studios around south London. Their main location is Creative Nature HQ , East Greenwich, that specialises in wood carving, weaving and construction on a monumental scale. We love to teach, to give people the confidence to use tools and with that a confidence grows and a world of making opens up before them.
Stephen Stockbridge is the director of Creative nature HQ, from this tranquil making space Stephen shares his passion for making with natural materials. Slowing down, being in the moment and fully engaged with what you are doing is the foundation of everything that happens here.
Come join the club, learn, live and make! Looking forward to meeting you.
Notes
All the tools and materials you need are included in the price. Tea and biscuits are a big part of the slow crafting movement and here the kettle is always on and the biscuit box is full.
Flexible cancellation policy
Any class can be cancelled and fully refunded within 24 hours of purchase. See cancellation policy.