What you will do
Four session course
Daytime
This is a four day course, taught on consecutive Thursdays/ Fridays, outdoors at our woodland workshop in Abney Park Cemetery, Hackney.
NEW DATES: for the first time we are running this course over 4 back-to-back days for those who want a green woodworking holiday. Thursday 18th June- Sunday 21st June inclusive.
This course is designed to give participants an introduction to green woodworking using unseasoned wood straight from the log and hand tools. Suitable for all including: complete beginners, those who have carpentry experience but are new to green woodwork, and those who have done a little green woodwork and would like to learn more. We will work with locally sourced indigenous hardwoods and make a series of practice projects to give you confidence with basic green woodworking tools and techniques.
The course is also an induction to the London Green Wood workshop at Abney Park Cemetery and participants are invited to continue using the workshop after the course.
Included in the price of the course is your own wood carving knife to use and to keep.
In this class
Through making a series of practice projects, such as spoons and spatulas, you will learn: the principles of green woodwork, safe and confident axe techniques, knife grips from the Swedish tradition of spoon carving, tool sharpening and tool maintenance.
By the end of the course we hope participants will feel confident to continue to make things in wood, either on their own or at our regular cooperative workshop sessions. So this course should be seen as the beginning of a wood affair.
Now you can
Look after and sharpen your own tools
Continue making in wood, either at home or at the London Green Wood workshop
Give handmade presents to your friends and family
Eat with your own handmade kitchenware
Select a class time
Thu 5 Mar 2020, 9:00am - 4:00pm
Thu 12 Mar, 9:00am - 4:00pm
Thu 19 Mar, 9:00am - 4:00pm
Thu 26 Mar, 9:00am - 4:00pm
Fri 24 Apr 2020, 9:00am - 4:00pm
Fri 1 May, 9:00am - 4:00pm
Fri 15 May, 9:00am - 4:00pm
Fri 22 May, 9:00am - 4:00pm
Thu 18 Jun 2020, 9:00am - 4:00pm
Fri 19 Jun, 9:00am - 4:00pm
Sat 20 Jun, 9:00am - 4:00pm
Sun 21 Jun, 9:00am - 4:00pm
Thu 2 Jul 2020, 9:00am - 4:00pm
Thu 9 Jul, 9:00am - 4:00pm
Thu 16 Jul, 9:00am - 4:00pm
Thu 23 Jul, 9:00am - 4:00pm
None of the dates work for you? Let the host know and you will be notified when new dates are added.
You will only receive an email from us if new dates are added for this class, you will not receive any marketing emails, and that's a promise!
Did you know?
It is well known that trees are capable of living for thousands of years. What is less known however is that trees never actually die of old age. Instead, it is usually insects, diseases and people that cause a tree to die
Obby Guarantee
We ensure quality. If your class doesn't reach your expectations, we'll give your money back.
Great place, great community, best tutors!! Thank you!!
Everyone is very lovely. I like them to share them own woodwork experience and have lunch together :) I will go back to learn more from them
Reviews
Great place, great community, best tutors!! Thank you!!
Everyone is very lovely. I like them to share them own woodwork experience and have lunch together :) I will go back to learn more from them
I can't think of a better way to spend my Friday's :) Thanks so much to Jo, and the lovely crew that use the outdoor workshop, for sharing their skills in such a relaxed manner, it's been really nourishing.
This course was brilliant. It is based around learning basic carving skills, but you make lots of stuff as well as a part of that (spoons, butter knives, scoops, spatulas etc). Jo takes you to a level where you can confidently attempt projects of your own in a safe manner, and deals with axe work, hook knife, straight knife, draw knife, and a few other things (gouges, sharpening, aspects of design). I really feel like I've been taught the basic approaches and techniques of a craft in quite a short time, and can now go forward and practice them. Each Friday was the highlight of my week, and I look forward to returning to the workshop as often as I can in future. The atmosphere at the workshop itself is a really potent antidote to living in a big city, and it feels like you're dipping into a wonderful community of people who are keeping a set of skills alive and in use even in London. Highly recommended to those who wish to deepen their knowledge of green woodworking beyond just making a single item.
Great atmosphere!
Day one of a one-day-a-week course done and it was great. Small group, great teacher - I have already acquired a huge amount of knowledge!
Fantastic, inspiring, workshop with great teaching and friendly students. Learned lots of practical skills and I love having breakfast every morning with my hand carved spoon!
Really great course . Jo is a very good teacher - relaxed, but full of instruction. We all got to learn different techniques, and how to use tools and devices which are specific to green woodwork (and not available in any diy store). I would definitely recommend this course.
Really fun classes, I hadn't ever picked up a spoon knife before and this got me slightly addicted!
Absolutely loved the introduction to Green Woodwork workshop. Really practical and hands-on. Very friendly people and Jo is a great teacher
I found this course very well resourced and organised with a relaxed and encouraging atmosphere. The location is second to none for a course of this type in London -it was wonderful to be working under the trees and the weather was kind Jo is a patient and knowledgable teacher providing clear instructions of safe working techniques and there is plenty of opportunity to practice sharpening and the opportunity to work individually and together . Added bonus is that past students also attend on Thursdays to work on their own projects so plenty of opportunity to pick up tips from more experienced students. I hope to be able to join in Thursday community access sessions from time to time.
A brilliant course for people with little or no knowledge of woodworking. By the fourth and final session, we had acquired enough basic skills to cut down a piece of hazel and for each of us to turn a section of it into our own wooden spoon - immensely satisfying!
The introductory course is brilliant. Though it's very relaxed you'll earn how to make a range of different thing and you'll come away with plenty of finished pieces. As well as a great teacher in Jo, you also get the support of a super helpful community of makers that use the space. I'll be going back for sure - I'm currently shopping for tools.
Great course in a brilliant spot. Very welcoming and really informative
Great course. Attentive tuition, friendly people, lovely setting for the workshop. I'll be going back for sure!
A truly excellent course. Having attended several one-day Green Woodwork courses I was keen to do the four-day Introduction. Jo is a wonderful teacher: patient, skilled and encouraging. She tailors the course to individuals and paces things really well. The course introduces you to axing, carving and whittling using straight and curved knives, sharpening tools, and getting into good habits by using tools safely. The atmosphere is always good with a variety of lovely people taking part and other skilled makers working alongside and giving helpful tips, all in the natural outdoor space. Completing the course allows you to become a member of the cooperative and use the facilities thereafter at designated times. Highly recommended. Thanks, Jo!
Thoroughly enjoyable and invigorating; the classes were the highlight of my week. The tutors (Dave and Jo) were knowledgeable and welcoming and I was amazed how quickly we progressed. They taught us how to use different tools and techniques confidently, always with safety foremost. Every day I took home items I had made and could use. Highly recommended for those who want to be outdoors, learn craft skills, be amongst similar co-operatively minded folk and are happy to take advice from all manner of friendly spoon makers who drop in to use the tools and equipment.
Another 5 star course. The Introduction to Green Woodwork course was a great way to learn to work with a range of tools and wood. Informative and relaxed and guided brilliantly by Jo and Dave who provided skilful, nudging towards improving techniques. Over the four days I came away with a number of hand-made items and feeling much more confident with my green wood working. Inspiring. I would wish this course for anyone wanting a little respite from the pace of this city of ours. Thank you.
wonderful space in London. welcoming and friendly. Great introduction to green woodworking . thank you
Class location
Stoke Newington
Stoke Newington High Street
N16 0LH
London
Gallery (16)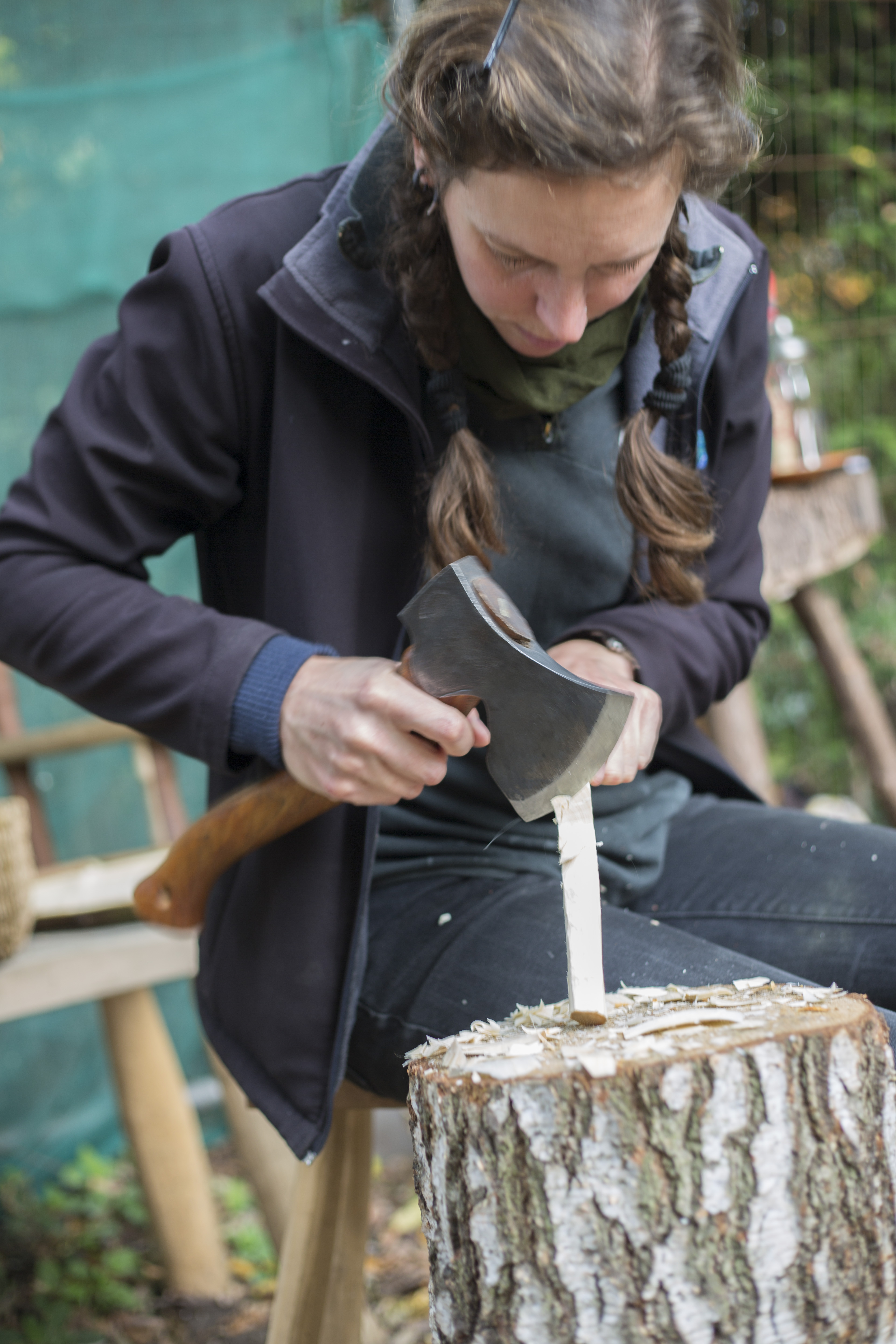 About your host, London Green Wood
London Green Wood is a non-profit community of woodworkers practising rural crafts in the city. Based at Abney Park Cemetery, a small woodland in Hackney, we work with green wood straight from the log and hand tools. All the wood we use has been felled locally.
We have been running events and teaching courses at our woodland workshop since 2011. We promise a beautiful setting, friendly people, the satisfaction of learning new skills and a fire when it gets chilly. We run courses for adults, for groups and for families. We also run a twice weekly 'Wood Club' community workshop and monthly volunteering days to build equipment at the workshop.
Notes
We have no indoor space and will be working outside in all weathers (under a tarp if it rains) so please come prepared. No sandals or bare feet please. Walking boots or work boots if you can, a thick sole will help to keep your feet warm in cold weather. In winter, fingerless gloves can be good, but no full gloves when working with tools. If you use reading glasses please bring them with you, you will need these when we practice tool sharpening. Also long nails will make everything harder. Tea and coffee are provided, snacks to share with the group are always welcome.
Flexible cancellation policy
Any class can be cancelled and fully refunded within 24 hours of purchase. See cancellation policy.