There are hundreds if not thousands of Adult Pottery Classes in London. We take a look at why they are so popular, and also the best places get into pottery in London with Obby.
Beginner Pottery Taster with Freya's Clay Club - £45
In this adult pottery class you will learn the beginning stages of throwing on the wheel. Starting by kneading the clay and preparing it into balls big and small so you can work your way up in scale. You will be shown a couple of demonstration every step of the way so that you get to grips with every once of this masterful process.
Intensive Full Day Pottery Workshop for Beginners - £150
This is a one day introductory pottery class, where you will learn the very basics of throwing on the potter's wheel. This will include weighing and preparing balls of clay before you start, then the basics of the wheel - from centering your clay, pulling, shaping and working with your tools, beginning to learn the techniques of throwing bowls and cylinders.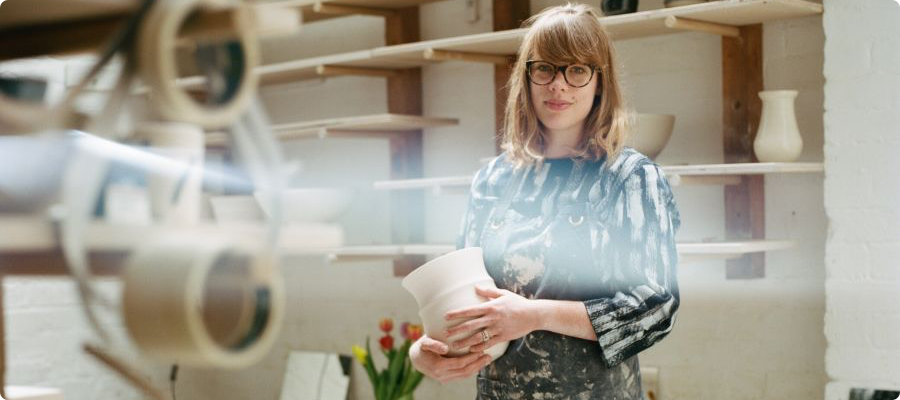 Make Your Own Breakfast Bowl with Odile Cadiot - £45
In this pottery workshop uses coils of clay to build up a shape in sections. Your teacher, Odile, will demonstrate each of the stages and you'll spend the workshop making your own breakfast bowl that can be smoothed, textured or decorated with the pattern of the coils themselves.
At the end of the workshop, you'll choose one of the studio glazes for your bowl. The clay and glazes we use here are strong and durable, so your finished pieces can be used just like everything else in your kitchen and are dishwasher and microwave safe.
Wednesday Evening Pottery Course on the Wheel - 6 Week Evening Course
This six-week mixed ability pottery course will take you through the basics of the pottery throwing. No previous experience of working with clay is required!
You will be guided through clay preparation, from throwing on the pottery wheel, to refining and glazing your works. Beginners will learn clay preparation, throwing and trimming. For experienced learners, we can tailor the workshop to focus on any techniques or shapes you would like to improve on.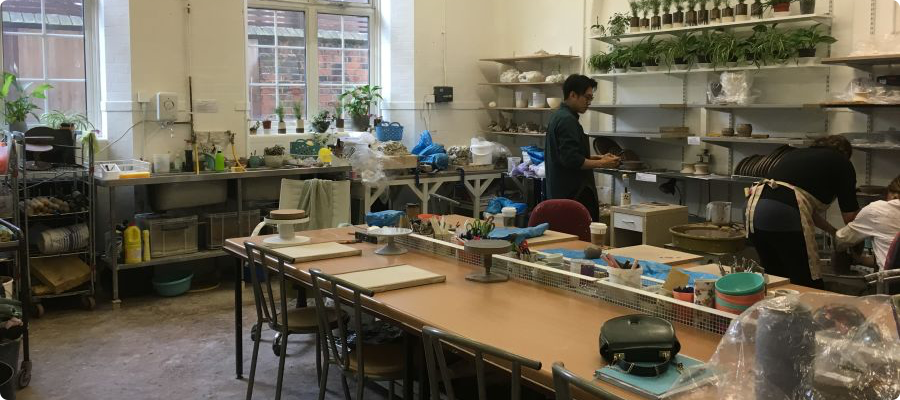 Hand Building Ceramic Workshops - £45
Taught by Camilla Webb Carter from CWC ceramics, this workshop is suitable for complete beginners or those seeking some attention to work through the difficulties of getting started with clay. Camilla will teach you the basics of clay preparation and simple techniques to build yourself a pot or mug with added decorative detail.
Introduction to Ceramics - 5-week evening course
This 5 week adult pottery course will teach the basics of working with clay. Over the 5 sessions, you will learn fundamental hand-building skills including coiling, pinching, press-moulding as well as decorative techniques using coloured slips before learning how to apply glaze to your pieces. You will finish the course with a range of complete pieces to take home with you. All sessions will be taught by Katie, a clay artist, and educator. She has been teaching ceramic workshops for adults and children since graduating from Brighton University in 2010. She has an MA in Ceramics & Glass from the Royal College of Art, where she now also teaches.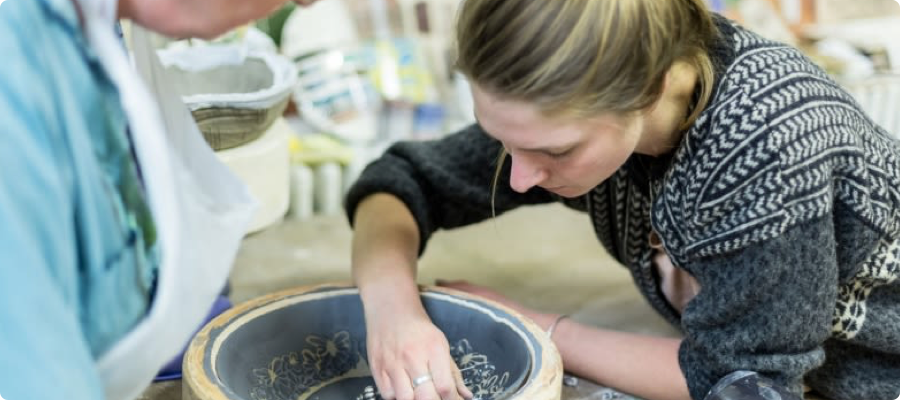 Wheel-Throwing Taster Session for Two
Looking for the perfect pottery class for a date? If you've always wanted to have a go at throwing then this is a good place to start. This session is 2 hours long and is designed for two people so is a great shared experience for two friends or a couple. One of our tutors will teach you how to create a simple cylinder shape that you could use as either cups, flower pots or for serving food.