What you will do
Four session course
Evening
A four week course (two hours per session) for people who want to learn the possibilities of clay. Each two hour evening class will be spent learning varieties of hand building techniques as well as surface decorations and ways to interpret ideas into three dimensional forms.
Week one will be spent learning a variety of techniques - pinch-pots, coil building and slab-building. Learners will then adapt these techniques over the following three weeks to create ceramic work from their own ideas. From pot making to sculpture, learners will be encouraged to use their imagination and interests to make work that can be decorated with, slips, underglazes, oxides and/or glazes.
Classes are for a maximum of five people, ensuring everyone has support in a friendly and fun environment. Prices include all basic materials and firings (which will include an initial bisque firing and a glaze firing). You can purchase additional specialist glazes upon request.
All abilities welcome. *PLEASE NOTE THERE IS A CHRISTMAS BREAK IN BETWEEN DECEMBER CLASSES FROM 20TH DECEMBER TO 5TH JANUARY. CLASSES ADVERTISED AS FOUR CONSECUTIVE WEEKS OVER THIS PERIOD WILL PAUSE ON THE 20TH AND RESUME AS FROM 5TH JANUARY
Select a class time
Mon 20 Apr 2020, 7:00pm - 9:00pm
Mon 27 Apr, 7:00pm - 9:00pm
Mon 4 May, 7:00pm - 9:00pm
Mon 11 May, 7:00pm - 9:00pm
Tue 21 Apr 2020, 7:00pm - 9:00pm
Tue 28 Apr, 7:00pm - 9:00pm
Tue 5 May, 7:00pm - 9:00pm
Tue 12 May, 7:00pm - 9:00pm
Thu 23 Apr 2020, 7:00pm - 9:00pm
Thu 30 Apr, 7:00pm - 9:00pm
Thu 7 May, 7:00pm - 9:00pm
Thu 14 May, 7:00pm - 9:00pm
Mon 18 May 2020, 7:00pm - 9:00pm
Mon 25 May, 7:00pm - 9:00pm
Mon 1 Jun, 7:00pm - 9:00pm
Mon 8 Jun, 7:00pm - 9:00pm
Tue 19 May 2020, 7:00pm - 9:00pm
Tue 26 May, 7:00pm - 9:00pm
Tue 2 Jun, 7:00pm - 9:00pm
Tue 9 Jun, 7:00pm - 9:00pm
Thu 21 May 2020, 7:00pm - 9:00pm
Thu 28 May, 7:00pm - 9:00pm
Thu 4 Jun, 7:00pm - 9:00pm
Thu 11 Jun, 7:00pm - 9:00pm
Wed 3 Jun 2020, 2:00am - 4:00pm
Wed 10 Jun, 2:00am - 4:00pm
Wed 17 Jun, 2:00am - 4:00pm
Wed 24 Jun, 2:00am - 4:00pm
Wed 3 Jun 2020, 7:00pm - 9:00pm
Wed 10 Jun, 7:00pm - 9:00pm
Wed 17 Jun, 7:00pm - 9:00pm
Wed 24 Jun, 7:00pm - 9:00pm
Sat 13 Jun 2020, 12:00pm - 2:00pm
Sat 20 Jun, 12:00pm - 2:00pm
Sat 27 Jun, 12:00pm - 2:00pm
Sat 4 Jul, 12:00pm - 2:00pm
Mon 15 Jun 2020, 7:00pm - 9:00pm
Mon 22 Jun, 7:00pm - 9:00pm
Mon 29 Jun, 7:00pm - 9:00pm
Mon 6 Jul, 7:00pm - 9:00pm
Tue 16 Jun 2020, 7:00pm - 9:00pm
Tue 23 Jun, 7:00pm - 9:00pm
Tue 30 Jun, 7:00pm - 9:00pm
Tue 7 Jul, 7:00pm - 9:00pm
Thu 18 Jun 2020, 7:00pm - 9:00pm
Thu 25 Jun, 7:00pm - 9:00pm
Thu 2 Jul, 7:00pm - 9:00pm
Thu 9 Jul, 7:00pm - 9:00pm
Mon 13 Jul 2020, 7:00pm - 9:00pm
Mon 20 Jul, 7:00pm - 9:00pm
Mon 27 Jul, 7:00pm - 9:00pm
Mon 3 Aug, 7:00pm - 9:00pm
Tue 14 Jul 2020, 7:00pm - 9:00pm
Tue 21 Jul, 7:00pm - 9:00pm
Tue 28 Jul, 7:00pm - 9:00pm
Tue 4 Aug, 7:00pm - 9:00pm
Thu 16 Jul 2020, 7:00pm - 9:00pm
Thu 23 Jul, 7:00pm - 9:00pm
Thu 30 Jul, 7:00pm - 9:00pm
Thu 6 Aug, 7:00pm - 9:00pm
None of the dates work for you? Let the host know and you will be notified when new dates are added.
You will only receive an email from us if new dates are added for this class, you will not receive any marketing emails, and that's a promise!
Obby Guarantee
We ensure quality. If your class doesn't reach your expectations, we'll give your money back.
I had the best time with Martha, she really is a great teacher. I'll definatly be back!
Relaxed and fun class, great way to spend the evening.
Reviews
I had the best time with Martha, she really is a great teacher. I'll definatly be back!
Relaxed and fun class, great way to spend the evening.
What a fabulous course. I had never done ceramics before and Martha explained what to do but encouraged us to explore our own creative ideas. Ut was a small group and a really relaxing way to spend Tuesday evenings - will definitely book again!
Martha was a very good, skilled teacher, who created a relaxed, productive atmosphere. Explanations were clear, help was always available, and even in this very short course, everybody was able to produce interesting and pleasing work. Thanks.
This was my second booking - just a lovely, relaxing and creative way to spend time. Martha is positive and helpful...definitely recommend coming!
I cannot tell you how much I have enjoyed weeknight ceramics classes @ studio1ceramics. It is so fulfilling to have some creative downtime during the week and Martha is so amazing at helping you bring your ideas to life. I am going to join this class again and probably will continue going for the foreseeable future!!!!
Martha's a really helpful and relaxed teacher. She makes you feel at ease even when you're a complete beginner! The atmosphere is very informal and although the space is small, it works well and the group is always friendly. I would thoroughly recommend Martha's classes! Louise Palmer
Martha was awesome and very open to answer questions and give cool ideas for our new proyects! I learn about the glazes and colors, also how to make new shapes.
Really enjoyed this course with the talented Martha
I love this class! I'm going again. It's truly the most enjoyable way to spend a Tuesday evening
Great course. Small groups so it's really cosy and you get time with the teacher. First class is techniques, following 3 classes are to work on your own projects with support if you need. :)
I loved this course. Its a lovely little studio with a great, talented teacher. I will be booking more sessions.
Really enjoyable and satisfying course - perfect if you want to learn the basics and complete your own projects. Less a formal step-by-step course, more about helping you to inspire/realise your own creative ideas.
Enjoyed the course very much. Martha is very relaxed about what you might want to do, assuming it can realistically be achieved. The space is small and 5 is a bit of a squeeze, but all the people I was there with were nice and got on with their own pieces of work. My friend and I made very different things and Martha is good at throwing around ideas so you can get as close as you can to what you want to make. A good 4 evenings, and I probably could have done with one more week!
I have been going to this class for x3 months now and I completely love spending a weekday evening being creative in such a nice environment. We all sit and have a chat with a coffee and be as creative as we want with clay 😍😍😍😍
Great teacher, great course!
Martha's a great tutor and the studio is such a lovely space. Booking onto another course right this minute!!
I initially took a taster session with Martha, and enjoyed it so much I signed up for the evening ceramics course! Martha is an awesome teacher with incredible patience. She provides as much (or as little) guidance as you need, and is willing to work with the ideas you bring. It was a joy to spend evenings learning and creating at studio1ceramics!
Loved my four week course with Martha. She was a great teacher who gave loads of tips and ideas but lots of freedom to try out all our ideas. Would highly recommend
2 weeks into the 4 weeks course and I've already decided to book onto another one. Love it - great guidance with an opportunity to create your own thing.
My second ceramics course with Martha - think I'll be booking a third!! She's a great teacher and the space is so lovely. Would really recommend. Lots of advice on how to make my ideas come to life, and so many glazes etc to choose from!!
I just can't stop making ceramics!!
Thank you, Martha for the two amazing, relaxed courses. Will definitely be attending again in autumn.
Super fun class with Martha - great way to learn various ceramics techniques.
I love these classes! Martha is a great teacher - very calm, experienced and knowledgable. I find the classes very therapeutic and I love the fact it is always a small class (5 ppl max) meaning Martha has a lot of time for each of us. I've been going on and off since January and will continue going for a long time.
Great time with nice people, the workshop was worth every penny, Martha is a very good teacher.Thank you
Have been coming to this class for a few months now. I would truly recommend it to anyone who wants to try their hand at ceramics. Also Martha is just the best teacher 👌🏻
I'm almost embarrassed to leave another review as this is my 3rd course with Martha!! The fact that I've booked a 4-week course 3 times should be testament enough to just how great this is. If you see a space on one of her courses - book it quick!!
Just love coming here. A little haven in Wood Green. You learn as you go along, get help when you ask for it, meet nice people etc. And get more ideas of what to do which makes you wanna come back for another month!
Great atmosphere, great teacher. Hope to go to more classes.
Martha is a wonderful teacher. I thoroughly enjoyed working in her inviting studio and spending the time learning hand-building techniques. The 2 hours just fly by.
This was a great course. Really good value too. Martha is a patient and generous teacher and I think most of our class is coming back to book more classes. The venue was nice with lots of work around to inspire. Definitely signing up again in the future.
This class was so much fun. Martha is great at helping you bring your ideas of what you want to create to life
It's so lovely to spend a weekday evening getting creative after a long week at work. The classes are small and super sociable. Martha will help you create your ideas with clay in this relaxing environment.
Great!
100% recommend this course to anyone!
I have been attending these classes since January and I love them! Martha is such a brilliant teacher with such creative ideas. I find the classes very therapeutic and can't wait to sign up again in December!
It is a really small class, which is nice as you get the help you need. Is really fun class and therapeutic.
I just love Martha's courses. From never having done any ceramics, I've found that I really like it! With Martha's help, this course is really something for all abilities. I can't recommend it highly enough.
These are brilliant classes, perfect for total beginners or anyone with experience. Studio1 is a lovely cosy studio close to Wood Green tube station. Martha goes above and beyond to make everyone welcome and to help them to achieve their ideas. I've learnt so much. I've been to several courses and will definitely be booking again!
Chance to learn something new in a very lovely relaxed atmosphere.
Fantastic class and a fun activity. Martha is a great teacher.
Martha is a fantastic teacher with a lovely sense of humour. I learnt so much in just 4 weeks. The whole experience was an oasis of calm in an otherwise hectic world. I found my bliss.
Martha is a brilliant teacher and helps you develop!
Just so addictive and great for everyone, at any level. Martha is great at helping you progress.
Great class, great teacher
Brilliant class and teacher
Coming to learn pottery here has become my little haven. Love it so much and can see I am improving. Wonderful teacher and it's great meeting lovely people.
Great course in a small group. Marta is very knowledgeable and helpful. Will be coming back!:)
Fab course!
Great super helpful teacher, terrific facilities with a relaxed atmosphere conducive to learning and enjoyment. Would recommend to anyone from complete beginners to folks who are very experienced, Martha's sessions were brilliant for all of us.
Fun, friendly, free to make what you want and fab guidance oh and a hot drink too!
Great teacher and a fun class
Really lovely class, Martha is a great teacher. Enjoyed it thoroughly! Hope to rebook at some point in the future. Thanks Martha!
Martha is super knowledgeable, and the style of the course is good if you want the flexibility to explore and experiment, but with expert guidance on hand.
Great course Martha is a brilliant teacher! Hope to come back again soon
Great teacher and great friendly class
Really enjoyed the classes and learnt a lot in a short space of time. The atmosphere is really lovely and lots of great conversations amongst the small group which made it feel really relaxing for a Thursday evening activity. Martha is a great teacher and being surrounded by her work is inspiring. I will definitely be booking again!
Overall great course; studio is very nice and cosy with a lot of work to be inspired by. Martha is a great teacher, very attentive and explains all the techniques very well...my absolute favorite being building with 'sausages' :P There is very nice atmosphere and the fact that the classes are not big is that everyone get's the opportunity to discuss their own projects and have things explained multiple times if needed. Plus is good to be able to interact with other course takers. I highly recommend this studio; I've taken 8 classes for far and would be coming back for more if i didn't move south.
I always really enjoy going and like you that you can choose what you want to make yourself but still get guidance on how to do it. Martha is always lovely even when she has been very busy!
Just such a great course and I keep rebooking and rebooking...
I got this course as a present for my girlfriends birthday and we both went. It was absolutely brilliant. Martha is fab, hands on when you need her but gives you space and freedom to make anything you want. Highly recommended!
Studio 1 is a really cute, super relaxed and welcoming space for a weekly check-in to escape busy city life. Martha is warm and whitty and has all the fruit teas you can dream of. The small classes of 5 mean that it's not overwhelming for first timers like myself and means that everyone has guidance and attention enough to feel competent enough to work individually, whilst chatting and getting to know the other students. This is a really great taster course which left me feeling proud of the work I had produced and curious to explore ceramics further.
Had a wonderful time with Martha learning about pottery and working on improving my technique. Thank you!
I learnt loads of different techniques and lots about ceramics in general. Martha is lovely - super enthusiastic, you can never ask too many questions, and she's really keen to help you. The space is great - cosy and full of interesting things. It's also in a good location really close to public transport, and with nice places for socialising nearby. There were 5 of us in the class, 3 of whom had done courses with Martha before, and I'll definitely be going back.
Very enjoyable, nice group of people and Martha was great! Cute studio, just what the doctor ordered :)
I have learnt so much in these classes about hand-building techniques and glazing. Martha is a fabulous teacher. Thank you!
By far one of the best places to get creative in North London. Get teacher, and great space!
Such great fun I'd like to do it all over again! Amazing way to get creative, lovely small group, relaxed environment and wonderful teacher.
It was such a pleasure spending Monday evenings doing this class! Martha was lovely and helpful, she gave as much guidance as you wanted and helped us create lovely stuff. I'm definitely going back for more!
Great course that I keep coming back to. You can develop your ceramics skills as and how you want to, and Martha will guide you.
I did a bit of pottery back in my school days and was really keen to get back into the practice. Martha's ceramics course certainly delivered! The classes take place in a quaint studio within a 2-minute walk of Wood Green station. Martha is incredibly patient and tailors her teaching to suit the needs of each to person. I met incredible people and learned so much over the 4-week course...coil pots, pinch pots and ended up making a baby penguin sculpture! I've booked another 4 classes and can't wait to add to the collection. I highly recommend Martha's classes so don't delay...they are very popular!
What a wonderful way to spend and evening. Martha is skilled and knowledgable and it shows because of the improvements I have made over weeks. Thank you!
Great course with the freedom to work on own project. The class is small enough that we all felt like we had enough attention. And I loved the results, I'll defo be back again in the summer!
Yes really enjoyable again. 4 weeks goes too quickly. Martha is great and lets you do what you want and gives advice when needed, provides a warm drink and washes up the equipment too which is fab!
Brilliant course. I'm a serial booker now and really enjoy acquiring the skills to make my own ceramic creations. Lovely relaxed atmosphere, great advice and inspiration.
Class location
Wood Green
Blue House Yard,
5 River Park Road
N22 7TB
London
Gallery (11)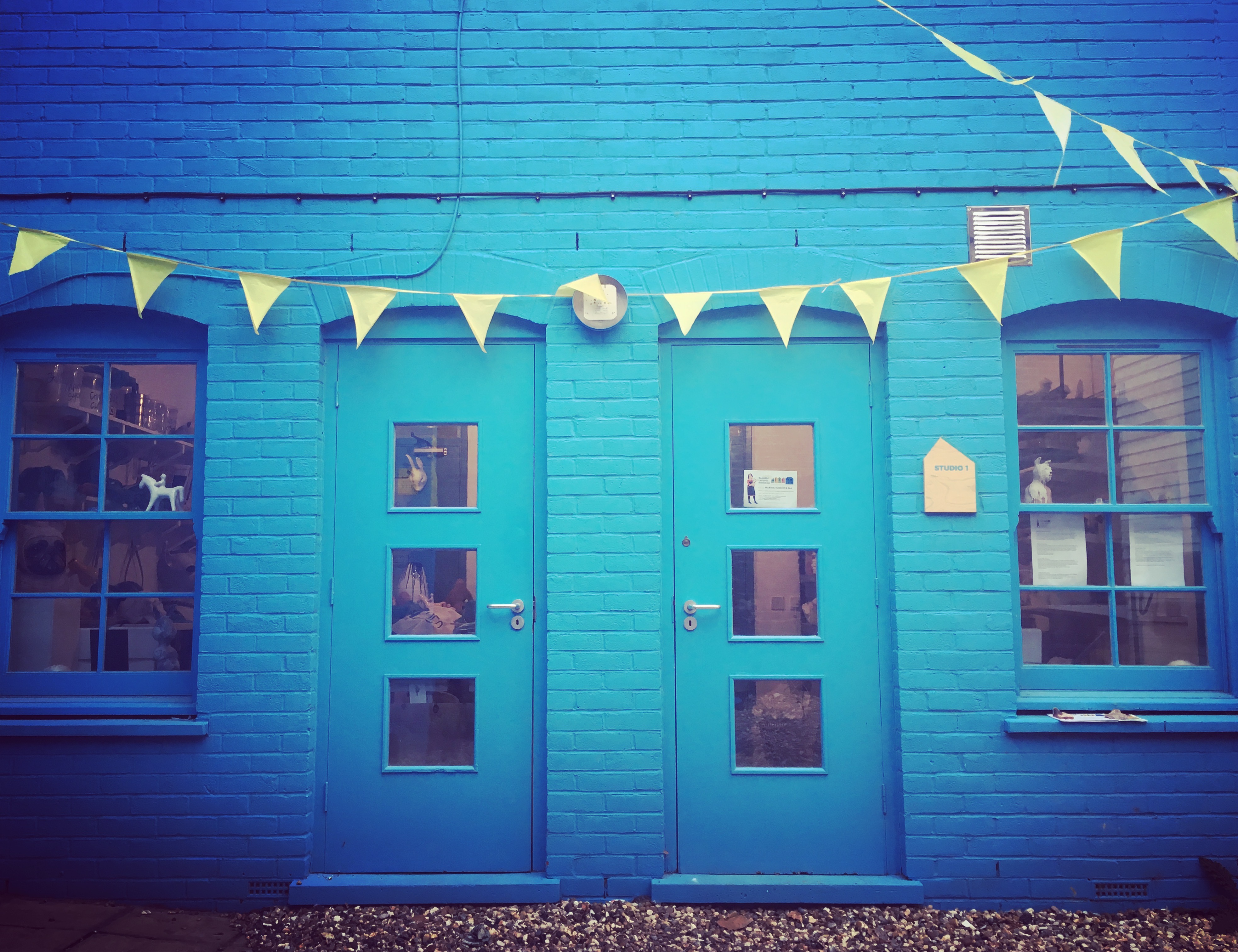 About your host, Studio1Ceramics
Studio1Ceramics is a workshop in the heart of Wood Green within Blue House Yard which is located a few minutes walk from Wood Green Station.
The classes are taught by Martha Todd RCA MA who has been a practicing ceramic artist and sculptor for 13 years and is currently researching for a PhD based on figurative sculpture in contemporary art.
The studio is a beautiful bright space in which Martha teaches a series of clay workshops for all levels and abilities. The classes are small in size, ensuring that there is plenty of support for individual students.
Martha teaches hand-building techniques in clay as well as surface decoration, glazing, mould-making as well as specialist classes.
Prices include all materials and firings (which will include an initial bisque firing and a glaze firing).
Notes
Wear practical clothes. Aprons, tools and materials provided.
Flexible cancellation policy
Any class can be cancelled and fully refunded within 24 hours of purchase. See cancellation policy.