These studios have high ceilings, good lighting and the South London hospitality. Accessible, affordable and extremely worthy of your time pottery classes, we've picked out the best places in south London to get into wheel throwing or hand building and start creating your own collection of less than perfect pots.
The Top 10 Best Pottery Classes in South London:
Wheel Throwing Workshop
Plant Pots and Vases Workshop
Handbuilding Pottery Course
Taster: Ceramic Hand-Building and Glazing Workshop
Clay Making Class
Handmade Pottery For Beginners  
Breakfast Tableware Course
Understanding Glazes - An Introduction One Day Workshop
Pottery Taster Session
Studio Pottery London Taster Class
1. Wheel Throwing Workshop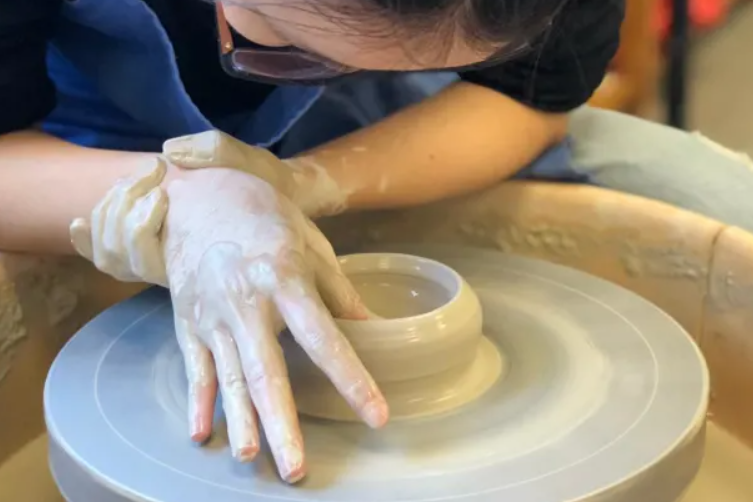 Location: Wimbledon, South London
Tucked away in an industrial site, this beautiful pottery studio is huge and one of our favourite of London's best kept secrets. During the day, Workshop 305 works as a community centre for adults and children with physical or learning disabilities, but in an evening, the studio transforms into one of the best pottery classes in south London.
The studio is enormous with everything you would ever possibly need. There's a wheel turning station, a hand building station as well as a slab pottery table. The studio has its own kiln and also runs special glazing workshops for if you want to take your pottery to the next step and really immerse yourself in the skill. As this 3 hour throwing workshop will take you through the basics of pottery throwing on the wheel. This really is one of the best wheel throwing pottery classes in south London.
Several different teachers work at the studio, they are all independent artists who, when they are not volunteering their time at Workshop 305, are creating in their own studios and selling their work as ceramicists. The atmosphere at Workshop 305 is very family orientated and has a really welcoming feel to it. We love it here.
Book now on Obby
2. Plant Pots and Vases Workshop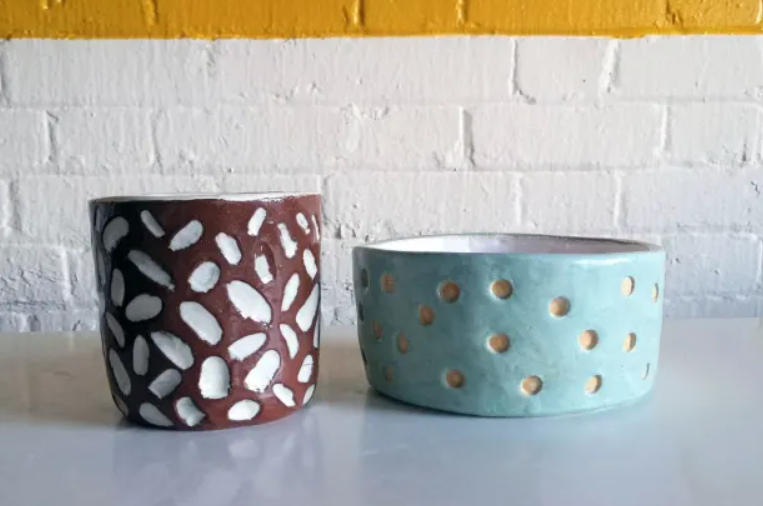 Location: Walworth, South London
This plant pots and vases workshop with The Ceramicists is one of the best pottery classes in south London. In 4 hours you are guarantee to be going home with a well made and decorated: Large plant pot with a holding tray or 2 to 3 succulent pots with trays depending on your pace. You will learn the technique of coiling using coils made from an extruder. This fun workshop is perfect for you to do on a Saturday and learn a new skill and is reviewed highly:
"A great day spending time in a professional studio environment" - Suze, Obby Student
The Ceramicists is a highly skilled ceramic studio run by Stephanie and Kevin from Central Saint Martins and the Royal College of Arts. Since 2014 , they have been working on unique projects with Architects, designers, artists, galleries and restaurants. Their versatile workshops can take your experience further, e.g they can help if you wish to small batch produce your items with plaster mould making workshops, create unique glazes or commission them to create a one off gift!
Book now on Obby
3. Handbuilding Pottery Course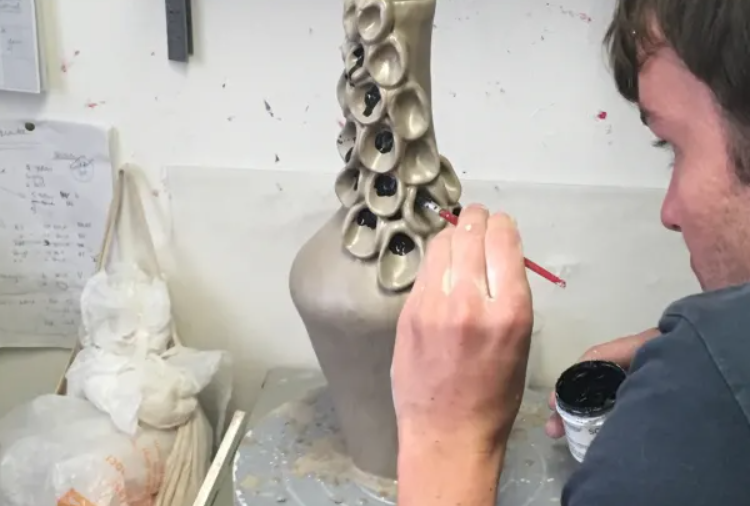 Location: Lambeth, South London
Receive focused teaching in this small 5-week pottery class in south London at CWC ceramics, near Waterloo Station.  
This 5-week course taught by an excellent teacher, Camilla Webb Carter, covers everything from getting started with clay working, to finishing and decorating your pottery or sculpture. This is ideal for someone starting out in learning about pottery and clay. However it is also suitable for those with experience in clay.
Camilla Webb Carter is the owner at CWC Ceramics, and she is well known for her work. She has begun offering ceramics workshops to the public and currently offers flexible bookings for one-to-one, couples and groups of four people to attend private and exclusive classes where she teaches students the basics of working with clay, including a range of moulding and decorating techniques.
Book now on Obby
4. Taster: Ceramic Hand-Building and Glazing Workshop
Location: Peckham, South London
Enjoy one of the top 10 best pottery classes in south London with this workshop that allows you to play with colours, shape and texture, pushing your ideas to create something functional and/or purely decorative out of clay in this highly enjoyable workshop with 'Stuff and Fings'.
'Stuff and Fings' was born out of Mandisa's love of tinkering with, well, 'Stuff and Fings'. Playing with textures and shapes, art and design, experimentation and fun are at the core of all things, 'Stuff and Fings'.
This Workshop in Peckham will provide you with basic hand-building techniques (slab building, pinch, coiling), that give you the confidence to go ahead and create your desired pieces. It's all about being relaxed and finding your happy place. As you can grab yourself a drink and something to eat, which you are welcome to have during the workshop. It is also bring your own beer, wine etc. to enjoy while learning the skill of pottery in this fun class.
Book now on Obby
5. Clay Making Class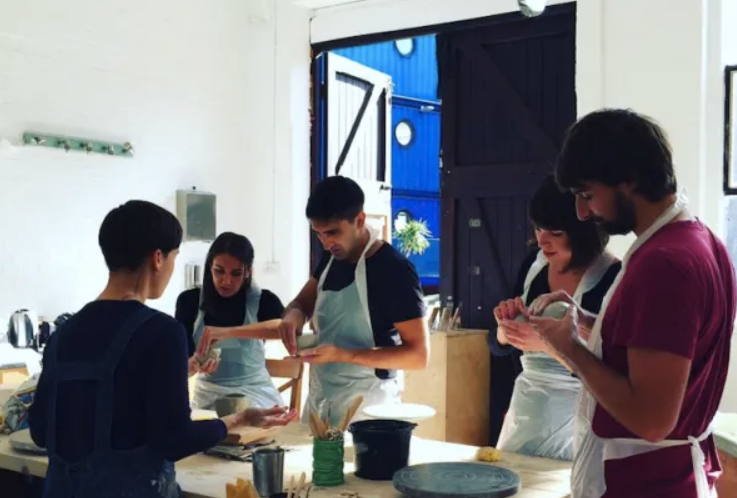 Location: Burgess Park, South East London
Experience this clay making class with Elena Gileva Ceramics as you enjoy the basics of hand building - pinching and coil building. This class gives you the opportunity to get familiar with the material through creating a bowl and/or a vase. A great way to experiment and get into making with clay. The item you create will be fired and glazed for you to pick up at a later date.
Elena is a practicing ceramic artist and has extensive experience working with clay. Starting last year she's taught courses at HND ceramics department and beginner courses at Morley College. As well as that, she has taught at the Victoria & Albert Museum and Camden Arts Centre. Elena has trained at the Royal College of Art /LDN, Shigaraki Sculpture Park /JPN and Parsons Paris school of Art & Design.
Book now on Obby
6. Handmade Pottery For Beginners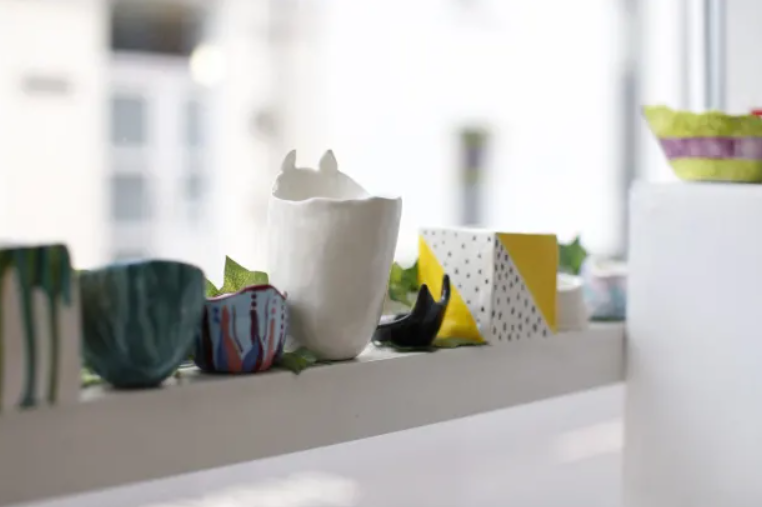 Location: Borough, South London
Enjoy this incredible experience with M.Y.O (Make Your Own) which has arts & crafts studios for grown ups, with a colourful studio in London Bridge/Borough. These classes are every bit fun and relaxed. Throughout the pottery class You'll mould earthenware clay, smooth it and paint it, ending up with 2-4 unique pinch pots of different shapes, sizes and colours. They'll look great in your home or as a wonderful gift!
"I'd recommend this to anyone - from a beginner like me, to more experienced who is looking for a fun and relaxing experience" - Lipsheon, M.Y.O Student
M.Y.O provide a relaxed and fun space for you to learn new things, be creative and make something to be proud of. Think of M.Y.O as an art gym for your creative muscles! They are BYOB too! These are a multitude of reasons why this is one of the best pottery classes in south London.
Book now on Obby
7. Pottery Taster Session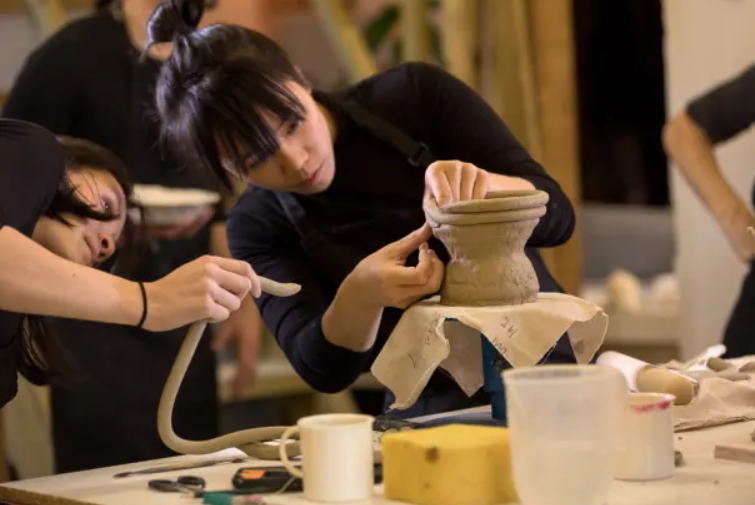 Location: Walworth, South London
This is another extremely fun and instructive class by The Ceramicists. This is another one of the best Pottery classes in south London. This class is a hands on experience, you will learn and hand build a plant pot with pre-made coils of clay sausages and have a go on the potter wheel and throw a salt dish.
In this pottery taster class you'll have a quick tour of the studio , then be shown samples projects made for the creative industry so you'll have a great idea of what a ceramicist does. This is an excellent workshop for anyone wanting to have a go with ceramics. We guarantee you a therapeutic, fun and relaxing time, people say it feels like to have a break outside of London.
Book now on Obby
8. Breakfast Tableware Course
Location: Honor Oak, South London
This is one of the best pottery classes in south London with Melisa Dora which goes over the space of 4 week courses (2 hours per session) which will guide you through techniques on how to make 2 small coffee mugs and 2 small breakfast bowls. Learn how to prepare clay before starting on the wheel. You will also learn a few basic throwing techniques and will practice these throughout this first session. Furthermore after that you will learn how to make a group of cylinders with set dimensions from Melisa.
One to one and group workshops are available in her lovely hidden studio behind a beautiful antique furniture shop in South London. Hop Market Studios, 60 Honor Oak Park, London SE23 1DY.
9. Understanding Glazes - An Introduction One Day Workshop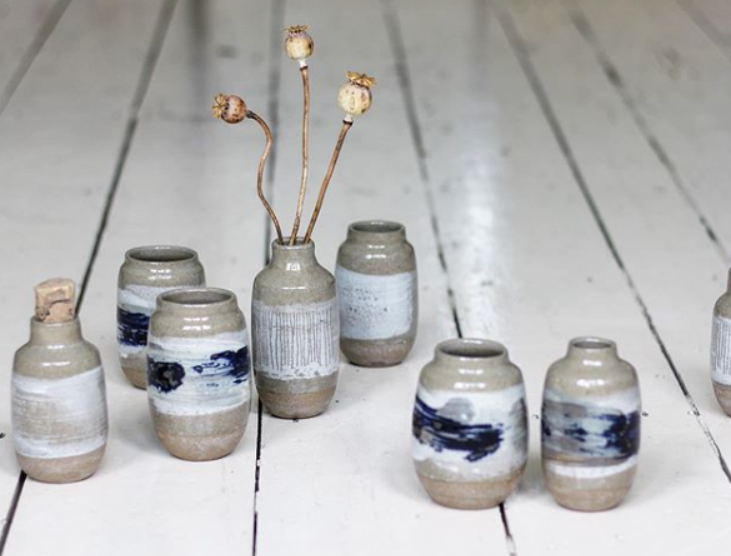 Location: Peckham, South London
The Kiln rooms are for everyone and have a variety of different classes for beginners, intermediates to trained practitioners. However one of the best pottery classes in south London is there masterclasses. This one-day workshop will introduce participants to what glaze is, how it can be developed and altered, and how it is influenced by the firing process all taught by Katrin Maier.
It is a result-oriented, applied workshop that will equip students with tools to start their own glaze research and development. In the first part of the workshop, students will gain theoretical knowledge of the make-up of glazes, related chemical and physical qualities of their components, how to alter them and how to assess relevant processes in the kiln.
In the second, hands-on part of the workshop, we will make up a range of base glazes and alter their texture and colour. The students will learn to work with a glaze recipe, to do line blends and to keep adequate records. Every participant will take away multiple glaze recipes and they can collect their approximately 15 test tiles from the studio when they have been fired. This workshop is perfect for people who have been making ceramics for a while .
10. Studio Pottery London Taster Class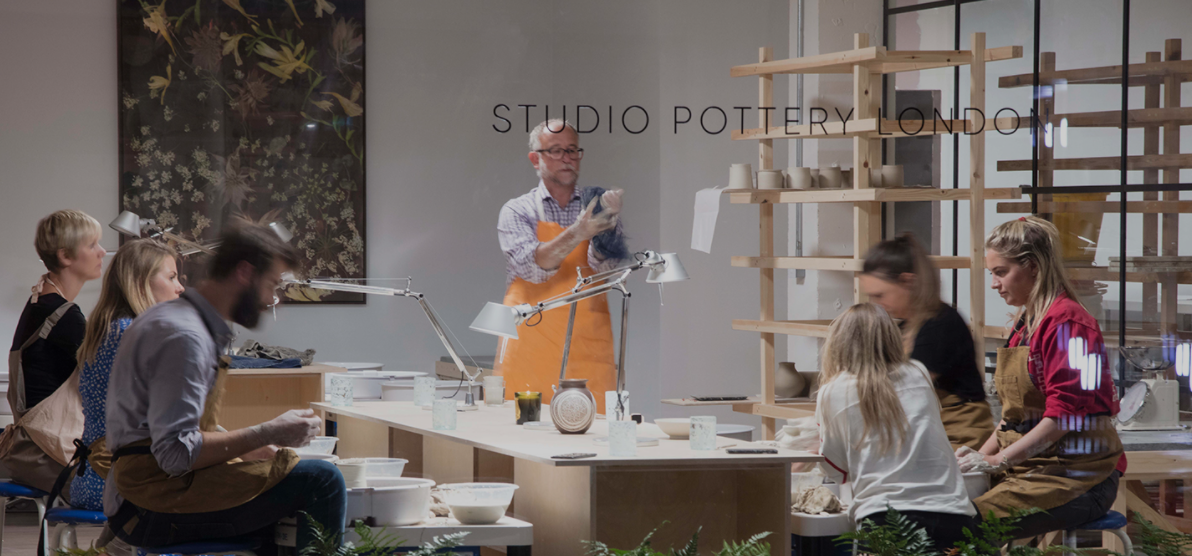 Location: Abbots Manor, South London
Stuck for date ideas? Want to learn a new skill and have fun? This exciting Workshop is great for not only beginners but is also one of the best pottery classes for friends and loved ones in south London. Each participant will have their own wheel and be carefully taught through the process by an expert tutor. Whether you book for yourself or a group of friends, this is a wonderfully social and spirited introduction to the joys of throwing.
You will learn how to wedge – prepare the clay – as well as centre – secure the clay on the wheel – and throw – pulling up the walls of the clay into a cylinder. This is an uplifting, inspiring experience. This workshop is great to try something new together as a couple or with a friend.
Need more advice?
Take a read of some of our other amazing guides and best round ups below. We're sure you'll find something useful, oh - and don't forget to share the love. ‌
‌Obby out. ‌