What you will do
On this throwing workshop, you will learn a little about the properties of clay and the importance of wedging. You will also learn how to centre, open and pull up the walls of your pot. This is an opportunity to experience studio life and practice in a comfortable learning space. There will be a maximum of seven people on this class and each person will have their own dedicated wheel for the entire length of the workshop.
This workshop is for individuals who want more than just a taste of sitting at a throwing wheel. It involves intensive teaching and practice. At the end of the workshop you will choose your best piece or pot to keep. Two days after the workshop, your pot will be turned (trimmed) on the wheel for you. Your pot will then be put on a shelf to dry for several days. Once dry, it will be ready for it's first bisque firing in the kiln. After the bisque fire, your pot will be glazed and once again put through the kiln, but this time for the final glaze firing.
As you can see, your wheel throwing experience is only a small part of a much, much longer and very labour intensive process. Turning (trimming and shaping your pot on the wheel) and glazing are all part of the making process and just as important as throwing on the wheel.
The firing of your pot, twice in the kiln, to temperatures in excess of 1000 centigrade means that the process of transforming your pot from unfired clay to a ceramic piece consumes a lot of energy. In other words there is a very high energy footprint to the process. The onus of being energy efficient and responsible lies with both the pottery and it's clientele. Because of the high energy footprint of the firing process and because clay is a non-renewable resource, we ask that workshop participants only put items through the kiln that they actually want to keep and which they will collect. Many of the pots remain uncollected! Please help us to be as energy efficient as possible by being mindful and only putting one item through to firing which you both want to keep and will collect.
When your work is ready for collection, usually two or three weeks after the class, you will be able to collect your pieces!
Due to limited shelf and storage space, pots or work that remain uncollected one month after notification will (sadly) be disposed of.
Select a class time
Sun 5 Apr 2020, 10:00am - 1:00pm
Sun 5 Apr 2020, 3:00pm - 6:00pm
Sun 3 May 2020, 3:00pm - 6:00pm
Sat 9 May 2020, 10:00am - 1:00pm
Sun 10 May 2020, 10:00am - 1:00pm
Fri 15 May 2020, 6:30pm - 9:30pm
Sat 16 May 2020, 10:00am - 1:00pm
Sat 16 May 2020, 3:00pm - 6:00pm
Sun 17 May 2020, 3:00pm - 6:00pm
Sat 23 May 2020, 10:00am - 1:00pm
Sat 23 May 2020, 3:00pm - 6:00pm
Sat 30 May 2020, 10:00am - 1:00pm
Sat 30 May 2020, 3:00pm - 6:00pm
Sat 6 Jun 2020, 10:00am - 1:00pm
Sat 6 Jun 2020, 3:00pm - 6:00pm
Sun 7 Jun 2020, 10:00am - 1:00pm
Sun 7 Jun 2020, 3:00pm - 6:00pm
Sat 13 Jun 2020, 10:00am - 1:00pm
Sat 13 Jun 2020, 3:00pm - 6:00pm
Sun 14 Jun 2020, 3:00pm - 6:00pm
Sat 20 Jun 2020, 10:00am - 1:00pm
Sat 20 Jun 2020, 3:00pm - 6:00pm
Sun 21 Jun 2020, 3:00pm - 6:00pm
Sat 27 Jun 2020, 10:00am - 1:00pm
Sun 28 Jun 2020, 10:00am - 1:00pm
Sat 4 Jul 2020, 10:00am - 1:00pm
Sat 11 Jul 2020, 10:00am - 1:00pm
Sat 18 Jul 2020, 10:00am - 1:00pm
Sat 25 Jul 2020, 10:00am - 1:00pm
Sat 1 Aug 2020, 10:00am - 1:00pm
Sat 8 Aug 2020, 10:00am - 1:00pm
Sat 15 Aug 2020, 10:00am - 1:00pm
Sat 22 Aug 2020, 10:00am - 1:00pm
Sat 29 Aug 2020, 10:00am - 1:00pm
Sat 5 Sep 2020, 10:00am - 1:00pm
Sat 12 Sep 2020, 10:00am - 1:00pm
Sat 19 Sep 2020, 10:00am - 1:00pm
Sat 26 Sep 2020, 10:00am - 1:00pm
Sat 3 Oct 2020, 10:00am - 1:00pm
Sat 10 Oct 2020, 10:00am - 1:00pm
Sat 17 Oct 2020, 10:00am - 1:00pm
Sat 24 Oct 2020, 10:00am - 1:00pm
Sat 31 Oct 2020, 10:00am - 1:00pm
Sat 7 Nov 2020, 10:00am - 1:00pm
Sat 14 Nov 2020, 10:00am - 1:00pm
None of the dates work for you? Let the host know and you will be notified when new dates are added.
You will only receive an email from us if new dates are added for this class, you will not receive any marketing emails, and that's a promise!
Obby Guarantee
We ensure quality. If your class doesn't reach your expectations, we'll give your money back.
Flexitime Class
This is a Flexitime class, which means the teacher can run this class around your schedule.
You need to be a group of 5
I need 2

days

notice
I am only available on Monday, Tuesday, Wednesday, Thursday, Friday
Hackney, N16 7JA
Time & Location
Select a date and location you want and your teacher will get back to you to confirm their availability.
Sak Beh Studio is a beautiful space and Gabby is a lovely and really helpful and encouraging teacher. Great way to spend an evening..will be coming back !
I really enjoyed the workshop. The teacher was great, really enthusiastic, interested in what we were making and made sure we all ended up with something to take back from the session. I will definitely recommend this class! 5 star from me!
Reviews
Sak Beh Studio is a beautiful space and Gabby is a lovely and really helpful and encouraging teacher. Great way to spend an evening..will be coming back !
I really enjoyed the workshop. The teacher was great, really enthusiastic, interested in what we were making and made sure we all ended up with something to take back from the session. I will definitely recommend this class! 5 star from me!
Such a lovely class with a passionate and talented teacher. The studio space was so inspiring and the class size was perfect. I'm totally addicted and can't wait to go back!
Really informative, fun class - can recommend!
Really enjoyed my this workshop. Each person had their our own station (no sharing/split time), we learned a little about pottery and clay, as well as the techniques we would be using. We watched the teacher making a pot and then we applied what we learned to our piece. At the end, everyone helped clean the stations so we also learned about the cycle of clay and how you can reclaim it, as well as the care you should have with silica dust. The studio also offers classes if you're keen on that after the workshop. Can't wait to pick up my piece!
Had a great time! Rosie was very patient. She talked through all the steps - excellent particularly for beginners!
Fantastic instructor and beautiful studio. The beginners workshop I attended was really enjoyable with a lovely vibe. The instruction and modelling was perfect for absolute beginners. It's a bit of a shame that the pots are glazed for you and that you're only allowed to keep one - I hadn't realised this beforehand - but do understand given time constraints. I'd love to come back for more sessions!
Such a nice instructor ! She went though everything so thoroughly and helped when needed but also allowed you to just have fun with it. Perfect for people who have never done something like it! X
It was our first time throwing and we loved it! Rosie is a really amazing teacher, she talks through everything so clearly and gives lots of help if you're not so confident. Highly recommended!
My first time throwing--we learnt all the important stages and I really enjoyed the process! Can't wait to pick up my pot.
Really good fun. Great teacher and nice studio 👏
This workshop was honestly one of the most enjoyable things I've done in a while! It offered the perfect amount of teaching and hands-on practical experience so that you could get use to throwing in the time provided. I would 100% recommend it to anyone thinking about trying this art form out!
Great way to try out throwing. Mallory was super helpful and knowledgable. Would recommend if you want to give pottery a go
Amazing experience! Went for my birthday with my friends and the instructor was so friendly and professional! Made it so much more fun. Highly recommend
Good class, with detailed instructions and lots of one-on-one teaching time. Very clean space!
Rosie was lovely and very patient with all of us! Happy with what we made and can't wait to visit again
We had a great time on our 3 hour course. The setting it very relaxing, clean and inviting. The teacher was very informative and helped when we needed it but also let us make mistakes so we could learn how to rectify then. Really enjoyed it.
The workshop was very enjoyable and informative. We gained a good understanding of how the studio works and the process of making pots on the wheel. The studio is absolutely lovely and the teacher was great. In future, I would suggest that the class has fewer students or that the teacher has some support as the class ran-over a little and sometimes people were sitting waiting for help.
The workshop was fun but for beginners, having only one instructor was not enough. We also spent nearly an hour being spoken at. I think this is an incredibly long time and took a lot of the workshop. Maybe smaller classes and actually let people know when their items are ready. I've been checking the site and my class date isn't even on there.
Lovely class size and lovely host, relaxing and welcoming and really well taught! Would highly recommend.
I absolutely loved the workshop and can't wait to sign up for another class
I have now done this taster lesson twice. Loved it! I'm hoping to make this a proper hobby :) Lovely teachers who welcome you with a cuppa. Beautiful new studio and and great tutoring. Highly recommended
Thoroughly enjoyed this taster session - the studio is beautiful and Mallory was such a brilliant instructor. She was so passionate about ceramics it was impossible not to share her enthusiasm, and she was calm, patient, and supportive throughout. I unreservedly recommend this class!
A really enjoyable session. My husband and I thought that it was well organised. Rosie provides clear instructions and demonstrations - she made sure she gave everyone some individual time to help with their pottery. I was really pleased with the items I made. The venue was lovely: clean, bright and well equipped.
Had such an amazing class with Malory,she was so thorough and really explained everything so well. A great first experience with Obby in a beautiful studio
Fantastic value for money. Session started promptly with a health and safety briefing and instructions about throwing the clay. Then we picked up our clay, choose a wheel and got started. It was a great learning environment and we were actively supported and instructed throughout.. I was very happy when I picked up my two pots, which had been fired and glazed. I would highly recommend this taster session.
Such a great class and I hope to do more in the future , absolutely brilliant teachers !
Rosie is very friendly and welcoming. She is explained very clearly all the process from start to finish to gives us instructions on what to do. She also made sure everyone got some help when needed. I would have wanted also to paint my piece after the firing, but looking forward for other sessions when that will be possible. Rosie makes pottery throwing achievable for everyone!
Very good class which I really enjoyed. I will recommend to others.
Brilliant afternoon spent learning about pottery crafting and main techniques to shape and throw. Quite a challenge but the instructor as fab! Was such a laugh and would totally do it again :)
Great class, very enjoyable! Malory was a very detailed instructor. It would have been great though if Sak Beh had a few pictures of what you wanted to achieve at each step to keep you on track (also one step - centring - wasn't on the board of steps). Otherwise great session and really appreciated the feedback along the way! Thank you :)
The class was great! For the first 45-60 minutes we were shown the concepts and basics of throwing in a clear and comprehensive manner. We then spent about an hour and a half having a go ourselves. Gabby, the instructor, was friendly, welcoming, helpful, inclusive and gave clear direction while allowing room for creativity and error. It was exactly what I was looking for from a first session and has spurred me on to take up a five week course. Thanks!
The course is was fun and I learned a lot. The teacher was very passionate and helpful. I'll definetely go back!
Such an enjoyable class, our instructor Gabbi was an amazing instructor. I will definitely be back for more lessons in the future.
I took my mum for mothers day and she really enjoyed the experience too! we can't wait to go pick up our creations and see how they turned out.
Great space and great class!
Was back for my 3rd class, and again was so much fun. Tessa is a great teacher!
Gabby is a wonderful teacher! She has an extensive technical knowledge which allows for a very informative and insightful throwing experience. You do not feel rushed within the timeframe and are able to ask questions to get the most out of the workshop. It was a relaxed environment with no judgement and the studio is beautifully set up and organised, uncluttered and bright - a perfect creative atmosphere and I will definitely be coming back! Thank you to Gabby and Tessa for having me.
Such a lovely and supportive teacher! The number of students are perfect so everyone has equal amount of attention. The studio space is very very clean and comfortable. Go for it!
Class was overbooked and I was not given any notice or cancellation. I showed up as booked but was told I could not attend. This is the second time something like this has happened. I can't comment on the teaching.
Such a great class. Delightful studio with wonderful facilities. Our teacher was brilliant- so patient and inspiring and clearly a true love for clay and ceramics.
Great workshop, beautiful studio, incredibly useful tuition. Will come back!
Really great class and helpful instructor.
Lovely studio! Very informative on basics and had a great time on the wheel as a beginner. Would definitely recommend!
Great taster experience, and good introduction to the fundamentals/basics. The instructor was very friendly and clear in her instructions, and the small group makes the experience all the more fun and engaging!
The class was very fun and the teachers worked were very knowledge and helpful.
What a beautiful studio, the photos do not do it justice. Had a few problems with too many folks showing up for the class which the owner was not able to manage well and instead blamed Obby. Was an incredibly awkward start. The instructions and class were great, although the wheel throwing was more difficult that I thought it would be! The instructor was super hands on and helpful and was able to make some pots. They don't send you any reminders when your pots are done, you have to check their website for this - don't forget!
Great introduction to wheel spinning. Would've liked better timekeeping!
Really great workshop, the studio is warm, clean, and cozy! Would highly recommend to anyone, found throwing really hard and satisfying at the same time.
Great teacher who taught us a lot of techniques during a 3hours pottery session. Pretty studio where they respect all materials and are eco-friendly. I would recommend this to anyone who is interested and wants to learn more!
Really enjoyed it. Thank you!
It was a fun afternoon and the instructor was very knowledgeable but I would have liked more time actually playing with the clay as we only got two attempts on the wheel.
It was a very lovely experience. The teacher gave us very clear explanations. I really did appreciate the fact that the place was absolutely spotless. I only wish we could have done more trial by our self at the end (and a little less cleaning- even if i don't mind at all eheh :) ) I do highly recommend it! See you soon!
It was so much fun! we learned the basics and were able to keep the piece we loved. Also loved that they taught us about the importance of mindfulness with clay, making sure we don't waste it as we wash our hands in the sink.
It was really interesting and relaxing.
A fantastic way to get into throwing- my first experience and one I'd love to try again. We learnt the theory and tried out each step, a wonderful way to spend a sunday afternoon!
A brilliant workshop in a lovely environment with a great and encouraging teacher.
Eloise was a great instructor and the studio is really cool and neat. The theory/practice ratio was good and the effort they put in the pieces after is impressive. Can't wait to pick up my final piece!
I never expected to be able to actually throw a piece! So happy with what I made. The leader of the class was so nice and helpful and the studio was lovely
Lots of fun, great teacher and we'll definitely be back
The instructor was intimidating, every time I made a mistake she would say that "well this is not good because you've done this wrong again". It made me feel insecure and useless as it was my first time doing it. Also, the class ended 30minutes earlier that stated. I was surprised that we could only take 1 of our creations home and an additional £3.50 will be charged if u want to take more than that. I have seen many other places that allows us to take 4 of our pieces home for free. Not worth £50 for the service and the fact that it was less than 3 hours.
I can't rate the experience this time as we were not able to participate. I had booked to attend the class with a friend but there was something wrong with the booking system and we were turned away at the door. We received a refund but the class was booked far in advance and it was disappointing not to be able to take part in the class as we had travelled to get there.
Attended with friends. Was a fun two hours we made two pots and picked them up a few weeks later. Great if you have had no experience.
Maybe not a great class for beginners.
I really enjoyed this workshop! It was informative and great fun. The class was nice and small so we all had a chance to learn and get tips from the teacher, who offered clear guidance when needed but didn't interfere. I'd definitely recommend it for a fun afternoon of trying something new!
Great course! Very thorough instructions from a very lovely, patient teacher, who helped all of us on the course throw some really quite impressive (for beginners!) mugs. bowls and vases on the wheel. Highly recommend!
Really enjoyed the class and the teacher was very helpful and thorough in explaining the whole process.
There was a lot of solid time in the wheel. I thoroughly enjoyed the class. Be aware however that there isnt an opportunity to put handles on your cups unless you take the 6 or 12 week course.
Had a brilliant morning workshop learning to throw pottery. Very friendly and knowledgable teacher, and a beautiful studio to work in. Had time to make 3 pieces x some better than others!! Would 100% recommend the class.
We had a great teacher; it was extremely interesting to learn about pottery. The workshop was engaging and I'd recommend it to anyone interested in wheel throwing.
I really enjoyed the work shop, Tessa is a great teacher, helpful and knowledgable. Will definitely go back!
Really enjoyable and therapeutic. Tessa is a great teacher!
The studio is really clean and everything is in place :) The teacher was good in explaining all the process step by step by as there are a lot of information and details to take in mind, time goes fast during the theory part. I believe should be added an extra 30 min. to have more time to dedicate to practice, otherwise nothing to say! I look forward collecting my pieces!
Great environment. Great teacher, very patient and gave us all individual help as well as letting us just get on with it ourselves. Would highly recommend it.
This course was just perfect. Very relaxed, super informative and our instructor was brilliant
The workshop was wonderful! Everything was explained clearly and in detail from start to finish and because of the size of the workshop each attendee is given a lot of time to be explained how to do things or why things are going wrong etc. - will definitely be coming back!
We had a lovely time. Really clear explanations, we made 2 pieces during the classe
Fantastic class. Eloise was a great teacher - gave really clear instructions, was very patient and made the class really fun. The 3 hours whizzed by and I learned loads. Would thoroughly recommend the class for any beginner or improver, and I'm considering going back for a longer course.
Great class and the instructor was helpful and very friendly!
Great workshop and teacher! It was just a bit difficult to collect the artwork. But we found a solution.
Great workshop, a lot of explaining at the beginning and cleaning at the end, allows for minimal time on the wheel. It would be useful if there was less time allocated to cleaning so more time could be spent on the wheel. Also it would be better if they were able to email us to let us know when the items are ready for collection. All in all a great workshop that I would recommend.
This was a brilliant introduction to the basics of wheel throwing. We had lots of time on the wheel and everything was demonstrated really well. Wouldn't hesitate to recommend.
:) very good class
It was great fun and an amazing teacher. Definitely feel inspired to keep going :)
It was the first time throwing and I really enjoyed it! The tutor was very friendly and explained everything thoroughly. A great experience and definitely spurred me on to do more!
Class location
Hackney
3 Garnham Street
Stoke Newington
N16 7JA
London
Gallery (8)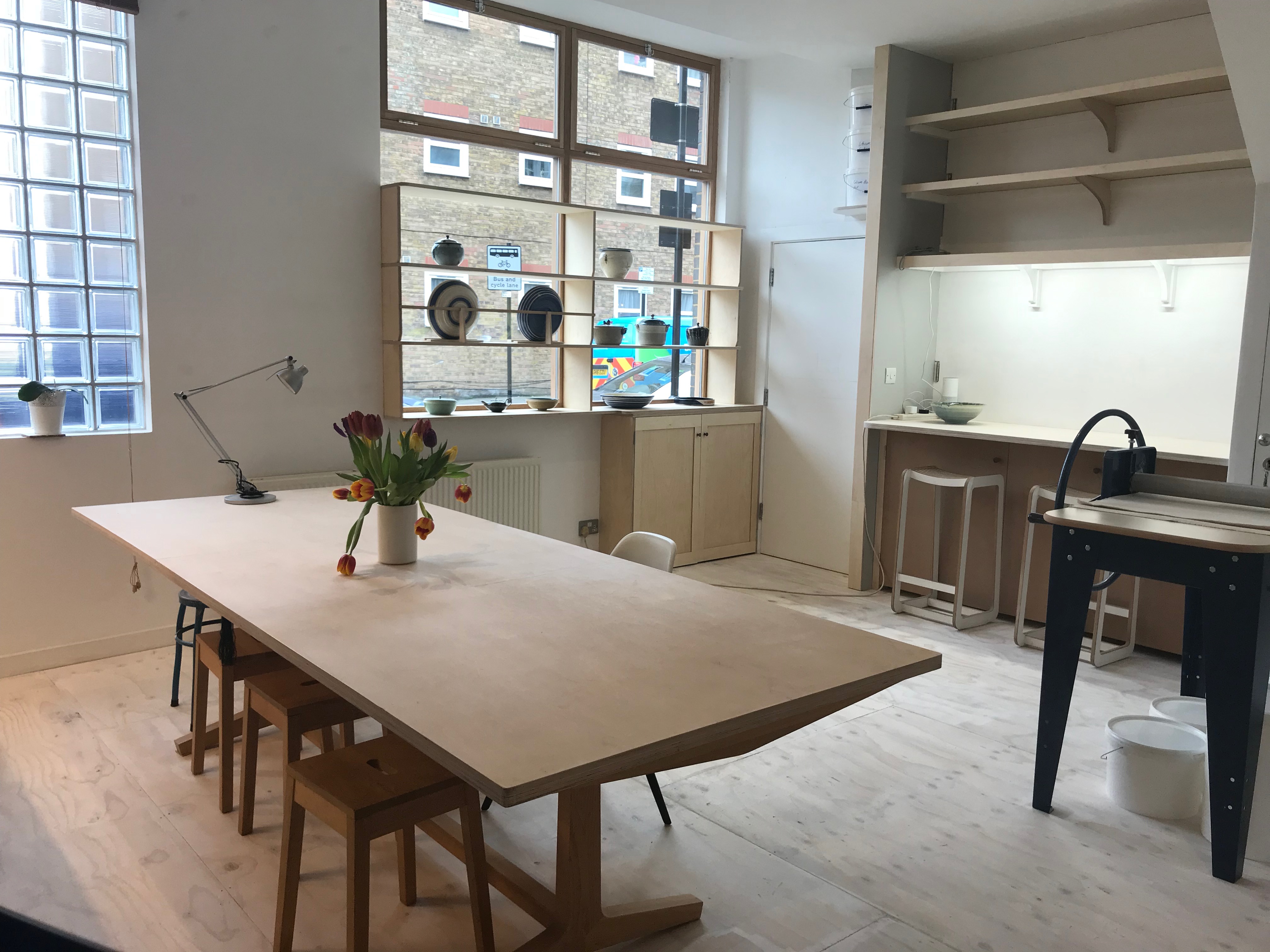 About your host, Sak Beh Pottery
Sak Beh Studio Pottery was founded by Tessa Robinson, who lives and works in London. Her idea was to create a comfortable, homey place to work and be creative. Situated in a very busy and central location, just off Stoke Newington High Street, the studio is a drop of calm in a very fast moving world.
Tessa trained in Fine Art, specialising in sculpture (modelling in clay). On completion of a three year Post Graduate Course at the Royal Academy of Arts, Tessa set up a studio in Hackney. The transition from sculptor to potter came many years later whilst doing doctoral research in Maya archaeology at UCL. Inspired by Maya ceramic art, and in particular the pots which combined sculpted and painted imagery, Tessa moved from research back to making. After attending courses in pottery and taking up a membership at a London pottery studio, she set up Sak Beh Pottery and is now a full-time potter and maker.
Tessa's works are informed by both her Fine Art training and her research into Ancient Maya ceramic art. The phrase 'Sak Beh' can be found on Ancient Maya monuments where it refers to the Milky Way as an ancestral path or road as well as the physical roads which connect people to places. In keeping with its namesake, Sak Beh Pottery is envisaged as a place for community interaction within the context of a creative journey.
Notes
Working with clay can be very messy, so it is worth bearing this in mind when choosing what to wear.
Flexible cancellation policy
Any class can be cancelled and fully refunded within 24 hours of purchase. See cancellation policy.