Classes
This 3-hour welding class in London will teach you the basic skills of mig and arc welding.
This class will absolutely fly by but the knowledge you learn will stay with you forever. You get a chance to get extremely hands-on, with scrap metal so there is no need to be precious and under the supervision and guidance of a professional.
The basics of mig and arc welding are essential skills for if you want to carry on metal work. The skills of metal welding can be used in all sorts of art and used on different types of materials. It's an essential skill for any avid sculpture artists, although it can be dangerous. It is always best to learn these things with the help of a professional. You are not only taught the skill, but the essential safety information which you will practice all throughout your welding career.
Taught in the amazing London Sculpture Workshop on the banks of the river Thames, these classes fill up incredibly fast, so book in advance to avoid any dissapointment.
Select a class time
Fri 25 Oct 2019, 10:00am - 1:00pm
Fri 25 Oct 2019, 2:00pm - 5:00pm
Mon 18 Nov 2019, 2:00pm - 5:00pm
Mon 18 Nov 2019, 6:00pm - 9:00pm
Mon 24 Feb 2020, 2:00pm - 5:00pm
Mon 24 Feb 2020, 6:00pm - 9:00pm
Mon 2 Mar 2020, 10:00am - 1:00pm
Mon 2 Mar 2020, 2:00pm - 5:00pm
Mon 16 Mar 2020, 2:00pm - 5:00pm
Mon 16 Mar 2020, 6:00pm - 9:00pm
Mon 30 Mar 2020, 2:00pm - 5:00pm
Mon 30 Mar 2020, 6:00pm - 9:00pm
None of the dates work for you? Let the host know and you will be notified when new dates are added.
You will only receive an email from us if new dates are added for this class, you will not receive any marketing emails, and that's a promise!
Did you know?
The earliest evidence of welding are hand held gold boxes which can be traced back to the Bronze Age - thats a very very *very* long time ago for those that weren't paying attention in History class, guilty?!
Obby Guarantee
We ensure quality. If your class doesn't reach your expectations, we'll give your money back.
Brilliant experience! Fab tutor, great venue. Full review here: http://flipsidenavigator.com/look-mum-im-grinding-and-welding/
I gave the class to my partner as a birthday gift and he absolutely loved it. As a keen craftsman, he was so excited to try out welding and was not disappointed. The tutor leading the class was so knowledgeable and passionate about his craft, and he came home with three things he had welded! 10/10
Reviews
Brilliant experience! Fab tutor, great venue. Full review here: http://flipsidenavigator.com/look-mum-im-grinding-and-welding/
I gave the class to my partner as a birthday gift and he absolutely loved it. As a keen craftsman, he was so excited to try out welding and was not disappointed. The tutor leading the class was so knowledgeable and passionate about his craft, and he came home with three things he had welded! 10/10
Excellent course. A surprising amount covered in three hours. Entirely hands on combined with very good technical information. Great facilities. No improvements to suggest, highly recommended!
This was an excellent introduction to welding. Lots of hands on, practical time to get to grips with it all. Would highly recommend anyone interested in trying out welding to give it a go!
Really good. Andrew went over all types of welding. He gave us a brief safety instruction and how best to use the certain types of welders/techniques. He then let us get on with it. We had lots of scrap metal to practice on and there were lots of welders, so no one was waiting in line. I feel that I can make something now. Thanks!
Professional friendly inclusive educational workshop even for a complete novice. I even got a slow motion vid clip of me taken while using a mic welding . Andrew was attentive and left us to practise when we got the hang of it and he let me take some photos of his machinery . Would recommend for non-artists like myself.
It was a great class! Lots of fun - some confusion, as the instructor at one point said that the class was in fact 'basics of welding' and not intro for artists... Still, worth the visit.
Excellent - fun and informative. Can't wait to try another class at London Sculpture Workshop!
Perfect introduction. Relaxed atmosphere and small class size made this a really good way to acquaint myself with welding. Great tutor, I loved every minute of this class.
Really informative and great, if you've never welded anything in your life. Recommend it!
Loved the class! It didn't go into too many difficult technical things, and we had 1h to weld different pieces of metal together to get a real feel of the stuff and excellent guidance from the teacher when we got stuck. Small class of only 7 people so it gave everyone a chance to make something. Lovely location as well, it almost felt like you were next to the seaside.
Really enjoyable class was really informative and with plenty of info about owning a MIG welder at home. Was a really lovely space and an excellent place for picking up other skills, I fully intend to come back and learn more skills from the London Sculpture Workshop! I can't recommend this class more, it really was a great experience and really set you up for further learning about welding as well as being just and excellent fun day out. Only issue we had was people struggling to find Unit 0 where the workshop is based, you want to get there easily take the last left on the road into the estate and go behind the art cafe and hug the sea wall, the workshop is right at the end of the row, you're going the right way if there's a giant rusted out ship on your right.
This was an excellent course, the teacher is calm, easy to understand and very encouraging. The workshop is clean, well organised and safe with all the equipment you could need.The course starts out with instruction and quickly moves on to your own experiementation under his watchful eye.
Great class for a total beginner to welding, good balance between tutorial and letting us do out own thing: plenty of safety and background but also just enough time to play with the materials and make a couple of things to take home. Thank you!
An excellent introduction with a good tutor and gave a useful overview of welding methods. Looking forward to doing the full metal fabrication days.
Very warm and welcoming for a complete beginner. Only downside was five people sharing a welder meant not as much hands on practice as I would have liked.
Really enjoyed the course. Lauren was a very good trainer and explained everything clearly and carefully, was happy to answer questions, and go off piste when necessary. Thanks again.
I had a really great afternoon - and learnt so much in a short time. The session covered Mig, Tigg, Arc and Spot welding, grinding and finishing. A great springboard for planning future ideas and projects.
Excellent. Perfect balance of theory and hands-on with the emphasis on hands-on. Great tutor who was there when required but not looking over your shoulder all the time. Everyone left with a small creation. Thank you.
Although I do not consider myself to be an artist, I did want to have an expert-led introduction to welding for the purposes of general repairs and new-fixture building, including for a canal boat. The course delivered that very well with excellent theoretical and hands-on aspects. Welding is a practical activity and the course balanced that well with basic theory. I enjoyed the course and felt that it was very good value for money. I would not hesitate to recommend it to anyone wishing to get a positive and practical start to welding, how to do it, how to fix basic issues, how to choose a welder for your needs and (not least) how to be safe.
Lauren was clear, instructive, serious when she had to be (health and safety issues) and good fun in her teaching method. I really didn't want to leave. I don't know why I left it so long to do one of your courses. Already trawling through the courses to find the next one. Many thanks, Will
I did the 2 days welding course to understand metal and it's properties. I had an ambitious goal to design a spiral staircase at my flat. The course exceeded all my expectations. Andrew was patient, knowledgeable and very methodical with his teaching. He helped me master the basics in measurements and welding skills. I was so proud that I was able to make a side table (albeit slightly wobbly;) in two days. I would highly recommend anyone thinking of working with metals to learn from Andrew.
Really enjoyed the day, super keen to get some cheap welding stuff and play at home now too :-D
I booked the class as a present for my partner who was realyl delighted with the hands on nature of the class and how much he learnt. ,
Friendly, helpful and fun - for me (male). Less so my girlfriend, who found it quite daunting - but the tutor eventually helped her out with an alternative approach, so she came away satisfied. Its a very basic intro so don't arrive with too much ambition!
Good, and I now know understand several techniques for welding or otherwise joining metal together, including several I didn't know existed. The balance of time spent explaining various tools (including power settings on various types of welders) vs the hands-on experience was perhaps just a little too far towards the explaining for my personal learning style. If it wasn't just a 3-hour class this would be ok, and even potentially interesting, but I would say it went just too far beyond what we would need to know for that session, at the expense of hands-on time. I did come away with two practical household items made from scraps - a trivet and an over-the-door coat hook. Neither are lookers (hey, first attempt at MIG welding!) but the engineering is sound and both are now in use at home. Also, perhaps this is sightly nitpicky, but I had real trouble finding a set of coveralls that fit - they were either absolutely tiny (several sizes too small) or literally falling off my body to the point that it was dangerous - even with rolled sleeves & legs I was tripping over the material. I'm a size 12 & 5'4", not exactly unusual! Several other students were broadly similarly sized, so maybe they just got there first, but another few pairs of 'medium' coveralls would help. On balance, a solid 4 stars, and I'm really glad to have found a facility like this in London - odds are very good that I'll be back at some point to create, craft or repair something in metal. The site is fairly remote though only about a 5 min walk from a bus stop with a bunch of buses from Woolrich / North Greenwich, and never felt unsafe, even at night in the dark winter evening. Do note that Citymapper and other mapping providers may show the wrong entry location to the Thames Side Studios, which caused me and others a bit of lost time finding the place! Once you get the right entrance, the directions provided via Obby are fine.
Friendly and very informative class will be returning.
It was good, got to use some machinery, learn about the various welds, different joints. Informative and fun, good bunch of class mates too.
Very friendly and informative
What a great course! Learnt so much in just 3 hours. Andrew explained things really well and was on hand all afternoon to help and guide us. Will be doing more courses with him! Really loved it and wasn't as scared as I thought I'd be being a complete newbie to welding!
Great class! Just enough time to understand the basics of welding but also get stuck in and try my hand at a bit myself. I loved it. Great instruction.
Fantastically good. Well paced, lots of information, great practical session at the end, patient and experienced instructor. Really great, highly recommended.
A really good class. Hands on & fun!
Really enjoyed it....learned lots....will be doing more sessions to keep my hand in.....instructor was very clear and concise with the info he was giving
This was a perfect intro to welding. There was enough opportunity to have a go as well as useful guidance on getting started. I now feel confident enough to practice at home.
Class location
Woolwich
Unit 0, Harrington Way
SE18 5NR
London
Gallery (4)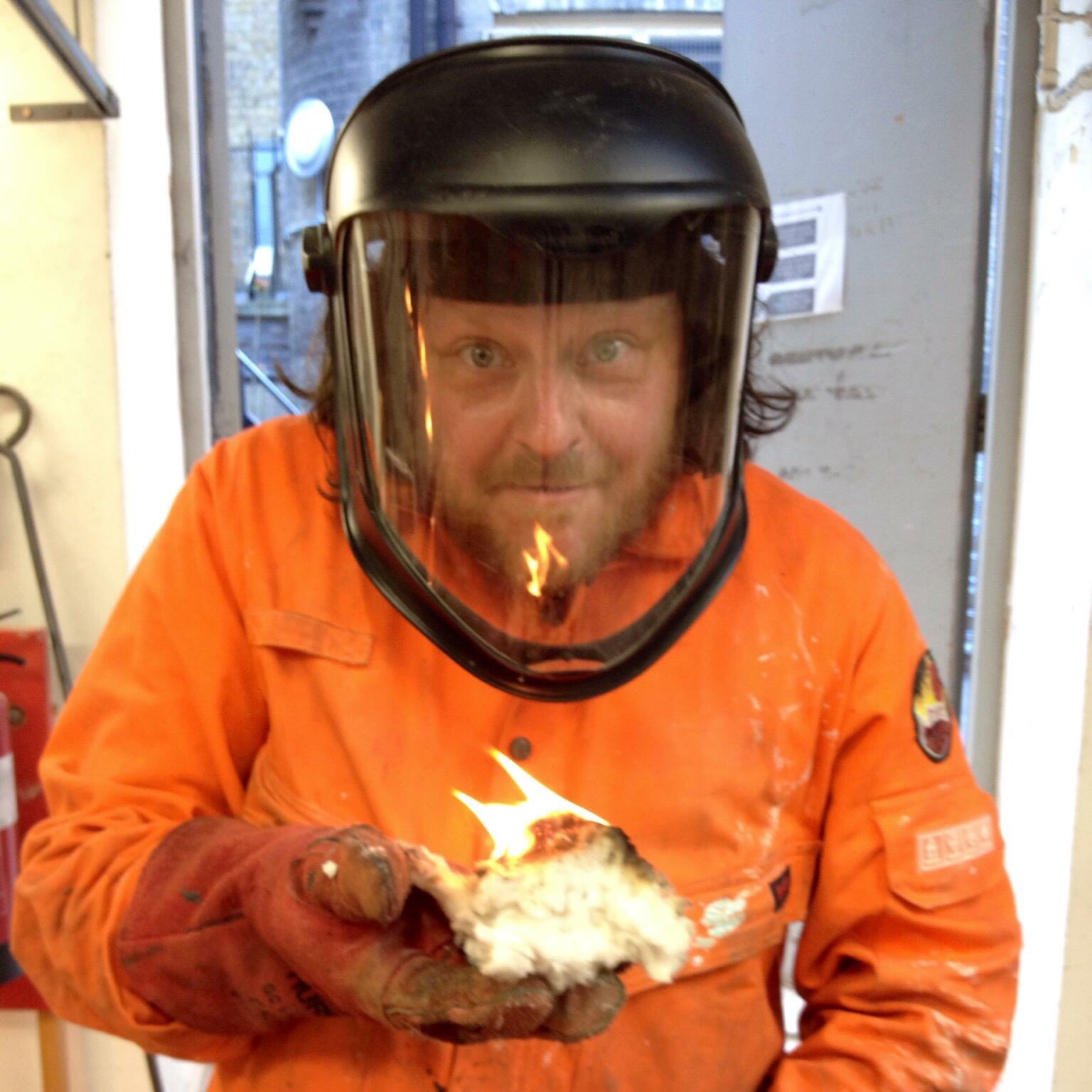 About your host, London Sculpture Workshop
London Sculpture Workshop is an independent sculpture studio in Woolwich, South East London, located within Thames Side Studios, offering exceptional facilities for artists and those interested in making three-dimensional work.
Our short course programme covers a wide variety of technical and skill-based processes, taught by practicing artists in superbly equipped workshops. We teach a range of skills including welding, casting, mould making, metal and wood work, ceramics and hot metal practices.
London Sculpture Workshop is a not-for-profit, community interested company, established in 2012 by artists Giles Corby and Jessica Mello, trained at RCA and Slade. LSW has partnered with a number of prestigious organisations including; The British museum, The Crafts Council, CRISIS, The Architecture Association and Oxford Brooke's University. In 2013 and 2014 LSW was awarded the Chelsea Arts Club Trust 'Artist Run Space Award' and awarded a grant for our work from the Mayor of London in 2016.
We offer Day, Evening and Weekend courses - ranging from a 3 hour Introduction to Welding to a 6 day Bronze Casting Course, available to book throughout the year.
Notes
It is essential to wear old clothes and strong footwear.
Flexible cancellation policy
Any class can be cancelled and fully refunded within 24 hours of purchase. See cancellation policy.