What you will do
Pottery wheel taster - learn to throw like a pro from expert tutors, relaxing atmosphere with in the old custard cream factory hidden away from the crazy world.
Learn how to throw on the pottery wheel. Get creative and relax and find your inner peace through the art of throwing on the wheel. Skills to be learn on the day will include hand building using coils and slabs then the pottery wheel throwing .
Our tutors will go over the basic steps to help you transform a piece of clay into a piece of art with the 2 hours class. Your work will be Biscuit fired then glazed. two weeks after the class, you will be able to collect your pieces.
There is a material fee of £3 per piece, so please remember to bring cash on the day.
Select a class time
Sat 4 Apr 2020, 11:00am - 2:00pm
Sun 5 Apr 2020, 10:00am - 12:00pm
Sun 5 Apr 2020, 1:00pm - 3:00pm
Sun 5 Apr 2020, 4:00pm - 6:00pm
Sat 11 Apr 2020, 11:00am - 2:00pm
Sun 12 Apr 2020, 10:00am - 12:00pm
Sun 12 Apr 2020, 1:00pm - 3:00pm
Sun 12 Apr 2020, 4:00pm - 6:00pm
Sat 18 Apr 2020, 11:00am - 2:00pm
None of the dates work for you? Let the host know and you will be notified when new dates are added.
You will only receive an email from us if new dates are added for this class, you will not receive any marketing emails, and that's a promise!
Did you know?
Picasso did ceramic and went on to create clay pieces throughout the last years of his life!
Obby Guarantee
We ensure quality. If your class doesn't reach your expectations, we'll give your money back.
Flexitime Class
This is a Flexitime class, which means the teacher can run this class around your schedule.
You need to be a group of 8
I need 7

days

notice
I am only available on Sunday
Bermondsey, SE16 4DU
Time & Location
Select a date and location you want and your teacher will get back to you to confirm their availability.
Great!
Great class, worth every penny. Birthday girl loved the experience.
Reviews
Great!
Great class, worth every penny. Birthday girl loved the experience.
Such a great class! Really relaxed and fun environment. Spent the first hour doing hand building and then an hour learning how to throw on the wheel. Nam and Suzie were so helpful, and ensured we all made something to take home. Will definitely be signing up again!! Thanks :)
Lots of fun! The birthday girl was very pleased... Feel like a real artist with my imperfect-perfect vase :) I really liked it and I will be coming back.
Really fun workshop! We thoroughly enjoyed it. Suitable for beginners. Looking forward to another Obby class soon.
The taster class was great! The teacher helps you centre the clay and from that point its not too difficult to make a first pot design, which you can pick up once its dried, so even a first timer can have a souvenir from the class! Would definitely recommend!
Really enjoyed the taster workshop! Great for people who have never done anything similar as everything is explained well and you also get individual help if you need it. You also get to keep the amazing things you create as evidence of your great skills :-) There are 2 parts to the workshop where you learn 2 different techniques to pottery. Only thing I would say is that it'd be nice if you had an idea of how much time is spent on each as it felt a bit rushed towards the end of both. But that's a minor point as other than that everyone and everything was really great there!
Really enjoyed this class
It was my first pottery class and I had a great time and managed to make three wonderful pots! I will definitely recommend this class.
Great workshop, great atmosphere
Loved it! Staff were very helpful and I will def be coming back!
Brilliant fun! The instructors were informative yet relaxed and I felt like I learned a lot in just two hours (which flew by!). Throwing on a pottery wheel is much harder than it looks and is a bit of a work out for the core and arms - added bonus ;-) Recommended.
Absolutely amazing workshop! Nam and Suzie were so experienced, supportive, and made the class so much fun..I was laughing and smiling for the whole 2 hours! The class size was small (only 5 of us) which meant that it was extremely hands on. Even came away with a some free pots!
The class was great fun, relaxed, creative and I was able to make 3 pots using two methods or creating the pot. There was flexibility in what you made and the teacher was professional, helpful and relaxed. 2 hours didn't feel like enough purely out of a new found enjoyment for pottery! Really enjoyed my first session and can't wait to come back for some more lessons!
Really great class! The teacher's were really supportive and helpful. I would definitely recommend this class to anyone wanting to give pottery a go!
Excellent workshop & great teacher ... A very therapeutic experience
Thoroughly enjoyable! Can't wait until the next course.
Really enjoyed the afternoon. Hoping to do the 4 week course now
The teacher in this class was awesome. Really nice space and I enjoyed the hell out of throwing.
It was a good mix between practising & exploring ourselves, and teaching & support ... Very creative & knowledgable teacher, so I enjoyed it & recommend it for anyone interested!
Really nice to discover different methods of pottery : )! Thanks
I chose this as an experiential birhtday gift for a friend. We went together and had an absolute blast whilst learning something completely new. Who knew throwing could be SO therapeutic! Couldn't recommend enough.
Great class 👍
We had a great time! Got to play with some clay and also work on the wheel. Excited to pick my clay babies up
We both absolutely loved this workshop and for two hours we got a lot fitted in! Our teacher was great, really knowledgeable and had a good sense of humour! Thanks so much!
Great day out! Nam was an excellent teacher and made sure that we all left with something we were happy with, regardless of our incompetence. The facilities were good and we had plenty of clay to work with. He glazed them to a professional standard and we're left with something that looks excellent! I'd definitely go again. 10/10 :)
For complete beginner this is excellent class. This class was very relaxed and getting working with clay was satisfing. Teachers are very friendly and dedicated to they job. Think of what you wear don't want to get your shoes dirty :).
It was my first experience in pottery, love it. Great skill and patience to go with it. Hopefully will get to do more.
Brilliant workshop in a very cool space in Bermondsey (if a little difficult to find!). The session is split into 2 sections - one part on the wheel, one part on the table - with the wheel being good fun but tricky and the table part meaning you'll at least go home with something! You can then leave whatever you make with them to be baked and pick up in a couple of weeks time, for a supplement of £3 per item. Fantastic to try out something different in a fun, relaxed space - and the time flew by.
such a nice vibe, great for beginners!
A very fun and informative pottery workshop! Nam is also very knowledgeable and helpful. Such a great experience and I'd definitely recommend it to anyone who wants to try out pottery :)
Really enjoyable class - Nam was a great instructor and it was fun to try something new!
This was a fab taster workshop! You get split into two groups with the opportunity to try the wheel and by hand and it was great to give both a go, and work in small enough teams that you can always be helped out and actually learn some technique! I can't recommend strongly enough!!!
Great class! Loved it :)
Great! Nam is extremly nice as a teacher and as person. Enjoyed thoroughly the entire session of throwing a small pot in terracotta and making a pot using coiling technique.
Perfect introduction to throwing! Really fun afternoon with friends
Really good fun, got to try both hand building and the wheel. Definitely recommend it!
I really enjoyed the taster course. Two hours of pottery. throwing on wheel was my favourite. Might need to go back to learn more.
Fantastic class! So much fun and the instructor was amazing. Would highly recommend.
We had a wonderful time at this class with Nam! He is an amazing ceramicist and a great teacher. He made everything easy, even for the untalented ones like me! Would love to go back.
I had a really great time and it was better than I expected. Teacher was good at explaining the techniques and it was conducted in a relaxed atmosphere. The only suggestion I have is that to make the room a bit warmer as I was very cold:)
The workshop was great! I learnt a lot in just 2 hours and really enjoyed the friendly and welcoming atmosphere.
This was a wonderful workshop! It was everything I expected. The small class size means that each person gets individual attention. I liked the format of the class, the interesting facts given about ceramics and the overall calming atmosphere. Would definitely do it again!
The class was in a very relaxed environment. The tutor had great expertise in this field and supported everyone with great hospitality and respect. Effective communication throughout and a fantastic field to get into!
Absolutely loved the class! It's really well taught, with excellent materials and equipment. I would've loved to spend more time of the wheel, rather than the handmade pottery, but still really enjoyable. Will definitely be back for another class!
Had a great time at the 2 hour session, highly recommended!
It was a really fun workshop. Nam was a patient and knowledgable instructor.
Had a great time playing with clay and even made something out of it! Great course and very cool teachers who are themselves great artists. Learned a lot whilst having fun. Would definitely recommend!
Great taster session, Nam was welcoming and informative. I'd recommend it if you want to get out of the house and just see if pottery is your thing. You practice hand building and the wheel within the 2 hour session.
Nam was a brilliant teacher. Good value for money as well.
Great class! Always wanted to try it and Nam is so creative he made the class so enjoyable. Definitely worth going to!
Super fun with enthusiastic and encouraging instructors!
I had a lovely time. It relaxing and casual, just what I needed. I had a chance to build something by hand and on the wheel. It is a taster session so time does go quick, but it was enough for me to be interested in a full course.
Friendly and relaxed atmosphere. A great introductory workshop and can't wait to go on a full day course. Thanks nam for a fantastic afternoon
Really enjoyed this class - would definitely recommend.
This was a lovely taster workshop. Enjoyed both the coiling and throwing parts. Very relaxed and friendly.
Really fun, great staff
Quite fun to learn the basic skills and very enthusiastic tutors. It would be good to have a bit more time though.
Very insightful as my first ever attempt at pottery. Great teacher and managed to finish a few pieces that I can take home.
Really fun class - I think I have the throwing bug!
This was such a fun and different day out. The class was well organised and the instructors were extremely helpful and knowledgeable of their craft, but still made it fun and enjoyable! I would high recommend this class!
Really enjoyed the class. The tutors were really friendly and helpful and provided a great intro to pottery and ceramics. Looking forward to picking up the pieces we made and will definitely go back. Thanks!
The class was a nice experience.Tutor made everyone feel at ease.very friendly and was very good with instructions.I would recommend this course @ The old Biscuit Factory in Bermondsey...
Really loved this session! I was a complete beginner and felt like I was able to walk away after 2 hours having already learnt basic ceramic skills. Keen to go back again, the group was a perfect size which meant the tutors were on hand to provide focussed attention on each individual's performance to help you properly master your skill. Easy to book through Obby.
Great short workshop perfect for a weekend getaway to learn a new skill.
Nam and the team where great tutors, and very tentative even when in a medium to large sized group. The class was fun, enjoyable and a perfect intro to coiling and throwing on a wheel. The pottery itself was relaxing but also the added bonus of being able to collect your work for a small fee after its been glazed and fired. Highly recommend!
Excellent experience really enjoyed it, very good atmosphere , people super nice, I wish it could have last longer!
If you've been umming and aring about going to try this out, just book it! It's a fun couple of hours and it goes so quickly! Nam makes the instructions clear and helps you as much as you need and although I'm defiantly no good at coiling (or I need more practice) it was fun to try an alternative to throwing! Recommend this to anyone!
Great taster class, would definitely recommend for a first timer. Nam explained and taught us two techniques 1)Coil 2)Throwing.
Class was super informative and Nam was a great teacher. Lots of fun and definitely worth it.
Nam and Charlotte were great teachers. The workshop was such a fun , new experience for me and has made me want to try more pottery sessions! Highly recommend it
Had a fun afternoon. Nam the tutor, was very informative, enthusiastic and passionate about the art of pottery.
The class seemed disorganised and crowded. At the start
Great workshop; good balance between hand building and throwing. Very much enjoyed it for a Sunday afternoon. Could have had another hour of throwing.
It was a really fun and informative session!
Great fun!
This was a great workshop with two fantastic tutors
This workshop was great. I had a very nice time. Nam was friendly and explained us well. I strongly recommend if you want to try something different and are interested in pottery!
great and helpful
This was such a fun class. Got to learn about two types of pottery making, the coil pottery and the wheel pottery. The the teacher gave us a lot of information about the the clay types and techniques and I learnt so much in 2 hours.
Great course, very reasonable price and good fun for someone who wants to try something new!
Great! We really enjoyed it!
This is the perfect workshop for anyone who wants to get a taste of pottery. Nam was excellent and the class allows the participants to experience different types of pottery as well as keep the goodies! Materials were generously available and Nam is great at giving everyone personal time as well as working with the whole group. Highly recommend!!!
Fun class but wished it was longer!
This workshop was great and I'd definitely recommend it! Nam and Suzie are both friendly, great teachers and ensured we all had something to take home, as well as making the class really fun.
Such a great class, had a really really fun and enjoyable time. Wonderful teacher, I highly recommend!!
This workshop was great!
Great 2 hour taster session with Nam and his enthusiastic team on Sunday afternoon. Large easy to reach studio - clay throwing was the highlight! Looking forward to seeing my creations soon!
Great class, great teacher!
I know nothing about Potter, but the instructors made the class very enjoyable and easy to learn. Really had a lot of fun! Would definitely recommend it to newbies or even those who have done it before.
Fantastic taster pottery class! It was fun to try to make a bowl and make some ceramics on the wheel.
A nice class that is good for beginners.
So much fun, had an amazing time. Definitely recommend this class.
Really nice experience. If you never tried pottery class, this is the right way to understand if you really like it. A general imprinting about pottery can let you decide to sign up for a class. Otherwise you can spend relaxing hours followed by two good and kind teachers. Thank you guys hope to see you soon again.
I loved this pottery class. Nam is a great teacher but also let's you do your own thing and there's no pressure creating anything you don't want. I'm really pleased with the pots I made and was happy that we could get them glazed and take home! Will definitely be back for more.
A really good class, with excellent demonstrations. However, the class was very full, and I thought we would have more time on the wheel.
So much fun - and it was great to be taught by Nam!
Very informative and fun class jam packed with technique. Great introduction to the wheel and other clay techniques, makes you want to go back for more. Thanks!
Really helpful teacher. Great workshop - awesome value for money!
The class was much larger than anticipated (about 15+ people) so individual attention was less than I'd hoped. It was nice to have half the class split between hand building and throwing on the wheel, so that we could try both, and the instructor was very friendly. However, the class description made it seem like (at least one of) our works would be included in the price - but each piece that we made and wanted fired and glazed was an additional £2 on top of the workshop price.
Really fun and well organised class for beginners. Would recommend
Small class so we all got a little individual attention. There was a lot packed into the two hours. Very relaxed, very professional. Really inspired me to continue pottery. Highlight was being taught by Nam Tran himself. Such a cool guy. Planning to book a weekend of pottery in October. Would definitely recommend.
Attended this workshop with my partner. Session went as we were expecting, very relaxing and informative. Both instructors were great at guiding us in the creation process.
Really enjoyed the part of the class on the pottery wheel. Good guidance given during the work and help was provided. Very attentive. Could do with a better location, difficult to find the place
Perfect taster. Nam got us straight into making, with right balance of pace, great narrative, inspiration & exploration. Just Do it!
This was one of the most fun class I took in a very long time! I had always wanted to learn the technical skills needed to create clay pots and the instructor did a fabulous job guiding us learn the skill! Definitely coming back here for more sessions!
Lovely laid back workshop where we were able to make anything we wanted with and without a wheel. I made three pots and chose to take two home which will be glazed in the colours I chose. very excited to pick them up. Would definitely do this workshop again and would love a longer class
Really good teachers, very friendly atmosphere and great location. We learn't really quickly and it was incredibly satisfying how quickly we got to make something. Highly recommend it for beginners
It was the perfect balance of learning new techniques quickly and being able to 'freestyle' it - the teachers were great and gave us a lot to play with! I will 100% go back and do this again - so much fun.
The teachers were great, helpful, chatty and very personable! The class itself was very interesting and you are taught two different styles of pottery making, and you're encouraged to make whatever you would like to. A great class!
It was a wonderful experience! The workshop was amazing! Ideal to try something new and explore your creative side! I loved it!
The workshop was fab - there was a lot of support to make sure we were on track and doing everything correctly as well as not wasting time and resource so we all came out with pottery we were proud of, even as first timers! Highly recommend :)
It was a lot of fun. Surprised my boyfriend for his birthday and we both enjoyed the workshop. Time really flies in there and the two hours went by in the blink in the eye.
We had a great time at the pottery taster workshop, and felt it was value for the experience.
It was a really nice and relaxed environment. I truly had a wonderful time and would recommend anyone who is looking for a pottery taster session. I wou
The instructors were lovely! My friend and I had a good time :) I'd recommend to anyone willing to try pottery for the first time.
Great class with lots of fun and the instructor was very passionate about what he does. Definitely recommended if you want to relax and try out new things.
Really fun. Good chance to experience taster for pottery - tougher than it looks. Highly recommended.
Great informative class with a chance to learn two different techniques. The main instructor is very knowledgable and helped us through each step whilst also letting us be creative.
I had so much fun! It was very therapeutic, and the mentors were very helpful, engaging and they are really concise and clear in their teaching styles. Definitely a thumbs up!
The teachers were very helpful, just wish we could've stayed on the wheel for a bit longer as 1 hour didn't feel quite enough (looking forward to taking more classes though).
I loved it! Nam was a great teacher, the class was relaxing, and I was very happy with the pottery I made. Definitely recommend doing this class.
Took my sister for her birthday and she absolutely loved the class! The instructors were really friendly and informative, as well as ensuring we all left with something to be proud of! However I think better directions to building F would have been handy as we reached the class 20 minutes late after aimlessly wondering around looking for the hidden building. Can't wait to book another class just for the pottery wheel!
Good fun and a good level of teaching into basic pottery, both by hand and on the wheel.
Excellent workshop - the instructor was engaging and very helpful. If highly recommend to anyone.
My friends and I had a really great time and the teacher was amazing and really inspiring!!
Really great taster session. learned a lot and you get to do a lot in the 2 hours.
Nam's pottery workshop is a great introduction to working on the wheel, and using the coiling technique. He is a great teacher, with a hands on but relaxed approach, which is needed when getting started on the wheel. He was happy to let us be creative and make whatever we wanted. We'll definitely be back for a drop in class now that we know the basics. Highly recommend.
It was an amazing class. It is therapeutical, and the teacher is so good at explaining the techniques, very patient. I can't wait to get my bowl back. The only thing you need to be aware of: the location is tricky...
A really lovely introduction to pottery with the chance to make three items of ones imagination (and importantly ability). I would love to have heard more about the rationale for doing things, especially on the wheel, but the team really whetted my appetite to learn more and great to be able to trial whether I would like to pursue pottery further.
Had a lot of fun with this class! A good mix of hand building and wheel throwing. Plan to go back to the studio when I can.
A brilliant workshop! The teachers were patient, helpful, and it was really fun. Thank you!
Nam is an excellent teacher and the taster workshop is such a great way to be introduced to pottery. I can't wait for my next one!
Fantastic atmosphere and great friendly teachers. Felt it is worth much more than I paid.
Really enjoyed this class! Ideal for complete beginners. Nam was extremely helpful and made sure to allocate time with every student regarding technique etc. Perfect Sunday morning activity :)
We really enjoyed the pottery workshop and the teaching was very good. We were taught how to use the wheel and the manual method to make various ornaments. All the staff were very friendly and they welcomed anyone at any skill level!
Excellent teaching style and they really took the time to explain and talk us through the different stages
It was a really fun Sunday. Nam and the team are brilliant and really get to show you the different elements of pottery. I will be taking up a further workshop with them soon!
Really enjoyed it. Relaxing atmosphere. Teacher was good, explained and showed us how the pottery is been done. Definitely would do more and would recommend it to anyone.
Lovely and relaxing - a very thorough and enjoyable class. Would recommend to anyone wanting to give pottery a go!
The tuition was fantastic! Nam (the teacher) was brilliant and made it easy to understand and good fun. He tried to make it relaxing rather than stressful. Being a novice, I was a bit worried! I wish we had had more time on the wheel and less time doing the coil clay, but I understand that is part of pottery making! The time just flew by much too quickly. My daughter and I thoroughly enjoyed it.
Fantastic!!!!! Nam and Susy were fabulous. Excellent knowledge, fantastic resources, and very good managing skills. A WONDERFUL Experience.
Great class, brilliant teacher. I learnt loads and was a great way to spend an evening. Would definitely recommend for anyone.
It was a fun experience! We had great fun and everyone enjoyed it! But I wish we had more time on the wheel part to practice.
Very enjoyable taster session. After an intro you get hands on making a coil pot, then another couple more on the wheel. Decided to take home all the creations, which you get fired and in a choice of colours.
Great experience and lots of fun. Wish I had more time there. Thank you
It was a great class! Really enjoyed it and will recommend to anyone who is interested to learn more about pottery. Will definitely be sign up again!
Awsome workshop look forward to doing it again
A really friendly and enjoyable session. The tuition was clear and simple and the help and assistance provided during the afternoon made for successful pot making. I would thoroughly recommend this!
I absolutely loved the class. Nam is a great teacher and it was amazing to come away with pieces I had created myself, in only two hours! I'll definitely be looking to sign up for a longer course with Cernamic.
Super friendly and engaging hosts, who took the time to provide advice and a great sense of humour. Highly recommend!
Great workshop, Nam was super knowledgeable and friendly, really laid back chilled work shop, would definitely recommend.
A great introduction to pottery!
Had a wonderful experience. The teachers were very helpful and ensured we had fun as well as learned some new skills. Would love to come back for another go!
The class was really close to the station which is great when you don't know the area very well. Detailed demos and advise given throughout, all questioned answered. Would definitely recommend for a first timer or someone wanting to bring friends to try something new.
A great class for beginners! I had so much fun and would definitely go back !
Wish the class was a little longer. But overall it was cool to learn the different techniques used in ceramics
I booked this as a present for my partner for his birthday as he has been considering completing a pottery course and was not sure if he would like it. We had a really enjoyable time and had an equal chance at using the wheel and hand building, both of which were great fun and we learnt a lot. The group was small (8) which meant we all got help from the instructor and could all work at the same time. We definitely would book to come back again!
Amazing experience, Cernamic hosts were super helpful and friendly! This taster workshop is a great way for beginners to get an insight into pottery. All-round positive experience, highly recommend!
I got my first taste of pottery in this 2-hour class. The teachers were really patient and helpful. The class size was small enough for everyone to get attention and the help needed. I really enjoyed the class! The venue is a bit hard to find, but they were responsive on the phone to help navigate. Definitely go early to find the venue. The venue itself was nice, have everything we need.
Yes Nam and Suzie were both extremely helpful and useful. I went for my birthday with 6 of my other friends so were a big group all trying out pottery for the first time and they walked us through it step by step very patiently. We arrived a few minutes late but they let us hang around at the end to make up for the lost time and finish up our pieces till we were happy with them and kindly took many group photos of us! Only feedback point is to include a map with directions for how to get to the biscuit factory because google maps gives a completely different location and 100 Clements road building F and entrance isn't very obvious. I'll definitely be back again and sign up to be a member!
Great lesson in wheel throwing and coling from Nam and Susi. They explained everything well and it was throroughly enjoyable class. Would definitely recommend
Great venue, excellent teaching! Very interesting introduction and super fun!
Really enjoyed the class and Nam was a great teacher. Nice atmosphere with the group and relaxed environment. Would have liked slightly more time "throwing" on the wheel to get a better grasp of the technique, but the time was split 50/50 with trying the "coiling" method at the table.
Fantastic workshop. We were completely new to pottery and we had so much fun. You get to try throwing some pottery on the wheel and also have a go at hand making some yourself. You learn so much in 3 hours. Highly recommend.
For anyone wanting to try pottery then this class is a must...and for anyone who isn't thinking of a pottery class, go anyway! Excellent guidance and support was offered throughout the entire session, which was relaxing, fun and inspiring! You'll learn different types of pottery making and are given ample time to throw your creations! Would absolutely recommend in giving this a try.
A wonderful experience! Nam is patient, knowledgable and really passionate. We came away knowing far more than when going in, with a couple of great pots and bowls too, which wouldn't look as they do without great guidance. Thank you and hope to visit again one day!
Amazing class, the right pace for everyone, clear instructions, so much covered in such a short space. Excellent teachers kept it light and fun yet still managed to learn a lot. Really great value and very inspiring.
Really fun and managed to pack a lot into a short session! Relaxed and friendly atmosphere, would recommend and go again.
Could not recommend this more!! Such a fun morning- learning different pottery techniques and making 4 lovely pots. The teachers were so knowledgable, helpful and friendly and even brought in biscuits for the class. 10/10 thank you!!
Class location
Bermondsey
The Biscuit Factory, Building F, Studio 32
100 Clements Road
SE16 4DU
London
Gallery (11)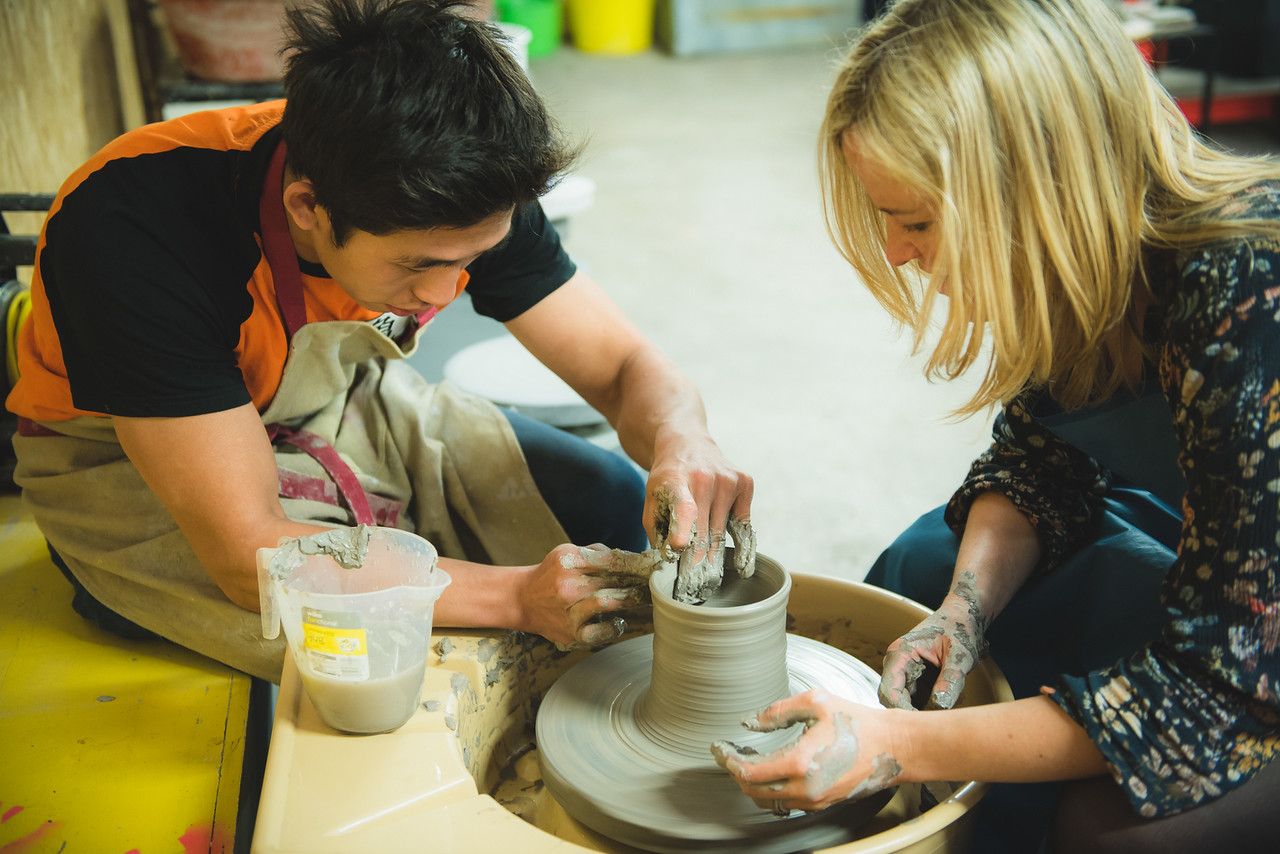 About your host, Cernamic
Nam Tran is an award-winning practitioner who gives lectures and demos at universities and exhibits internationally. A ceramic lecturer and head of the departments in design and multi media with Kensington and Chelsea college. Nam specialising in wheel thrown raku, bringing years of experience and craftsmanship to every object made. Tran's work focused primarily on exploring the physical properties of clay and material experimentation is a strong characteristics of his work. He has been developing making enclosed forms that are much stronger than open forms and therefore resonates well with the alternative firing technique he uses. His work is dominated by thrown pieces that subtly echo the urban roots and conceptual design. Nam Tran first made pots as a teenager on a wheel in his own bedroom and remembers being captivated by the experience. With his unique alternatives methods and approach to ceramics Nam Tran identifies rules and manipulates and bends them.
Notes
Comfortable shoes and clothing, short finger nails, Material provided.
Flexible cancellation policy
Any class can be cancelled and fully refunded within 24 hours of purchase. See cancellation policy.