What you will do
Six session course
Daytime
This six week mixed ability course will take you through the basics of the pottery throwing. No previous experience of working with clay is required!
You will be guided through clay preparation, from throwing on the pottery wheel, to refining and glazing your works. Beginners will learn clay preparation, throwing and trimming. For experienced learners, we can tailor the workshop to focus on any techniques or shapes you would like to improve on.
It will be taught in a relaxing environment in a small group of five, and you will be guaranteed a wheel to use every class, with no need to share. All tools and materials are included. Firing is charged at £1 per 100g weight of clay.
Included among techniques, but not limited to:
Clay preparation
Throwing on the potter's wheel: centring, opening, pulling up, shaping.
Trimming
Glazing
Booking fro September term: Date and time: Term 1&2: this course will run for 13 weeks with 1 week break on 1st November, on the following dates: 20-Sep 27-Sep 4-Oct 11-Oct 18-Oct 25-Oct 8-Nov 15-Nov 22-Nov 29-Nov 6-Dec 13-Dec You would be expected to attend all sessions, however, if under exceptional circumstances that you have to miss sessions, you will be allowed to make up a maximum of one session in another class provided availability. You will not be entitled to refund for any missing sessions
Select a class time
Fri 28 Feb 2020, 10:00am - 12:30pm
Fri 6 Mar, 10:00am - 12:30pm
Fri 13 Mar, 10:00am - 12:30pm
Fri 20 Mar, 10:00am - 12:30pm
Fri 27 Mar, 10:00am - 12:30pm
Fri 3 Apr, 10:00am - 12:30pm
Fri 24 Apr 2020, 10:00am - 12:30pm
Fri 1 May, 10:00am - 12:30pm
Fri 8 May, 10:00am - 12:30pm
Fri 15 May, 10:00am - 12:30pm
Fri 22 May, 10:00am - 12:30pm
Fri 29 May, 10:00am - 12:30pm
Fri 5 Jun, 10:00am - 12:30pm
Fri 12 Jun 2020, 10:00am - 12:30pm
Fri 19 Jun, 10:00am - 12:30pm
Fri 26 Jun, 10:00am - 12:30pm
Fri 3 Jul, 10:00am - 12:30pm
Fri 10 Jul, 10:00am - 12:30pm
Fri 17 Jul, 10:00am - 12:30pm
None of the dates work for you? Let the host know and you will be notified when new dates are added.
You will only receive an email from us if new dates are added for this class, you will not receive any marketing emails, and that's a promise!
Did you know?
The word ceramic can be traced back to the Greek term keramos, meaning "a potter" or "pottery". Keramos in turn is related to an older Sanskrit root meaning "to burn." (from Ceramic Studio Prague)
Obby Guarantee
We ensure quality. If your class doesn't reach your expectations, we'll give your money back.
Class location
Clapham South
7½ Trouville Road
Clapham South
SW4 8QL
London
Gallery (6)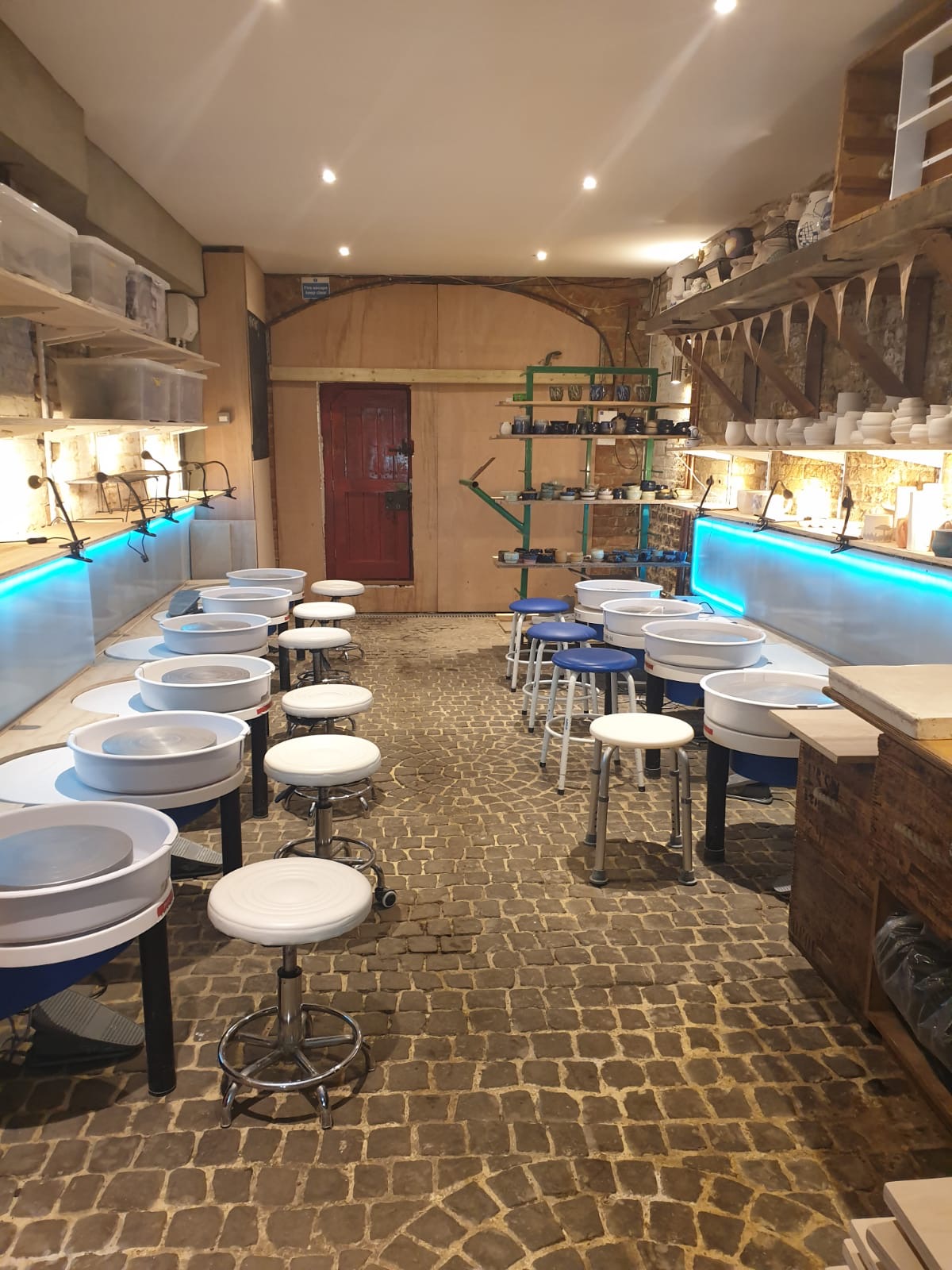 About your host, Clover Studio
About the Studio: Located in a residential area just 10 minute walk from Clapham South Station (Northern Line), Clover Studio was formally a stable, and had been transformed into a pottery teaching studio in 2020 by the owner of the building previously have their property featured in Grand Design, known as The Curved House.
The studio is equipped with 9 wheels, two kilns and all the necessities for day to day running of a ceramic studio. We also have access to a beautiful bamboo garden shared with the resident of the house, plus a dog and a cat that occasionally visit the studio to help keeping an eye on everything.
About our staffs: Clover: started as an evening class hobby potter in 2010 and now proud owner of Clover studio in London, she is a finalist of The Great Pottery Throwdown 2017. Her works are largely influenced by traditional Chinese and Japanese culture, inspired by the interaction of nature and human to promote flow of energy and harmony. (http://www.clover-lee.com)
Akiko: born in Kanagawa, Japan, graduated fromTama Art University in Tokyo which she majored in ceramics.. Akiko's making focuses on a concept called 'Yaeh' which means fang in Japanese. Using the mold of her teeth as a base as the sense of identity with the pondering question of "what do you want to leave in this world before you die?", she hopes her art can continue to uncover new forms, evolve and spread the joy of different lived experiences. https://akikomatsuda.com
Charlotte: Resident potter of the studio. "I like crafts in general like sewing and knitting because there is a physical output, and pottery is the same. I used to work in communications where I enjoyed making brochures, but that is all digital now."
Mel: Resident potter of the studio. "What really motivated me was making a pot that was really good and feeling like I had accomplished something and that I could be good at something - I felt like I can do this and that this was something I could do for me."
Notes
Please bring any inspirational items, such as sketchbooks, examples of works you really like, or your own works. As well as this, comfortable clothing that you don't mind getting dirty, and your own apron if you have one. If you have long hair please tie them back.
Flexible cancellation policy
Any class can be cancelled and fully refunded within 24 hours of purchase. See cancellation policy.