What you will do
In this workshop, you will be guided how to best decorate the pieces that you have made at one of our pottery session.
If you haven't made anything at one of our sessions, here is the link to book a place:
You can book our taster session Here.
Don't forget to leave a review to get 25 Obby reward points!
---
---
Select a class time
Sat 25 Apr 2020, 10:00am - 12:30pm
Sat 25 Apr 2020, 1:30pm - 4:00pm
Wed 6 May 2020, 6:00pm - 8:30pm
Sat 30 May 2020, 5:00pm - 7:30pm
Wed 3 Jun 2020, 6:00pm - 8:30pm
Wed 10 Jun 2020, 6:00pm - 8:30pm
Sat 13 Jun 2020, 5:00pm - 7:30pm
Sat 27 Jun 2020, 5:00pm - 7:30pm
Wed 8 Jul 2020, 6:00pm - 8:30pm
Sat 11 Jul 2020, 5:00pm - 7:30pm
Wed 15 Jul 2020, 6:00pm - 8:30pm
Sat 25 Jul 2020, 5:00pm - 7:30pm
Wed 12 Aug 2020, 6:00pm - 8:30pm
Wed 2 Sep 2020, 6:00pm - 8:30pm
Wed 30 Sep 2020, 6:00pm - 8:30pm
Wed 7 Oct 2020, 6:00pm - 8:30pm
Wed 4 Nov 2020, 6:00pm - 8:30pm
Wed 11 Nov 2020, 6:00pm - 8:30pm
Wed 9 Dec 2020, 6:00pm - 8:30pm
Wed 16 Dec 2020, 6:00pm - 8:30pm
None of the dates work for you? Let the host know and you will be notified when new dates are added.
You will only receive an email from us if new dates are added for this class, you will not receive any marketing emails, and that's a promise!
Obby Guarantee
We ensure quality. If your class doesn't reach your expectations, we'll give your money back.
Thanks for the informative workshop!
Teacher explained really well all the techniques and outcomes. Love it!
Reviews
Thanks for the informative workshop!
Teacher explained really well all the techniques and outcomes. Love it!
The glazing workshop was really good. We were taught different techniques and then helped throughout, the teachers gave hints and tips to make things better :)
As a beginner the class was very welcoming class and the teachers were really helpful! Definitely recommend!
We had so much fun , experimenting with paint & glazinging , the tutor was really helpful and extremely patient with my children .
The ladies were very knowledgable, welcoming and friendly. Really enjoyed it.
Great teachers who were really encouraging, learnt techniques that came out really well!
Fantastic workshop, lovely friendly tutors!
It was an amazing experience, enjoyed a lot, nice friendly people in a place what reminds me for my kindergarten back in a days... I highly recommend to Everyone, specially if you want to relax your mind and escape from our running "everyday-life"... Hope to go back soon! :)
A lovely evening, very welcoming and highly inspirational. Totally recommend
Loved every minute of it! The team is great, good engagement and support in doing your best work!! I had the glazing class booked 2 weeks after the pottery one and I would recommend to anyone to book both of them! Much fulfilling to see the pieces developing and shaping in little decorations that could be displayed at home or even made into gifts!
Another lovely evening spent here, originally for making pottery, on this visit to glaze our pottery. The ladies are inviting, patient and knowledgeable - I absolutely recommend giving it a go; it's really relaxing!
Excellent as ever. WorkshopStaff are extremely knowledgeable - most are artists themselves to a greater or lesser degree -
Brilliant! Lots of colours to choose from, including dipping colours and underglazes. Lovely teacher and very efficient and welcoming course organiser.
Had an awesome time learning about different glazes, how to apply them and how different colours interact not just with the clay, but with each other. Looking very forward to my next session to try some different ideas!
Great workshop - enough time to get all pieces done and have a cup of tea! Excited to see the results now!
Amazing experience, I would definitely recommend! The tutor was lovely and so very helpful!
Such a lovely evening, learnt some really cool techniques for glazing and the ladies who ran the class were really great and always made the time to answer any questions we had. Can't wait to see how the pieces turn out!
Great fun and teachers there were very helpful
I had a great time, and I can't wait to pick up my creations. The teachers are super nice and give different glazing options. They help you whenever you need but always let you do everything.
This glazing workshop was fantastic, the instructors were helpful and patient and full of great ideas. Thanks to everyone at the workshop!
Another great class by the guys at 305 Community Interest Company. I had so much fun trying out the different techniques and learning about the glazes. I can't wait to see how they turned out! Would thoroughly recommend this class and the pottery taster class!
Fantastic workshop again where we got to learn and use different glazes on our pieces, time flew by as usual! Would definitely recommend for when you've finished your pottery workshop!
Second time I've been to the studio - really friendly, loads of advice and help, highly recommend! Looking forward to seeing how my pieces turn out...
Fantastic class! The girls were awesome, really knowledgable, helpful and relaxed easy to learn environment! Thanks so much. Can't wait to come back!
The ladies were very helpful and explained everything in an easy to follow way. Thank you
Workshop 305 are absolutely fantastic, Both sessions I done have been very informed. Staff a great and informative, always happy to help you when you need. I highly recommend these guys! Looking forward to collecting my work and putting them to use. 👌🏽
Thoroughly enjoyable evening! The workshop leaders where quick to offer support in a friendly and relaxed atmosphere. Will happily sign up to other sessions. Many Thanks, Chris
Loved this workshop. The instructors were really helpful and informative.
I really enjoyed the Glazing Workshop, it was great fun, very good and a relaxed environment. The tutor was very helpful. Thank You for a great class.
It was so much fun, and kind teacher. I really enjoy it!
Amazing fun! The instructors are highly knowledgeable and very helpful. I am super excited to see how my pottery pieces turn out. This was the second of two classes and we are looking to book a third.
Fantastic experience! I really enjoyed bringing the pottery pieces I made to life in this workshop. Good range of tools to work with and staff were helpful. The prefect way to relax and unwind after work.
Loved making the pots - found glazing more difficult. Would have liked more examples
I booked this class following the pottery class. It was fun and therapeutic and hopefully I will have a few fantastic pieces to take home.
Brilliant Experience. Teachers are really helpful and very patient to everyone in the class.
Great way to spend a few hours, lovely staff and learnt some great skills
Enjoyed it very much, very relaxing
Fun, interesting, engaging, learnt loads... Would totally recommend and won't hesitate doing another class
Lovely staff and great facilities.
The pottery class was great and the glazing class was great too! Our teachers - Eloise and Sorcha - were fantastic teachers - ready to help and answer questions when we needed but leaving us to get on with our pottery/glazing. Loved the space - inspiration all around us. Highly recommend.
Really helpful and informative staff. Lots of great resources and a lovely atmosphere :)
Very relaxing. Clear teaching and gentle support as needed. Really a wonderful fun experience. Thank you so much.
Really enjoyed the painting and glazing experience, can't wait to see the results!
Loved the glazing workshop. Everyone is extremely welcoming, knowledgeable and very helpful
Fab, fun, knowledgeable and helpful staff! A friend and I went to the pottery class which was so good we decided to go back a few weeks later to paint our pieces. The class size was small, and there was a lovely chilled atmosphere throughout. Staff talked you through the different techniques for painting your pieces - but ultimately let you have fun with it! I hadn't heard of obby before this experience but will definitely be recommending it, and the class, to my friends 🥳
Great workshop offered as a follow up to the pottery class.
Very good class. Would 100% recommend.
I had some technical tips about how to use the colours, how to choose the right brush and how to prepare a base before colouring. The teacher was very informative and super friendly. The venue was welcoming and well organized. They have lots of models/stencils to use.
Great time decorating the pieces we made at the previous pottery taster session! After the initial overview of different techniques, the teachers are there to support you and give you practical tips, while you have your own space and time to practice and play with creativity. We are already looking forward to the next opportunity to go back to Community 305 and make other pieces soon.
Another lovely session. Elouise took us through lots of different techniques and styles. Looking forward to seeing the finished products and booking in for a longer term workshop. Definitely got the pottery bug! Thanks so much ladies, look forward to seeing you again soon.
Class location
Wimbledon
9 Weir Road, Wimbledon
SW19 8UG
London
Gallery (14)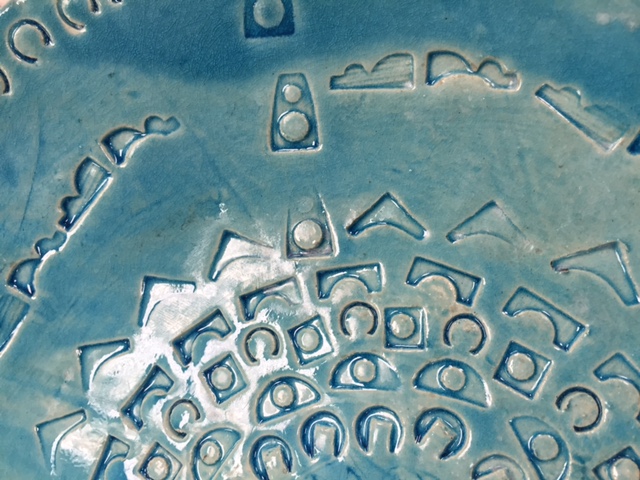 About your host, Workshop 305 Community Interest Company
A social enterprise based in Wimbledon offering pottery, mosaics & print making at evening and weekend workshops.
Workshop 305 have created a relaxed studio atmosphere with a spacious ground floor that is divided into 2 large studios with a kiln room as well as a kitchen/dining area. The fully accessible building allows access for everyone.
Day to day, the workshop has classes for students with disabilities but also runs evening workshops in pottery, mosaics and print making for both adults and children with all abilities.
Our evening and weekend workshops, team building days and specialist workshops all support the work that we do.
FIND US
The nearest tube station is Wimbledon Park.
The nearest train stations are Haydon's Road and Earlsfield.
Buses: 156, 200.
We have ample free parking.
Age Requirement
14
All students under the age of 16 must be accompanied by a parent/guardian.
Flexible cancellation policy
Any class can be cancelled and fully refunded within 24 hours of purchase. See cancellation policy.