With roughly 130,000 people taking part in Dry January in 2021, why not help make this year's Dry Jan the most successful ever by joining in? Started by Emily Robinson in 2011 in an attempt to make her training easier for a half marathon coming up, the movement has continued to grow as people head into the New Year and are looking to make a change.
Whether you're looking to take part to help improve your own health and relationship with alcohol, save some money, support a loved one taking part, or to raise money for charity, here at Obby we've got you covered with a list of our alcohol-free class picks.
---
Our Top 10 Picks for Dry January-friendly classes are:
---
Mindful Monday: Learn to Paint Over Dry Jan
Location: Belgravia, London
If you're looking to let your creativity, but not the alcohol, flow this January then these Coached Alcohol-Free Painting Classes from MasterPeace is perfect for you!
In January, the Belgravia-based painting studio is teaming up with Saicho Drinks, an amazing non-alcoholic drinks brand, to offer a Mindful Mondays Series. Delicious Saicho cold brew sparkling tea will replace MasterPeace's usual alcoholic beverages, making the series more affordable than some of their other classes.
The classes will be taught in MasterPeace's usual Coached Class format, where you can choose any image from your smartphone that you'd like to paint. You'll be connected up to your very own personal projector, which will cast your image down onto your canvas board for you.
This course will take place on Monday's throughout January, so you can make it a regular part of your weekly self-care routine. You'll get to the opportunity to know other like-minded people, and develop not just your art skills, but also connections over the course of the series - either by doing the class with friends or by meeting new ones!
Book now on Obby
---
Beginner's Soap Making Workshop with Afternoon Tea
Location: Bexley, Greater London
Looking for an activity to do with friends that doesn't have to involve alcohol? This soap-making class, along with afternoon tea, could be the perfect option!
Hosted by the Old Bexley Soap Co., founder and your teacher Paula will work with you throughout the session to show you the essentials of how to make luxurious, fragrant soaps, for home or as gifts to wow your loved ones.
The course includes all ingredients, the use of soap making and protective equipment as well as refreshments and afternoon tea and by the end of your class, you'll leave with 8 luxury palm-oil free soaps you have made from scratch!
Book now on Obby
---
Terrarium Online Masterclass
Location: At Home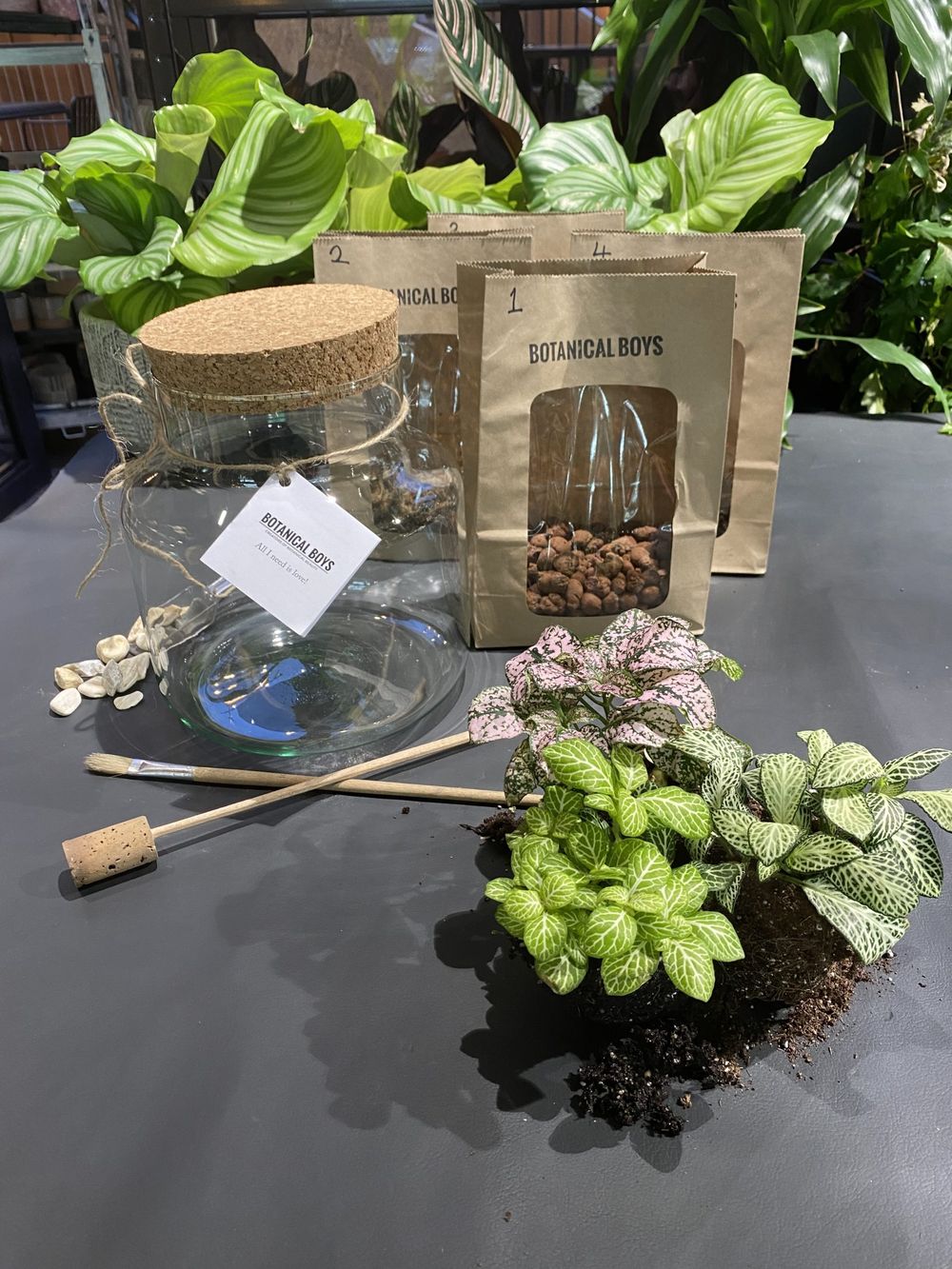 If in Dry January you're looking to spend some alcohol-free time at home with loved ones, then why not spend time making this Terrarium together in this kit from the Botanical Boys?
In case you're unsure, a terrarium is "a miniature environment of living plants that thrive off moisture." In this live online class, you will learn the why's and how's for making a self contained living botanical environment!
You'll be taken through all the steps you need to build your terrarium during the 2-hour class, where the Botanical Boys will provide fascinating history facts on terrariums throughout, with opportunities to speak to your tutor about any questions or queries you might have.
Book now on Obby
---
Art Journaling for Wellbeing
Location: Kingston-Upon-Thames
Another great creative option for Dry Jan is this drop-in Art Journaling class from Blue Palette Art. A fun, simple, and non-committal way to incorporate creativity into everyday life!
An art journal is a great place to experiment and try out different approaches to art without the pressure of creating a masterpiece; you'll get to use various media and art techniques to express your creativity, and improve your wellbeing and decrease stress from everyday life. Something especially important if you've found you've been using alcohol to de-stress instead.
The weekly sessions are run by Sai, an experienced teaching artist, avid art journaler and calligrapher. Each week you will explore different mediums, themes and techniques. From simple mark making to more elaborate mixed media art, you'll get to learn various new skills as well as gain confidence in your artistic ability and develop an amazing creative habit! Whether you have five minutes or half an hour to spare, Art journaling will inspire you to be creative and reconnect with yourself.
Book now on Obby
---
Intensive Wheel Throwing Workshop
Location: Hackney, London
If you're looking to get stuck-in with a hands-on hobby during Dry Jan, then this Throwing Workshop from Sak Beh Pottery is the perfect option! In this workshop, you will learn a little about the properties of clay and the importance of wedging, as well as how to centre, open, and pull up the walls of your pot. Throughout the workshop, each person will have their own dedicated wheel, so you can enjoy the wheel throwing experience without any interruptions! This is perfect if you're looking for a non-boozy activity to do with friends or family. At the end of the workshop, you can keep your best pot to take home, after it has been fired and glazed for you - perfect for showing off your achievement!
Book now on Obby
---
Bowl Carving Workshop
Location: Hackney, London
Another great activity to do if you're not drinking throughout January is this Bowl Carving Workshop from London Green Wood; a cooperative of woodworkers practising rural crafts in the city. Based at Hackney City Farm, they work with green wood straight from the log using only hand tools. All the wood they use has been felled locally.
In this workshop, you'll learn how to safely use an axe, an adze and gouges, and you will make a hand carved bowl from a log of wood; perfect as small fruit bowl and for picnic-ing. This workshop is a great way to spend more time in the great outdoors, even if you are a city-dweller. And though there may not be any alcohol to sip on, teas and coffees are provided to keep you warm during the chilly January days!
Book now on Obby
---
Evening Mediation
Location: At Home
Looking to spend your Dry January nights in a more reflective space? Then this Online Evening Meditation guided by Diya Within could be a great place to start. An at-home practice, all you'll need to bring is something to watch the live meditation on and a comfortable place where you feel you can reflect.
During the 50 minute session, Diya will explore a particular topic and explain how you can connect with this using the practice of meditation. Using the breath you will enter a deep state of relaxation followed by a guided inner journey, using a mix of guided visualisations and mantras to keep the mind focused. An evening practice, it's a great way to relax before bedtime!
Book now on Obby
---
Turning Tables Vintage Upcycling Workshop
Location: Streatham, London
Fancy using some of the money you'll save during Dry Jan to get hands-on with a project - maybe even one you've been putting off for a while? In this workshop by Touch Wood Vintage, you'll learn how you can use natural ethical paints, accent colours and waxes to bring a whole new layer of creativity to your re-purposing and up-cycling projects.
Lynda, your teacher, will provide everything you need for the workshop - even a piece of furniture if required -  and you'll be introduced to colour trends and how to mix your own unique natural colours, and don't forget a few tips and tricks to help you along your way.
Book now on Obby
---
Tooled Up - Metalwork
Location: Woolwich, London
Following on from the DIY theme, if you're looking to go into an alcohol-free January and want to get on with those home projects you don't know where to get started with, this class from London Sculpture Workshop can help you get off the ground!
If you're unsure when to snip or saw, can't tell a claw from a ball-pein or are avoiding that shelf, then London Sculpture Workshop will get you confident in marking out, cutting up and constructing your own personal tool box to store and carry your gear. Along the way, they'll also teach you all the tips and tricks you need to get to grips with any DIY projects involving metal so you can leave with the confidence to tackle those making projects at home!
Book now on Obby
---
Paint In An Artist's Studio At A City Farm
Location: Stepney, London
For our final class for Dry January, we've circled back to painting! In this Painting Workshop with Georgie Mason, there's a strong focus on mindfulness and connecting with nature at her studio in Stepney City Farm.
On arrival, Georgie will set you up with a canvas and begin with some mindfulness, art or literature linked to the month's theme to get you feeling inspired. You can then go for a walk around the farm to salvage materials for texture, or just soak up the nature, before getting stuck into your piece. She will talk you through the process of building up your composition, helping you shed your inner perfectionist so you can focus on enjoying the process! With unlimited teas and coffees, this class is another great activity to try with friends or family for a non-alcohol based activity to do together.
Book now on Obby
---
Need more advice?
Hopefully, these Dry Jan ideas will help you out if you've been looking for alcohol-free activities to kick off your 2022. If you're still stuck for the perfect class for you, be sure to take a read of some of our other amazing guides and best round-ups below. We're sure you'll find something useful, oh - and don't forget to share the love.