Classes
Learn to Paint With Allan Storer's Flexible, Person Centred Style
Add a dose of fun and education to your week in our friendly relaxed art classes - the perfect creative environment with tuition from practising international artist Allan Storer and visiting artist in residence Mila Lynn fresh from the sunny beaches of South Florida, USA.
Allan is a specialist in oil painting and Mila works in many mediums including acrylic, oil, charcoal and magazine collage.
Our goal is to help you develop confidence with your creativity and assurance in technique with like-minded people who love to paint.
This is the perfect push for you to reconnect your creative vibe.
Classes take place Tuesday and Wednesday 11:30-14:00 with Allan and 6.30- 9.00pm with Mila Lynn @ Wimbledon Art Studios Saturdays 10.30am -1.00pm with Mila Lynn @ Wimbledon Art Studios
Selected Sundays 10:30-13:30 with Allan @ Cass Art Kingston
Sunday classes in Kingston are a lively experience of about twelve, friendly and focused where everyone wants to learn whilst Allan's Weekday Studio classes are smaller and more intimate with a maximum number of four ensuring almost personal tuition for attendees.
The very First Class with Allan achieves prescribed objectives in Colour Theory and Use of Oil Paint.
Follow On Classes are aimed at developing your artistic style and creative flair.
Drawing skills are not required to becoming a good painter, so please do not worry about drawing to begin with: Allan will include drawing if and when your natural development requires it.
YOUR FIRST TIME?
Allan will supply oil painting paper and you will -
(i) begin with a basic introduction to colour theory, primary, secondary and tertiary mixing.
(ii) experiment with grey scale painting
(iii) look at tone and colour value
(iv) become familiar with the application and feel of oil paint
(v) following this you will experiment further by developing what you have already learnt, either by practising more of the same or having a go at a painting on your own canvas. Its up to you!
NOT A BEGINNER AND BEEN BEFORE?
(i) You will be able to get on with your own work, defining and redefining your style, picking up where you have left off, continually developing your skills base.
(ii) Your style may be abstract, expressionist, naive or anything else, whatever Allan's broad experience enables him to adapt his teaching style to your individual needs.
(iii) You will paint either a Studio Still Life or copy one of the many images we can supply or you supply yourself.
(iv) Allan will continually interact with you, passing on tips, setting challenges and learning objectives.
(v) You may complete a painting in the one class or be working on one over several classes or at home.
Students explore their personal style at their own pace, making and correcting mistakes as they develop. Importantly there are no mistakes in painting and "perfection" is an obsolete term.
Learning to paint is a lifetime process, even the most experienced professional artists at the top of their game are still learning.
Most importantly the workshop will be a focused yet humorous adventure for you to explore oils, gimmick free with no false promises.
Select a class time
Tue 24 Sep 2019, 11:30am - 2:00pm
Wimbledon Earlsfield, SW17 0BB
Tue 24 Sep 2019, 6:30pm - 9:00pm
Wimbledon Earlsfield, SW17 0BB
Wed 25 Sep 2019, 11:30am - 2:00pm
Wimbledon Earlsfield, SW17 0BB
Wed 25 Sep 2019, 6:30pm - 9:00pm
Wimbledon Earlsfield, SW17 0BB
Sat 28 Sep 2019, 10:00am - 1:00pm
Tue 1 Oct 2019, 11:30am - 2:00pm
Wimbledon Earlsfield, SW17 0BB
Tue 1 Oct 2019, 6:30pm - 9:00pm
Wimbledon Earlsfield, SW17 0BB
Wed 2 Oct 2019, 11:30am - 4:00pm
Wimbledon Earlsfield, SW17 0BB
Wed 2 Oct 2019, 6:30pm - 9:00pm
Wimbledon Earlsfield, SW17 0BB
Sun 6 Oct 2019, 10:30am - 1:30pm
Sat 12 Oct 2019, 10:30am - 1:00pm
Wimbledon Earlsfield, SW17 0BB
Sun 3 Nov 2019, 10:30am - 1:30pm
Sun 24 Nov 2019, 10:30am - 1:30pm
None of the dates work for you? Let the host know and you will be notified when new dates are added.
You will only receive an email from us if new dates are added for this class, you will not receive any marketing emails, and that's a promise!
Did you know?
Do you know Picasso said, "It took me four years to paint like Raphael, but a life time to paint like a child." Who would have thought it? But its true! The artist has to go beyond the technical aspects of art and free their imagination to paint beautiful and exciting paintings with a purpose. Van Gogh like many others did. And that is more difficuilt than we think..
Obby Guarantee
We ensure quality. If your class doesn't reach your expectations, we'll give your money back.
Friendly well taught oil painting class :)
Love classes with Allan. Very friendly environment, great encouragement, it's really helped me find my feet in the art.
Reviews
Friendly well taught oil painting class :)
Love classes with Allan. Very friendly environment, great encouragement, it's really helped me find my feet in the art.
Allan is great. I used to do oil painting but had called out of practice and his class was a great refresher. I'm now excited to paint again and I look forward to my new class and finishing the painting j started.
This was exactly what I wanted when I booked this oil painting class. Allan was patient & informative, offering varying levels of instruction to the small number of students (of varying skill level) in the studio. He provided an excellent creative environment & a wealth of knowledge in oil painting.
Really enjoyed this class. Allan was an interesting and engaging tutor. Very good atmosphere, and everyone was working on very different and individual paintings. Learned quite a lot on my first class. Going back next week.
Inspiring, interesting and thought provoking art class, which is tailored to each individual's needs snd capabilities. Allan is skilled at developing and giving confidence to each person, and listens to what they want to achieve. Freedom is given to enhance your own talents, and to learn how to obtain your own unique style in a non conformist and non conventional way. Thoroughly enjoyable.
I learnt a lot from just one class with Allan. He gave us really useful colour mixing techniques and painting guidance which really helped me improve my skills. By the end of the day I had produced a piece of artwork I was really pleased with. Great location with a good size room to work in. Highly recommend!
I really enjoyed it and and will be back again soon. We went through some basic colour wheel blending and tips and even though I'm not a beginner it was very useful. Quirky funny teacher
Another great lesson . Learning a lot !
This was my first oil painting class and I loved it.
Great
brilliant
brilliant
Really good session, learning how to mix colours in oil paint. Allan is a good teacher with a strong sense of humour. He takes the time to speak to each individual and help them improve. The Kingston studio is light and airy. Good workspace and easy to find.
A very helpful and well organised course on the basics of colour mixing in oils, useful for both beginners and improvers. The tutor demonstrated well, and was encouraging to individual students, and the general atmosphere of the group was pleasant and friendly.
Very helpful
I really enjoyed it - great for first timers as well as those wanting to get back into painting. Allan was lovely as well as entertaining.
As a beginner I found the class very enjoyable, there wasn't the worry that what you produced, following Allan's clear instructions on colour mixing and applying the oil paint to paper, that it could be wrong. Having that freedom to do as much as you wanted in your own style was perfect and I very much look forward to my next session so thank you.
As a complete novice to the art of painting, the introduction to the colour wheel and the blending of the 6 primary colours was interesting and useful. I am pleased to have experimented with oil painting, and much as I love oil paintings, I've decided on a practical level it would suit me better to apply what I have learnt to painting with a different medium, possibly acrylics. The duration of the workshop was just right as an introduction, knowing that smaller, more focused workshops are available for someone wishing to take the interest further.
I did enjoy the class but would have liked a more detailed outline of the class content. Essentially it centred on the Colour Wheel and mixing colours. Had I known this, i would probably have chosen a different class. More details on each class please!
Hi there, Yes I really enjoyed this workshop. As Allan does so many, I felt he still cares about whether we had got the process or not. Would recommend to any of my friends. The most important thing about this teacher is, there's freedom of speech. Nothing is taken too seriously, which is perfect when painting. He is very encouraging and allows the creative flow to just..flow! Haha. Thanks
Allan was a very engaging tutor and constructive in steering me down the right path where oils are concerned. He is very accommodating and I'm sure our paths will cross again as I need further tutoring
Good fun
Amazing! Made me realise abilities within myself that I otherwise wouldn't have been able to find. Allan and Mila were great as well; made us all feel really welcomed and supported us through our work. The journey was definitely worth it! Thank you x
Class location
This workshop takes place in multiple different locations. Click on SEE DATES to see which workshop takes place where.
Gallery (17)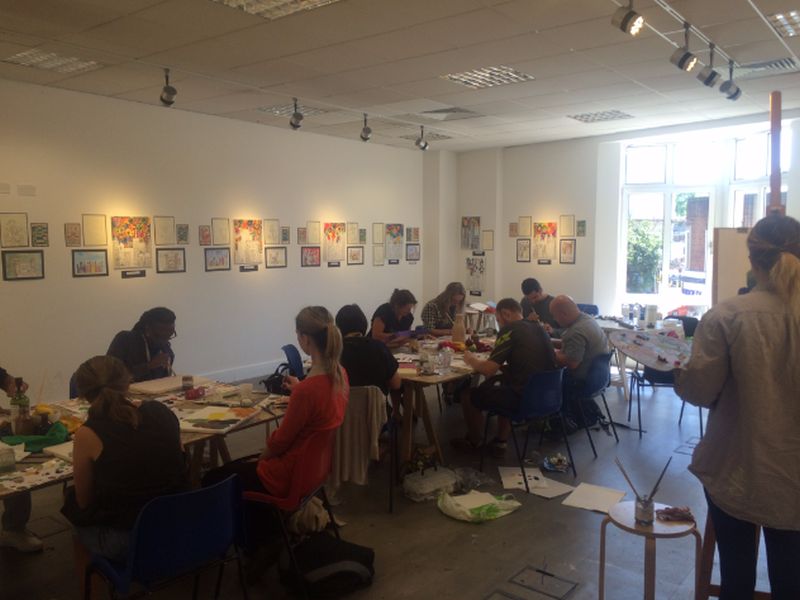 About your host, Allan Storer Art
A great teacher Allan Storer MA Chelsea School of Art is a practising oil painter, theorist and tutor with a professional background defined by rigorous OFSTED education expectations and is a top teacher with a well informed knowledge of Art.
A natural educator he is warm and caring; " every one has a creative edge waiting to be tapped " he says. A lifelong learner himself he places a strong emphasis on communication. and welcomes feedback, suggestion and requests form yourself.
Following seven years study devoted to the Practice and Theory of Art and four universities later, Allan followed a career path incorporating art and the creative principle in educational and therapeutic environments with adults and young people.
He has exhibited with the Royal Institute of Oil Painters as well as a string of local galleries in London, Surrey, the home counties, Cornwall and Wales. His work is collected in both public and private collections, and can be seen in homes of Royals, Celebrities, Politicians and Show Homes in major developments.
A member of the Federation of British Artists and Hesketh Hubberd Drawing Society, Mall Galleries, London, Allan also has work in the BBC National Collection of Paintings in Public Ownership. His work has also been used for corporate logos, published in magazines and on recording labels. His specialism is 20th. Century Modern Art.
Education : Master of Arts, Chelsea School of Art, London Bachelor of Arts, University of Wales Post Graduate Certificate of Education, Kings College.
Notes
All materials provided except canvas. Please bring canvas maximum size 18 ins (45 cms). Please wear casual clothes or bring an apron to protect your clothing and please note the classes taking place in Kingston will run for 3 hours (to accommodate for a larger number of attendees).
Age Requirement
8
All students under the age of 16 must be accompanied by a parent/guardian.
Flexible cancellation policy
Any class can be cancelled and fully refunded within 24 hours of purchase. See cancellation policy.