What you will do
Let's not lie about it, crafting uses up a lot of materials. And even more materials don't get used at all! So if you have a secret stash of guilty craft purchases, this is for you….
• Swish away your ill-advised crafty purchases! • Take home some guilt-free stuff you'll use! • Help minimise waste! • Add some good karma to the world of craft! • Share your crafty stories with other crafters
All that stuff going to waste in our cupboards, lofts and under our beds is a crying shame. It's taking up space that us London-dwellers can ill afford, and all that clutter just isn't good for our creative souls. So let's do something about it.
Maybe you're new to craft, and you bought a load of stuff that now you don't know what to do with? Bring it along and swap it for something you can use. Or you might even meet someone who can show you what to do with it instead.
Already a Super Crafter? Come along and declutter, get inspiration, encourage the newbies and share stories with fellow crafters.
Here's the rules – simple but fair…
1) Everyone must bring at least one item of quality craft material or kit (drop off from 10.00am)
2) You will have half an hour to browse before the swish opens (10.30 – 11.00am) 3) No item may be claimed before the swish opens at 11.00am 4) As soon as the swish is declared open, everyone may take what they want. 5) Remember we're here for sharing not sharp elbows!
Our hosts Cecil Sharp House have a delicious range of light bites, homemade cakes and main meals available throughout the day in their cafe. Why not grab a bite there then pop in at 10.30 for the browsing before the swish opens at 11.00am. Then there's an hour and half of nabbing what you want, and of course craft chat.
Tickets are £5 to cover costs. Everyone will get a lovely tote to take stuff away in too.
Obby Guarantee
We ensure quality. If your class doesn't reach your expectations, we'll give your money back.
I absolutely loved this event. The team members were so helpful and kind
It was really well organised, friendly and great to go away with a bag of goodies!
Reviews
I absolutely loved this event. The team members were so helpful and kind
It was really well organised, friendly and great to go away with a bag of goodies!
Amazing idea and well thought through and organized. Got some great crafting stuff :)
Came home with so many free goodies! Not great for clearing out craft stuff though 😂
Wonderful morning spent at the Big Craft Swish, it was a great experience and well organised. Loved the idea of bringing all my crafts that I no longer needed or used and wanted to give to someone who could use them. I came with a big bag and thought I would take a few small items home, how wrong I was! I found some wonderful wool and knitting needles which I will definitely use! Thank you and I really hope you will have another one soon!!
A fabulous and friendly Craft Swish at Cecil House. Brilliantly organised by Sonia from the London Craft Club with a group of lovely helpers. I took along a huge bag of art and craft materials and left with some gorgeous bottle green linen, 1/4 metre of my favourite Marimekko fabric and a metre of beautiful tweed AND a ton of coloured zips too. I would definitely go again!
Class location
Camden
2 Regent's Park Rd
NW1 7AY
London
Gallery (6)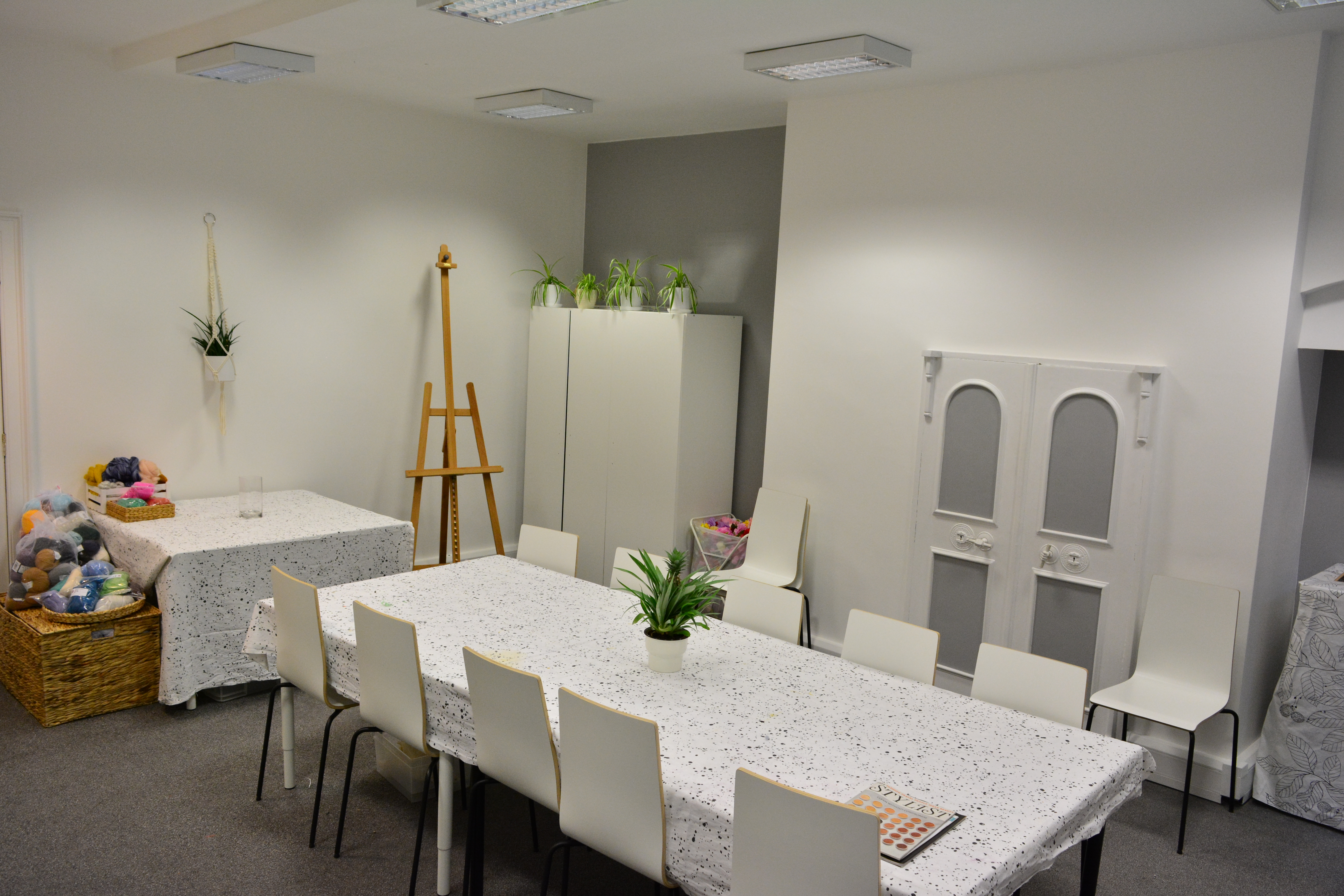 About your host, London Craft Club
London is a hub of creativity, culture, and of course, craft, but it's also a terrible time thief. London Craft Club founder, Sonia, used to be a member of an awesome little group called Crafty Mums. They were creative, crafty, motivated and united in their interests – but only once in all the years of meeting did they do any actual crafting together! Work, commuting, parenting and all the rest seemed to leave no time to do all the fabulous craft projects that were possible.
Sonia really believed that crafting can be so good for you. Good for socialising, good for sustainability, good for creativity, good for happiness. So she started London Craft Club. It's a friendly, fun place for you to easily try new crafts or pick up an old one in lots of different London venues. No fuss, no bother, you can rock up with just your lovely self and leave with an amazing finished piece you've made in just a couple of hours. We've got all the right kit, equipment and templates you could possibly need, so you can focus on enjoying the crafting and making.
Sonia studied Glass and Sculpture at University, and sews, knits and even welds from time to time. She also spend many years working in education in all sorts of unusual and informal environments, so London Craft Club has grown out of her twin love of teaching and making. Along the way she's also met some great craft teachers , and shared her teaching skills with them too.
So welcome to the Club – come along to one of the crafty sessions soon and get in on the craft thing!
Flexible cancellation policy
Any class can be cancelled and fully refunded within 24 hours of purchase. See cancellation policy.