Classes
If we want a world that is beautiful, kind and fair, shouldn't our activism be beautiful, kind and fair?
Send a positive message to your Member of Parliament (MP) encouraging them to help improve the lives of people with mental health problems. Take some time to do some reflective crafting, with the potential to bring about real change in the world, one stitch at a time.
Join in our NEW craftivism project for 2017 (until March 2018) to send a positive message to your Member of Parliament (MP) encouraging your them to help improve the lives of people with mental health problems.
Why are we focusing on this campaign when there are so many others to campaign on?
Well, October 2017 to March 2018 is an important time in the campaign for health equality because we have a new UK Government in place where every MP vote and seat counts, we have lots of new MPs because of the General Election so it's important as a constituent to engage them and their local staff in what you care about, mental health was in all political party manifesto's as an important issue to tackle so they are more accountable to show that they are working towards better mental health support. Plus mental health is an issue becoming less of a taboo, discussed more and more in the media and daily conversation because sadly one in four of us will experience a mental health problem in any given year. I truly believe (and so do Mind) that we can make a positive difference with these positive notes one stitch at a time…
Founded by award-winning campaigner Sarah Corbett, the Craftivist Collective is more than an alternative use of craft. Our gentle protest approach to craftivism aims to change the world with deliberate, thoughtful actions that provoke reflection and respectful conversation instead of aggression and division.
Craftivism is for everyone from skilled crafters to burnt out activists, and those people who want to challenge injustice in the world but don't know what to do, where to start or how to prioritise their energies and time.
Did you know?
All profits made from this workshop go to Mind charity.
Obby Guarantee
We ensure quality. If your class doesn't reach your expectations, we'll give your money back.
Class location
Bethnal Green
5 Old Ford Rd, Bethnal Green,
E2 9PJ
London
Gallery (14)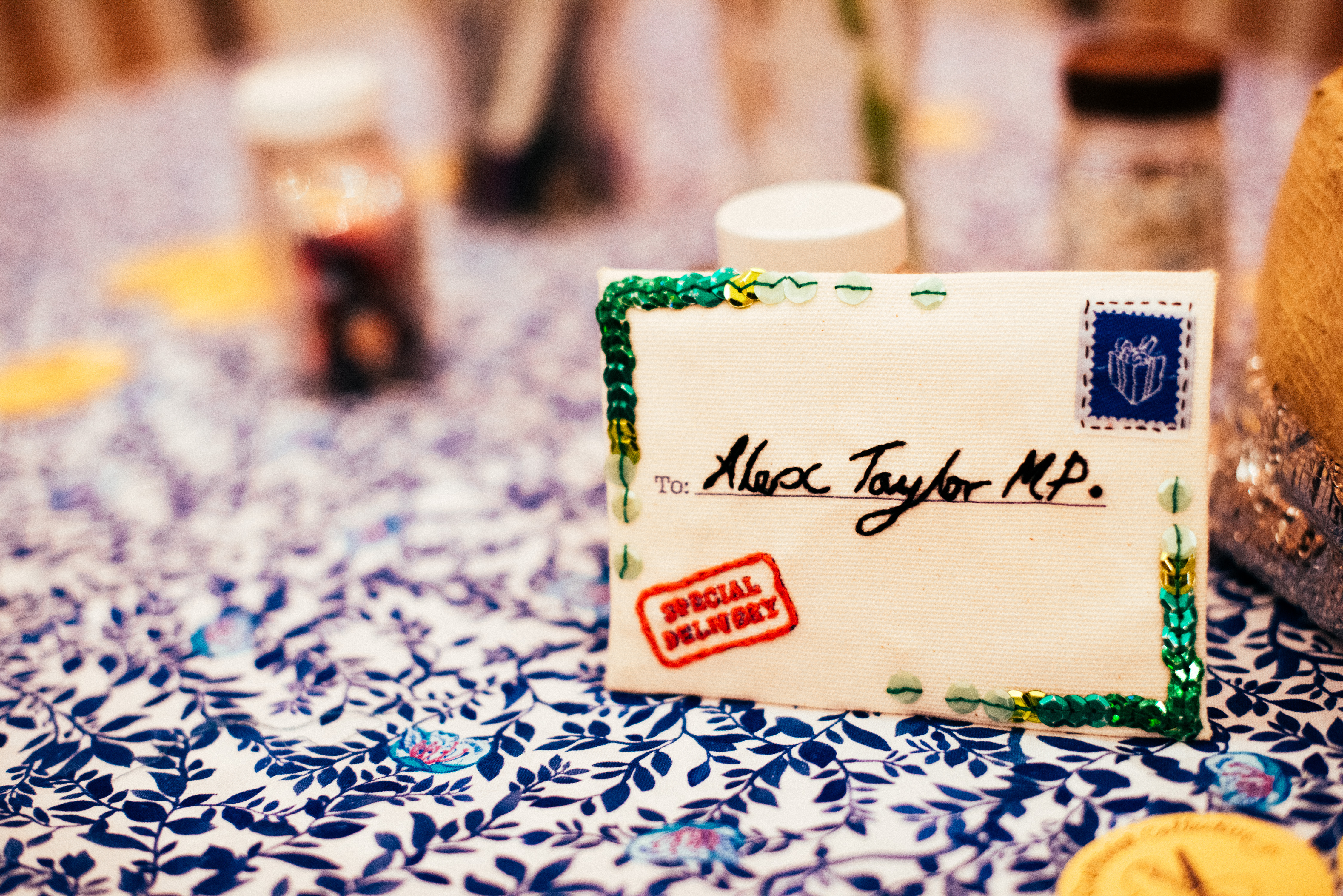 About your host, Craftivist Collective
The Craftivist Collective is exactly that – a collective, an inclusive group of people committed to using thoughtful, beautifully crafted works to help themselves and encourage others be the positive change they wish to see in the world. But it started with just one person: Sarah Corbett, an award-winning campaigner with 30 years' practical experience as an activist. Sarah grew up in a low-income area and was attending demonstrations with her parents on local and global issues by the age of three. She went on to have a successful career as a professional campaigner for NGOs including Christian Aid and Oxfam, and the UK Government Department for International Development (DFID). But something wasn't quite right…
In 2008, burned out from too much confrontation, slactivism and clicktivism, and doubting the effectiveness of many elements of conventional activist, Sarah starting looking for alternatives. When she discovered craftivism – a term coined by American writer and crafter Betsy Greer in 2003 – Sarah realised that craftivism could offer what she'd been looking for: something new to add to her activism toolkit.
With no projects or groups for her to join, she decided to have a go at creating her own craftivism projects. Soon Sarah had developed her own unique 'Gentle Protest' approach to craftivism and had gained a following of friends and strangers around the world who wanted to get involved. And so, in 2009, the Craftivist Collective was born.
Today the award-winning Craftivist Collective has thousands of members, who Sarah supports by developing tools and projects that they can undertake as individuals or by organising their own small group stitch-ins.
Sarah has also delivered talks, workshops, and events to over 12,000 people around the world. Her first book, A Little Book of Craftivism, came out in 2013 and a more in-depth guide, How to be a Craftivist: the art of gentle protest, has just been released.
Notes
£12 includes your craftivist kit to take home with you.
Age Requirement
8
All students under the age of 16 must be accompanied by a parent/guardian.
Flexible cancellation policy
Any class can be cancelled and fully refunded within 24 hours of purchase. See cancellation policy.