Classes
Seven session course
Evening
This block of pottery workshops in Wimbledon offers you a range of experiences from throwing on the wheel to hand building.
January 2019 - 7 weeks February 2019 - 7 weeks April 2019 - 7 weeks June 2019 - 7 weeks September 2019 - 7 weeks October 2019 - 7 weeks
In this workshop
Previous participants have created a diverse range of items, plates, bowls and vases!
This workshop is very hands on with loads of tips for first timers so come along and get stuck in.
There will be an additional charge for clay according to the weight of the pieces you make (£7 per kilo of work that you only wish to be fired and kept.
Please note that this workshop needs a minimum of 7 people to run. Please get in touch with Obby in case you have any queries about this.
Select a class time
Thu 13 Jun, 6:00pm - 8:30pm
Thu 20 Jun, 6:00pm - 8:30pm
Thu 27 Jun, 6:00pm - 8:30pm
Thu 4 Jul, 6:00pm - 8:30pm
Thu 11 Jul, 6:00pm - 8:30pm
Thu 18 Jul, 6:00pm - 8:30pm
Thu 25 Jul, 6:00pm - 8:30pm
Thu 5 Sep, 6:00pm - 8:30pm
Thu 12 Sep, 6:00pm - 8:30pm
Thu 19 Sep, 6:00pm - 8:30pm
Thu 26 Sep, 6:00pm - 8:30pm
Thu 3 Oct, 6:00pm - 8:30pm
Thu 10 Oct, 6:00pm - 8:30pm
Thu 17 Oct, 6:00pm - 8:30pm
Thu 24 Oct, 6:00pm - 8:30pm
Thu 31 Oct, 6:00pm - 8:30pm
Thu 7 Nov, 6:00pm - 8:30pm
Thu 14 Nov, 6:00pm - 8:30pm
Thu 21 Nov, 6:00pm - 8:30pm
Thu 28 Nov, 6:00pm - 8:30pm
Thu 5 Dec, 6:00pm - 8:30pm
None of the dates work for you? Let the host know and you will be notified when new dates are added.
You will only receive an email from us if new dates are added for this class, you will not receive any marketing emails, and that's a promise!
Obby Guarantee
We ensure quality. If your class doesn't reach your expectations, we'll give your money back.
Lovely- helpful staff and very relaxing as an activity! Loved it.
I love this place. It is the best post work wind down. Great people to give you as much (or little) advise, help or encouragement as you want. Good vibe and enough equipment to keep learning new things. Give it a try.
Reviews
Lovely- helpful staff and very relaxing as an activity! Loved it.
I love this place. It is the best post work wind down. Great people to give you as much (or little) advise, help or encouragement as you want. Good vibe and enough equipment to keep learning new things. Give it a try.
Loved it and will go again. Staff are lovely, helpful & encouraging!
Lovely staff & atmosphere. Many different types of techniques to try out too.
Lovely workshops & lovely helpful and supportive staff!
Great class- good facilities and tutors are lovely 😊
As a beginner to pottery, I thoroughly enjoyed the course! The teachers are very friendly and the class was very relaxed. Will definitely come back :)
Lovely class and lovely staff - will be coming again!
Really great classes where you can try a variety of techniques. Staff are really helpful in assisting you with whatever you want to make, and teaching you the different elements you need to get there.
Everyone is very helpful and the class has a great atmosphere.
A wonderful atmosphere with friendly and helpful staff. It's the highlight of my week.
I had a fabulous first workshop! It was so friendly and a very calm relaxed atmosphere. I also managed to make two pots, which I was not expecting.I am looking forward to the next workshop and cannot praise Sorsha, Mike & Jos for their help on the day.
My first time here and very much enjoying the course. The staffing level is great. Always someone on hand to help with queries and s. The staff are very hands on and incredibly approachable. I take my 8 year old child with me and she can be a handful, but the staff are fabulous with her.
I am thoroughly enjoying the pottery & mosaic evening class held at Workshop 305. It has been a revelation to have access to a variety of pottery forms and complete creative freedom, with assistance on hand when required. A great group of people with huge imaginations.
Fantastic!
This is my third booking for this session. There is a good balance of people doing mosaics and Pottery. The teachers are very approachable and helpful. Materials in abundance and lots of good company. Very enjoyable (from a complete novice!).
Fantastic environment for all levels - both for pottery and mosaics. Lovely informal classes - with help and advice always available.
I have been going to this pottery and mosaics workshop for two years now and I absolutely love it. The teachers are amazing, very knowledgeable and lovely people. I couldn't recommend this workshop more highly.
I'm thoroughly enjoying this class. The teachers are supportive, approachable and very knowledgeable. the group is friendly and mostly made of those who come back again and again, term after term. Highly recommended.
Absolutely brilliant workshop.
I have now completed 3 terms at the Pottery & Mosaic class, and I'm hooked! The tutors are so adorable, helpful but not overpowering. It is such a creative environment with people of all abilities. As soon as you arrive you clear your head and get your hands dirty. I absolutely love it!
Workshop305 Excellent facilities and very good tutors. Friendly atmosphere. Also if the class supports people with learning difficulties or physical difficulties, it's even better as the photographs and evidence of work by them is brilliant.
lovely people and great, relaxed atmosphere. Great for all experience levels
Joined for last 3 week of course and found the mosaic workshop really interesting. Hope to get back to finish project on the next course. The personnel who were available for the mosaics and pottery were very friendly and the course was held in a venue that had a lot of interesting projects going on.
Love the pottery & mosaic course at Workshop 305. I'm completely addicted. The tutors are so helpful and inspiring always so encouraging as are the group.
I really this course. Very informal and relaxing. the staff are great, approachable and knowledgeable. You can pretty much get on with what you want and ask for advice or you take guidance if you are out of ideas. I've learnt so much in a very short time.
Last Pottery & Mosaic evening class, I will really miss it. But signed up for September and planning my next project. It's a great class and lovely tutors. Try taster session.
I've been doing this amazing pottery and mosaics class for nearly 3 years now and I absolutely love it. The tutors are very knowledgeable and incredibly lovely and I've learned a lot of stuff to do with how to make pots and mostly how to create great mosaics. I highly recommend it.
I am addicted. I really enjoy the complete freedom to create. Workshop 305 have great facilities and the tutors are very knowledgeable. I can't give it up.
Lovely studio, great resources, really helpful staff and have met some great friends.
Now on my second year and it continues to be the highlight of my week!
Another term doing what I love! Workshop 305 is the perfect place to put your creativity to use. Love it!
Very helpful staff, I would definitely recommend!
Loved learning to use the potters wheel, lifelong ambition. I just want to do it again. Great tutors and facilities, just add your imagination and you're good to go.
I've made a number of lovely things on this course using a potters wheel, moulds and constructing. I've struggled a bit with the glazing, but the staff are always on hand to help so I need to make more of this when I'm glazing in future. I've recently attending with my 10 year old daughter and she loves the course. she's always made some rather lovely things too. The guys there support her really well and are particularly motivational.
Busy, friendly workshop with advice and instructruction readily at hand, as and when required, from great staff.
Absolutely loving throwing on the wheel, it's so satisfying to do whether or not successful! But so good to produce a little dish.
I've booked this course on and off for about a year and half. The class is a nice nix of new and regular attenders. The teaching staff have remained constant over this time and are incredibly helpful and knowledgeable. In terms of ceramics I've used the wheel, I've made a number of cups, plates and bowls using a wide range of ready made plaster moulds and I've created stuff from scratch. Lots of support and advice on hand throughout the workshop.
I really enjoyed my 7 weeks at 305. I had some previous experience but was keen to try the wheel. I managed to make a few things with expert guidance from Mike. The other staff are knowledgable, friendly and helpful and ready to answer questions and help you improve your work. I'd recommend this course if you want to improve and are self motivated in what you are making.
Amazing experiences, the class was great,the teachers was friendly.
I have been able to throw on the wheel, and am thoroughly enjoying it. It is so relaxing and takes your mind off everything else. Loving it!!
I did Mosaics with Joss and received so much personal attention and professional guidance. Plus all important encouragement when I was waning as I had chosen to do a really big project even though I am a novice. I will be joining again to get on with what I have started. It is a relaxed atmosphere and the highlight of my week!
I've attended this course for a year and a half. I'm really enjoying it. So much to learn and great support on hand to help when you need. The ratio of teachers to learners is good. Usually around 3 for 16 students. Everyone works independently and makes what they want. There are potters wheels, plaster mould and all sort of glazes and under glazes to try.
Class location
Wimbledon
9 Weir Road, Wimbledon
SW19 8UG
London
Gallery (12)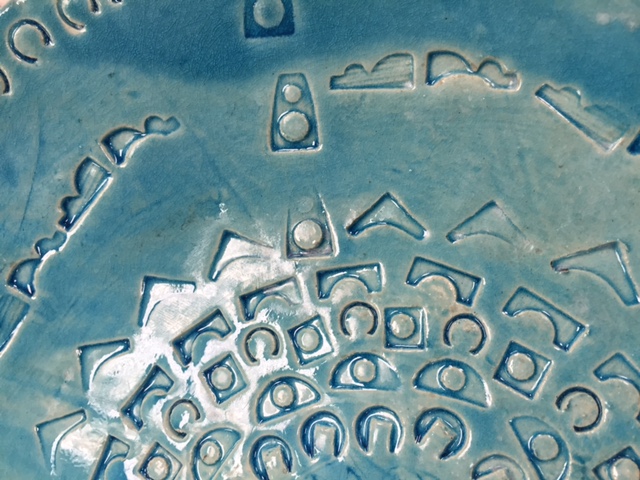 About your host, Workshop 305 Community Interest Company
A social enterprise based in Wimbledon offering pottery, mosaics & print making at evening and weekend workshops.
Workshop 305 have created a relaxed studio atmosphere with a spacious ground floor that is divided into 2 large studios with a kiln room as well as a kitchen/dining area. The fully accessible building allows access for everyone.
Day to day, the workshop has classes for students with disabilities but also runs evening workshops in pottery, mosaics and print making for both adults and children with all abilities.
Our evening and weekend workshops, team building days and specialist workshops all support the work that we do.
FIND US
The nearest tube station is Wimbledon Park.
The nearest train stations are Haydon's Road and Earlsfield.
Buses: 156, 200.
We have ample free parking.
Notes
Unsure whether this is for you? Don't worry, you can come along to a taster session for this Pottery and Mosaic course, just click [here](https://obby.co.uk/classes/art/pottery-and-mosaics/pottery-and-mosaic-taster-workshop-south-west-london) to check it out!
Age Requirement
8
All students under the age of 16 must be accompanied by a parent/guardian.
Flexible cancellation policy
Any class can be cancelled and fully refunded within 24 hours of purchase. See cancellation policy.