What you will do
Four session course
Evening
In this course you will be experimenting with a selection of textures and media including mud from the farm, sand, polyfilla, acrylic and charcoal. The course will cover fundamentals of colours, composition and techniques, working from a combination of photos and sketches to create a 50 x 50cm canvas by the end of the course. Your teacher, Georgie, aims to teach people to loosen up and go outside their comfort zone – get out of habits like using small brushes and being a perfectionist. This is all about having fun and - being held on a unique farm setting in London - it's a relaxed environment to be mindful and meet new people.
What to expect:
Week 1 - Georgie will show you examples of texture that she uses in her own art, for e.g. tissue paper, acrylic & heatgun, mud & glue, and demonstrate how to create these. You will then experiment with these techniques on MDF boards. The aim is to get a feel for creating texture. Georgie will keep instilling not to worry too much how it looks at this stage - the most interesting effects come when you're not trying! This is just the very first layer.
Week 2 - Bring in an image of somewhere you have been/a landscape that's caught your eye or an interesting texture you've seen. This can be on your phone/magazine/photograph. Don't worry if you forget as I have some photos at the studio First off, you continue with texture boards and introduce colours using acrylic paints. Usually people flit between two or three boards to account for drying time (the heat guns speed this up). You'll then start another board based on the picture you brought in and Georgie will talk about composition and colour. Make a start on this board, beginning with textures you've learnt. This will be an abstract piece and doesn't need to look exactly like the image!
Week 3 - Continue working on boards - Georgie will be on hand to give advice at all times. Mid-way through the session you will make view-finders to isolate an area of particular interest, in terms of texture, composition and colour, from one of the boards. You will base the final canvas on this. Apply first layer of texture and map out composition of canvas. Continue working on boards.
Week 4 - Continue working on canvas - add other textures and introduce colours. Georgie will demonstrate further painting techniques, including dripping, working with masking tape, sponging and glazing. Come away with three or four boards and a 50 x 50cm canvas that can all be framed, new skills, new friends and a good memories!
Did you know?
Early use of blue paint was so highly prized that laws existed as to what artists were allowed to paint blue. Jesus and Mary's robes were usually the only accepted uses of the precious colour.
Obby Guarantee
We ensure quality. If your class doesn't reach your expectations, we'll give your money back.
I highly recommend Georgie's class. The class is a great introduction to texture and Georgie's approach is very encouraging and relaxed. I look forward to booking another class again soon.
I very much enjoyed Georgie's class as she was engaging, patient and informative. It was great to hear about and try out her unique approach to landscapes - I would definitely recommend!
Reviews
I highly recommend Georgie's class. The class is a great introduction to texture and Georgie's approach is very encouraging and relaxed. I look forward to booking another class again soon.
I very much enjoyed Georgie's class as she was engaging, patient and informative. It was great to hear about and try out her unique approach to landscapes - I would definitely recommend!
Georgie's class was a really fun experience! I met some lovely people who are now friends. The classes were relaxed but informative and Georgie talked us through some different textures and techniques that she uses in her own art whilst encouraging us to branch off and experiment with any of the materials provided. All in all a fun and well-structured course that brightens up a Monday evening!
Georgie was a great teacher. She showed us lots of new techniques and effects that I never knew existed. She was very attentive and patient with us, giving us all equal time one-to-one and giving advice without making us feel we had to take it. I learnt a lot and was very happy with my final canvas which I have had framed and put on my wall! Would recommend
I found that the Landscape Painting and Texture course helped further my interest in texture and layer making. I loved learning new and unusual techniques which helped to create more depth in my work. The class was fun and free-flowing and as it was a small group, it was easy to ask questions and get feedback.
Highly recommend for any aspiring artists, or anyone that fancies taking few hours of their week for some therapeutic painting and to learn some thing new. Georgie was a really wonderful teacher and just being around her paintings was super inspiring. Would love to do another workshop when it comes up!
This course was amazing, such a great atmosphere being on the farm and using the natural materials to create textures when painting. Georgie was so friendly and really informative! Had such a lovely time and meet so great people too, would 100% recommend this course. Thank you georgie!
A really therapeutic evening spent in Georgie's beautiful studios painting and exploring techniques. The atmosphere is very calming as it's set on a farm and you're surrounded by Georgie's inspiring colourful artworks. Georgie helps you try out techniques and materials that you may have never used and shows you how to use them. The intimate group of 4 is just right as you can get the guidance you need and also meet new people! All in all, a very special find!
I just loved going to these classes! What an inspirational setting, expert guidance from Georgie, and ample opportunities to create and paint! I was really in need of something to unwind in the evening and to rediscover a love of painting, bringing home several paintings at the end was a bonus! Highly recommend, whether you've painted before or not.
Georgie is an amazing teacher. Really helpful and knowledgeable and she lets you learn at your own pace as you experiment with different techniques. She makes it easy for someone with very little skills to create beautiful works of art.
Great class.. very relaxed and friendly. Was able to experiment with different materials to create different textures.. Nice studio for painting.. Would recommend the class
Had a great time on this course. Was able to get hands on with all the different kinds of textures and by the end had made four different paintings I was pleased with. Lovely studio in a great setting... loved being able to go and see the farm animals on breaks!
I took my niece to Georgie's class for the 16th birthday. We both had an amazing time. Georgie taught us how to achieve different textures, mix colours and use all the materials. She is an inspiring and enthusiastic teacher who is passionate about art and provided us with a relaxed and creative space. I would highly recommend this class.
Great class. Very relaxed and enjoyable. Georgie is a great teacher and I learnt some great new techniques to improve my painting. Thanks.
Class location
Stepney
Stepney City Farm
Stepney High Street
E1 3DG
London
Gallery (14)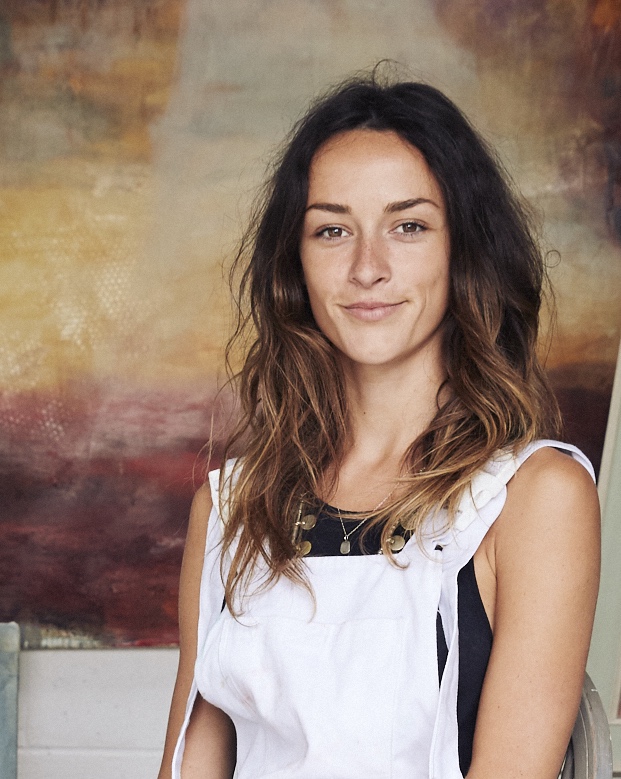 About your host, Georgie Mason Studio
Georgie is an abstract landscape/seascape painter working from her studio on Stepney City Farm in East London.
She has been teaching art classes for years, from home in Suffolk, then from Stoke Newington Old Church and at Artbox charity in London. Since moving to the city farm she has held landscape painting classes and 'Paint with Georgie' Saturday classes from her studio. The set-up is ideal, with glass double doors looking out onto the farm, animals all around, and neighboured by a spoon-carver and a ceramicist. It's a wholesome and creative environment, physically close but atmospherically very far from the hustle and bustle of the city. The classes are relaxed and Georgie offers guidance and structure but also allows for freedom of expression and if people want to experiment or do it their way, they're more then welcome!
In her own work, Georgie is inspired by the natural world, having been brought up in the Suffolk countryside. She uses a variety of materials to build texture including polyfilla and mud form the farm. Since graduating from a degree in English Literature and History of Art at Nottingham University in 2014, she has had work accepted into the Royal Academy Summer Exhibition, the Affordable Art Fairs and had solo shows at Boston Consulting Group, Palm Tree Gallery and Lavenham Hall Gallery. She's had work shortlisted for the NEAC Annual Exhibition and NOA Prize and was winner of the Harry Walker Prize at the BSA Annual Exhibition. Her work is held in the private collection of the Museum of Goa in India and in boutique hotels across the UK.​
Notes
Materials provided:Paper and pencils, acrylic paint, brushes, pastels/chalk/charcoal, mark making tools, Golden's gels and pastes, texture-making materials such as sand, mud, PVA, newspaper etc, MDF boards, 50 x 50cm canvas. Georgie also provides tea, coffee, biscuits and, if you fancy it, a bottle of wine. You're welcome to bring your own drinks and dinner too.
Flexible cancellation policy
Any class can be cancelled and fully refunded within 24 hours of purchase. See cancellation policy.