What you will do
Join Helene, founder & owner of Smitten with Ink, for a fun workshop and learn all about the art of Modern Calligraphy.
The Workshop
On arrival you will be given your calligraphy kit to use during the session and take home for continued practice. Your kit includes a nib, oblique pen holder, ink, paper and Helene's workbook.
During the 2 hours session you will:
Be introduced to your calligraphy supplies, how to use them and other good tips
Learn the basic strokes which are essential to build your skills
Practice writing the alphabet
Learn how to join up the letters to make full words
Write your chosen words/ quote in your own personal style
With a maximum of 8 students, there is plenty of time for 1 on 1 tuition and Helene will give you guidance and plenty of advice for a smooth start in your calligraphy journey.
Light refreshments will also be provided.
The Venue
South Park Gardens is a beautiful Victorian park in the heart of Wimbledon. The garden room in this tranquil oasis offers the ideal setback for a lovely afternoon learning Modern Calligraphy.
Come and discover your new passion with Smitten with Ink!
Select a class time
Sat 18 Jan 2020, 1:30pm - 3:30pm
Sat 8 Feb 2020, 1:30pm - 3:30pm
Sat 7 Mar 2020, 2:30pm - 4:30pm
Sat 4 Apr 2020, 2:30pm - 4:30pm
Sat 16 May 2020, 2:30pm - 4:30pm
Sat 13 Jun 2020, 2:30pm - 4:30pm
None of the dates work for you? Let the host know and you will be notified when new dates are added.
You will only receive an email from us if new dates are added for this class, you will not receive any marketing emails, and that's a promise!
Did you know?
Some calligraphers find great use in a potato. Come along and find out why.
Obby Guarantee
We ensure quality. If your class doesn't reach your expectations, we'll give your money back.
Flexitime Class
This is a Flexitime class, which means the teacher can run this class around your schedule.
You need to be a group of 4
I need 4

days

notice
I am available any day
I can teach you at a location of your choosing.
Time & Location
Select a date and location you want and your teacher will get back to you to confirm their availability.
What a lovely way to spend an afternoon! Helene is a fabulous teacher - patient, kind and fun. The class size was really small so she was able to get around everybody and help with individual requirements and levels. I'd love to do more classes with her in the future!
We were all made to feel very comfortable and had all the equipment needed to get stuck in. The time flew by and then as soon as I got home I sat for a further couple of hours practising. I've since ordered all the materials so I can continue developing this new hobby at home!
Reviews
What a lovely way to spend an afternoon! Helene is a fabulous teacher - patient, kind and fun. The class size was really small so she was able to get around everybody and help with individual requirements and levels. I'd love to do more classes with her in the future!
We were all made to feel very comfortable and had all the equipment needed to get stuck in. The time flew by and then as soon as I got home I sat for a further couple of hours practising. I've since ordered all the materials so I can continue developing this new hobby at home!
I really enjoyed this workshop & Smitten with Ink were brilliant! This was also set in great surroundings, and the sunshine helped to add to the excitement. Helene was such a great teacher, and she worked at our pace. Another 30mins or hour would have been great to practice more under her guidance, but even so she was just brilliant and I'm being selfish in wanting more time as I was having so much fun! It was a small class of 4 people which was just perfect in getting the most out of this class. Helene was very helpful and informative, she knows her stuff! Such a great workshop... I couldn't wait to go home and keep practicing! Definitely a workshop I would recommend to others!
Helene is knowledgeable and also very helpful in providing me additional information for a left-handed writer. Enjoyable class set within a beautiful park!
I loved this workshop for so many reasons! The location was so unique, a little classroom setting within a park. The table set up was so lovely, we each had a pack laid out with all the materials we needed and name cards that had been handwritten in calligraphy which was a wonderful special touch. It was a small intimate class of 4 people which was great as it meant Helene got to help each of us more. She was super helpful, very patient and encouraging as I was really struggling with holding my pen correctly in the beginning but she stopped and helped me until I got it right. Helene was also most hospitable, regularly offering refreshments through the workshop. This is a great beginners workshop and I couldn't recommend it more!
Really good, informative and great fun
I had been looking forward to this class for weeks, and it didn't disappoint. It was a small class of 7 of us which allowed Helen to give us a lot of one to one time and help. Helen was engaging, approachable and her love for calligraphy was clear. The learning pack is really helpful and I came away feeling confident that this was a skill I could master. I have been practicing every day since.
Helene was extremely friendly and knowledgeable. I started the workshop as a complete novice but left feeling that I had learnt lots and had the confidence and resources to practise and develop my new skills further. I can't believe how quickly the two hours went. The work pack and follow up email with further information were very detailed and helpful. The venue was beautiful and the chocolate was appreciated! Thank you for the enjoyable afternoon.
The course was excellent. Helene was a great teacher, very helpful. I would recommend this class for beginners and improvers.
I really enjoyed the class with Helene. She certainly knows her craft and this showed throughout the class in her enthusiasm and her instructions. The venue was small, but the group was also small. This allowed Helene to offer additional support to those that needed it. The time flew by and I couldn't believe it when the class was over. The materials were well prepared and Helene followed up with links and additional information to help us keep going. I recommend this class for beginners to calligraphy. - Zenia
Helene is a lovely tutor and very easy to get along with. Very happy to help with calligraphic problems - and I learned quite a few tips during the class. She is also very encouraging. Very nice relaxed class. Thankyou
This was a beautifully relaxed (& relaxing) class. Helene was very informative & approachable, welcoming all questions. The materials & equipment provided to take home was of good quality making this class great value for money.
My daughter & I attended Hellenes class in Wimbledon Park as a birthday treat. It was very enjoyable & a nice small class size. The information provided was very helpful but I do think it may have been good for Hellene to have had a large board to demonstrate on too. We've both been practising since, can't wait to write my Christmas cards with style this year !
Really enjoyed this workshop on a wet Saturday afternoon in Wimbledon. Helene was a lovely host and had everything beautifully prepared for us. The session itself whizzed by but we were able to take everything home with us so we could continue to practice. Would definitely recommend!
Helene was a fabulous teacher for my first foray into calligraphy. She was informative, skilled at her craft, could answer any questions and wasn't overbearing when learning the first strokes. The class was in a lovely garden room which was the perfect escape to a cold and damp Saturday afternoon. Would highly recommend this class!
Fantastic workshop. There were 8 of us in attendance, making it small enough to be able to get personal questions answered. The pace and flow of the session was good, and it has ignited a new passion! Helene was also an excellent teacher. I was the first man ever apparently hah
Helene was welcoming and made us feel at ease. The pace was good. I learnt a lot in the 2hours and time passed very quickly
Very good! I had a great time, the location was lovely and Helene was great and full of advice. The class was informative and fun, didnt notice the time passing!! I was surprised and happy that we got to keep the ressources to keep on practicing at home which I didnt expect. Thank you so much Helene, would definitely attend a class for next level.
Really good fun and with very good instructions . I was really surprised how much we were able to do by the end . Would recommend!
I really enjoyed Helene's class. It was a nice small group and the pace was just right. I'd highly recommend it to anyone who wants to have a go at this beautiful hobby. It has inspired me to learn more about calligraphy and I'm now looking forward to the intermediate class!
When I signed up for this class, I did not have any experience in calligraphy. Helene was very attentive and walked us through the process step by step. It also helped that she provided all materials needed. It was a very fun experience and the time went so quickly! I would definitely recommend this class for beginners.
Helene was a great teacher and this was a wonderful class, she made it really easy and fun to grasp and I would absolutely recommend taking this class!
Helene was informative and friendly. She explained the strokes - giving us time to practise and get used to the pen. Helene frequently walked around the group offering advice and tips to individuals. There was a lovely atmosphere in the workshop and suggestions on equipment and further tuition if we wanted to continue. It was a lovely couses and I came away equipped to continue to practise at home.
Helene was friendly. I arrived late with about 16 minutes past and she recapped with me everything she said before I arrived. The venue was quite small. It was very far for me coming from North West London. It was quite difficult driving around the streets of Hammersmith. I think £50 is too expensive for the single pen, nib and ink one get.
This was an excellent introduction to modern calligraphy. The venue was good and easy to find. The teacher was very friendly and informative. She had prepared the room well and made sure that she gave everyone individual help and instructions. We learned how to hold the pen and make basic letters. The teacher also gave ideas for further practise. A very enjoyable afternoon.
Having never done any calligraphy before, I attended this class on 9 February 2019, and came away inspired to pursue this new hobby further. I now find that practising calligraphy is wonderfully therapeutic - a great way of slowing down the mind. Our teacher Helene was very friendly, and gave us clear guidance on everything we needed to know to make a start. Calligraphy seems to be one of those subjects where different experts have different views, and for a beginner that can be confusing and daunting. But Helene gave us clear guidance not only in the class; she also kindly agreed to give advice if we texted her afterwards, and she has given me some very helpful steers. She inspires confidence that she knows what she is talking about, and so I intend to book another class with her soon.
Helene was lovely, a calm and clear teacher. She provided good quality materials which we took home. She also gave lots of individual attention. Lovely venue in a park and she sweetly provided drinks and sweets too.
We absolutely loved our course. Helene was perfect; so patient and so knowledgeable. The atmosphere was fun and friendly and everyone got along so well even though we had only met that morning. Helene put us all at ease and no question was too much trouble. I'd definitely go again.
After years of wanting to dip my toe into Calligraphy, this course was the perfect start. Helene makes it easy and comfortable to start your journey. Beautiful setting, easy to understand and follow instructions and the tools to take home and practice this lovely craft.
Hélène is very knowledgable and provided me with a great foundation in Beginner Modern Calligraphy. It was great to learn using an oblique pen holder which was easier than I thought. She's encouraging, puts you at ease and gives helpful tips that I'm able to apply and see the difference straight away. Hélène gives great recommendations on alternative equipment to use when travelling and it's inconvenient to take your nibs and ink with you but you want to practice.
Helene was an excellent teacher and incredibly helpful passing on her knowledge of Modern Calligraphy. I LOVED the class - the two hours flew by and I know it is something that I will continue to practice. I left feeling a combination of frustration about how difficult it is, but elated at what I had achieved and incredibly zen as it was such a lovely, mindful way to spend 2 hours. Also another thing I loved, while I was there with a friend in this instance, most of the class was individuals there to learn a new skill on their own. If you are looking for something for yourself, this is a really nice class to do just that. Hugely enjoyable and can't recommend highly enough.
There was so much about this class that I loved... the location, the sociable and friendly atmosphere, the lovely teacher Hélène, the beautifully set up classroom with refreshments.... but mostly I loved that I had done something different, it made me feel really good afterwards. I can't stop writing people cards now and practicing whenever I can. One of the best things I've done on a long time!
​Hélène was a fantastic teacher. She was very supportive and friendly. I feel that I have really learnt a lot about calligraphy by attending this course. I am so impressed of how much I have improved! The venue was lovely. It was so nice to see the beautiful park from the window.
Helene was lovely, and took the time to answer everyone's questions. It is a good class because each participant was able to work at their own pace through the workbook, so no one feels impatient or gets left behind. The class gives you very good foundations to build on and keep practicing.
It was a wonderful afternoon learning the basics of calligraphy. I really enjoyed it. We covered enough for me to feel like I could go away with enough knowledge to get practicing! I highly recommend it. Helene was great!
Was good to hear her experiences. But it was hard to see when she was doing demos.
Class location
Wimbledon
Garden Pavilion
South Park Gardens
SW19 8QW
London
Gallery (13)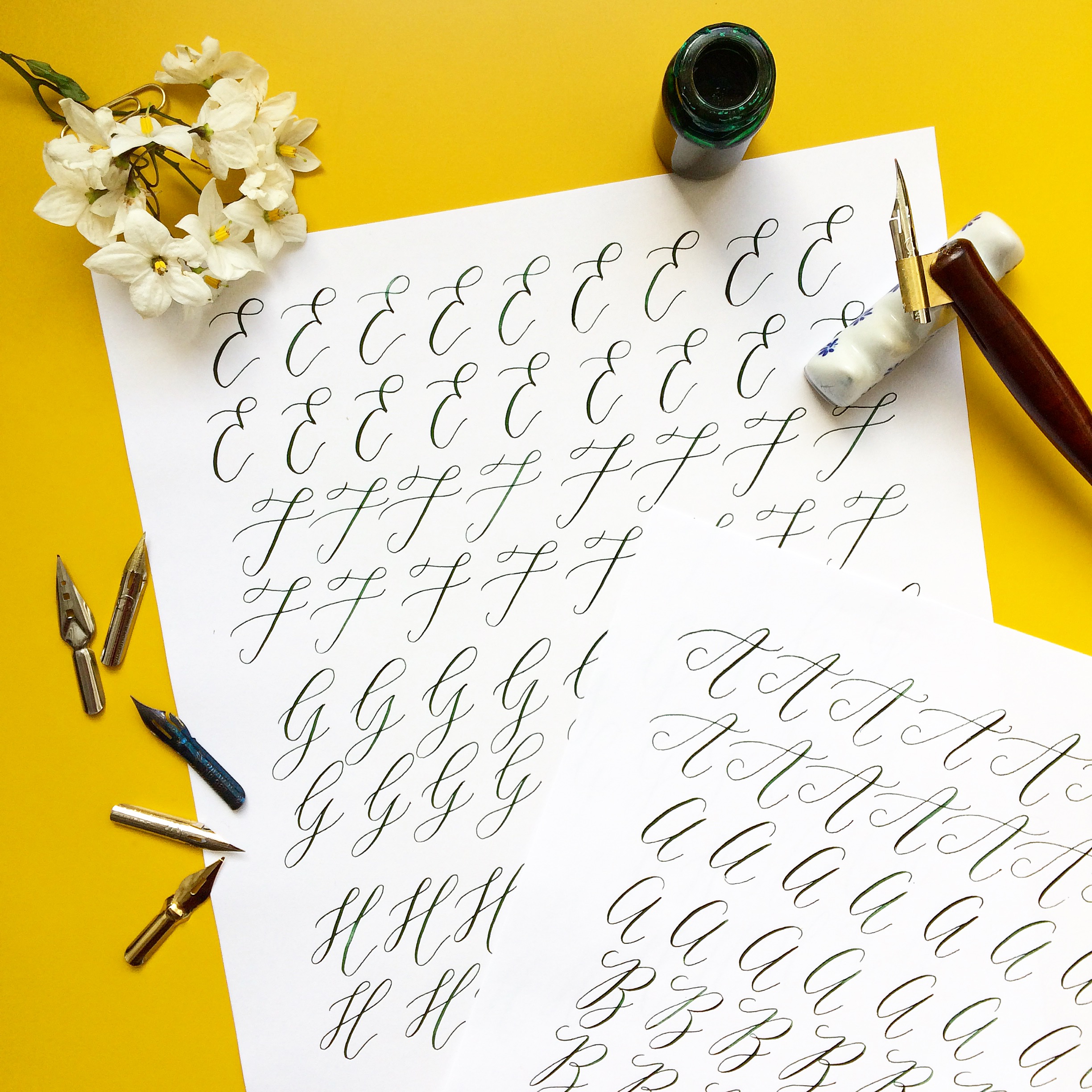 About your host, Smitten with Ink
Helene is a calligrapher and stationery designer. She works in her home studio in South West London, creating calligraphy pieces for events, corporate clients or private commissions. She loves how calligraphy is a never ending creative & inky adventure where there is so much to explore, from older styles like Copperplate to newer forms of modern script.
Wanting to share her passion with others, she offers workshops to people who wish to discover a mindful activity, find a new creative hobby or spend a lovely and relaxing time away from all the noise of our daily lives.
Notes
All calligraphy supplies are provided by Smitten with Ink on arrival and yours to keep at the end of the workshop.
Flexible cancellation policy
Any class can be cancelled and fully refunded within 24 hours of purchase. See cancellation policy.