Falling on Sunday the 19th of June in the U.K. in 2022, Father's Day is known as the day where we celebrate the paternal figures in our lives. Held every year on the 3rd Sunday of June, the tradition been celebrated amongst European Catholics since the Middle Ages; where it was originally held on Saint Joseph's Day (March 19) and marked with a feast. The modern version of the day however, has no Christian involvement, and was imported from the U.S. after the day was established in 1908.
If you're looking for a Father's Day gift to accurately represent the love and admiration you have for the father figure in your life - whether that be your dad, step-dad, grandad or someone else - here at Obby we've put together some of our favourite workshops and classes we think your Dad would love as a gift this Father's Day; so read on to see what we've chosen, and hopefully give you some inspiration!
---
Our Top 8 Father's Day Gift Ideas to Help You Celebrate Your Dad are:
---
Make Your Own Bread Board with The River Shop
Location: Woolwich, London | Price: £90pp
In this one-day beginners class from experienced craftsman Richard, your Dad will learn how to create his very own bread board from start to finish! The day-long workshop walks you through how to safely use various tools and machinery (so your Dad can live out his power tool dreams!), how to join the wood together, and how to get that high quality finish to your bread board. Your Dad is sure to come home proud of his new creation where it can take pride of place in his kitchen, used for years to come.
Book now on Obby
---
World Wine Tour, Tasting, and Lunch with Winfield Wines
Location: Fulham, London | Price: from £105pp
If your Dad is a fan of wine, then this wine tasting and lunch experience from Winfield Wines is the perfect choice! In the relaxed setting of the Atlas Pub, you'll spend the day tasting 16 different varieties of wine from all around the world, with a 3 course meal included! The experience will teach your Dad how to embrace all the skills needed to taste wine like an expert, match food with wine, and how to differentiate between different varieties of wine. It's the perfect activity to share with a loved one, so why not buy an extra ticket and tag along with your Dad and enjoy some quality time together?
Book now on Obby
---
Leather Working Workshop with YUSSICO
Location: Deptford, London | Price: £89pp
Does your Dad love getting hands on with projects? If so, then check out this workshop from YUSSICO aka Yusuf, a master craftsman who left his job as a lawyer to work full-time as a professional leather craftsman from his studio in Deptford! Under his expert instruction, your Dad will learn how to create his very own leather piece - either a purse, cardholder, valet tray, bracelet or cuff,  lanyard or keychain, or keyholder. He'll get to mark, hole-punch, hammer, and shape his way to creating his own leather creation to take home.
Book now on Obby
---
Silver Cufflink Making Class with Colette Dawn Jewellery
Location: Orpington, Greater London | Price: £70pp
Gift your Dad the chance to make his very own silver cufflinks for Father's Day with this workshop from Colette Dawn Jewellery! In the 2 and half hour class, your Dad will get to draw out his very own design, use various tools to saw solder and texture his cufflinks, before finally polishing off the finished pieces. Everything needed to create the cufflinks is included in the ticket price, and no experience is needed to jump right in! This workshop is perfect for gifting, but also if you wanted to create a personalised pair of cufflinks to gift to your Dad on this year's Father's Day.
Book now on Obby
---
Spoon Carving Workshop with London Green Wood
Location: Hackney, London | Price: from £50pp
Get out in nature with your Dad in this workshop from woodworkers co-operative London Green Wood! Based in Hackney City Farm, their workshop will walk you through how to take green wood - freshly cut with a high moisture content - and turn it into a handcrafted spoon you can take home with you and use! You'll use an axe, knife, and crook knife, under supervision of course, to help you create your new piece of cutlery. The class is aimed at beginners, so whether your Dad has any experience or none at all, you're all set to get started.
Book now on Obby
---
Beef Wellington Cooking Class with The Avenue Cookery School
Location: Wandsworth Town, London | Price: £99pp
If your Dad loves to cook, then this Beef Wellington class from The Avenue's 'Best of British' cooking series is perfect if he's looking to expand his culinary skills! Learn to cook a beautiful Beef Wellington with Fondant Potatoes, Chantenay Carrots and a Rich Jus. The workshop will start with a complimentary drink and demonstration, before you'll get stuck in making it yourself under the expert gaze of your chef tutors, and finally sitting down to taste your meal. This workshop is perfect to attend with your Dad, and bond over food and a shared meal.
Book now on Obby
---
Terrarium Workshop with the Botanical Boys
Location: Kings Cross, London | Price: from £68pp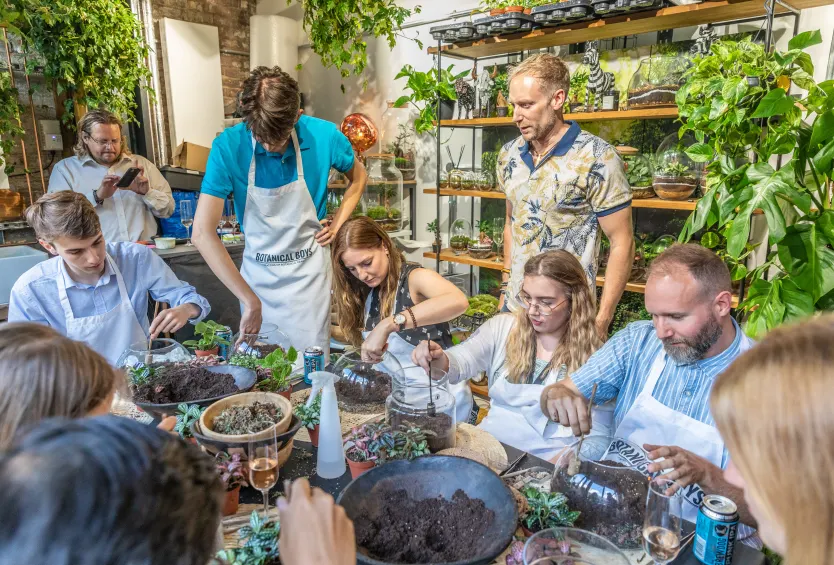 Help your Dad connect with nature and create a stunning mini garden with this Terrarium workshop from the Botanical Boys! Terrariums are a miniature environment of living plants which thrive off moisture. As they are self-sustaining, they're a great way to connect with the Earth; even if your Dad has not been blessed with the gift of green thumbs! In the workshop, you'll learn the history of terrariums, before jumping into building your mini environment where you'll learn: layering and planting techniques, watering techniques, and aftercare for your new garden so it'll last long past this year's Father's Day.
Book now on Obby
---
Make a Windsor Style Stool with Ben Willis Woodcraft
Location: Crystal Palace, London | Price: £220pp
If you're wanting to gift your Dad the chance to carry out the ultimate DIY project, then this 2-day workshop course from Ben Willis is the perfect Father's Day present! Run over two Saturdays, your Dad will get to create a classically beautiful three-legged Windsor-style stool, using green-wood chair-making techniques and an colourful array of traditional tools, such as the axe, adze, drawknife and spokeshave. At the end of the two-day adventure, your Dad will get to take his creation home to show off and get to carry his new-found woodworking skills into any new projects in the future!
Book now on Obby
---
Need more advice?
Hopefully, these ideas on how to treat your Dad on Father's Day will help you out if you've been looking for activities that you think will make the perfect gift for him! If you're still stuck for the perfect class, be sure to take a read of some of our other amazing guides and best round-ups below. We're sure you'll find something useful, oh - and don't forget to share the love.