With more time spent at home, it's become more important than ever to enjoy the atmosphere and environment you create. One element that massively helps with this is the world of botanics. Houseplants, herb gardens/pots, and for the more interior savvy - the terrarium.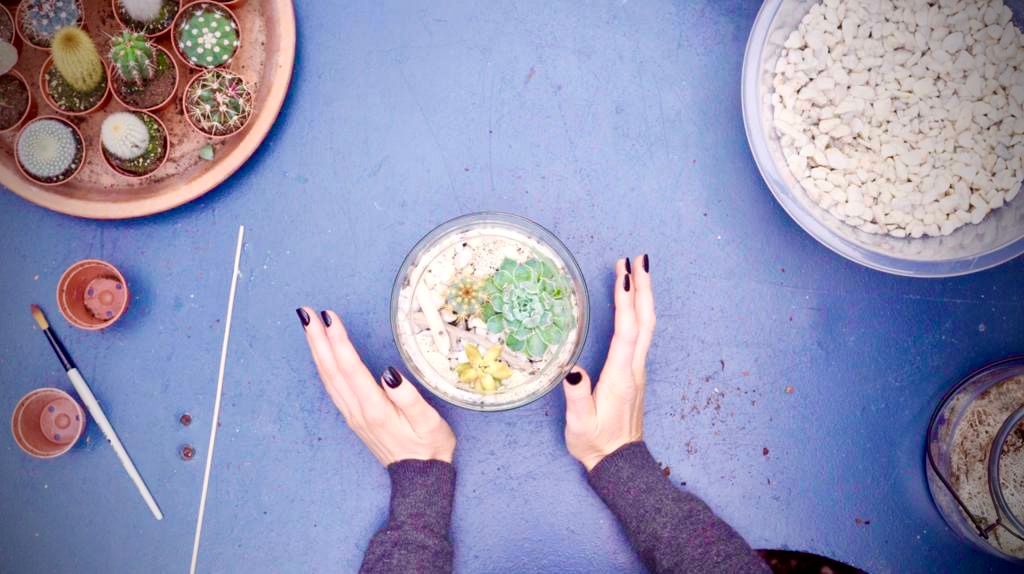 Terrariums are mini eco-systems created in glass vessels containing plants, soil, minerals and a host of other things. The idea, bring the outside in. Terrariums can be open or closed (although open terrariums are best suited to succulents/desert plants only) and come in many different shapes and sizes.
You'll have seen many a terrarium pre-built for purchase in a number of interior shops, but what has really taken the world by storm is the idea of making these beautiful pieces yourself. Terrarium kits, DIY terrarium kits, cactus terrarium kits, succulent terrarium kits and terrarium starter kits are all over the internet, and we've narrowed down our top 10 best terrarium kits available in the UK.
‌‌
‌The Top 10 Best Build your Own Terrarium Kits are:‌
Cork Jar Terrarium Kit
Make Desert Succulent & Cactus Terrarium Kit
Starter Terrarium Kit for Two - Twinny
Make Your Own Tabletop Terrarium Kit
Create a Mini Herb Garden Kit
Make a Kokedama Kit
Lab Jar Terrarium Kit
Aztec Gem Terrarium Kit
Kilner Jar Terrarium Kit
DIY Terrarium Kit
1. Cork Jar Terrarium Kit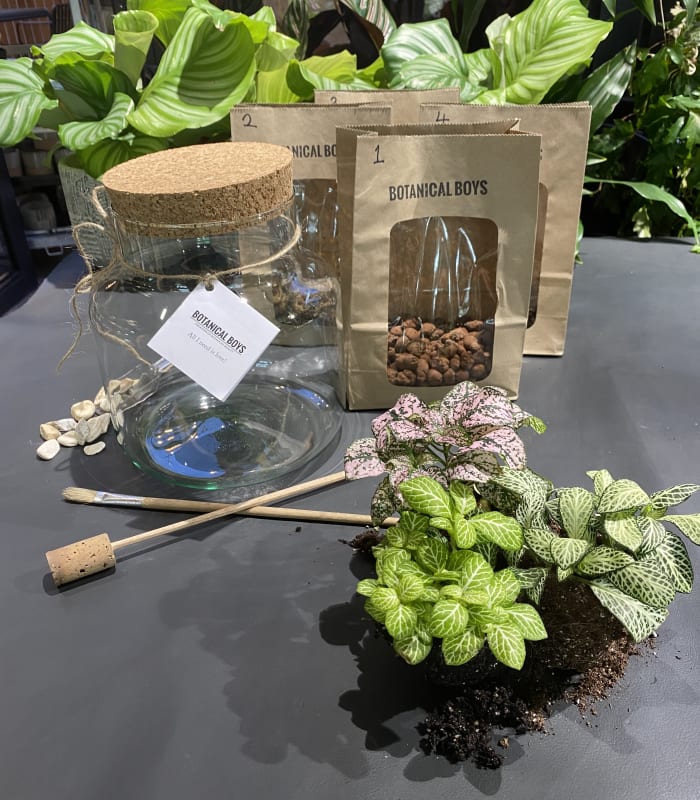 The Botanical Boys are offering you the chance to get your hands dirty and connect with nature by building a terrarium using one of their terrarium kits. When built right, they will last for years and year and make a great statement in any house or office!
A step-by-step guide is provided with the starter kit, plus you can join a live online class with the Botanical Boys themselves, full of handy tips and tricks to keep your terrarium surviving and thriving for a long time.  
Shop now on Obby
2. Build your Own Desert Succulent & Cactus Terrarium Kit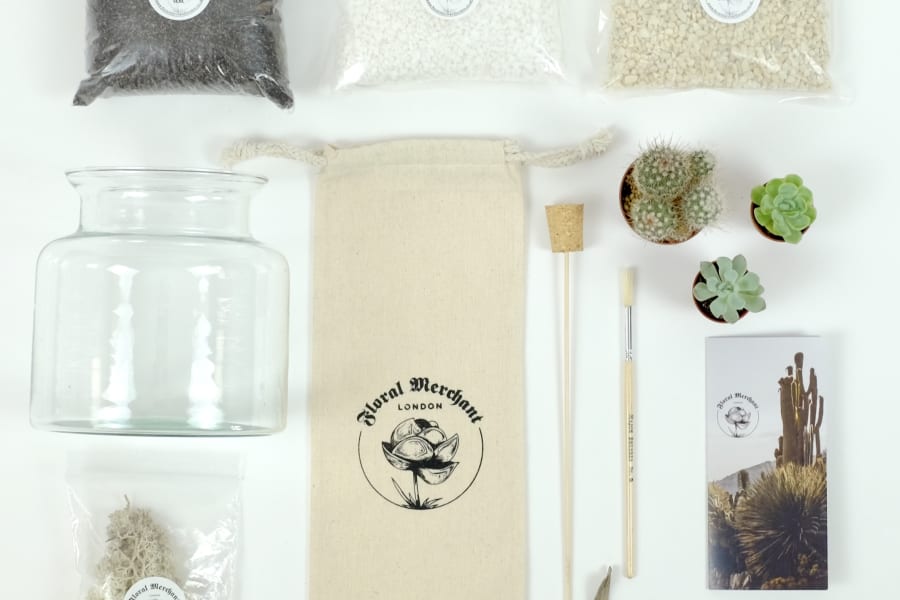 Relax your mind and escape into the joy of nature and creativity, as you design your own stylish Desert Terrarium using cacti and succulents with Floral Merchant London's kit. These gorgeous terrariums mimic the landscape of beautiful arid desert plains, and are a great addition to your inside space!
Everything you need is in the starter kit, as well has a beautifully shot video tutorial that takes you through every stop of the process, meaning you can learn anywhere, anytime.
Shop now on Obby
3. Starter Terrarium Kit for Two - Twinny
The starter terrarium kit for two from Leafage is the perfect answer to date night plans. Learn something new and create two mini self sustaining terrariums to add to your windowsill.
This kit, sent straight to your door, contains all the tools and materials you need to create two mini terrariums along with a step-by-step guide from the Leafage team. Replace those bad memories of building frustrating Swedish furniture together with building a perfect oasis.
Shop now on Obby
4. Make Your Own Tabletop Terrarium Kit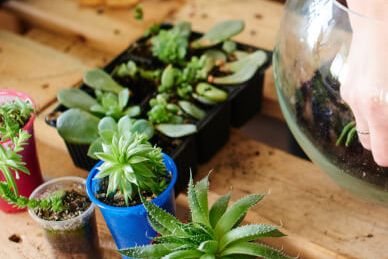 Don't worry if you're new to this unique craft, with this online class and DIY starter kit, you'll learn how to make a terrarium with the help of an expert from Ferris Heart Sloane. Plus, you'll have all the supplies to make your own terrarium a special mini-jungle paradise!
Enjoyable and decorative, terrariums are also easy to care for and simply beautiful. Make a decor element to bring the outdoors in, a unique gift idea, or some relaxing indoor activities to pass the time with.
Shop now on Obby
5. Create a Mini Herb Garden Kit
Slightly different to making a terrarium, but still botanical adjacent, with this kit and online class you can learn how to grow herbs successfully at home and create your own mixed herb planter for your herb garden.
Join Violet of Superb Herbs for a masterclass full of practical advice and inspiration on how to grow herbs successfully at home. Learn which are Violet's favourite, easy growing herbs, and what to plant right now. Everything you need to join in the fun will be sent to you beforehand too!
Shop now on Obby
6. Make your Own Kokedama Kit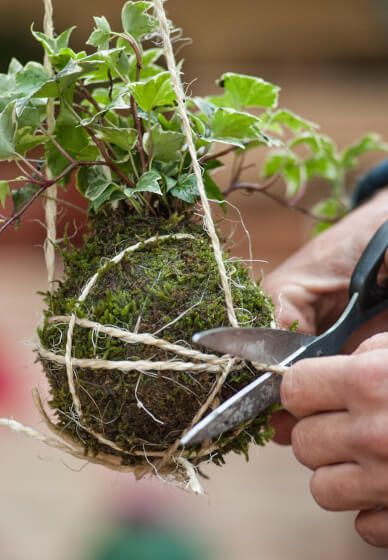 Another kit that's just a little "outside the vessel" - Kokedama. A Japanese term meaning "ball of moss", are small houseplants which grow in a moss-covered ball and often sit on a decorative tray or plates on a table or shelf. They also look stunning hanging from the ceiling like little green planets.
Book an online class with Ferris Heart Sloane and learn how to make this highly unique plant to add to your space. By the end of your online class, you'll have not one, but two beautiful bundles of gorgeous greenery to admire, as well a sense of calm and accomplishment having spent an hour creating not one, but two plant friends! What's not to love?
Shop now on Obby
7. Lab Jar Terrarium Kit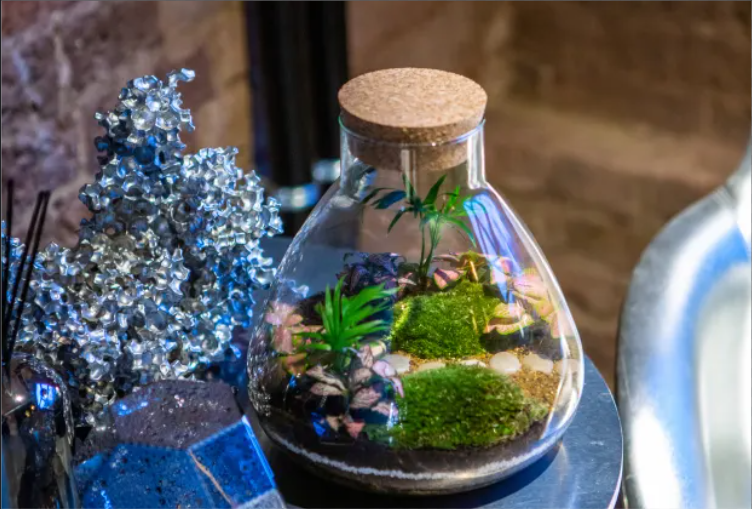 By creating a terrarium using one of the Botanical Boy's kits it helps you to feel calm and relaxed, especially with this larger intricate vessel design. By getting your hands dirty you are literally connecting with nature at the same time creating an amazing centre piece for your at home or office space.
Shop now on Obby
8. Aztec Gem Terrarium Kit
This stunning Aztec Gem Terrarium is an amazing way to create a focal point in your interior design. The glass vessel is an intricate, hand-made design that is sent to your door, with a selection of hand-picked plants for you to put inside.
You can also add a personal touch to this terrarium with fairy lights or even a personalise message on a wooden board. This kit comes with everything you need to build your DIY terrarium, including your choice of succulents or cacti.
9. Kilner Jar Terrarium Kit
This starter jar terrarium kit from Jar & Fern is everything you need to create your own self-watering garden in a glass jar at home. The kit includes a short instructional video from one of the Jar & Fern team too, so you'll be a pro in no time!
As a self sustaining terrarium, this kit comes with plants happier in colder climates and will need minimal upkeep as the plants water themselves in the mini ecosystem you create within the glass jar. Pebbles, moss and activated charcoal help to keep everything happy and healthy!
10. DIY Terrarium Kit
Build your own modern and unique open terrarium with this starter terrarium kit and easy to follow guide. Choose from different vessel sizes and number of succulents and cacti to go inside, receive your kit, then do it yourself!
Your new terrarium will be great for centre pieces at home, or at events like weddings and parties in the future. This kit includes everything you'll need to build and keep the plants healthy. Give as a gift or buy for yourself as a fun and relaxing activity.
Need more advice?
Take a read of some of our other amazing guides and top 10 round ups below. We're sure you'll find something useful, oh - and don't forget to share the love. ‌
‌Obby out. ‌