Classes
Etching is often an artistic discipline unexplored by many, put off by challenging and mystifying techniques, hazardous chemicals and working environments. Beginner students will explore intaglio printmaking techniques using aluminium, a cheap and effective metal for intaglio printmaking.
Students will be taken through the various methods of intaglio printmaking from dry point, hard ground, soft ground and aquatint. Students will be guided through their first hard ground line etching copying the masters off old, they will then make adjustments to their plate using an etchers tools of the trade the burnisher and scraper. Along with the traditional needle these three tools (etching needle, scraper and burnisher) make up the the foundation of historic etching techniques use exclusively by the likes of Rembrandt.
The students second print will be a tonal or aquatint etching copying a simple still life setup, aquatints require the etcher to think backwards from highest light to darkest dark and so giving the students simplistic tasks helps them to understand the process. This technique was made popular by the printmaker Francisco Goya and contemporary etchers like Norman Ackroyd An advantage that aluminium has is that no special aquatint has to be applied, i.e hazardous rosin or tricky spray paint and so students can get stuck in straight away without the frustrations of foul biting and waiting .
As aluminium is inexpensive compared to copper much experimentation can be done in order to understand the effects of the different processes. Students will also be shown how different inks and papers greatly affect the outcome of a print.
By the end of the course students will have final prints of both plates along with all their relative states.
Did you know?
The word etch itself is a Germanic word for eat, where the acid would literally eat the metal.! The most historic of intaglio methods is engraving, evolving originally from goldsmithing. Examples of engraving can be seen in museums across the world in the form of intricate designs of jewellery, armour, guns and other precious and non precious metals. It is said that as early as 1446 sheet music was printed using engraving techniques along with playing cards.
Obby Guarantee
We ensure quality. If your class doesn't reach your expectations, we'll give your money back.
Class location
Clapham
99-109 Lavender Hill
SW11 5QL
London
Gallery (7)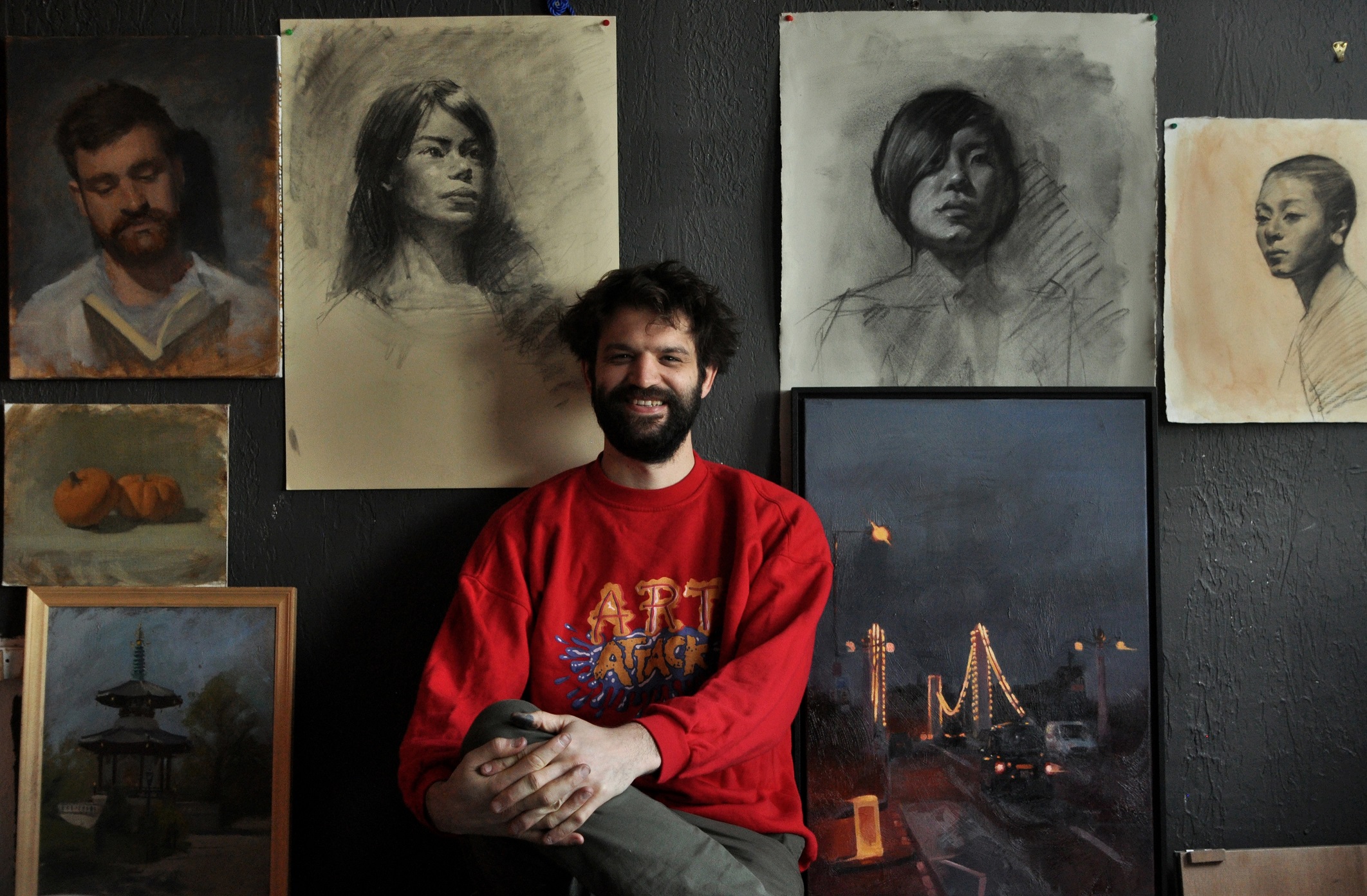 About your host, Christopher A E Gray Fine Art
Chris originally studied at Falmouth University of the Arts before becoming frustrated with the lack of proper drawing and painting tuition offered. After leaving university he started studying at London Fine Art Studios in 2012 (formerly Lavender Hill Studios) for 3 years before being asked to teach at london Fine Art Studios in 2015. The studios taught Chris the traditional craft of drawing and painting which gives the students the tools to draw and paint anything using the method of the visual abstraction. This method breaks down what we see into simple elements of shapes values and edges, with these tools Chris went onto win various awards. These include winning runner up young artist award and the John Purcell paper award at the Pastel Society, exhibiting there in both 2013 and 2015. He also competed in the Sky arts portrait artist of the year 2014 and recently asked to exhibit in the Federation of British Artists, Futures exhibition in 2016 winning the Jacksons One To Watch prize.
As well as teaching the craft of drawing and painting Chris also runs a print making workshop, teaching the traditional skill of intaglio and relief printmaking. Printmaking is a great way to explore the myriad of ways to create marks on paper and can be as expressive or as refined as one would like, there are endless ways to experiment.
Notes
It is advisable to bring notepad or sketch book, two aluminium plates will be provided and 2 sheets of proofing paper and one sheet of hahnemuhle etching paper. Extra sheets can be bought and inks are provided.
Age Requirement
15
All students under the age of 16 must be accompanied by a parent/guardian.
Flexible cancellation policy
Any class can be cancelled and fully refunded within 24 hours of purchase. See cancellation policy.