There are many different forms of salsa, each with its own distinct style, but the defining characteristic they all share in common is rhythm. The tempo of Salsa music typically ranges from 150bpm to 220 bpm, but, rather than stepping in time with each beat, you take 3 steps per 4 beats of music. The resulting syncopation is what defines this amazing latin dance, and gives it that je ne sais quoi which few styles can match!
---
The Top 10 Best Salsa Dancing Classes in Bristol are:
Salsa classes at Salsa Souls
Salsa Lessons at Havana Salsa
Salsa lessons at Afro-Latin Dance Bristol
Monday Salsa Fix at Salsify
Dance Party Classes at Sashay Dance
First Wedding Dance Salsa Lessons at All Steps First Dance
Beginners Classes at Bristol Dance Experience
Salsa Classes at The Bath Dancentre
Beginner Dance Classes at Viva La Dance
---
Salsa classes at Salsa Souls
Location: Whiteladies Road (Bristol)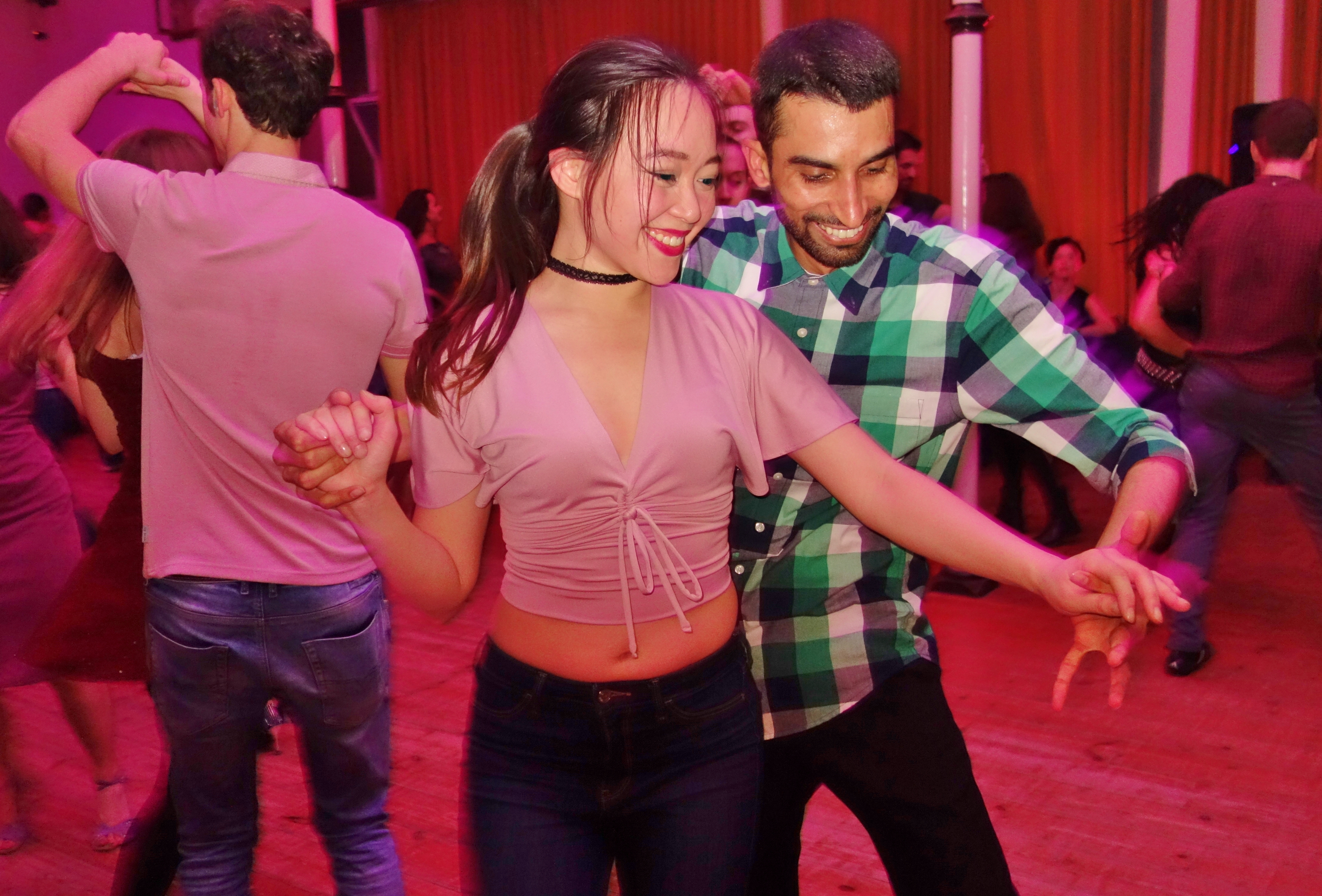 Salsa Souls teaches Salsa and Latin dance classes in Bristol, Bath, Cardiff and the surrounding areas, and also runs fantastic events should you have a Hen do or Birthday in need of a little direction.
Whatever your level – beginner, intermediate or advanced – there are Salsa Classes for you. Salsa Souls aren't just concerned with teaching you flashy moves, but with inculcating the fundamentals of Salsa, tailoring instruction so that dancers of varying levels progress with the necessary foundations in place.
Salsa Classes are held every Wednesday from 8-10pm, and you are advised to bring your own drinks (non-alcoholic) as there is no bar. At only £8 per person, Salsa Souls are offering a truly great service! So why not start your Salsa journey today?
---
Salsa Lessons at Havana Salsa
Location: Bristol City Centre
Founded 10 years ago by Rudolfo and his wife Laura, Havana Salsa has been teaching the unique and wonderful dance of Cuban Salsa to countless people. Derived from an earlier style of dance known as 'Son' as well as dances like the mambo and cha cha cha, the Cuban style evolved into a relaxed, passionate and expressive style that lets your personality shine through.
Fizzling with energy, great music, and friendly people, their weekly Cuban Salsa Classes have proven to be extremely popular. Anybody is welcome, whether you're a beginner or an advanced dancer, young or old.
So get ready to immerse yourself in the catchy rhythms of Latin Dance, and join Rudolfo, Laura and their experienced instructors on Mondays at 7.45pm at the beautiful PiloXercise dance studio in Bristol City Centre.
---
Salsa lessons at Afro-Latin Dance Bristol
Location: Harbourside (Bristol)
If you love to dance, but have always been worried you had two left feet, then Bristol's Afro-Latin Dance is for you!
Whether you're beginner, improving, or advanced, Afro-Latin Dance has got your back! It's a great opportunity to have fun, make some new friends and build the confidence to tear up the dance floor! Salsa Lessons are held on Thursday at 9pm at the amazing price of £5 – It's even half-price if you bring a friend! Considering this great value, along with the amazing videos and photos on their website, it's easy to see why we picked Afro-Latin Dance for our guide to the best salsa dancing lessons in Bristol.
---
Monday Salsa Fix at Salsify
Location: Southville Bristol
For those who need their Monday Salsa Fix, Salsify will get your week off to a flying start!Their two experienced instructors oversee 4 levels of classes, and there is nothing Salsify enjoys more than watching their students develop their skills and gain confidence.
After 3 years of running this class, they have moulded Monday Salsa Fix into a thriving, friendly and uplifting experience. Time to dust off those cobwebs and join the gang at the Southbank Club!
---
Dance Party Classes at Sashay Dance
Location: Bristol
Sarah is the founder of Sashay dance, and since the age of 6 she has loved latin and ballroom dancing. She's taught dance since 2012, becoming a qualified UKA Dance teacher in 2015. Sashay's mission is to "deliver fun across the nation and create happy dancing memories to last a lifetime", and judging by their many superlative testimonials, we believe they are succeeding!
Beginner friendly, and boasting a vast range of different themes and styles, their Dance Party Classes look to be great fun. Whether you want to imitate Patrick Swayze in Dirty Dancing, shake it like Beyonce, or thrill your friends like Michael Jackson, there's guaranteed to be a dance that gets your juices flowing. The classes last 90 minutes, the venue hire is included (or they can come to you) and there is even a prize for the best dancer! It's sure to be a night to remember!
---
First Wedding Dance Salsa Lessons at All Steps First Dance
Location: Bristol (Available Nationwide)
Our next pick for the top salsa dancing classes in Bristol is something a little different. For those who want to wow their guests on the special day, the First Wedding Dance Salsa Lessons will ensure you put on a good show.
All Steps First Dance split their Wedding dance lesson packages into lessons of 1 ½ hours. Their encouraging and experienced dance tutors can help you create a bespoke dance to add the finishing touches to your wedding day. They can help with your song choices, or you can choose the song and depending on how far you want to take it they have 5 different package options, from basic to premium.
Lessons can take place in the comfort of your own home or All Steps First Dance can help you find suitable space to hire. Before your first lesson you will need to go over your specific requirements and they tailor your lessons accordingly.
---
Beginners Classes at Bristol Dance Experience
Location: Cotham (Bristol)
Eric and Helia established Bristol Dance Experience all the way back in 1991, and have now earned the title of two of Bristol's leading partner dance specialists. Extremely qualified and experienced, they teach all the dance lessons themselves, either together or separately with an assistant.
Their Beginner classes are held on Wednesday at 7.45pm and are perfect for people who have never danced before. There's no need to book, just turn up on the day and you will be received with welcome arms!
WIth such professional guidance on hand, you're sure to vastly improve your dancing skills, irrespective of your two left feet!
---
Salsa Classes at Bath Salsa
Location: Walcot Street (Bath)
Every Tuesday, Bath Salsa hosts Salsa classes at the Walcot House – a stunning and spacious new venue in Bath.
Don't worry about ever feeling you're not at the required level, because Bath Salsa always covers the basics every lesson, so you can turn up anytime!
Classes start with a warm up on the main dance floor, and the entrance fee covers all classes. The beginner pack also comes with a Salsa DVD so you can carry on your salsa journey at home.
Also, from 9.45pm, DJ Marco M will play Salsa with a sprinkle of Bachata, Merengue, Cha Cha and Kizomba, so you can really let your hair down.!
---
Salsa Classes at The Bath Dancentre
Location: Englishcombe Village (Bath)
Next up in our top salsa dancing classes is a prestigious dance school that hails all the way back to the 1960s!  The founder of The Bath Dancentre, Paula Goodyear, achieved 3rd place Latin-American and 7th place Ballroom at the Open British Championships, and the Ballroom Dancers' Federation also awarded her with The Lifetime Achievement Award, so it's unlikely you'll find a more qualified teacher!
Covering a range of dance styles including salsa, professional and experienced instructors run classes for all levels. They also offer private lessons should you want more guidance. Whatever class you go for, The Bath Dancentre is sure to provide you with the requisite confidence and techniques to turn heads on the dance floor!
---
Beginner Dance Classes at Viva La Dance
Location: The Assembly Rooms (Bath)
Viva La Dance runs premium-quality ballroom, Latin and Argentine Tango dance classes in Bath and Wiltshire. For either absolute beginner or competitive dancers (and everything between) their professional and patient teachers are fully qualified ISTD and IDTA.
Viva La Dance's reputation truly does speak for itself, with students often travelling many miles to receive private lessons. Knowing that building dancing skills take time, they advise patience and commitment, and not to worry if you make a few mistakes along the way – it's all part of the wonderful journey!Their Beginner Dance Classes start on the 25th of October, on Mondays from 7-7.50 pm. So why not join your fellow budding dancers at the Assembly Rooms in Bath – you won't regret it!
---
Need more advice?
We hope you've found a class that piques your interest in our Top 10 Best Salsa Dancing Classes in Bristol. All of these classes come highly recommended – each with many positive reviews – so, whichever one you pick, your skills with salsa will undoubtedly improve! We believe that an evening could not be better spent than one continuing the tradition of this wonderful, rebellious, and flirtatious dance!
Take a read of some of our other amazing guides and best round ups below. We're sure you'll find something useful, oh - and don't forget to share the love.