Anita Russell, founder and teacher at Driftwood Dreams, first started working with papier mache over 20 years ago, having in the years since worked to make the technique fit her own personal style; receiving commissions for her work from those such as Channel 4. Having been teaching from her small cottage in Richmond for over 16 years, her classes are relaxed and small to help everyone get the most out of her guidance. She has also spent over a decade working with special needs teens in mainstream education, helping everyone of any ability access creativity and the benefits it brings.
Anita spoke to us here at Obby about her papier mache journey, what she loves about her workshops, and how we're helping her and her business.
(Author's note: Anita's questions have been edited for length and clarity)
Book now with Anita on Obby
---
When was the first time you started working with papier mache, and what drew you to it?
In 1999, I joined some friends doing an adult course in Mexican Papier Mache Sculpture. The tutor was from Mexico and had learned the art from the Linares dynasty whose work is world renowned. Three years of courses and two pieces exhibited in the V&A museum, I started to take commissions and create sculptures. This led to workshops and teaching. Having worked in schools teaching art certificate and supporting Art GCSE students, I found teaching easy and every lesson was fun. I always say bring your creative mind and a sense of humour.
What made you realise that teaching might be for you? And was it difficult for you to make that leap from creating for yourself to teaching others?
I love teaching best. I am passionate about art of all sorts and love sharing my resources, knowledge and experience. I am quite lively and adore people so everyone feels very at home. Currently I am limiting classes to one or two people - I can give individual attention, it is safer in a covid climate and it has an atmosphere of intimacy and coziness.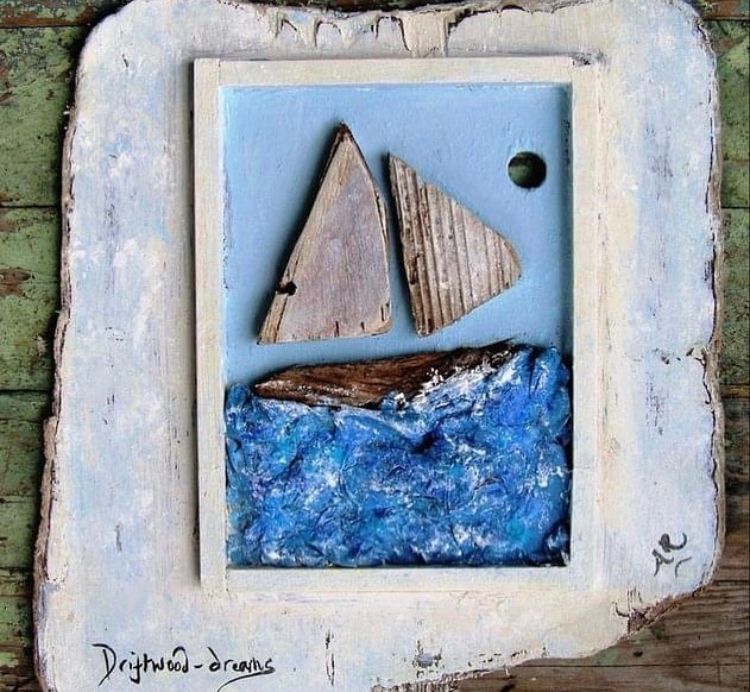 What encouraged you to join Obby as a teacher? And how are we helping you grow?
Obby approached me. I have given workshops for many years but my website does not rank as highly as it used to and business is harder to come by. To have a young, vibrant company out there recruiting customers seemed serendipity. They visited and enjoyed the experience. Obby are very careful who they take on and what I loved is how they want someone who has experience teaching. I have worked with the old, those with specialist needs and partial sight as well as those with loads of talent and creativity. They all come out buzzing.
How do you maintain your inspiration for your craft, especially if you'd made it your full-time job? And how do you pass that inspiration onto your students?
I am now retired and do art constantly. I have been creating art on driftwood and abstracts on canvas and shortly will add those to my classes. I join up with courses myself and am always trying new skills, collecting resources and sharing knowledge. I watch art documentaries, read books, play with colours and create new pieces regularly. It is my passion and all visitors recognise and embrace that.
Do you feel your craft helps people with their wellbeing and mental health? And why?
I have had many people whose hands or sight has dwindled over the years and they love the feel of this medium. There is no failure. I make a warm lavender glue which feels exotic to work with. My sessions are restful, friendly, tactile and gentle. I play relaxing music and we chat softly as we learn. I always make an example so the customer's work is their own.
What has been your favourite student interaction since you've started teaching?
I love students who come to me with a project.  They might be stuck and seek guidance to create their piece or they may want to learn how to make a particular object.  I ask the customer to send me details before the session, so I am well researched and on top of the guidance when they arrive. From a student trying to get an art scholarship to a journalist trying to create 3D art (juxtaposing her experiences of war zones with her gentle nature to seek inner peace) no job is ever the same. I relish each new challenge and I think my reviews show I create a good atmosphere and have a wealth of experience.
What is your favourite thing about teaching that you feel you benefit from?
I love being in my studio/ dining room surrounded by pieces I have made, sitting at the family dining table enabling everyone to create their desires and exceed their expectations . I love sharing my knowledge and watching their faces as they see their piece of art develop from nothing in a few hours. I keep in touch with many and always ask them to contact me if they are  ever stuck. They leave a workshop with the skills to continue at home and complete their piece if it cannot be finished in two hours.
Any tips for aspiring creatives who are looking to start teaching their own classes?
Be ahead of the game, know your skill inside out, and have ready resources. Listen to the customer and ascertain their skills and aspirations. Be patient: work on an example and let them create their own piece from scratch. Be there to advise and assist but let them create their own ideas - praise their endeavours and encourage. Have a refreshment ready, try to be friendly and have a chat so the session is fun. Have a few anecdotes up your sleeve and show them the work you are proud of. Be interested in them and their lives. Ask questions but do not be personal. Tips and suggestions for materials are always useful and customers are so pleased to hear this advice.
Book now with Anita on Obby
---
Want to know more?
Interested in finding out more about our amazing Obby Teachers? Check out some blogs featuring our teachers and learn their stories below: