Started as a passion project after being made redundant, Lynda Robinson's upcycling business - Touch Wood Vintage - has gone from strength to strength in the 7 years it's been running. Her signature colourful wallpapered furniture has proved a hit, as she now not only creates her own pieces but also passes on her skills in her workshops.
We spoke to her all about how Touch Wood Vintage came to life, how she found a love for teaching along the way, and what encouraged her to start offering her classes with Obby.
(Author's Note: Lynda's answers have been edited for length and clarity)
Book with Touch Wood Vintage on Obby
---
My first question for you is, when did you start up-cycling? And what was it that drew you to it?
I started in about 2016-17, I'd been made redundant and was going through my 50-year crisis (laughs). I really didn't want to go into the office world again, and I was going through some health issues at the time too, so I took around a year off work. It was inspired through one conversation with my friend Angie about how she'd painted her bookcase, and she just said to me "Why don't you try painting something whilst you're out of work?". I wasn't too sure about it at first, but that night I went home and I started googling all about up-cycled furniture, and it inspired me so much I thought I might as well have a go! If anyone had said to me 7 years ago, that this is what I'd be doing for a living, I wouldn't have even known what they were talking about!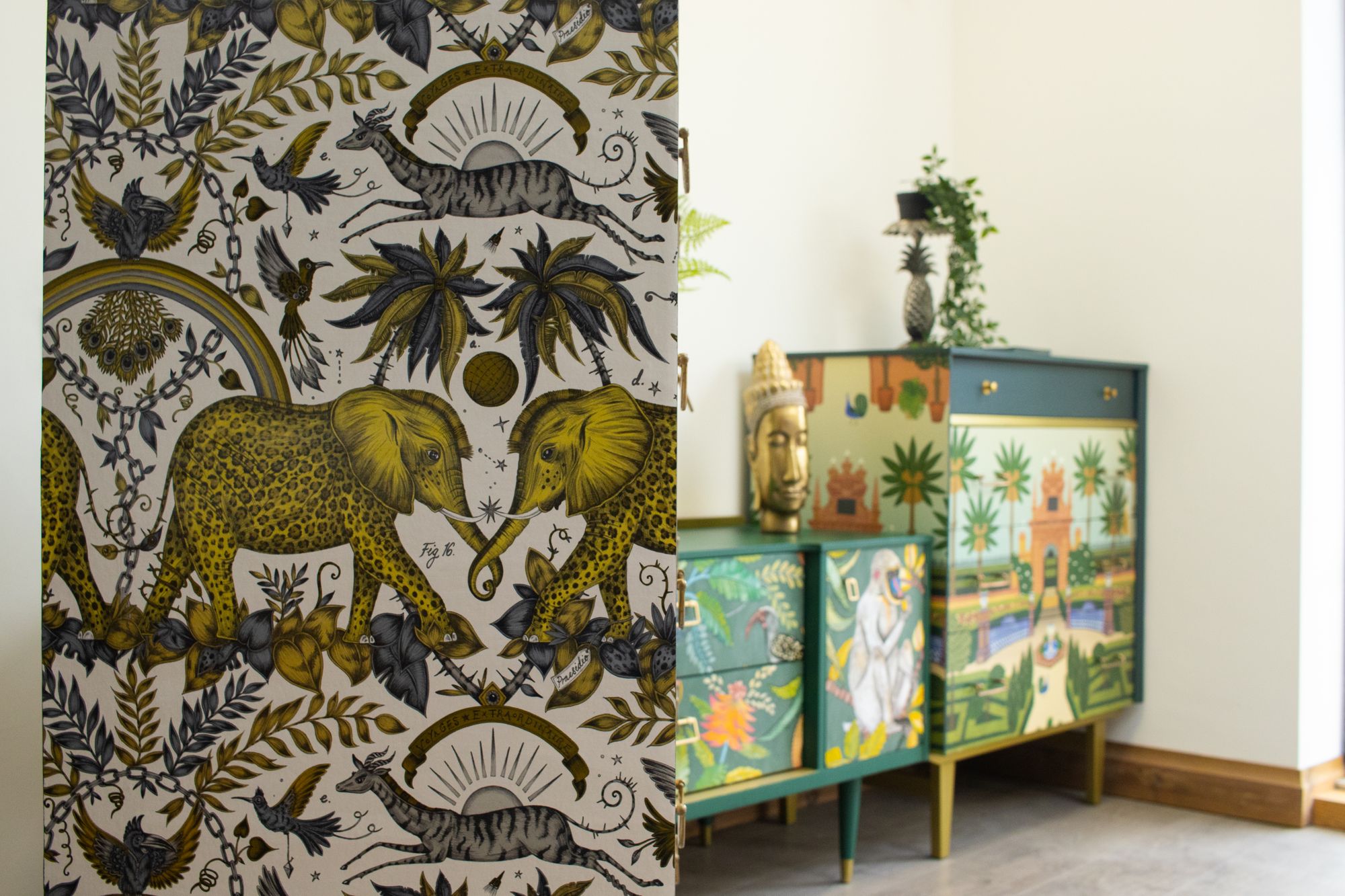 I love that it was such an off-hand conversation that inspired you!
I knew I wanted to be self-employed, but I wasn't too sure what I wanted to do. I tried home-typing, but that wasn't for me. It was just that ad-hoc conversation that changed it all, and I still have to pinch myself today that I've actually got a business going! The first couple of years were obviously not easy, it was really hard getting started, and my confidence was at zero because of everything that had happened with being made redundant. It wasn't until I started doing the up-cycling, and people were really liking my stuff - especially after I switched to using Fusion mineral paints - that it gave me the confidence to carry on. My first sale on Etsy was a big milestone for me, in terms of helping me gain confidence. Another big confidence boost was becoming a member of the House of Up - the directory of professional UK upcyclers - which is amazing to be recognised in such a way. Chris Billinghurst, who runs the directory, has been an amazing source of help, and the events she puts together have really helped me continue to build my business.
2019 was the real stand out year for me though, when I received a message from Media 10 saying I'd been chosen for Grand Designs Live at the Excel Centre. I didn't even have a website at the time, just my Etsy shop. I was jumping up and down in disbelief! I'd never done anything like it, I had 3 months to organise myself, set up a website, and make my furniture. I was really fortunate to have my friend Carrie, she has her own up-cyling business Webb and Grey, helping me set up and hold my hand through it all.
I was so nervous, and I'd spent my last £10 on getting everything together, so It was a gamble I really needed and hoped would pay off. At the show, I had to go onstage and demonstrate how to up-cycle a piece of furniture and, whilst it was nerve-racking, I really enjoyed it! Kevin McCloud came over to my stall and had a look at my furniture, and gave me the biggest thumbs up, which gave me the biggest confidence boost I've ever had in my life. I sold 80% of my stock in that week, and that was the real turning point in my life.
Looking forward to this year, I've applied for a government grant with my council, which is trying to fill the empty shops on the high streets by giving out grants of up to £50,000; I'm keeping fingers and toes crossed I will get it! At the moment I'm in my studio in Streatham which I love, but being able to have a showroom is my ultimate goal.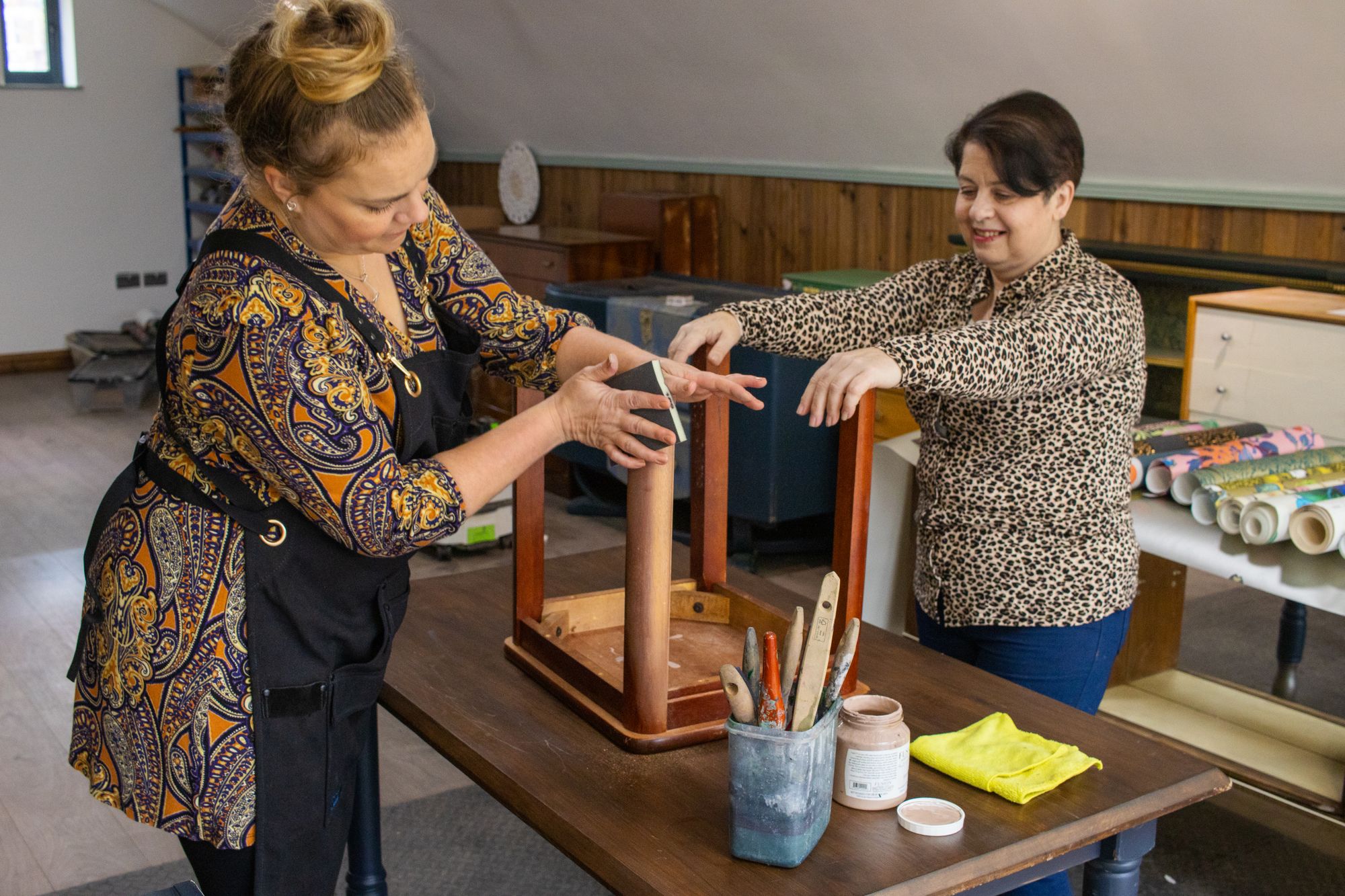 In your journey, where did teaching and workshops come into play for you?
It was after Grand Designs Live that I set up my first class, in September 2019, but I'd been running group classes at my local community centre for a while I firmly believe that being able to upcycle a piece of furniture can be so beneficial, because you can turn round and say 'I did that!'. I had one lady who showed her daughter what she had made, and her daughter couldn't believe it! People have this concept that it's going to be super difficult, but once you've learnt how to get the basics down you have the skills to keep making pieces again and again.
What was it about Obby that inspired you to join us?
I think that you're a craft website, with some many other talented craftspeople also selling classes, initially drew me to Obby. That, andmy website wasn't working properly for bookings, and I thought "well, I know some experts that can help me!"
What's the one thing about teaching that you love the most?
I love how it can brighten people's day. I found in my group workshops that people would come in all grumpy from a horrible week's work, and then leave with smiles on their face. I love how just 4 hours of learning how to up-cycle changed their moods entirely!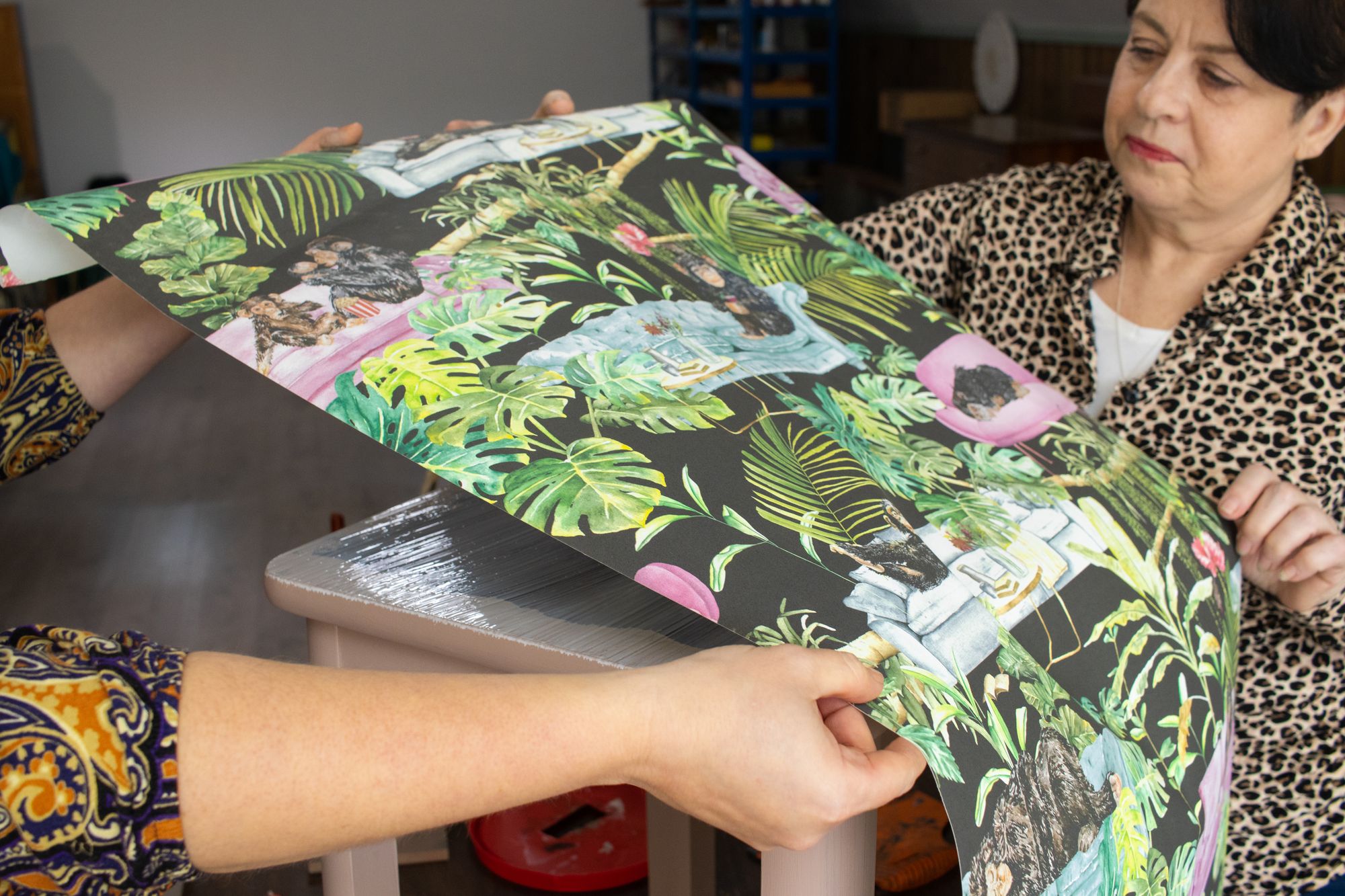 That's so lovely! Following on from that, how do you feel being crafty and creative helps people with their mental health and well-being?
Oh absolutely! I had one lady come to my class who's a cancer nurse, you know a really difficult job, and it helped her be able to relax from the stress of her job. Up-cylcing 1000% can help with your mental health, it gives you that boost that people need, and I've benefited from that myself. I've been at the bottom of the barrel, and if I hadn't been upcycling I don't know what I'd be doing now. It's given me something to be proud of, and it's hard work but absolutely worth it. You have to push through the hard times and believe in yourself to keep going.

My final question for you is, what advice would you go back and give yourself 7 years ago, when you were just starting out? For anyone who's looking to start their own creative business today.

Oh gosh, what advice would I have given myself?! Just be brave! I'm actually mentoring a friend at the moment, and it is really tricky when you first start out, but if you get through that struggle it does pay dividends. And also, if things go wrong, don't worry about it! If things go wrong, you can start again. Vintage furniture is sturdy and solidly-made, and if you do mess up don't be afraid to tear it off and re-do it, it doesn't need to end up in landfill. Play about with the ideas in your head, there's so many prints and materials that you can buy to try out new things, and the most important thing is to keep going until you find that idea that is exactly right for you. Be brave and go for it, there's no harm in doing some painting!
Book with Touch Wood Vintage on Obby
---
Want to know more?
Interested in finding out more about our amazing Obby Teachers ? Check out some blogs featuring our teachers and learn their stories below: