Helen has over 20 years of experience in screen printing, with an MA in mixed media and embroidery from the Royal College of Arts. Her teaching experience is extensive, having worked for several years at a crafting venue in Islington passing on her skills in screen printing, lampshade making and machine embroidery to those looking to get crafty after work.
Helen now teaches screen printing in her studio from Stoke Newington, where you can learn how to screen print with paper stencils and the process of pulling ink through an open screen to create your own unique designs.
Read on to hear from Helen all about how she got started screen printing, what she loves about teaching, and how Obby has helped her business grow.
(Author's note: Helen's answers have been edited for length and clarity)
Book with Helen on Obby
---
When was the first time you started working with screen printing, and what drew you to it?
I made my first screen print many years ago on my Art Foundation Course in Rotherham.  I was keen to explore print for fashion back then so this was for my first mini catwalk collection and final year show. I ended up at Derby doing textile design and specialised in print and I was hooked! My MA at the Royal College of Art was in Embroidery but I would regularly use the print room and combine the two techniques which is what lead to my lampshade collection involving both print and stitch. As soon as I moved into my studio in Stoke Newington at The Chocolate Factory back in 1995, the print table was the first thing to go in there. I must have made thousands of prints since then for my lampshades, cushions and home accessory collections. There is something amazing about the physical activity of printing and the reward you get from lifting up the screen and seeing what's underneath. In an instant you have colour and pattern right there and the process still makes me happy all these years later.
What made you realise that teaching might be for you? And was it difficult for you to make that leap from creating for yourself to teaching others?
I was offered the chance to teach a variety of courses at The Make Lounge in Islington, not long after my son was born. It was one of the first crafting venues to open up in London and I ran machine embroidery, screen printing and lampshade making classes. Teaching enabled me to return to my love of printing and making. It threw me back into the creative community that I had been missing and I discovered that I really enjoyed it. I had stopped doing trade fairs and selling to retailers due to lack of time, so teaching was also a good way to supplement my sales whilst I built up my profile on direct shopping sites such as Etsy, Notonthehighstreet and my own website.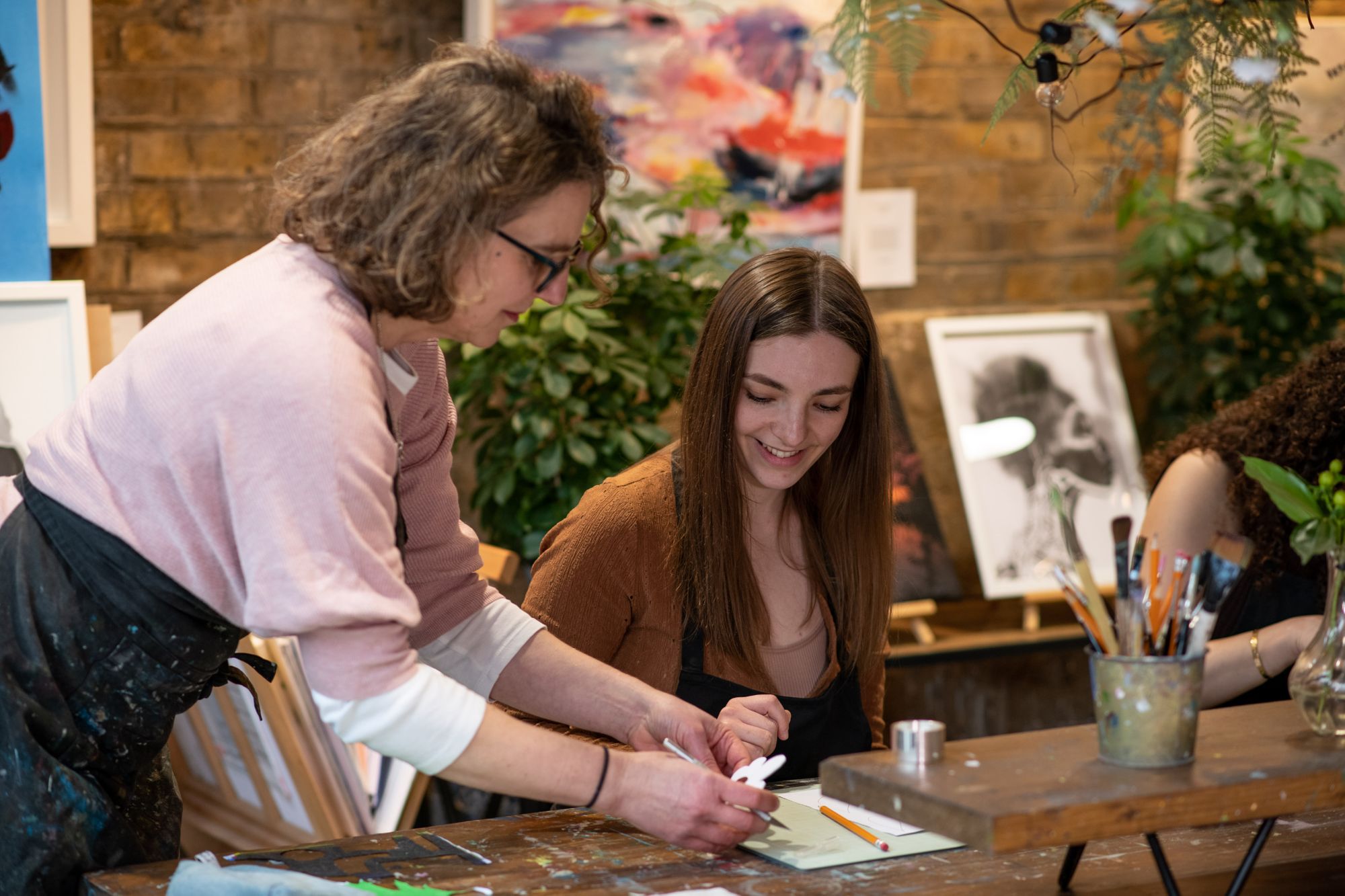 What encouraged you to join Obby as a teacher? And how are we helping you grow?
Having taught evening and weekend classes to big groups for a few years I took a break from teaching to concentrate on my own work and to spend more time with my family. However friends kept asking me about running workshops from my studio - particularly for children so I eventually decided to give it a go and was soon getting requests for adult classes too. Obby was a perfect platform to take the next step and reach out to a wider community of potentially creative people looking for a workshop experience like mine. It's been great to be able to teach on my own terms, to smaller groups which fits around my working day at the studio. The team at Obby have always been very helpful and responsive to change and development of what they can offer which allows me to grow at my own pace whenever I'm ready.  I've also been happy to hand over some of the admin side of things which makes handling bookings so much easier!
How do you maintain your inspiration for your craft? And how do you pass that inspiration onto your students?
My studio is full of books, plants and little knick knacks which I've picked up over the years.  Lampshades, fabric prints and stencils are hanging here, there and everywhere so I am surrounded by colour and pattern everyday.  Ideas bounce off a previous print on to the next and the display is constantly changing. I hope that this visual energy helps to inspire my students the moment they walk through the door and I'm always happy to talk my way around the room! I start my print class with a sample print and I make sure I do something different each time - this helps me to explain about where my inspiration has come from, whether it's from a recent trip to a museum, a quick sketch in my back garden or just simply abstracting shapes from snaps I've taken out and about. It's a great way to keep the class feeling fresh and new and a good place to start brainstorming ideas.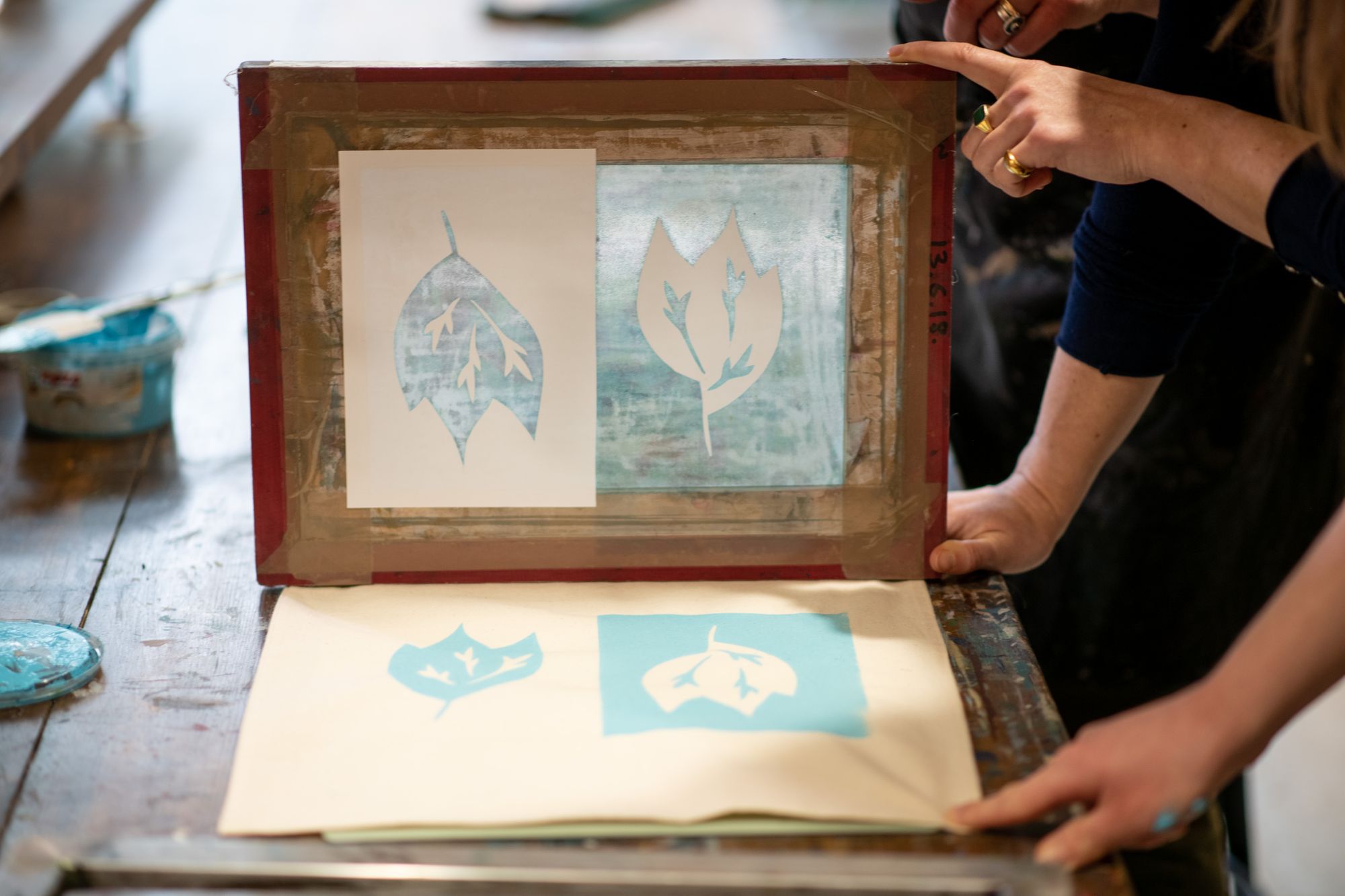 Do you feel your craft helps people with their wellbeing and mental health? And if so, why?
I think that taking time out and being creative either by yourself or with family and friends is so important to everyone's wellbeing whatever their occupation or stage in life. It can be a quiet contemplative process or one full of conversation and laughter,  but just spending a few hours focussed on making something, using your hands and learning a new skill, never fails to bring out the smiles in people and that has to be a good thing!
What has been your favourite student interaction since you've started teaching?
The look of wonder and satisfaction after pulling a print and lifting up the screen is always a winner for me and I love the diversity of people that come to my classes, from inky mishaps on the studio floor to incredible scalpel skills at making paper stencils, there have been plenty of memorable moments. In one class I had a retired bricklayer from Essex merrily printing away next to a costume designer taking a break from her cruise ship job in the Bahamas. With at least thirty years between them, so many interesting stories were shared that day. I think it's the unexpected surprises like this that makes me love teaching.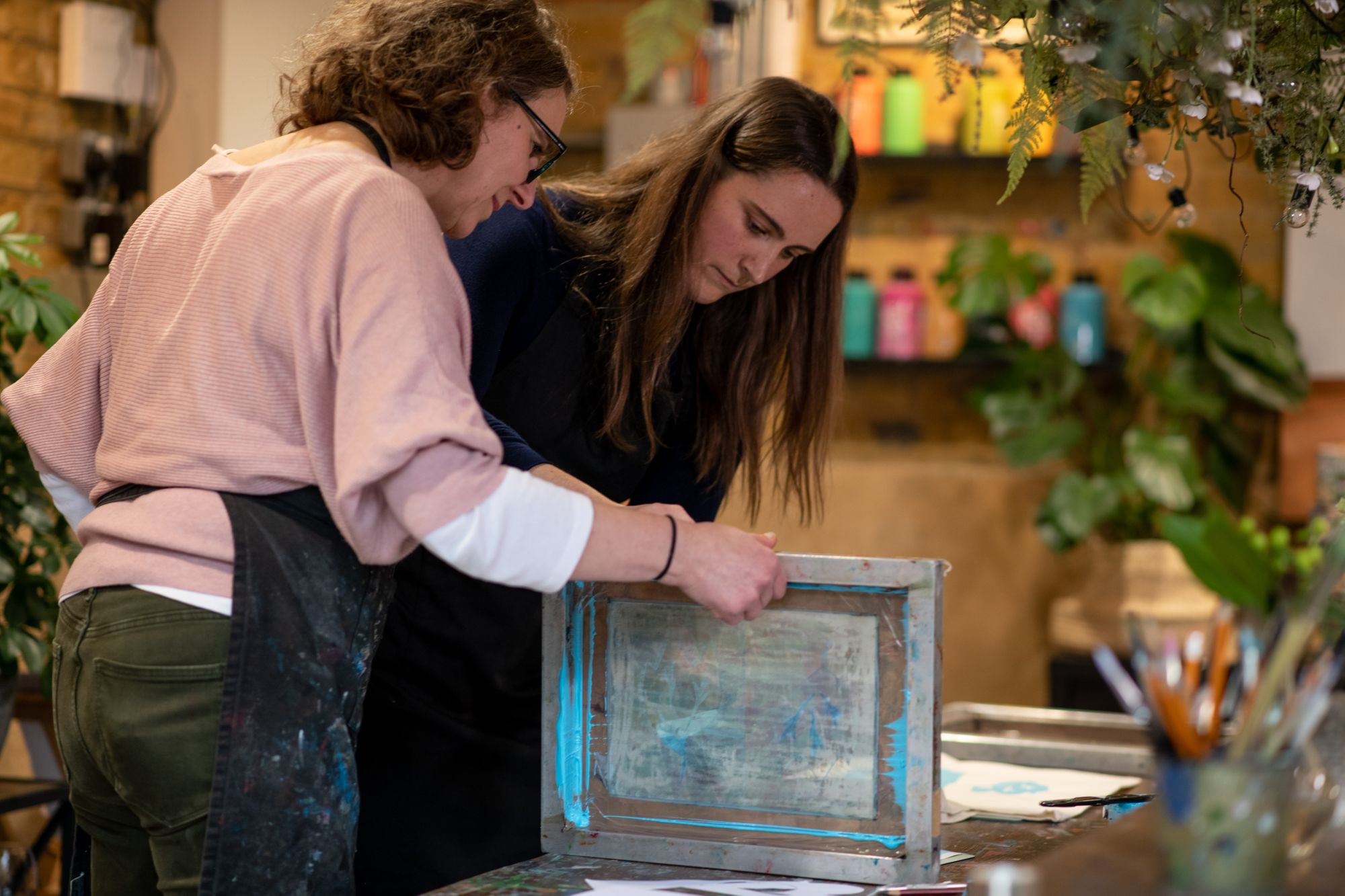 What is your favourite thing about teaching that you feel you benefit from?
Although I work by myself most of the time and am comfortable with that, I do love meeting people so I've enjoyed welcoming students into my studio life on a regular basis. Being able to share my practice through teaching has really made me appreciate what I've learnt over the years and I'm very happy to be able to pass this on. Problem solving and working things out to help my students achieve something they are proud of is a really satisfying experience and I'm always inspired by what people create in any of my classes so I think the benefits definitely go both ways.
Finally, do you have tips for aspiring creatives who are looking to start teaching their own classes?
When I first started teaching from my studio, I ran a few practice classes with friends just to try things out and see how it worked in terms of numbers and timing. It was a great way to get honest feedback and allowed me to understand what I could and couldn't do within a certain time frame. If you have a studio space or work from home, try and tailor it to suit you and your own working practice or home life, so you can easily go from one to the other. If you're thinking about it, it's certainly worth giving it a try!
---
Want to know more?
Interested in finding out more about our amazing Obby Teachers? Check out some blogs featuring our teachers and learn their stories below: