Many small and growing businesses have built their website using the simple, user-friendly and creative tools Squarespace provides. Businesses can customise and adapt the many templates available on Squarespace to reflect their brand and support their business's needs. But what if need to accept bookings? Is Squarespace a suitable as a booking system?
At it's core, Squarespace is a website builder and doesn't come with built in tools for businesses that need to accept bookings. It's mainly used by businesses of any size to sell their products or showcase their services.
Does Squarespace have a booking system?
Not exactly, it doesn't come out of the box but there are a couple of options that Squarespace has designed to allow you to take bookings. Squarespace have created two of their own tools for this purpose: Squarespace Scheduling and Acuity Scheduling.
However, if you have a Squarespace website you can integrate many other booking systems and we highly recommend you take a good look at other options as they are more often than not, packed full of features that something like Acuity or Squarespace Scheduling simply can't provide.
Are bookings free on Squarespace?
No, Squarespace users who also choose to use Squarespace Scheduling or Acuity Scheduling have to pay to use Squarespace along with an additional fee in order to use one of their booking systems.
Although, there are definitely ways you can take bookings for free on your Squarespace website. If you're on a tight budget, rather than using Acuity Scheduling or Squarespace Scheduling, you can choose to integrate a booking system which offers a free plan into your Squarespace website.
How do you take bookings on Squarespace?
One way you can take bookings on Squarespace is to use Acuity Scheduling. There is no need to integrate Acuity Scheduling into your website because this booking system is already built into Squarespace.
Another way to take bookings on your Squarespace website is to integrate a booking system. There are numerous booking systems available that are compatible with Squarespace and offer more features at a lower cost.  
With the tools mentioned in this list, you can create a customised booking page that showcases your brand and integrates directly with your Squarespace website.
How to install a booking system into Squarespace:
The most common way to install a booking system into Squarespace is to integrate your booking page as an iFrame or as a button. In a nutshell, an iFrame shows a website page, inside of website page.
Many businesses choose to integrate their booking page onto their website with 'Book Now' buttons. Once a customer clicks this button they will be taken to your booking page.
Want to find the right booking system for your business? Keep reading to find out what we think are the top 5 best Squarespace booking systems.
---
Top 5 Best Squarespace Booking Systems:
Baluu
Acuity Scheduling
SimplyBook.me
BookWhen
Squarespace Scheduling
---
1. Baluu
Best for: extensive customisation features and easy website builder tools which require no code.
Baluu is an all-in-one booking system which makes it possible for your customers to make bookings directly on your Squarespace website. This booking system can also help you build your own branded business website from scratch — if you don't already have one.
Baluu takes care of everything. From the customer booking journey, taking and processing online payments and organising your schedule. Baluu's robust CRM and automation tools will also save you huge amounts of time on admin.
How does Baluu work?
After you have setup your account with Baluu, add an event, experience, activity or class, next you will be given access to the Baluu dashboard.
Once you are on the Baluu dashboard, you will be able to simply add your listed event to your website and start taking bookings. Integrate Baluu into your Squarespace website as an iFrame or a 'Book Now' button.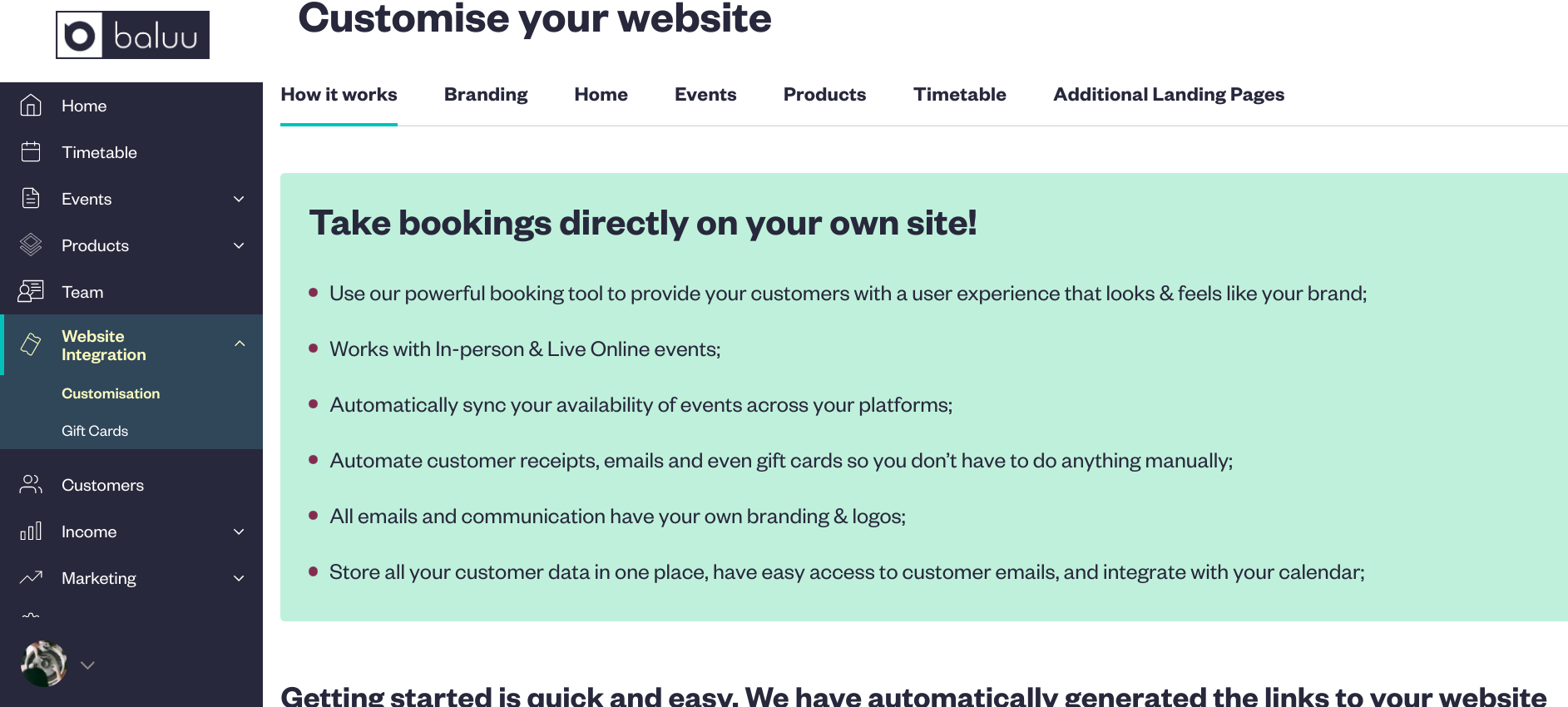 As well as building a branded booking widget, Baluu can also help you build your complete website with custom landing pages, images and your logo.
Click here to see an example of a yoga website powered by Baluu.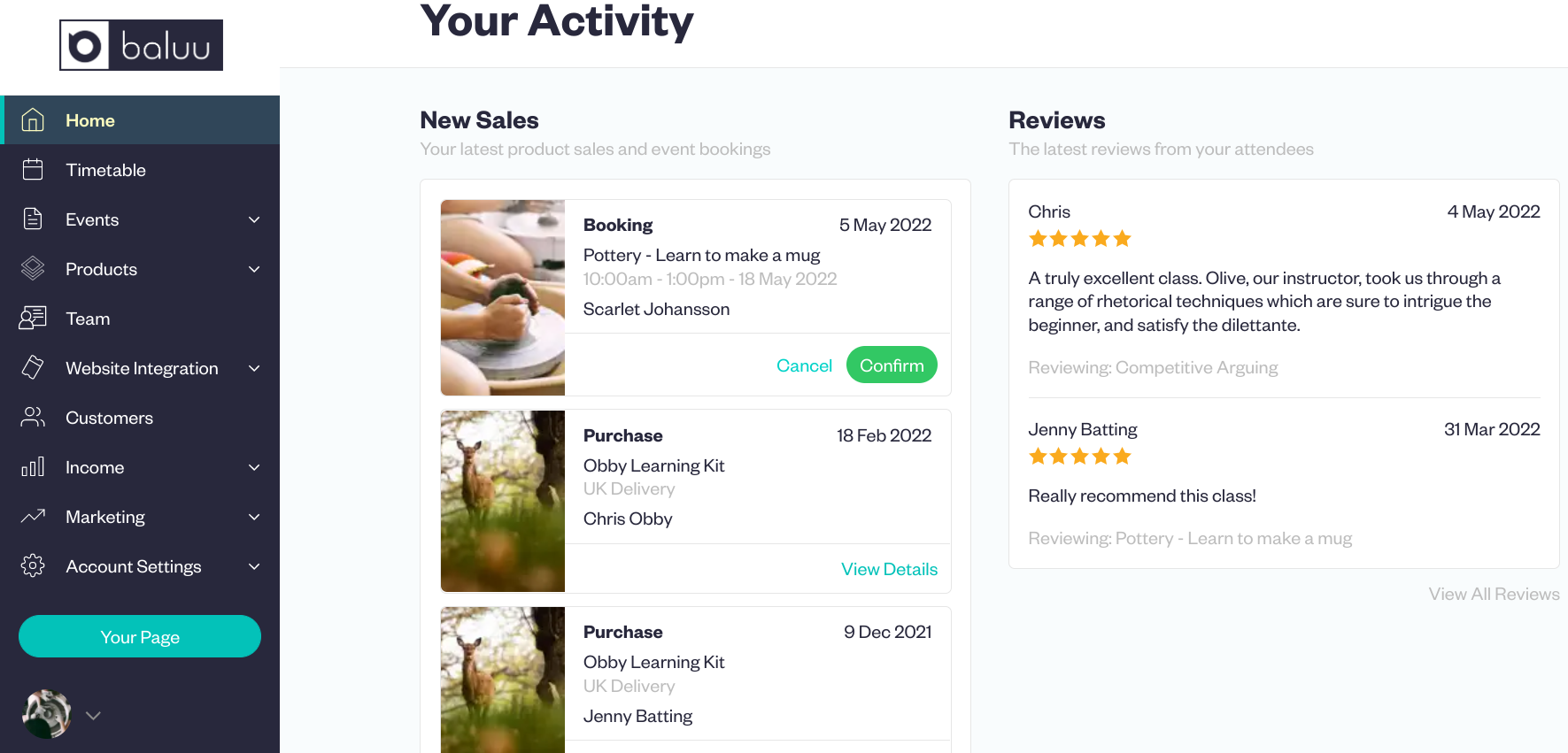 Manage your bookings from your website in the user-friendly Baluu dashboard. Easily organise your team, keep track of your income and utilise valuable marketing tools.  
Want to know more about Baluu? Book a free demo call and discover how Baluu can seamlessly embed into your Squarespace website.
See more @ Baluu.co.uk
Pricing*
As well as a 30 day free trial, Baluu has four pricing plans to choose from. Small businesses can start with the Free plan while the Growth is better suited to growing businesses.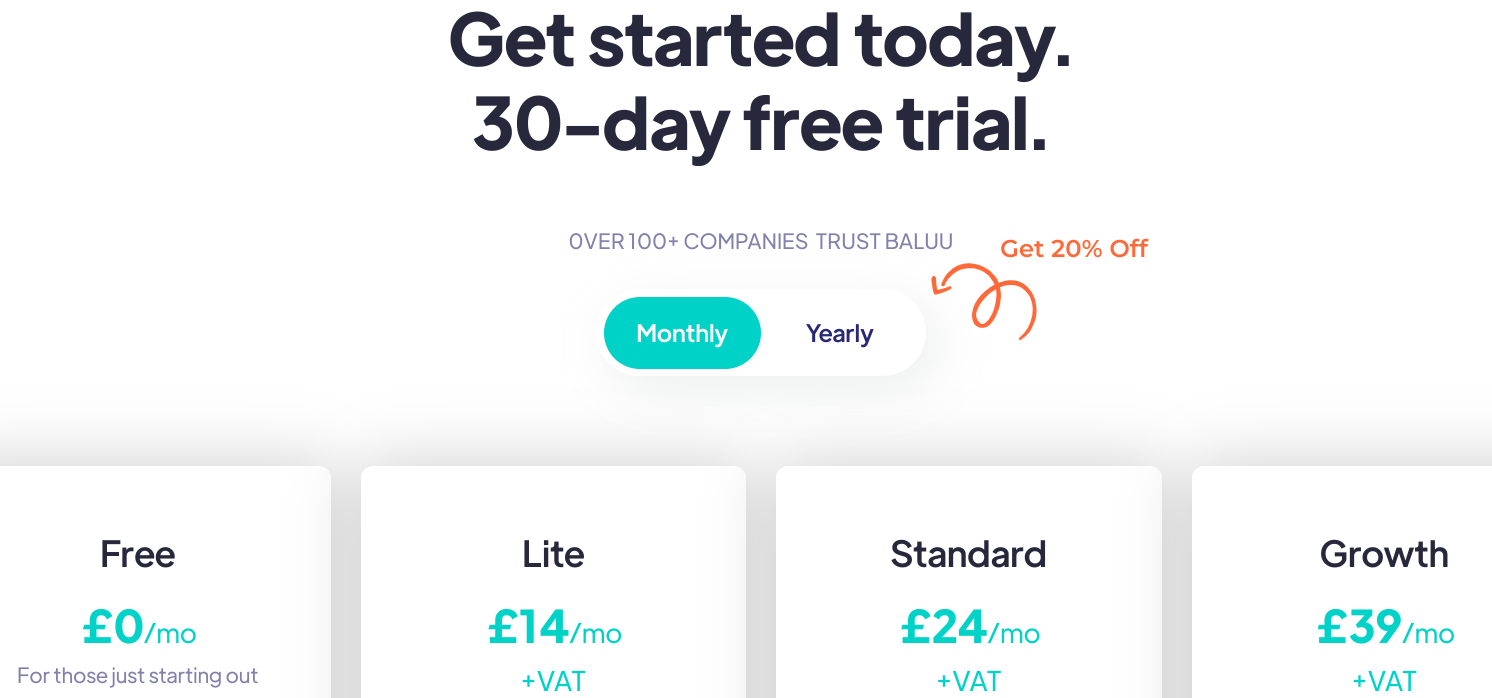 Baluu Pros
Can use Baluu on a range of different website platforms, not just Squarespace.
Extensive customisation tools which help refine your brand within the tools.
The dashboard is easy to navigate and means you can manage your business in one place.
Your dedicated Baluu account manager will help you integrate Baluu into your Squarespace or any other website.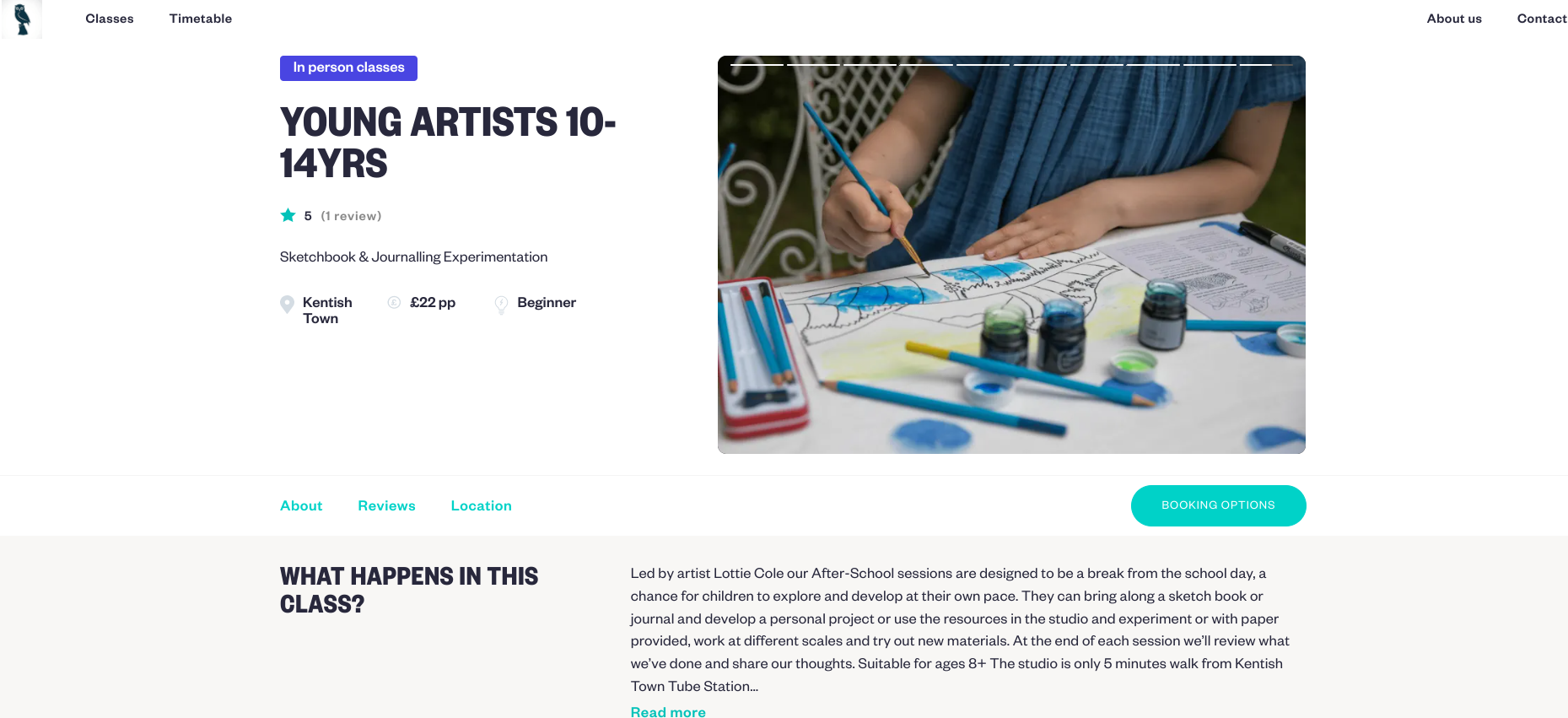 Baluu Cons
The customer payment journey is clear but cannot be customised with Baluu.
Baluu is mobile optimised but does not yet have an app.
---
2. Acuity Scheduling
Best for: creating a consistent branded booking experience for your customers on your website.
Acuity Scheduling is a Squarespace company, which makes using this booking system with your Squarespace website simple. When using Acuity Scheduling, you can list appointments, events and memberships which customers can book and purchase directly on your Squarespace website.
Acuity also gives you the opportunity to create a booking experience for your customers which fits your brand.
As well as using Acuity Scheduling for Squarespace websites, this booking system can also be used on websites made with other website builders.
Pricing*
With three reasonable pricing plans to choose from, paying for Acuity Scheduling alongside your Squarespace website is perhaps an affordable option for many growing businesses.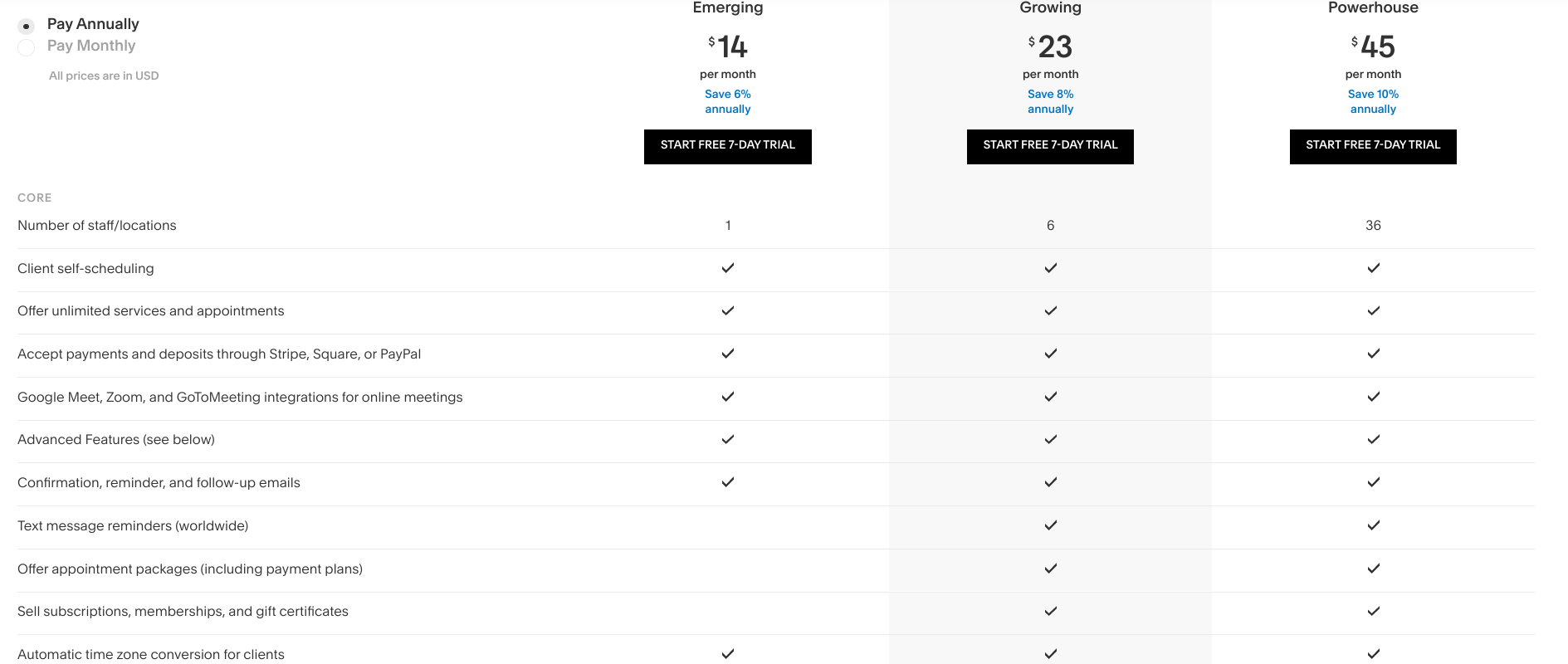 Acuity Scheduling Pros
As Acuity Scheduling is built into Squarespace, there is no need to integrate it into your website, making this booking system easy for people with limited tech experience to use.
Your design and brand is consistent throughout your clients booking journey.
List unlimited events which clients can book directly on your website.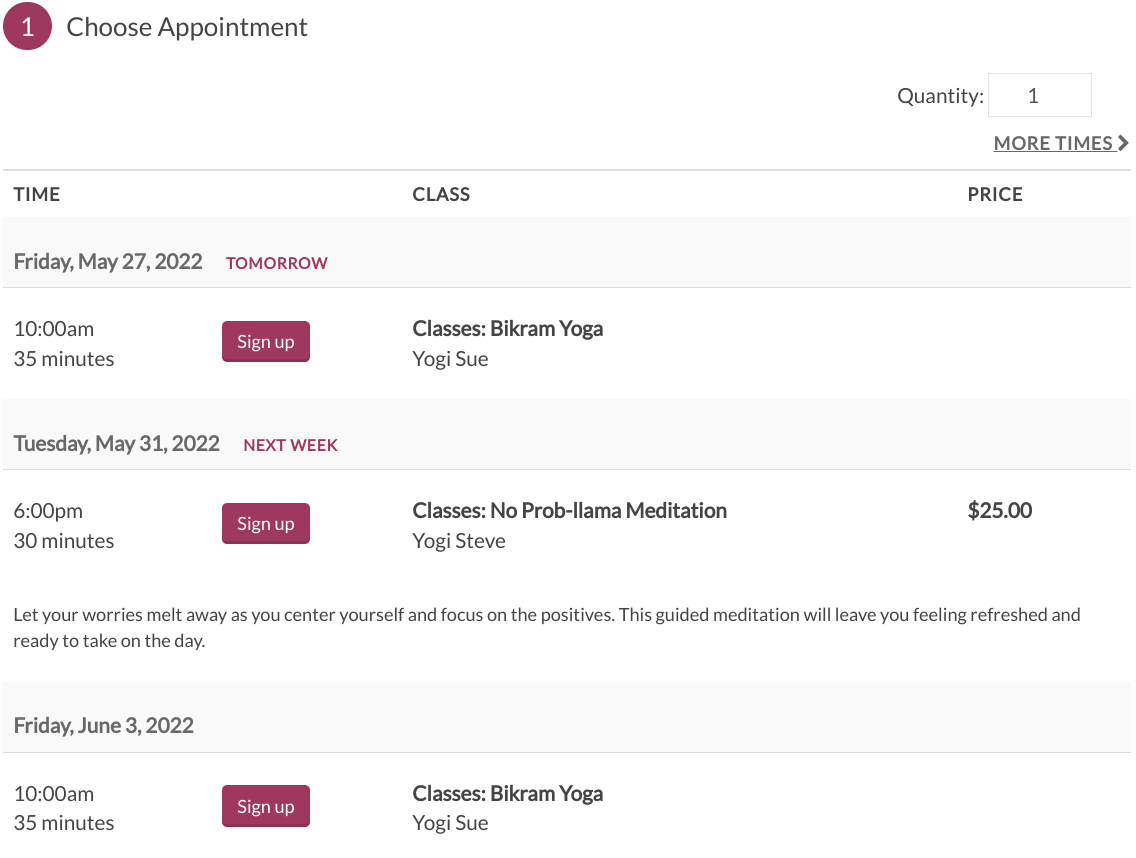 Acuity Scheduling Cons
This booking system has no Free plan for small businesses to make the most of.
Where other booking systems offer a 30 day free trial, Acuity Scheduling only offers a 7 day free trial.
Customisation tools are limited and the design options look outdated.
Not user friendly for your customers, the UX is cluttered and confusing.
---
3. SimplyBook.me
Best for: People that want a client facing booking app and user facing admin app.
SimplyBook.me is an online booking system, designed for service providers. Once you have outlined the services you offer, SimplyBook.me gives you the tools to share your availability with your clients so you can start taking bookings on your website.
Pricing*
Like most booking systems, SimplyBook.me gives you the option to choose to sign up with an annual or monthly plan. Their pricing plans are manageable for small and growing businesses alike.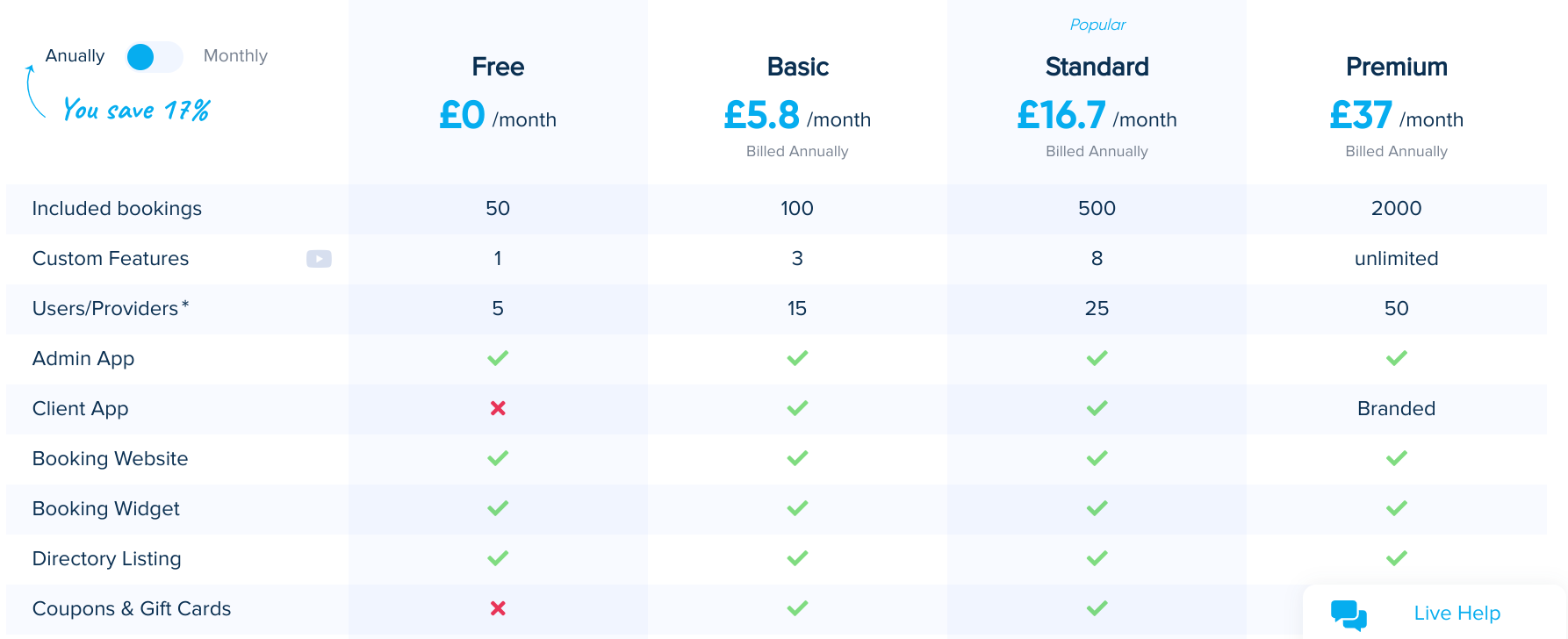 SimplyBook.me Pros
Provide users with an admin app to manage their bookings.
Customise a branded client facing app which they can use to make bookings.
Give businesses website builder and booking widget builder tools.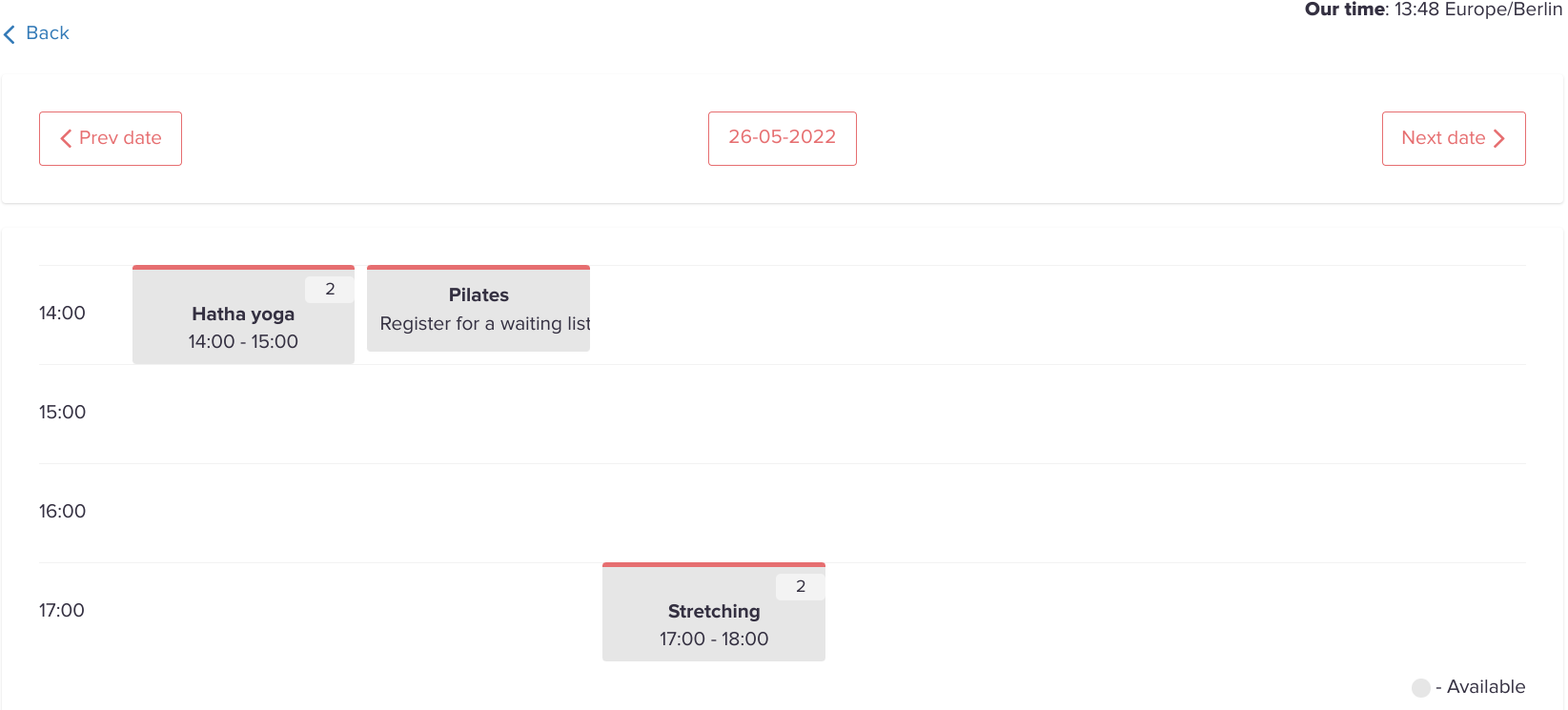 SimplyBook.me Cons
None of their paid plans give users unlimited bookings.
Website templates have limited customisation capabilities.
API integration makes integrating SimplyBook.me into your website difficult.
The user backend and 'Admin Interface' is clunky and hard to navigate.
---
4.  BookWhen
Best for: provides businesses with multiple booking pages.
BookWhen provides an online booking system which allows you to take bookings and reservations for your courses, activities and virtual classes. After getting started with BookWhen you will be able to keep your schedule organised, create a professional booking page and take bookings for your events.
Pricing*
With five pricing plan options, including a Free plan and the bespoke Enterprise plan, choose a pricing plan which meets your needs.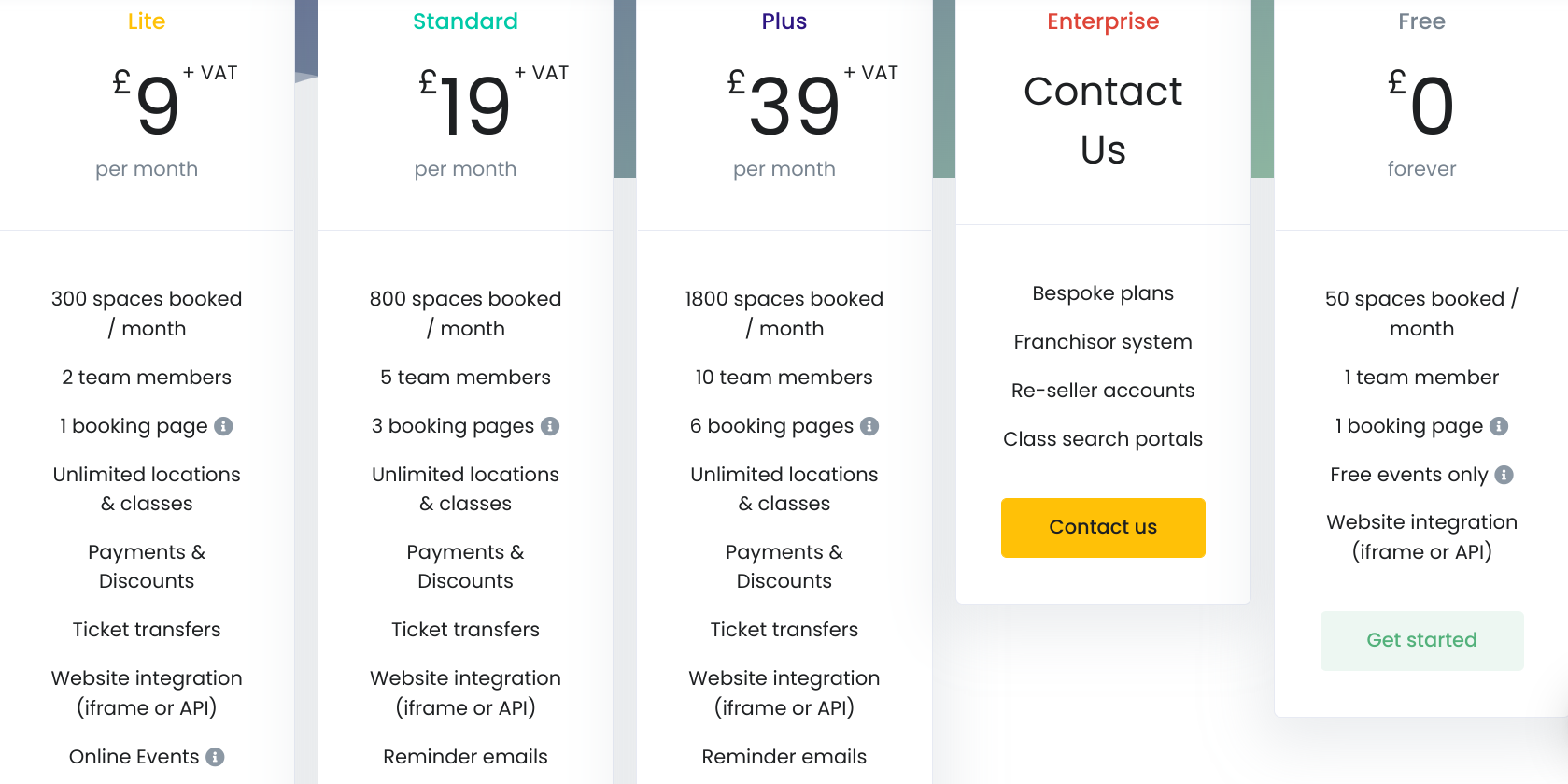 BookWhen Pros
Can choose API integration or to integrate BookWhen into your website as an iFrame.
List unlimited locations and classes, activities and events.
Can use multiple BookWhen booking pages.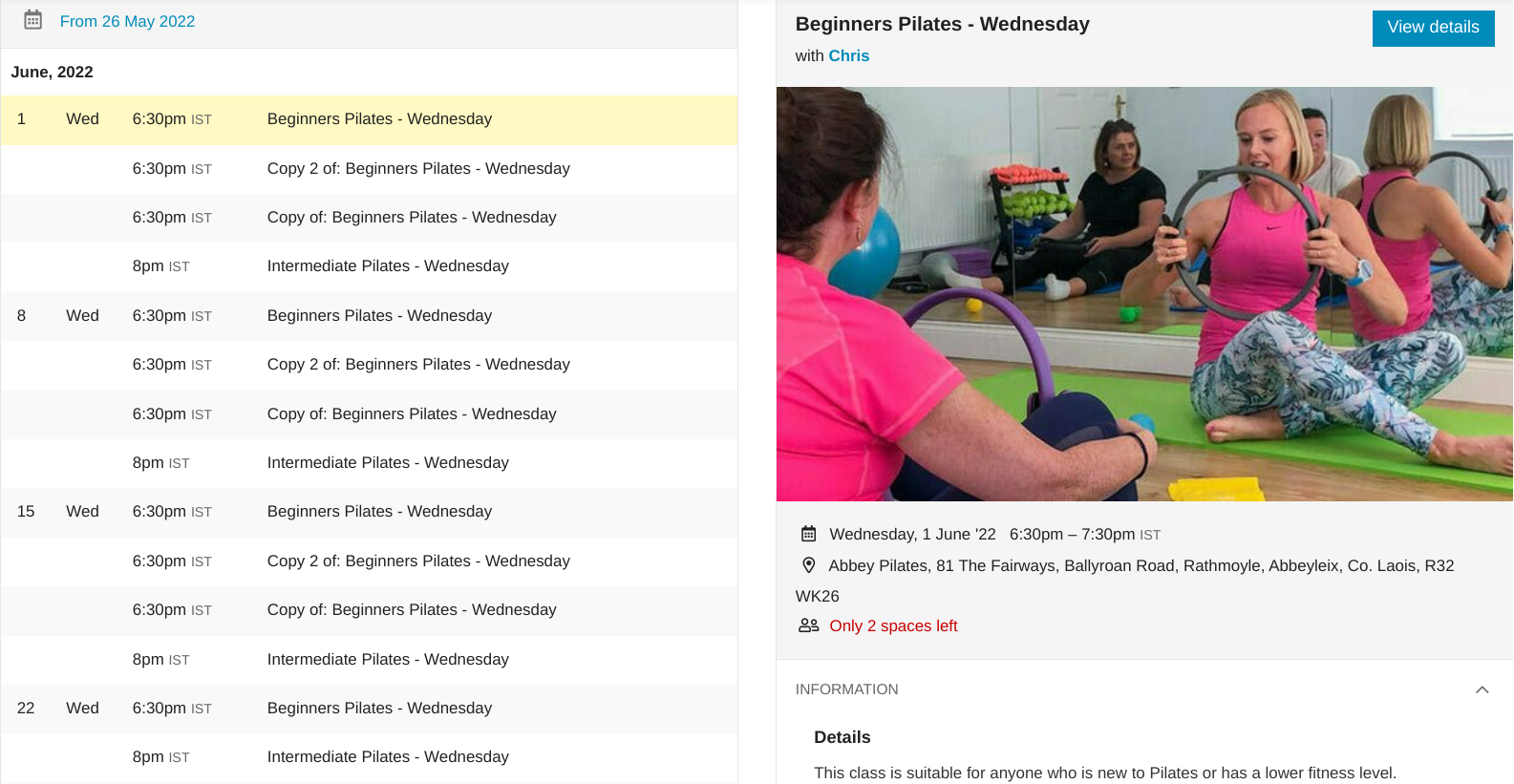 BookWhen Cons
Gives users a certain amount of bookings per month and none of their paid plan options offer unlimited bookings.  
Their discount features are difficult to use.
They provide users with limited customisation features.
---
5. Squarespace Scheduling
Best for: taking bookings for appointments online.
Squarespace scheduling is an online appointment booking software. With this booking system, you can clearly list your appointments, taking bookings and keep an organised schedule.
Pricing*
Although Squarespace Scheduling does not offer a free plan, they do provide businesses with three paid plans to consider.
Squarespace Scheduling Pros
Can be used with a Squarespace website or other website builder platforms.
Gives businesses a free trial with many of the features on the Emerging plan.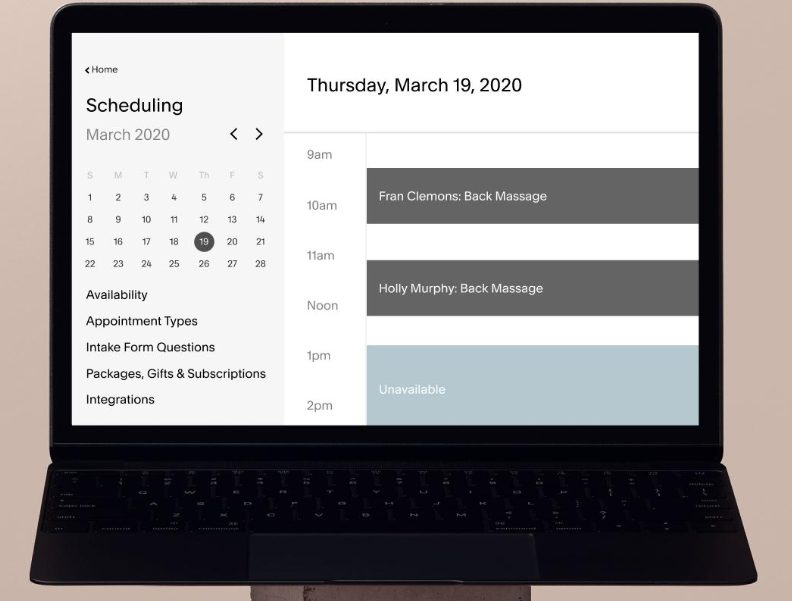 Squarespace Scheduling Cons
Does not offer businesses a free plan which makes this booking system less accessible for small businesses.
Offers a small total of nine features at a considerably high cost.
Customisation tools are limited, dated and difficult to use.
*All pricing outlined in this article was accurate to the best of our knowledge and soured from the aforementioned website's pricing page at the time of writing (25/05/2022).
---
Need more advice?
We hope our analysis of the top 5 best Squarespace booking systems has helped you find the right booking system for your needs. After considering the pricing, pros and cons of Baluu, Acuity Scheduling, SimplyBook.me, BookWhen and Squarespace Scheduling, we believe you are closer to finding the best booking system to integrate into your Squarespace website.