As a yoga teacher, instructor or entrepreneur, finding the best appointment booking system is crucial in helping you manage every aspect of your yoga business. Finding the right software to help you manage the day to day is essential in ensuring the success of your business.  It can help with everything from managing instructors, organising timetables, accepting online payments, rescheduling bookings and so much more.
Whether you host private one-to-one appointments or regular group classes, this extensive blog post will help you find the best booking system to efficiently manage and sustainably grow your business.
We have analysed the pros, cons, pricing and key features of the top 7 appointment booking systems for yoga businesses, so you can take bookings and manage your business with ease.
---
The top 7 appointment booking systems for yoga are:
Baluu
Mindbody
SimplyBook.me
WellnessLiving
Acuity Scheduling
Gymcatch
BookWhen
---
1. Baluu
Best for: extensive customisation capabilities and the best tools for managing your bookings
Baluu is a powerful all-in-one booking system designed for small and growing businesses. It allows you to easilty create a branded booking website with Baluu's website builder tools or integrate a completely customised booking page into your existing business website.
See an example Yoga business booking site built with Baluu here.
Provide your yoga students with an effortless booking experience, take bookings for private, group, in-person or online classes, manage your team and so much more with Baluu.
How does Baluu Work?
After you have got set up with Baluu, you will have access to the Baluu dashboard. On the user-friendly dashboard, you can list all of your yoga classes and events.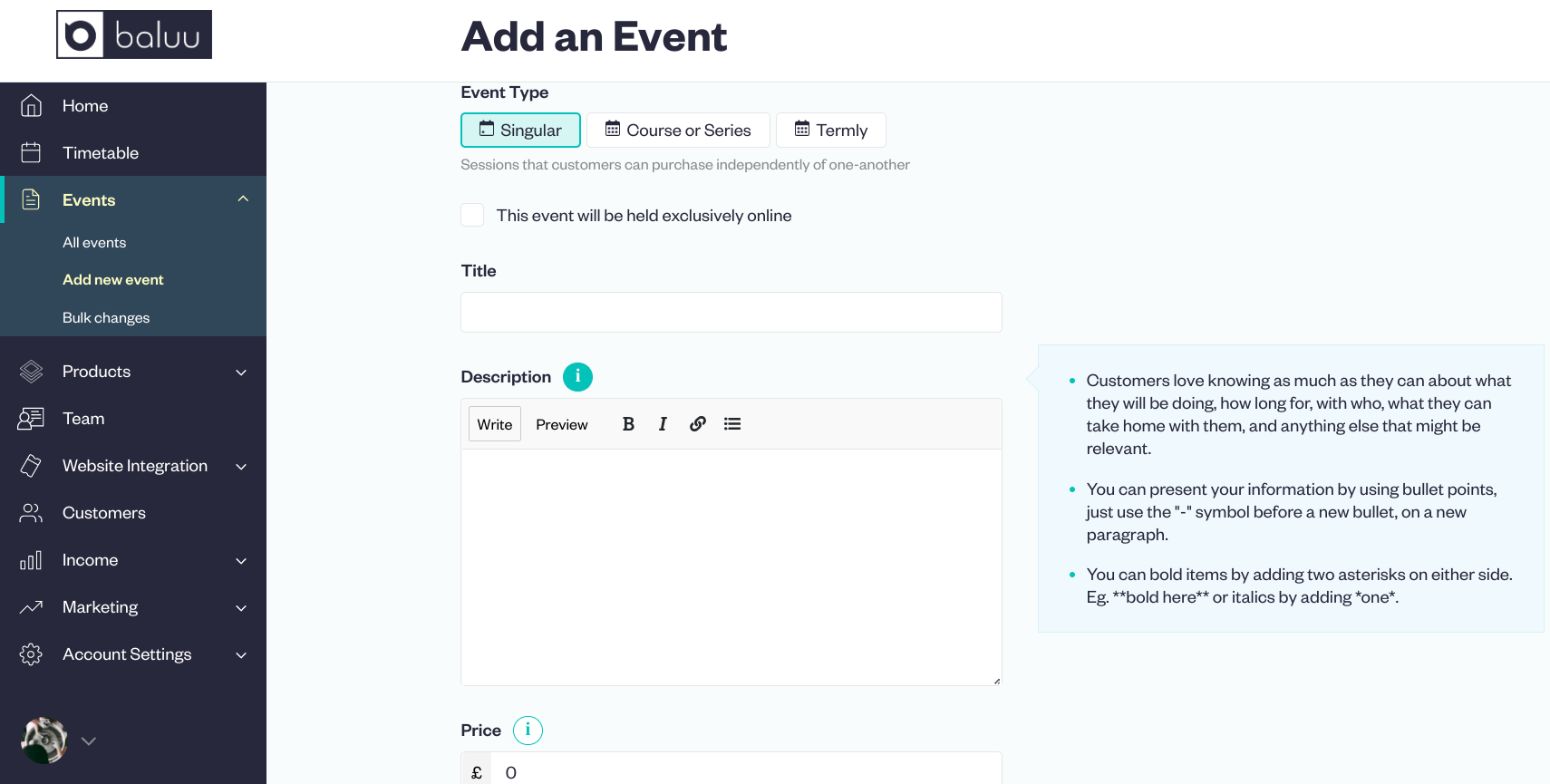 Once you have listed your one-off and recurring classes, you can create a customised booking page which can integrate into your existing business website.
Integrating Baluu into your website will allow you to provide your yoga students a branded and intuitive booking experience on your own website.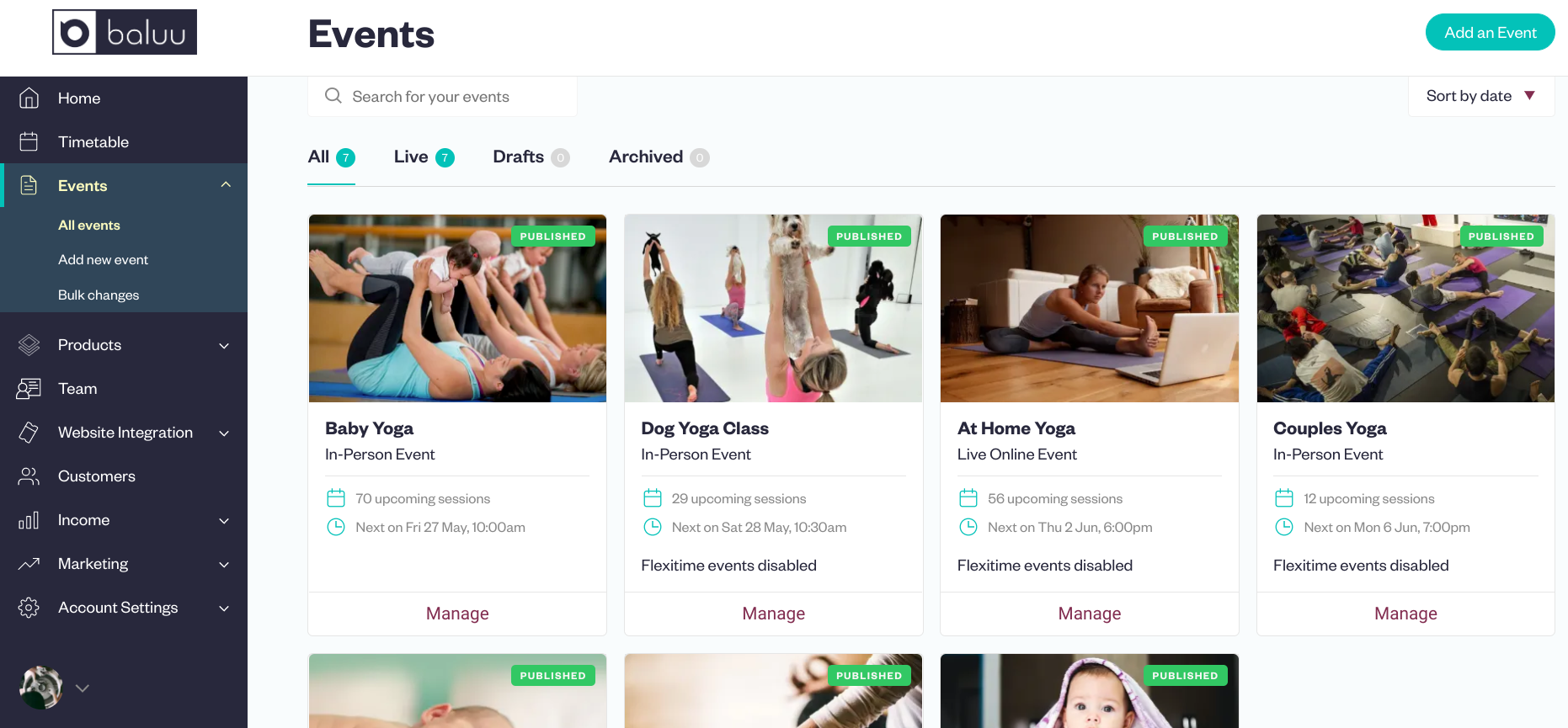 On the Baluu dashboard, you can manage the bookings made on your website. Accept private booking requests, update events and keep track of upcoming events.
All in one place, the Baluu dashboard gives you the tools to monitor your income, enact marketing strategies, access students guest lists and so much more.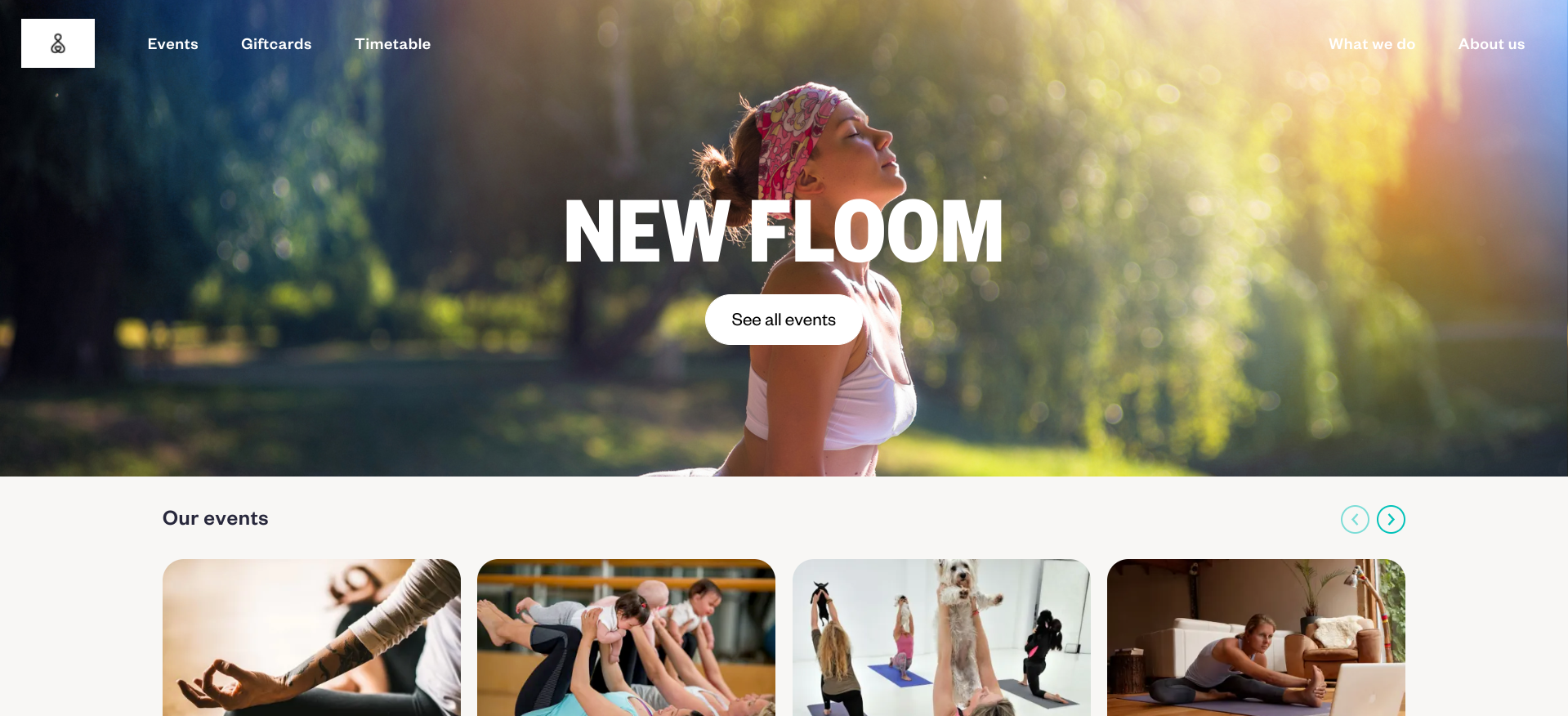 If you are yet to build your business website, within the Baluu dashboard you can create a completely branded booking website with Baluu's user-friendly tools.
Interested in a demo with one of the Baluu team? Book a 1-to-1 walkthrough of the product today.
See more @ Baluu.co.uk
Pricing*
Baluu offers small businesses four pricing plans to choose from. As well as their paid plan options, businesses have the option to explore Baluu with a 30 day free trial.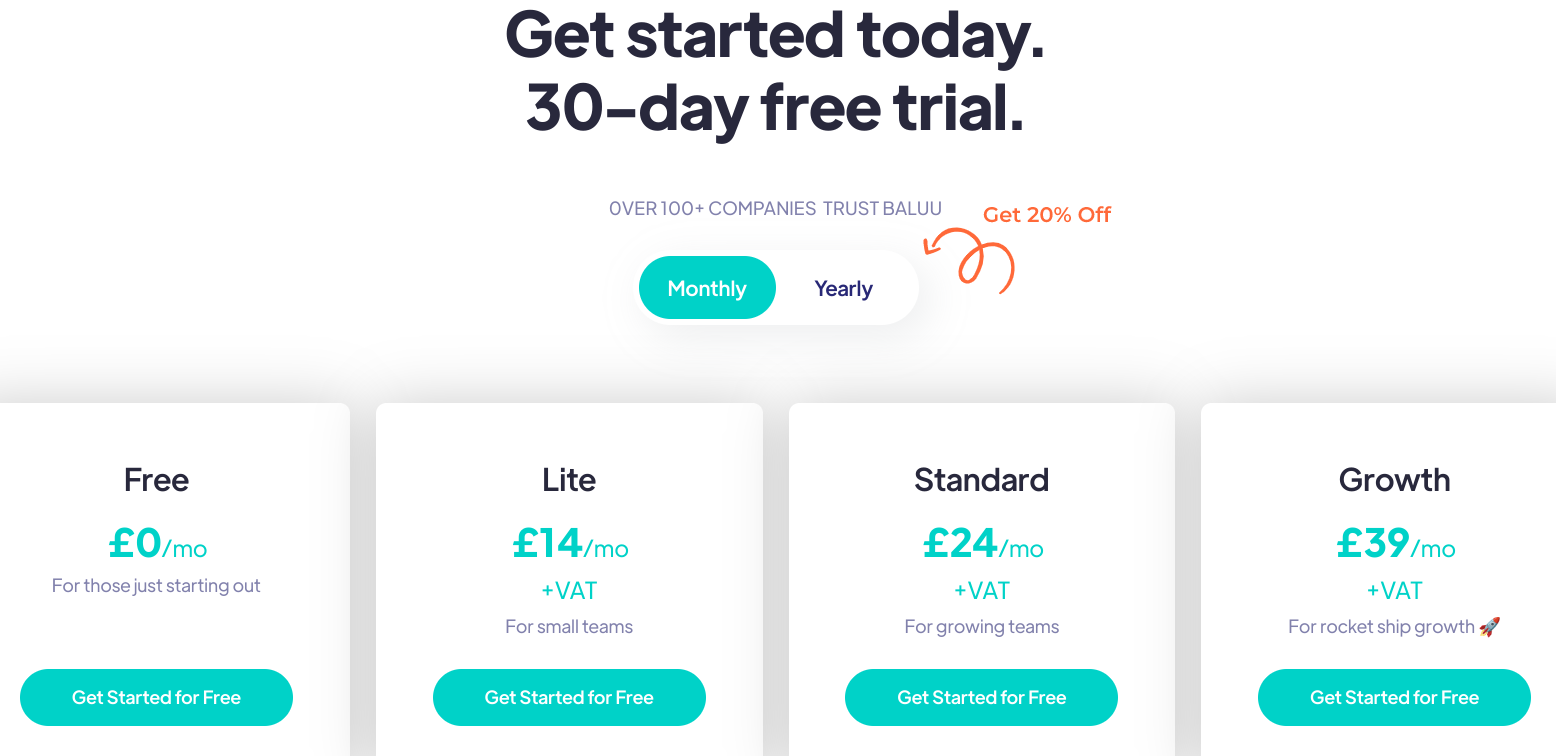 Baluu Key Features
Take bookings for group yoga classes and private one-to-one yoga appointments both live online and in-person.
Give instructors access to certain areas of the Baluu dashboard so they can view their timetable of upcoming events.
Build a customised booking experience that seamlessly integrates into your website or build a complete booking website.
Run and mange classes in multiple locations and studios.
Host hybrid events and sell access to pre-recorded content.
Baluu Pros  
Attach multiple ticket type options to each of your yoga classes and events.
Use Baluu's sophisticated customisation tools to create a branded booking experience for your customers.
Get a dedicated account manager who will help you get set up and start taking bookings.
Manage your team and assign upcoming events with your instructors.
Allow students to book a yoga course or a bundle of yoga classes at a reduced price.
Send automated reminder emails to students who have made a booking.
Group split pay makes collecting payment for a private group booking simple.
Customised intake forms allows you to collect essential information about your clients.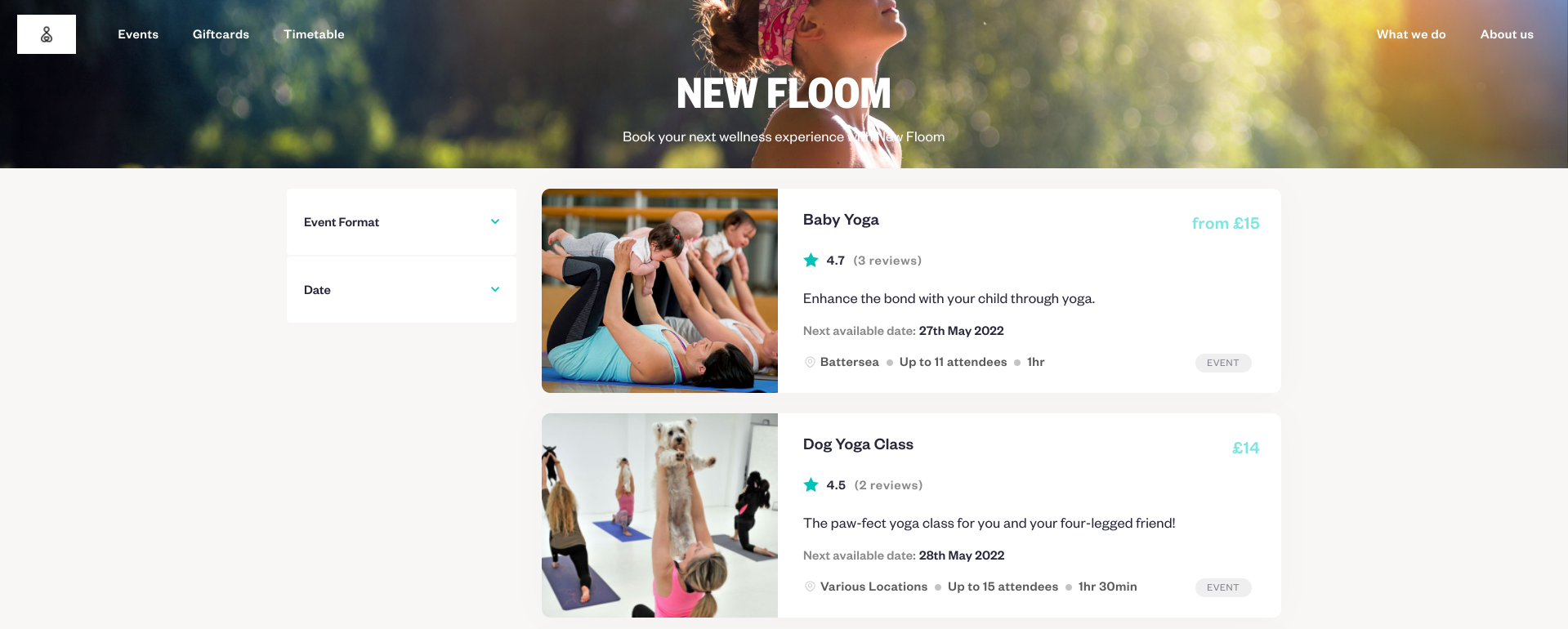 Baluu Cons
Doesn't yet have an app, although the Baluu dashboard has been optimised for mobile.
The student payment journey is clear and simple but cannot be branded.
---
2. Mindbody
Best for: building a client facing branded booking app for your business.
Mindbody is a booking system built specifically for wellness businesses. From fitness activities such as yoga classes and personal training sessions to beauty appointments, Mindbody gives wellness focused businesses the tools to manage and market their bookings.
Pricing*
Mindbody has four pricing plans for growing, mid-size and large businesses to choose from. This booking system does not offer a free plan or a free trail and their prices vary from £119 per month to £519 per month.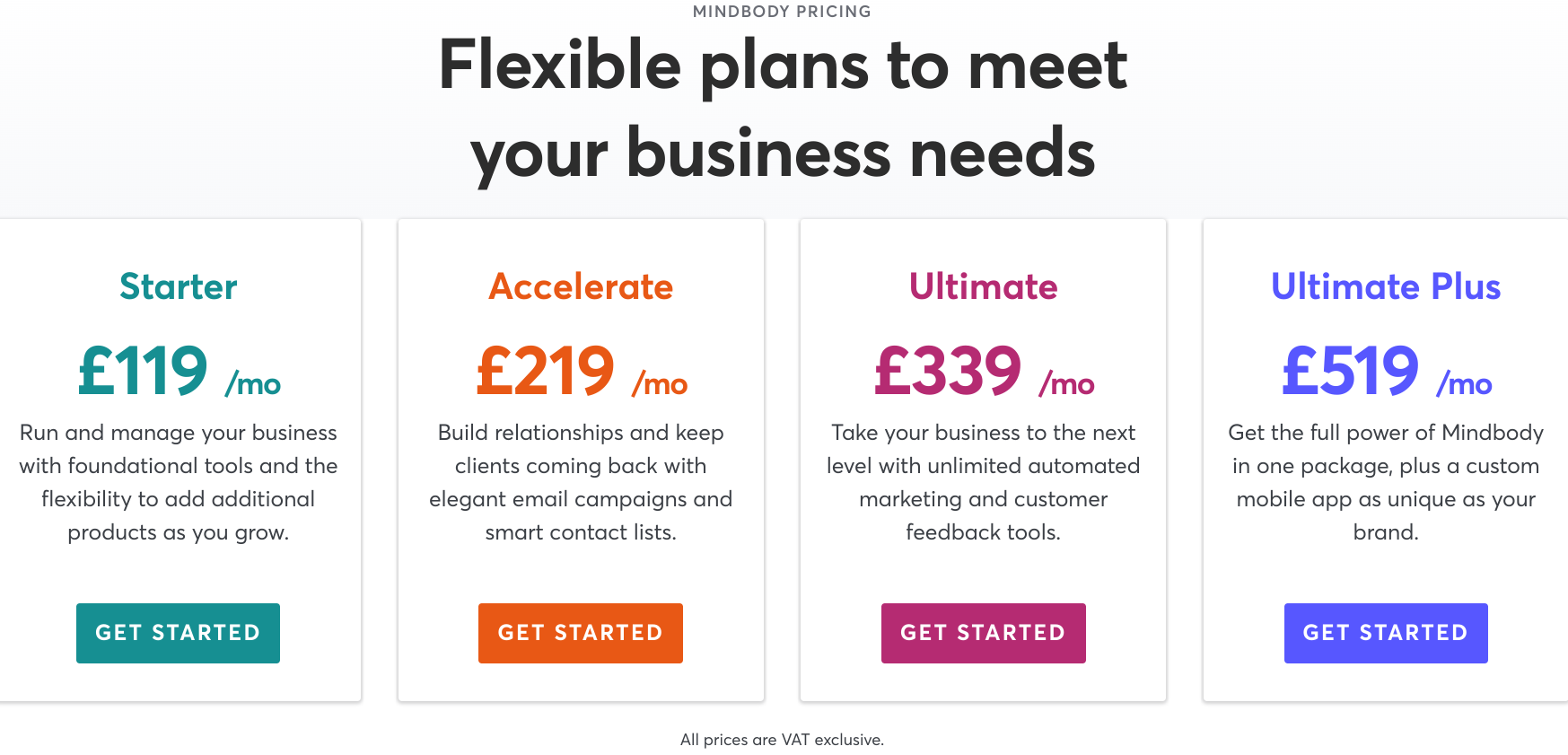 Mindbody Key Features
List classes and appointments and keep track of your timetable.
Automated emails and texts marketing tools.
Relevant client data such as their payment history is stored and easy to access.
Run thorough reports to see how your business is performing.
Schedule and organise follow up emails to communicate with clients.
Mindbody Pros
Unlimited members of staff can login and help you take care of bookings and admin.  
Staff permissions and payroll tools makes it easy to manage your team.
Build a branded app for your business which your clients can use to make bookings.
Use Mindbody's management app where you can view reports, take payments and more.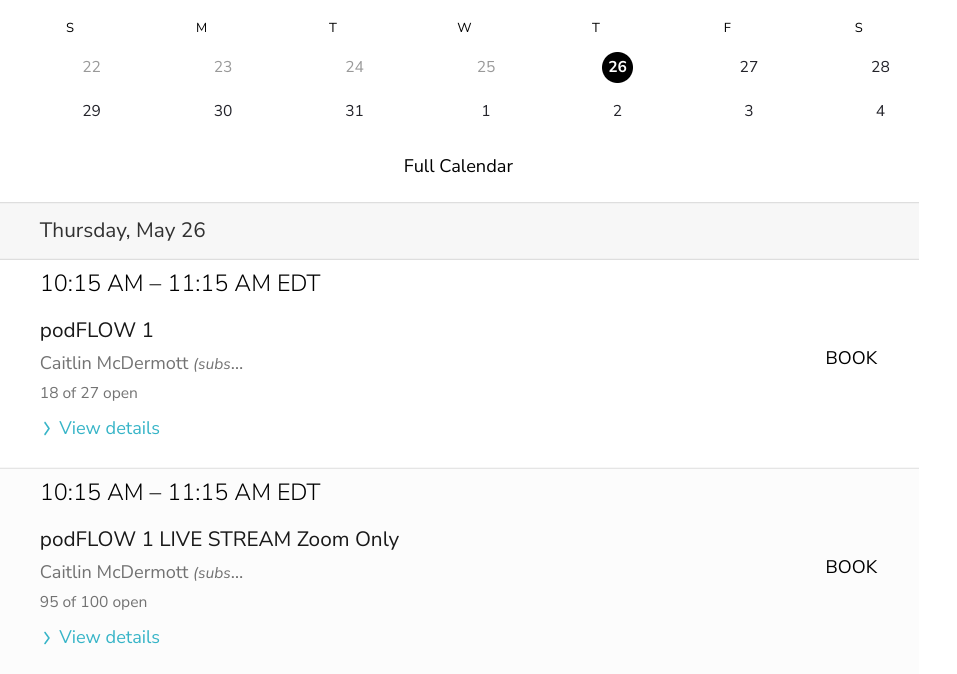 Mindbody Cons
Mindbody has very high prices and does not offer a free trial or a free plan option which makes this booking system inaccessible for small businesses.
Users find the software not user-friendly as it is difficult to navigate.
Their support team are not responsive and hard to reach.
Their Starter plan offers basic features at a high cost. This plan doesn't give business owners a booking widget that integrates into their website.
---
3. SimplyBook.me
Best for: creating loyalty schemes for your clients and students.
SimplyBook.me is an online booking system which gives you the abilities to build a website for your yoga business or a booking page for your existing website. Take bookings for your yoga classes online, automate your business admin and build a customised booking experience.  
Pricing*
SimplyBook.me has three paid plans for yoga businesses to choose form. They also offer a free plan for small businesses with a smaller budget. Before signing up to a paid plan, explore SimplyBook.me with a 14 day free trial.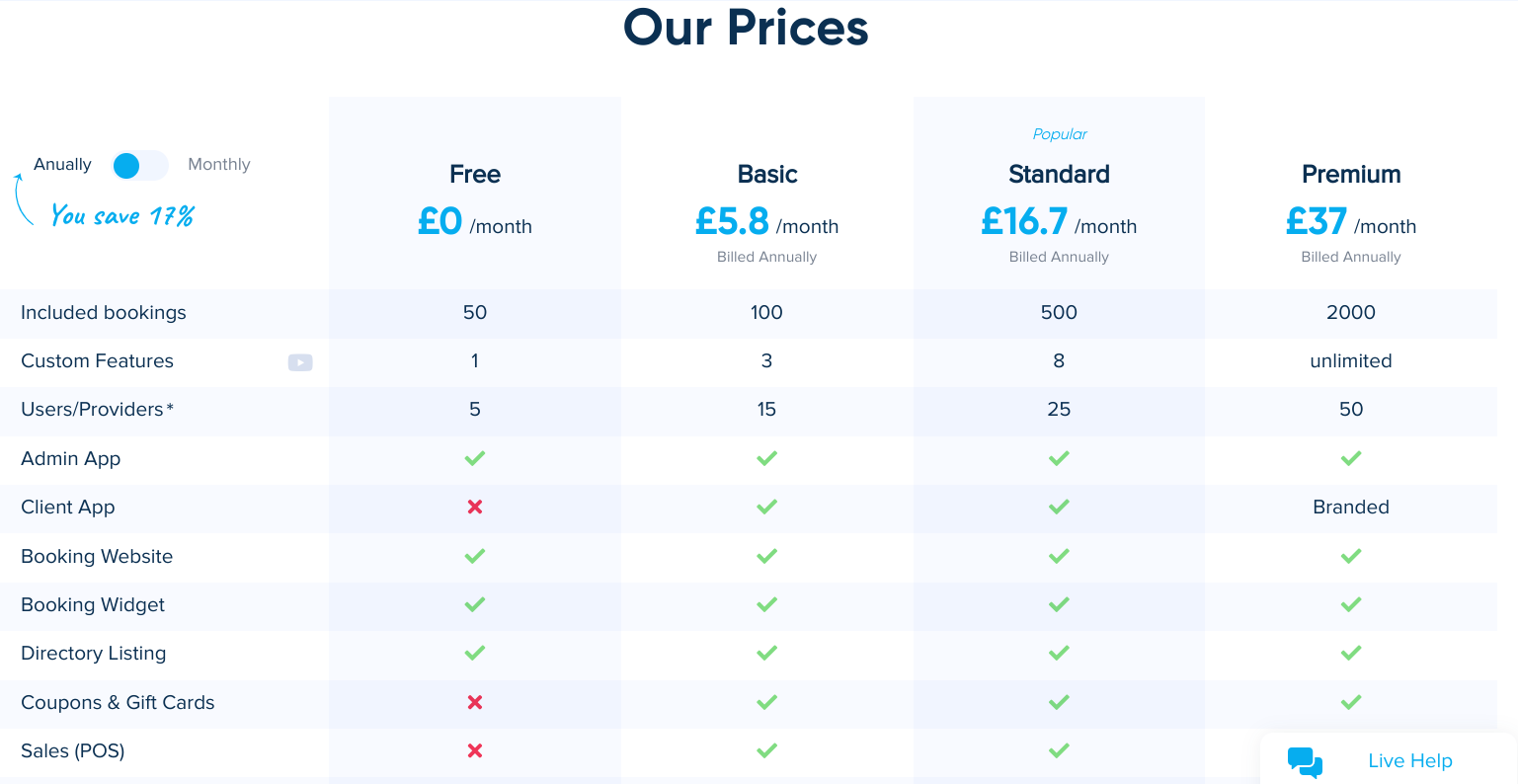 SimplyBook.me Key Features
Create waiting lists for popular classes and events that have sold out to notify clients about upcoming available spaces.
Manage bookings for events and classes which take place across multiple locations.
SimplyBook.me gives you the tools to create loyalty schemes.
Manage your payments taken both online and on-site with SimplyBook.me.
SimplyBook.me Pros
Use their admin app to manage your bookings and other aspects of your business from anywhere.
Build a business website where clients can discover and book your yoga classes.
Create discounts on your yoga classes and sell gift cards.
Build a customised client facing app which your students can use to book your upcoming yoga classes.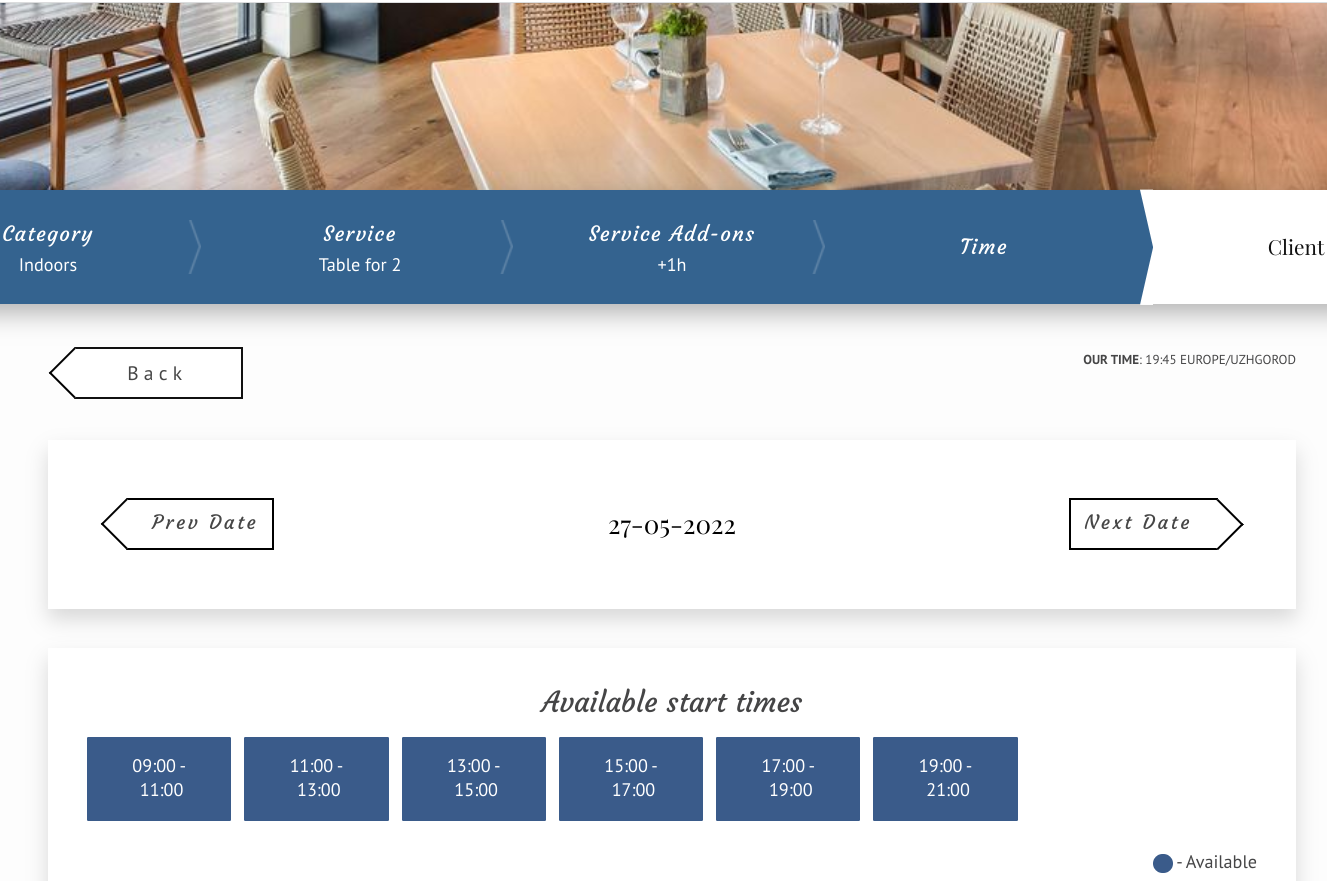 SimplyBook.me Cons
Many of the features are not user-friendly for those with little tech experience.
Cannot offer unlimited bookings, even on their most comprehensive paid plan.
Limited customisations can be made to the client booking journey, which makes their booking experience clunky and not intuitive.
Their discount tool is very limited and difficult to use.
---
4. WellnessLiving
Best for: displaying reviews on your business website.
WellnessLiving is an all-in-one management solution. From automated marketing tools to organising your team and your schedule, WellnessLiving has been designed to help businesses in the fitness and wellness industry manage their bookings.
Pricing*
WellnessLiving have four paid plan options to choose from, including their Enterprise plan which has bespoke pricing.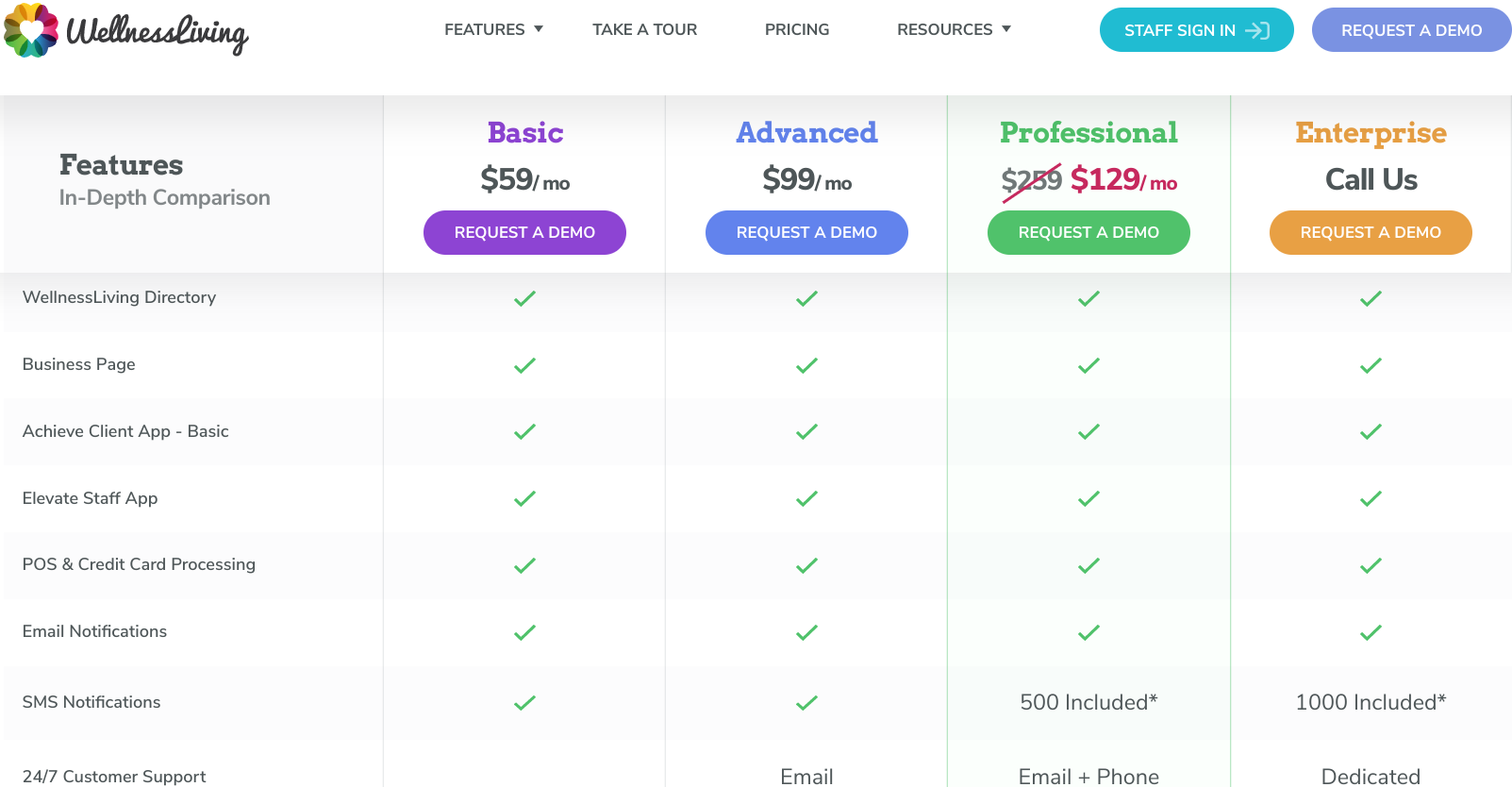 WellnessLiving Key Features
Your clients and students can book directly on your website when you integrate the Wellness Living booking widget.
WellnessLiving has a review widget which can be embedded into your website.
Assign instructors to upcoming classes and manage your team.
Outline your working hours so clients and students can book an time that fits your availability.
Your students can download a client facing app to book your classes and events.
WellnessLiving Pros
Customisation tools allow you to change the colours and buttons on your booking widget.
The WellnessLiving booking widget can be used to take bookings on your Facebook page.
Collecting reviews with WellnessLiving may improve your SEO.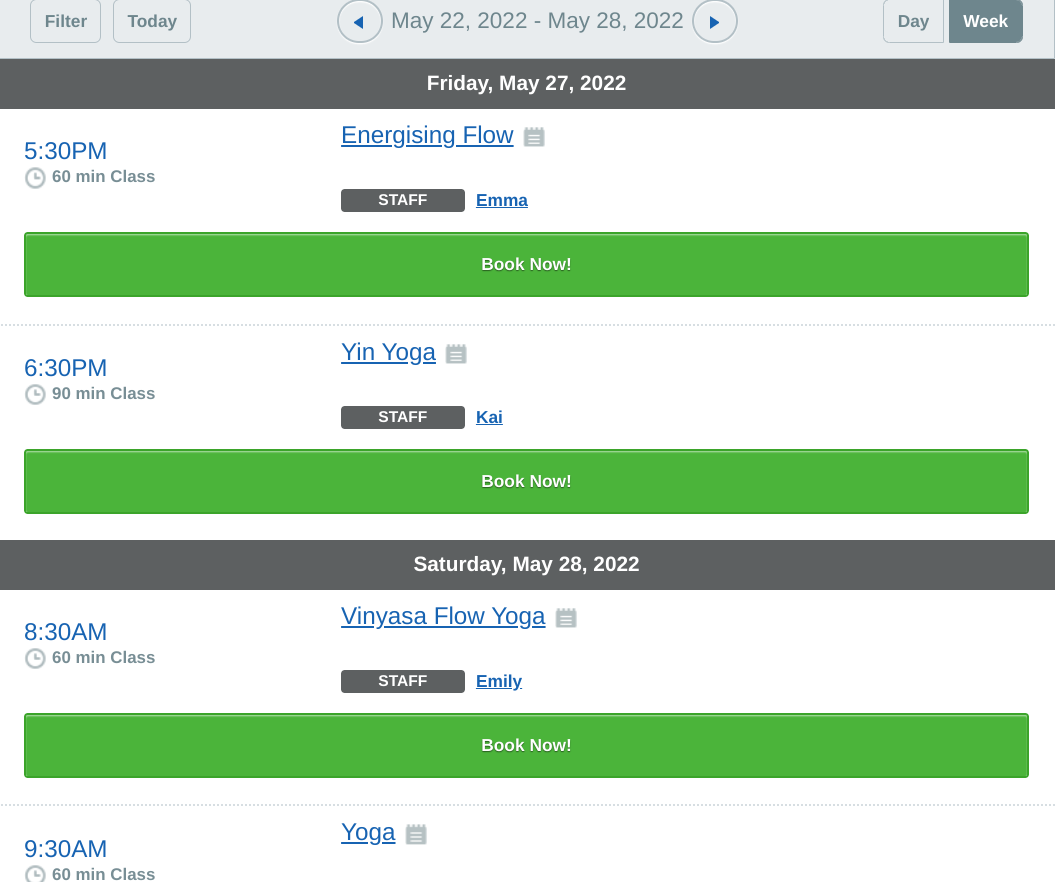 WellnessLiving Cons
WellnessLiving is expensive for small businesses and does not offer a free plan option.
Their booking widget is confusing and does not provide clients with a smooth booking experience.
Customisation tools offered are basic when adapting the widget to fit your brand.
Users find that their customer service isn't helpful or supportive.
---
5. Acuity Scheduling
Best for: yoga businesses that sell memberships and subscriptions.
Acuity Scheduling is an appointment booking system which allows you to take online bookings from your own website. List your yoga classes, clearly display your availability and start taking bookings from your existing website.
Pricing*
Before signing up to one of Acuity Scheduling's paid plan options, see if their software is right for your business with a 7 day free trial.
Acuity Scheduling Key Features
Clients and students can manage their own booking. Give them the tools to book, cancel and reschedule.
Send reminder and confirmation emails to clients after they have made a booking.
Customisation tools allow you to use your log and the colours that fit your brand.
Include optional add-ons at the checkout when your clients book a class or appointment.
Acuity Scheduling Pros
Give your clients the opportunity to buy memberships and subscriptions.
Get important client information with client intake forms.
Sell gift cards and create discounts for your clients.
Share your availability on social media platforms as well as your business website.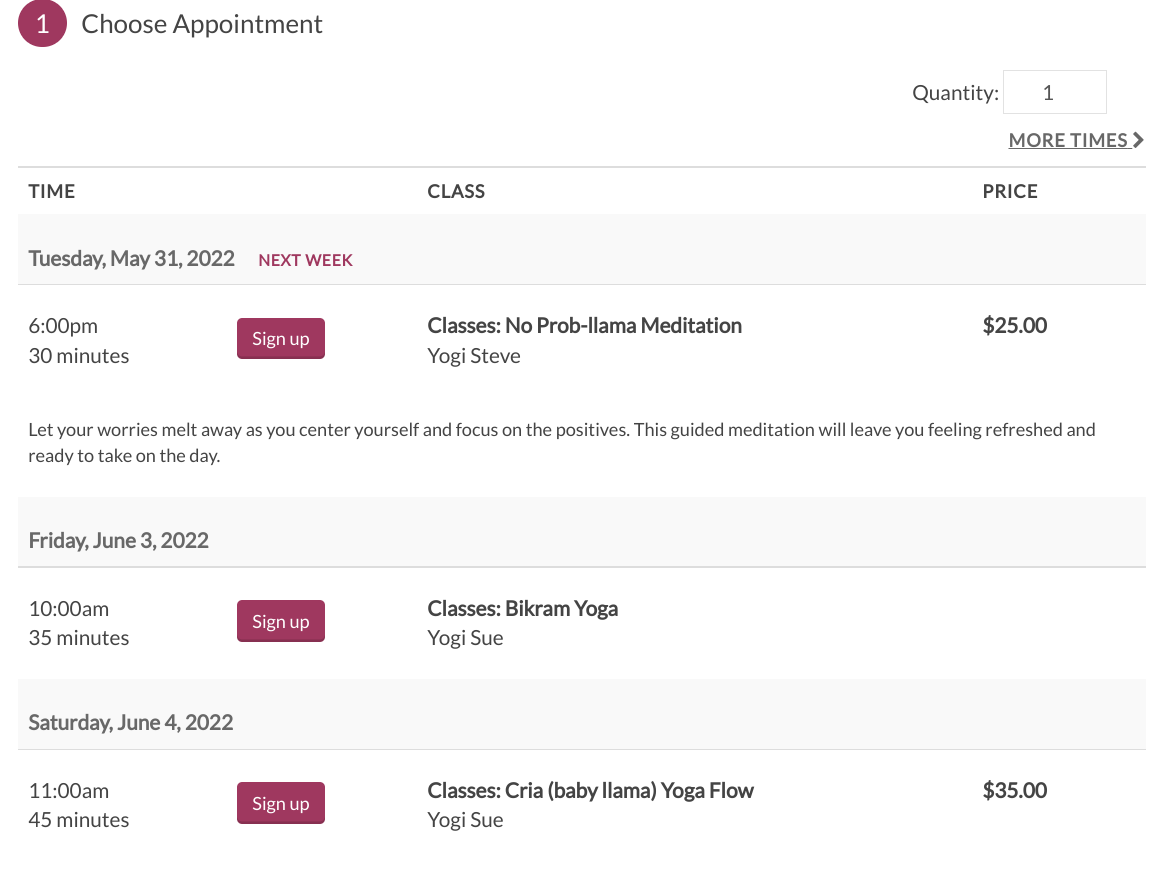 Acuity Scheduling Cons
Acuity Scheduling does not offer a free plan for small businesses.
The booking widget looks dated as customisation tools are very basic and limited.
Users find that the customisation tools are also complicated and difficult to use.
Getting set up with Acuity Scheduling is very time consuming.
---
6. Gymcatch
Best for: flexible paid plan with add-on features and tools.
Gymcatch is an online booking software which is used by fitness instructors, gyms an studios to manage their business and take bookings. Create a smooth booking experience, automate your admin and boost your bookings.
Pricing*
Gymcatch has an affordable pricing plan which you can build and adapt to fit your business needs and budget. Before signing up, try out Gymcatch with a 1 month free trial.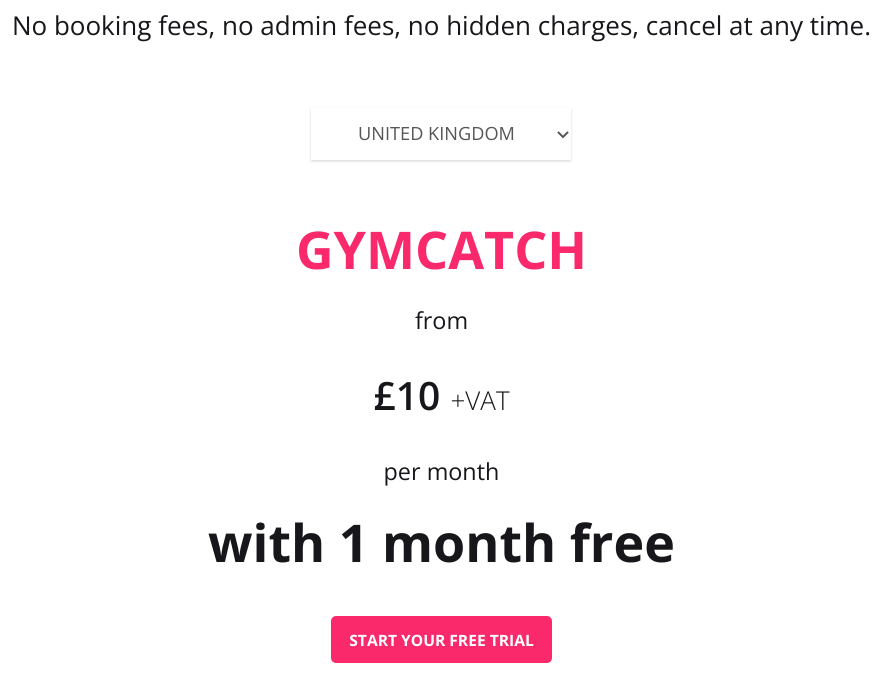 Gymcatch Key Features
Automate receipts for your clients that are branded.
Take payments for bookings both securely online and on-site.
Access wait list features for popular yoga classes and events.
Take bookings for one-to-one appointments and group classes.
Gymcatch Pros
Gymcatch offers a 1 month free trial period which allows businesses to explore the software.
This booking systems gives you the tools to manage multiple locations and studios.
Teach your yoga classes live online, in-person or with pre-recorded content.
Create passes for your clients and offer bundle booking options.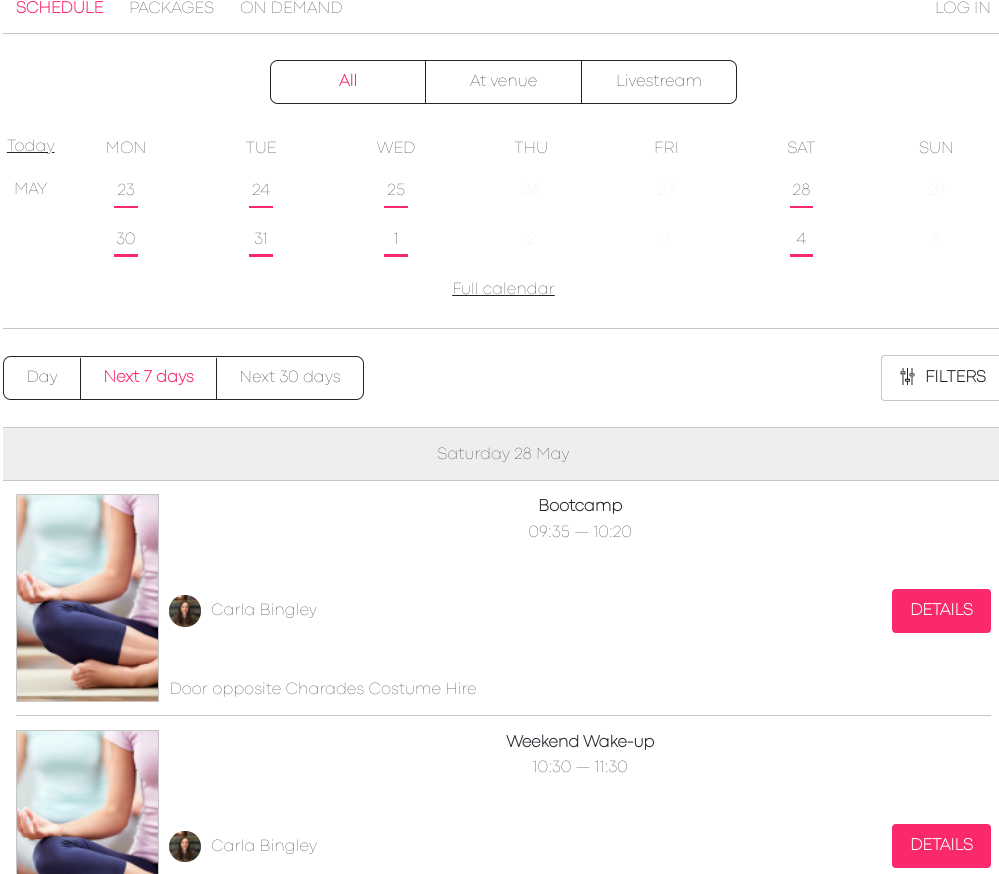 Gymcatch Cons
Offers limited reports and insights into how your business is performing.
Setting up memberships, passes and bundles is confusing and time consuming.
Gymcatch has limited customisation features for branding your booking widget.
Messaging tools can sometimes be clunky, slow and delayed.
---
7. BookWhen
Best for: providing yoga businesses with multiple booking pages.
BookWhen is an online booking system for businesses that host events, activities, workshops, classes and courses. Take bookings of your own website, create waiting lists and track attendance.
Pricing*
BookWhen has five plans to choose from, including their bespoke Enterprise plan and their free plan.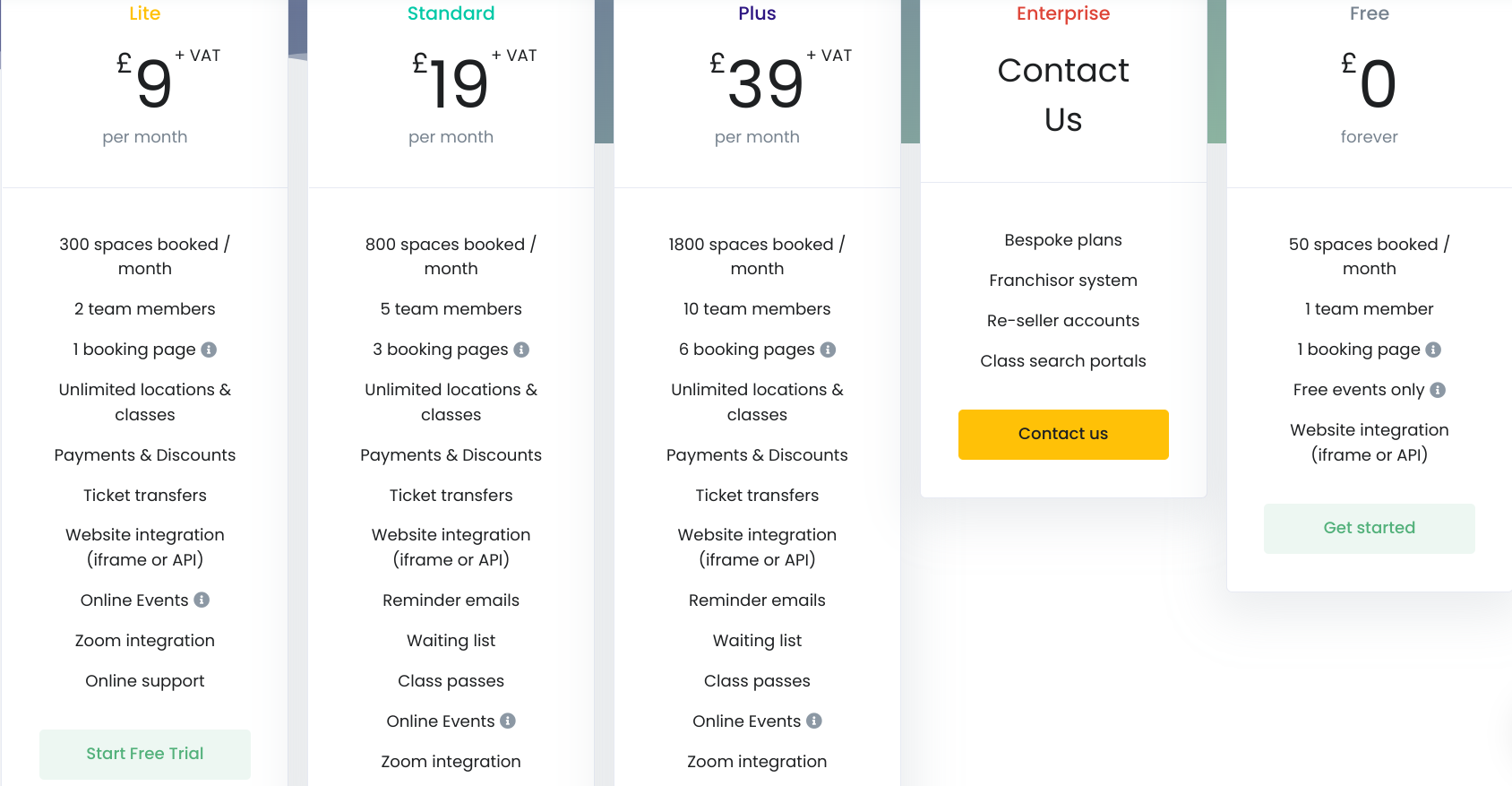 BookWhen Key Features
Record which clients have attended your classes with attendance tracking tools.
BookWhen helps you run yoga classes both online and in-person.
Automatically send reminder emails to your clients about their upcoming booking.
BookWhen gives you the tools to sell class passes to your students and clients.
BookWhen Pros
The BookWhen help team will support you through emails and phone calls.
Create waiting lists for clients interested in fully booked classes and events.
Integrate multiple booking pages into your existing business website.
BookWhen has a free plan option for small businesses with a lower budget.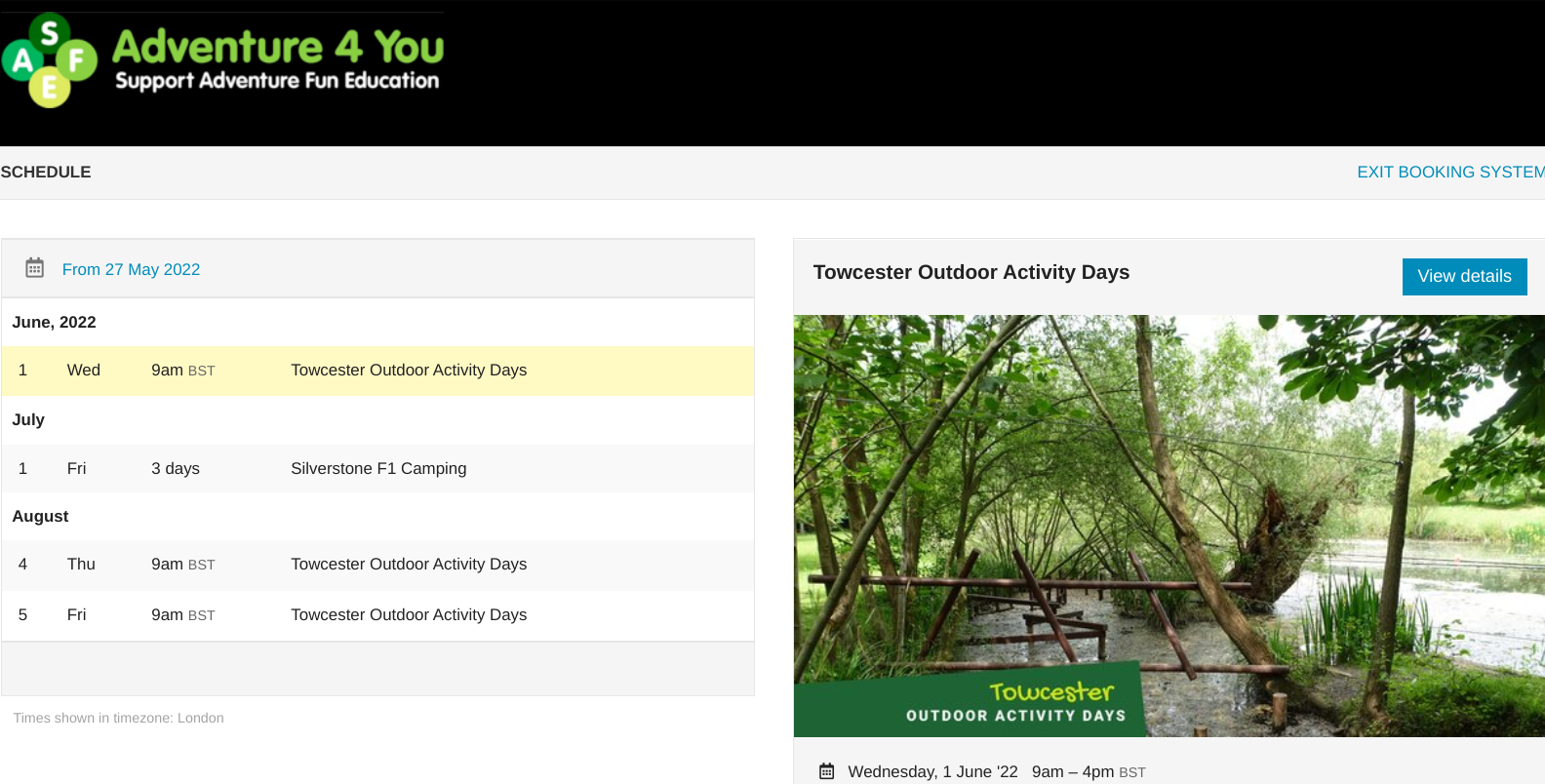 BookWhen Cons
BookWhen doesn't offer users unlimited bookings, even their comprehensive Plus plan caps bookings.
Users can make very few customisations to BookWhen's booking pages.
The class pass tool is difficult for students and clients to use.
Getting set up and understanding how to use the features can be a time consuming process.
*All pricing outlined in this article was accurate to the best of our knowledge and soured from the aforementioned website's pricing page at the time of writing (27/05/2022).
---
Need more advice?
We have looked at the pricing, key features, pros and cons of Baluu, Mindbody, SimplyBook.me, WellnessLiving, Acuity Scheduling, Gymcatch and BookWhen. After considering each of these 7 appointment booking systems, we hope this analysis helps you find the best booking system for your needs.