Using the best appointment scheduling app gives you the ability to reduce scheduling errors, prevent double-bookings and keep an accurate timetable.
What is an appointment scheduling app?
An appointment scheduling app gives businesses the ability to manage their schedule and appointment bookings in helpful ways that save time and hassle.
Primarily, the main function of an appointment scheduling app is managing the processes involved with organising meetings both internally and externally. These tools give both you, and your clients and potential customers the power to book, cancel and reschedule meetings/appointments with you, or any member of your team and visa versa.
This is the basic functionality of an appoint scheduling app, however, many of these tools also bundle in many other useful features to help you manage upcoming meetings and bookings.
We'll be taking a brief look at some of the key features offered with 6 of the best appointment scheduling apps in the market today to help you decide on which platform is right for you and your business.
What are the benefits of using an appointment scheduling app?
From effortlessly managing your timetable to clearly sharing your availability, there are many benefits that come with using an appointment scheduling app:
Empower your clients by giving them the ability to book, cancel and reschedule their appointment without having to email you.
Sync your calendar availability with clients so they can book a time that suits everyone's schedule.
Easily keep track of upcoming appointments.
Measure the growth of your bookings over time with in depth analytics
Keep your clients up to date with automated reminders about their upcoming booking.
Clients can see your calendar and book directly into your schedule which eliminates the needs to send emails back and forth.
What is the difference between a scheduling software and a booking software?
Although many of the capabilities of a booking software and a scheduling software may overlap, there are some key differences...
Appointment Scheduling Software:
Once you have outlined your availability, an appointment scheduling system allows clients to pick a date and time in your calendar to book an appointment. This software is usually used for one-to-one appointments rather than timetabled group events.
As well as sharing your calendar with your clients, often an appointment scheduling system will integrate with online video platforms such as Zoom and automatically create an online meeting link.
Booking Software:
A booking system allows you to list timetabled classes, courses, events, experiences and activities for customers and clients to book. Many major booking systems can integrate with your website and social media platforms so you can take booking from anywhere.
Booking systems such as Baluu have an easy to use dashboard where you can manage every area of your business, from income and marketing features to tools that help you manage your team and your stock inventory if you also sell products.
Do I need a booking system or an appointment scheduling system?
Businesses that offer classes, events or activities will be better suited to a booking software.
An appointment scheduling system is probably the right choice for businesses that host one-to-one appointments that take place either online or in-person.
We have analysed the pros, cons, pricing and key features of the top 6 best appointment scheduling apps that are already being used by many small and growing businesses.
---
Top 6 Best Appointment Scheduling Apps (2022):
Baluu
Calendly
Appointlet
Acuity Scheduling
Square Appointments
Doodle
---
1. Baluu
Best for: in-person and online group and activity bookings.
Baluu is an all-in-one booking software. As well as managing your bookings, Baluu gives businesses access to valuable appointment scheduling tools.
Easily share your real-time availability with clients, send automated reminders and keep track of your bookings with Baluu. Sync with your Google calendar to prevent double-bookings and create an appointment booking experience which showcases your brand.
How does Baluu work?
After you have signed up with Baluu, you will have access to the Baluu dashboard. Within the dashboard, you can track your income over time, assign your team to upcoming events, set up discount codes, collect reviews and a whole lot more.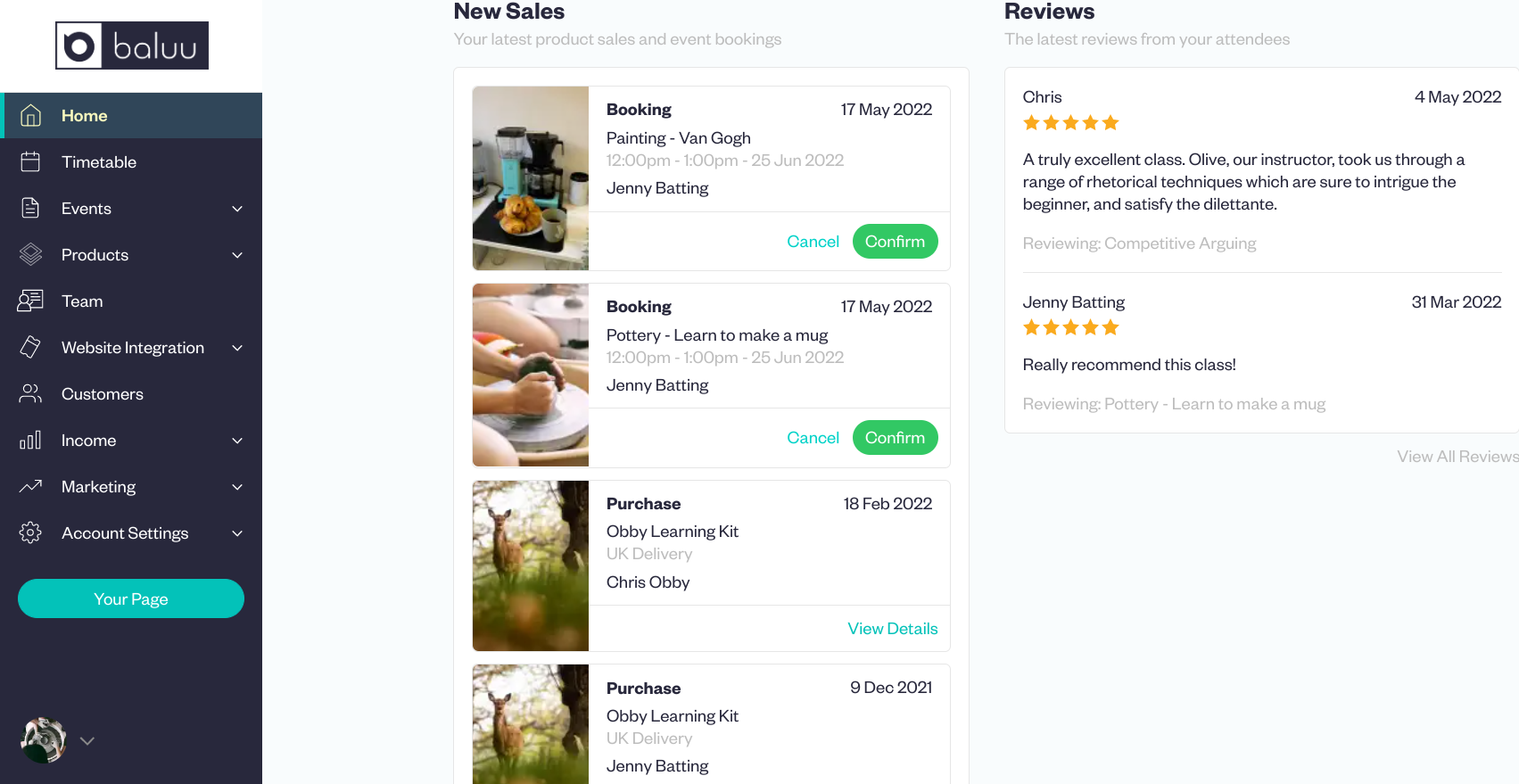 As well as tools designed to help you manage every aspect of your business, you can also access advanced appointment scheduling tools.
With Baluu's customisation tools, you can build a booking page which fits your business brand. Seamlessly integrate your booking page into your existing website, social media page or wherever you take bookings.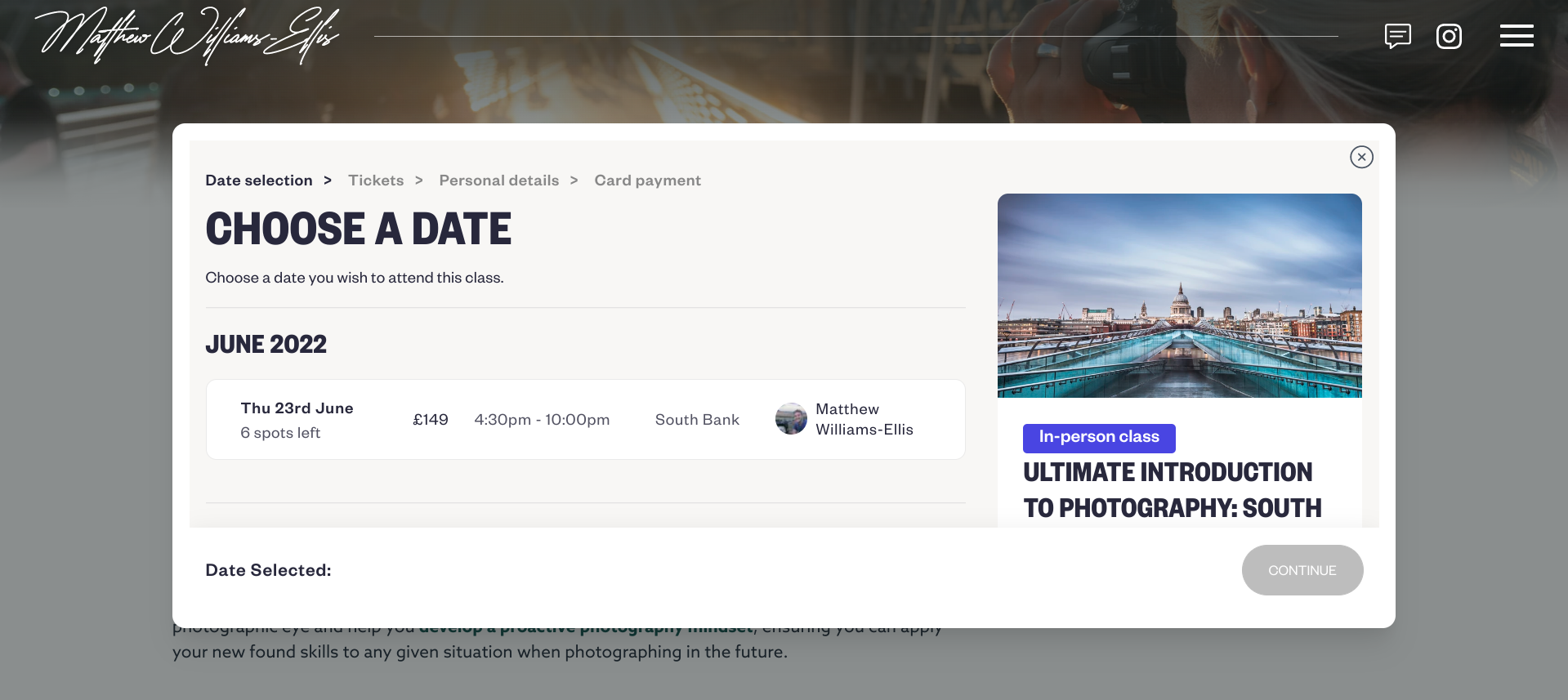 As well as giving your clients an intuitive booking experience which allows them to effortlessly book, cancel and reschedule their bookings, Baluu also makes keeping track of your schedule simple.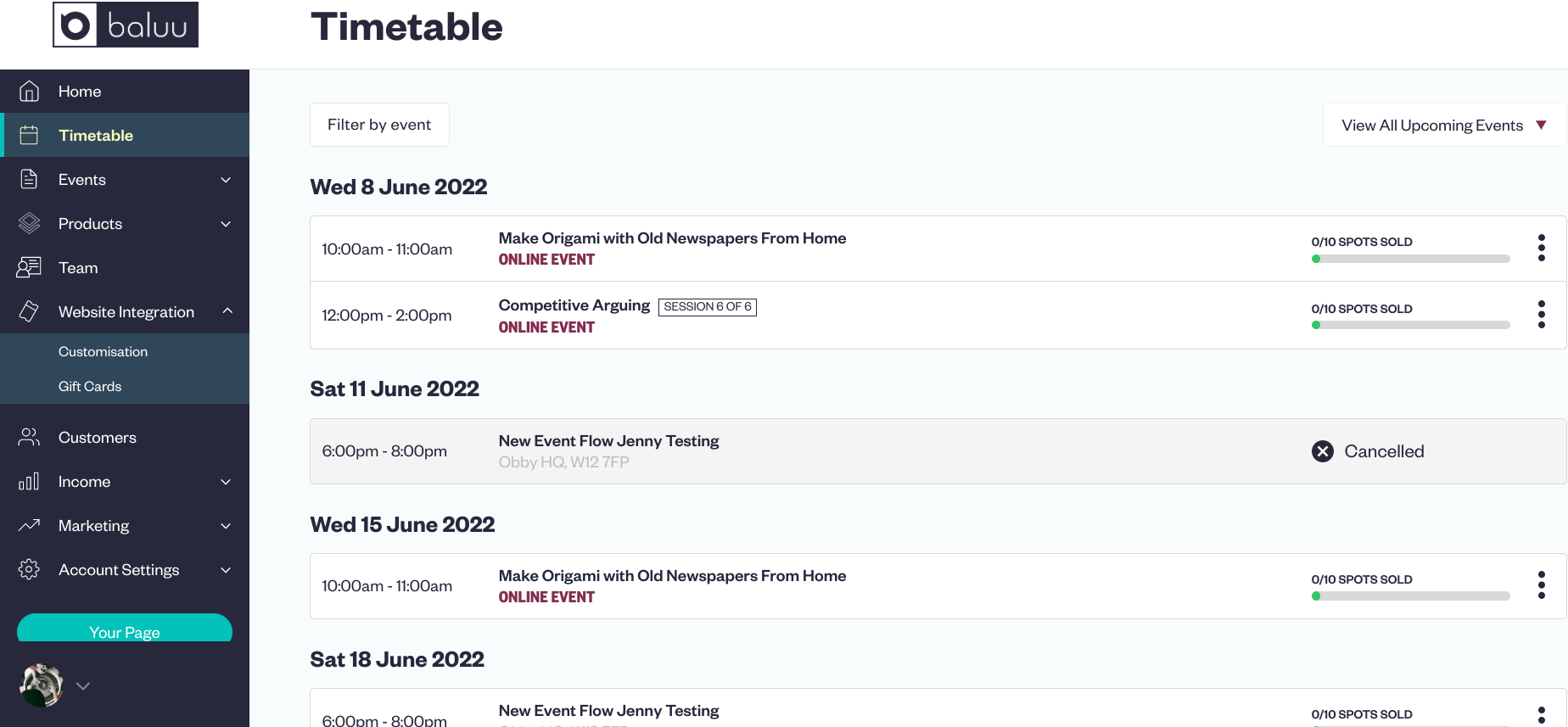 Baluu has robust scheduling tools which prevent double-bookings and timetable errors. Sync with your Google Calendar and only allow clients to book appointments that fit your availability.
Want to know more about this appointment scheduling app? Speak to a member of the Baluu support team to see if this system is for you.
Book a Demo Call
Pricing*
Baluu has three affordable paid plans to choose form. Small businesses can also use Baluu's budget friendly free plan.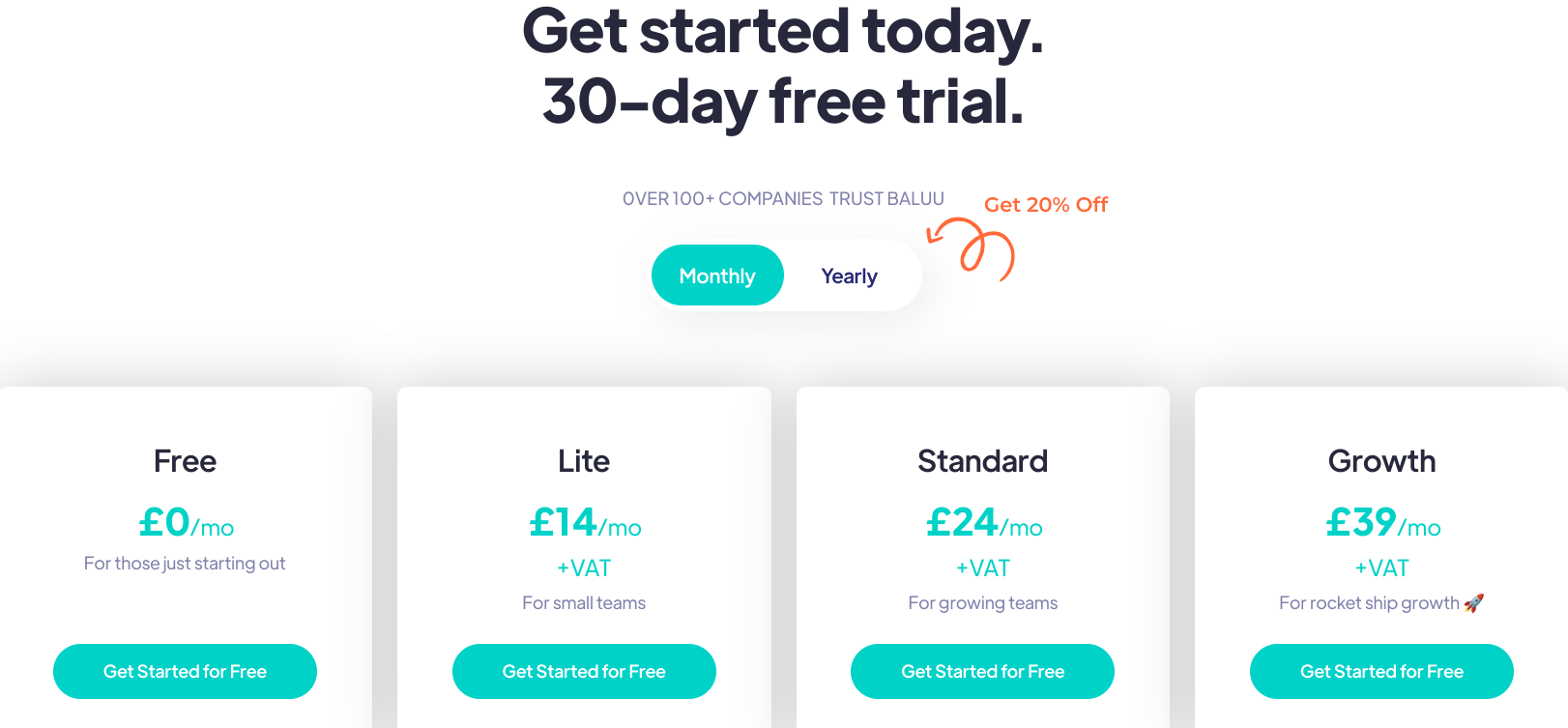 Key Features
Take bookings for your events, classes, experiences and products on your website and social media platforms.
Use Baluu's customisation tools to create a branded booking for your clients.
With comprehensive CRM features, your clients can book, cancel and reschedule their booking.
Display your open hours and availability so clients know when they can book appointments.
Safely take payments online with Baluu's secure payment processing tools.
Pros
Baluu has comprehensive customisation tools which allow you to include your logo, brand colours and images on your booking page.
Your clients have the ability to manage their own booking, which reduces your admin time.
Apply multiple ticket types to each of your appointment and events.
Send automated reminders to your clients about their upcoming appointment.
Get a dedicated account manager to help you get set up with Baluu's appointment scheduling tools.
Cons
Baluu has extensive customisation tools, however, the payment journey cannot be customised.
Although Baluu can sync with your Google Calendar, businesses cannot sync with other other online calendar platforms.
---
2. Calendly
Best for: scheduling professional meetings with clients and your team.
Calendly is an online scheduling system. Many businesses use Calendly to organise internal meetings between colleagues. However, Calendly can also be used by businesses to schedule appointments with clients.
Not only does this online scheduling platform makes it possible to schedule appointments and meetings from your own website, but Calendly can also integrate with Zoom and other online video platforms.
Pricing*
Calendly gives businesses five plans to choose from, including their free plan and their Enterprise plan which is POA. This appointment scheduling system also gives users a 14 day free trial of the Teams plan.

Key Features
Embed your Calendly link into your existing website so clients can book an appointment at a time that suits their schedule.
Instead of embedding Calendly into your website, you can send your Calendly link directly to your clients.
Send your clients and team members reminders about their upcoming appointment or meeting.
This scheduling system can connect with several popular online calendar platforms such as Google, Outlook, Microsoft Office and more.
Pros
Calendly is versatile as it has tools which allows you to schedule meetings with your team or appointments with your clients.
Customise your Calendly link to something more memorable and brand appropriate.
With Calendly you can add your business colours and branding to your booking page.
This appointment scheduling system has affordable paid plans and also offers a free plan.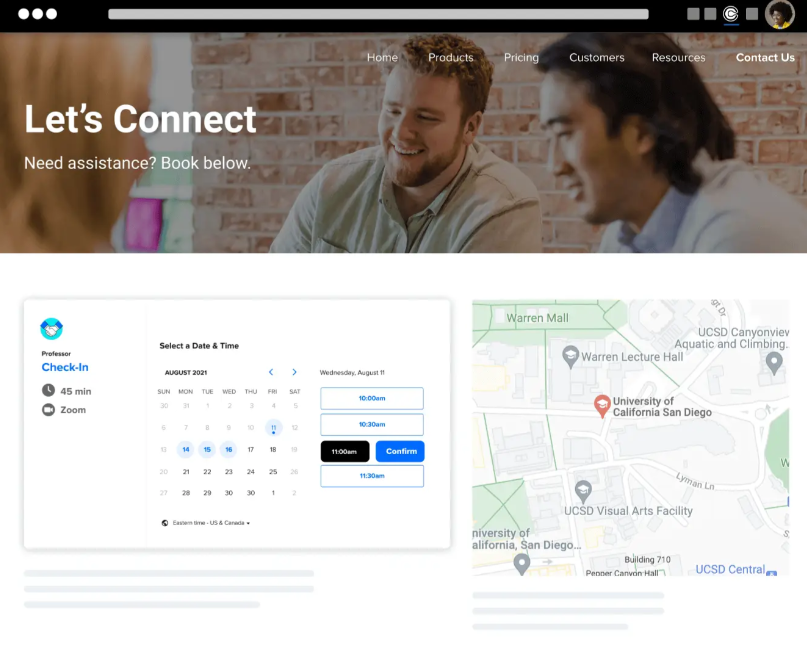 Cons
Although Calendly allows you to change the colours of your booking page to fit your website, on the whole Calendly has limited customisation tools.
Calendly only offer onboarding support for users who are using their Enterprise plan.
Rather than being focused towards helping businesses schedule appointments with clients, Calendly is designed to help teams schedule meetings with colleagues.
The free plan Calendly offer is very basic which means businesses with a smaller budget would need to pay for a paid plan to access essential tools.
---
3. Appointlet
Best for: teachers that need to arrange appointments with their students.
Appointlet is an online appointment scheduling system, designed to make organising appointments and meetings a simple and straightforward process.
Collect relevant client information with customisable intake forms, notify your clients about changes to their appointment and integrate Appointlet integrates easily into your existing business website.
Pricing*
Appointlet has just two pricing plans to choose from, the Essentials plan which is free and the Premium plan which is $8 USD per month.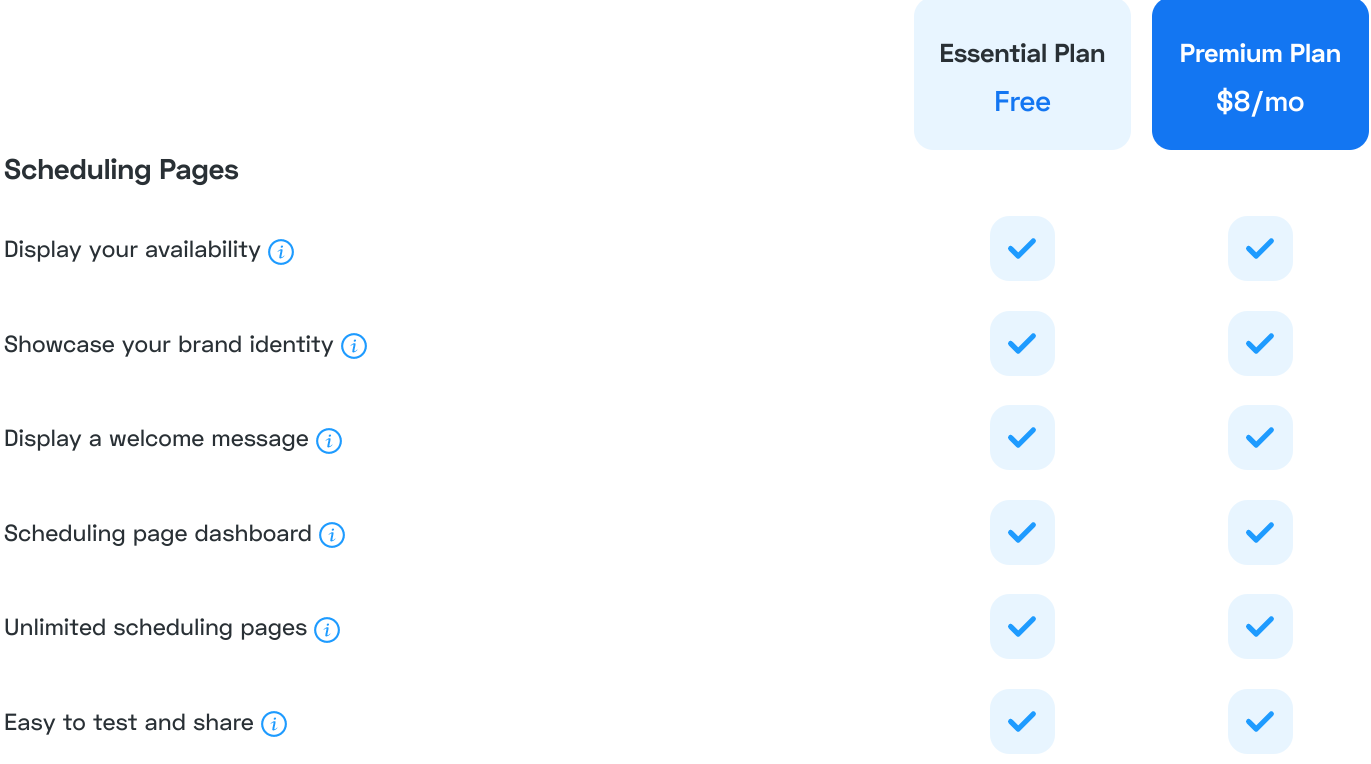 Key Features
Send email reminders to your clients with the details of their upcoming appointment.
Integrate the Appointlet booking page into your existing website.
Appointlet allows you to create time buffers between your appointments in case an appointment runs over.
This scheduling software gives you the tools to easily accept or decline meeting and appointment requests.
Appointlet is versatile and can be used by managers to arrange meetings with their team or by teachers to organise appointments with their students.
Pros
Whether you choose the Essentials plan or the Premium plan, using Appointlet is inexpensive.
When outlining your availability, you can set a cap to the number of appointments that can be booked with you per day.
Appointlet also gives you the power to cap how many clients can book the same appointment slot.
Your booking page can be customised to include your logo, company name and brand colours.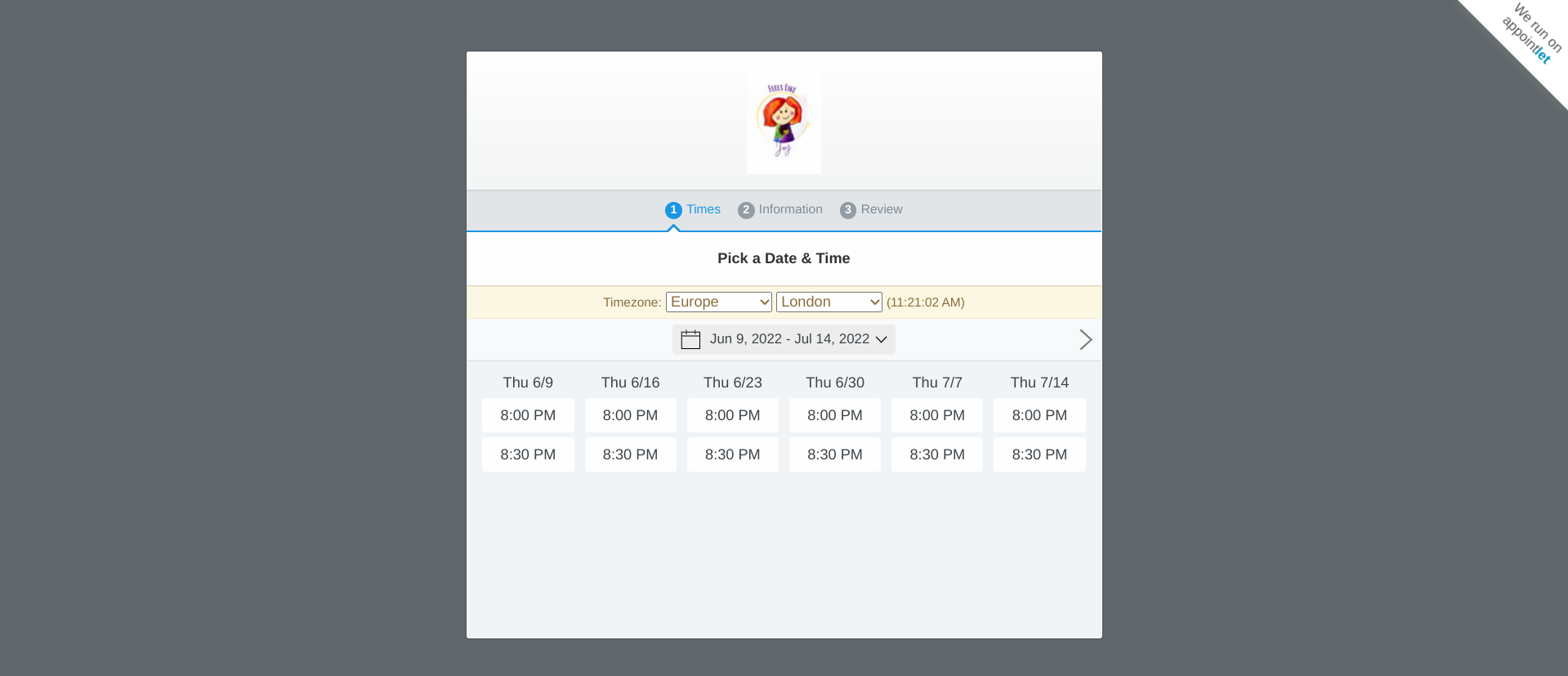 Cons
Businesses have found that Appointlet is not user-friendly and it can be difficult to set up events.
This appointment scheduling system looks slightly out-dated and clunky.  
Appointlet has limited capabilities when it comes to customising the branding of emails and forms sent to clients.
While many scheduling systems offer support via email and phone calls, Appointlet only offer online support.
---
4. Acuity Scheduling
Best for: businesses that predominantly host one-to-one appointments.
Acuity Scheduling is a popular online scheduling system for small and growing businesses. Designed for those with online and in-person appointments, Acuity Scheduling makes it possible for businesses to provide their clients with a simple appointment booking experience.
With Acuity Scheduling you can take bookings directly from your website, securely take payments online and integrate with online video platforms. It's a Squarespace brand and there for is a booking system that integrates particularly well with Squarespace websites.
Pricing*
Although Acuity Scheduling does not have a free plan, they do offer businesses a 7 day free trial. This scheduling system gives the choice to pay annually or monthly when you sign up to one of their paid plans.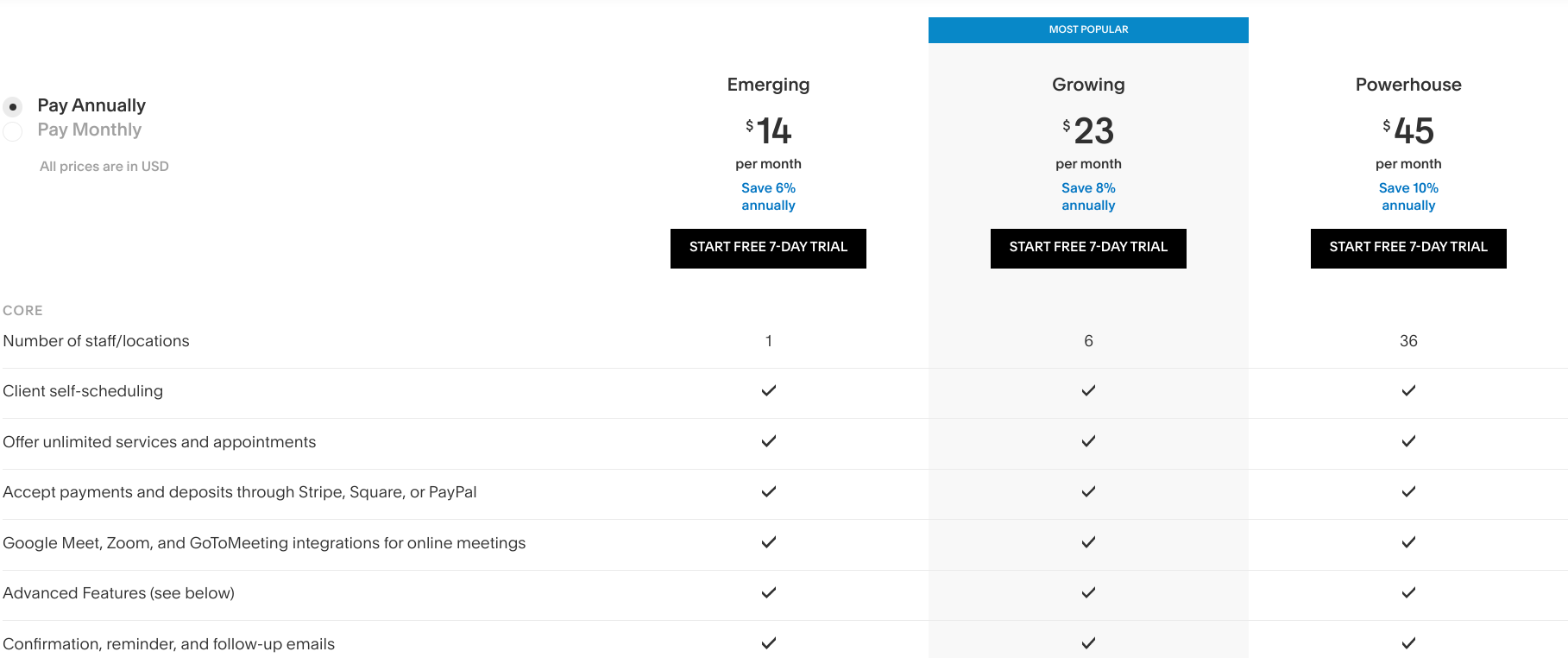 Key Features
Send text reminders to your clients about their upcoming appointment.
Your clients have the ability to manage their booking, this includes cancelling and rescheduling their appointment.
Acuity Scheduling gives you the tools to take bookings for group classes as well as one-to-one appointments.
Businesses can embed Acuity Scheduling into their existing website.
Pros
Acuity Scheduling has customisation tools which allow you to use your logo and business colours.
This scheduling system can sync with Google Calendar, Outlook and other popular online calendars.
As well as reminder and confirmation emails, businesses can also send follow-up emails.
With Acuity Scheduling there is no cap to the number of appointments you can offer your clients.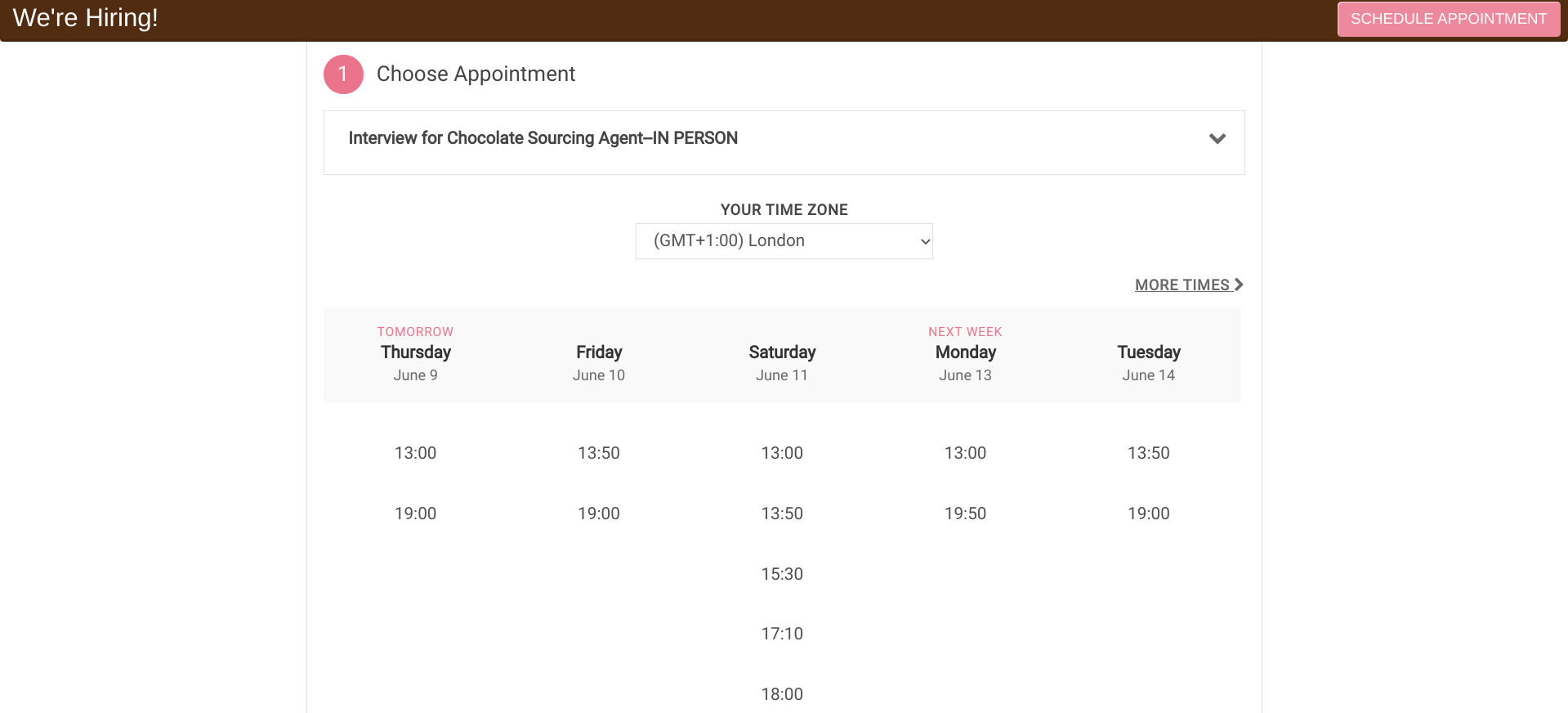 Cons
Acuity Scheduling has no free plan and offers a short free trial of just one week.
The customisation tools this scheduling software offers are very limited.
The customer booking experience looks very dated and basic.
Users have found that getting set up with Acuity Scheduling can be confusing and time consuming.
---
5. Square Appointments
Best for: service providers that take bookings for appointments.
Square Appointments gives you the tools to run many areas of your business all from one place. This scheduling system is a great fit for service providers such as hairdressers, personal trainers and tutors.  
As well as giving you the ability to keep track of your schedule, Square Appointments also allows you to organise recurring appointments, automate reminder emails and manage your team.
Pricing*
Square Appointments has three paid plans for businesses to choose from. Small businesses may opt for the free plan while growing businesses may choose the Premium plan.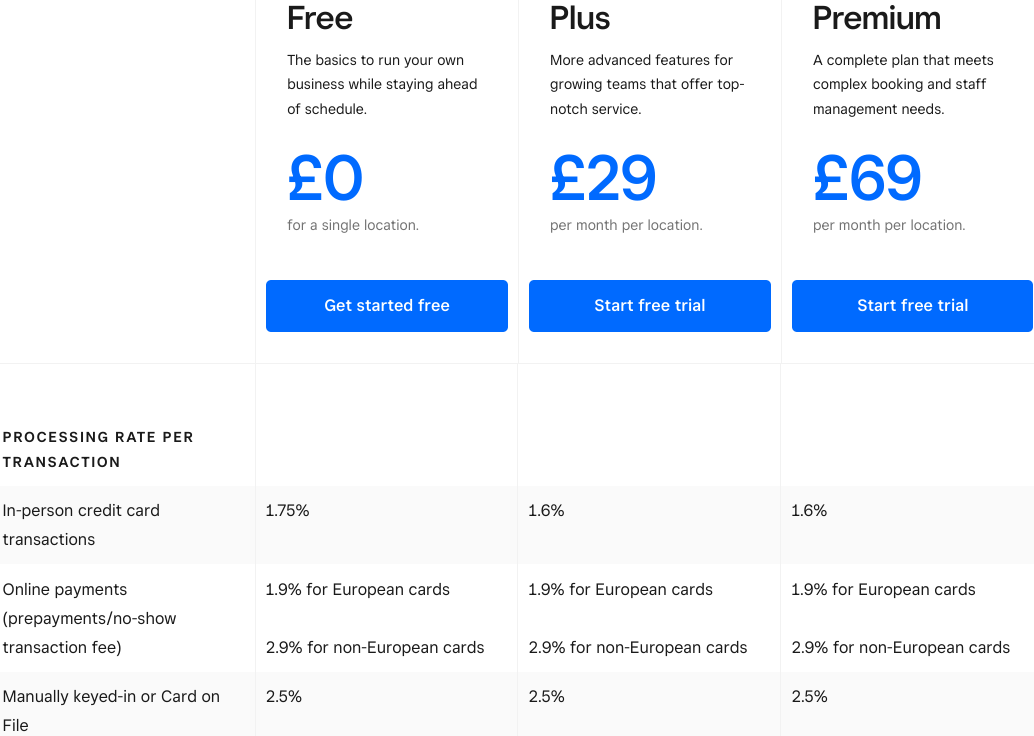 Key Features
Square Appointments can sync with your Google Calendar.
This scheduling system also has resource management tools.
If you have a large audience on Instagram, Square Appointments has Instagram integration capabilities.
Set discounts and sell digital gift cards and physical gift cards.
Pros
Businesses can use this scheduling software via the iOS or Android app.
Square Appointments also has a website builder tool for businesses who are yet to create a booking website.
The client booking experience is simple and clear.
Establish your cancellation policy and set fees for clients that don't show up to their appointment.
Cons
Square Appointments charge additional fees per transaction.
Businesses that use this scheduling system find that the customisation and branding capabilities to be poor.
The free plan is quite basic and does not include many essential tools. For example, businesses on the free plan cannot send automated email reminders.
Square Appointments has many tools focused towards managing colleagues. Therefore, this booking system is probably not a good fit for small businesses with few or no team members.
---
6. Doodle
Best for: efficiently scheduling appointments that fit everyone's availability.
Doodle is an online scheduling system which makes arranging group and one-to-one meetings and appointments easy. With this scheduling system, businesses can quickly understand when all attendee's availability and schedule an appointment that fits everyone's timetable.
With Doodle, you can schedule one-to-one and group appointments, sync your online calendar and send reminder emails to clients and team members about their upcoming appointment or meeting.
Pricing*
Doodle has three paid plans to choose from, including the Enterprise plan which is POA. The scheduling system offers busiesses a 14 day free trial and although Doodle do not have a free plan, businesses can use a very basic version of Doodle for free.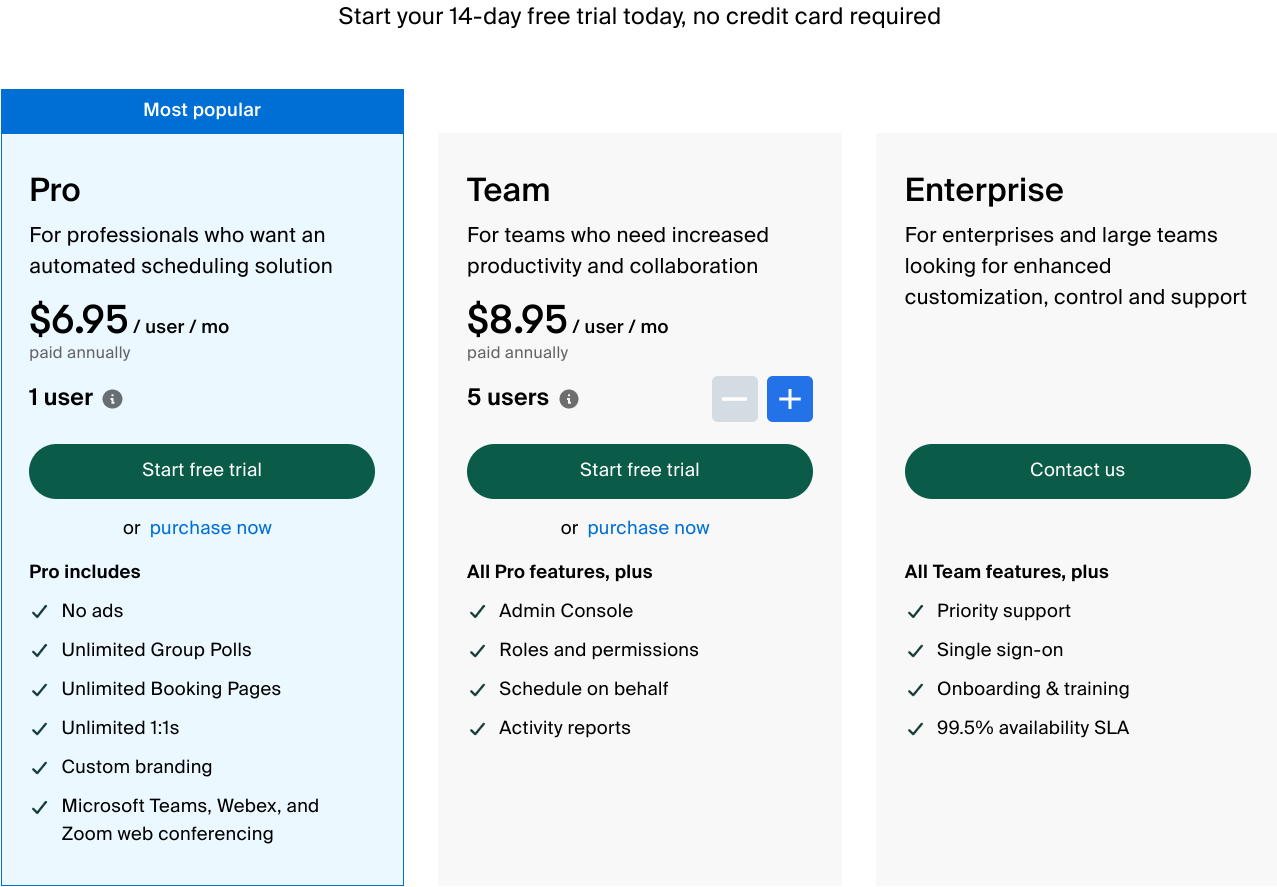 Key Features
Doodle can integrate with online calendars such as Google Calendar.
Create buffers between appointments and set a limit for the amount of appointment bookings you offer each day.
With Doodle's 'Group Poll' tools, you can see suggested appointment times and collect responses from attendees about which time works for them.
Easily schedule group appointments and one-to-one appointments.
Pros
Each pricing plan is aimed at businesses of different sizes with different needs. For example, the Pro plan is aimed at individuals while the Teams plan is, of course, designed for teams.
Doodle can integrate with Zoom, Google Meet and Webex. Automatically add a link to your video platform of choice to each of your online appointments.
This scheduling system allows businesses to use an unlimited number of booking pages.
Doodle gives you the tools to send reminders to people who have booked an appointment with you.
Cons
This scheduling system does not offer a free plan for businesses to sign up to.
Only users on the Enterprise plan are offered dedicated support through the onboarding process.  
Some users find Doodle is difficult to use and not user-friendly.
*All pricing outlined in this article was accurate to the best of our knowledge and soured from the aforementioned website's pricing page at the time of writing (09/06/2022).
---
Need more advice?
Ultimately, we believe the top 6 best appointment scheduling apps are Baluu, Calendly, Appointlet, Acuity Scheduling, Square Appointments and Doodle. After outlining the pros, cons, pricing and key features of each scheduling app, we hope you have a greater understanding of which appointment scheduling app is the right fit for your business.

Still stuck? Take a look at some more roundups on the best booking tools available on the market today: