Usually an excel spreadsheet is just not enough as it doesn't send out email confirmations or link booking data. This is why most teachers opt to use a robust digital booking system for their classes to keep things organised and save them valuable time.
Finding the right booking software is just as important for small businesses as it is for larger organisations! The perfect booking software can help businesses with scheduling, calendar integration, double-booking prevention and so much more. From email marketing to branding, the best class booking software will help you build and manage your business efficiently.
There are so many class booking systems out there, so how do you know which is the best class booking system for you? Luckily we have listed the pros and cons of just a few booking systems, making it simple and easy to find the right class booking system for you and your business.
The top 10 best class booking systems are:
Obby
baluu
Teachable
Thinkific
Airbnb Experiences
Eventbrite
Acuity Scheduling
Timely
Mindbody
Gigabook
---
1. Obby
Yes we're biased, but we believe we've created an incredible teaching tool and it just so happens hundreds of teachers agree! Obby provides an all in one teaching software, helping you to easily manage timetabling, students and classes.
Start using Obby's booking system.
Obby Key Features
This fully functioning class booking system from Obby has a multitude of features designed to reduce admin time, run classes smoothly, take bookings seamlessly and market your business. Here are just some of the impressive features Obby has to offer that will help grow your teaching business:
Obby will promote your classes by adding your listings to their marketplace which has a broad community of teachers and a huge audience of students.
With Obby's widget and website integration tool, you can take bookings from both the marketplace and your own customised website. Their user friendly dashboard allows you to manage all your bookings in one place.
Send pre-class messages, confirmation and reminder emails as well as customised automated follow up emails to students.
With their virtual classroom, which can also be integrated with Zoom, Obby creates a seamless teaching experience for online classes.
From organising recurring classes and multiple bookings and ticket types to Google calendar integration, it couldn't be easier to keep on top of bookings.
Obby's secure payment system makes it easy to keep track of your income.
Obby keeps teachers happy with their marketing features, which include discounts and gift card tools (this also helps keep students happy too).
Customer Relationship Management (CRM) is a valuable feature Obby offers. This tool makes rescheduling, refunds and cancellations a straight forward process.
How Does Obby Work?
You may be wondering, but how does a class booking system with so many fantastic features work? The truth is, using Obby is very simple and easy! We have set out a clear outline of just how Obby works.
Obby makes scheduling, managing income and listing classes a simple and effortless experience. Their easy to use dashboard means teachers can manage their business all in one place.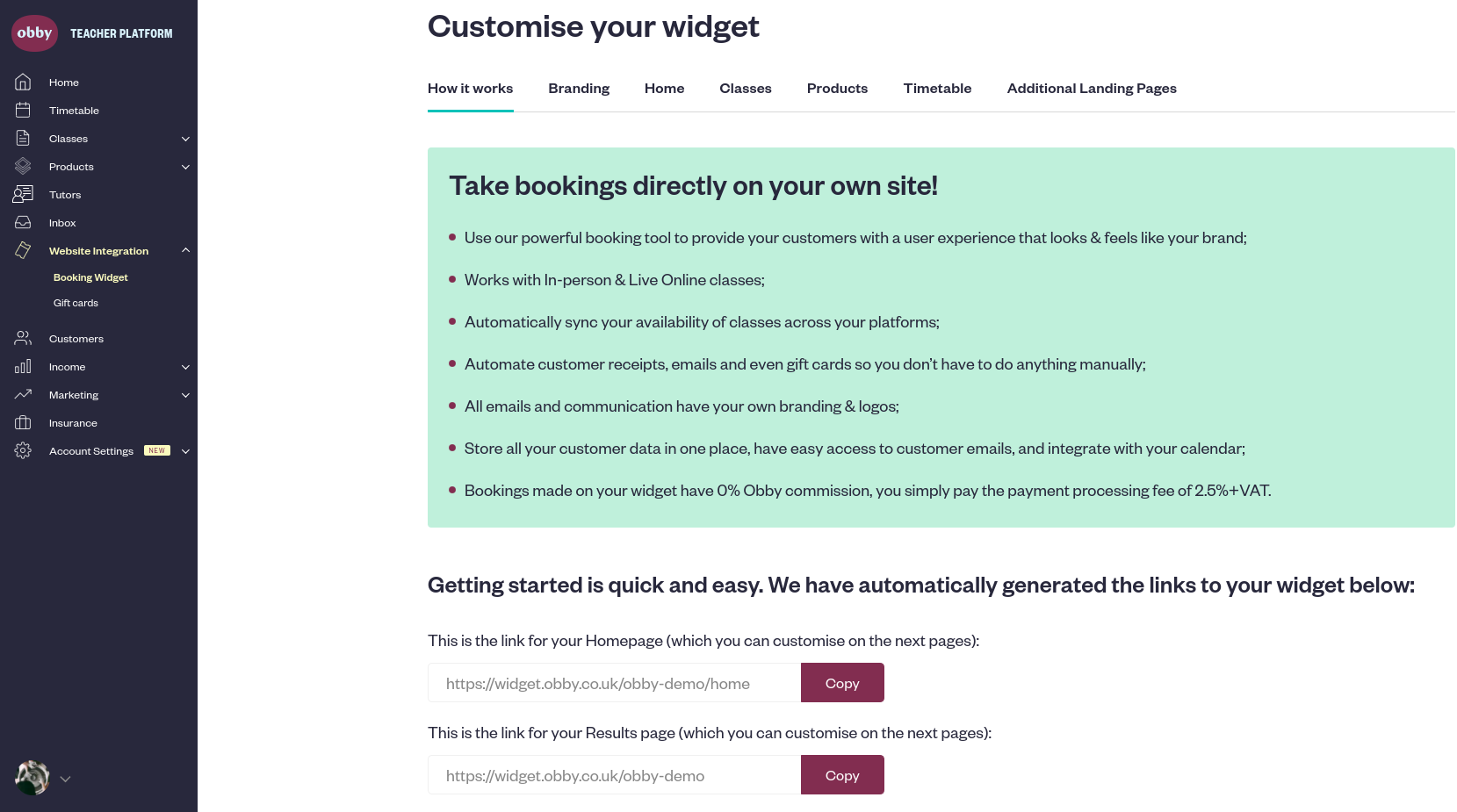 Already have your own website? On the dashboard you can integrate your website so that you can manage everything all in one place. Need a fully branded website? Obby also has a website building tool where you can build your own completely customisable widget or website! They really do have it all!
On the dashboard homepage, you can get a clear overview of your sales, bookings, reviews, upcoming classes and inbox. The homepage is also where you can manage marketing tools such as creating gift cards and producing discount codes.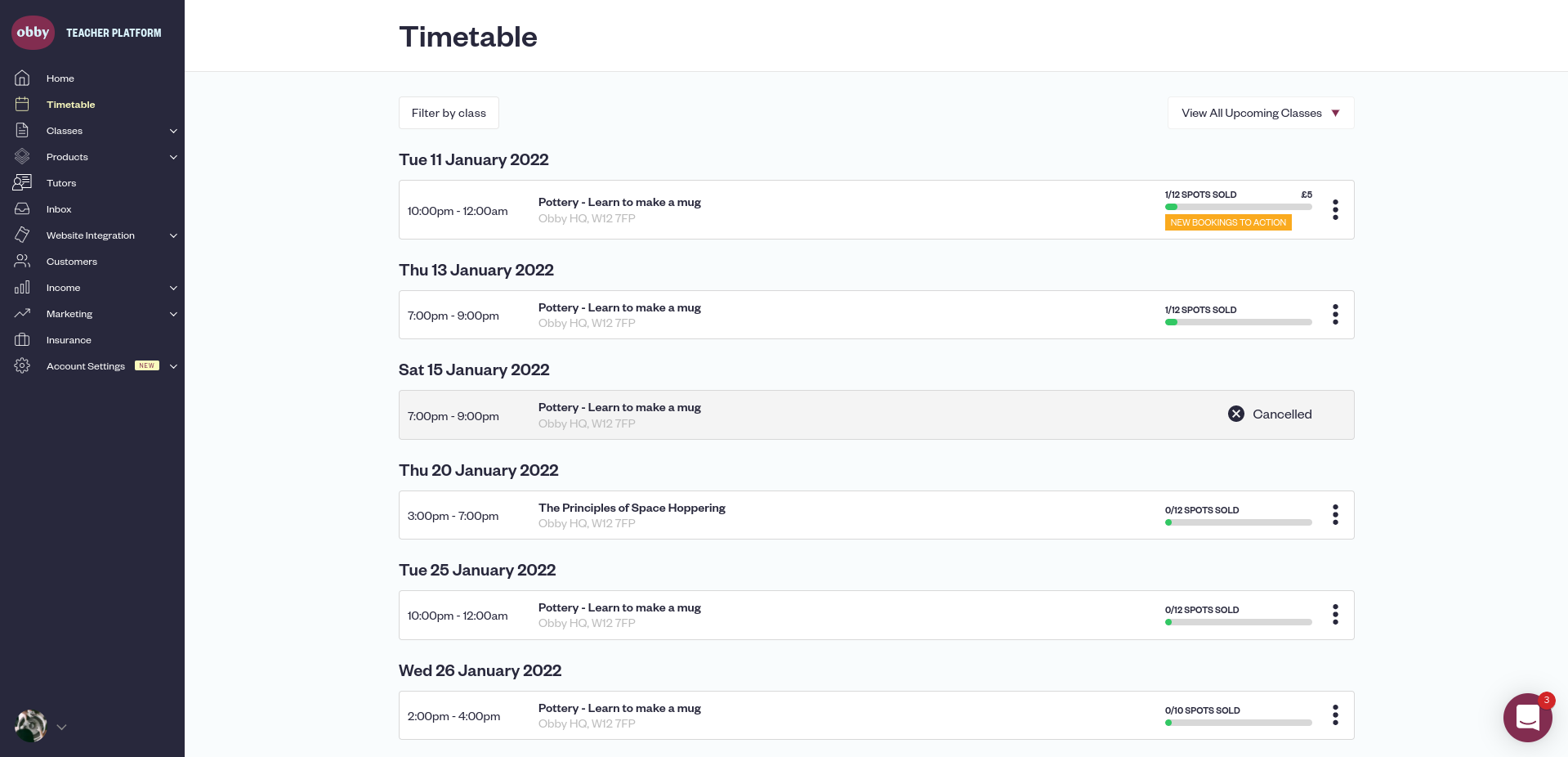 As you can see on the left hand side, everything you need to manage your bookings is accessible on the dashboard. You can view your timetable, classes, products, inbox, customers and students. Here teachers can easily integrate their custom widget, access marketing tools and manage their income and insurance.
Pricing
The Obby team understands that when it comes to a class booking software, it isn't one size fits all. Each paid plan gives you access to a range of different features and tools. Obby allows teachers on all paid plans to use their class booking system and list their classes on the marketplace. Teachers can also enjoy a one month free trial too see which paid plan suits their needs. Here is a overview of the range of plans Obby offers and their prices: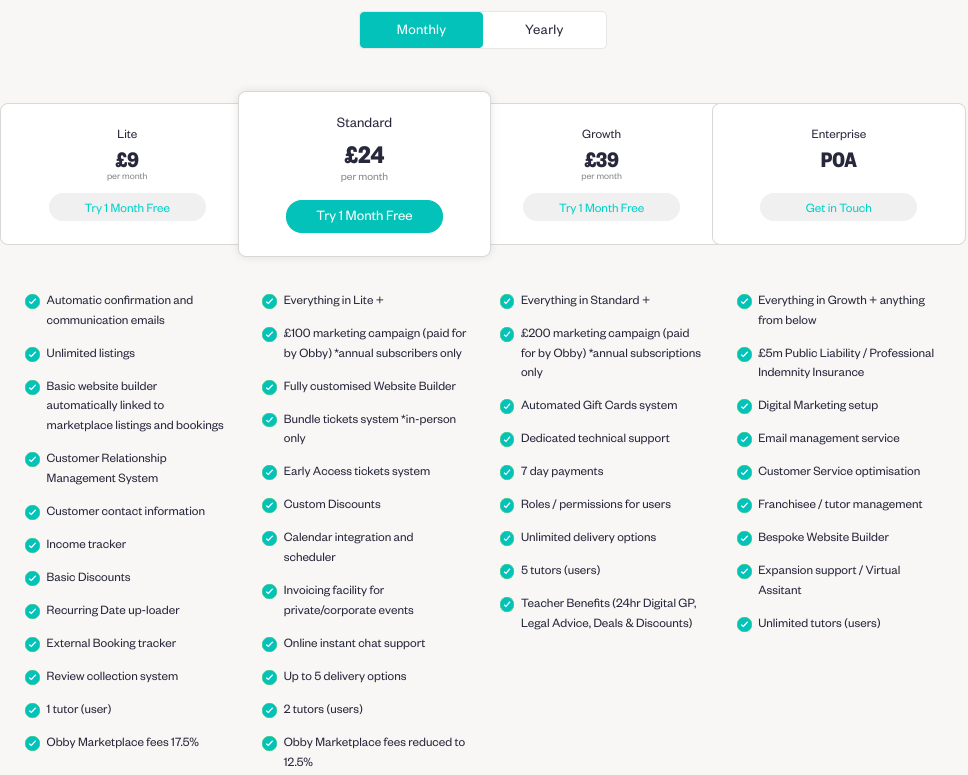 Obby Pros
Obby is an extremely easy to use all-in-one platform that can benefit all teachers. The features and tools within their class booking system are extremely user friendly for teachers, as it has been designed to make teachers' lives easier, so don't worry if you have no experience in tech! Here are just some of the many pros of Obby's class booking system:
Stressed about scheduling? Obby's got you covered! There are a wide range of tools which do all the scheduling for you, their calendar integrations and dashboard make it easy to keep track of your bookings and classes.
Obby uses targeted ads and other powerful marketing tools to promote their marketplace which has an immense audience of students. Through their marketplace, Obby has already helped over 50,000 students find the right class for them. So being on Obby's marketplace is sure to help eager to learn students discover your classes!
Within any paid plan, there is no limit to the amount of listings you can create on Obby. Which means you can have all of your classes featured on the marketplace.
The Obby team is passionate about helping each teacher with any questions, quibbles and queries they may have and are always eager to give their support!
The bottom line is Obby's online booking system has helped over 2,000 teachers manage their bookings and grow their business.
"Obby has been pretty life changing for me! It has allowed me to work to my own schedule providing me with much needed flexibility. The team is always really helpful and you can tell that they all genuinely care and want to ensure everyone, students and teachers, have a good experience." - Aimee, Aimee McCulloch Stained Glass
Obby Cons
Although Obby has just about everything you could want in a booking system, we are humble enough to admit the one thing about our booking software that we are working to improve. Obby is in the early development stages of creating an app, as they do not yet have one available. However, Obby's booking system has been optimised for different devices so that teachers can manage their bookings on their mobile and tablet as well as their desktop.
Who is Obby For?
Obby's simple booking system is perfect for teachers who need a comprehensive set of tools which can manage every aspect of their teaching business. However, if we had to narrow it down, what makes Obby stand out from other class booking systems is their ability to make scheduling and marketing easy and enjoyable.
Obby's all-in-one class booking system and teaching platform means teachers have a simple way to manage their bookings all in one place. As all teachers who use Obby can have their classes listed on Obby's marketplace, Obby is also the best for helping teachers market as well as manage their bookings.
Book a Demo Call
Interested in finding out more about Obby's booking system? Want to know how to get started? Book a free demo call with a member of the supportive Obby team and discover a simpler way to manage your bookings and business!
Book an Obby Demo Call
---
2. baluu
Looking for a booking software that helps you manage in-person and online classes as well as events and experiences? Then look no further! baluu is a booking software that can help you do just that and so much more.
baluu Key Features
This simple yet powerful software has many features which make scheduling, managing and growing your business easy! With baluu, you don't have to waste precious time doing admin, instead this digital booking system does all of that for you. Below is a list of some of the sophisticated features baluu has to offer,
List unlimited bookings with this software. From in-person and online classes to events and experiences, baluu supports organisers with a wide range of events! Teachers and organisers can even sell products using baluu.
Stay on top of your schedule and organise instructors, guests and colleagues when using baluu.
Your availability is automatically tracked and changed, which prevents double bookings in your timetable.
baluu allows you to create unlimited listings. Have a particularly popular event or class? baluu also has a waiting list feature.
Manage your bookings all in one place with baluu! This booking software can be integrated with your own website, meaning you can manage bookings from anywhere using baluu.
Get access to insights, create accounting reports and grow your income with baluu.
Build your communication and rapport with your customers and students! baluu has a robust customer relationship management (CRM) tool for teachers and organisers to make the most of!
Pricing
baluu has designed a selection of paid plans for businesses to choose from. The first of their paid plans is ideal for new businesses, their second paid plan is a great fit for small businesses, while their third paid plan is for growing businesses.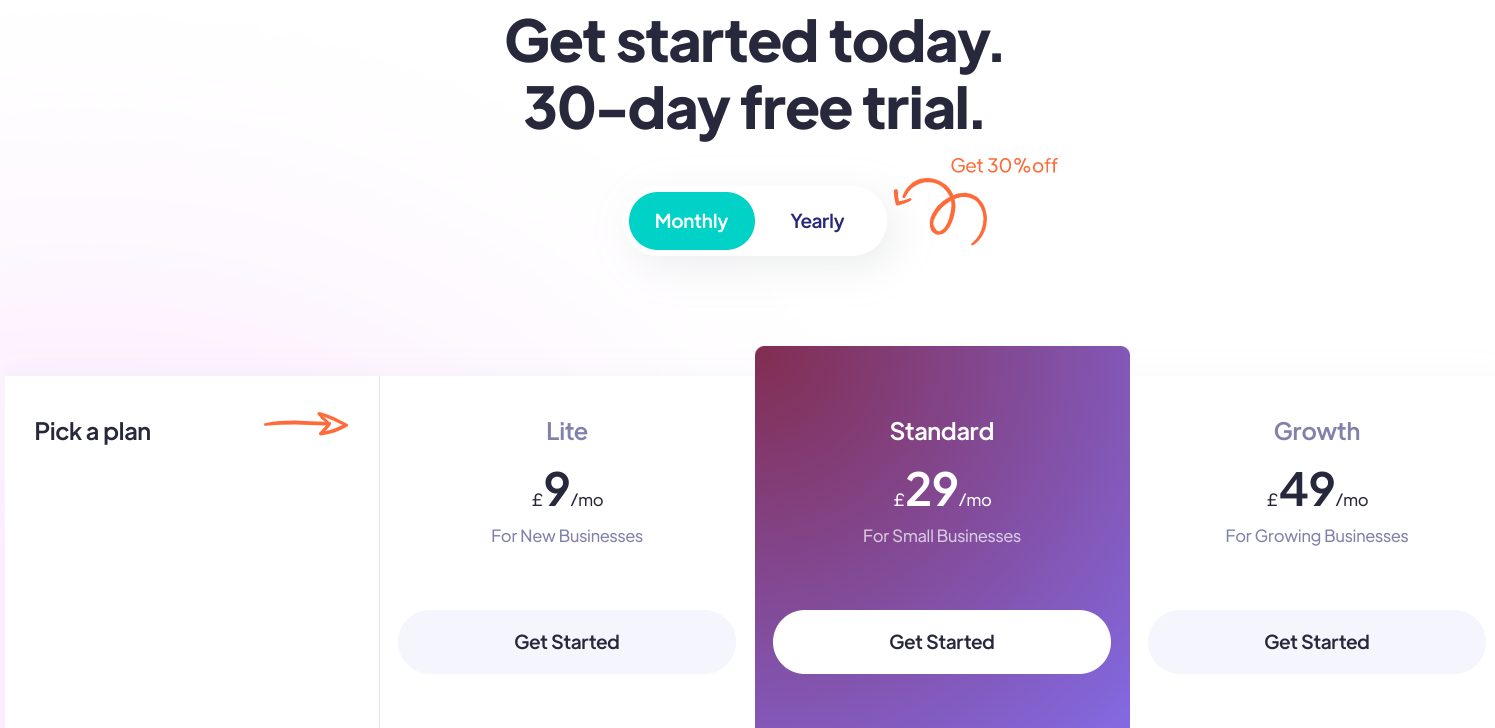 baluu Pros
Many businesses have already experienced the many benefits baluu has to offer! baluu helps organisers and teachers manage bookings and boost their business. Here are some of the many benefits businesses can experience when using baluu,
As well as managing bookings, organisers and teachers can manage other areas of their business such as organising instructors, guests and students.
baluu helps you keep customers up to date with any information or changes you make to their bookings which, again, reduces your admin time!
Businesses can customise automated emails which refines and promotes their brand.
When using baluu, teachers and organisers who sell products can manage their sales using this booking software too!
Businesses can access and create accounting reports to inform their business plan and marketing strategy.
Organisers and teachers can create discounts, making the most of the marketing tools baluu offers.
baluu Cons
This booking software does not yet have an app. However, it has been optimised for organisers and teachers to effortlessly manage their business on their mobile, tablet and other devices! So although there is no baluu app yet, the flawless optimisation this software offers makes managing booking on the go a breeze.
Who is baluu for?
baluu is a versatile booking system that suits versatile bookings. From online classes and in-person workshops to experiences and events, businesses that need to manage different kinds of bookings can effortlessly use this booking software to organise all of the above! This makes baluu the best booking system for businesses that host a range of different events and classes.
Book a Demo Call
Discover more about the baluu booking system with a free demo call. Quickly get set up and start taking bookings for your classes in no time.
Book a Demo Call
---
3. Teachable
Teachable is one of the best online class booking systems for pre-recorded course content. With online distance learning becoming more popular, many teachers are choosing to teach with online classes, courses and workshops. If your style of teaching is delivering content through pre-recorded courses, this booking system has many features that can benefit you.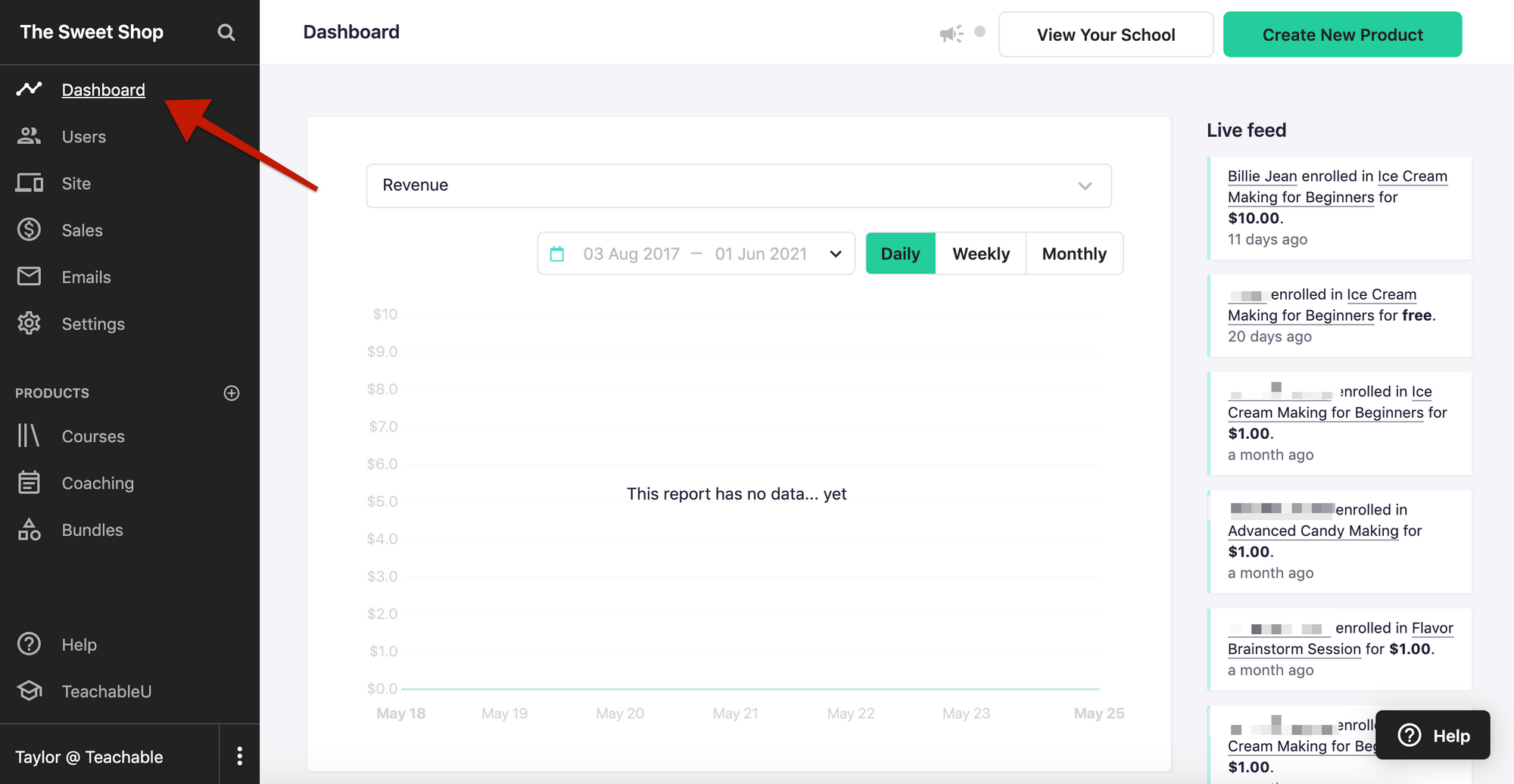 Teachable Key Features
Teachable has a class booking software which prioritises helping teachers record and deliver online content which is fully customised. Their features make creating and managing pre-recorded class content effortless. We have outlined the noteworthy features that Teachable's class booking system provides:
Teachable makes it easy for teachers to integrate and link their customised website to Teachable.
Their power editor means teachers can also have branded and customised content for their pre-recorded classes.
Their class booking system allows teachers to integrate many other useful platforms, such as Calendly.
Teachable's dashboard means teachers can track and stay up to date with sales and other customer insights.
More than just a one man band? Teachable lets you add other contributors, making it really easy to manage your team.
Pricing
Teachable has a selection of paid plans to choose from. Whether you are looking for a free plan or a complete paid plan , Teachable has a wealth of choice. Plans range from free plans up to their Business plan, costing $249 USD month (to be paid annually).
Teachable Pros
This class booking system reduces many of the challenges of creating and tracking your online classes. From marketing and customisation to integration of different complimentary platforms, we have listed the pros of this class booking software:
On any paid plan, Teachable allows teachers to create and deliver unlimited courses to an unlimited number of students.
Although Teachable helps teachers only delivers online pre-recorded classes, teachers can create customised milestones for students. This means teachers can create a more personalised teaching experience for students.
From discounts and coupons to memberships and subscriptions, Teachable gives teachers a range pricing options for students.
Marketing is made easy with their array affiliate marketing tools.
Teachable Cons
The main con of this class booking system is that it is for pre-recorded classes only, so if you are teaching live online classes or in person classes, this isn't the booking system for you.
Who is Teachable For?
As you may have guessed, Teachable is one of the best booking systems for teachers who run online pre-recorded classes. Their booking software is designed with the priority of optimising pre-recorded classes as well as the intention of helping teachers manage and track their courses.
---
4. Thinkific
Thinkific is an online education platform used by creators to grow their business with online course. It is an all in one booking system, so you can create, market and sell classes using the tools that they provide.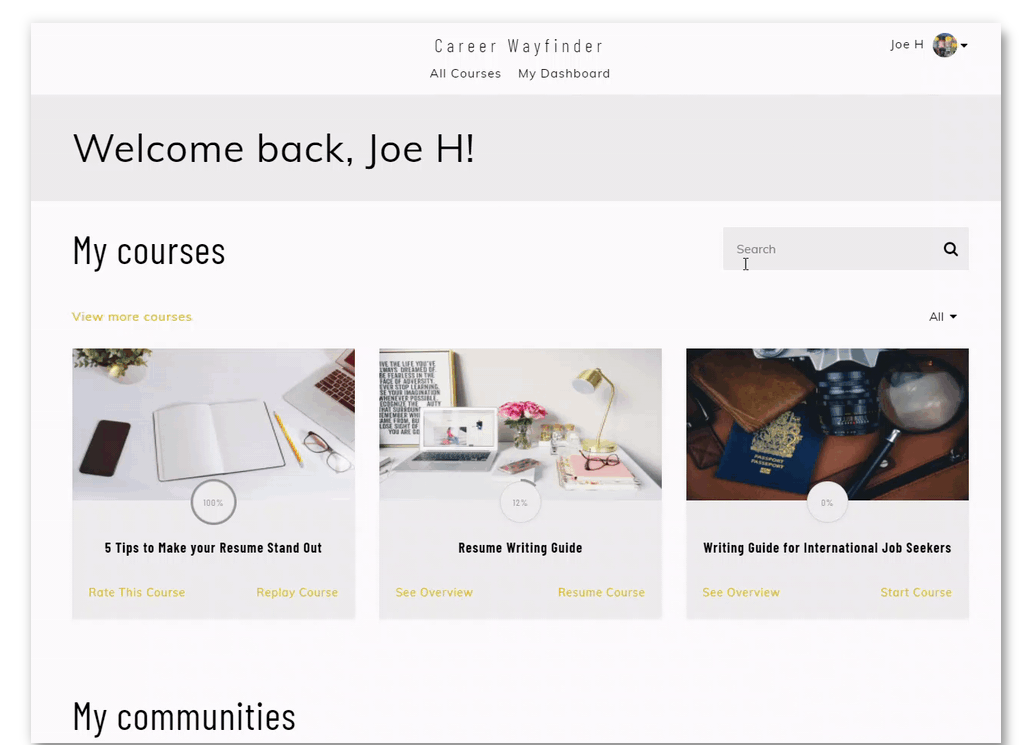 Thinkific Key Features
Do you primarily teach online courses? Thinkific may have some features that will help improve how you manage and run your virtual classes. This class booking system aims to make online classes more interactive and engaging. Below are the key features Thinkific provides teachers,
Thinkific's class booking system allows teachers to teach online in a way that suits them, whether that's pre-recorded courses or live online classes.
Want to communicate with students outside of emails? As shown at the bottom of the above image, Thinkific has a range of communities which encourages teachers to communicate with students.
As you can see in the image above, Thinkific has an easy to use website builder to help teachers create a website as well as content that suits their brand.
If you already have other platforms that you use, Thinkific allows seamless integration with your own website, CRM platform and many more systems teachers may already use.
Thinkific gives teachers the freedom to decide how they sell and market their classes to students, including monthly subscriptions, discounts and more.
Pricing
Like most other class booking systems, Thinkific has a variety of different plans to choose from. Their free plan encourages teachers to discover the pros of their software, while the paid plans give teachers more of their valuable features. From free monthly plans to their Premier package costing $399 USD yearly.
Thinkific Pros
Thinkific are very user friendly and amazing for teachers who teach online but don't feel very tech savvy! Their features benefit both teachers and students, as their tools make teaching online enjoyable on both ends. Below are some of their significant pros:
Thinkific's website builder is simple, but effective. This means teachers can easily build their own website without that expresses their brand easily, saving teachers valuable time.
Teachers can track their students progress in-depth and set assessments, quizzes and so much more, making the online learning experience for teachers and students captivating and interactive.
This system really hones in on the students needs and aims to make distance learning a rewarding experience for online learners.
Their professional yet friendly team are always on hand to help teachers with any advice or support they need.
Thinkific Cons
This system is brilliant but only if you don't intend to do in-person classes. Thinkific is centred around enhancing how teachers deliver and manage their online classes. If you're a teacher who only runs in-person workshops or you enjoy teaching both online and in-person classes, then this isn't the class booking software for you.
Who is Thinkific For?
Thinkific is the best class booking software for teachers looking for simple customisation tools and student engagement in online classes. This booking system allows both students and teachers to get the most out of online learning. Their website builder helps teachers create their own completely branded and customised website with very straightforward steps, while their online classes provide many opportunities for students and teachers to communicate online.
---
5. Airbnb Experiences
Airbnb Experiences have a great all round system if you teach in-person classes. With this system, simply create an account and add you classes. These are then advertised on their broad marketplace. This booking system also allows you to create a widget for you to add to your website enabling direct customers to book on.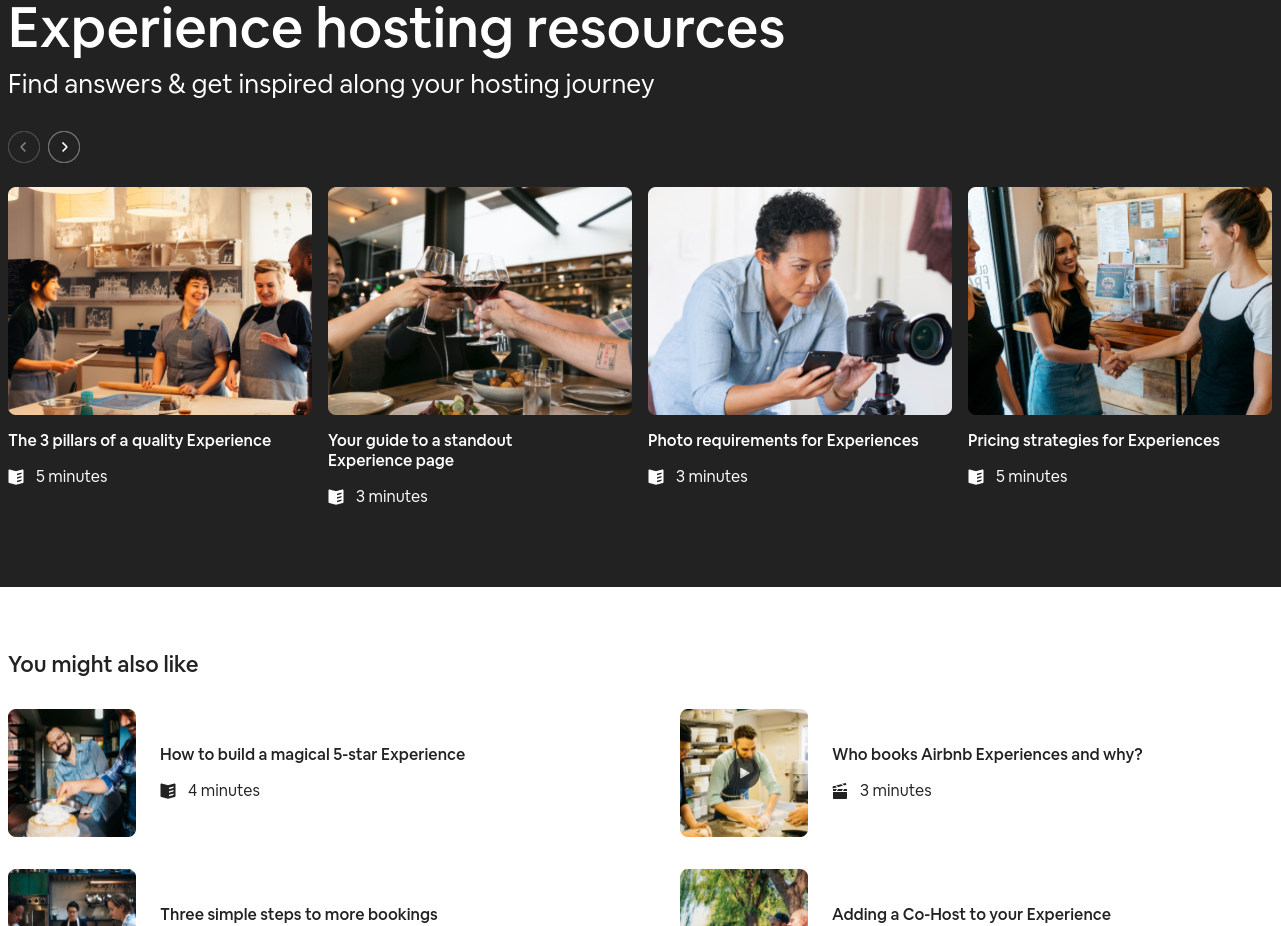 Airbnb Experiences Key Features
Airbnb allows teachers to run exciting and innovative teaching experiences. Teachers, or rather 'hosts', can teach in whatever style suits them. From cooking classes to hikes around historic landmarks, teachers are free to teach students about whatever inspires them. The features Airbnb include are,
A simple and sophisticated dashboard where teachers can manage the experience that they host, from scheduling to bookings.
Insights into how teachers can improve their experience alongside useful customer feedback.
Airbnb Experiences provide a secure an straightforward payment process.
The tools to create your own experience page, along with step-by-step guidance.
This booking system allows teachers to host in-person as well as online experiences and classes.
Teachers can integrate the booking tool with their own branded website.
How Does Airbnb Experiences Work?
Airbnb Experiences want to help their hosts manage and create their experiences in the most simple way possible. Airbnb Experiences have a range of resources that help teachers and hosts create an engaging experience page. Their resources also advise teachers on how to navigate their booking system.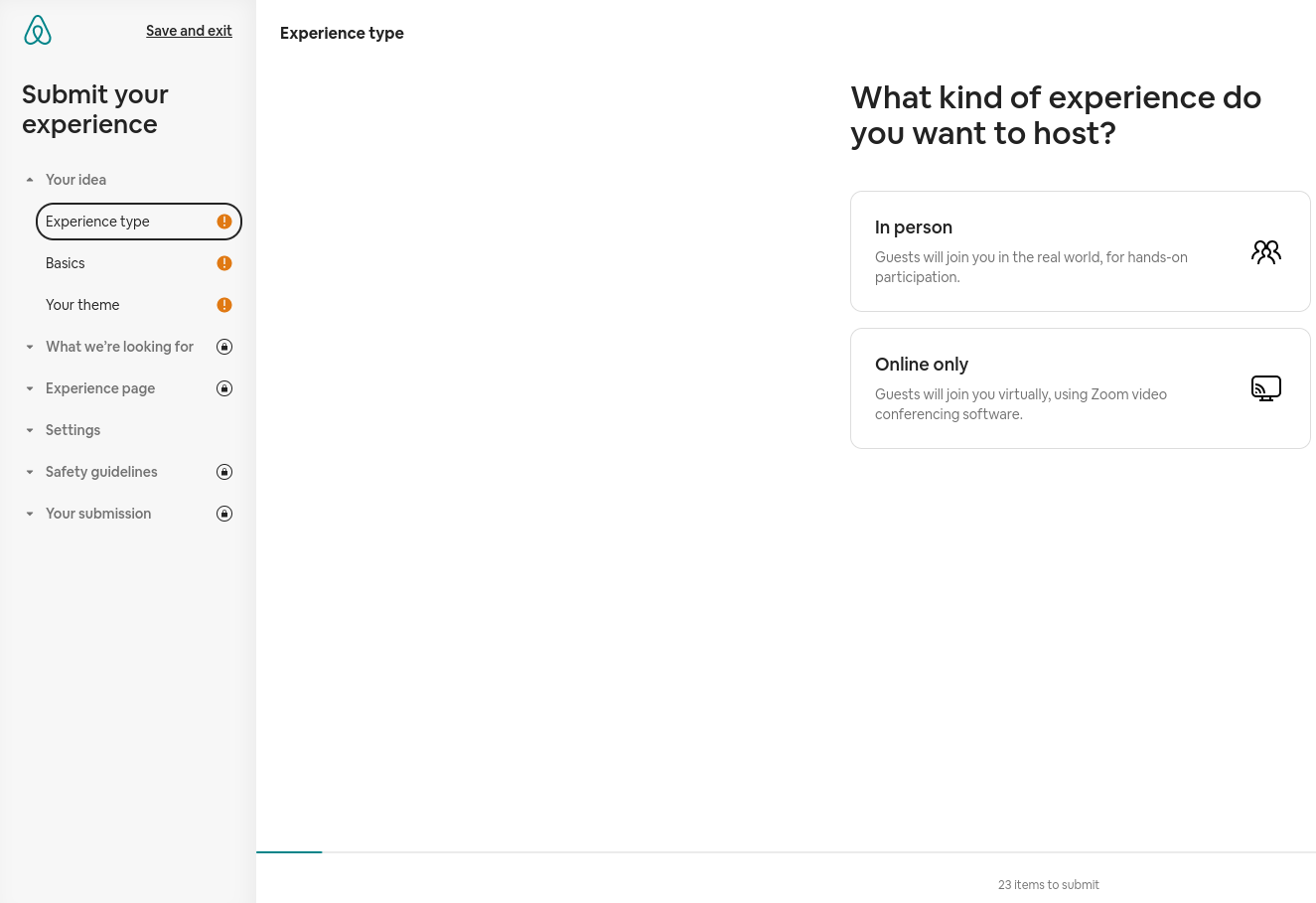 As you can see in the above image, Airbnb Experiences help teachers set up their experiences in easy steps. First decide if you would like to teach in-person or online classes. Then, the 'Basics' tab will ask you to choose which city your experience will be in and which languages you will teach in. Now it's time to select a theme! There are many themes to choose from including culture, entertainment, food, animals and many more.
Once you have created your experience, you will need to include a short video demonstration of your experience. This will then be submitted along with your experience page information and reviewed to assess whether your experience meets Airbnb Experiences teaching standards. If it is accepted then you can begin scheduling and taking bookings!
However, if it is not accepted then there may be some changes you need to make to meet their guidelines. But don't worry! You can edit and resubmit your application.
Your experience pages are all in one place, making it easy to keep track of your upcoming experience events and classes.
Pricing
Instead of offering a payment plan, Airbnb Experiences charge a 20% commission fee. Teachers can set the price of their experience and class, then Airbnb Experiences will automatically calculate and take a 20% service fee charge. Teachers receive the money they have earned through the experience 24 hours after the experience or class, with the 20% service fee already deducted.
Airbnb Experiences Pros
From their far reaching global community of hosts and students to their unconventional teaching style, there are many benefits teachers can enjoy when using Airbnb Experiences' class booking software. We have outlined the more significant pros of this booking software,
One of the huge advantages of Airbnb Experiences is the marketing, especially if your classes are located in a popular tourist destination. This is because it is directly connected to Airbnb, and they will market your classes to those who have booked an Airbnb in your area.
Teaching with Airbnb Experiences can mean many different things. Many teachers enjoy hosting an experience and teaching with new methods, outside of a class or workshop environment.
Airbnb Experiences has an active 24/7 customer support service, which provides help to both teachers and students.
Teachers aren't confined to one style of teaching, as they have the option to teach online as well as in-person experiences and classes.
Airbnb Experiences Cons
The downside to this system is that the marketing they provide is for students who are not local, so not fantastic if you want recurring students. The other downside is that the commission taken is the same no matter if a student books via their marketplace or the widget on the teachers own website.
Who is Airbnb Experiences For?
This booking system has many benefits for teachers who choose to use this software. However, the main perk for teachers using Airbnb Experiences, is that teachers have the opportunity to explore new approaches to teaching. Therefore, this software is best for teachers who enjoy being challenged with different teaching methods and styles.
---
6. Eventbrite
Known as a marketplace to sell tickets to events, Eventbrite also has its own booking system which is used by teachers to sell classes!
Similar to Airbnb Experiences, you can easily add you classes as listings which appear on the Eventbrite marketplace. You can also use this listing on any other websites, including your own, to take bookings.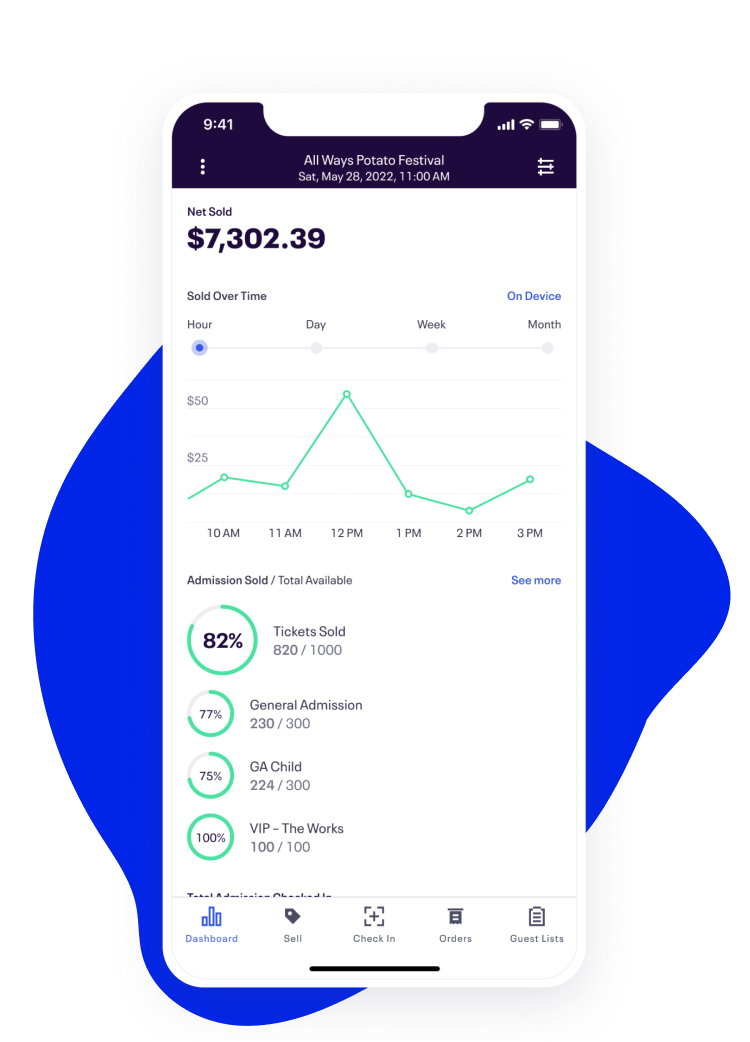 Eventbrite Key Features
This booking software is used by many teachers to sell and organise their classes. Their many features are available for teachers to use across the globe, as Eventbrite is available internationally. Below is a list of many of the features Eventbrite offer to their teachers and event organisers,
On their paid plan, Eventbrite allow teachers to use an unlimited range of ticket types for customers and students to purchase.
Teachers can customise their checkout forms when using this booking system.
Teachers and organisers can view comprehensive sales analytics, so they can track and grow their bookings.
Link secure checkout to your site, so you can sell tickets from your customised and branded website.
Pricing
Eventbrite has three plans for teachers and those wanting to use their booking software to choose from. Their free plan has 3.5% commission fee alongside £0.49 per ticket sold. The Professional plan costs a 6.5% commission fee as well as £0.49 per ticket sold. Finally, their Premium package is POA and therefore doesn't have a set cost.
This booking system also has an option for teachers and organisers to 'pass on the fees' to the attendees of the events and students who book classes using this software.
Eventbrite Pros
There are many features Eventbrite have created that are incredibly useful for teachers or anyone needing to find the right booking software for their event. Here are some of the pros to using this booking system,
Eventbrite has a user friendly to use app which helps teachers and organisers easily stay up to date with their sales and bookings.
Eventbrite is a well known software and is used by people around the world, which means your classes and events will have a large audience.
Having an unlimited ticket type feature means teachers and organisers can create tickets for groups, early birds and more.
Eventbrite Cons
The clear disadvantage here is, like Airbnb, the commission is the same no matter where the customers book. Eventbrite also doesn't have an option for you to brand or customise your listings.
Who is Eventbrite For?
From one off workshops to regular recurring classes, teachers who teach often or only every now and again can use Eventbrite's straightforward features. However, if you are just hosting a one off class or event then this is a really quick and easy way to build a listing and sell tickets. Which is why we still think it's one of the best booking systems!
---
7. Acuity Scheduling
Now we couldn't have a list of the top ten best booking systems is we didn't mention Acuity Scheduling! This super user-friendly system with robust features makes for a brilliant booking system.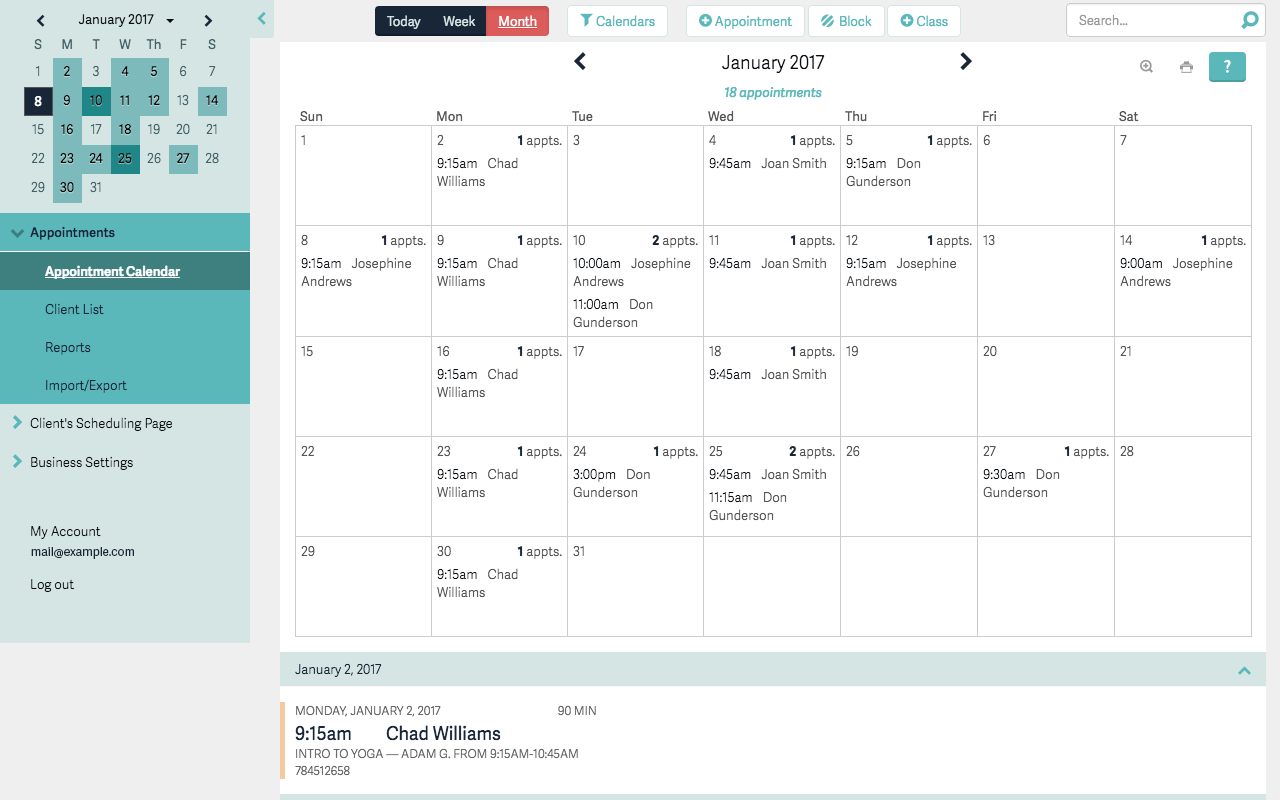 Acuity Scheduling Key Features
This booking system has many features which make scheduling and organisation straightforward. The calendar in the image above shows how Acuity Scheduling can reduce teachers admin time as their scheduling is made easy! The top features this software offers include,
Teachers can create unlimited appointments and manage their time using this software.
Payments can be made through secure platforms sure as Stripe and PayPal.
Acuity Scheduling allows seamless integration with many other systems such as Zoom, Google Calendar and many more.
Their scheduler can be linked and used in your very own branded website.
This booking software takes care of reminder, follow-up and confirmation emails for you.
Pricing
Acuity Scheduling does not have a free plan. However, all of their paid plans offer a 7 day free trial. This booking software has three paid plan options. First is the Emerging plan which costs $14 USD per month. Their second option is the Growing plan which costs $23 USD per month. Acuity Scheduling's final paid plan is the Powerhouse plan which costs $45 USD per month.
Acuity Scheduling Pros
From integrations to scheduling, there are many advantages to using Acuity Scheduling's class booking system. The aim of this software is to help teachers manage their bookings with as little stress as possible, we believe these pros to this software do just that!
Acuity Scheduling has a scheduling app which makes organising and accessing bookings easier.
This booking system can integrate with many other useful CRM and scheduling platforms such as Mailchimp, Google Analytics and many more.
Students can view teachers availability and book, reschedule and change slots themselves.
Linking their scheduler means teachers can take bookings from their own branded website.
Acuity Scheduling Cons
Although this booking software is helpful for teachers in many ways, it also has its downsides. This tool can be very expensive and teachers who are still in the early stages of their business and are not yet earning a steady income, may opt for a more affordable booking software.
Who is Acuity Scheduling For?
This class booking software is best for integrations. Teachers who are already familiar with other complimentary platforms may find that Acuity Scheduling is a very useful tool as it allows them to integrate with other platforms they are already using.
---
8. Timely
Timely is the perfect class booking tool for you if you like to see a visual calendar. This is a seamless system which handles payments and sends out confirmation and reminder emails. It also allows you or your students to easily book directly into the free space in your calendar.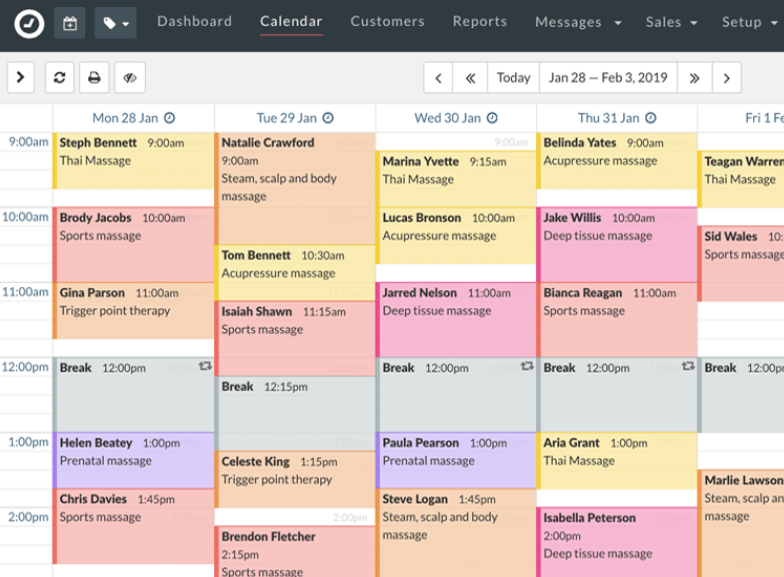 Timely Key Features
This booking software has many features which will help teachers in many ways, from managing their employees to managing bookings. We have listed some of the key features this booking software boasts,
Their checkout process is frictionless and secure.
Students and customers can book from lots of different platforms including your own website and social media platforms such as Facebook and Instagram.
Valuable tools which helps send students reminders via SMS as well as email.
Timely makes marketing simple! They give teachers the ability to make promo-codes and gift vouchers.
Pricing
Timely has four paid plan options for teachers to choose from. The Basic plan is £15 per month, the Build plan is £20 per month, the Elevate plan is £30 per month and the Innovate plan which is £35 per month.
Timely Pros
More than 55,000 people are experiencing the benefits of using Timely's booking system. Here are some of the best features and pros of using Timely's booking system for classes,
Bookings made on several different platforms can all be managed in one place, making managing bookings effortless.
Within their dashboard, teachers can see customer and student insights. This shows teachers how their business is growing and informs their plans for increasing this growth.
Customer an student management tools helps creates a seamless booking experience for students.
Timely Cons
The Timely system works like a dream if you have one-to-one classes. However, this system won't work for you if you are happy for multiple people to book onto the same time slot or have classes with multiple attendees.
Who is Timely For?
Although group bookings are not available on this booking software, we believe that this booking system is very valuable for teachers who only have one-to-one private workshops. Students being able to book a time that suits both them and the teacher shows how Timely's booking system is designed to suit the schedule of individual students as well as the teacher.
---
9. Mindbody
If you teach a wellbeing class then look no further, the Mindbody booking system was designed for you. It has a wellbeing marketplace targeting this unique demographic in your local area who look to participate in wellbeing activities such as mediation, yoga, and mindfulness.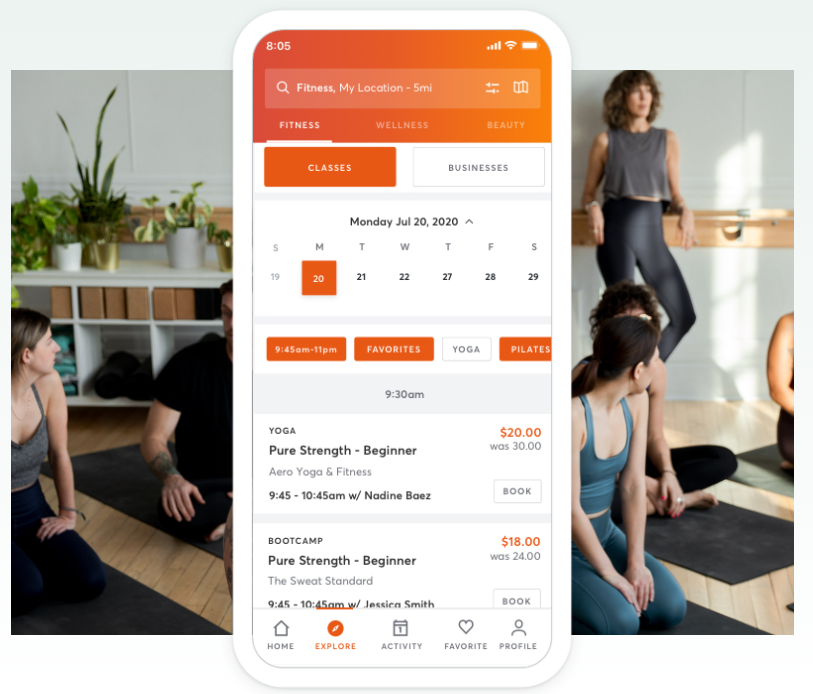 Mindbody Key Features
Teachers who celebrate health, fitness and wellbeing have been using Mindbody's many features to organise their bookings as well as market their classes to grow their sales. Below are some of Mindbody's fascinating features,
Teachers can use Mindbody's purchasing widget on their own branded website.
They have a range of resources for teachers such as customisable email templates.
As well as organising teachers availability, this booking software can also schedule availability of resources such as chairs and rooms etc.
With this booking software, teachers can communicate with customers via SMS.
Pricing
Mindbody do not offer a free plan or a free trail, however they do have a selection of monthly paid plans such as the Starter plan costing £109, the Accelerate plan which costs £219, the Ultimate plan which is £339 and the Ultimate Plus plan totalling £519.
Mindbody Pros
This robust booking system has several benefits which are sure to help teachers manage, organise and market their classes. We have listed the most significant pros teachers can enjoy when using this booking software,
Not only is this booking software optimised for different devices, Mindbody also has their own app.
Mindbody prompts students to leave reviews, which helps teachers market their classes and receive feedback.
Teachers who work alongside colleagues can have unlimited teammates log in to the booking software.
Like Obby, Mindbody will help teachers who are new to the booking system get set up with one-to-one training.
Again, like Obby, Mindbody has a marketplace which will include and market teachers listings.
Mindbody Cons
Mindbody is a great booking software for teachers that primary focus on health and wellbeing classes. However, there are some downsides to using this booking system. One of the disadvantages to using Mindbody is that you can not customise the widget on your website, which means you cannot include your own branding.
Who is Mindbody Best For?
As a booking software, Mindbody is best for teachers who have colleagues that help them manage their bookings and classes. This booking software is ideal for teachers who work with a collaborative team. This is because there is an unlimited number of colleagues that can log in to the software, therefore teachers can ask their colleagues to help them manage their bookings.  
---
10. GigaBook
This booking system makes it simple for customers to book appointments and easy for teachers to keep track of their bookings. Whether teachers run one-to-one or group classes, this booking software will help them stay organised effortlessly.
GigaBook Key Features
GigaBook is a really great online appointment scheduling booking system. They have lots of really useful features including a to-do list, automatic reminders, text message reminders and many others as listed in the image below.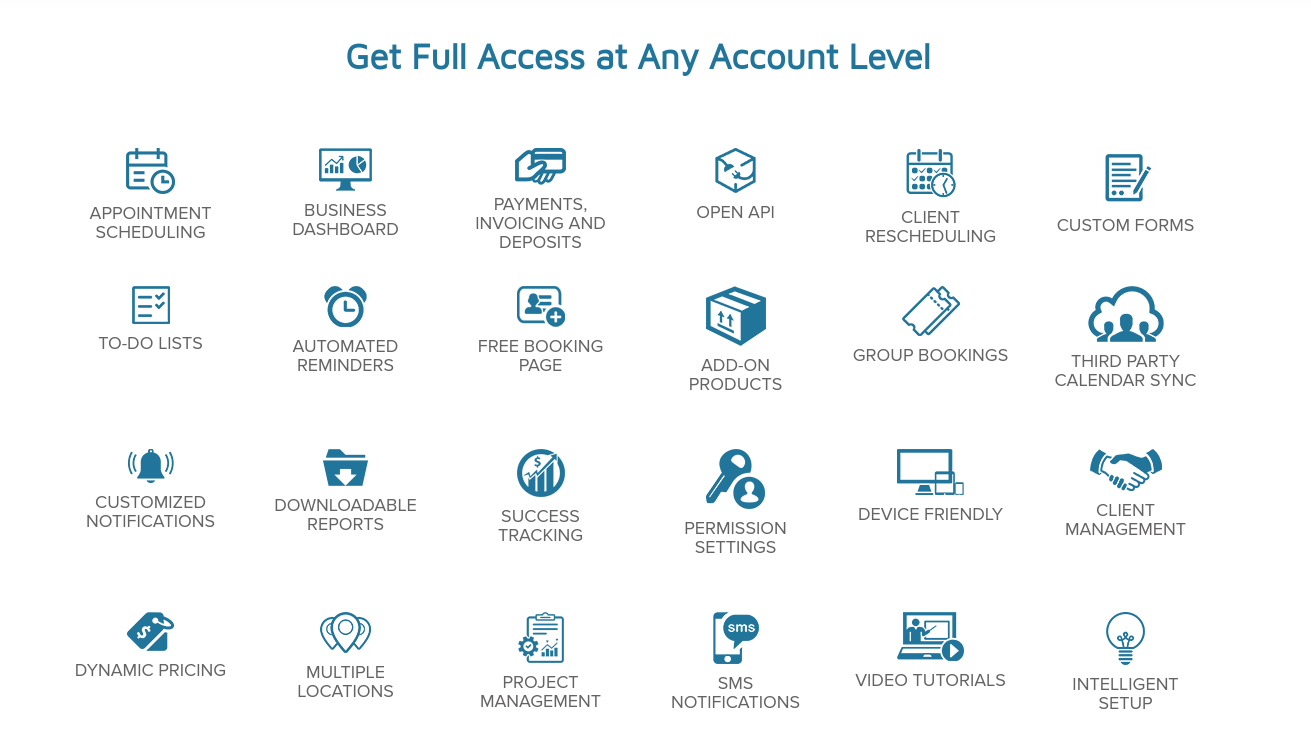 Pricing
GigaBook has one paid plan which costs $15 USD a month when paid monthly or $12 USD a month when paid yearly. There is an additional cost for teachers that choose to add members of staff to the booking system. This additional cost is $8 USD when paid monthly or $7 USD a month when paid yearly per member of staff added. They also offer a 14 day free trial!
GigaBook Pros
GigaBook is reliable, affordable and makes it easy to customise or update booking information. Below is an overview of some of the pros to using this booking software,
GigaBook can be used on a range of devices from desktop to mobile phones and tablets.
This booking system allows teachers to integrate with many other platforms such as MailChimp, Google Calendar, Stripe, PayPal and many more.
The GigaBook mobile app means you can stay organised on the go!
As well as classes, teachers can take bookings for resources such as studio space, equipment, facilities etc.
GigaBook Cons
Although this booking system is very useful for scheduling, there is one disadvantage of using this software. The downside to this system is that client data is very difficult to get to and impossible to export, so if easy access to student information is important to you, then this isn't the booking software for you.
Who is GigaBook For?
This booking software has many features that make it stand out. However, if we had to say which service this booking system is best for, it would have to be the booking resources feature. GigaBook allows students to book many of the facilities a teacher may offer. Have a studio students can book? Then this software is for you.
---
Need more advice?
The right booking software will do more than schedule your classes! Booking systems make it easy to stay organised, email students and build your business. As well as listing and creating classes, a digital booking system can also be an essential tool for managing and marketing your business. If you're looking for a simple way to efficiently organise and grow your business, Obby's online class booking system is here to help and support you every step of the way!
We have you covered with a wide range of tips to help you grow your teaching business. Check out some of our related guides below: