Floral arranging dates back as far as ancient Egypt, and has since branched out into four main styles – Ikebana, English Garden, Modern/European Style, and Contemporary/Dutch Style. Certain flowers also carry cultural significance – like poppies, lilies, roses etc. – that's ingrained deep within us. Simply put, flowers have been an integral part of human history, and we're confident the classes below will help to enhance your understanding and relationship with them, as well as teach the skills necessary to become a great florist!
---
The Top 10 Best Floristry Classes in Manchester are:
Floral Headdress Masterclasses at Frog Flower School
Summer Flower Vase Design Workshops at The Flower Lounge
Flower arranging workshops at The Flower Studio
Wreath Workshop at David Wayman Flowers
Christmas Wreath Workshops at Delamere Flower Farm
Weekend & Evening Classes at Ikebana East and West
Flower Crown Workshops at Charlie's Flower Boutique
Paper flower workshops at Blooms by Beam
Seasonal Workshops at Hope Flowers
Workshop in a Box at Home at Jacqui O
---
1. Floral Headdress Masterclasses at Frog Flower School
Location: Northern Quarter (Manchester)
Frog Flower School is one of the UK's leading floristry schools, and is currently revolutionising floriculture in Manchester. Taking a more artistic approach to floristry, Frog Flower School aims to "create joy in the everyday", employing a relaxed and multifaceted style of teaching.
Their Floral Headdress Masterclass is run by the experienced Suzie (their flower crown queen), who will assist you in creating your very own fresh flower crown. She will run through a variety of methods on how to make it, as well as teach you how you can make it robust and long-lasting.
This class can be booked for groups or individuals, and there's added prosecco to provide some sparkling inspiration!
Book now on Obby
---
2. Summer Flower Vase Design Workshops at The Flower Lounge
Location: Didsbury (Manchester)
Number 2 in our picks for the best floristry classes in Manchester is the multi-award-winning, The Flower Lounge. Since 2009, its founder, Siân Wild, has formed a friendly and experienced team, as well as a sterling reputation for floral excellence.
The Summer Flower Design Workshop will let you harness the last offerings of the season, and teach you techniques of structure, colour and styling to construct your own beautiful creation in a complimentary vase.
It's the perfect workshop for the budding florist or lover of flowers!
---
3. Flower arranging workshops at The Flower Studio
Location: Whitefield (Manchester)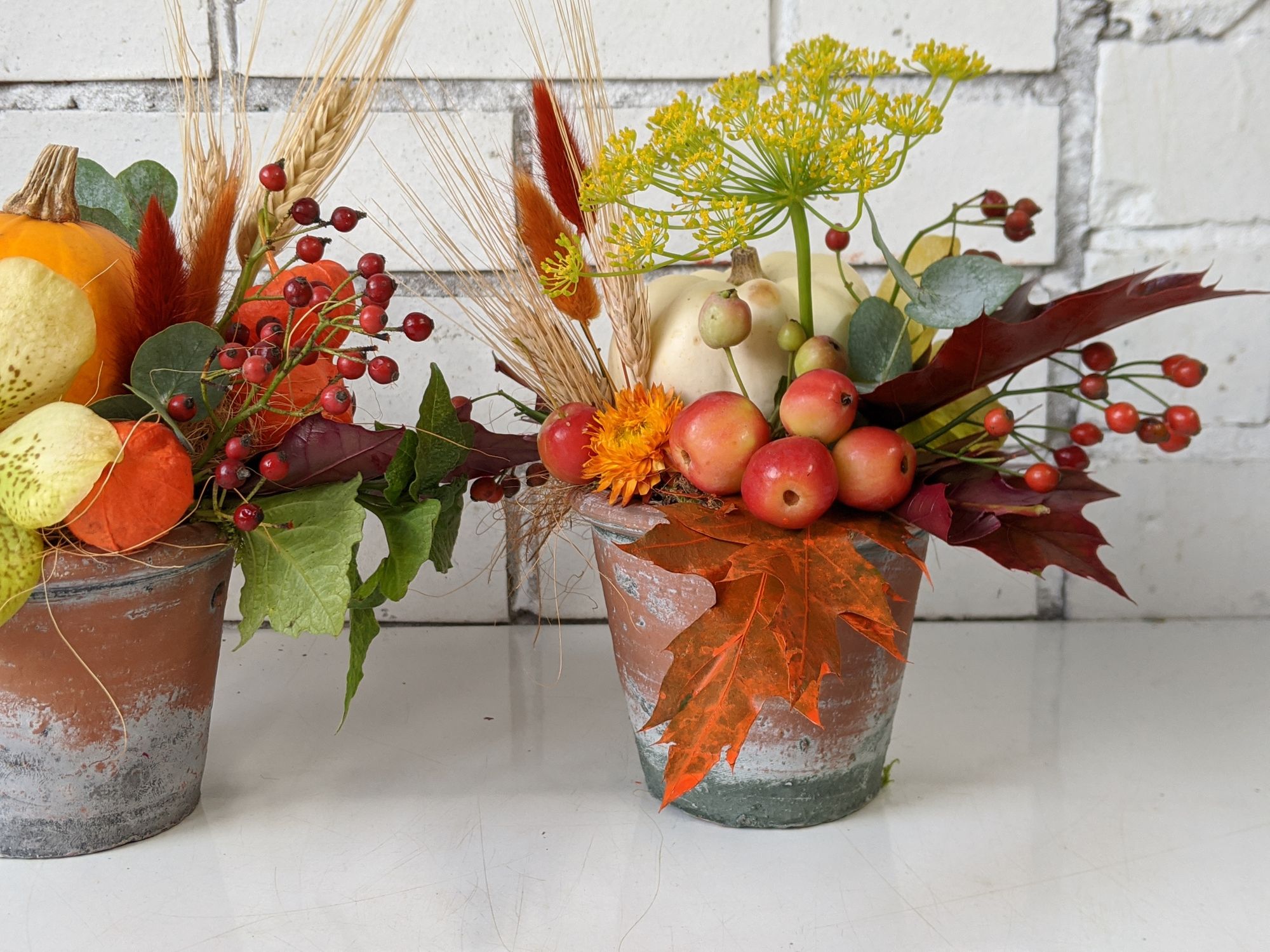 The Flower Studio's credo is to, "Convey memories and emotions with flowers", and they have succeeded doing exactly that by supplying amazing floral arrangements to weddings, funerals and events all over Manchester,
Alison's workshops are currently only available via zoom, and materials can either be delivered to your home beforehand, or you can source your own ingredients. Whether you're in a group, or sign up as an individual, or you're a beginner or advanced, Alison will cater to your needs. And, considering she recently won Designer of the year, you can be sure she is more than capable of helping you create some wonderful arrangements!
---
4. Wreath Workshop at David Wayman Flowers
Location: Spinningfields (Manchester)
The leaves are turning, the conkers and chestnuts falling, and that indescribable, smokey autumnal feeling is upon us! What better way to celebrate the start of the season than with a wreath making workshop?
Create your own beautiful, vibrant and custom wreath using premium materials, capturing the colours of the season with the bright, radiant flowers from your David Wayman Flowers.
Leave the workshop feeling merry and proud with your own seasonal masterpiece. Now go and create that gorgeous everlasting wreath you deserve!
---
5. Christmas Wreath Workshops at Delamere Flower Farm
Location: Norley (Cheshire)
Christmas will be on us sooner than we think, so why not get some practice in and impress the family with a fabulous Christmas Wreath?
Delamere Flower Farm loves to create eye-catching flower arrangements that are beautiful, distinct and reflect the season. They bring their experience and passion for floral arrangement to their Christmas Wreath Workshops, and, if their innumerable positive testimonials are anything to go by, it stands to be a fun and memorable experience!
You will use moss and seasonal foliage (all materials provided) to fashion a festive wreath, receiving assistance from instructors, as well as from a spot of mulled wine or non-alcoholic beverage!
---
6. Weekend & Evening Classes at Ikebana East and West
Location: Various locations
The Tokyo-born Junko Popham has brought the 300 year old art of Ikebana to the modern city of Manchester. 5 years ago her love for this art took hold, and with the help of a descendant of one of the oldest Ikebana families in Kyoto, Ikebana East and West was born.
As Junko points out, Ikebana is not simply flower arrangement, "its literal meaning is the act of  giving another life to the flowers and allowing them to perform and reveal their innate beauty and spirit".
The sheer uniqueness of this class, along with its mission to preserve the art of Ikebana, made it an easy pick for our best florist classes in Manchester. If this is something that you might be interested in, why not listen to your intuition and, like Junko, let the flowers whisper to you too?
---
7. Flower Crown Workshops at Charlie's Flower Boutique
Location: Cheshire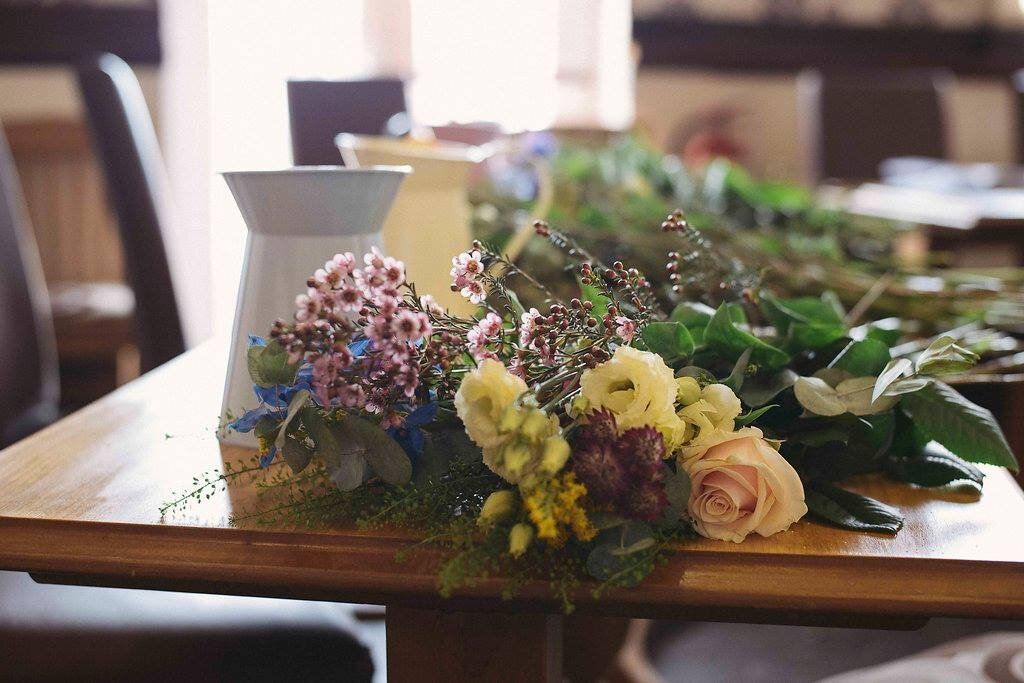 Ten years ago, the eponymous founder of Charlie's Flower Boutique was asked to help with her friend's wedding flower – and the rest is history! Now, her much-loved workshops are growing in popularity, and the Flower Crown Workshop is no exception!
These workshops will guide you step by step to use dazzling fresh flowers such as eustoma, roses,and seaholly to create gorgeous headpieces that will undoubtedly turn heads!
Suitable for all ages and abilities, for a minimum of 10 people, and perfect for hen parties, birthdays, or just a fun family get-together!
Book at Charlie's Flower Boutique
Visit Charlie's Flower Boutique
---
8. Paper flower workshops at Blooms by Beam
Location: Manchester
Now based in Manchester, Beam Irwin cemented herself as one of the leading interior designers in the Philippines. She has worked with a number of high-profile clients around the globe, always delivering her unique and attentive approach to space and composition.
Who better to teach you the exquisite and delicate art of paper flower making? Yes, that's right...paper! Beam proves you don't necessarily need flowers in order to construct an eye-catching bouquet.
Beam's face-to face workshops can either be intimate (2 people) or a whopping 40-70! By signing up you are guaranteed to enjoy yourself, and produce a wonderful paper flower creation by the end of it!
---
9. Seasonal Workshops at Hope Flowers
Location: Bolton (Greater Manchester)
Sailing in at number 9 on our list of the top floristry classes in Mancherster is Hope Flowers, Based in the heart of Harwood, Hope Flowers believes strongly in sustainability and community, as is evidenced by their credo, "Live local - Think local - Shop local".
Their popular Seasonal Workshops require absolutely no prior experience, as their experienced florists will guide you every step of the way. The class usually lasts 2 hours and by the end you will have created an arrangement as unique as it is beautiful. They also offer bespoke party classes with added prosecco – what's not to love?
---
10. Workshop in a Box at Home at Jacqui O
Location: Cheshire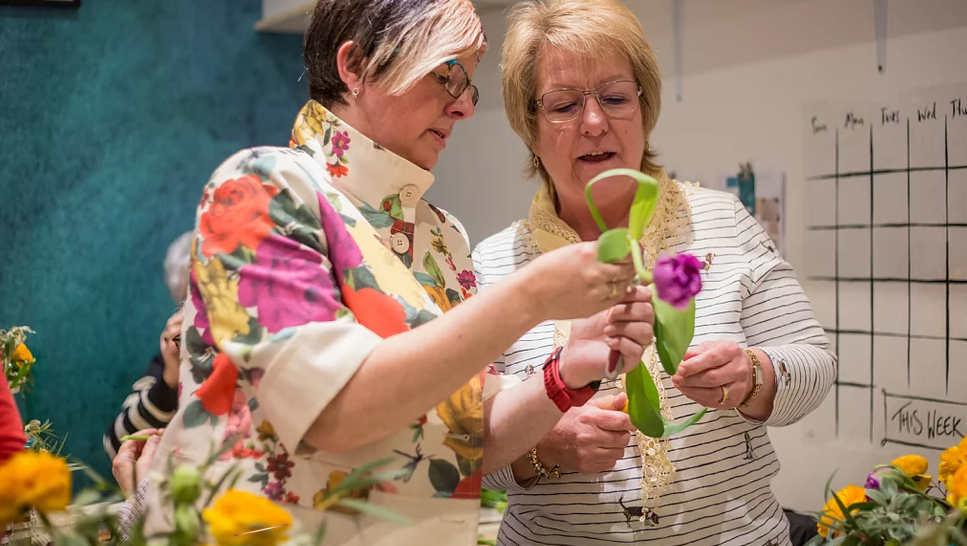 With a reputation for sumptuous florals, breathtaking designs and memorable experiences, Jacqui O is a luxury floral brand with beautiful flowers at its heart.
In the Workshop in a Box you can order all the ingredients (all handpicked by Jacqui O) and will be shown, step by step, how to create a magical arrangement!
Under the professional guidance of Jacqui, you can boost your mood, learn some techniques, and feel the therapeutic benefits of flower arranging from the comfort of your own home!
---
Need more advice?
Thanks for checking out our Top 10 Best Floristry Classes in Manchester! We've ensured there's a pretty diverse selection of classes so one of them is bound to tickle your fancy.
If floral arrangement has been something you've always admired, but also something you may have struggled with, these classes will give you the confidence you need to rustle up that wreath, beautify that bouquet and unfurl that potential!
So why not give one a try today? If the feedback of many of the above courses is something to go by, you're guaranteed to have a happy and memorable experience!
Take a read of some of our other amazing guides and best round ups below. We're sure you'll find something useful, oh - and don't forget to share the love.