Whether you're looking for the best online teaching tools to get your courses, classes and workshops up and running or you want to explore new software and platforms, all teachers can benefit from using online teaching tools. Distance learning and virtual online classes are becoming increasingly popular, as students are free to work at their own pace in the comfort of their own home or any location that inspires them.
‌Now more than ever, technology plays a core role in education. There are many interactive online teaching tools and visual teaching materials that aim to help teachers communicate and students learn. Here is what we believe to be the top 10 best online teaching tools out there at the moment.

‌The top 10 best tools for teaching are:‌‌‌
Obby
baluu
Zoom
Visme
Edmodo
Twinkl
Google Classroom
Socrative
Teachable
Thinglink‌‌
1. Obby - An All In One Teaching Platform
Obby believes in making learning an incredible, fun and informative experience for both students and teachers! Their all in one teaching platform gives teachers the tools to share their knowledge with students efficiently. Not only does Obby's teaching platform help teachers run their classes, Obby's booking system also helps teachers manage, schedule and organise their classes!
With Obby, teachers can save valuable time! Let Obby take care of the admin, so you can spend less time organising and more time teaching.
Obby is a teaching platform with many tips, tricks and tools for teachers to discover. Here are some of the online teaching tools this teaching platform offers,
‌Obby has a free customisable widget. Teachers can integrate this with their own website or social media to take bookings from anywhere.
Teachers classes will be listed on Obby's immense Marketplace. Their Marketplace has helped more than 50,000 students find the best class for them!
Their virtual classroom allows teachers to organise and run live online classes or pre-recorded courses.
When using Obby's virtual classroom, teachers can integrate with other platforms such as Zoom to host their online classes.  
Taking bookings and payments, scheduling class timetables and bookings, sending reminder and follow-up emails, integration with calendars and other platforms is all possible when using Obby!
Within their virtual classroom, teachers can create a seamless online learning experience for students. For live online classes, students will join the class through the virtual classroom. The 'Join Class' button will be available for students to click just before the class begins.
If students have purchased a pre-recorded class, then the class content will be available as soon as the student has completed their payment.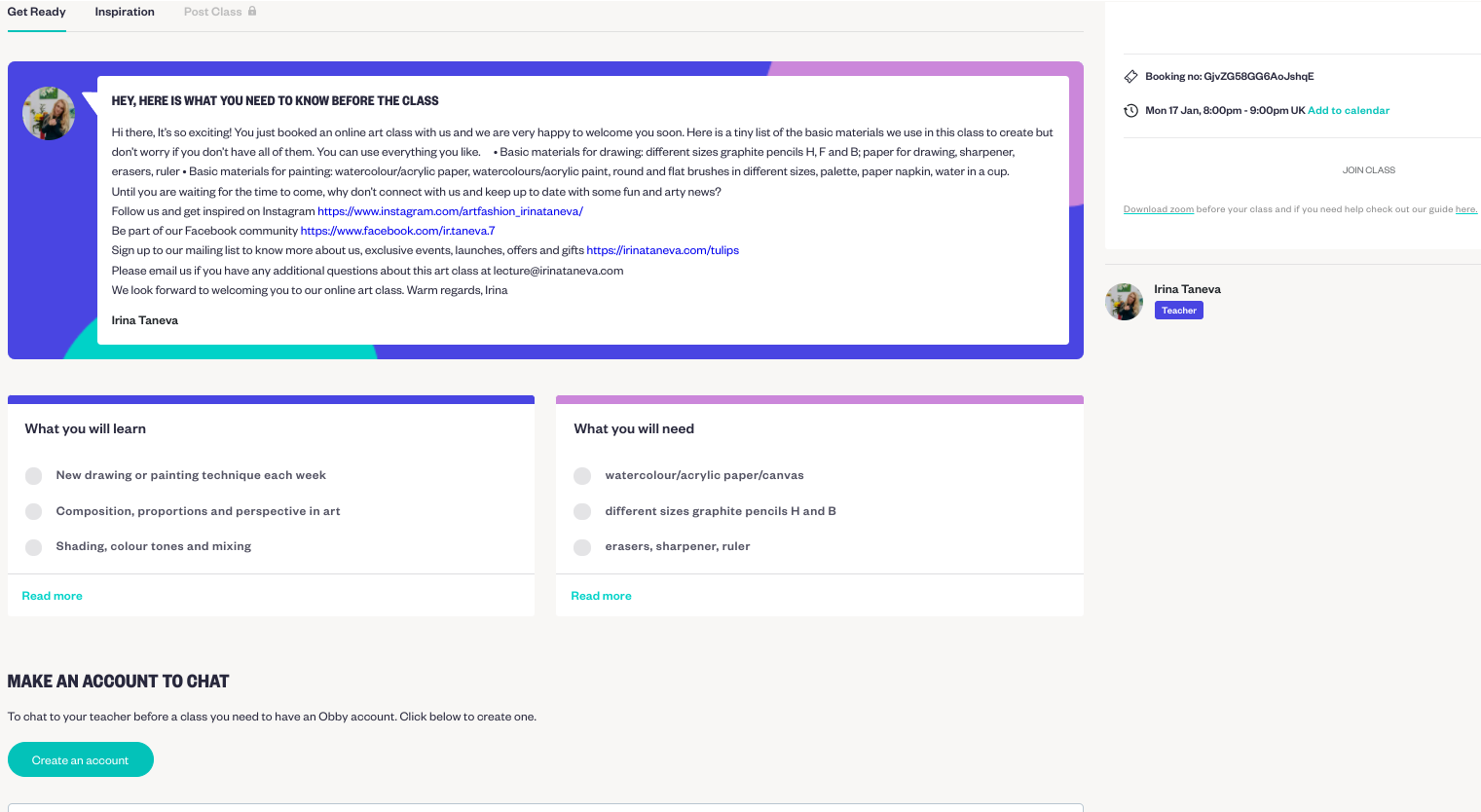 Teachers can share a message before the class takes place, welcoming the student and giving them tips on how to prepare for the class. Students can also view a breakdown of what they will learn in the class and what they will need to bring along to the class.
Once students have made an account, there is also an opportunity for teachers and students to send messages to each other using the chat feature at the bottom of the page.

Under the 'Inspiration' tab, teachers can embed videos or other content that may get students, you guessed it, inspired before the class!
After the class, the 'Post Class' tab will become available for students to access. Within this tab, teachers can prompt students to leave a review and book another class. On this page, teachers can also support students follow-on learning as students can still access the chat feature and ask teachers any questions they have after the class.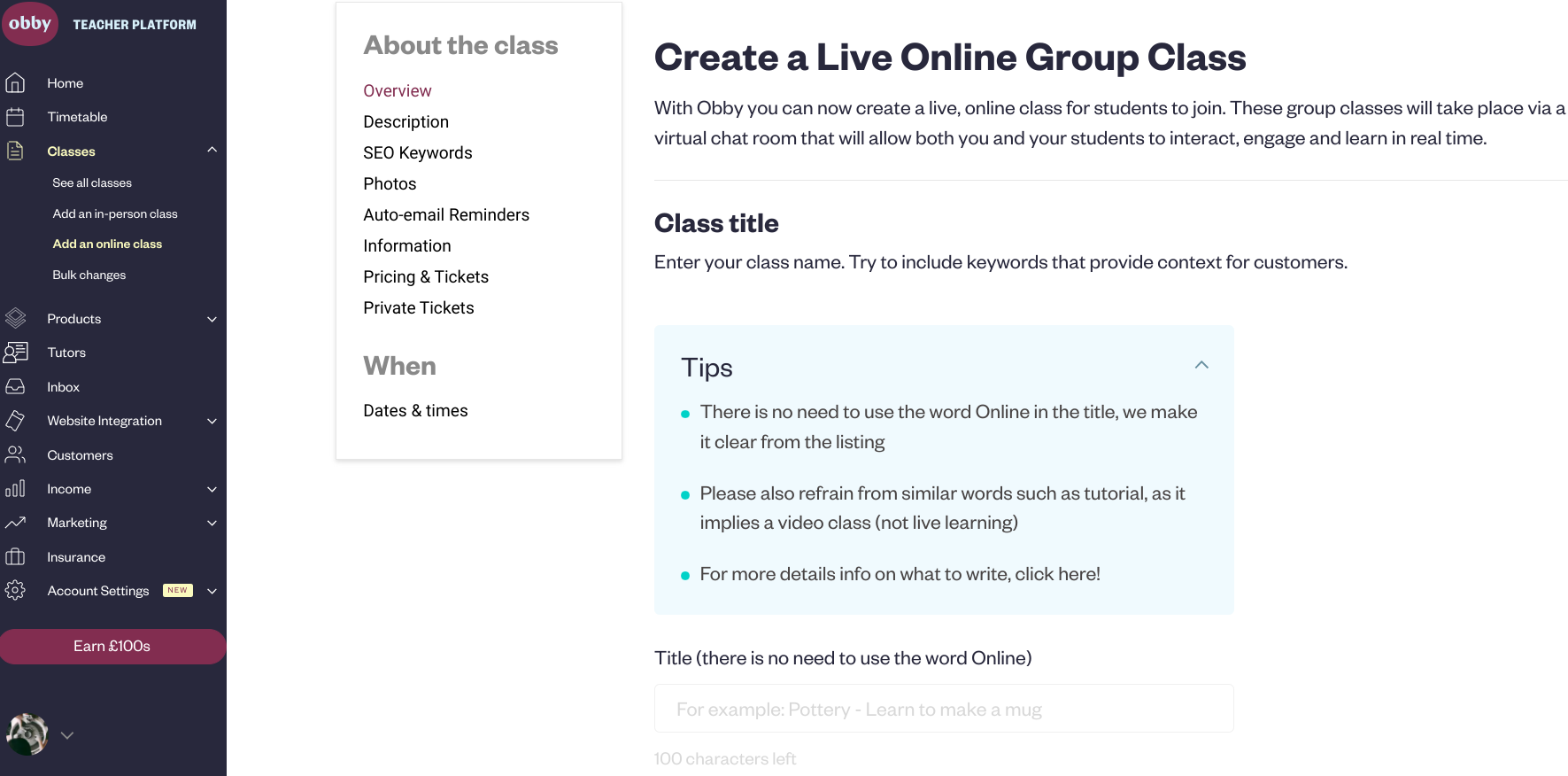 One key online teaching tool Obby offers is their dashboard. No experience with tech? No worries! Navigating Obby's dashboard and online teaching tools is very simple and straightforward.
Obby's dashboard is where the magic happens! Teachers can manage every aspect of teaching online.
From scheduling your timetable, listing new classes and products, managing tutors and building your own branded website to organising students and marketing strategies, Obby really does have all of the online teaching tools a teacher could need!
Why is Obby the Best Online Teaching Tool?
Obby has created an all in one teaching platform and booking software with the aim of engaging students and empowering teachers.
As well as online teaching tools, designed to help teachers run online classes in a way that suits them, Obby also helps teachers take bookings and organise their schedule. This means, not only are online classes stimulating, every other aspect of teaching online is seamless.
From creating and running classes to scheduling and branding, this online teaching tool is with you every step of the way!
---
2. baluu
baluu is a simple, sophisticated and powerful online teaching tool! Many teaching businesses already using baluu have grown their business, boosted their sales and delivered interactive online classes.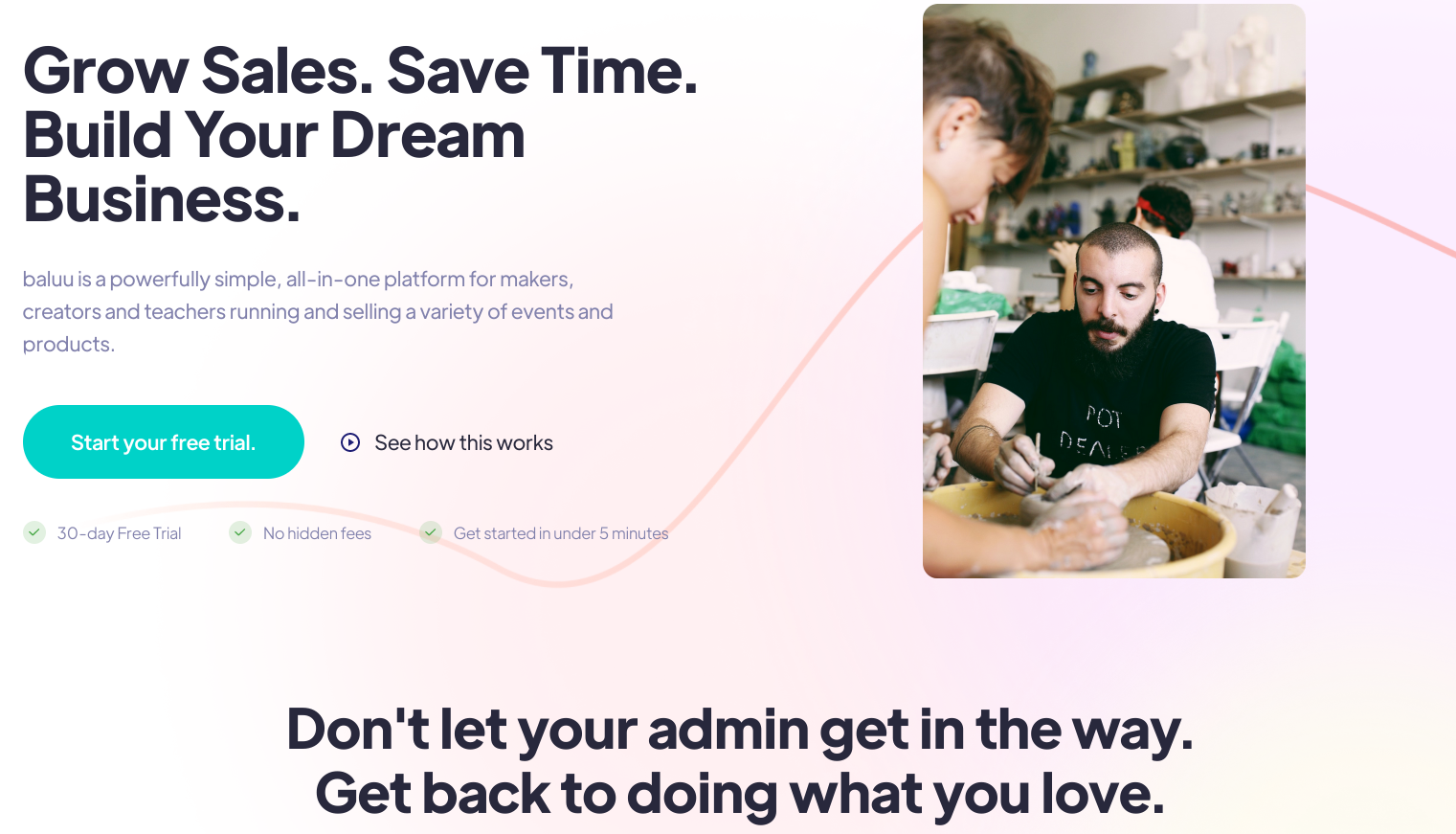 baluu supports teachers with online classes, in-person workshops and hybrid courses. As well as making online teaching an enjoyable process, baluu also helps teachers organise their business and create bookings for events and experiences as well as classes!
Teachers can integrate with a range of different platforms that may help how they teach online such as Zoom.
Students and customers are taken through an effortless booking system, as teachers can integrate the booking software baluu has to offer into their website.
Managing schedules, timetables, instructors and students is made simple using baluu.
baluu has a virtual events room where teachers can run classes or host online events. This means teachers aren't limited to traditional teaching styles and can use baluu to run events and experiences too.
Several teachers from the same teaching business can use this online teaching tool, which makes collaborative teamwork between instructors straightforward.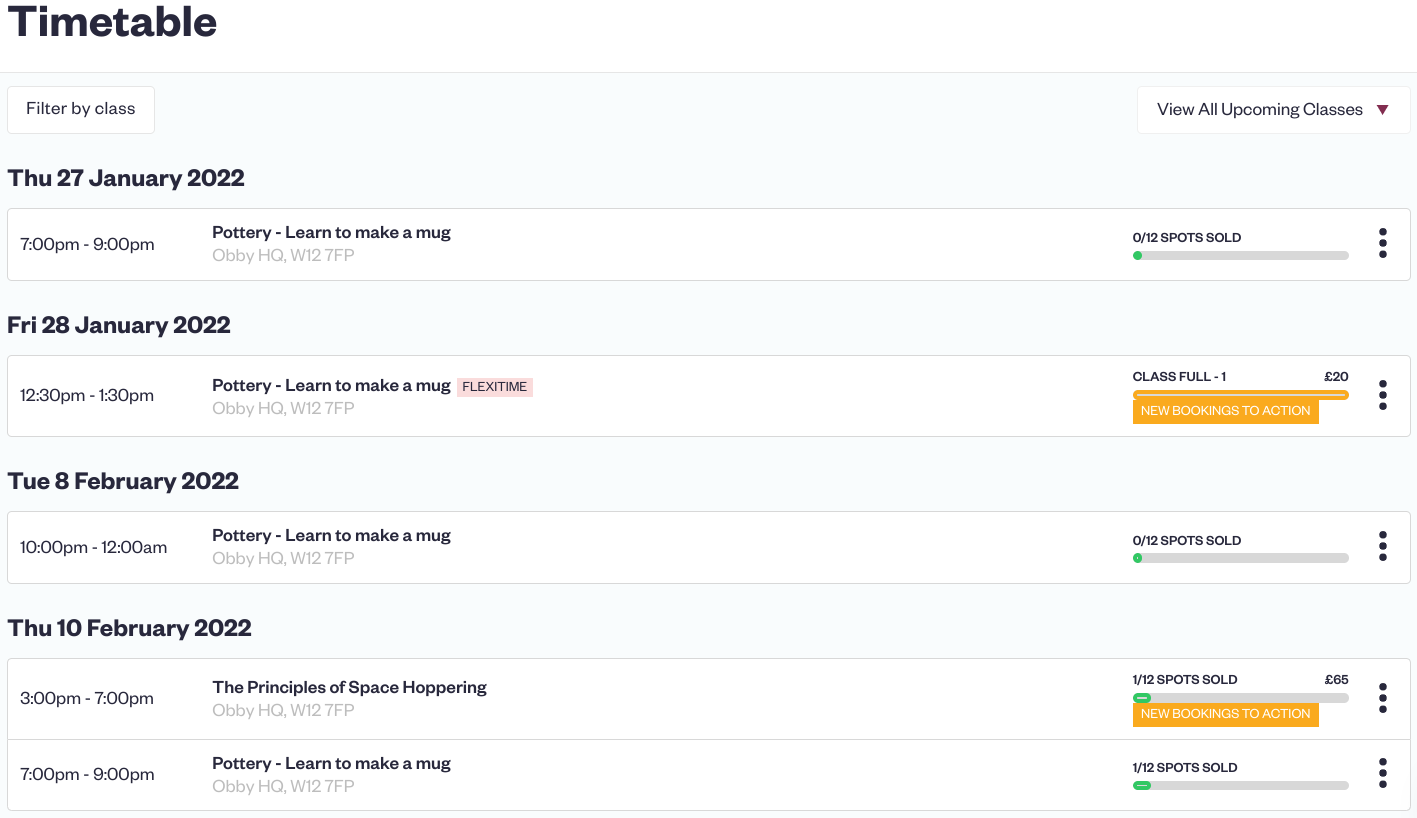 As well as providing teachers with an exceptional online teaching tool, baluu can also help teachers with other aspects of their teaching business. From organising timetables and bookings to running events and experiences, teachers can take care of every element of their business with baluu.  
---
3. Zoom - Video Calls/Conferencing & Teaching Tools
Since the pandemic, Zoom is probably no stranger to you! Many people used Zoom during lockdown to have face to face calls with loved ones and to attend virtual work meetings. What you may not have known is that Zoom can also be a great online teaching tool.
Zoom is a popular online teaching tool for teachers that host live online classes. Although you are probably already familiar with this online teaching tool, we have outlined the main features Zoom boasts,
This teaching platform allows for multiple attendees and has straight forward screen sharing, so teachers can share information with the whole class.
Breakout rooms are great for promoting constructive discussions within online classes. This online teaching tool encourages interaction between students as well as between the teacher and students.
Zoom's digital whiteboard tool allows teachers and students to annotate the digital whiteboard. This means all students can contribute, add educational insights and feedback.
Although this platform is designed with live online classes in mind, the session recording and transcription feature means teachers can uses this online teaching tool to create pre-recorded class content.
On top of that, Zoom can seamlessly integrate with a learning management system.
Their app also means teachers and students can join or host the class anywhere and everywhere!
Although the audio quality on the mobile Zoom app for iOS could be improved, on the whole, Zoom is a great online teaching tool for teachers hosting online classes.
Teachers can benefit from using this online teaching tool in many ways. Not only is Zoom easy to use, many students and teachers are already aware of how to make the most of this platform!
---
4. Visme - For Presentations & Infographics
Visme is a design tool that is great for teaching online. Teachers can create amazing looking content for teachers they collaborative with as well as their students in online classes.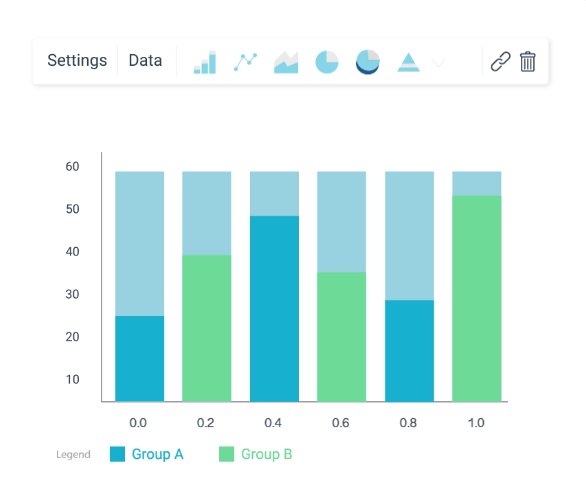 Visme helps teachers create visual teaching materials with ease. However, Visme has many other online teaching tools which make interacting and sharing content online a breeze!
What's most impressive about this teaching tool is the built-in analytics feature which measures your content's performance (usually you need to pay an analytics service for this).
Visme's preliminary design helps users to be able to easily create presentations, infographics, concept maps, schedules, reports and more.
For those who have a formal and traditional teaching style, Visme has a syllabus and lesson planning tool.
Visme also has the ability to sync with MailChimp allowing you to collect email addresses from users who view your content.
Students can enjoy a personalised learning experience as teachers can create customised report cards.
It's not all bells and whistles though, the huge downside to this platform is that you are only able to create 3 projects free of charge before you need to upgrade and pay for a monthly subscription.
However, Visme is a valuable online teaching tool for teachers who share technical knowledge and run formal educational classes. Their report cards and lesson planning tools make teaching in a traditional teaching style easy with Visme.
---
5. Edmodo - Create A Social Network For Your Students
This is a fantastic educational tool connecting teachers to their students online in a similar way to a social network.
Edmodo's online teaching tools make it possible for teachers to create online collaborative groups, provide educational materials and measure individuals performance.
This, along with other functions has led to huge popularity, as Edmodo has 34 million users!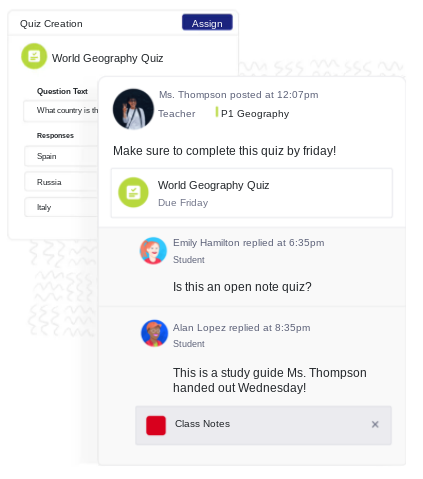 What makes Edmodo stand out, is its ability to enhance online communication between students and their teacher. The layout of their platform is similar to popular social media platforms, making it very easy to use for students. This online teaching tool has other helpful features,
Students can make posts which the teacher as well as other students can comment on. This makes learning online interactive and fun!
With this online teaching tool, students can see an overview of their class topic and schedule.
Edmodo has a wealth of resources for teachers to get inspiration from when planning their classes. They have a large and friendly community where teachers can share their advice and encouragement.
Teachers can set assignments for students to complete which makes tracking their progress very easy!
Although loved by most users, there are a few issues with bugs and glitches. Students are also able to chat to each other during a session which can be distracting, especially for younger students. Despite this, Edmodo is a popular choice for school teachers to communicate with students and set homework assignments.
---
6. Twinkl - For Lesson Plans, Work Schemes, Assessment, Interactive Activities & More.
Twinkle is the ultimate teaching tool for saving you valuable admin time! Experts from around the world create and upload lesson plans and teaching activities, making them available for you to download and use in your own classes. This is a huge time and headache saver!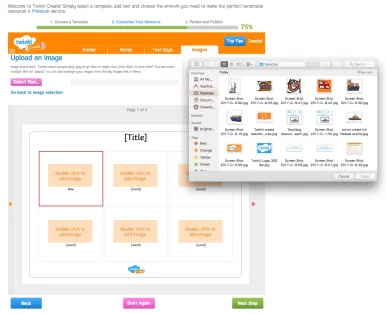 This online teaching tool has a huge amount of amazing resources for teachers. Their main goal is to help teachers organise and share their content in a clear and beneficial way to students. Here are some of the ways Twinkl helps teachers reach this goal!
This online teaching tool provides class outlines and structures for teachers to follow. This means teachers can organise their content in a clear and exciting format.
Twinkl provides key content for teaching primary school children and secondary school children.
This online teaching tool also has resources to teach parents how to help their children get the most out of learning.
Twinkl would probably benefit tutors who teach children classic school subjects. It does come with a monthly subscription fee, but you can try it for free, so it's a no brainer, go and check it out yourself to see if it can help you!
---
7. Google Classroom - For Free Teaching Tools
Google Classroom is an easy and free virtual classroom helping teachers manage and assess progress of their students. This teaching platform is well suited to live online educational classes.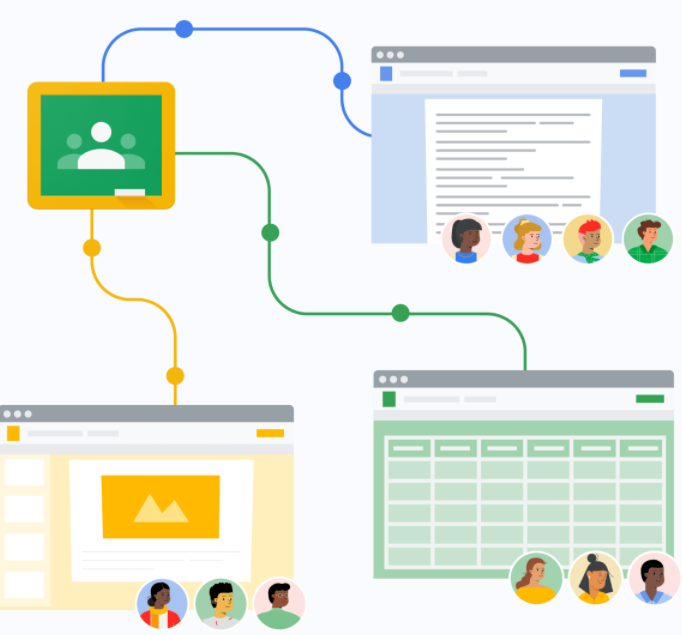 There are a number of pros to using this classroom; accessible from all devices, effective sharing, user friendly and a wonderful commenting system. There are also plenty of other useful tools & features for teachers,
Teachers can check, mark and grade students work using this online teaching tool.
Use a mixture of different media to teach! Google Classroom allows teachers to include YouTube videos and much more.
Students can submit assignments when using this online teaching tool.
Discussions and specific feedback can be given during classes from both the teacher and the students.
There also happen to be a few frustrations amongst users; there is a lack of both automation for notifications and integrations (such as Google Calendar). The software is totally free of charge to use, so it's certainly worth trying out, especially for tutors or school teachers.
---
8. Socrative - For Gamifying Your Classes & Providing Instant Feedback
Socrative allows teachers to create games and exercises to be used during a live lesson. Students can solve these via their personal devices while the teacher views the activity and results.
Teachers can also provide instant feedback to students within the app, making this a truly novel approach to running a class, allowing for fast and efficient learning.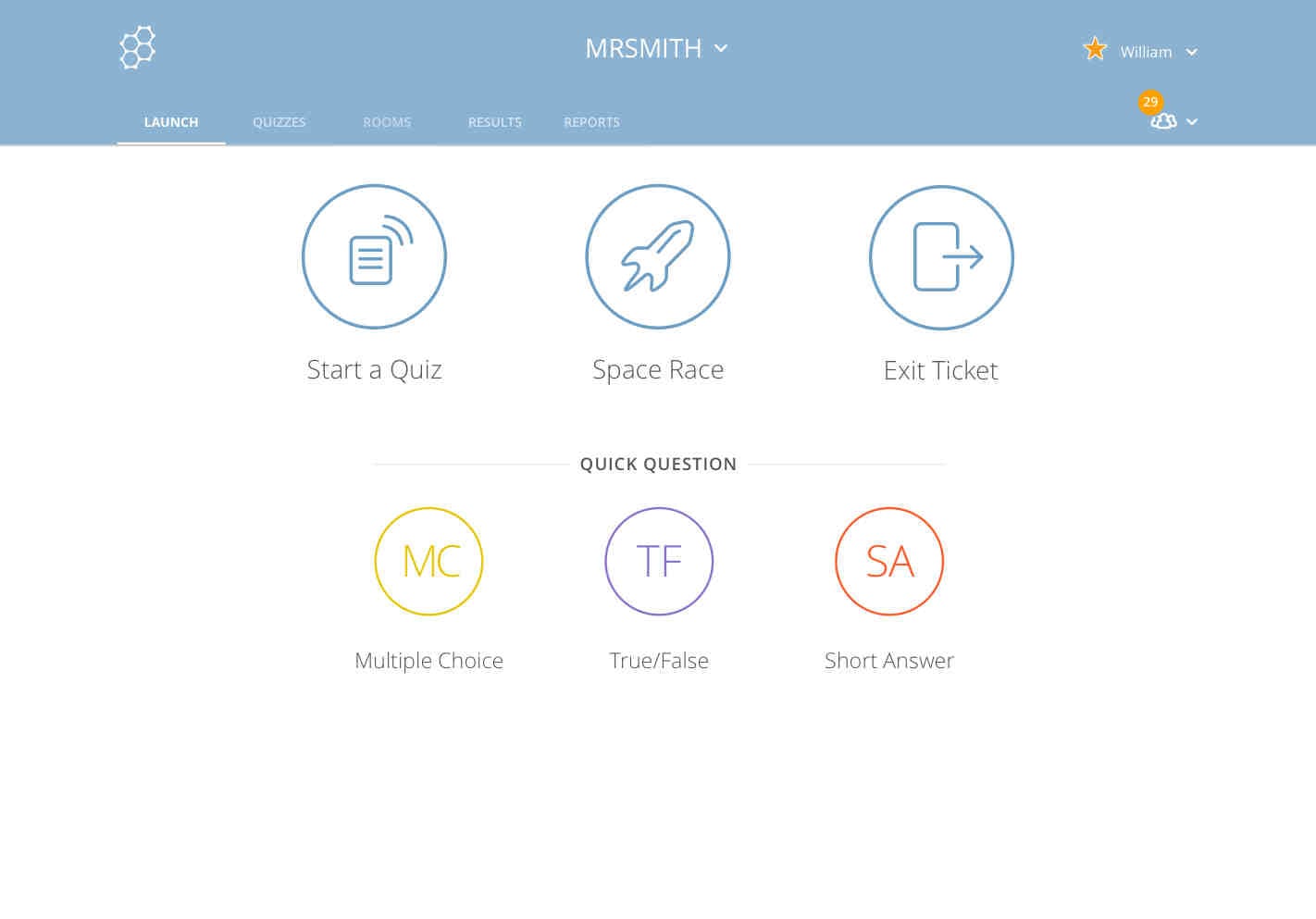 Engaging children and younger students can sometimes be tricky! However, Socrative makes it easy! This online teaching tool has many features that will keep students focused.
Teachers can create fun yet educational quizzes for students to complete. This helps teachers understand how their students are progressing.
Use other tools to assess students, such as polls, true or false questions and more.
Socrative allows teachers to see who is logged in and using their virtual classroom. Each classroom has a maximum of 50 students.
As well as following the format of quizzes on Socrative, teachers can also make their own personalised quizzes and activities.
Although a fun tool for students, it does take a lot of time to analyse an individual students data. It's also maybe better for more learning intensive classes rather than hobby based workshops, again making this online teaching tool beneficial for tutors and traditional teachers.
---
9. Teachable - For Selling Your Pre-Recorded Courses Online
Teachable is an all in one, online platform for pre-recorded course content and more. It's used by educators to easily create an online course or coaching business.
It provides an excellent way to monetise your teaching content long into the future. Record your course once and watch the class bookings roll in.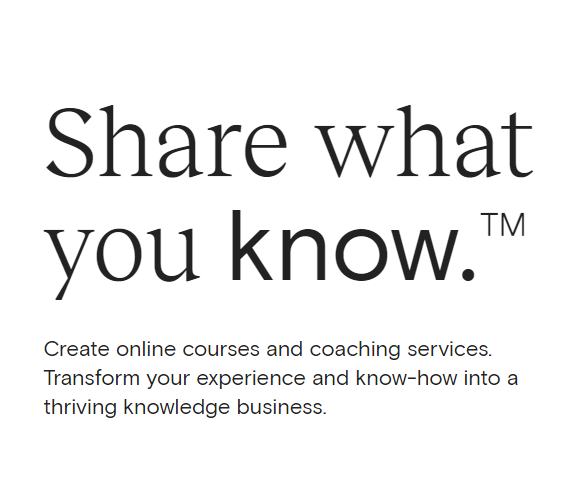 Teachable are determined to give teachers the tools they need to make exceptional online classes. Here are some of the features this online teaching tool has for teachers,
Users have access to customisation tools to curate and personalise content to create unique classes. This stress-free platform makes it easy—tech skills or no tech skills.
Teachers can include a range of teaching materials and resources in their online classes such as videos and lectures.
This online teaching tool is compatible for integration with different platforms that teachers may already use.
Teachers can host live one-to-one workshops to give specific feedback to a student.
The downside to Teachable is that they struggle with caching which provides a somewhat imperfect user experience. Although, as Teachable has a range of features which benefit students learning in pre-recorded classes, this teaching platform is a good fit for teachers who use this teaching format.
---
10. ThingLink‌‌ - Teach Through Interactive Visualisations
This is a teaching tool designed so educators can create and share interesting visuals and interactive images. Create a 3D or 2D course board with clickable points so that students can learn in their own time and in a fun and interactive way.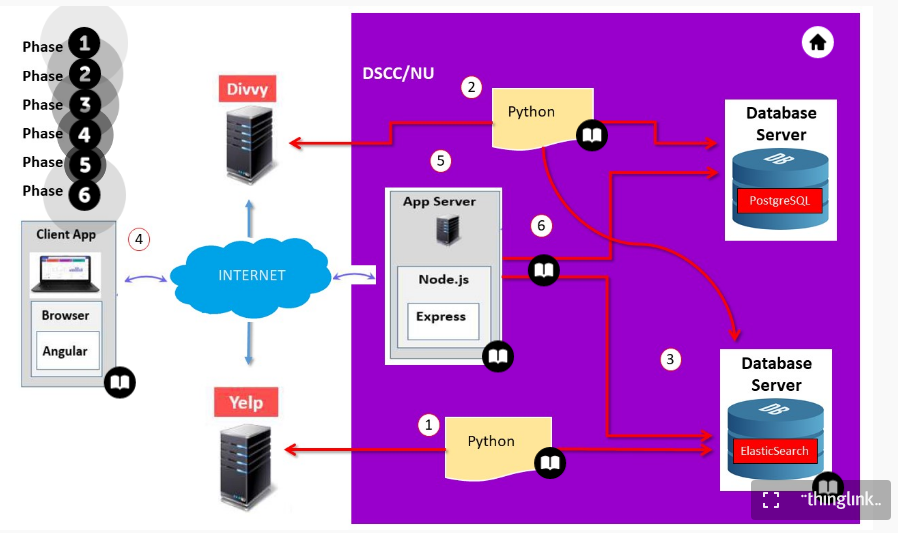 Like Obby, ThingLink is always trying to find new ways to make teaching a rewarding and exciting experience for teachers and students. Below are some of the many features this online teaching tool has for teachers sharing knowledge online,
Both students and teachers can add audio, videos and photos to an image easily.
ThingLink has both a website and an app, however an image can not be edited in iOS mode.
Again, like Obby, this online teaching tool has a useful dashboard for teachers to manage their students and schedule.
This online teaching tool can also integrate with other platforms such as Microsoft Office 365.
Although this online teaching tool offers many different features for online learning, ThingLink isn't for those who aren't very tech savvy. However, if you feel confident in your tech abilities, then ThingLink could be the ideal online teaching tool for you!
Need more teaching advice?
With the growing popularity of virtual workshops and online courses, many teachers are planning and delivering pre-recorded and live online classes. However, for teachers that are used to teaching in-person, looking for the best online teaching tools and platforms may be quite bewildering. Obby provides an efficient and effective booking system and teaching platform that can help teachers with both online and in-person classes. As an all-in-one teaching platform, Obby has many impressive features that help make online classes interactive for distance learners. If you want to create online classes that are fun, informative and interactive then Obby has the best online teaching tools for you.
Take a read of some of our other amazing guides and top 10 round ups below. We're sure you'll find something useful, oh - and don't forget to share the love. ‌
‌Obby out.