Constant, uninterrupted work can put a strain on your team, negatively impacting job satisfaction and limiting productivity. This is where team-building events can be immensely helpful.
By providing a social environment other than the workplace, they allow your employees to let their hair down and enjoy themselves. What's more, team-building events aid in strengthening bonds and foster better communication and collaboration.
London is brimming with fun and exciting things to do. To help you create a happier workspace, we compiled 6 exciting team-building events currently running in the famous city. Each one offers a unique spin that's sure to make a merry team that meshes!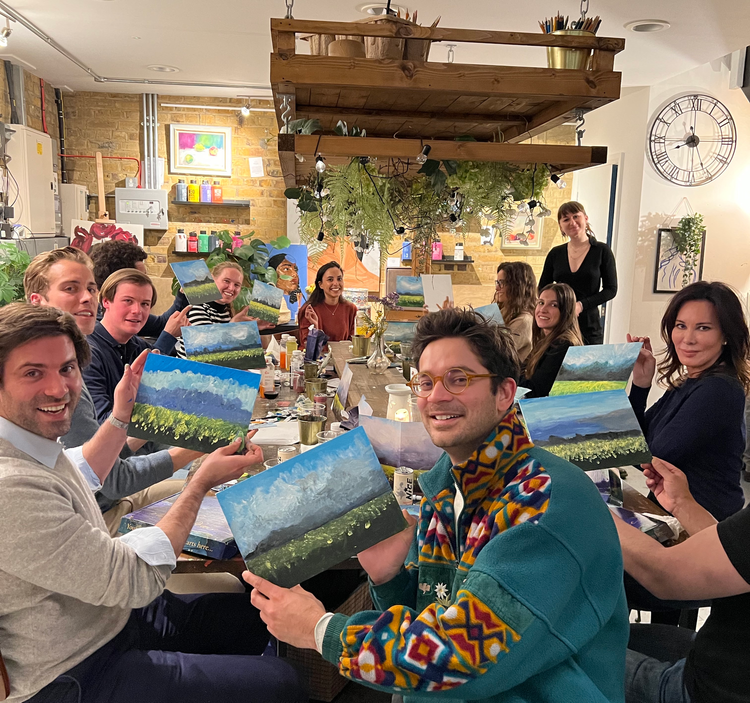 What makes a good team-building event?
Ultimately, deciding on the best team-building event for your workforce depends on your goals. However, there are a few rules that are applicable to most, if not all team-building events.
Firstly, it should be something that everyone can get involved in, regardless of their skill level.
Secondly, it should promote teamwork and cooperation.
Thirdly, the event should be well-planned and organised so that it runs smoothly and each participant knows what they are supposed to do.
Finally, the event you choose should be tailored to the specific needs of your team. For example, if they're struggling with communication, then an activity that encourages this aspect would be preferable.
How to organise a team-building event
Planning a team-building event can often feel a bit like herding cats. But the tips below can help you ensure everything goes off without a hitch:
Choose an activity that everyone will enjoy. It doesn't matter if it's something active like laser tag or something more low-key like trivia night. Just make sure the event is beginner-friendly all members will be able to participate and have a good time.
If possible, choose an event that enables everyone to take a memento or keepsake home with them. This will give your teams something tangible to remind them of their experience.
Have plenty of snacks and drinks on hand. Teams work better when they're well-fed and hydrated, so make sure there's plenty of food and beverages for everyone.
Take a lot of photos! Team building events are always more fun when there's evidence to look back on afterwards. So make sure you have your camera ready to capture the moment.
Now, without further ado, let's take a look at some fun team-building exercises in London! All these events can take place at a venue of your choosing: an Obby Concierge Venue, your home, offices, or other suitable location.
Obby's 6 Fun Team Building Event Ideas are:
Price: from £63pp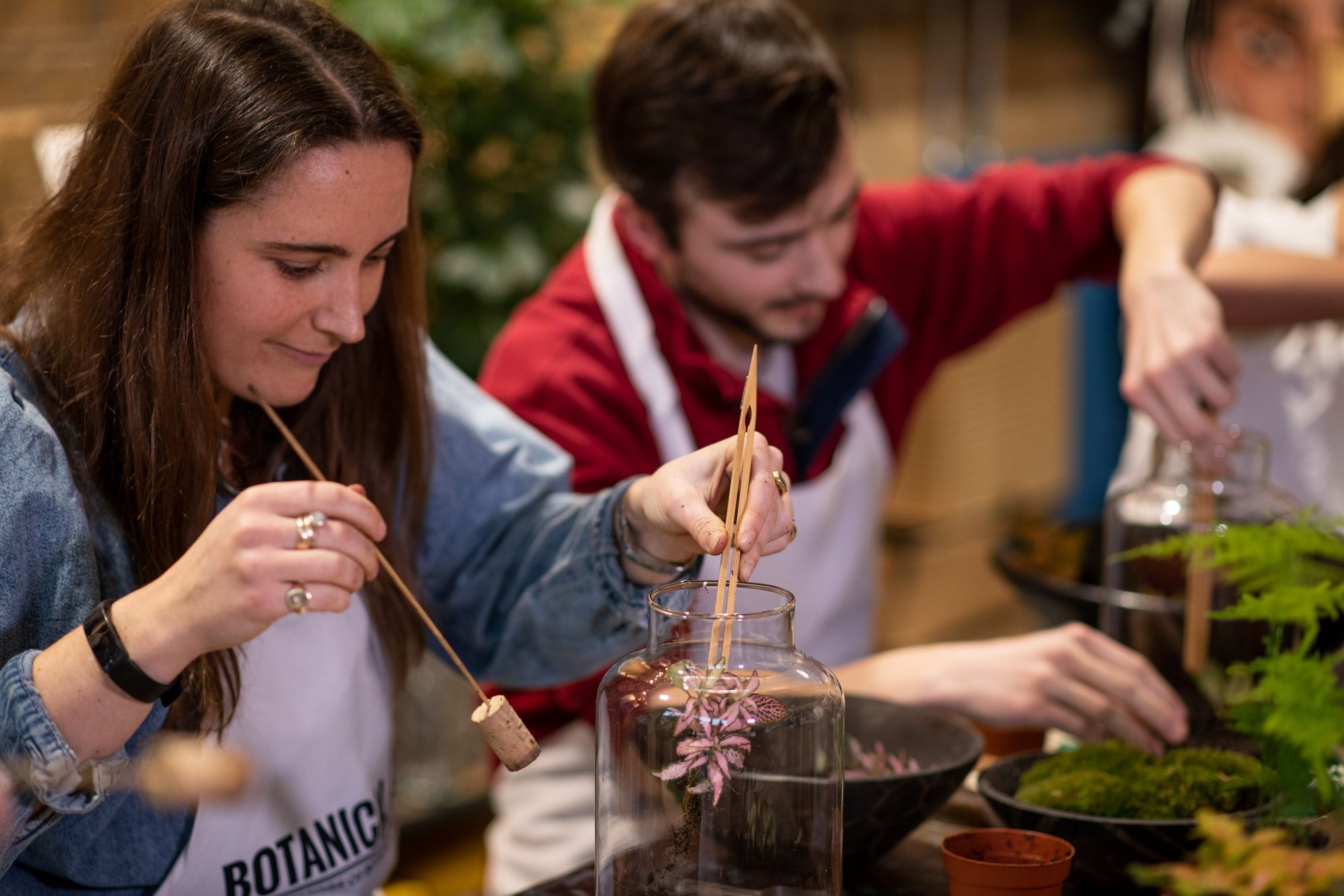 Let's kick things off with a green-fingered extravaganza sure to get your team enjoying themselves. The Terrarium Masterclass is the perfect way to engender a friendly atmosphere of creativity.  It allows your employees to get their fingers in the soil and experience the mindfulness of working with plants, making for a refreshing break from the office.

Terrariums are mini-ecosystems, usually in a sealable container, that is incredibly easy to look after. This makes them a perfect gift for the normally plant-averse. In this class, you and your team will discover the fascinating history of terrariums, then, you'll be guided step-by-step to creating your own unique miniature garden! All the plants and materials are included, along with valuable advice about how to tend to your creation.

You can even choose where to host the event: an Obby Concierge venue, home, or office. You can even schedule a virtual event where all the requisite materials will be delivered to your home prior to the class. All in all, we think the Terrarium Materclass is a great choice for business managers looking to surprise their team with something little different.
Book now on Obby
Price: from £55pp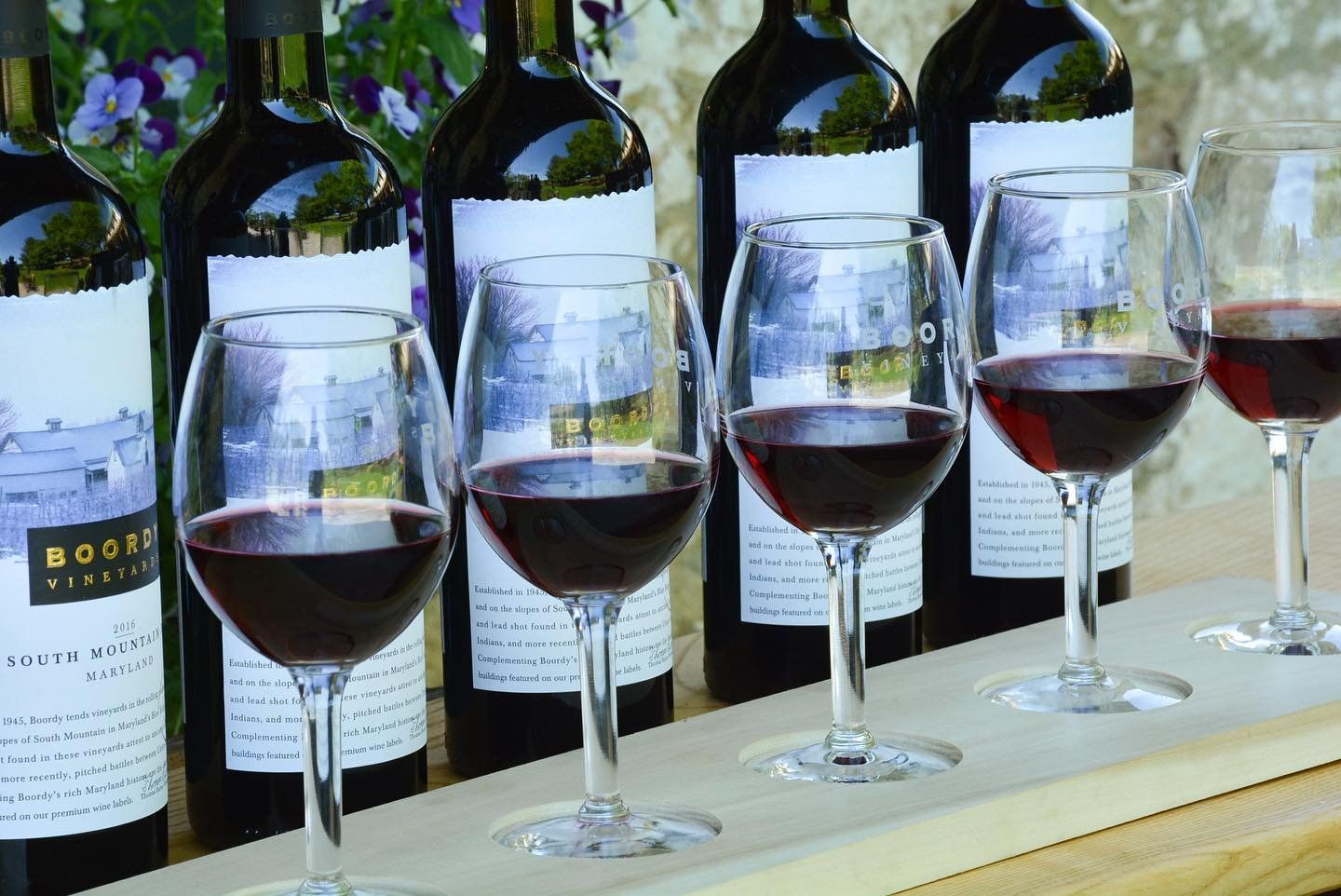 There's no better way to get your team to relax and enjoy themselves than by letting them share a bottle of wine. But not just any old wine! The Wine Tasting event will turn your staff into sophisticated sommeliers, as they sample six vintages from around the world.
Though alcohol is obviously involved, this is less about carousing, and more a chance for your team to focus their senses, refine their palates, and use their brains.  
Along with a presentation and fun quizzes, the class will teach your team the art of this time-honoured practice, as well as how to identify specific notes and flavours.
We believe this is a great team-building exercise to help your team members feel more connected to each other, and improve their confidence.
Book now on Obby
Price: from £34pp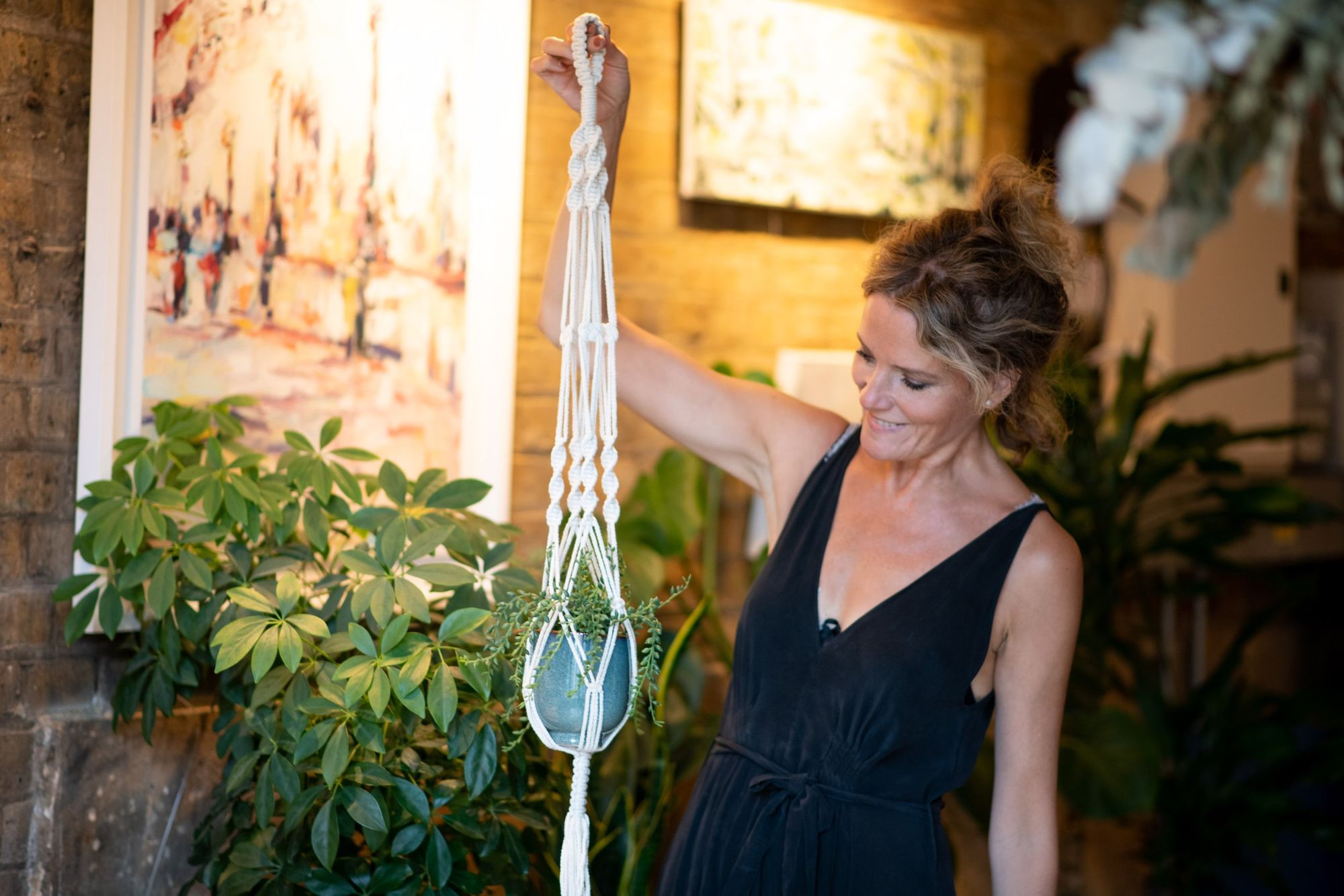 A change of pace now, as we take a look at the calming Macramé Workshop. Macramé is a form of textile produced using knotting techniques, the main knots being the square and forms of "hitching" (various combinations of half hitches).
The practice encourages you to keep your hands working, while your mind is still, making this workshop a great way to promote mindfulness within your team.
Each member will have the chance to make an elegant Macramé plant-pot holder they can take home with them. They'll learn a beginners guide to 3 different knot techniques, be able to incorporate different beads, and receive friendly instruction each step of the way.
Work can often be stressful—sending emails, meeting deadlines, placating clients— and the Macramé Workshop could be just the ticket for an overworked workforce. So why not let your team give their minds a break, and let their hands to the talking?
Book now on Obby
Price: From £42pp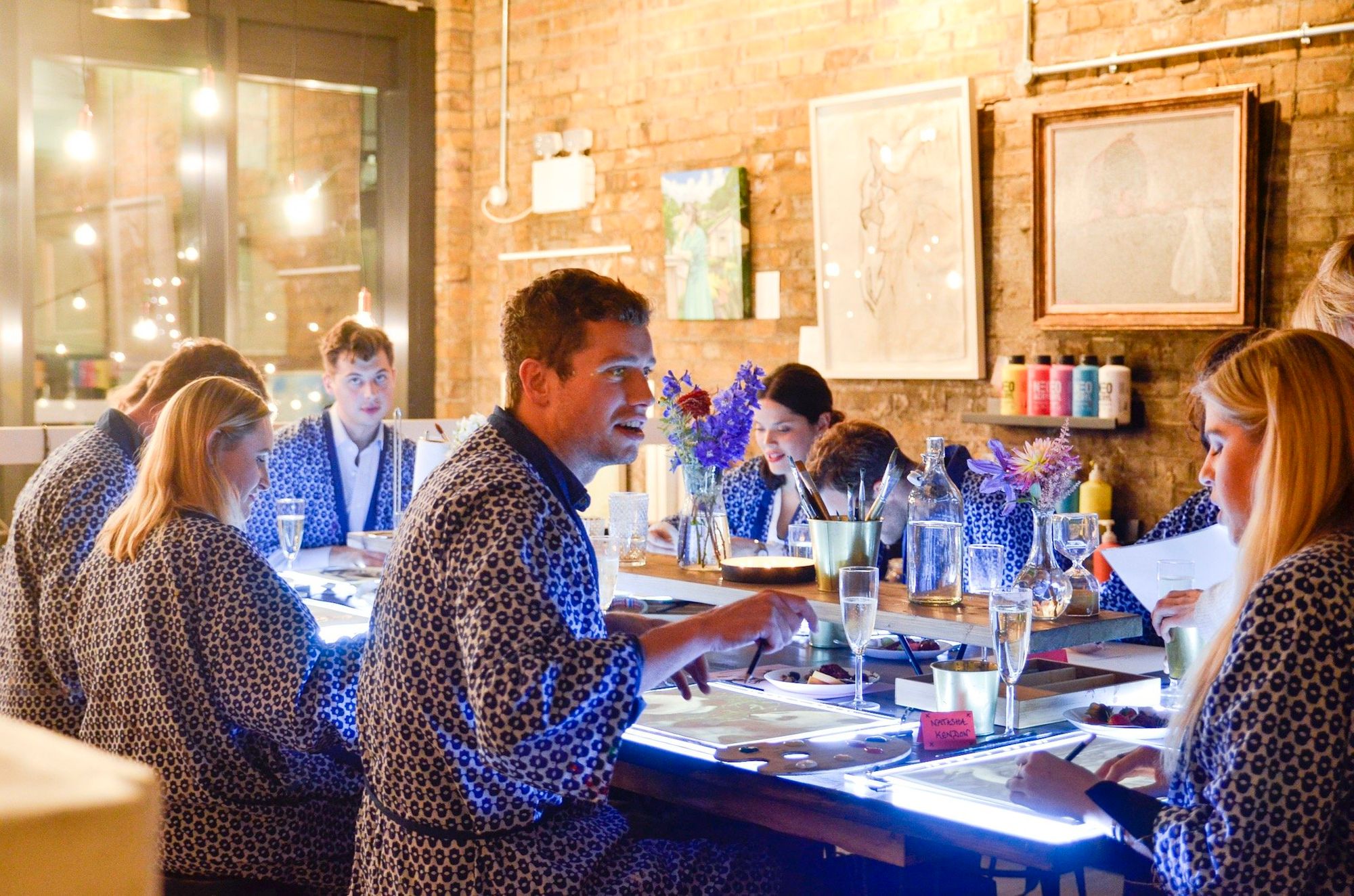 We believe, no matter what some may think, everyone has the making of an artist within them. The Beginner Painting Experience can enable your team to let their creative juices flow with zero pressure.
Under the step-by-step guidance of a professional artist, your team can create their own unique acrylic piece. Each member can choose from a selection of beginner-friendly, seasonal designs, or even suggest their own photography to work with,
Paint a beautiful acrylic piece with the step-by-step guidance of a professional artist. Choose from a collection of beginner friendly and seasonal designs or suggest your own photography or brand imagery to work with.
First, they'll begin with some warm-up drawing games to get them in the right zone, then a 90-minute guided painting experience. All materials are provided, along with complimentary sweet treats and alcoholic or non-alcoholic drink.
This event is a great way to get your team to tap into their creative potential, potentially leading to inspired ideas in the boardroom!
Shop now on Obby
Price: from £46pp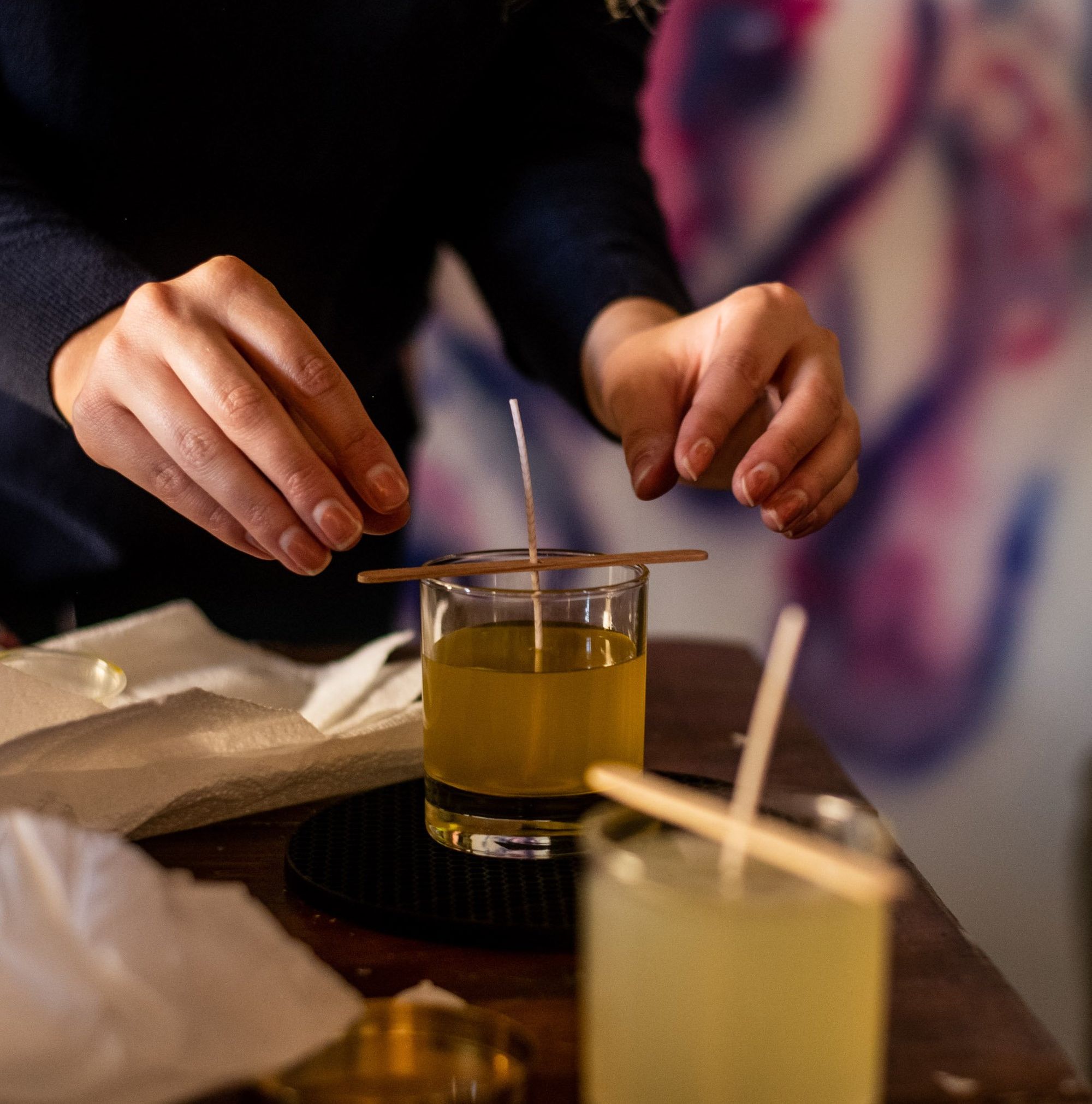 Aimed at beginners to the craft, the Candle Making Experience will teach each member of your team how to make their own vegan, essential-oil based candle. A wonderfully soothing learning experience, we believe this the perfect event for a team in need of some R & R.
My mother was an aromatherapist, so from an early age I became accustomed to the powerful fragrances permeating our home. Certain scents can have powerful, healing effects on body on mind, and this event will allow your team to fully explore this aspect of candle making.
They'll discover the top, heart, and base notes of a slew of seasonal fragrances they can choose from. Then learn about the all-important techniques, like the right temperature to warm and blend wax, how to set the wick, and pour the 200ml candle.
Each candle will be completely personalised in terms of look and flavour, and can be taken home to experience.  It's sure to be a mindful, memorable experience!
Book now on Obby
Price: from £25pp
Life drawing stretches back centuries, with many great artists cutting their teeth on the practice. Now, your team members have the chance to let go of their inhibitions, and go with their creative flow.
The event is hosted by a talented artist, and well-suited to novices who falsely assume they haven't got the talent for it.
Poppycock we say!
While the model adopts a variety of different poses, your team will be guided through the primary techniques of life drawing. Perhaps more than any other event on this list, this art really allows individuals to dig deep into their creativity, and discover their own unique style.
Despite this emphasis on the individual, this event is still a great team-building exercise, as it can improve each member's willingness to support the other's creative endeavours, and help to relieve impediments to their potential.
Shop now on Obby
Need more advice?
Hopefully, these ideas for team-building events will work wonders for your workforce. Whether its promoting mindfulness, creativity, or helping your team members get to know each other better, we believe you can't go wrong with the above picks. However, if you're still on the search for other options, we have plenty of amazing events to choose from. Whatever you pick, we're sure you'll find the perfect event for your team, oh - and don't forget to share the love.