Whether the holiday season is around the corner or a few months away, it's never too early to start planning your office Christmas party! At Obby Concierge, we're back to doing what we do best—organising bespoke experiences and sharing our most loved Office Christmas party ideas in London 2022.
It's been a long year and the whole office deserves a treat to end December on a festive note. So, what better than a Christmas-themed office party packed with exciting events to get into the holiday spirit?
Instead of holding a Secret Santa as you'd normally do, why not step out of the office and push the boat out? There are plenty of amazing venues in London that are the perfect settings to plan a lively office party (think fun workshops and wine tasting!).
From candle making to getting artsy with wreaths and baubles, there's so much in store for you. We've selected a bundle of gift-wrapped ideas that'll help usher in that Christmas spirit!
How to plan your Office Christmas Party
Organising a merry shindig for you and your team requires careful planning. There are many moving parts to marshal, so it's essential you get your ducks in a row before the big day. Here are some tips to ensure things run smoothly:
Plan early
As we said, it's never to early to start planning, and doing so will ensure there are no annoying surprises come the big day.
Budget
Make sure the event is within your budget, and leave yourself some wiggle room for extras.
Arrange a suitable time
Set a date, or better yet, find several options so your team can choose a time that doesn't clash with personal commitments.
Search for the right venue to book
Ensure the venue isn't too far from you office, and that all employees can get there easily.
Select a suitable activity
Ideally, the event should be beginner friendly so no one gets left out and everyone can enjoy themselves regardless of their experience or skill level.
Keep the food and drink flowing
Ensure there is plenty of snacks & beverages (alcoholic and non-alcoholic) to keep your team satisfied.
How to make an Office Christmas Party fun
The last thing you wan't is to throw an event that's boring. Below are a few tips to get everyone involved and lively!
One way to add some extra twist to your party is to have a themed dress code. Encourage your employees to come dressed as their favourite Christmas character or in festive holiday attire.
Another idea is to set up a photobooth with props so that everyone can snap some fun memories of the party. If that isn't within your budget, simply take a lot of photos to immortalise the event.
Christmas wouldn't be what it was without delicious treats! Make sure everyone's dietary needs are catered for and provide both alcoholic and non-alcoholic options.
Lastly, don't forget the Christmas music! Why not create a playlist of everyone's favourite holiday tunes to get everyone in the festive spirit?
With a little planning and creativity, you're sure to throw an office Christmas party that everyone will be talking about for months to come!
Choose your own venue
Now, before we dice into the Christmas ideas, here's some good news: the top 7 experiences can be organised at any of the Obby Concierge venues (Belgravia or Hammersmith) or if you are a team of 50+, any office or location of your choosing. Alright then, here are the ten epic office party ideas you've been waiting for!
Top 10 Best Office Christmas Party Ideas in London (2022) Are:
Price: from £42pp
Painting is something that people often shy away from for fear that they're not "artistic" enough. Poppycock! We believe everybody has the makings of an brilliant artist. Painting is soothing, meditative, and a fantastic way to express your creativity. Pair it with a cocktail, and you've got yourself a truly colourful party.
And that's exactly why our paint and sip experience is one of our most-loved events! Depending on the number of guests at your party, you can choose from our venues in Belgravia, Hammersmith, or any place you think fit to unwind during a busy Christmas work season.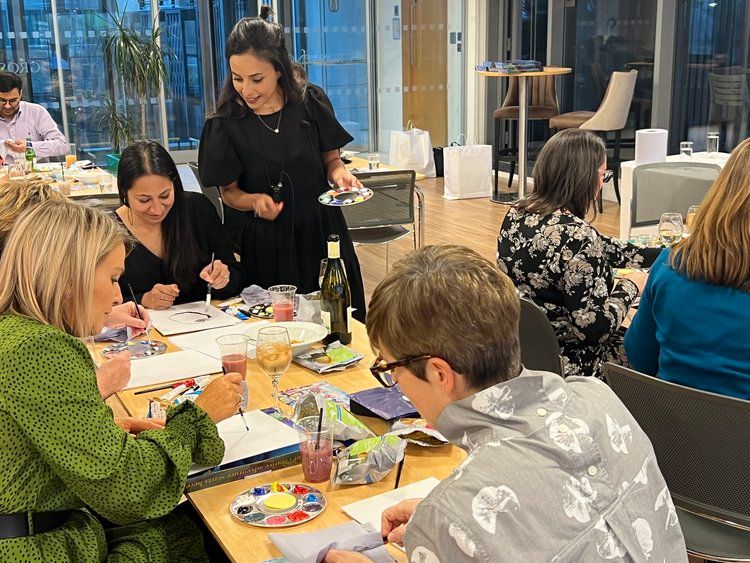 Get creative and do your own thing, or let our professional artist offer step-by-step guidance as you capture the magic of Christmas on your canvas. Along with art supplies and a 90-minute painting session, you'll be served some sweet treats and a lip-smacking cocktail (or mocktail for the teetotalers).
By the end of the session, you'd have a lovely work of art to hang up in your office or home—it can even be a wonderful gift for a loved one. The Paint and Sip Experience really is one-of-a-kind, and is a fun, relaxing way to allow your team get their creative juices flowing in a chilled-out environment.
Enquire About The Paint & Sip Experience
Price: from £46pp
What's the one fragrance that most reminds you of Christmas? Pine? Cinnamon? Or Lavender? At Obby's candle-making experience, you can capture the quintessential scent of Christmas in a hand-poured soy wax candle and take it home. It's not only beginner-friendly but perfect for vegans too!
Candle-making is an extremely mindful and soothing activity, and your team can let all their seasonal stresses evaporate as they construct their creations from base to wick. Under expert guidance, you'll be guided through the base, heart, and top notes of a selection of seasonal fragrances.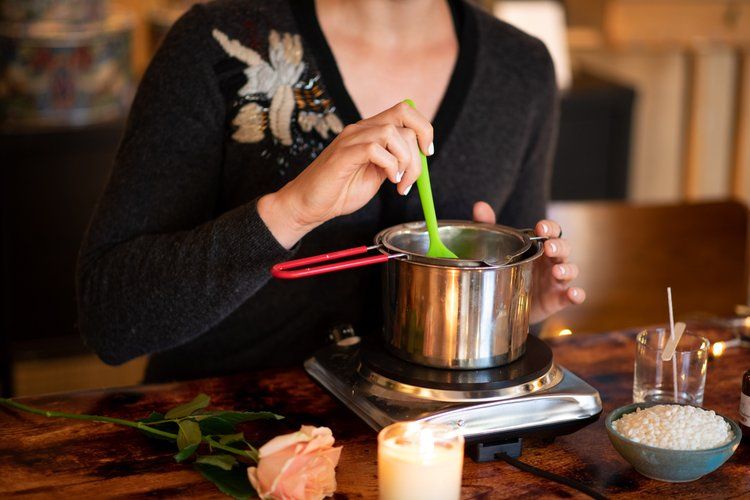 You''ll also learn about the right temperature needed to heat the soy wax, before blending it with your chosen essential oils. Then you'll set the wick, and pour it into a mould. After you're finished, you can take a little break, chat, and enjoy a glass of Prosecco (or a non-alcoholic beverage) and scrumptious snacks with your office mates.
Candle-making is one of those activities that puts everyone instantly at ease. After all, aromatherapy is one of the most potent stress busters!
Enquire About The Candle Making Experience
Price: from £34pp
The best Christmas baubles are the ones you craft yourself. At Obby's Christmas bauble-making experience, you'll learn how to make a lovely little red robin, a wooden pyrography, and many more DIY festive crafts.
It's a great team-building activity where you can craft and chat while enjoying mulled wine, feasting on minced pies, or any other delicacies that your group fancies. Plus, you'll pick up a skill or two, such as needle felting, wood carving, and how to use carded Merino wool to jazz up your bauble.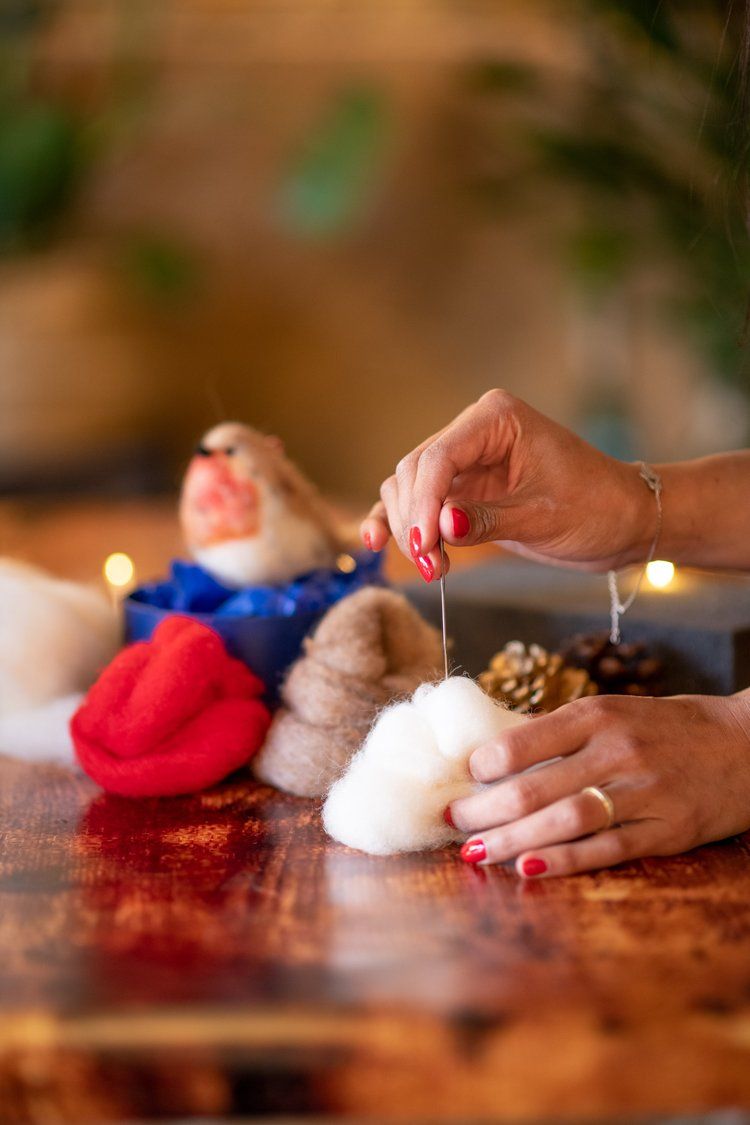 You won't have to worry about any supplies—just bring your sense of curiosity and we'll do the rest! There'll be a professional crafter to help you every step of the way. At the end of this lovely event, you'll not only take back fond memories but your very own Christmas bauble to hang on your tree or mantlepiece!
Enquire About The Bauble Making Experience
Price: from £75pp
Gone are the days when most households would fashion their very own Christmas wreath. We still like our wreaths, but buying them from a local florist seems so much more convenient than making them from scratch.
This Christmas, let's do things a little differently, shall we? Our wreath-making workshop will help you relearn this time-honoured tradition with step-by-step guidance from a professional florist.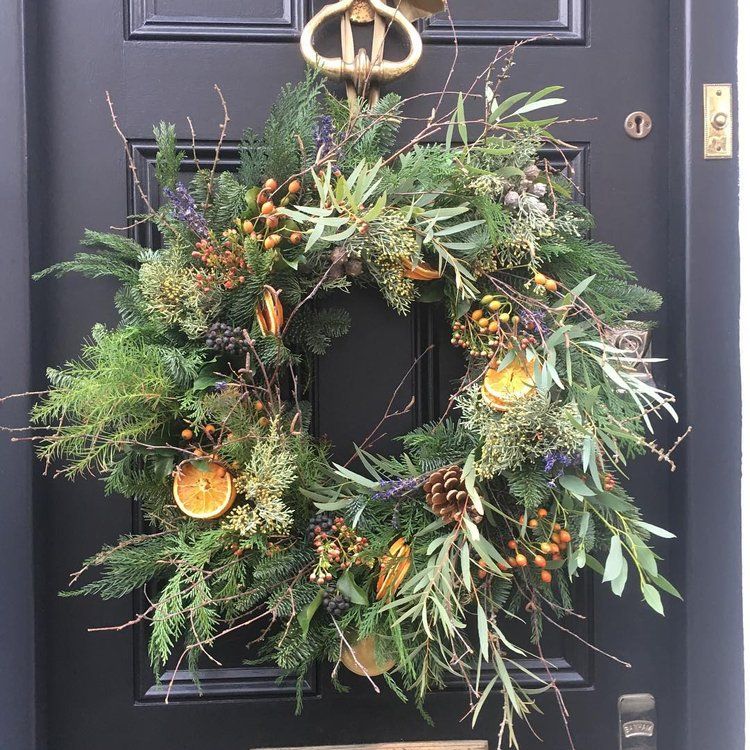 You and your office mates will work with a wide array of foliage while sampling wine and snacks and basking in the holiday scents of pine, cinnamon, and eucalyptus. At Obby, we can tailor every event on this list to suit your and your group's style and preferences—so don't hesitate to reach out to us!
Enquire About The Wreath Making Experience
Price: from £63pp
If you think making wreaths will bring you closer to nature, wait till you hear about our terrarium classes. Simply put, terrariums are beautiful live gardens in a jar! They've got soil, miniature plants—pretty much everything you'll find in a garden except that it's all happening in a sealed glass jar.
Terrariums may sound complex, but they are fairly easy to create and even easier to maintain. Plus, their lush greenery is just the thing you need on your desk to bring you some warmth and joy during the winter months.
What's wonderful about these mini-ecosystems is how much variety you can add to them. Everyone can choose ingredients and foliage they gel with create a terrarium that's truly unique!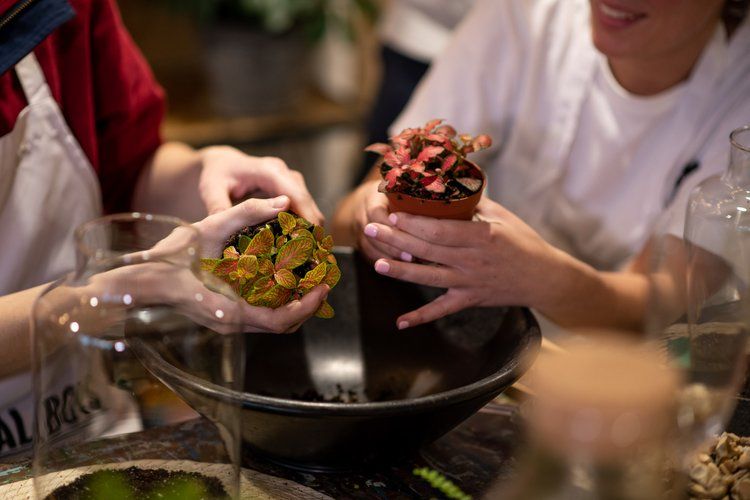 Terrariums also make for eye-catching Christmas decorations, and learning how to make them is sure to be a huge hit with your office folks! At our terrarium-making experience, you'll learn about these interesting creations and get a detailed walkthrough on which plants to pick and how to layer them in a glass container. You'll also get tips and pointers to care for them at your office or home.
Time to let your team get their hands in the soil! Who knows? You may convert the plant-averse into the green-fingered!
Enquire About The Terrarium Experience
Price: from £34pp
From Macrame wall hangings, plant holders, cushion covers to more, this boho-chic artform is everywhere, and for good reason! And while macrame may look challenging, it's a surprisingly easy technique for beginners with the right guidance. So if you're looking for a soothing and therapeutic craft experience with your office mates, a macrame-making experience is perfect!
Our expert instructor will show you how to master this knotting technique to create a lovely plant holder. Want your macrame piece to stand out? This workshop will also teach you how to throw in some beads and other details to add a personal touch to the piece.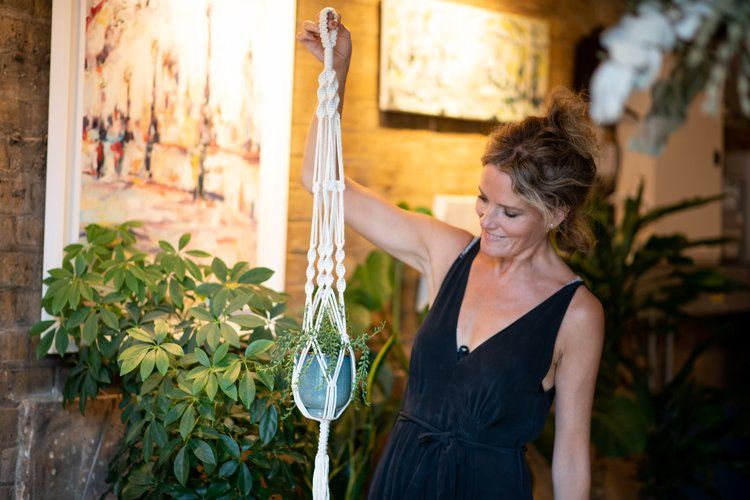 Once you've grasped the three basic macrame knots - gathering knots, spiral knots, and square knots - there's no limit to what you can create! You can craft throws, wall hangings, and anything you imagine.
A macramé workshop will likely be something your team hasn't experienced, so it can serve as a wonderful, festive surprise and serve as an intriguing introduction to the world of macramé.
Enquire About The Macrame Making Experience
Price: from £25pp
Love the idea of drawing a real-life model but never had the chance? Obby's beginner-friendly life drawing experience is just what you need at your Christmas party!
Our classes are hosted by experienced artists who'll encourage and ease you into drawing various poses. The friendly, welcoming environment will allow you to embrace your creative instincts and not worry about making mistakes.
Your party will have access to a host of dry materials, including pastels, crayons, and charcoal, to draw real-life models who will be traditionally nude or modestly dressed, depending on your group's preference.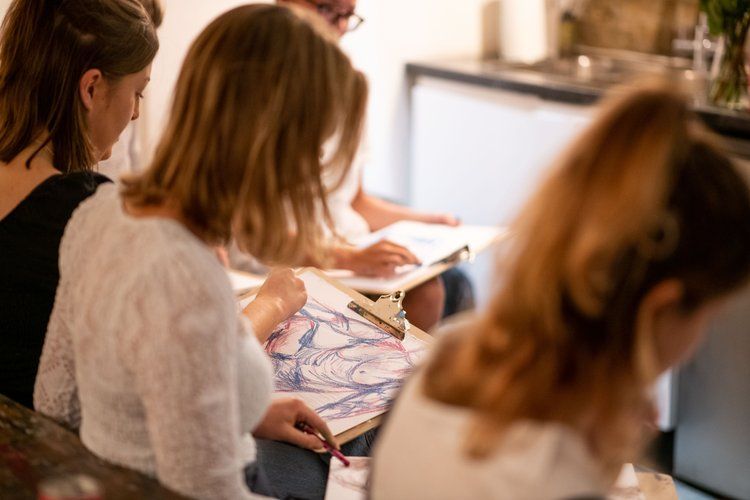 By the end of this immersive event, you'll have a beautiful, handmade drawing ready to grace the wall of your home. The session will be a whole new level of fun if you attend it with people you know and enjoy spending time with.
So do away with your inhibitions and put that pencil to paper—let your team draw out their inner creativity!
Enquire About The Life Drawing Experience
Price: £45 pp
Location: Walworth, South London
Pottery is one of the oldest art forms, and humans have been moulding clay for thousands of years. Now, at the Pottery Taster Workshop, you and your team will have the chance to dig in to your ancestral roots!
Hosted within our gorgeous, spacious studio, this workshop will get you comfortable with techniques required to create your own beautiful pot. Our expert ceramicists will demonstrate the  trade secrets of hand sculpting, as well as how to throw on the potter's wheel.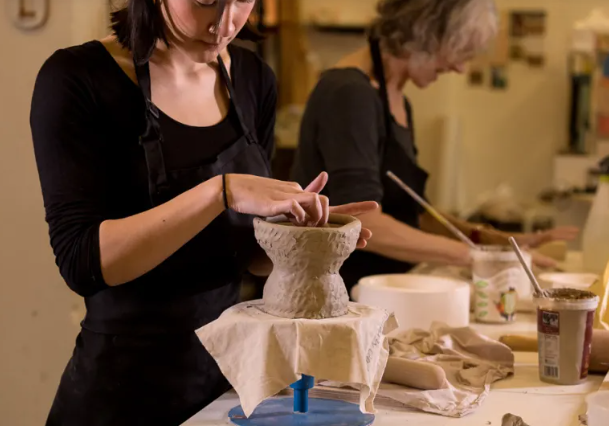 Using your hands to build or craft has been shown to be an effective mindfulness tool, and this workshop can allow you to get into a state of creative flow. What's more, when the class is finished, you'll have made a ceramic cynosure sure to be a treat for the eyes!  
Your pottery pieces will be taken away to be professionally glazed and fired, and ready to collect after 2-3 weeks (optional delivery can be arranged on the day). These pots make for lovely gifts for loved ones, and whatever you choose to do, will serve as a fond memento of your experience.
Book now on Obby
Price: £55 pp
Location: Islington, North London
Time to explore the exciting world of foreign cuisine with this unique cookery class. Dim sum refers to a wide range of small Chinese dishes traditionally enjoyed in restaurants for brunch. They are made up of small plates of delicately made dumplings and other snacks.
Now, in this private class for over 8 people, you and your colleagues can learn the dos and don'ts of cooking up this delectable dish! The half-day class is sociable and suitable for beginners, and will teach you a skill that will serve you well in many soiree!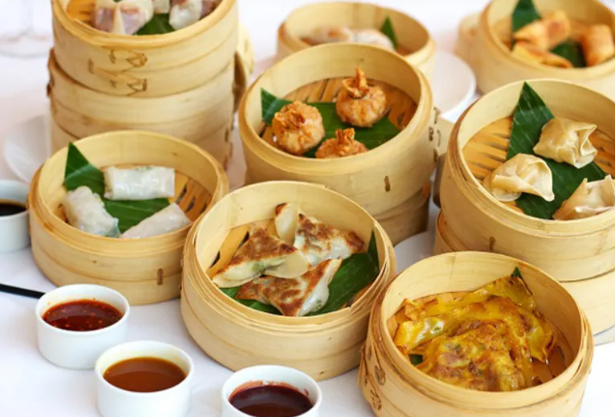 Under the expert tuition of proffesional cooks, you'll be guided in how to make 3 of the most popular classic steamed dim sum:
Har Gow 蝦餃 (Crystal Prawn Dumplings)
Chiu Chow Fun Gwor 潮州粉果 (Chiu Chow steamed dumplings)
Sui Mai 燒賣 (Open Top Steamed Pork And Prawn Dumplings)
The cherry on top?  By the end of the class each participant will have 16-20 delicious dumplings each! What better way to celebrate that Christmas indulgence?
Book now on Obby
Price: from £70 pp
Location: a venue of your choosing
Few things are as Christmassy and nostalgic as gingerbread. In this magical, festive experience, your team will not only get to relive those fond memories, but go one step further by constructing their own unique gingerbread houses!
You can see in the photos below the amazing variety of what's possible. And it's easier than you think to make your own edible, elegant home!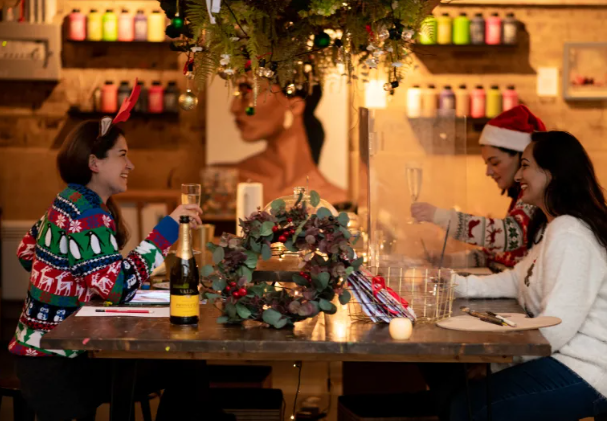 Each participant will be provided with their very own gingerbread making kit. This comes equipped with everything you need, including delicious pre-baked gingerbread shapes, piping bags, icing, chocolates, sweets and more!
And of course, you're not on your own! A professional baker will guide you every step of the way, from building to decorating, so you'll have no trouble building your happy house from the ground up.
Everyone will also be provided with a complimentary glass of wine (or non alcoholic alternative) along with some seasonal treats to enhance the festive spirit. What's more, this class can be hosted anywhere; you can even set up a virtual class is you need to.
Book now on Obby
Need More Ideas?
If we had to define Christmas in one word, we wouldn't say presents or food⁠—we would have to say "memories". It's what we fondly remember of this magical time of the year that makes it what it is. These Office Christmas Party Ideas can bring your team closer together, and provide memories they're bound to treasure.
But if you're still on the hunt for ideas to bring your dream work Christmas party to life, we've got many more Christmas party ideas for you to pick from! Explore the other creative experiences we have on offer on Obby below.