---
Our Top 10 Romantic Valentine's Day Date Ideas are:
---
Cooking With Cupid - Valentine's Cookery Class
Location: Wandsworth Town, London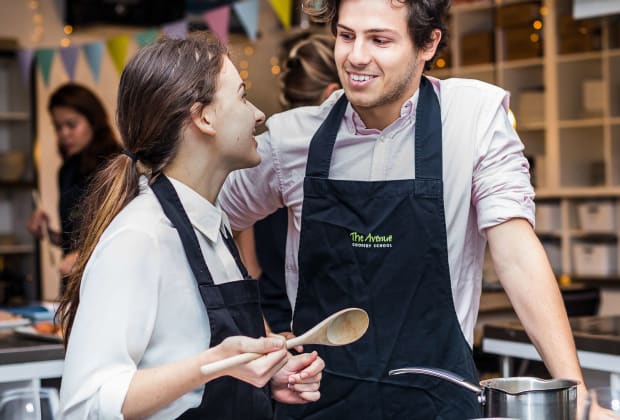 Run by Wandsworth-based The Avenue Cookery School, this Valentine's Day centred cooking class will help you cook the 3-course meal of your romantic dreams!
You'll be greeted with a drink, before you sit down and watch a demonstration on what you will be cooking, which includes "Sexy Scallops with a Rumpy Pumpy Ratatouille", "Passionate Pan Fried Sea Bass Fillet on a Bouncy Bed of Homemade Dill Tagliatelle with Asparagus Tips and a Busty Beurre Noisette" and "Something Delectably Chocolatey."
Then it's over to you to put your newly acquired skills to the test, and to see how good a cook you really are! Don't stress though, The Avenue's expert chefs will be on-hand throughout to guide you through the evening, before letting you sit down to your very own 3-course meal with bottomless booze for you and your boo throughout.
Price: £300 (£150pp) | Time: 3hrs
Book now on Obby
---
Paint Your Partner - Mindful Painting Valentine's Special
Location: Belgravia, London
If you're looking for something more artistic for your Valentine's Day date night, then why not treat yourself and your other half to a romantic night of painting and mindfulness during this MasterPeace portraiture masterclass?
Located a short walk from Victoria station, you and your partner will be coached by a professional artist as you work through your chosen portrait that is totally unique to you and your partner, using acrylic paint. You don't need to stress about creating the best outline for your painting, with MasterPeace's projectors allowing you to cast your chosen image from your phone down onto your canvas board for you. It's a brilliant way to get stuck into your creative flow, and effortlessly and effectively outline your image so that you can get painting in no time.
Your class includes all your materials, a complimentary alcoholic or non-alcoholic drink and a sweet treat. And if you book a ticket for yourself and your other half together, you'll save £10!
Price: £80 if you buy a couple's ticket (save £10 on the £45pp price) | Time: 1hr 30min

Book now on Obby
---
Private Pottery Taster For Two
Location: Hackney, London
If you're looking to get your Ghost on this Valentine's Day, then why not check out this Private Pottery Taster for Two with Sak Beh Pottery?
This is a pottery taster class with an emphasis on throwing, where you'll have exclusive use of the Hackney-based studio with your own private teacher. The class, as the title suggests, will give you a taste of different pottery techniques and enable you to find out which techniques you like the best. You'll be shown how to use a potter's wheel, alongside some hand-building techniques, leaving you with a thrown pot and hand-built creation at the end of your taster!
After making your pots, they will be air dried before firing in the kiln, leaving you with proper pieces that you and your S.O can show off to friends and family!
Price: £160 (£80pp) | Time: 2hrs
Book now on Obby
---
Seasonal Fresh Flower Bouquet Workshop
Location: Dalston Junction, London
If you want to elevate your flower-gifting beyond a standard supermarket-bought bouquet, then this flower arranging class could be exactly the Valentine's Day date activity for you and your S.O - with a private booking option available, where just the two of you can attend and make a bouquet each for eachother.
You'll get to learn floristry skills in a floral wonderland, working alongside an experienced florist to learn all the tips and tricks you need to create a stunning floral bouquet. You'll make your bouquet from a wonderful selection of fresh and seasonal blooms and foliage, and you'll learn all about the stems you're using as you progress through your workshop.
You'll learn how to arrange your florals into a bouquet using a spiral technique, and what to do to help your flowers last longer, with plenty of opportunities to chat with your expert floristry teacher and gain lots of new skills!
Price: £130 (£65pp) | Time: 1hr 30min
Book now on Obby
---
The Essential Italian
Location: Marylebone, London
If you're looking to spend your Valentine's Day out having a fancy Italian meal, why not learn how to create the dishes for yourself?
In this class from La Cucina Caldesi, you and your partner can learn the essentials of the Italian kitchen. Their expert teacher Stefano Borella, with 20 years experience of cooking Italian food, will show you how to make the classics such as: rosemary focaccia, Neapolitan pizza, two essential pasta sauces such as arrabbiata and ragu, a seasonal risotto, how to pan-fry fish, cook the perfect steak and prepare a classic Italian dessert. After a morning of hands-on cooking, you'll get to sit down to enjoy the delicious dishes with wine.
Expect an intensive day as we cover a great deal, however you will emerge confident and ready to cook a full Italian meal that's sure to impress!
Price: £150 | Time: 4hrs
Book now on Obby
---
Essential Oil Soy Wax Candle Making Kit
Location: At Home
If you're looking to stay in this Valentine's Day, then this home candle-making kit from Somewhere of London is perfect for an at-home date night with your partner.
Perfect for beginners, this kit suits anyone who enjoys experiences or candles. Each kit includes all the materials you need to make 2 candles, which will burn for 35-40 hours, meaning you don't have to worry about your S.O stealing yours! You'll get to choose a scent for your candle kit, with 2 options available: Lemongrass, Bergamot and May Chang or Eucalyptus, Lavender and Cedarwood.
If you're looking to get the kit as a surprise for your date, then you have the option to type a gift-card message at checkout and Somewhere of London will hand write it for you on the back of a complimentary branded, inspirational post card.
Price: £52
Buy now on Obby
---
Design Your Own Silver Ring With Two Jewellers
Location: London Bridge
If you're looking to create something memorable to remember this Valentine's Day, why not create matching rings for eachother in this ring making workshop from The Ringsmiths.
In this workshop,  The Ringsmiths - also known as Ros Millar & Milena Kovanovic, close friends and award-winning jewellery designers & makers - will teach you how to make your very own wax carving ring design, with nibbles and a complimentary cocktail included in your ticket price!
Carving wax gives you endless options to freely design whatever ring you want and a 3D representation of your design. Once you're happy with your finished carving, Ros and Milena will show you how to complete your rings and prepare them for casting, with your finished rings being sent to you around 3 weeks after your session.
This class has proved hugely popular since a student's TikTok documenting the experience went viral this summer. So make sure you book ASAP to secure a slot for your Valentine's Day date!
Price: £85 | Time: 2hrs
Book now on Obby
---
Chocolate Truffle Making Class
Location: Salford
If you're looking for Valentine's Day activities in Manchester, try this tasty Chocolate truffles class from R&M Chocolate and learn how to make chocolate with your sweeheart! You'll come away with loads of interesting facts and knowledge about this yummy confection, with a private booking option allowing you a romantic session with just the two of you (and your teacher of course!)
In this chocolate making class, you'll learn how to make truffles like a pro, with the help of your chocolatier expert, Raanan. You and your date will learn how to add flavours to your truffles, the option of trying two different flavours for your truffles. You'll handmake your own yummy goodies that will satisfy any sweet tooth!
Price: £60 (£30pp) | Time: 2hrs
Book now on Obby
---
Bookbinding Kit - Make Your Own Book
Location: At Home
If you're looking for another stay-at-home date night activity, then why not make your own notebook together?

This book-making kit, by We Make Books, includes all the materials you need and step-by-step illustrated instructions to create a beautiful and simple handmade book with hard covers. You can use it as a notebook or journal, the perfect place to create a scrapbook of your relationship, or even start your own couples journal together.
Price: £35
Buy now on Obby
---
Make A Mosaic Door No. Using Vintage China
Location: Gants Hill, London
If you and your S.O live together, then this door number mosaic making class by the Mosaic Teacher is a great Valentine's Day date idea to celebrate your home together.
During this four hour workshop, your teacher Eva will guide you through the art of creating a bespoke and unique mosaic item, using vintage china. Suitable for beginners, at the end of your workshop your finished item will be ready to take away, ready to go home with you, with tea and cake included in your session price!
Price: £45pp | Time: 4hrs
Buy now on Obby
---
Need more advice?
Hopefully, these Valentine's Day ideas will help you out if you've been stuck for date inspiration. If you're still stuck for the perfect idea for your S.O, be sure to take a read of some of our other amazing guides and best round-ups below. We're sure you'll find something useful, oh - and don't forget to share the love.