While you always have cosy pubs and cinemas to fall back on, they aren't exactly the most exciting prospects – especially if you're meeting someone for the first time and want to impress them!
Whether it's your first date or otherwise, you and your date are bound to have fun – in rain, shine, sleet or snow. Peruse these winter date ideas and choose one (or combine them!) for a guaranteed great time… and hopefully many more dates to come.
The top 10 best winter date ideas in London are:
1. Alcohol Inks Painting Class
Location: Belgravia, London
This painting class from MasterPeace puts a new spin on the classic cocktail date: rather than drinking alcohol, you and your date will be using it to create art! (And you'll definitely want to steer clear of consuming it, as the class involves rubbing alcohol, not fun-time alcohol.)
Over the course of 90 minutes, you'll use isopropyl alcohol to experiment with four key painting techniques: ink washes, stippling, colour mixing and lifting. Using these methods, you'll forge abstract masterpieces in beautiful colours and patterns – the sort of art you'd find in a trendy London gallery. In this sense, MasterPeace's Alcohol Inks Class is almost like two dates in one: a painting class and a museum date!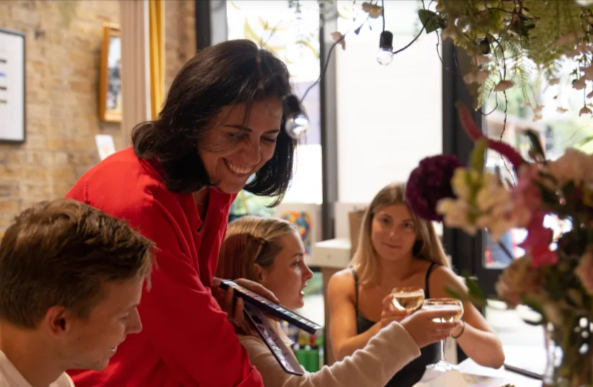 Even if your art doesn't turn out "gallery-worthy," you can't deny that the MasterPeace teachers know what they're doing – and that you and your date will love tapping into your artsy sides. Plus, you can take home your inks kit to hone your skills far beyond these 90 minutes! If that's not a fantastic deal, we don't know what is.
2. Mindful Candle Making Class
Location: Belgravia, London
Or if you prefer your art more three-dimensional, you could try another intriguing MasterPeace class: their "Inhale, Exhale" Candle Making Experience. We can't think of a better date idea for candle lovers – and in the dark days of winter, nothing brightens up a home (or fosters a nice romantic atmosphere!) like a nice candle.
In this class, you'll survey four hand-picked, seasonal fragrances and choose which scents you want for your candle. You'll learn how to melt and pour wax – which, at MasterPeace, is soy and vegan-friendly – into the correct shape. Then, as you wait for the wax to set, the entire class will come together for a moment of meditation and mindfulness.
In addition to the lovely fragrances, you and your date will also enjoy complimentary beverages along with a warm feeling of community – and of course, your very own candles to take home! Keep them for yourselves or gift them to each other; whatever you do with the final products, you won't soon forget this one-of-a-kind date.
3. Swingers Crazy Golf
Location: City or West End, London
Then again, maybe you're craving an active winter date to get the blood pumping! Swingers Crazy Golf is just the ticket – and on top of the crazy golf, you can have drinks delivered right there on the course to stay toasty warm. (We'd recommend the Swinging Punch, an invigorating blend of Kraken Black Spiced Rum, Red Bull Tropical, pineapple and lime juice.)
Once you've gotten into the swing of things, so to speak, you'll have a blast navigating Swingers' inventive crazy golf courses. Our personal favourites are the Windmill Course at Swingers City and the Big Wheel Course at Swingers West End. And if you manage to get a hole in one, you might just win a voucher for a free shot of Cazcabel honey tequila!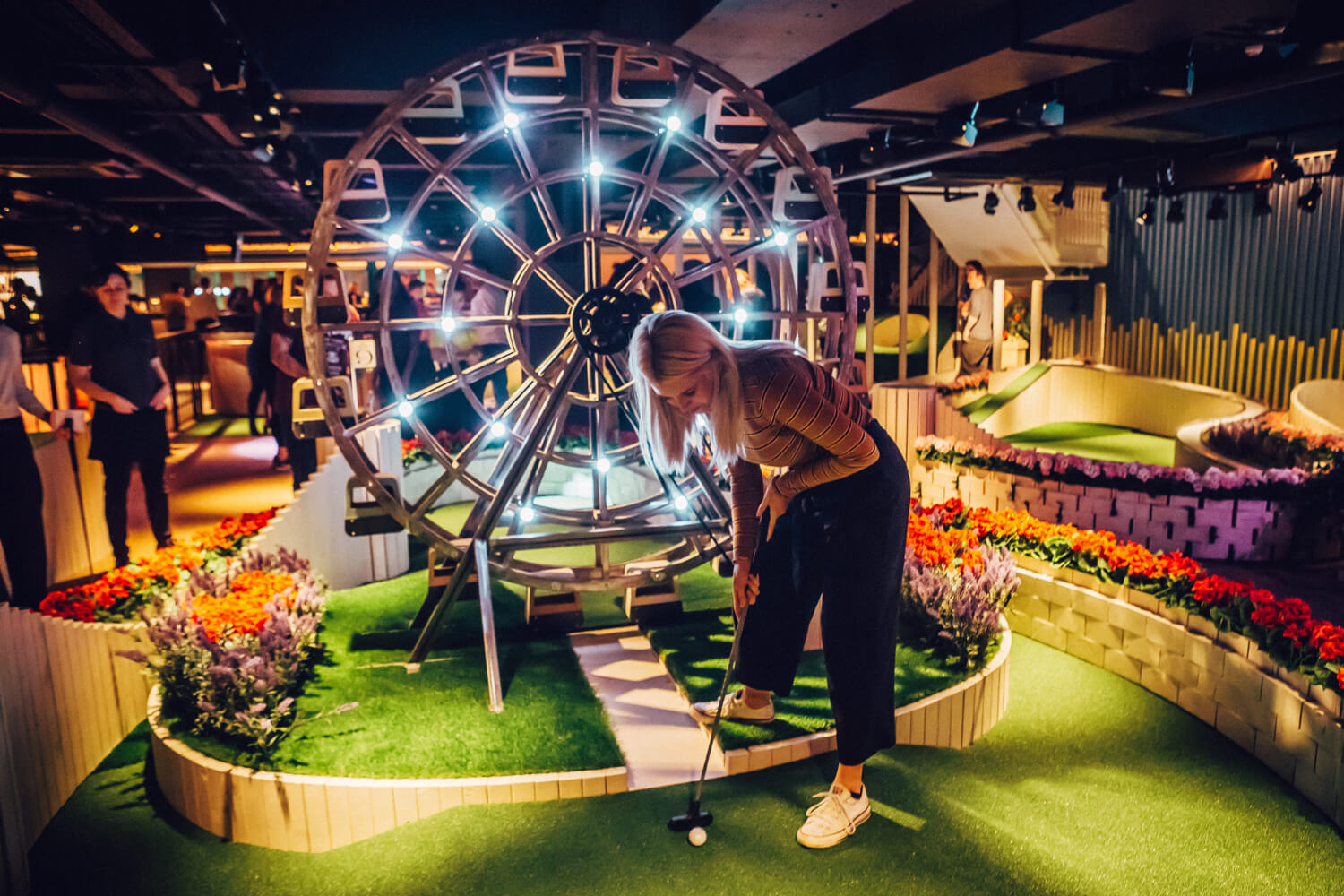 Having worked up your appetites on the course, you and your date can scoot along to the food court for tantalising dishes like jalapeno popper pizza, baja fish tacos and so much more. All this makes it pretty hard to step back out into the cold… but if you carry the vibrant energy of Swingers with you, you'll be buzzing all the way home.
4. Borough Market
Location: Southwark, London
As casual winter dates go, nothing beats a stroll through a cosy market, and Borough Market is one of the best. Just minutes from London Bridge station is this haven of delicious food and drink, exquisite works from local artisans, and unbeatable atmosphere – especially around the holidays!
You and your date might start with a snack of charcuterie or bao buns, then sip steaming cups of mulled wine as you amble around the market. Here you'll find carefully curated wares ranging from gorgeous ceramics to natural beauty products to homemade butters, chutneys and sauces. It's the perfect place if anyone needs to do some Christmas shopping, or if you just want to get to know each other better – after an hour's browse, you'll have a much better sense of your date's tastes!
Cap off the afternoon with a hearty meal of fresh fish, Italian sandwiches or a savoury roast dinner. Whatever you choose to sample at Borough Market, this winter date destination is sure to be a hit!
5. Ice Skating at Somerset House
Location: Strand, London
Speaking of quintessential winter dates in London, ice skating at Somerset House is definitely up there… and after a pandemic-induced hiatus, their magnificent rink has reopened to the public! You can book tickets from November 16th until January 15th, and if you've never been before, trust us that this magical scene does not disappoint.
Indeed, ice skating is a classic winter date activity for a few reasons. Not only is it a great excuse to hold onto your date for balance, but also to cuddle up for warmth once you're off the ice! Paired with colourful lights and festive decorations, this activity is also a stellar photo opportunity for you two. And if you're not much for winter sports, have no fear – after a few times round the rink, you've proven yourself a good sport and can retire to the Skate Lounge for a much-deserved glass of bubbly.
6. Silent Disco at the Shard
Location: Southwark, London
Another winter date idea guaranteed to get you moving? The Shard's "Party in the Clouds": the silent disco where you and your date can enjoy high-class cocktails and high-level views, all while grooving to the musical stylings of not one, not two, but three different DJs.
For just £5.50 more than regular access, you'll be ushered up 72 floors to the tippy-top of the Shard. You and your date will then take in breathtaking views from both the Shard's indoor viewing platform and the open-air skydeck, sipping drinks that will make you feel like celebrity guests.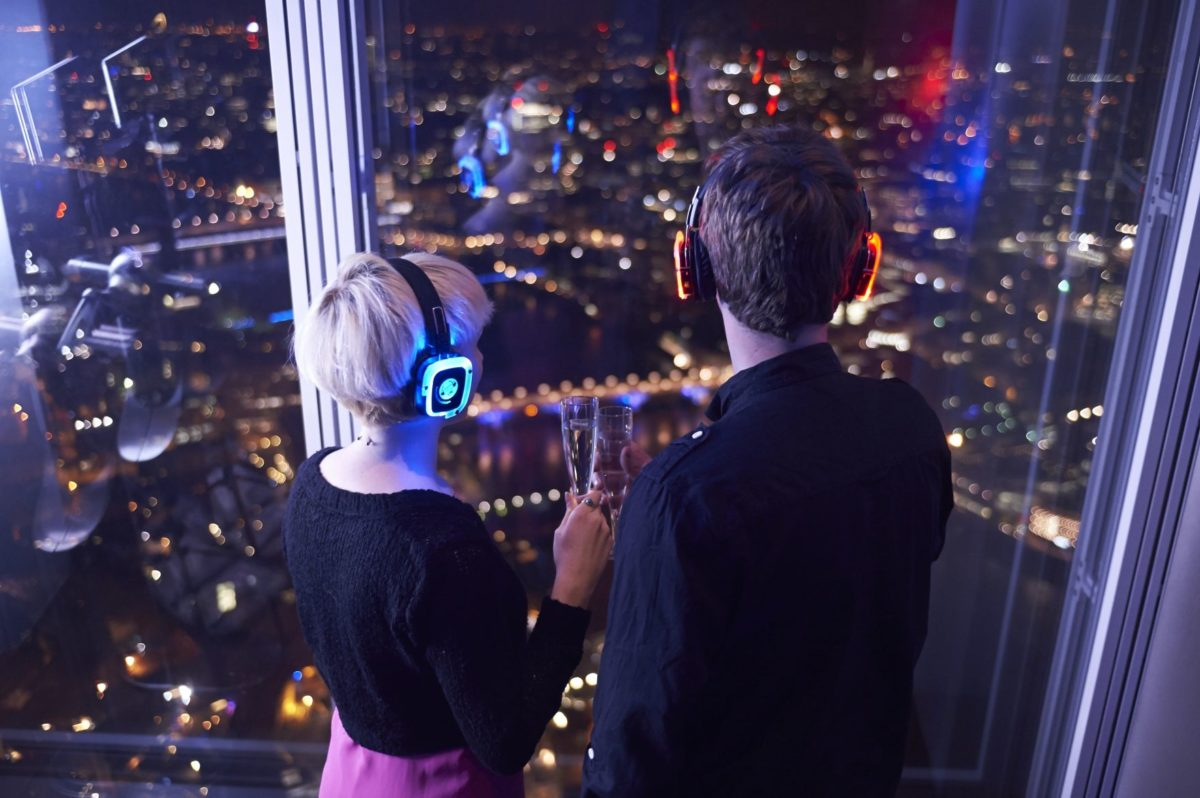 When you're ready to dance, just tune into one of the three DJ channels playing pop, rock and throwbacks all night long. Challenge your date to a dance-off, or get a little flirty on the dance floor – it's up to you! All we know is this silent disco tops just about every club night in London, and the upscale setting makes it the perfect choice to impress someone new.
7. Candlelit Musical Tribute
Location: London
For a more lowkey but equally unique musical experience, consider a candlelit musical tribute evening. These events are hosted each week in London and pay tribute to countless artists, from Vivaldi to Taylor Swift – so no matter what kind of music you and your date enjoy, there's a candlelit concert just for you.
If you do attend a concert, be sure to soak up the dreamy, almost reverent atmosphere of candlelight and beautiful acoustics. To lean in even further, look for tribute events at churches around London, such as Southwark Cathedral and St Martin-in-the-Fields. And Christmas-loving couples won't want to miss their holiday concert series, such as one event featuring songs from Christmas film soundtracks (Love Actually, Home Alone, and more!) – or for a more traditional experience, try a concert based on The Nutcracker or classic Christmas jazz standards.
8. Chocolate Cocktail Club
Location: Farringdon, London
Chocolate, cocktails, and classy surroundings: what more could you want for a delicious winter date? London's Chocolate Cocktail Club began as a pop-up, but patrons were so cuckoo for cocoa puffs that they made the location permanent! The result is this sugar-coated paradise in Farringdon, where you can buy tickets for tasty sessions of an hour and a half each.
This ticket includes your choice of complimentary Chocotini, Chocolate Espresso Martini or Shamzing Strawberry cocktail. (CCC also has Prosecco, wine and beer, in case you hit your limit on the sweet stuff.) You and your date can then sample tasty finger sandwiches, mini cakes and rich chocolate fondue, snapping mouth watering photos all the while.
What's especially nice about a date at the Chocolate Cocktail Club is that you can sample all the best treats without getting too full… and particularly for a winter holiday or Valentine's date, you couldn't pick a better venue.
9. Mariah vs Bublé Christmas Brunch
Location: Covent Garden and South Bank, London
Or if you prefer your treats less dessert-y and more in the vein of bacon and bottomless mimosas, have we got a winter date option for you: the Mariah vs Bublé Christmas Brunch! Hosted at Bar Elba on Saturdays and The Escapologist on Sundays, this ultimate Christmas brunch is ideal for fans of seasonal soundtracks – and might be especially spicy for couples where one is a mega Mariah fan and the other more of a Bublé buff.
Helmed by an exceptionally entertaining drag queen, the two-hour show also includes bottomless cocktails, top-notch brunch and, of course, as much Mariah Carey and Michael Bublé as your ears can handle. For the grand finale, you and your date will have to cast your votes as to who is the true king or queen of Christmas… but rest assured that even if you disagree, you'll leave feeling so jolly that it won't matter one bit.
10. Hyde Park Winter Wonderland
Location: Hyde Park, London
Our final suggestion is another classic winter date idea in London: Hyde Park's Winter Wonderland, a truly incomparable experience for wintertime fun. This sprawling, brightly lit carnival takes place from late November to early January each year – and if you haven't been on a date there, you should book tickets ASAP (particularly with WW celebrating its 15th anniversary this year!).
There's certainly no shortage of adorable, date-y things to do at Winter Wonderland. From exploring the glittering ice sculpture kingdom to inner-tube racing on giant ice slides, you and your date will have an absolute (snow)ball. And if the icy air leaves you short of breath, there are plenty more "chilled-out" activities to enjoy, like drinking spiked hot chocolate and holding mittened hands on the giant Ferris wheel.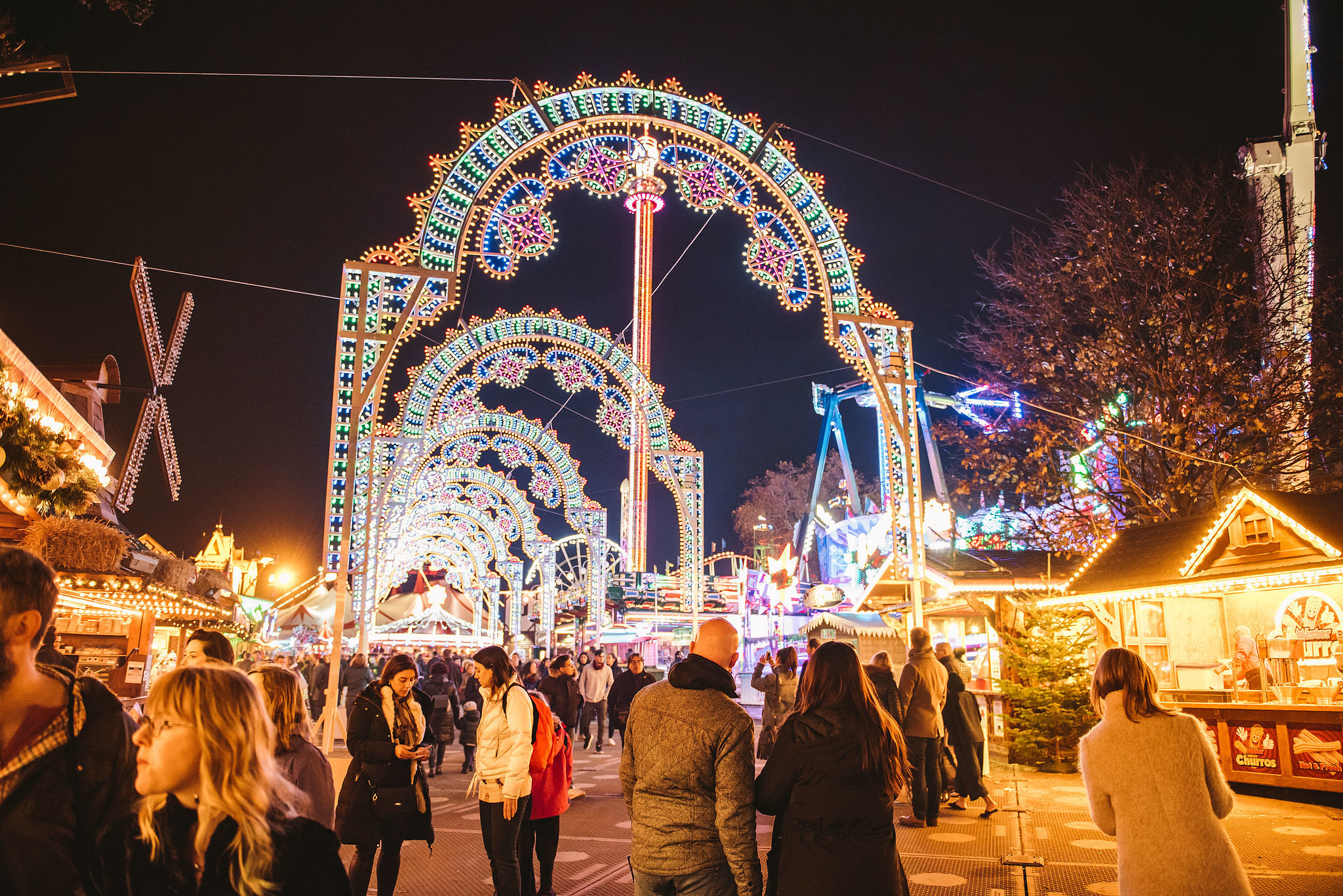 Whichever winter date idea(s) you try, we're sure you'll have a brilliant time – and get some cute pictures to boot! But if you're looking for even more date inspiration, be sure to check out the following: