---
The Top 10 Best Sewing Classes in Brighton are:
Absolute Beginner Sewing Classes Workshop at Sew Fabulous
Zero Waste - Design a Dress Workshop at The Fashion School
'Stitch' General Sewing & Dressmaking Classes at Sew In Brighton Sewing School
Beginner Sewing Classes at Sew Retro
The Mika Sweatshirt Workshop at Brighton Sewing Centre
Scarf Making Workshop at Studio Tamanè
Star Quilt Course at Made and Making
Cushion Making Workshop at Sewing Box Hove
Dressmaking Courses at drawstitchmake
Leather Taster Courses at RJ Leather Sewing School
---
Absolute Beginner Sewing Classes Workshop at Sew Fabulous
Location: (Open Market) Brighton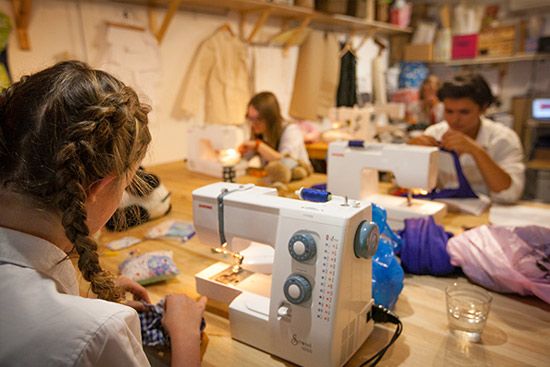 Since the Open Market's refurbishment in 2014, Sew Fabulous have provided sewing classes and creative workshops to the local community. Two of their chief aims are to promote the reuse and recycling of fabrics and clothing, and – through their Outreach Program – provide affordable classes for adults who are socially or economically disadvantaged.
Perfect for total newbies, their Absolute Beginner Sewing Classes are a one-off session designed to build your confidence on the sewing machine. You will be taught how to thread up the machine, wind a bobbin and sew in a straight line. You will be able to complete your own mini-project and, by the end of the session, you will have acquired the skills to join in their other regular classes. Time to face your fears and stitch up something fabulous!
---
Zero Waste - Design a Dress Workshop at The Fashion School
Location: North Road (Brighton)
Coming in at number 2 in our best sewing classes in Brighton is The Fashion School. Founded in 2014, their experienced tutors teach innovative fashion design and sewing to adults, teenagers, and children as young as 6! Their mission is to foster a healthy attitude towards fashion, and individuality. And judging by their spectacularly designed and eye-catching website alone, these guys know their stuff!
Depending on your age and ability, The Fashion School has many popular courses available. Being advocates of sustainability ourselves, we've opted for the Zero Waste - Design A Dress Workshop. Specifically for ages 11-19, this workshop will teach enthusiastic young creatives the sustainable techniques needed to design and construct their own unique dress. Some of the many skills you will learn are drawing, communication, fabric knowledge, pinning, measuring and cutting, machine and hand sewing, and  much more!
---
'Stitch' General Sewing & Dressmaking Classes at Sew In Brighton Sewing School
Location: Church Road (Hove)
Launched way back in 2008, Sew In Brighton sewing school's wide variety of courses, workshops & classes have enabled hundreds of people go from absolute beginner to consummate stitcher. Whether it's making & altering their own (& family's) clothes & soft furnishings, or meeting locals who share your passion, Sew in Brighton Sewing School is a great place to learn, relax and have fun!
Suitable for all levels including absolute beginners,, their 'Stich'  General Sewing & Dressmaking Classes will teach you how to sew, construct, design or alter custom fitted clothes and accessories. With a maximum of 5 students, you'll receive plenty of assistance from their experienced tutors, as well as take advantage of their productive and welcoming environment – so why not book today?
---
Beginner Sewing Classes at Sew Retro
Location: Bernard Road (Brighton)
After developing her own successful fashion label in the 1980s, Sarah Windsor wanted to pass down her sewing expertise in order to help people realise their potential and fulfil their creative projects –Sew Retro was the result. Sew Retro provides fun, regular sewing classes for all abilities, and with home-made drinks and cakes also available, the classes are guaranteed to be as socially relaxed as they are an invaluable learning experience.
For those who have never used a sewing machine before, their Beginner Sewing Classes are just the ticket. In these sessions you will learn how to pin a pattern onto fabric, how to cut it out, begin to understand the markings on commercial patterns, finish and start seams, sew curves, corners, pivot and more!
For providing such a welcoming environment, as well as a range of beginner sewing projects to choose from, Sew Retro easily secured a spot in our top sewing classes in Manchester.  
---
The Mika Sweatshirt Workshop by Oh Ti Po, at the Brighton Sewing Centre
Location: North Road (Brighton)
Pop on down to the Brighton Sewing Centre for all things sewing! Not only do they stock premium quality sewing machines, fabrics and sewing tools, but also offer some one-of-a-kind workshops, run by Nic of Brighton based sewing shop Oh Ti Po.
Out of the three amazing classes they offer, the Mika Sweatshirt Workshop is well-suited for confident beginners/ intermediate sewers who seek to build confidence with stretch fabrics.
Adaptable to your taste and style, the Fibre Mood pattern can employ a sumptuous range of sweatshirt fabrics and colors.  By the end of the class not only will you have created your own unique and stylish garment, but have built confidence in a range of essential sewing and overlocking skills that can be applied to future projects.
---
Scarf Making Workshop at Studio Tamanè
Location: Brunswick Street West (Hove)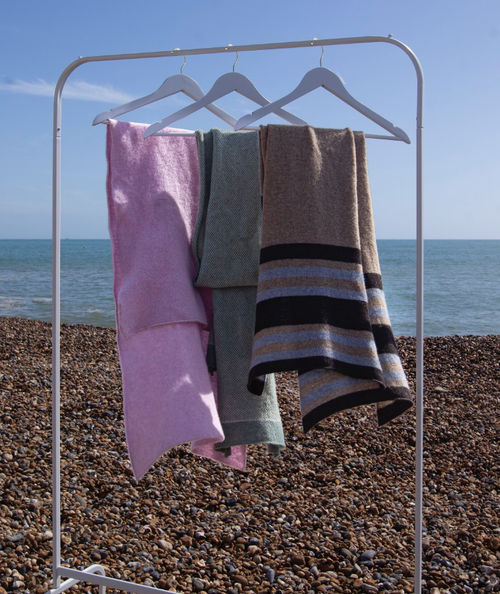 After accruing many years of experience in professional knitting, Rachael Tamanè founded the sewing studio that bears her name. Studio Tamanè was created to allow keen knitters to explore a variety of techniques that can be learnt on the knitting machine; all within a welcoming, comfortable environment catering to all abilities.
Winter is coming! So what better time to knit your own cosy, stylish scarf? Aimed at complete beginners as well as those looking to brush up on their skills, you will be given an Introduction to the basics of machine knitting, learn how to cast on, change colours, and cast off, then knit your own scarfs from your own choice of yarns and patterns
The yarn you'll use to make your scarf is ethically sourced 100% lambswool from the UK, and all materials are included in the price of the course.
---
Star Quilt Course at Made and Making
Location: Brighton Road (Hassocks)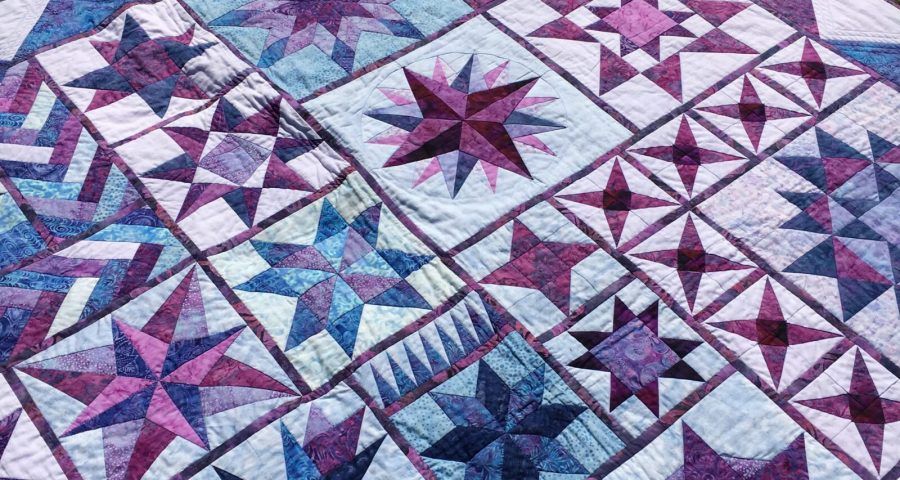 Number 7 in our list of the best sewing classes in Brighton is the Made and Making Studio. In their own words, their beautiful studio is truly "a craftsman's heaven", and judging by the gorgeous photos on their website, as well as hundreds of 5 star reviews, we're inclined to agree!
Their Star Quilt Course is an exciting new class for intermediate to advanced quilters. Over a course of 10 sessions you will be guided through a series of blocks and piecing techniques. The quilt you will make consists of a series of irregularly sized blocks which are quilted 'as you go', before being joined together with a slashing technique. What a perfect way to improve your quilting skills and fashion something warm for winter!
---
Cushion Making Workshop at Sewing Box Hove
Location: Dorothy Road (Hove)
The Sewing Box is a new, picturesque garden studio in Hove that provides a friendly, relaxed space where you can learn to sew and adapt patterns or make prints in a small group. Your tutor will be Alison – an experienced seamstress, designer and pattern cutter – who offers classes for all levels.
Ever wanted to design and make your very own cushion to add a bit of pizzazz to your living room?  The Sewing Box's Cushion Making Workshop is perfect for beginners or intermediates and comes in two options – a two and a half hour workshop or a more extensive full day workshop (make sure you bring your own lunch!). The former will teach you the skills to make your own cushion at home, whereas the latter will let you make your own cushion cover to take home on the same day!
---
Dressmaking Courses at drawstitchmake
Location: Cornerstone (Hove)
The founder of drawstitchmake, Anna B has been teaching Sewing and Dressmaking in and around Brighton for the last 6 years, so it's safe to say she knows a thing or two about it!
Her Dressmaking Course for Beginners or Improvers is a 2 x 10 week course where you will learn all the intricacies of dressmaking in a friendly and supportive environment. Among the many things you will learn is: how to select and cut out the right pattern size, blend sizes and adjust the fit of your garment, sew seams, gathers and hems, insert zips, pockets and sleeves, follow pattern instructions and develop independence in your sewing and making projects. While this course is definitely for the more committed, we are certain you won't be disappointed by the outcome!
---
Leather Taster Courses at RJ Leather Sewing School
Location: Parklands Business Centre (Lancing)
Honestly, who doesn't look good in leather? No-one of course! The experienced founder of RJ Leather Sewing School, Rebecca Jane, understands more than most about the allure of this amazing fabric.
If you've always wanted to experiment with sewing leather, they have a range of great courses to get you started. WIth a max capacity of 4 students, you will have plenty of guidance from Rebecca, and a large open plan 6m x 6m space means it is very easy to have everyone socially distanced apart. Whether you'd like to make a leather clutch bag, a wax-cotton t-base, or a belt or dog collar, excellence is assured!
For providing such a wide range of in-depth courses that explore the potential of this unique fabric, RJ Leather Sewing School was an easy pick for our top sewing classes in Brighton.
---
Need more advice?
With the sheer variety of different fabrics and garments you can make, the potential of sewing is endless. With our Top 10 Best Sewing Classes in Brighton, we've aimed to represent this variety as best we can. If you've always wanted to sew, or grew up watching your grandmother knitting with curiosity, these courses could be the perfect way to explore that untapped potential within you!
Take a read of some of our other amazing guides and best round ups below. We're sure you'll find something useful, oh - and don't forget to share the love.