Well, choosing from Obby's top 10 art classes in Manchester may not only help you in answering some of these queries, but also enable you to create your own wonderful pieces. The courses we've chosen cover a variety of visual arts, so you're sure to find something that inspires you. Then, who knows, after enough practice maybe you'll have your own work displayed in Manchester's own Whitworth Gallery!
---
The Top 10 Best Art Classes in Manchester are:
Ceramic Animal Sculpture Workshop in Northern Quarter, Manchester
Life Drawing Classes at BeeCreative Studio in Manchester City Centre
Portrait Courses at the Northern Realist in Central Manchester
Life Drawing Classes at Humbug Art in Manchester
Brush Letters Calligraphy Class at Love Calligraphy in South Manchester
Drawing Classes at Art Social in Manchester
Painting Classes at Lindsey's Art Classes in Stockport
Summer Holiday Sessions at ARTventurers in South Manchester
Sip and Paint Classes at Sunita Asal Art in Stockport
Art Classes at Learning Through Art in Manchester
---
Ceramic Animal Sculpture Workshop
Location: Manchester (Northern Quarter)
If you're looking for an art experience beyond drawing and painting, then join award-winnng ceramicist Katherine Lees in this ceramics workshop at the Manchester Craft and Design Centre!
In this workshop, you'll learn how to create your very own clay animal and hand-decorate it using a variety of techniques; such as under-glazing your animal. Whilst you'll have to wait 4-6 weeks to recieve your fired, finished animal, it'll be worth the wait to show off your new creation. It's worth noting that this class is avaiable to everyone aged 12+, with all the materials needed included in the ticket price.
---
Life Drawing Classes at BeeCreative Studio  
Location: Manchester City Centre
Within the art world, nothing is perhaps as beguiling or captivating as the human form – we are human after all! In the heart of Manchester's City Centre, BeeCreative Studio is a great place to try your hand at life drawing. Their experienced team understands that life drawing is all about honouring the freedom to experiment and have fun – to explore various styles, materials and techniques.

The format of their two hour sessions consists of a warm up of 1,5 and 10 minutes poses. Then a 15 minutes pose followed by a short break, which will then be followed by longer poses. This allows you to practice your quick sketches and later move on to more detailed drawings.
---
Portrait Courses at the Northern Realist
Location: Central Manchester (Online)
The founder of Northern Realist, Christopher Clements, has credentials that speak for themselves – a professional painter classically trained in Florence and a drawing lecturer at the University of Salford. Christopher has ensured that Northern Realist caters for all levels and provides a welcoming, relaxed atmosphere. Individuals in small groups will be able to work at their own pace whilst also gaining insight from their peers.

Among other mediums, the Northern Realist specialise in the art of portraiture, and their portrait courses are second to none.
While Christopher's classes are currently all being held online, he is hoping to restart in-person classes in the future. Until then,  you can still enjoy his classes and expertise in an online setting - where he runs regular workshops such as his Charcoal Portrait Course, where you'll learn how to build up your drawings using Christopher's signature 'soft approach'.
---
Life Drawing at Humbug Art
Location: Eccles (Manchester)
Coming in at number 4 in our guide to the best art classes in Manchester is Humbug Art. Hannah is an art facilitator at Humbug Art based across Salford and Manchester. She happily works with all ages and abilities, delivering a variety of art workshops for adults, children and community groups. There truly are a plethora of different course options available at Hamburg Art, each embracing  "a wide variety of materials and techniques, covering all manner of themes and subject matters".
Having both a Bachelors and Masters in Fine Art, as well as having created multiple exhibitions of her own work, Hannah aims to pass along her own personal love for art through her classes. We've chosen to focus on her Life Drawing class, which offers a relaxed setting in the Humbug studio, where you'll be guided by Hannah and another tutor through the basics of life drawing. Whilst you do have to provide your own materials for this class, the studio do offer basics which can be purchased at the class. However, if you'd like to have lots of materials at your disposal, Humbug Art also offer many other classes - such as their Art For Enjoyment classes every Wednesday evening - which all include access to all the artistic tools you could dream of. So, regardless of skill level or access to materials, there's no excuses for not getting stuck in!
---
Brush Letters Calligraphy Class at Love Calligraphy
Location: Didsbury (Manchester)
Love Calligraphy provides a wonderful space for creative brush letter calligraphy, as well as beginner calligraphy classes. Get step by step guidance on classic calligraphy techniques. Discover different styles of calligraphy and develop your confidence using a variety of materials and brush pens. Love Calligraphy is determined to help students enhance their calligraphy abilities, so much so that each student in this calligraphy class has the opportunity to take home their own Brush Letters kit.
---
Drawing Classes at Art Social
Location: Whalley Range (Manchester)
Like the name suggests, Art Social is a marriage between the wonders of creativity and elements of the interpersonal. It's founder, Matt asserts his role at Art Social is not only as an artist or teacher, but visual storyteller and leader. Blending into business workshops and a strong emphasis on creative leadership, Art Social is just as much about art as it is about social enterprise.

No matter what your age or ability, Matt teaches art to everyone and, in his words, his teaching is "greatly influenced by ideas from Betty Edwards' 1979 classic 'Drawing on the Right Side of the Brain', which gives practical artistic techniques to access the creative hemisphere of the brain". So why not get that right hemisphere sparkling and book a drawing class with Art Social?
---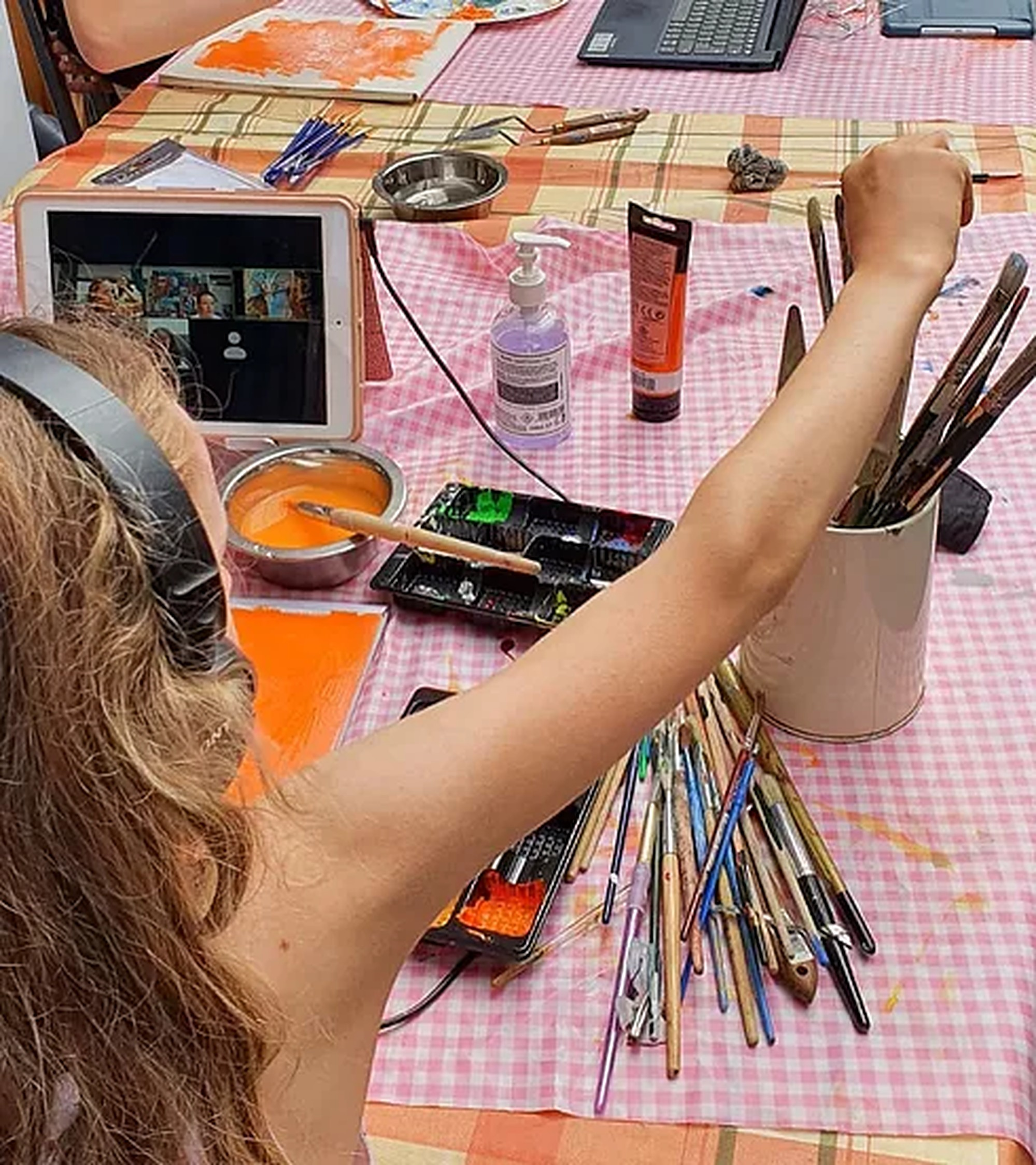 Painting Classes at Lindsey's Art Classes
Location: Stockport (Greater Manchester)
The eponymous founder of Lindsey's art classes was inspired by her childhood growing up in Cumbria's country-side, and then went on to foster her deep love for art and teaching. Lindsey really understands children – their wild, fresh imaginations, need for adventure, and adaptability – and incorporates this into her art classes.

Lindsey offers the much needed and rare opportunity for kids to take art classes online, where the whole family can paint along and learn a range of artistic techniques. She also offers face-to-face tuition during term time, and you can check out her YouTube channel to access some great free lessons for kids.
---
Summer Holiday Sessions at ARTventurers South Manchester
Location: South Manchester
No one better understands Picasso's famous assertion, "Every child is an artist" better than our number 8 pick for the best art classes in Manchester. The owner of ARTventurers South Manchester, Clare, is a parent of two and has been a secondary school teacher for over 10 years. If anybody knows how kids tick it's her!
Clare is passionate about teaching, and her art classes are designed for children to have fun whilst learning new skills. ARTventurers even provide Baby Artventurers classes that are catered specifically for mini-artists age 6 months plus – what a great early entry into artistic creativity! Their Summer Holiday Sessions are a wonderful way for your family unit to enjoy artistic exploration under Clare's experienced guidance.
---
Sip and Paint Classes at Sunita Asal Art
Location: The Gay Village (Central Manchester)  
Fancy a more relaxed approach to creativity? Why not join Sunita for a 2 hour painting workshop plus an added sip of wine (or non-alcoholic drink). In the Sip and Paint classes you will be able to go at your own pace with zero pressure, receiving step-by-step instructions on painting techniques that could result in your first masterpiece!

All art materials are provided – paints, brushes, small easel and canvas – and you can either come by yourself or in a group. All are welcome! Whether it's for a hen do, birthday, corporate event, or Christmas party, Sunita's Sip and Paint Classes are an excellent way to spend quality time together whilst learning some new artistic skills.
Book now on Obby
---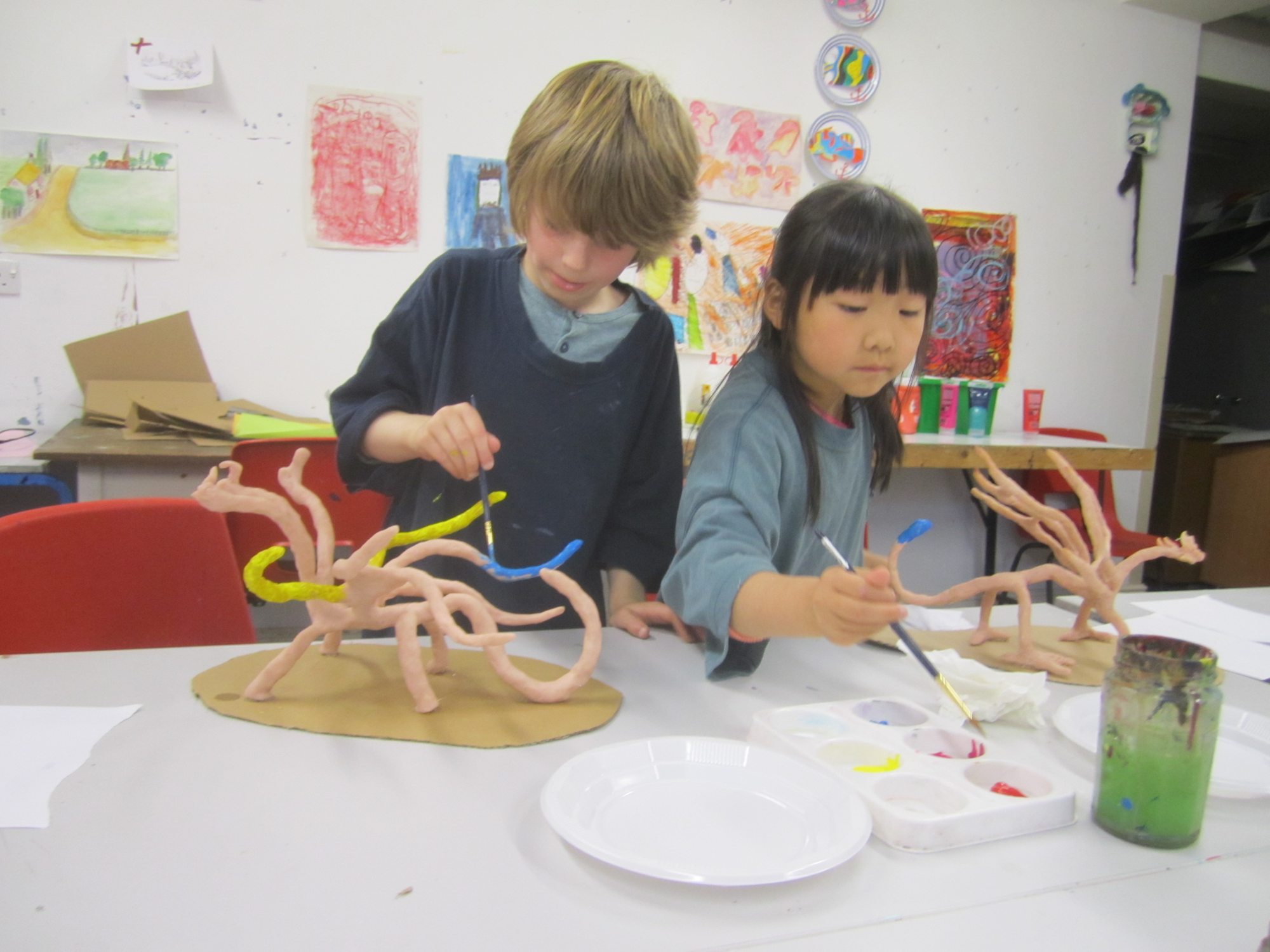 Art Classes at Learning Through Art
Location: Chester Road (Manchester)
Learning Through Art is run by Art Specialist Teacher, Cheryl Dawson. Before launching the company, Cheryl worked as a Primary School Teacher and Graphic Designer and is now passionate about enthusing others to learn through art.

There are a wide range of classes for all ages and abilities, each activity designed to be challenging, intriguing and help develop self-esteem. Cheryl's experience with schools – working at each Key Stage to produce spectacular art installations – ensures your children are guaranteed to broaden their artistic horizons.

Learning Through Art's classes cover the age ranges, 7-11, 12+, and (due to popular demand), adults can now also get involved with a uniquely playful session. No matter what class you opt for, Cheryl ensures students receive the proper guidance in order allow them to explore their creative potential, and, most importantly, have fun!
---
Need more advice?

We hope our list of the top 10 best art classes in Manchester has encouraged you to take your first step towards learning a new artistic skill. Remember, in the words of Ralph Waldo Emmerson, "Every artist was first an ameteur", so don't be dismayed by your seeming lack of ability.

It is a firm belief of Obby's that everyone contains the seeds of artistic genius within them – they just need the proper nurturing in order to flourish! So why not take the plunge into the limitless sea of art? Who knows? It could be one of the best decisions you ever make.

Take a read of some of our other amazing guides and best round ups below. We're sure you'll find something useful, oh - and don't forget to share the love.