From hand building pots to wheel throwing vases, explore everything there is to know about these two pottery making techniques. Wondering what the difference is between hand building and wheel throwing? Not to worry, we have demystified the pottery making process with this useful guide!
You may be wondering, how can I find wheel throwing and hand building classes near me? On the Obby Marketplace, there are many passionate pottery teachers across the country who are keen to share their knowledge with you!
Find Pottery Classes on Obby
What is Hand Building?
Hand building is a popular method used to make pottery and ceramics. As you may have guessed, hand building is when potters use their hands to mould and sculpt clay into different shapes and forms.
Hand building is one of the oldest techniques used to make pottery. For thousands of years, hand building has been used to make art and statues as well as tools.
This method is popular as it allows beginners the chance to get familiar with clay and the opportunity to construct a piece of pottery with their own two hands.
Hand Building Techniques: How to Make Pottery
With hand building, potters are given the opportunity to get messy and get creative. However, there are three key methods you should know about when it comes to hand building.
Pinching Pottery
The ancient method of making pottery is still widely used today. Pinching is celebrated as a straightforward way to make handmade pottery. Simply take your clay and using your thumb and fingers pinch it into the form or shape of your choosing.
Coil Building
This method of hand building is used to create a structure and shape to your pottery. First start by rolling pieces of clay into long pieces which resemble snakes. Then place your pieces of snake-like clay on top of each other and watch it take shape!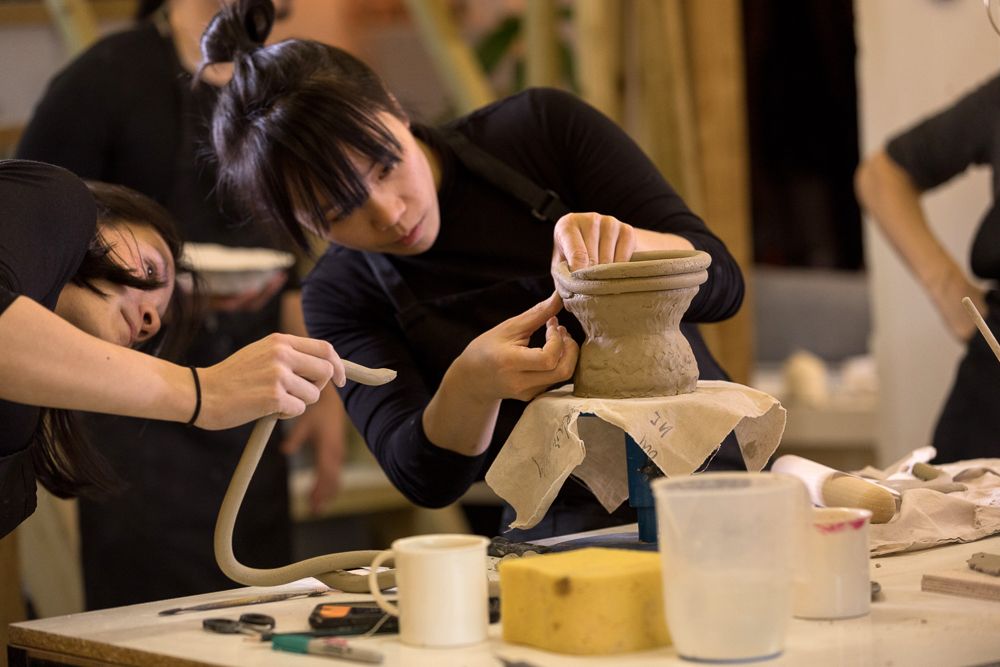 Slab Building
This hand building technique is used to achieve specific shapes and angles which cannot be achieved on the potter's wheel when using wheel throwing techniques! Slab building involves slabs of clay being rolled into thin pieces which are then sculpted into shapes and cut by hand.
Want to Practise Hand Building?
Put your new found hand building knowledge to the test and master every step in the pottery making process!
Whether you want to try your hand at slab building or coil building, The Ceramicists run pottery making workshops, classes and courses that are sure help any beginner develop their hand building skills.
The Ceramicists is fronted by skilled and encouraging tutors who are talented in their ability to create impressive pottery. As well as being confident in their craft, Stephanie, Lenny and the rest of The Ceramicists team are confident in their teaching ability too.
Book now on Obby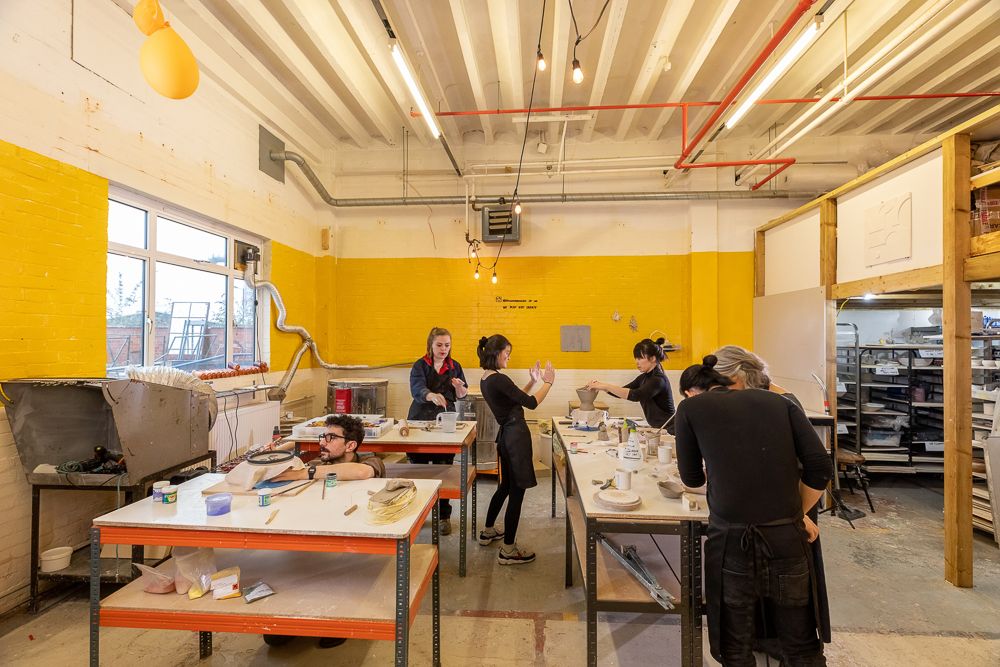 ---
What is Wheel Throwing?
For most people, the first thing that comes to mind when they think of making pottery is that scene in the famous 1990 film, Ghost. If you've always imagined making pottery like Demi Moore, then it's possible that wheel throwing may be the pottery making technique for you!
Although it has become known in today's popular culture because of this film, wheel throwing has actually been around for thousands of years!
However, it's important that you know more about this pottery making process before you have a go yourself.
Wheel throwing is when pottery is made using a potter's wheel. The potter's wheel will spin continuously while you mould and shape clay on the top of the wheel (as seen below).
The Wheel Throwing Method: How to Make Ceramics
This method is harder than it looks and it often takes beginners a few attempts before they get the hang of it! If you are new to the potter's wheel, we have outlined some of the main tips and tricks for creating ceramics on the potter's wheel.
Use Your Whole Hand
When creating pottery on the potter's wheel, you can use different parts of your hands when creating different shapes. For instance, it can be useful to use the palm of your hand as well as your knuckles to get more control of the clay and create different shapes.
Decorate Your Pot on the Potter's Wheel
One thing many people may not realise is that the Potter's Wheel can also be utilised when decorating and adorning your pots. Adding imprints and decorations can be done on the potter's wheel. Many talented makers will use the potter's wheel to add colour to their vases, cylinders and other pottery pieces.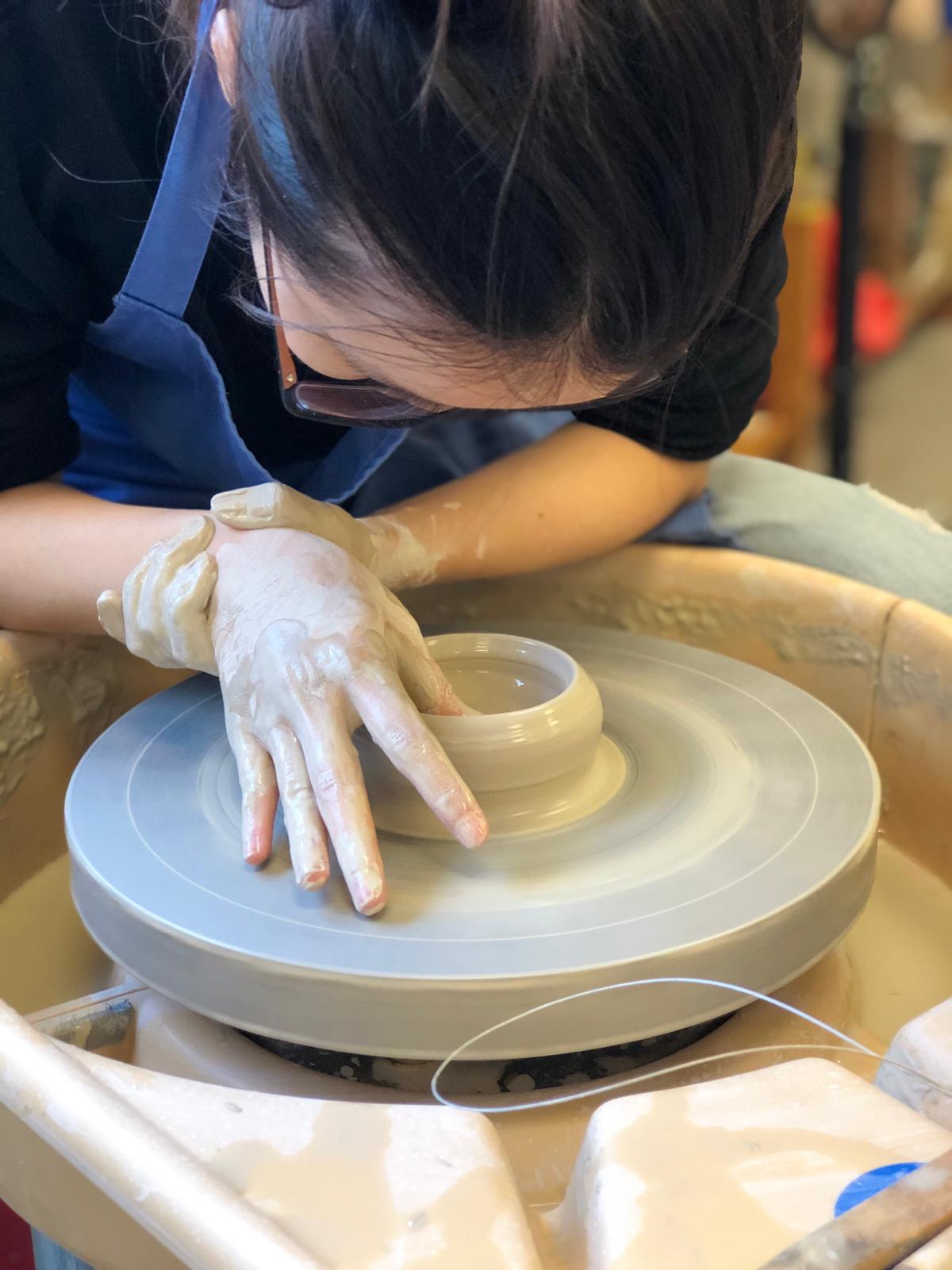 Want a Spin on the Potter's Wheel?
Whether you're trying to find a potter's wheel for sale so you can have a go at wheel throwing at home or you're feeling motivated to learn from an expert in an inspiring pottery studio, it's never too late to build your pottery making skills.  
One key advantage of learning wheel throwing techniques in a pottery class is that you get step-by-step guidance from an expert potter!
An example of an inspiring pottery school is Workshop 305. From beginner wheel throwing classes to glazing and surface decoration workshops, the welcoming team at Workshop 305 host relaxed and friendly pottery making workshops for students of all levels!
Book now on Obby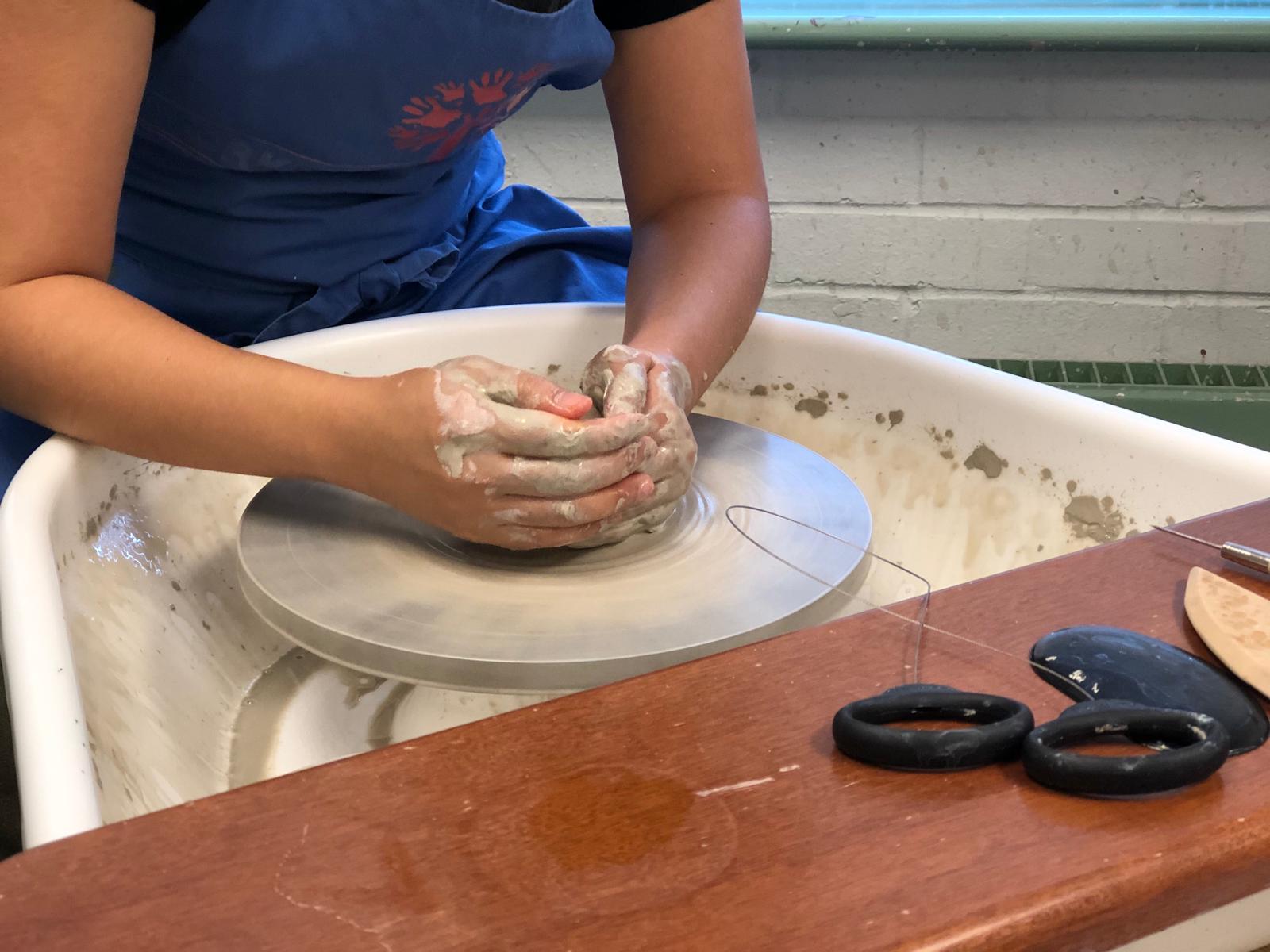 Hand Building vs Wheel Throwing: Which One is for You?
If you're a beginner when it comes to making pottery, then perhaps introduce yourself to clay and the pottery making process with a beginners hand building class.
Want to be be thrown into the deep end? Those who are looking for a fun and stimulating challenge will thrive within a wheel throwing course.
Can't make up your mind? As both hand building and wheel throwing are two fascinating techniques, it's no wonder you could be feeling spoilt for choice!
If you really can't make up your mind, then why not book a pottery workshop with The Slightly Curious Studio? Within their pottery classes, beginners will be introduced to both hand building and wheel throwing pottery techniques!
The Slightly Curious Studio is creative studio which provides an environment for students to encounter materials and learn skills to express their imagination and curiosity. Their classes are designed to exercise your creativity as well as build your pottery making knowledge.
Book now on Obby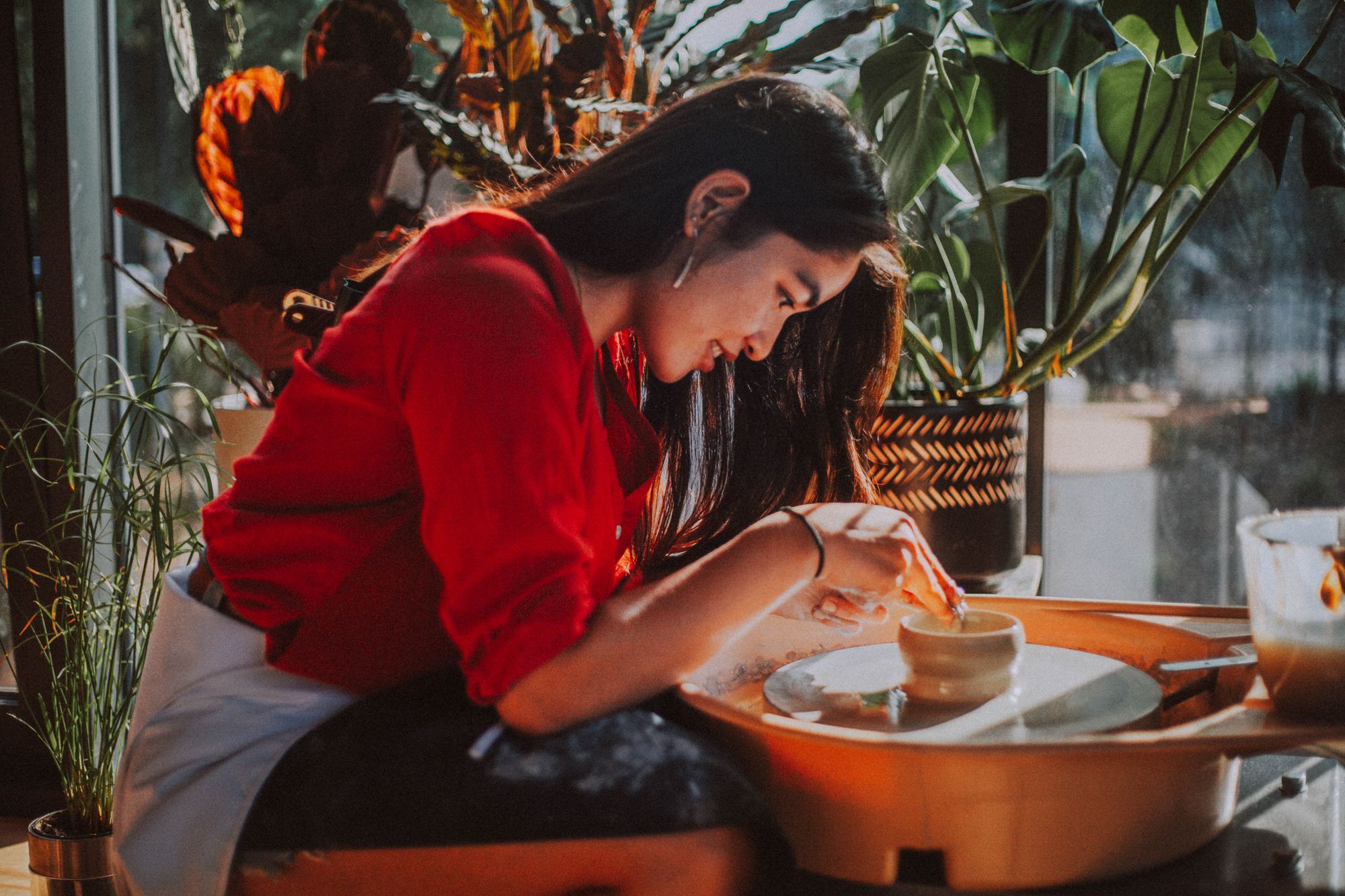 Need more advice?
Learning how to make pottery is a fascinating, rewarding and relaxing experience. The tactile nature of moulding clay with your own two hands and seeing your finished piece of pottery come together is an enriching and captivating feeling. Pottery has been celebrated as an impressive way to create striking art. However, today pottery is also praised for its ability to create a moment of calm. Whether you want to learn how to make pottery to practise mindfulness or to stimulate your creativity, we hope these hand building and wheel throwing tips help you throughout your pottery making process!
Take a read of some of our other amazing guides and best round ups below. We're sure you'll find something useful, oh - and don't forget to share the love.