Looking for the best painting classes in London? We have you covered! There are hundreds of classes to choose from, so it can be hard to find one that's right for you. We've rounded up the best of the best in the capital. Discover 9 top painting classes in different regions of London, find your perfect class and book your spot on Obby!
The act of painting is a great way of winding down after a stressful day at work, encouraging you to switch off the analytical side of your brain and allow the right hemisphere to take the reigns.
Today, studios, artists and like-minded people all over London have started drop-in painting classes that can quench your artistic thirst, and hopefully offer a bit of cathartic release.  
We've selected the best options in London for drop-in painting classes so, whether you are a beginner looking for something fun as a one-off, or  searching for something local where you can learn how to paint without the commitment of a course, we've got you covered!
Top 10 best painting classes in London are:
The Clothed Model with Richmond School of Painting
Slade School of Fine Art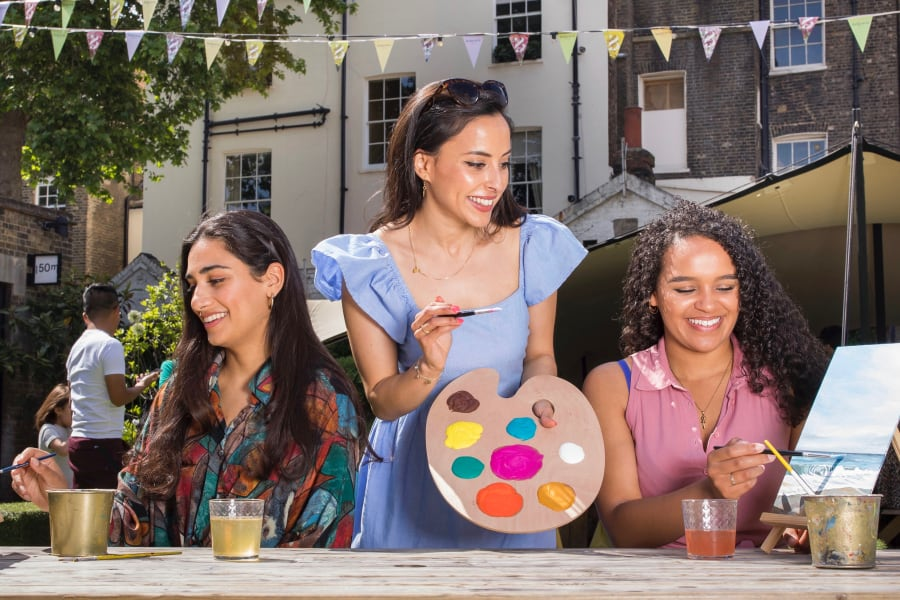 1. MasterPeace
Location: Belgravia, Central London
Discover your inner creative with Dragon's Den success, Masterpeace. Run by a team of 20 artists, the studio based in Belgravia, London offers a range of different art classes. Like the name suggests, MasterPeace are less focused on the finished product, and more on how the artistic process can be an avenue for meditation and mindfulness.
Out of the many worthy classes to choose from, Obby recommends the Coached: Studio Painting Experience. In this relaxed session you will be guided by a professional artist and create your own unique acrylic painting. With the added bonus of a free cocktail and sweet treat, what's not to love!
You can also opt for the chilled-out and merry, Al Fresco:Paint and Sip in our Courtyard, where you will select from 10 different painting kits and work semi-independently with an instructor. All while the sun beats down!
With such a broad variety of classes, as well as their welcoming and mindful attitude to art, MasterPeace is an easy pick for the top spot for our Best Painting Classes in London.
Book Now On Obby
2. Merriment Atelier (Paint & Sip)
Location: Teddington, South West London
Coming in at number 3 for our Best Art Classes in London is Merriment Atelier. Known for their celebrated Paint and Sip in Style Workshops, there's no better way to unwind and get your creative juices flowing than popping down to one of their events.
Despite the range of workshops they offer, Merriment Atelier insist that all their respective painting styles have one chief  goal: "to inspire you to live the life you love".
With a complimentary cocktail as well as canvas and paints included, you're sure to have a great time at their upcoming event – Paint and Sip Part: Lavender Fields in Tuscany held at the Kings Head, Twickenham. Come on your own or with friends and spend the two-hour class sipping, relaxing and refining a beautiful acrylic painting.
Book Now On Obby
3.  Katya Art Studio
Location: Harrow, North West London
At her Studio in Pinner, London, Katya is not only an expert artist who will guide you to create your own unique creation, but also the consummate hostess!
Whether it's you yourself, or a gift for a special someone, students can enjoy a glass of wine and a spot of lunch while they receive step-by-step instructions on how to create their masterpiece!
Even if you've never even picked up a paint brush or seen an easel in the flesh, Katya's expertise and friendly approach will ensure you will have learnt a variety of techniques by the end of the class. What you choose to paint is totally up to you, whether it is inspired by London cityscapes, life models or photographs.  
Book Now On Obby
4. Paint and Sip at The London Art Bar
Location: Holborn, Central London
This fun and creative painting workshop will give you professional step-by-step guidance as you let your inner artist run wild. So grab a glass of wine and a paintbrush, and unleash your creativity in this relaxed and interactive event.
Everyone has to start somewhere! This class is perfect for beginners who have no experience with a paintbrush and want to learn all the right strokes and techniques. Discover a new passion, indulge in your imagination and quench your thirst for creativity in this paint and sip class.
PopUp Painting runs social painting experiences which are led by qualified and practising artists, who will guide you through a masterpiece while you sip, paint and create. Their events are great for getting together with friends, meeting new people, team building or date nights!
Book now on Obby
5. Artistic Oil Painting Class with Allan Storer
Location: Twickenham, South West London
This is an Artistic drop-in painting class in London that doesn't require the commitment to a course. The classes were started by Allan Storer who felt that London needed a casual, accessible painting course led by a professional artist.
Allan has a genuine passion for teaching and is keen to pass on his skills to students, which is what makes his classes so enjoyable and instructive. At an extremely affordable price of £25 , Alan accommodates everyone, whether you're a complete beginner, or a slightly more experienced painter who's interested in receiving further professional guidance.
If you are a beginner, Alan will sit you down and teach you the ins and outs of oil painting, as well as certain techniques you need to use on paper. On the other hand, you can bring your masterpiece along with you, and Alan can help you navigate the tricky parts you might be struggling with. The only rule for this class – you must bring your own canvas!
Book Now On Obby
6. Introduction to Watercolour Painting
Location: Earlsfield, South West London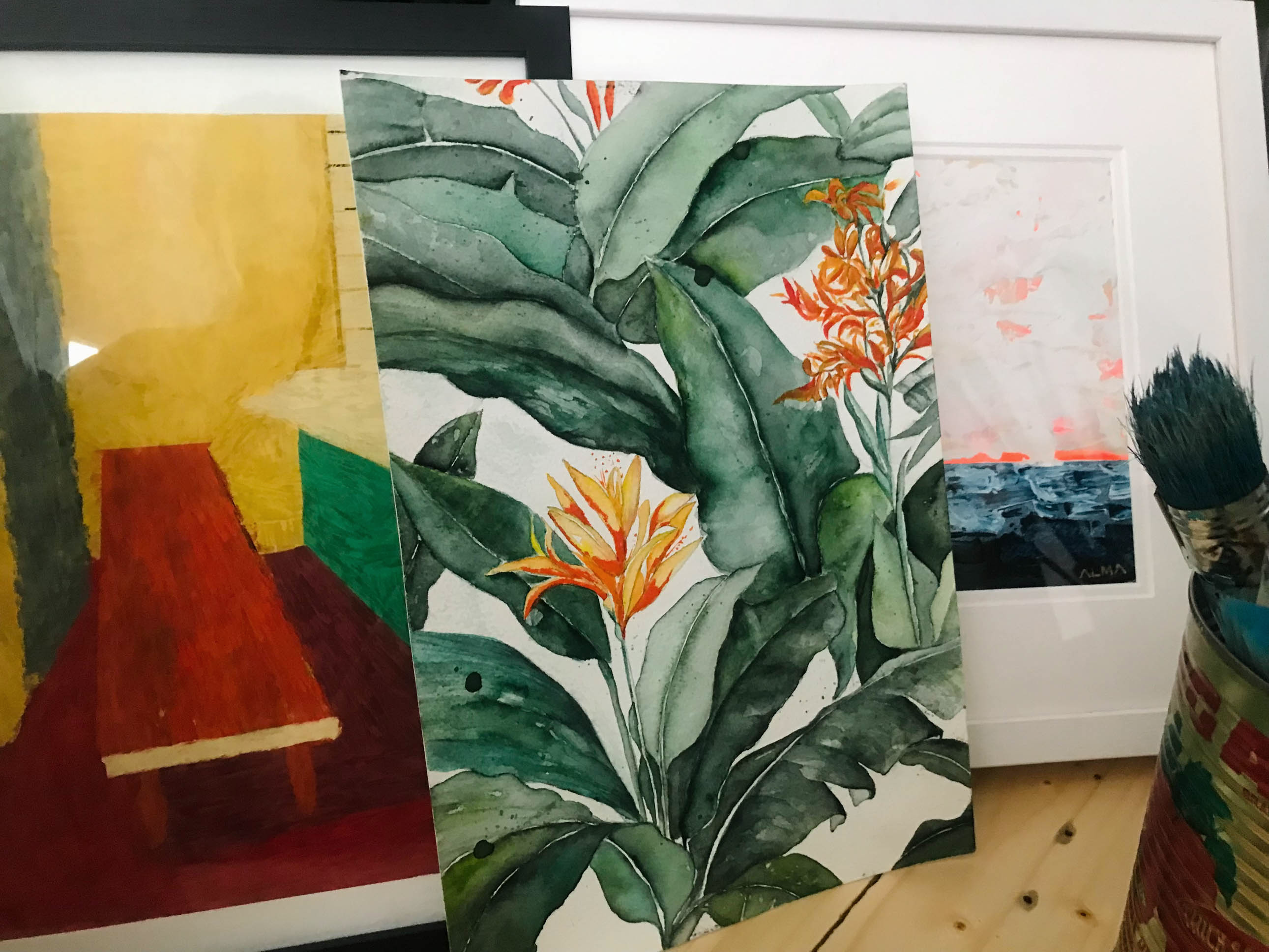 Step inside Alma Tipon's private studio to explore the process of painting. Alma will share the techniques she applies to paint using watercolour and a touch of gouache. You will join a cosy atmosphere, soothing music, surrounded by her paintings, candles, fairy lights and a touch of tropical vibes with lots of tea and coffee.
This masterclass is for students of any ability wanting to boost their confidence and watercolour painting techniques. There will be plenty of time for painting exercises and practise before you make your main masterpiece.
Alma Tipon is an artist based in London. She is currently an art instructor and runs her own art business where she gets inspiration from sharing her passion for painting and art with students of all levels.
Book Now On Obby
7. Paint in an Artist's Studio in a City Farm
Location: Various, across London
On arrival, Georgie will set you up with a canvas and begin with some mindfulness, art or literature linked to the month's theme to get you feeling inspired. You can then go for a walk around the farm to salvage materials for texture, or just soak up the nature, before getting stuck into your piece.
Georgie will talk you through the process of building texture, colour mixing, mark-making and learning how to construct a good composition. She will guide you through the process of creating your personal artwork, with teaching tips along the way. Georgie will encourage detachment from the inner perfectionist that tells us we should be 'good', and instead just enjoy the process and find flow.
Georgie Mason teaches weekly workshops from her studio at Stepney City Farm in London, a wholesome and creative environment, physically close but atmospherically very far from the hustle and bustle of the city.
Book Now On Obby
8. Acrylic Pouring Techniques Workshop
Location: Worcester Park, South West London
Acrylic pouring is such a fun medium! In this workshop you will explore different techniques used to create a range of effects. Create 4 canvas' experimenting with acrylic pouring techniques!
From traditional pour and puddle pour techniques to Dutch pour and swiping methods, explore the different effects of each pouring approach. Learn about mixing paints, creating cells and have fun producing stunning unique art works!
All materials and light refreshments will be provided in this workshop. Come along to this workshop with your unique artistic vision as well as wearing clothes you don't mind getting messy in!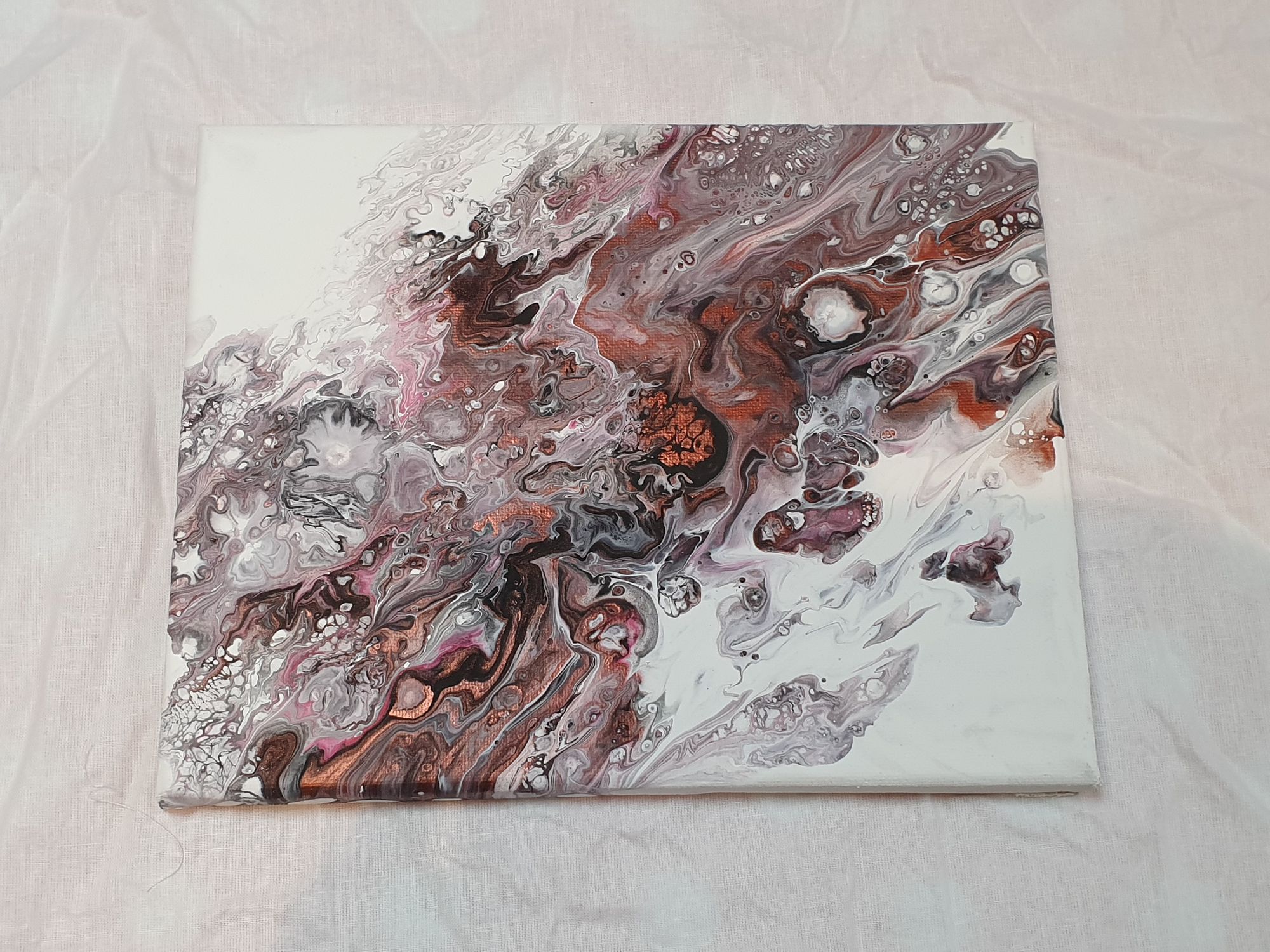 Rachel at Craft My Day LTD believes that all people are creative and with a bit of patience and encouragement can be taught ways to express that innate ability. Get a real sense of satisfaction and enjoyment with their creative workshops.
Book Now On Obby
9. The Clothed Model with Richmond School of Painting
Location: Richmond, South West London
Though it may be overshadowed by life drawing, painting a clothed figure allows for a totally different range of colour-mixing and expression. The drop-in painting classes at the Richmond School of Painting will help to expand your understanding of this underappreciated medium.
In the Renaissance, the form of a figure was often expressed through drapery. Clothes can be overlooked when viewing a painting, but they are key in the makeup of any clothed figure and, let's be honest, everyone aside from our intimate other's are mostly clothed!
With the help of artist Alice Neel, you will observe the clothed figure and paint the hands, head and fabric with equal emphasis . By closely looking at shapes, lines, colour, texture and tone, clothes will not be side-lined in the study of a figure, but emphasised and celebrated.
10. Slade School of Fine Art
Location: Warren Street, Central London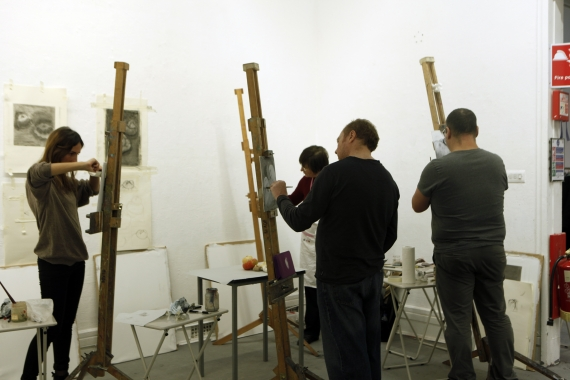 A contender for one of the best art schools in the UK, The Slade School of Fine Art has produced students who went on to have impressive careers as professional artists – Paula Rego, Stanley Spencer and Jenny Saville (to name a few). Ar Slade, there are several art and painting courses which take place over 8 weeks (usually once a week for 8 consecutive weeks).
All courses are taught by practising artists, many of whom studied at the Slade, so you can be sure of receiving the highest quality instruction. It should be noted that these courses are not suited for absolute beginners; they are more geared towards intermediate and advanced level artists who seek to refine their skills and techniques with the aid of a professional.
Need more Advice?
With it's sprawling cityscapes and rich cultural history, London has a longstanding artistic heritage. Of all the many places in the world, the home of the Globe Theatre and Tate Modern isn't short on inspiration! So, if you suddenly find your creative urges desperately need an outlet, you have artistic techniques that need refining, or you'd like to relax and unwind, Obby's Best Art Classes in London will have something for you. Why not silence that inner critic, throw caution to the wind, and discover your creative side?
Take a read of some of our other amazing guides and best round ups below. We're sure you'll find something useful, oh - and don't forget to share the love.