You may be wondering, what is a teaching platform? Well, there are many different types of teaching platforms, which can benefit different types of teachers.
There are teaching platforms, like Obby, that help teachers in a number of ways, from managing bookings and schedules to providing teachers with features that enhance teaching online. These teaching platforms are usually well suited to new teachers or teachers that have turned their weekend hobby into a teaching career.
While there are also teaching platforms out there for academic teachers and tutor who run traditional educational classes.
From virtual tutoring in online courses to educational in-person live classes and workshops, there are many digital teaching platforms out there that can reduce many of the challenges teachers face.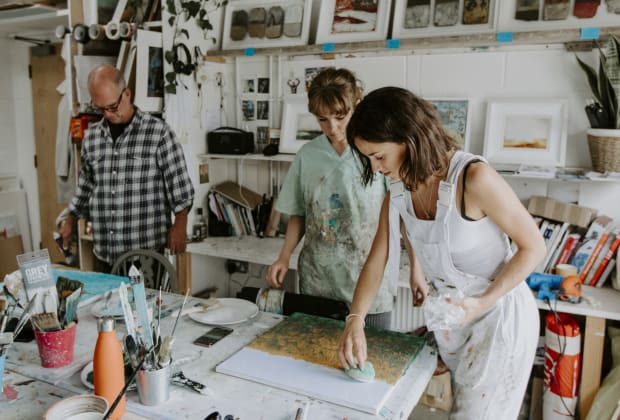 Choosing the best teaching platform for you can be very overwhelming! We have put together a run down of just a few of the most popular teaching platforms out there and outlined their impressive features, tools and resources.
The Top 10 Best Teaching Platforms to use in 2022 are:
Thinkific
Udemy
Teachable
Skillshare
CourseCraft
OpenLearning
Blackboard
LinkedIn Learning
1.Obby
Best for: crafts and artisan teachers looking for an all-in-one teaching platform and booking system
The Obby teaching platform helps you manage just about anything a teaching business could need, making it one of the best teaching platforms around. No coding is necessary to use their software, which is fully branded to your site and sits neatly within it.
Obby Key Features
Obby champions teaching and believes that passionate teachers are the best people to share their craft! Their online teaching platform makes teaching a seamless and engaging experience for both teachers and students. Here are some of the many digital features Obby's learning platform boasts,
Obby's learning platform provides a virtual classroom for teachers. This allows teachers to share information and inspire students! The virtual classroom is also where students can join live online workshops.
Need to send out materials or kits to your students? They've got that covered too, with their learning kits feature that can be attached to any online class or sold separately.
You also have the flexibility to host both live online classes (via their Zoom integration, or a video conferencing software of your choice) and pre-recorded content (again, via a video software of your choice like Vimeo).
Secure payments are taken via Stripe, your full availability and schedule is managed, their full CRM (customer relationship management) suite allows you to connect with your students and manage bookings with fully automated emails and reminders to all students.
How Does Obby Work?
Teachers who choose to use Obby's learning platform will get to enjoy the many benefits of Obby's Marketplace. This is where students will first see your listing and book your class.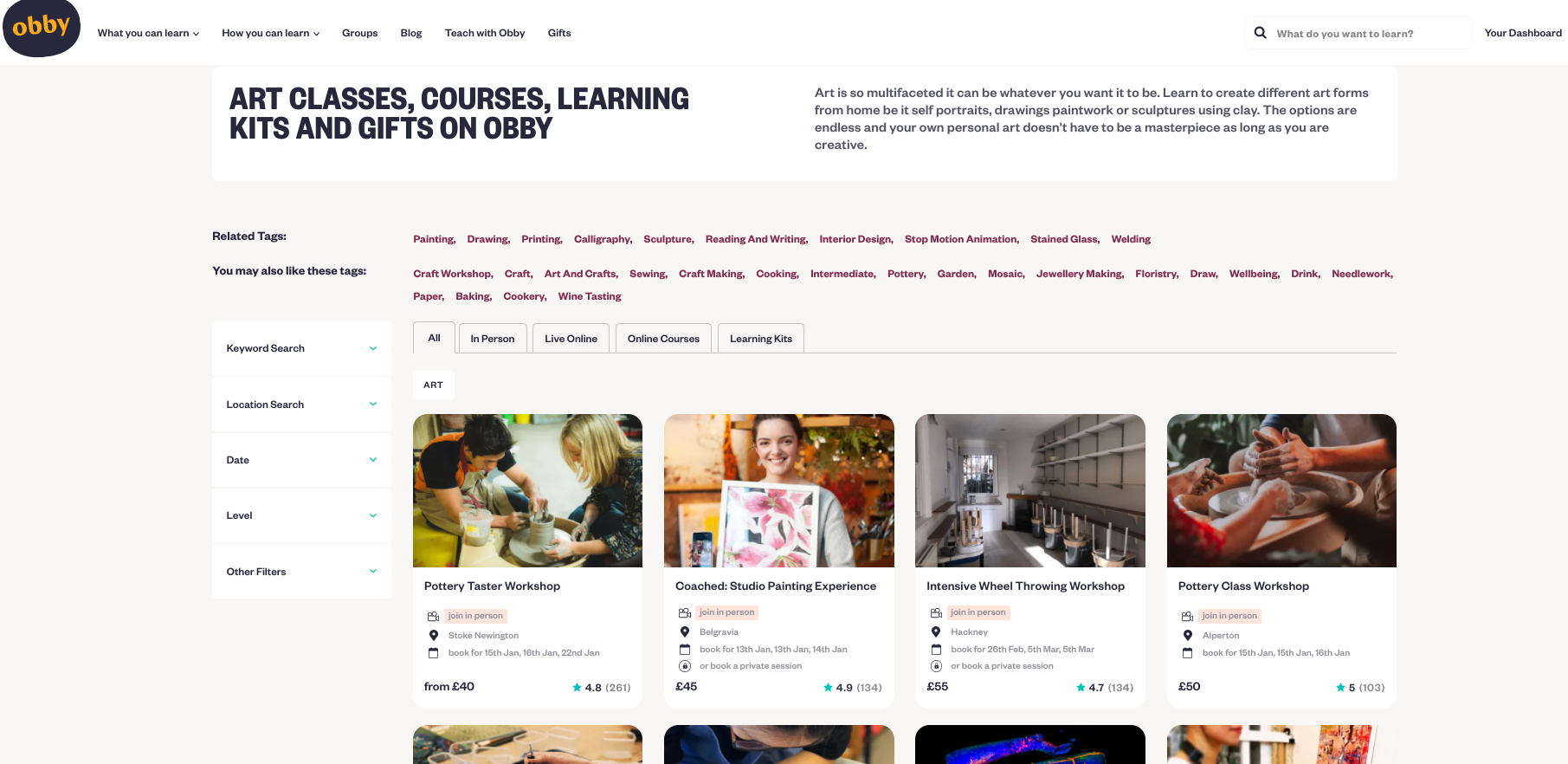 Once students have booked a class, they will receive an email confirmation with a link to a virtual classroom. Within this virtual classroom, there are three main sections.
First is the 'Get Ready' section. This is where students can access pre-class notes, information on what they will learn and how they can prepare for the class.
As shown on the right of the below image, this is also where students can join live online classes thanks to Obby's seamless Zoom integration.
If students have purchased a pre-recorded class, instead of the 'join class' button, students will have a link to the pre-recorded class content that they can access straightaway!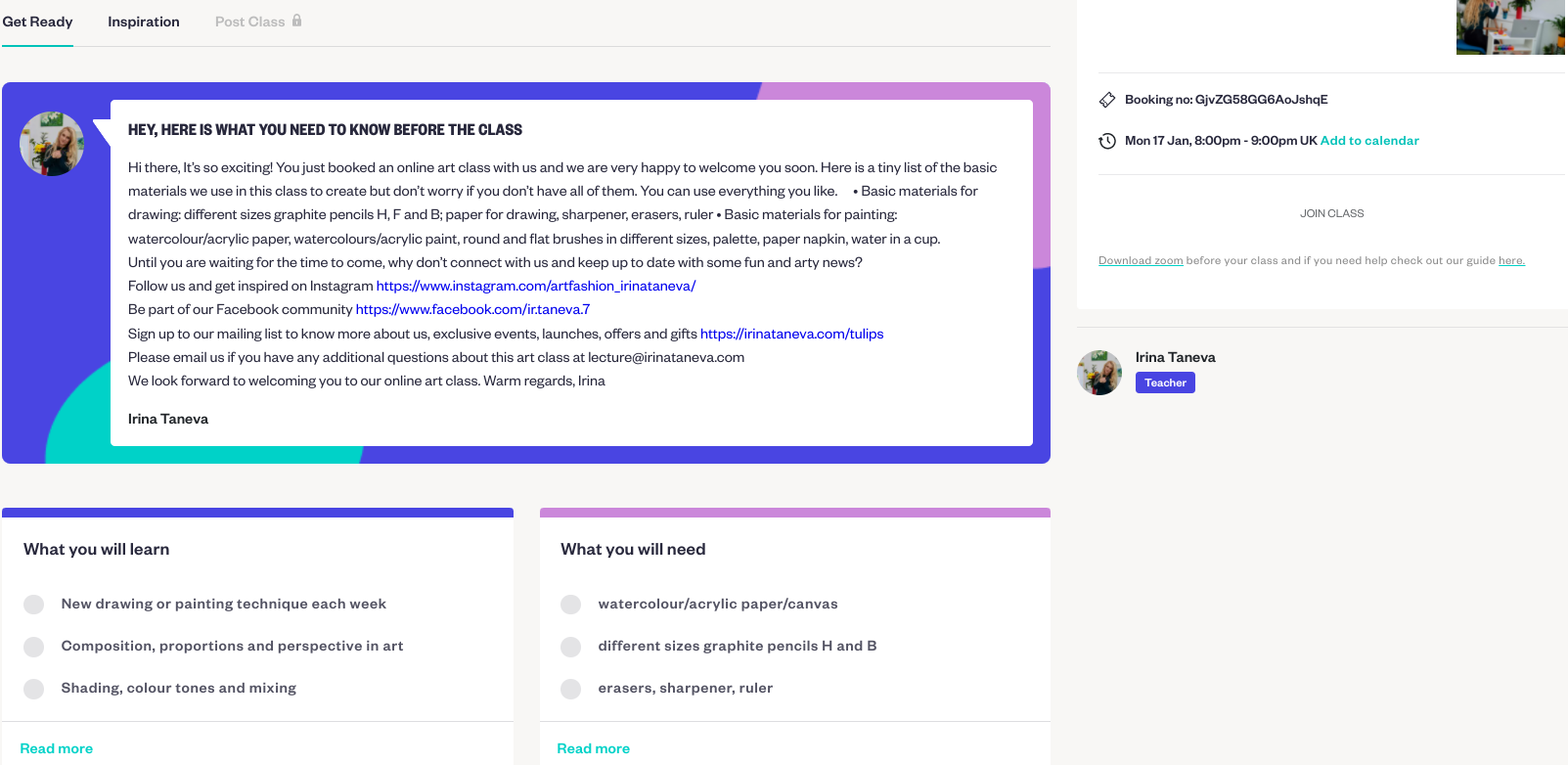 There is also an open messaging feature which allows teachers and students to communicate before the class begins.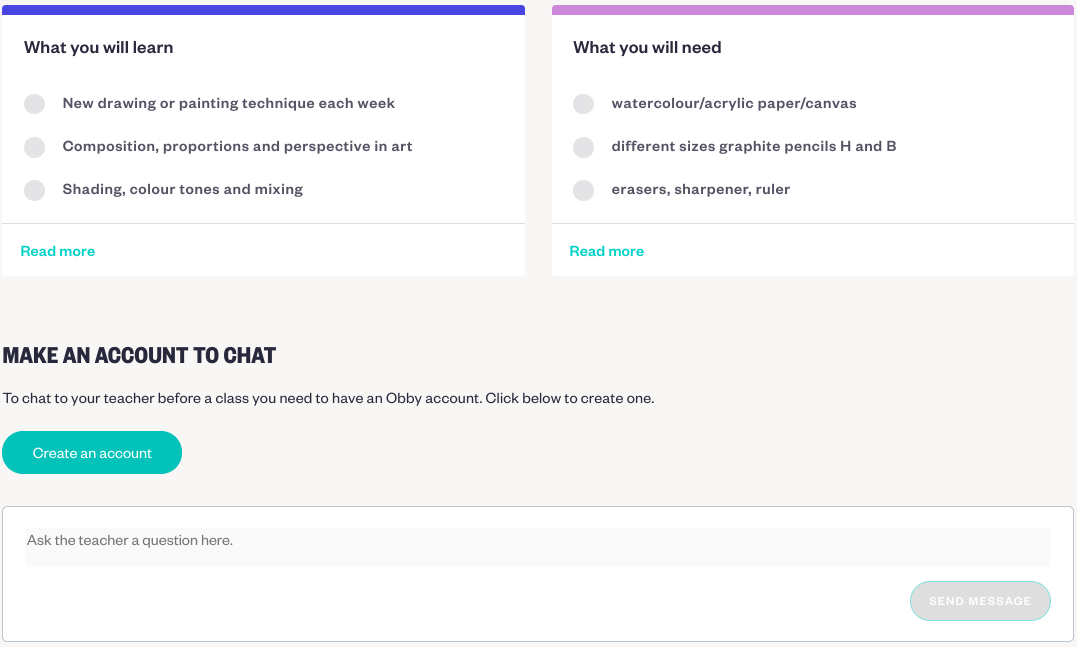 The 'Inspiration' tab is an area where teachers can embed Youtube videos or videos from different platforms that will inform, inspire and excite students about their upcoming class!

Once the class has taken place, the 'Post Class' tab will become available for students. Here, students are prompted to book another class, leave a review and ask any questions they may have after the class. Students need to create an account to use the chat feature that is available on the virtual classroom. However, clicking on the 'create an account' tab, they will be taken through this process step-by-step.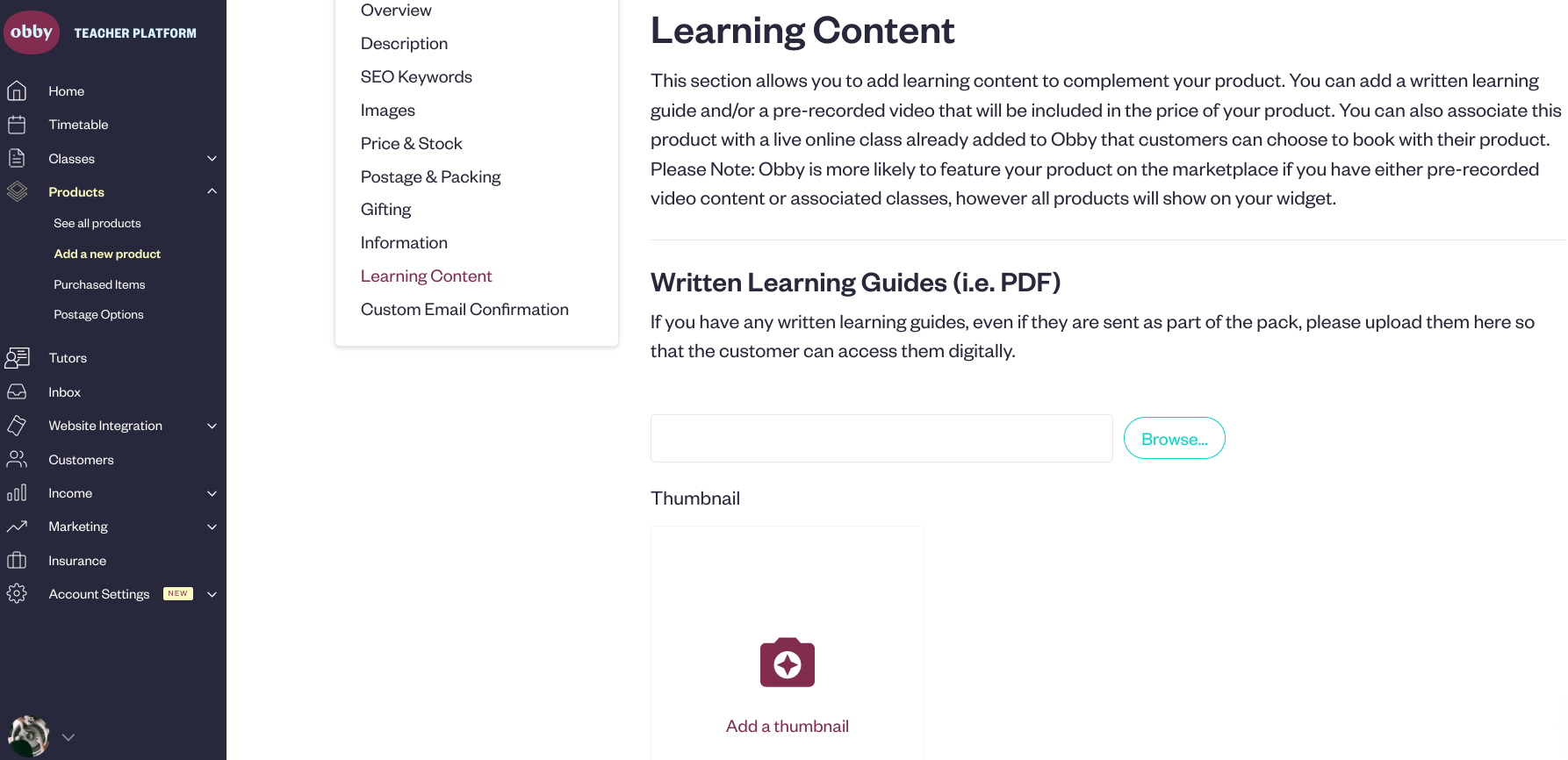 Obby's dashboard makes adding and organising class content simple and easy! Teachers can access everything they need to create their live and pre-recorded classes all in one place. Here, you can add class information, arrange class schedules and add images that make your class stand out.
Pricing
Looking for an affordable teaching platform? Obby had a range of comprehensive and robust paid plans which allows teachers to use their teaching platform as well as their booking software. Teachers can also try before they buy with Obby's free plan.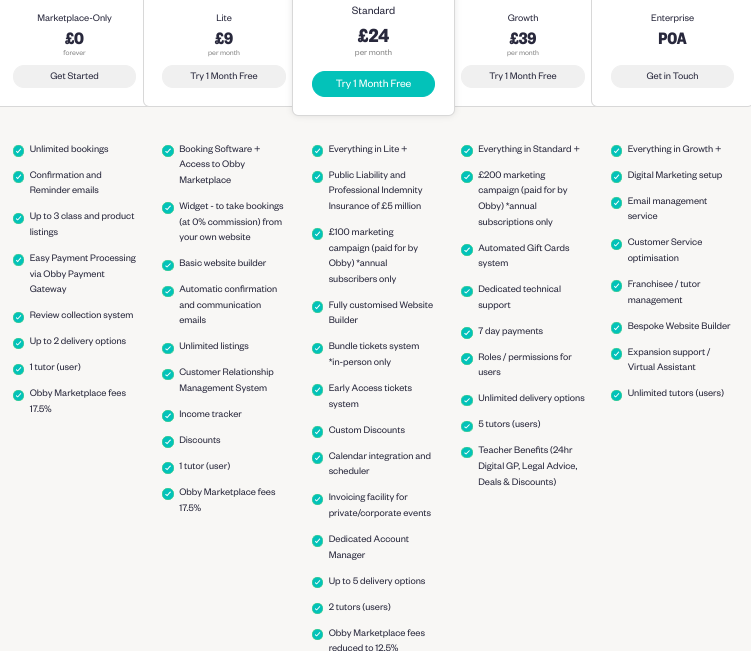 Obby Pros
Obby's goal is to make learning accessible and enjoyable for students. That's why they go above and beyond to provide passionate craft and artisan teachers with the best teaching platform possible. Here are just some of the many benefits of using their learning platform,
Not only do they have tools which make teaching seamless, their booking software simultaneously makes managing classes seamless too.
Another benefit of using Obby is immediate access to their learning Marketplace. Through their Marketplace, they have helped over 50,000 students find the perfect class or teacher for them.
Whether you teach live online courses, pre-recorded workshops or in-person classes, Obby will help you manage, schedule and promote all of your classes.
Obby allows teachers to add informative follow-on or preparation videos from Youtube and Vimeo for students to get as much out of their learning as possible.
Who is Obby For?
Obby is the best teaching platform for artisan teachers who are looking for a system that does everything all in one place. When using Obby's learning platform you are not only accessing amazing features on the teaching platform, teachers can also improve how they manage their business with Obby's impressive booking software.
Book a Demo Call
The supportive Obby team are here to help you through the on-boarding process and beyond! Book a free demo call at a time that suits you to get started with Obby.
Book an Obby Demo Call
---
2. Baluu
Best for: teachers who run in-person and online classes as well as events and experiences
Baluu is a powerful teaching platform that can transform the way teachers grow, organise and run their classes. Having already helped teachers sustainably grow their income and manage their bookings, Baluu makes teaching online and in-person very simple!
Baluu Key Features
Not only does this all in one teaching platform and booking software promise to reduce teachers admin time, Baluu will also help teachers track and grow their business! Here are some of the many features Baluu has for teachers,
Teachers can integrate Baluu with their teaching website, so they can take bookings from their own branded website.
Whether you teach in-person workshops, online classes or hybrid courses, Baluu helps teachers organise timetables and manage bookings. Baluu creates auto-updated guest lists and timetables so you can spend less time doing admin and more time teaching!
Teachers aren't limited to traditional teaching styles when using this platform! If your're a teacher that also runs events and experiences, Baluu is the software for you! This teaching platform supports teachers that run events as well as classes.
Build your communication and relationship with your students with Baluu's customer relationship management (CRM) tool. This feature allows teachers so send automated and customised emails and more!
Integrated marketing campaigns allow teachers to run discounts and track analytics data.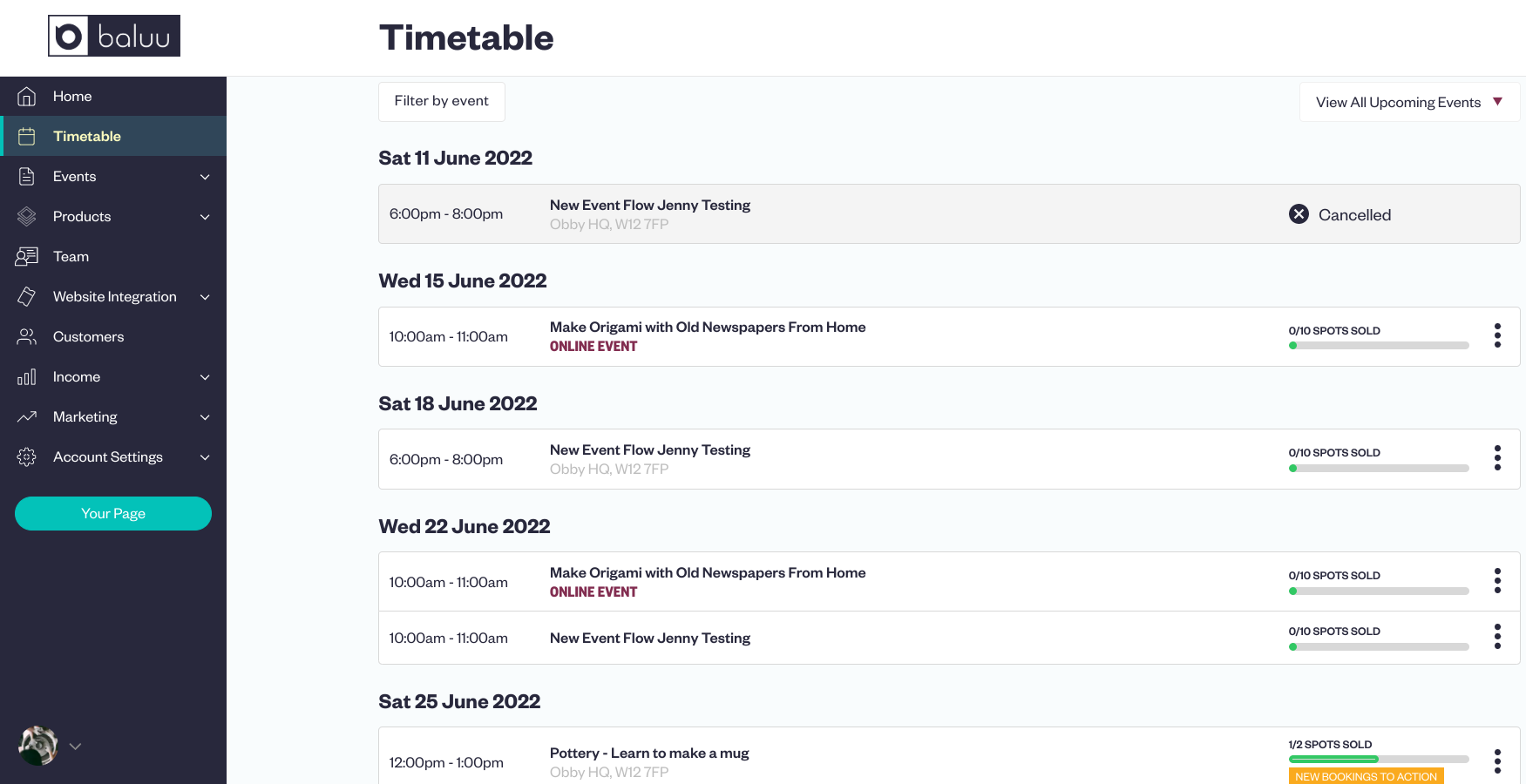 With Baluu, teachers can keep track of their timetable with ease! Customers can book, reschedule and cancel their booking themselves. This makes the logistical side of running your teaching business less time consuming, so you can spend more time teaching and selling your courses!
Pricing
Baluu has created three paid plans to choose from. Their first paid plan is for new businesses, the second plan is for small businesses and the third paid plan is for growing businesses. Baluu also has a free plan for teachers to see if this software fits their needs.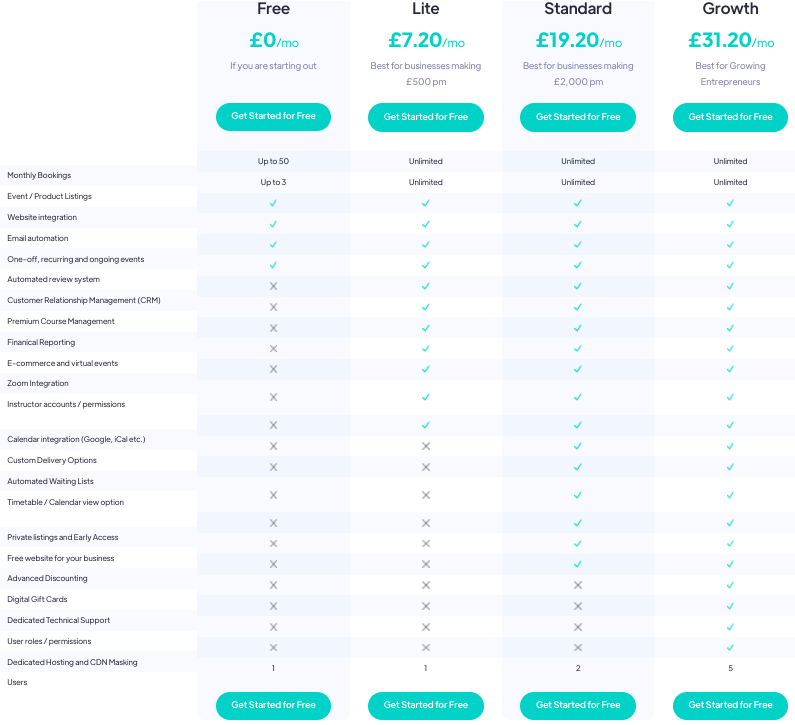 Who is Baluu for?
This teaching platform is best suited for teachers who run a range of events. From in-person classes and online courses to events and experiences, Baluu can help teachers organise bookings for any teaching format or event! As well as managing and organising your classes, Baluu is the best teaching platform for teachers who want to host different events.
Book a Demo Call
Think Baluu is a good fit for your teaching business? Book a free demo call with a friendly member of the Baluu team to find out how you can get started.
Book a Demo Call
---
3. Thinkific
Best for: educational businesses who want to add assessment milestones and track student progress
Thinkific is a powerful software that allows you to build a beautiful and professional looking website in minutes, with no coding experience required. This teaching platform does more than help teachers build a website, they also have many features that make teaching online engaging.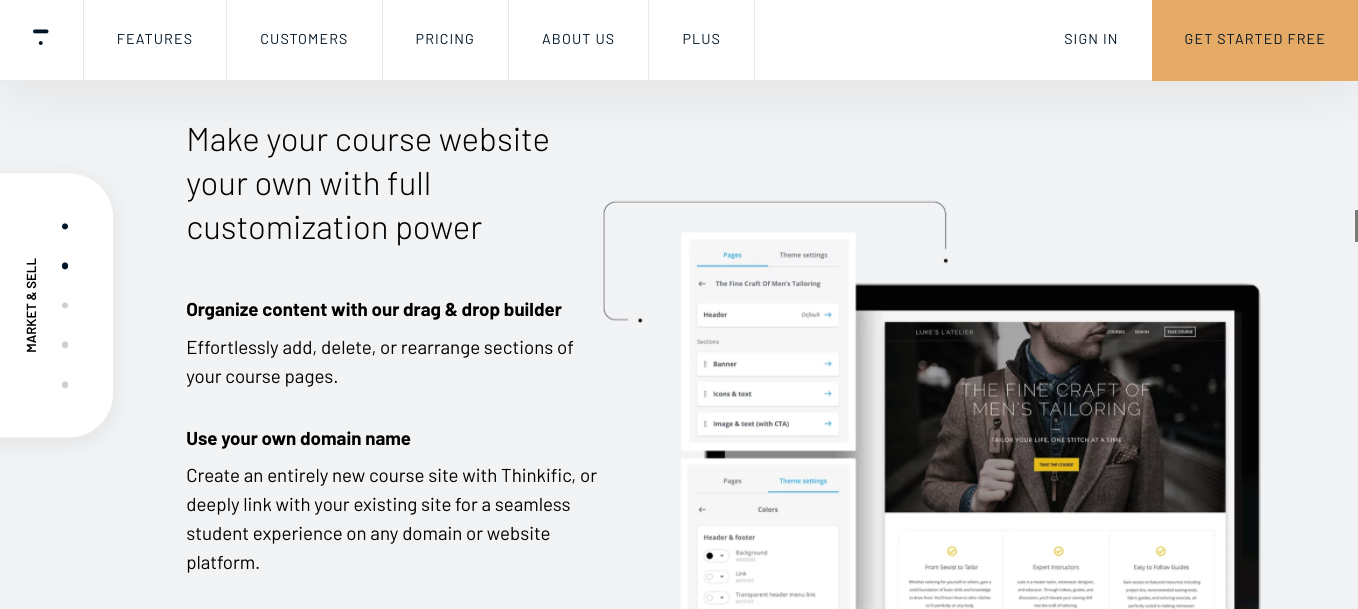 Thinkific Key Features
Thinkific allows you to host courses online and there is a number of ways you can customise your course and make it your own. We have listed some of the most significant features this teaching platform offers,
Teachers can list an unlimited amount of video for their classes and create assessments that supports students learning.
Thinkific allows teachers to recognise and address students achievements with certificates. Teachers can track student progress with their detailed reporting feature.
Students can purchase memberships which allows teachers to have a recurring income.
Any questions or uncertainties the students have can be answered within their range of communities. Communities also help students to discuss their learning experience.
Creating online courses is easy with their drag & drop and quick upload features. This saves teachers valuable time!
This learning platform supports a rich plethora of multimedia content, including video, Google docs, Typeform and more.
Pricing
Thinkific gives teachers a selection of plans to choose from. Explore their teaching platform with their free plan or discover the advantages of their paid plans. Their Basic plan is $39 USD a month and their Pro plan is $79 USD a month. Thinkific's largest paid plan is their Premier plan which is $399 USD a month.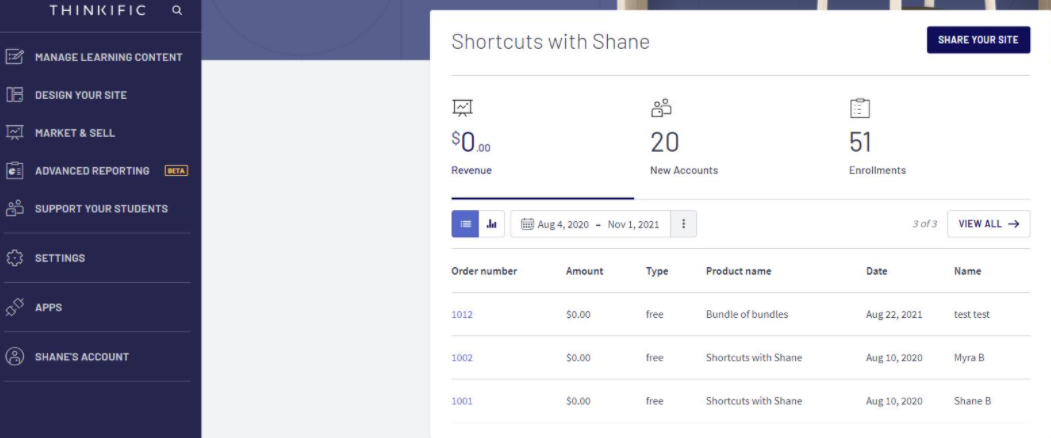 Who is Thinkific For?
This teaching platform is a good fit for teachers who design their classes and courses with the aim of tracking and advancing student progress. If you are a teacher that enjoys setting assessments and reviewing student progress reports, then this may be the teaching platform for you.
---
4. Udemy
Best for: teachers who want to share their technical skills with eager to learn students
Udemy have a huge community of 40 million students worldwide. Using their teaching platform to host your online course means you will have access to all of these students across more than 180 countries.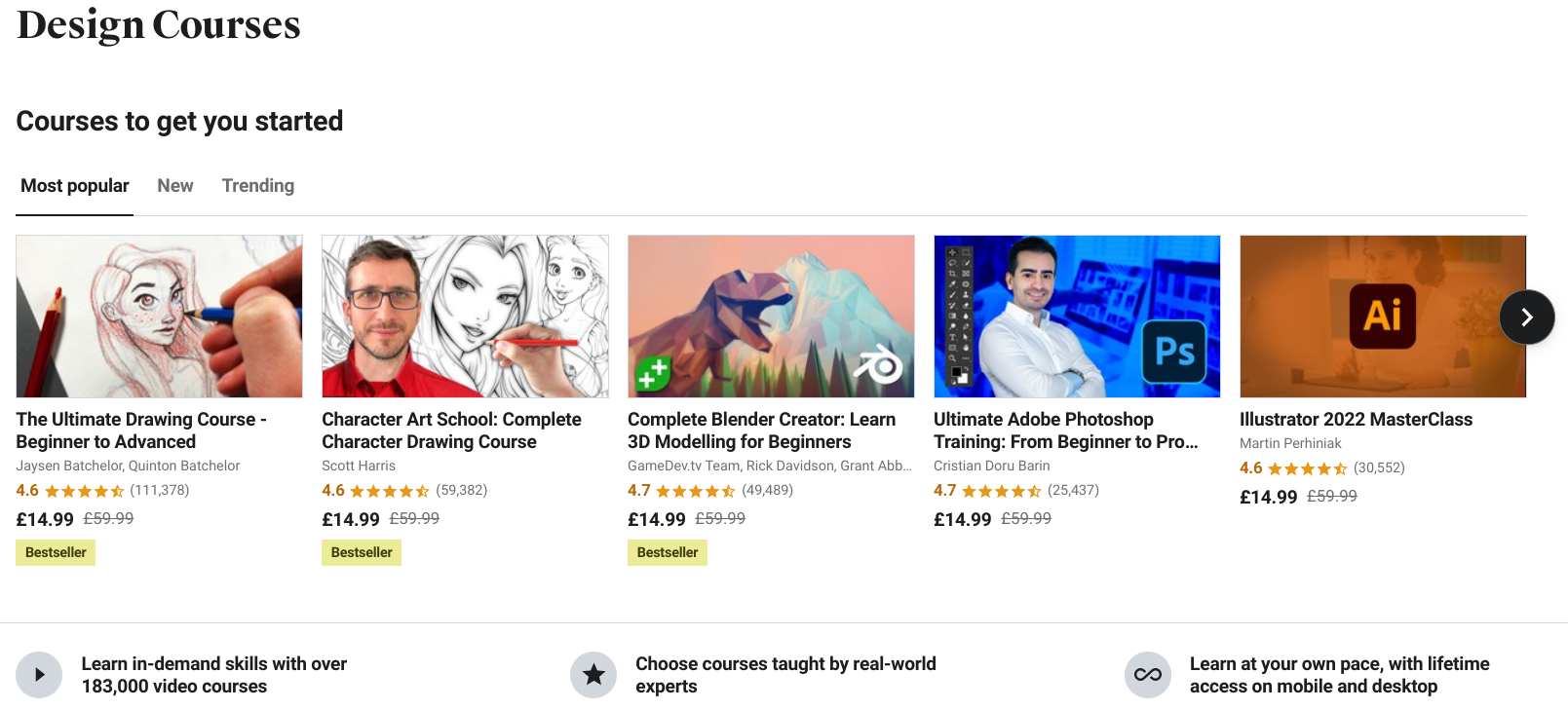 Udemy Key Features
Udemy are there to help you along the way, with free courses of their own on how to create the perfect course - example worksheets and videos are available too. Here are some of the noteworthy features of Udemy's teaching platform,
This teaching platform offers a Marketplace Insights tool. This helps teachers identify what students want to learn and what courses are popular.
Udemy has an easy to use dashboard which allows teachers to stay organised and keep their courses up to date.
The team at Udemy have a range of informative digital resources designed to help teachers get started using Udemy's teaching platform.
Uploading recorded content is made very simple for teachers. The supportive Udemy team will even review and provide feedback on test video content for teachers in the early stages of using their teaching platform.
Pricing
Udemy has a revenue sharing plan for some of their teachers. This means that take a percentage of each of the sale a teacher makes. However, they do not have any transaction fees and listing your classes is free.
Who is Udemy for?
Udemy have a teaching platform that is very varied. Teachers using their teaching platform range from technical coding courses to art classes for beginners and intermediate teachers. However, their teaching platform is ideal for teachers who want to teach both technical and artistic workshops.
---
5. Teachable
Best for: creative teachers who coach students with one-to-one courses
Teachable promises to help you teach the way you want to learn. With the ability to host recorded and live online courses via their platform, you would be hard pushed to find a slicker site.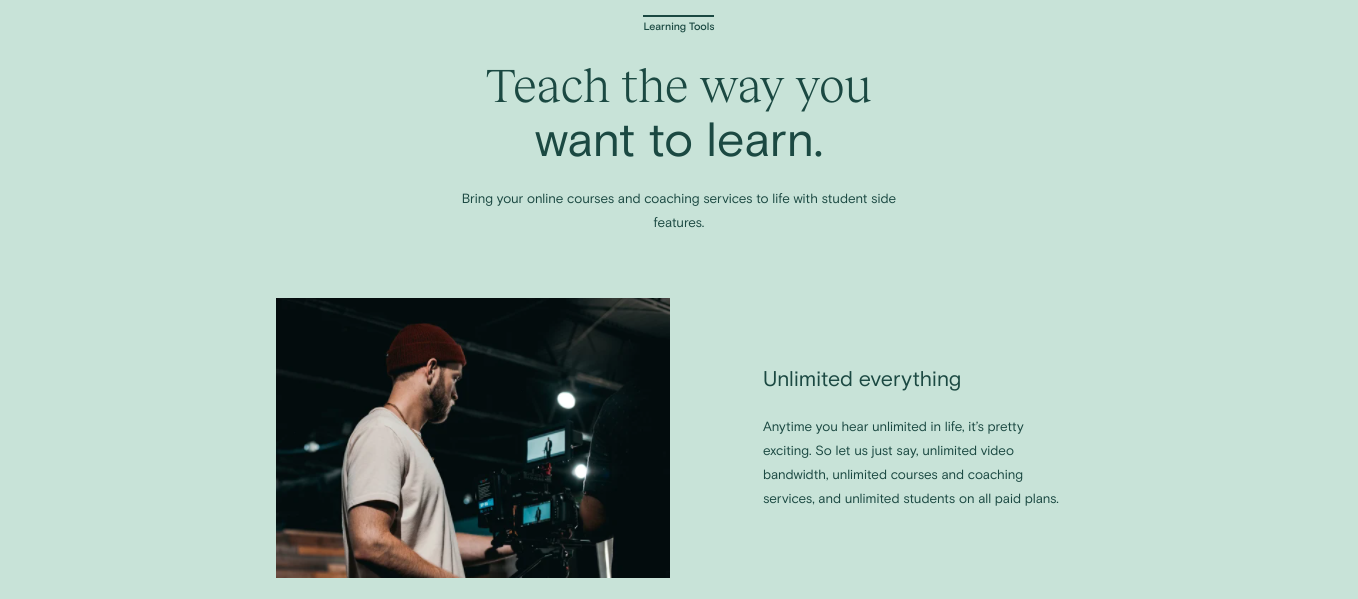 Teachable Key Features
This online digital teaching platform is always evolving and updating their features to make teaching online as breeze for teachers. We have listed some of the key features this learning platform has,
Although Teachable does not have a website builder feature, you can easily link to Teachable under a custom domain name and customise your Teachable content to match your website.
Teachable have recently introduced a one-to-one teaching tool, so teachers can run private workshops.
Teachable also make it easy to track your sales and student insights with comprehensive dashboards online.
Using their Calendly integration works well enough as a neat scheduling tool.
Teachers can create classes or courses of any length, from stand alone classes to eight week long courses!
Once you have created your course, it is very easy to edit and update the content. Teachers can also add interactive quizzes.
Pricing
This online learning platform likes to give teachers a lot of choice when it comes to paid plan options. Teachers who are looking for an affordable or basic plan can use their free plan. While teachers who have a bit more cash to splash can explore their paid plans. Their Basic plan is $29 USD per month and their Pro plan is $99 USD per month. The Business plan is their highest paid plan option and costs $249 USD per month.
Who is Teachable for?
This teaching platform will benefit a range of creative teachers who enjoy sharing their knowledge through online classes. This learning platform is best for teachers who enjoy coaching students with one-to-one classes or longer courses.
---
6. Skillshare
Best for: teachers who mainly teach with pre-recorded classes and courses
Skillshare is all about creativity. Unlike most of the platforms on this list, Skillshare is not just a software to help any type of teacher host their classes online, they are primarily a student facing website for teachers to share their passion and skills with students.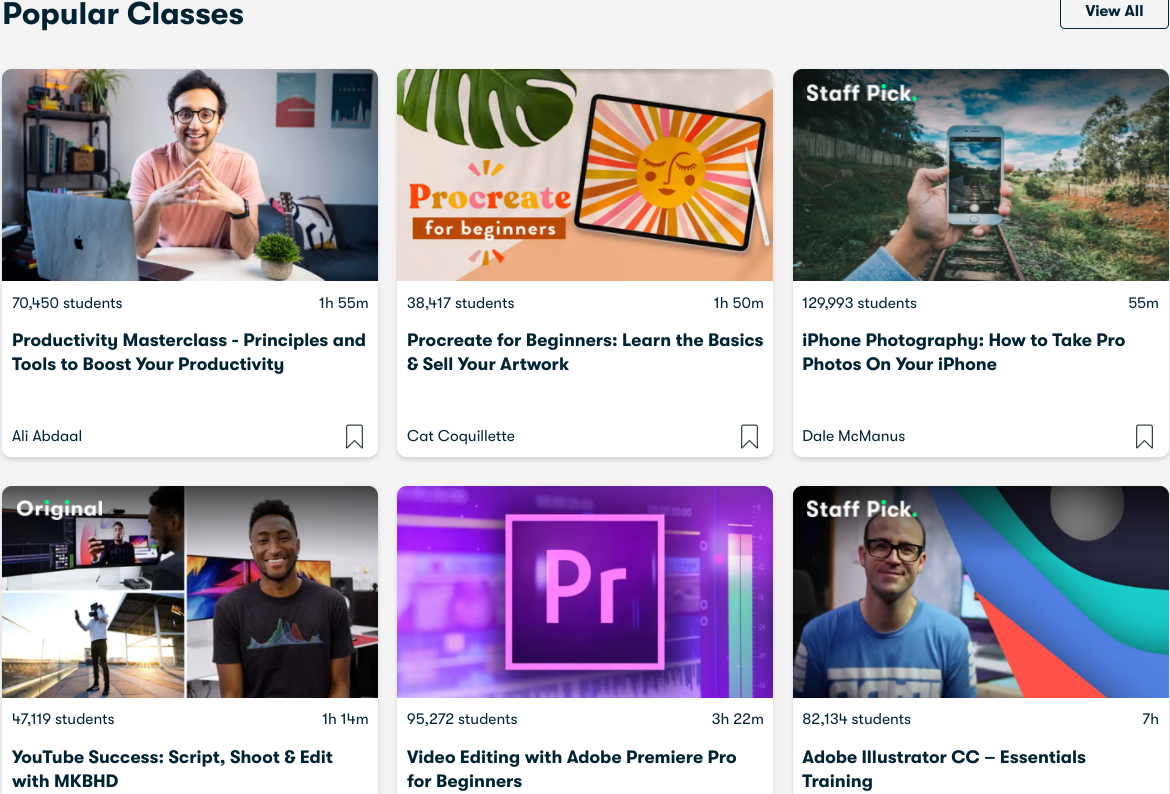 Skillshare Key Features
This teaching platform helps teachers share many different skills. Skillshare was once a platform for creative teachers only, however, they now work with teachers who share practical skills, such as marketing and business analytics. Below are some of the features that help their wide range of teachers,
Like Obby, Skillshare helps teachers make their classes more visible with SEO (Search Engine Optimisation) features. Teachers can make their classes stand out by adding 'skill tags' to their classes.
Teacher can make pre-recorded classes more interactive and engaging by setting 'project steps' for their students to practise the skills they are gaining.
Along with their online courses, teachers can include additional resources for their students to get the most out of their online learning experience.
Skillshare's Discussion Announcement feature allows teachers to keep students up to date. When teachers send an announcement, this will be posted on the teachers profile page as well as sent by email to students.
Pricing
This teaching platform offers teachers a 7 day free trial. Once the free trial has ended, using Skillshare's teaching platform will then cost £10.25 per month.
Skillshare has a subscription plan for students. After students have paid for their membership, which is billed annually, students will then have access to all of the courses listed on Skillshare. Due to this subscription plan, teachers make their earnings through royalties and through referral bonuses.
Who is Skillshare for?
Although Skillshare has recently introduced their live online classes, these classes are usually streamed live by the teachers and can have up to 300 students join the class. This means their live teaching feature is less interactive than other teaching platforms, which allows teachers to run smaller live online classes. Therefore, this teaching platform is an appropriate fit for teachers who primarily teach pre-recorded classes online.
---
7. CourseCraft
Best for: new teachers that are in the early stages of their teaching career
CourseCraft is a great place for first time teachers who need help and guidance creating their online courses. With easy to use templates and colour schemes, you can get your course created without hassle.

CourseCraft Key Features
This learning platform is dedicated to helping teaching build their business. CourseCraft has a teaching platform that helps teachers courses effortlessly with these valuable features,
If you already have courses online, uploading these to the platform is also swift and easy to do.
CourseCraft will host everything for you, and make it easy to connect your course to your own website.
With custom branding you can also match your course to your own website for a seamless customer experience.
As well as branding and setting up your courses, CourseCraft has scheduling tools to help teachers stay organised.
Want to include a variety of resources for your students? CourseCraft has an add-on feature which allows teachers to sell extra learning tools sure as consulting hours etc.
Teachers can create quizzes and forms to engage with their students and track their progress.
Pricing
CourseCraft has three plans to choose from which allows teachers to use their teaching platform. First is their free plan which has a 9% transaction fee. The first of their paid plans is the Club plan which costs $39 USD per month. Their highest paid plan is their Society plan, costing $79 USD per month.
Who is CourseCraft for?
This teaching platform will benefit teachers who are looking for a software that offers organisational tools as well as learning platform features. Small businesses or teachers who are new to managing their own digital content for online classes would benefit from this teaching platform. This is because CourseCraft gives teachers a wide range of features that improve online classes and scheduling.
---
8. OpenLearning
Best for: educators who are part of a larger teaching organisation
OpenLearning champions the power of online learning. This teaching platform aims to help students learn new skills from expert teachers! OpenLearning has a comprehensive learning platform with an immense community of 3 million learners.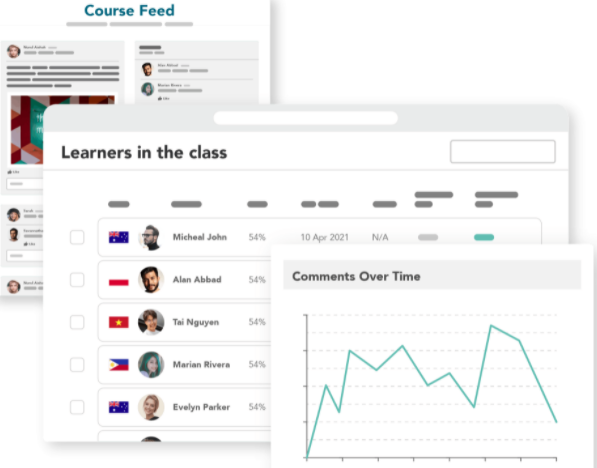 OpenLearning Key Features
This innovative teaching platform is designed to help teachers explore new ways to manage and run their online classes. We have listed some of the top features OpenLearning,
Easy to use dashboard where teachers can manage class content and students.
OpenLearning's dashboard has many tools to help teachers create and refine their classes.
Promoting and marketing courses and classes is also possible with OpenLearning's teaching platform.
Teachers are able to customise classes to fit their brand when using this learning platform.
Produce indepth course content to share with students. Teachers can create modules and track students progress.
Deliver content using different media to teach online. Add videos, audio, images and more!
Pricing
OpenLearning has a a 30 day free trial for teachers to try out their teaching platform before exploring a paid plan. There are only two paid plans to choose from. The first is their Institution plan, which starts at $183.33 USD per month. Their second paid plan option is their bespoke Enterprise plan which is determined based on the needs of the teacher.
Who is OpenLearning for?
As you may have guessed from their pricing plan, this teaching platform is beneficial for larger teaching institutions. This is because this teaching platform allows teaching businesses to add many different educators to the teaching platform.
---
9. Blackboard
Best for: tutors or teachers with follow traditional teaching methods online
During the pandemic, many universities turned to this learning platform to teach students online. This reliable teaching platform has helped tutors and teachers run interactive, fun and informative classes.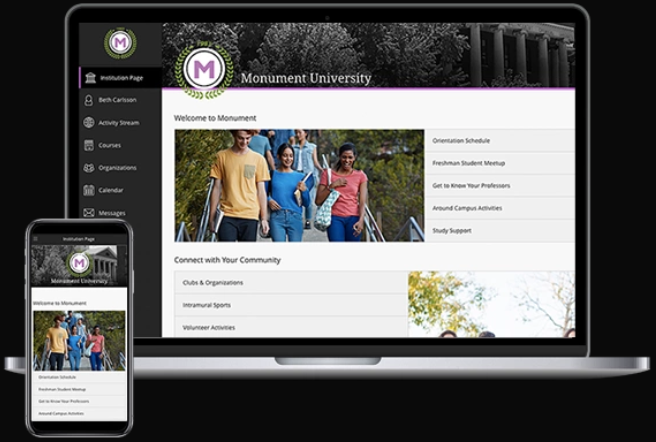 Blackboard Key Features
This engaging teaching platform has many features which take away the challenges teachers encounter when running online classes. The tools this teaching platform provides are listed below,
Blackboard has a breakout groups feature which encourages student interaction and discussion.
Their easy to use app means teachers can review and grade assessments whenever they like whenever they like!
This educational teaching platform has a range of tools which make monitoring and tracking student progress simple and easy.
While in the live virtual classroom, students can use the hand-raising tool. This helps make communication within class discussions manageable.
Within the virtual classroom, there is a chat function which allows students and teachers to share ideas in the live online class.
Blackboard has a screen sharing feature which means teachers can use to share content with students.
Pricing
Blackboard do not offer a free plan for teachers, universities or anyone that uses their platform. They also do not have a set price for teachers that choose to use their learning platform. Instead, colleges, universities and other teaching organisations have to get in touch with Blackboard to discover their pricing.
Who is Blackboard for?
This may already be clear, but Blackboard is the perfect teaching platform for academic teaching organisations. Blackboard's hand-raising tool and breakout groups feature makes traditional teaching methods possible within live online classes. College teachers and university tutors will benefit most from using this interactive teaching platform.
---
10. LinkedIn Learning
Best for: teachers who want to share their technical skills and knowledge
LinkedIn Learning is a teaching platform for business centric teachers and instructors. You are required to have specific expertise from a set number of subjects that relate to business.

LinkedIn Learning Key Features
All you need to do to get started is create a sample video of your course, and once accepted, LinkedIn Learning takes care of the rest. You'll join a large community of passionate instructors and access an immense community of companies and students. Here's some of LinkedIn Learning's key features,
Tools which allow teachers to use visual, audio and other resources to share their knowledge.
Teachers can create a customised playlist of courses for students to access a wealth of useful information.
Through their app, students can download courses so they can learn offline and at their own pace.
This teaching platform also offers courses in multiple different languages.
Admin users of this learning platform can manage other uses of the platform.
Their dashboard gives detailed reports, insights and analytics. This includes students interaction and engagement with their published courses.
Pricing
Similarly to Skillshare, LinkedIn Learning instructors are paid with royalties. This means each teacher will earn different amounts based on how many students have engaged with their courses. If your course is accepted by LinkedIn Learning, you will sign a contract with LinkedIn Learning and follow their royalties model.
Who is LinkedIn Learning for?
This is a great place to reach a large number of students in a small amount of time, as you'll be instructing groups within companies, as well as individuals who access your course. This teaching platform is for teachers who thrive when sharing technical skills within business and IT topics.
---
Need more advice?
Turn your hobby into a teaching career. We believe that passionate teachers are the best people to share their craft with eager to learn students! Our teaching platform allows teachers to teach in a way that suits them. Whether you run educational online classes, creative in-person workshops or group courses, the right teaching platform can optimise how you interact and engage with your students. Simply share your skills without the challenge of scheduling and reduce the hassle of managing your small business. A digital teaching platform like Obby is a valuable tool that will help you seamlessly grow your business, no matter how big or small!
Thanks for reading our guide on the best teaching platforms to use in 2021. Need more great teaching tips? Review our related guides below: