---
The Top 8 Best Art Classes in Leeds are:
Scenic Painting Masterclass at Open Source Arts
Life Drawing Classes at Leeds Drawing Club
Children's Pottery Painting Party at Jackrabbits Pottery
Portraiture: Drawing & Monoprinting Workshop at Leeds Print Workshop
Drawing Classes at King Monk Studios
Art Group at Inkwell Arts
Ladies Night at Honey Pottery
Pottery Painting Classes at The Little Biscuit Pottery Painting Studio
---
Scenic Painting Masterclass at Open Source Arts
Location: Kirkstall Road (Leeds)
Open Source Arts is committed to enabling emergent artists and creative businesses to become more established in the Leeds community. Using practical action projects and facilitating dialogue, their chief aim is to bring creative people together.
You may be forgiven for confusing Scenic painting with landscape painting, but the Scenic painting covers virtually the entire scope of craft and painting techniques. Who better to teach you this multifaceted skill set than the experienced and friendly team at Open Source Arts?
Why not explore something new and potentially life-changing and sign up for their masterclass today?
---
Life Drawing Classes at Leeds Drawing Club
Location: Duke Street (Leeds)
If you've ever wanted to try your hand at life drawing, Leeds Drawing Club is the place for you! The Drawing Club specialises in creating a welcoming space and atmosphere to allow you to explore your creativity at your own pace.
Their Life Drawing Sessions are untutored and begin with 3 x 10-minute poses, followed by a 1 x 20-minute pose.
Then there will be a short break where you can have some coffee, tea, and biscuits (all provided) before finishing with a 1 x 45-minute pose, so you can really take your time perfecting your drawing!
Paper, boards, and charcoal are provided but you're free to bring your own materials.
---
Children's Pottery Painting Party at Jackrabbits Pottery
Location: Roundhay (Leeds)
Jackrabbits Pottery is a creative art space for students of all ages and levels. Creative freedom is encouraged in their pottery painting workshops! Expert teachers will guide students through their pottery painting project and help them create something they can be proud of. All of the materials and colourful paints any art student could wish far will be provided in this pottery painting party.
Teachers at Jackrabbits Pottery are experienced in helping students flex their creative muscles. As well as creating a welcoming workshop environment with plenty of guidance and direction, they also glaze and fire your pottery to a high standard.
---
Portraiture: Drawing & Monoprinting Workshop at Leeds Print Workshop
Location: St Mary's Lane (Leeds)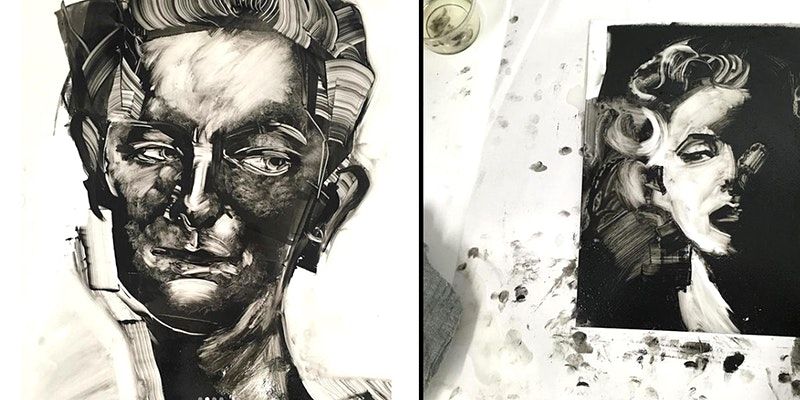 The Leeds Print Workshop is a Cooperative membership-based printmaking studio at Patrick Studios in central Leeds. Providing facilities for a broad variety of traditional printmaking facilities, they have built a supportive community of artists.
In the Portraiture: Drawing & Monoprinting Workshop you will be able to explore drawing and mono-printing techniques to create your own beautiful, unique portraits. The workshop is for people of mixed abilities so it doesn't matter if you're a complete beginner.
Working directly from a live model, you will develop your confidence and skills while using a variety of different media—charcoal, graphite, and pencil. You will then have the opportunity to experiment with mono-10:30 pm employing a technique in which the linked up plate is darwin into and partially wiped away, creating a chiaroscuro effect, before making prints of your portraits.
All materials and equipment will be provided but it's recommended you bring a portfolio folder to carry your work.
---
Drawing Classes at King Monk Studios
Location: New Brigate (Leeds)
King Monk Studios is dedicated to providing supportive and friendly workshops for people of all ages, developing a thriving community of artists in the Leeds area.  Boasting over 2 decades of teaching experience, as well as a  vast knowledge of a variety of arts, who better to guide you through the art of drawing?
---
Art Group at Inkwell Arts
Location: Allerton, Leeds
The creative wellbeing service from Leeds Mind, who support the people of Leeds by promoting positive mental health and well-being, Inkwell Arts support the commuity by encouraging using creativity to help with wellbeing.
Their Art Group comes highly recommended, and their 2 hour session is a great way to drop-in and switch your attention to your wellbeing and losing yourself in the creative process with others.
The class is drop-in, meaning you don't need to pre-book bef0rehand, costing £5 will all materials included!
---
Ladies Night at Honey Pottery
Location: Horsforth (Leeds)
Time for a change of pace – next on our list of the best art classes in Leeds is Ladies Night at Honey Pottery!
Honey Pottery ensures you don't need to be an artistic genius to enjoy painting there, and they'll provide everything you require to create your masterpiece!
So, if you're in the mood for a spot of socialising, merriment, and painting with your female friends, Ladies Night could be just the ticket!  Your party can have a maximum of 6 people and you will be given your own table. Feel free to bring a bottle, and join Honey Pottery from 7:00 pm – 10:30pm!
---
Pottery Painting Classes at The Little Biscuit Pottery Painting Studio
Location: Morley (Leeds)
The Little Biscuit is a picturesque pottery painting studio situated in Morley. They provide a welcoming, comfortable space in which people of all ages and abilities can relieve stress through the therapeutic act of painting pottery. What's more, working with a local charity, they have also provided
free pottery painting workshops – it's clear The Little Busicuit truly cares about their local community.
A glance at their gallery shows the wonderful creations people have painted in their classes. The Little Busicuit are always running different themed Pottery Painting Classes, so, be sure to click on the link below if you want to check out what's available.
---
Need more advice?
Thank you for checking out our guide to the best art classes in Leeds! If you live here, or are just visiting, and were struggling to find a suitable art class, we hope we've helped you settle on a suitable choice. Remember, everyone is an artist. For those who don't think they have a shred of artistic talent, we're positive you just haven't been allowed to let your creativity flourish! Picking from one of the above classes could be the start of a magical journey, so get booking!
Take a read of some of our other amazing guides and best round ups below. We're sure you'll find something useful, oh - and don't forget to share the love.