---
Our Best Class Picks for The New Year Are:
Mindful Mondays: Learn to Paint Over Dry Jan with MasterPeace
Shoe Making with Love & Salvage
Wildlife Photography Workshop in Richmond Park at Sunset with Matthew Williams-Ellis
Zumba Fitness Lessons with Club Azucar
Adult and Child Cooking Class with Greenwich Pantry
Design Your Own Silver with Two Jewellers with The Ringsmiths
Learn/Practice Your French with Faustine Deminier
Bullet Journaling and Brush Pen Calligraphy Workshop with Blue Art Paint
---
Mindful Mondays: Learn to Paint Over Dry Jan
Location: Belgravia, London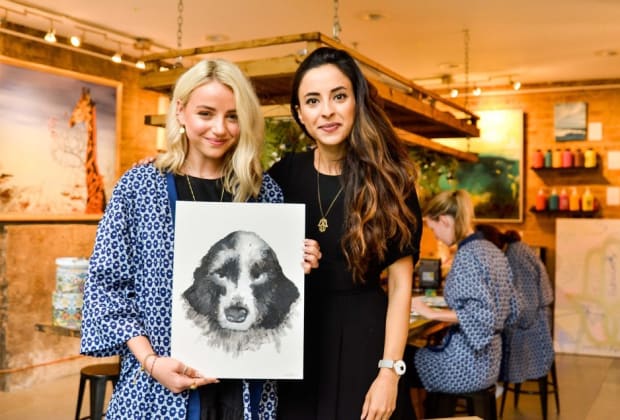 If you're looking to start the New Year with a focus on your mental health, then MasterPeace's Mindful Monday's series is for you. Every Monday during January, the studio will offer an alcohol-free environment during the class, perfect if you're wanting to take part in Dry January. You'll get to learn how to paint with other like-minded people in the beautiful MasterPeace studio in Belgravia, allowing you to not only improve your painting skills but also make new friends along the way.
The class is taught in a Coached Class format, standard for most MasterPeace classes, where you can choose any image from your smartphone that you'd like to paint. The MasterPeace team will connect you up to your personal projector, which will cast your image down onto your canvas board for you!
Price: £40pp OR get a 4 class bundle for £140pp (save £20!)
Book now on Obby
---
Shoe Making
Location: Leyton, London
This class is perfect if you're looking to reduce your waste in 2022. Run by Eli, founder of Love & Salvage, this 2-day course will allow you to make your own pair of shoes from start to finish all whilst using 100% reclaimed leather! Love & Salvage specifically work with local furniture businesses to collect their waste leathers and fabrics to turn into accessories. This means you'll have e a huge range of trendy colours and textures to choose from!

Over your two days with Eli, you'll learn about patterns, stitching leather, shoe design and leatherworking. Don't worry about the ins and outs of the process, Eli ensures that all her workshops demystify leather-working techniques, so you'll leave with all the knowledge you need to carry out your own future projects if you want to!
Price: £165pp
Book now on Obby
---
Wildlife Photography Workshop in Richmond Park at Sunset
Location: Richmond Park, London
Let 2022 be the year you finally bring down your screen time and re-connect with the great outdoors! With this Wildlife Photography workshop, you'll learn how to capture exciting, creative wildlife images through 'in the field' tutorials. You'll capture the beautiful Red and Fallow deer, as well as make the most of the beautiful backdrops that the Royal Park offers.

At the same time, your instructor Matthew Williams-Ellis will walk you through the technical side of picture taking, offering tips on composition, how-to guide your photographic eye, and helping you develop a proactive photography mindset, ensuring you can apply your newfound skills in the future!
Price: £99pp
Book now on Obby
---
Zumba Fitness Lessons In Hammersmith
Location: Hammersmith & Chiswick, London
Kick-off 2022 by improving your physical health with Club Azucar's Zumba classes!
Having experience teaching Latin dance classes for over 13 years, your instructor Patricia will take you through the class with tons of enthusiasm and no judgement - with a focus on moving your body and having as much fun as possible. If you want to know more about Club Azucar, led and founded by husband and wife duo Patricia and Ginu, you can check out a featured blog we wrote on them here!
Price: £7pp
Book now on Obby
---
Child & Adult Cookery Class
Location: Greenwich, London
If you're looking to spend more time with your loved ones in 2022, then this cookery class could be perfect if you have little ones aged 6+. This class, by Greenwich Pantry, is not only a great way to spend quality time together, but also great if you're looking to improve your culinary skills in the New Year!

In this 2-hour cooking class, children and their accompanying adult will explore a multitude of cooking techniques, cook some delicious recipes and discover some amazing new tastes and flavours. You'll the chance to enjoy some time with your little one without the burden of clearing up, as well as being able to take home your delicious food and show it off to the rest of your family and friends.
Price: from £35pp
Book now on Obby
---
Design Your Own Silver Ring with Two Jewellers
Location: London Bridge, London
If the last class didn't apply to you, then this class is perfect if you're looking to spend more quality time with your partner, friends or family in the New Year.

In this workshop from The Ringsmiths - also known as Ros Millar & Milena Kovanovic, close friends and award-winning jewellery designers & makers - you'll learn how to make your very own wax carving ring design. Carving wax gives you endless options to freely design whatever ring you want and a 3D representation of your design! Once you're happy with your finished carving, Ros and Milena will show you how to complete the ring and prepare it for casting, with your finished ring being sent to you around 3 weeks after your session.

Why not bring your loved ones along for the chance to create your very own custom rings together, with nibbles and a complimentary cocktail included in your ticket price!
Price: £85
Book now on Obby
---
Learn/Practice Your French
Location: Live Online
A big New Year's Resolution for many is to learn a language, and if you're looking to learn Français, teacher and native speaker Faustine is on hand to help!
Fluent in French, English, and Spanish, Faustine offers the oppotunity to learn French the traditional, school-curriculum style way, or to learn through watching and listening to French media, having conversations about topics you are interesed in, and by playing games. Faustine aims to make her classes as interactive and interesting as possible, so it won't end up another New Year's Resolution left unfinished!
Price: £30pp
Book now on Obby
---
Bullet Journalling and Brush Pen Calligraphy Workshop
Location: Kingston Upon Thames, London
Get your 2022 off to a more organised start with this 2-part bullet journalling and brush pen calligraphy workshop by Blue Palette Art Studio! Run by Dr. Sai Banerjee - an experienced teaching artist, art historian and calligrapher - she's determined to help spread mindfulness and wellness by helping others tap into their creativity.

In her workshop, you'll learn how to keep a physical Bullet journaling system and set up your own customised journal. Sai argues that, even with the invention of modern digital planners, having something physical to work on can help streamline everything going on in your life into one, easily-accessible place.

Don't worry about materials, everything you need will be included in your ticket price - from tracing paper to a notebook and brush pen!
Book now on Obby
---
Need more advice?
Hopefully, these classes and courses will help encourage you to stick to those pesky New Year's Resolutions! If you're still stuck for ideas to get you in the 2022 spirit, be sure to take a read of some of our other amazing guides and best round-ups below. We're sure you'll find something useful, oh - and don't forget to share the love.