Manchester has a rich history of painting, with the most famous Mancunian artist being Stephen Lowry. His smog-filled, busy industrial scenes powerfully depict the harsh, unrelenting environments people had to endure. When Manchester later became a more multicultural city, Harold Kingsley's work would encapsulate this with more colourful portrayals of urban landscapes.
You really don't have to look far in a city as interesting and diverse as Manchester to find inspiration, and, hopefully, our Top 10 Best Painting Classes in Manchester will help you harness it with your brush strokes. Then who knows – you could also find yourself counted among the great Mancunian artists!
---
The Top 10 Best Painting Classes in Manchester are:
How To Use Watercolours at Cotton On MCR
The Art Elements at Creative Art Courses
Art Classes at ColourWheel
Painting Program 2021/22 at Realist Academy Walton Hall
Painting Workshops at Floating Art
Painting events at PopUp Painting
Art Classes at Lindsey's Art Classes
Painting classes at Anne Goldberg
Sip and Paint Events at Paint Away
Art Classes at Art Social
---
Watercolour Painting Classes at Cotton On MCR
Location: Central Manchester
Number 1 in our guide to the top painting classes in Manchester is the outstanding Cotton On MCR. Launched in 2017, the company actually started out as a humble blog, but when its founder, Domino, started to get more involved with the local art scene, it eventually blossomed into a thriving business. Now, Cotton On MCR is a veritable mecca of arts and crafts, providing a huge range of workshops, including painting, printing, sewing, sculpture and more!
There are many different painting classes to choose from, including Chinese Paining and Art Theory and Practice Workshop: Oil Paint, so there really is something for everyone. The course we have chosen is centred around Watercolours, which caters for all abilities; whether you're an absolute beginner or a seasoned pro. During the class, you will learn all the techniques you need to create your very own masterpiece (art is subjective after all!) With their Art All Dayer events, which host some of Manchester's best creatives alongside interactive workshops, proving hugely popular (their last event hosted over 700 people!) - come and see what makes Cotton On MCR so popular.
---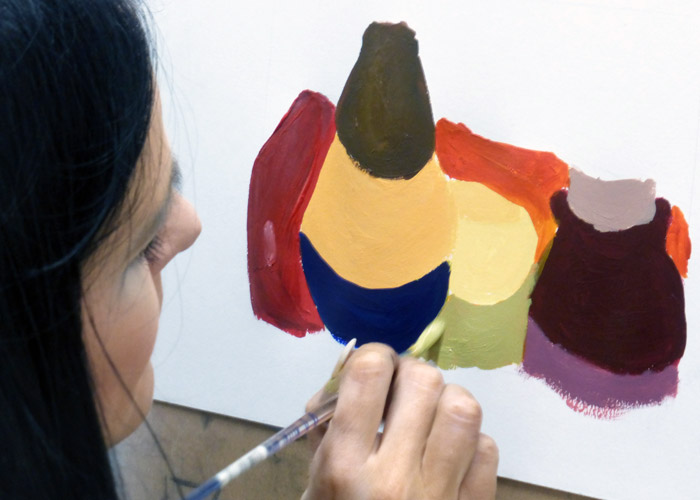 The Art Elements Course at Creative Art Studio
Creative Art Studio's vision is to "look to the world for information to put into our art, but not to justify what you put into your art. Since being established in 2010 by lead tutor, Brian Raymond, they have become one of Manchester's leading art studios. Here, everyone is welcome – all ages and abilities – to "explore and nurture the quiet voice of their creative spirits" in a friendly and supportive environment.
Suitable for beginners, intermediate and advanced students, The Art Elements Course will teach you about the essential components of all drawings and paintings – Line, Colour, Tone, Form, Texture, Shape and Pattern. During the class you will be given insights on how they all intersect, and how to properly manipulate them to achieve a desired effect. In their words, "This is the vital first step to improving as an artist."
---
Art Classes at ColourWheel
Location: Romiley (Stockport)
With a host of lauding testimonials from satisfied students, ColourWheel's art classes are for those who think they can't paint. Their view? Of course they can!
Based in the relaxing and scenic Romiley Cricket Club in Stockport, Kathy and Vanessa's classes have always proven to be extremely popular. Welcome, encouraging, and enthusiastic, they provide a learning environment conducive to overcoming self-doubt, and letting your creativity flow.  The classes fill up fast so be sure to book ASAP if you're interested.
---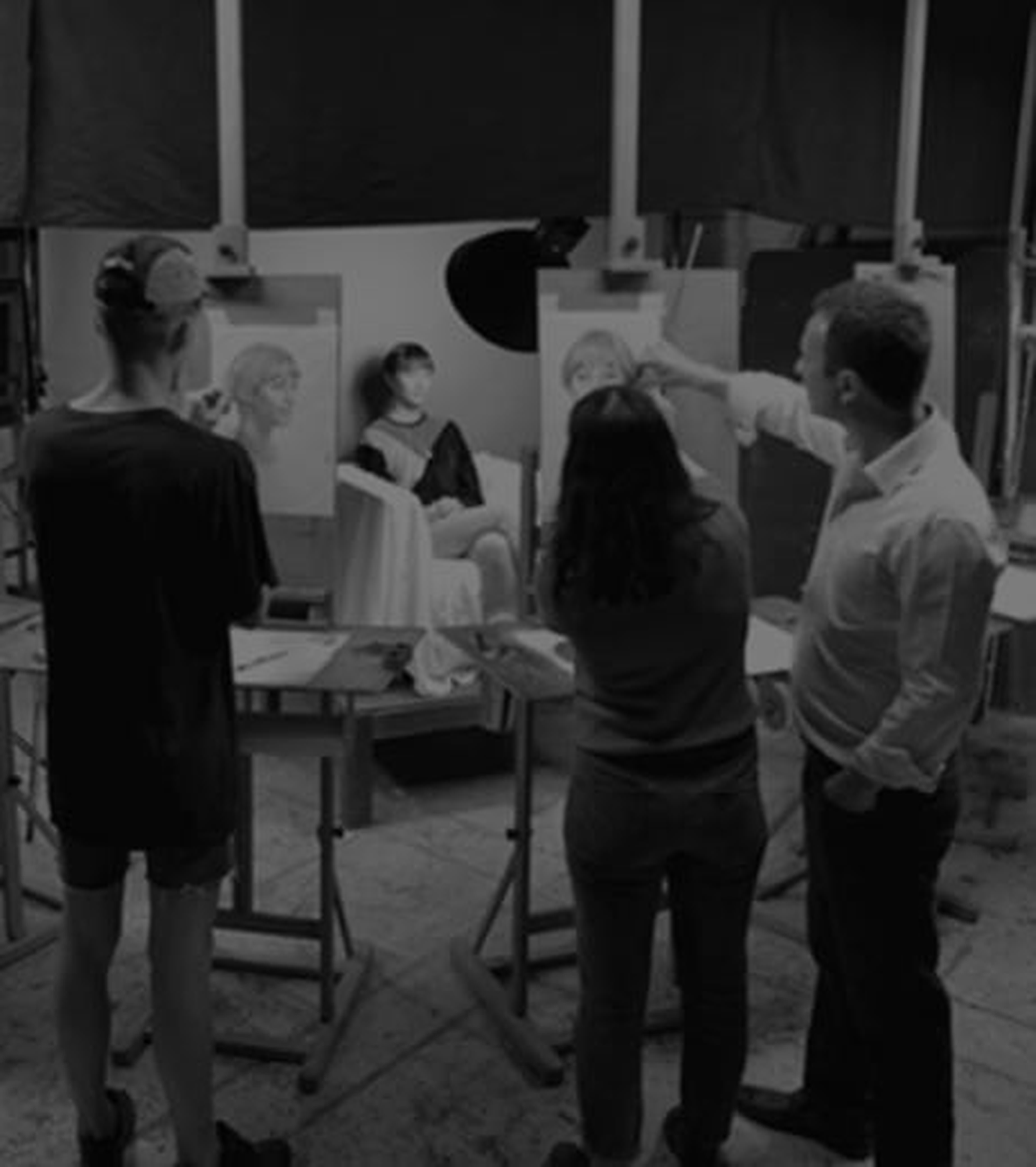 Painting Program 2021/22 at Realist Academy Walton Hall
Location: Warrington (Cheshire)
If a perusal of the website wasn't enough of a clue, the Realist Academy offers an unparalleled level of excellence when it comes to art training. It's founder and instructor, Louis Smith is a multi-award winning artist of staggering abilities, and has a deep understanding of portraiture as well as the time-honoured techniques of the old masters.
The Painting Program 2021/2022 is a more intensive course than the others on this list, and is for students who are interested and passionate enough about portrait painting to make a significant commitment. If you do, you will be taught a plethora of different skills and techniques.  The first term will get you started on the road to being a consummate portrait artist, beginning with Underpainting – from  Imprimitura ("first paint layer") to  Grisialle (monochrome painting using shades of grey). To cover every aspect of this expansive course is well beyond the scope of this article, however  it's more than clear that, by the end of the program, you will dramatically improved your skill at portrait painting.  
---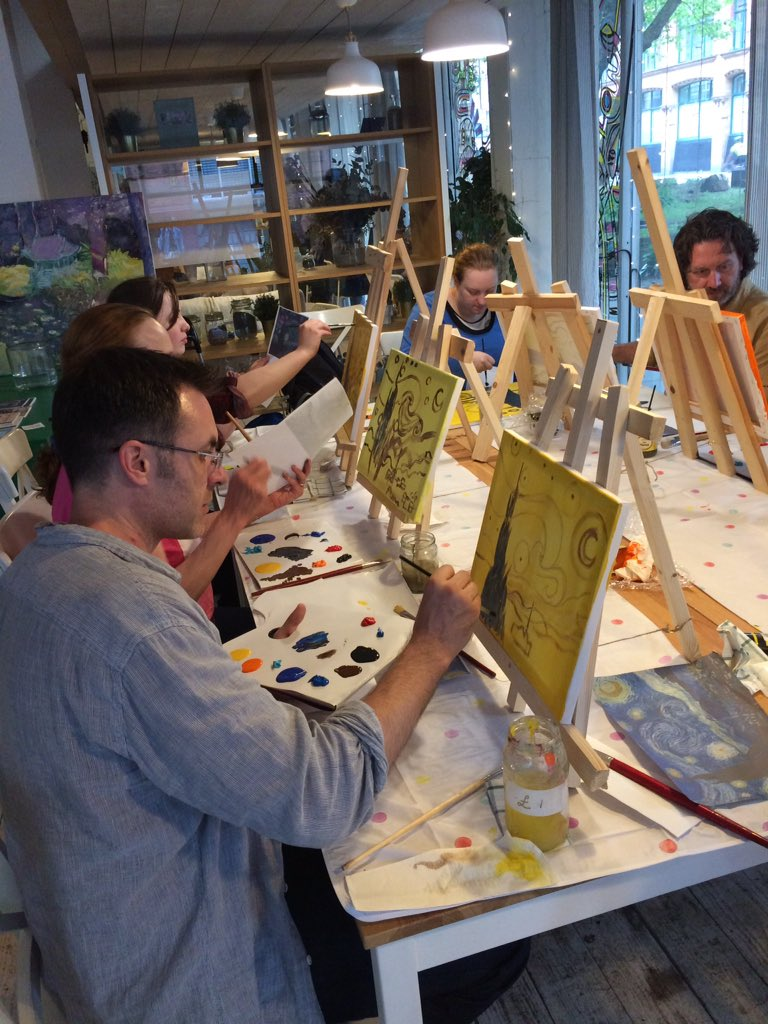 Painting Workshops at Floating Art
Location: Central Manchester
Floating Art believes anyone can be an artist – and we agree! They are dedicated to making art more accessible to the public, and less arcane or elitist. They ensure there is a healthy mix of art theory and methodology in their classes, alongside practical learning of these skills, making each section easy and accessible to understand.
Floating Art offers a diverse and exciting range of Painting Workshops so there's something for every curious artist! With options like Japanese Painting, Silk Painting, Botanical Painting, Acrylic Painting, and more, Floating Art easily secured a place in our best painting classes in Manchester. We're confident you're sure to find something that will leave you feeling as fulfilled as their long list of satisfied customers!
---
Painting events at PopUp Painting
Location: Manchester
Launched 2013, PopUp Painting has one chief goal: to "Bring art out of the classroom and gallery, into the places people meet on an every day basis". With special emphasis placed on the social aspect of art, they run painting events in bars and restaurants all over the UK. Whether its team-building, or a hen-party, PopUp Painting has something for everybody no matter their experience!
With a range of themes to pick from, like Van Gogh's Starry Night, to City Skylines, or Monet, PopUp Painting's Private Events are a perfect way to celebrate with friends, and an obvious choice for our top painting classes in Manchester!
---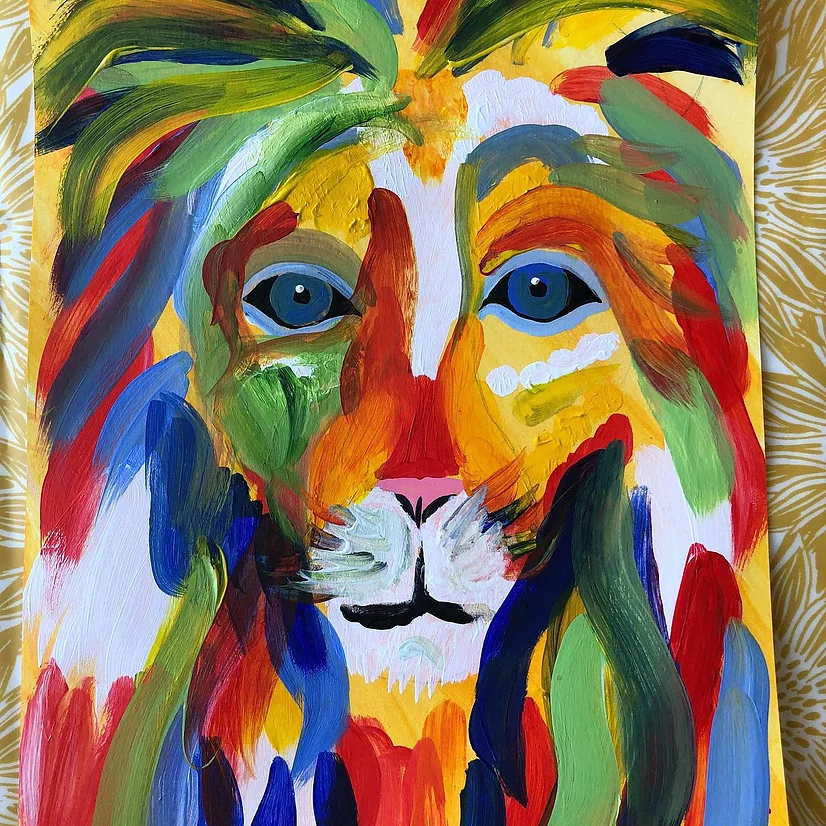 Art Classes at Lindsey's Art Classes
Location: Stockport
Inspired by her youth growing up in Cumbria's country-side, Lindsey went on to foster her deep love for art and teaching – and Lindsey's Art Classes was born! Few people understand children better than Lindsey – their wild, fresh imaginations, need for adventure, and adaptability – and her art classes encapsulate this.
"Paint, Draw and Create" along with Lindsey and the whole family. Learning to use a range of materials and fire up their nascent creativity, your kids are guaranteed to have a boatload of fun!
---
Painting classes at Anne Goldberg
Location: Didsbury (Manchester)
Anne Goldberg's work has featured in a wide range of exhibitions around the UK, and the multi-talented artist incorporates a range of artistic mediums and styles. Whether it's abstract floral, drawing, painting or interior design, when it comes to art, Goldberg is something of a polymath – who better to have as your next instructor?
Suitable for all ages and abilities, her art classes offer you freedom to develop your own style. Under the professional guidance of Anne, you will gain insights, learn techniques and work with a range of media enabling you to improve as an artist. Please note that you must bring your own materials for this class. Gift vouchers are available to give someone that perfect opportunity to try out a new hobby.
---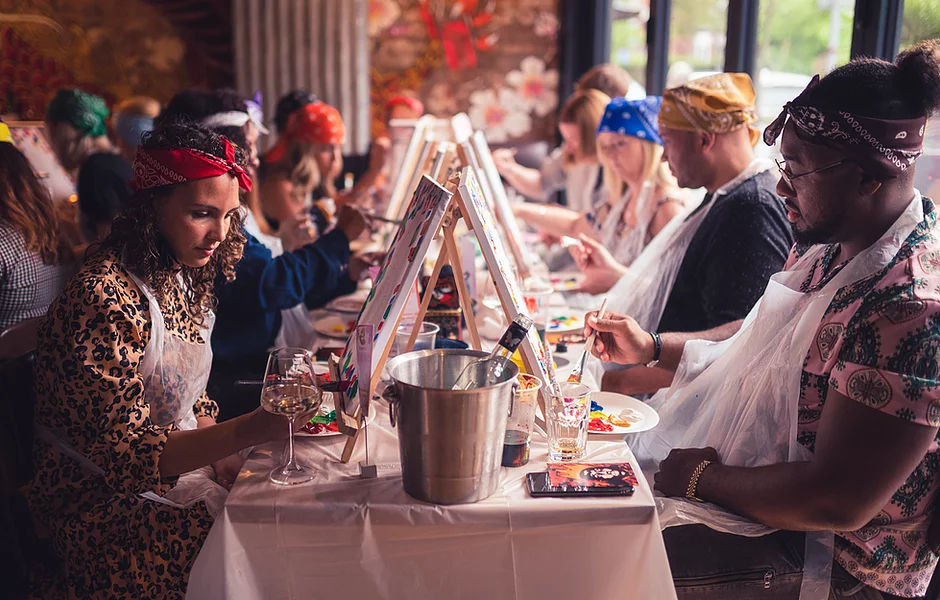 Sip and Paint Events at Paint Away
Location: Manchester
Fancy something a little more relaxed? A spot of painting, a sip of wine, and a rollicking great time? Well look no further than Paint Away's Sup and Paint Events! With excellent reviews, and events taking place across Manchester, Paint Away was an easy pick for our top Painting Classes in Manchester.
Whether its Private Events like Birthdays, Stag or Hen dos, or Corporate Events that really bring the team together, Paint Away are roundly celebrated for a good reason! All classes are instructor-led and all art materials are provided – just bring a spot of bubbly, paint and unwind!
---
Art Classes at Art Social
Location: Whalley Range (Manchester)
Founded by Matt Worden, Art Social's emphasises the social aspects of creativity – of how people and art intersect in the modern world. Matt's teaching is informed by his experience in social care and understanding of the importance of creative leadership. Whether its cultural projects or art groups, Art Social are all about blending art and community.

Matt's Art Classes are suitable for all ages and abilities as, in his words, "Anyone who feels can be an artist".  In the classes you will explore a range of different techniques and styles, and be encouraged to view the world from different perspectives. Matt will assist you in nurturing those artistic seeds, and give you the confidence to continue on your creative journey.
---
Need more advice
There has been a theme running through this list that began with our claim that anyone can be an artist. All the teachers and instructors (each with many years of experience) in our Top 10 Best Painting Classes in Manchester believe in this fact wholeheartedly – so don't be deterred! We all have that critical voice in our heads that tells us we're not good enough, but the truth is our potential is unlimited, and painting is no exception. So, if you can put those pesky doubts aside, and take that first bold step, we're sure you'll be tapping into that artistic potential in no time!
Take a read of some of our other amazing guides and best round ups below. We're sure you'll find something useful, oh - and don't forget to share the love.