Originally from Spain, Paula Mateo is an accountant 3 days a week, and spends her remaining days running and teaching with her company Old Bexley Soap Company; offering candle and soap-making classes, along with delicious afternoon teas, in the Outer London borough of Bexley.
We spoke to Paula all about how she founded her business, something blossoming from an incredibly traumatic part of her life, and how soap and candle-making offers her and her students a creative space to explore what they are each capable of.
Book with Old Bexley Soap Co. now on Obby
(Author's note: Paula's answers have been edited for length and clarity)
---
First of all, quickly introduce yourself and Old Bexley Soap and how you got where you are today?
I founded Old Bexley Soap Company back in 2014, after many years of soap-making and candle-making, when I realised that I wanted to share my products and expertise with people. It was about 3 years ago I started teaching my craft, after people started approaching me for guidance, and it offered me a new way to enjoy what I do. I love sharing my story with others, how it helped my mental health and helps me find balance within my life! I actually work two jobs, one as an accountant for the Spanish government three days a week, and then running Old Bexley Soap with my remaining time. I find the combination of the creative with the analytical offers me a good balance, which is something I definitely try to share with others. People come to me from many different backgrounds, whether they're taking my classes just for fun or from the more serious point of wanting to start a business. I want to encourage people that they can achieve anything they want if they put their mind to it.

So what was it about soap and candle-making that drew you to it?
Well, it begins as a bit of a sad story. At age 28, I was diagnosed with ovarian cancer. I was so young, and it was so much of a shock, especially because I thought I was living such a healthy lifestyle already, but sometimes you just can't prevent what comes your way.
That whole experience made me really reconsider my health, and what I was using on my body, because even with soap we still absorb some of it before we wash it off. So that's the main reason I started making my own soaps, to be more conscious of what I was putting on my body, aiming to stay as healthy as possible. The candle-making came later, because my bathroom was smelling so nice and I wanted that throughout my house! It requires a different set of skills but is still so satisfying, and I find the whole process of candle-making really beneficial for my mental health.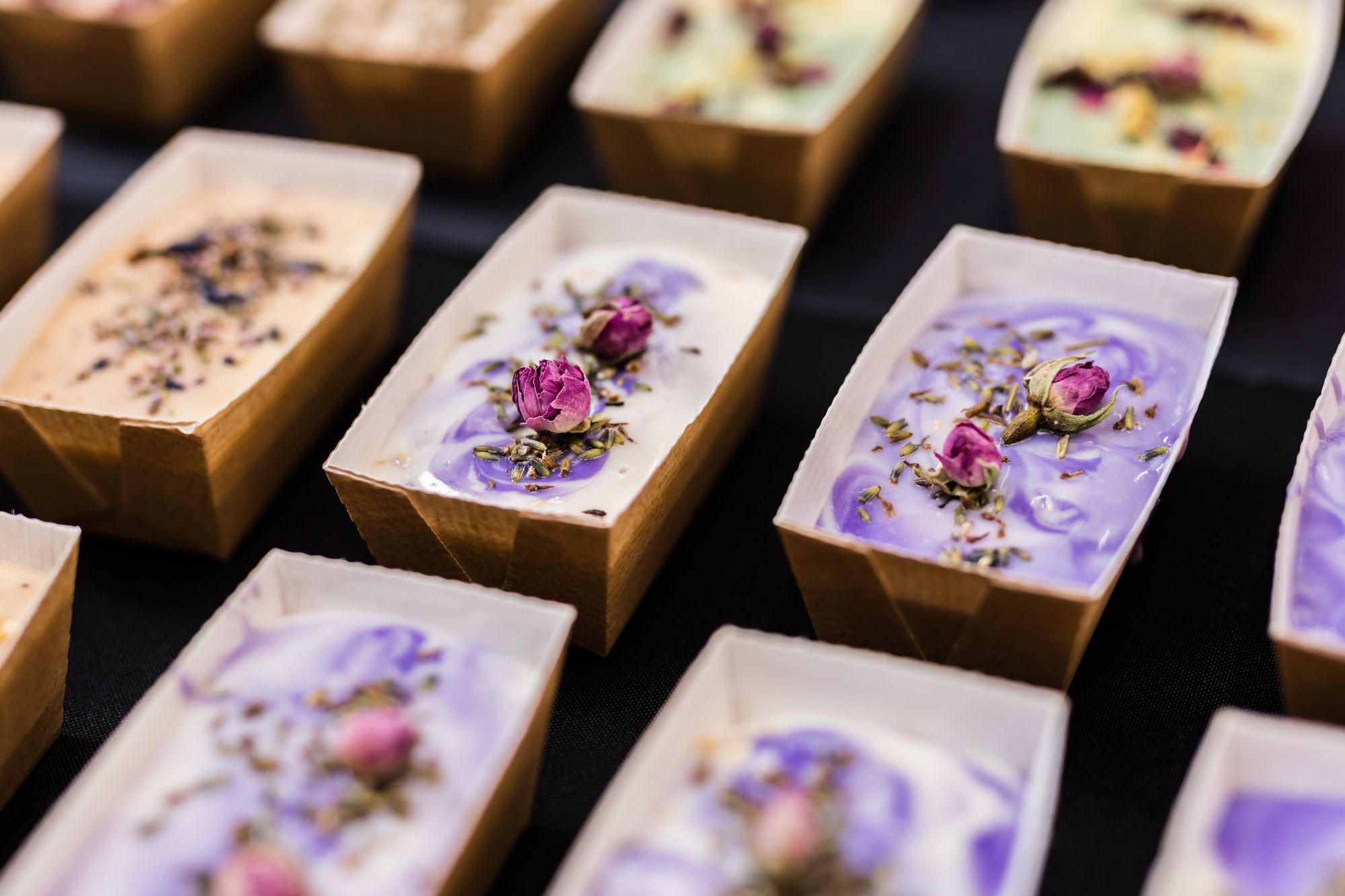 "I felt a pressure that those who recover from cancer have to do something extraordinary with their life, but at the end of the day, I'm just a normal woman living in London! I don't need to be a superhero, but I will adjust my life to do more of what I love."
You touched on this in your introduction, but you mentioned how you had people come to you asking to be taught how to make soaps and candles. Was that something you found daunting, or something that was very natural very quickly?
I am naturally a person who enjoys sharing knowledge about things I consider myself to be an expert in, and in soap and candle-making I consider myself an expert! So initially, yes I was a little nervous, but I very quickly got positive feedback and as my confidence grew, so did my business! It is obviously very different from my normal job, where I deal with accounts and don't interact with many people, but I find myself craving that social interaction. I find it compliments my creative business completely, and slots in with the missing part of me in my other job.

Now you've been teaching for 3 years, what do you feel is your favourite thing that you gain from teaching?
It would have to be when students tell me they feel inspired by me to start a new hobby, and I can see their confidence grow right in front of my eyes. I feel you can best see people's confidence grow with soap-making, where you have to handle Lye as part of the process; which is a very dangerous substance. People are often nervous to get started and don't believe they can do it, but when I show them they can do it, it's the best feeling in the world. Seeing them smile and believe in themselves brings me so much joy. I don't shy away from sharing all the knowledge I've learned over the years, I don't see any point in being secretive about what I do. I want to pass on as much as I can because I want to give people all the tools they need to succeed.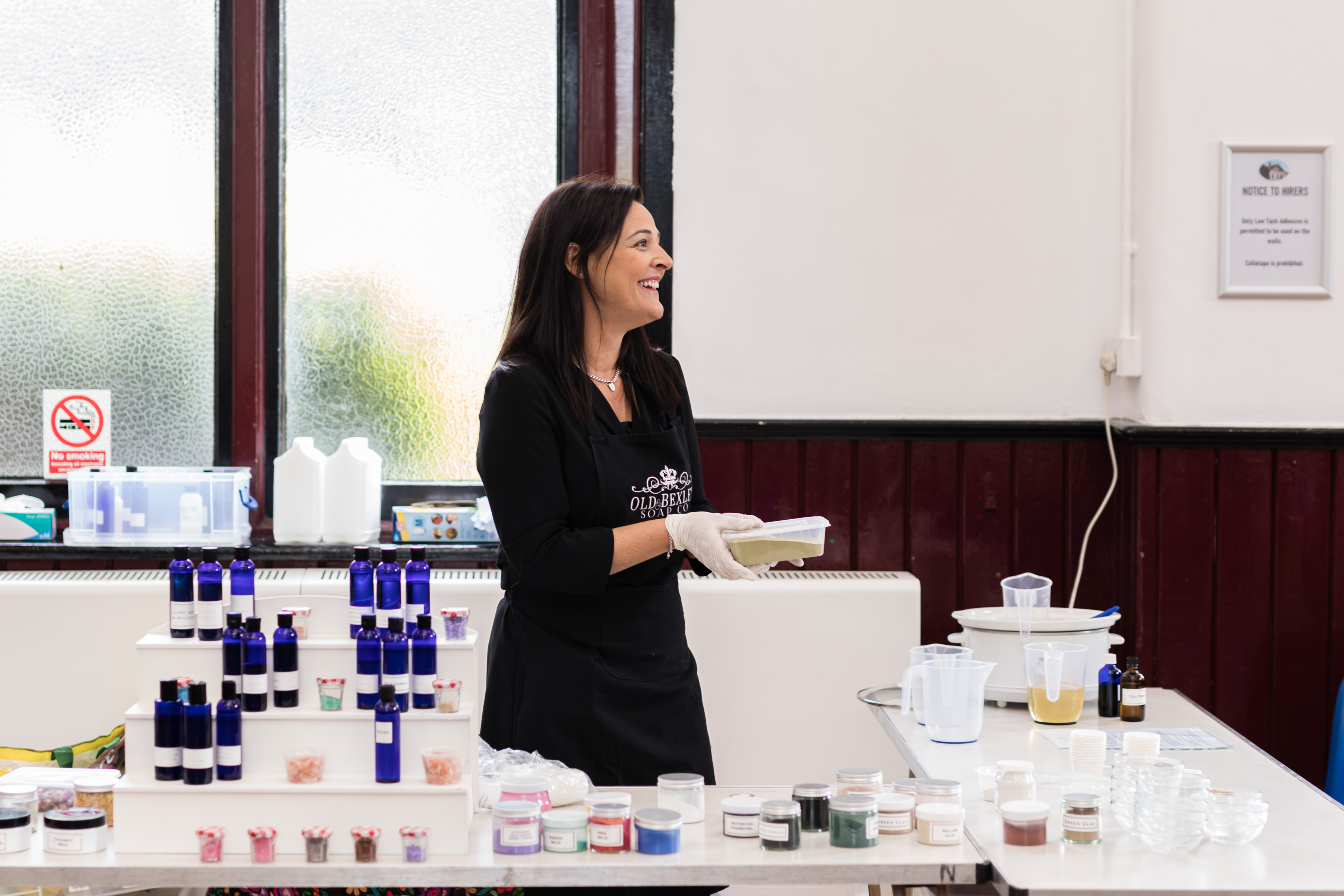 At what point in your teaching journey did you join Obby, and what inspired you to do so?
I joined back in 2019, after I was looking for online places where I could host my workshops. I immediately found Obby super smart, and full of quality classes I felt aligned with what I teach. I'm excited to grow even more with Obby as we move into next year.

After starting your business back in 2014, what do you feel is the biggest milestone you've achieved with Old Bexley Soap?
To go from someone who wasn't very known, to someone who is very renowned in my field. 3 years ago no one knew me, whereas now I would consider myself in the top 5 teachers that people come to when they want to learn how to open their own candle or soap-making business. People have travelled all the way from places like Manchester and Wales to learn from me personally, which is an incredible feeling and the best achievement for me.
You mentioned before how being crafty is something that's good for your mental health, how do you feel it helps your mental health and how do your classes help pass this onto your students?
For years, when I was working full weeks at my 'corporate' job, would prep my equipment and materials beforehand; so that after a stressful day I could come home and prepare a batch of soap before I made my dinner! By opening my essential oils, pouring a new set of candles, or by making a new batch of soap, it's my way of letting go of the stress of the day and taking care of myself. I thought, if it worked for me then surely it will work for others! For some, exercise and running doesn't help them destress in the same way that being creative does, and my students tell me that and how much it helps them. People also feel a sense of accomplishment when they make something that they can hold and show others! It applies to all ages, but especially to those working in a 9-5 job, where being creative helps them  learn that they can have achievements and accomplishments that exist outside of their career.

"No day is complete without doing something crafty"
Finally, my last question is aimed at helping those who are looking to turn their creative passion into a business - what tips do you have for them?
My mother used to tell me, "I don't care what you do in life or what you want to be, but make sure you go forward and do it well. Put your best foot forward." That is always advice I have found incredibly useful. Also, if you have something that you are good at then don't keep it to yourself! Share it with others and spread joy with the gifts that you have.
---
Book with Old Bexley Soap Company now on Obby
---
Want to know more?
Interested in finding out more about our wonderful teachers? Check out some more blogs featuring Obby teachers and their stories below: