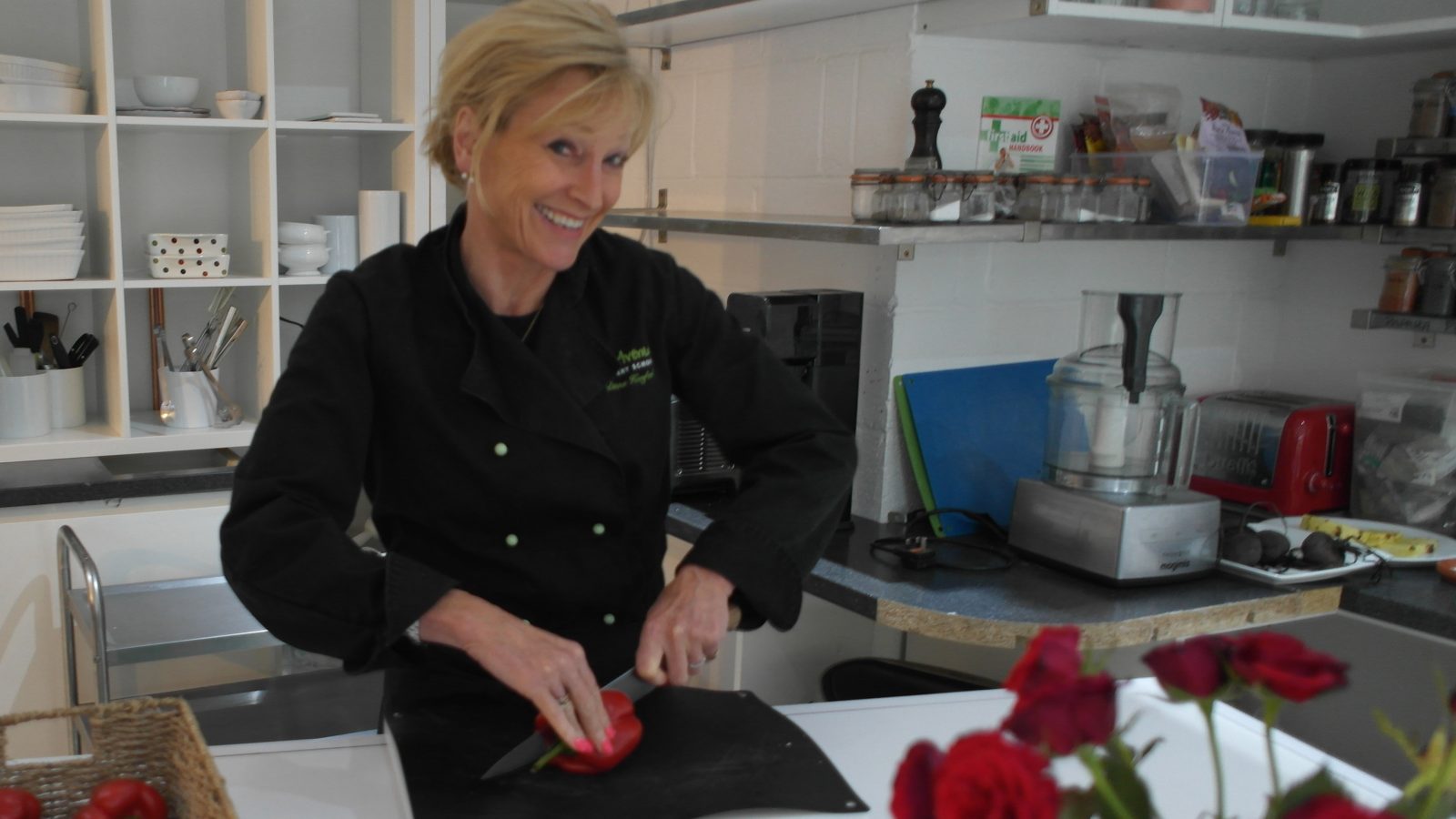 School Profile
Let's Meet Diana Horsford, founder and Head Chef of The Avenue Cookery School.
That's my idea of complete heaven, she tells us. At home with all my family. Roast chicken, mashed potato and peas. A tonne of gravy. I just love that.
I pictured the heartwarming scene as we chatted with Diana, from The Avenue Cookery School, one of Obby's most loyal ambassadors. The school moved into their new kitchen in South West London a couple of years ago. With the doors always open, locals always seem perfectly comfortable popping in like old friends for tea and – if they get the timing right – a slice of cake.
The classes at The Avenue are of a huge variety offering anything from Indian and Bao, Vegan and Gluten Free all the way to Parties and 1 & 2 week courses and now, even live online classes - there is certainly something for everyone, no matter the age or their ability. All the classes are taught in the school's beautiful kitchen in a fun and relaxed environment, leaving you wanting to come back for more!
I like the idea of a little village
I get the impression that's exactly how Diana wants everyone to feel here. Totally at home, welcome, relaxed. There's none of that pretence of formality that you might expect from a cooking school; The Avenue is – like its owner – lively and fun.
The Challenge
The biggest challenge The Avenue has faced is how to reach more students, and grow their community of rule-breakers and go-getters!
Diana tells us this reflects a shift in the way we 'do' food. Although Diana refuses to eat at a restaurant with bad wine glasses (I hear she's quite the connoisseur), she sees food first and foremost as a way to communicate, and always encourages others to feel the same. Meals are about getting together in a relaxed environment, so dinner parties are becoming a remnant of days gone by. They're all lipstick and dressed up tables. They're fake. But at supper, that's where people let their guard down.
Diana tells me that getting your friends together for a casual supper is the new way to put yourself in the centre of your social group. Invite everyone over, whip up a spicy ratatouille with a fillet of sea bass (I'm assured this is easy!) and tell your friends to bring the booze and pudding. When starting The Avenue Cookery School, Diana wanted reach more potential students to help spread the knowledge that this style of cooking is fun and easy.
I hate instructions
In The Avenue's longer cookery courses, the teachers will get you to work without a cookbook for the first week. I wondered if that might be a bit daunting for fresh faces, but then Diana tells me that's how you learn to cook. Removing the instructions gets you thinking about what you're actually doing.
I suppose that's true for anything you learn. Precise measurement recipes have limited value compared to developing a deep understanding of how combining ingredients changes textures and flavours. Once you get that, cooking becomes intuitive. And way more fun. It's a simple matter of playing with the balance of onion, garlic and tomato until you can taste that you've made yourself a great sauce for that lasagne.
This is what the team at The Avenue wants to teach us all. And it starts with the basics.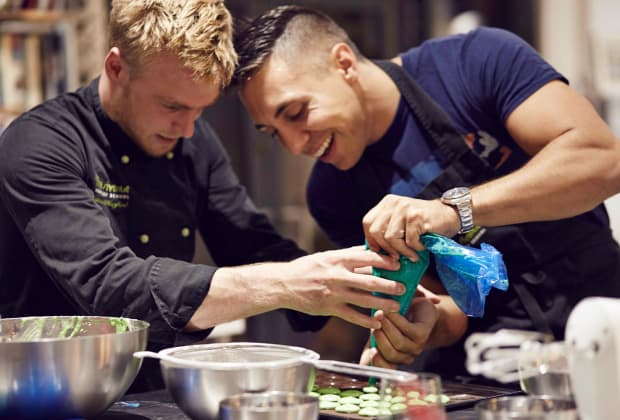 It's staggering how ignorant people are about food
I'm guessing no one's ever taught you how to do your food shopping. I've certainly never had a shopping lesson. In fact, it'd never crossed my mind before meeting Diana. This is why food wastage has become so commonplace, despite being awful for both the environment and one's bank balance.
Whilst I can barely eliminate wastage on a personal level, this talented chef somehow manages to sustainably run a cooking school with zero waste. The key, I'm told, is learning to plan.
I try and alter the course a bit to suit everyone's passions
It must come across by now that taking a class at The Avenue is about much more than being taught to make a few dishes.
Beyond the kitchen counter, Diana tells stories about her students finding their confidence, developing a better understanding of their health, and even feeling happier in themselves. She talks about the 45 year old doctor, who didn't even know how to make tea a few months ago, and now leaves every lesson excited for the next. A couple of dyslexic students who'd always felt excluded from making food because they struggled to follow recipes. And the teenager with depression who told her he's never been more happy than in these classes.
She's even using her influence to give back to the London community, talking to groups of sixth formers in schools about wellbeing, healthy eating and keeping fit. Using Obby, Diana wants to reach even more students to spread the word, and expand her community of students.
I'm not sure how she finds the energy, to be honest, but it must have something to do with those early morning gym sessions. And of course the support of a great team that includes her son, Richard, who's also a chef, and daughter, Sophie, who's taken over all the PR and marketing.
The Solution
As one of Obby's oldest and most loyal ambassadors, The Avenue Cookery School received help from Obby to expand their student base and grow their community.
Using the Obby teaching platform meant The Avenue had access to Obby's ever growing and changing marketplace for students in the UK.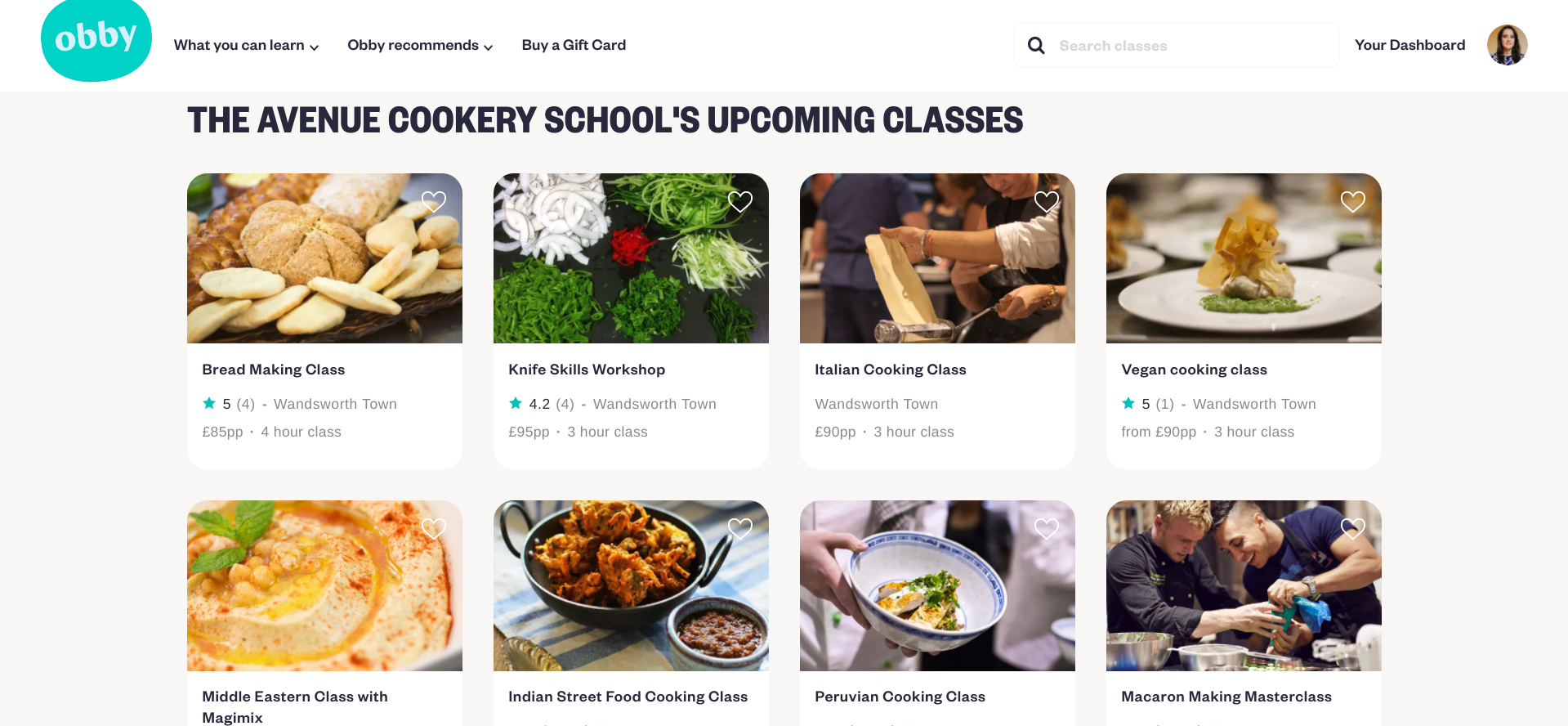 In a few short steps, The Avenue were able to  build class content, take bookings, manage students and grow their number of students by tapping into Obby's marketing channels, and 50,000 strong student base.
The Results
Since joining Obby, The Avenue Cookery school have run over a thousand classes via their website and on Obby, with hundreds of bookings and more than a thousand students booking direct through Obby.  
They might not have the time to sit down for a meal together these days, but I get the impression that food is still very much a family affair for The Avenue.
Next time you're in Wandsworth, pop into The Avenue Cookery School to see how Diana took a personal passion, made it her life and spread the word using Obby. And if you're ready to take the plunge yourself, sign up for a cooking class and embrace your inner chef!