Whatever reason you're looking to find a new hobby in 2022, you're on the right track. Multiple studies have proven how picking up a regular hobby can have fantastic benefits for our mental health, with research proving that having such hobbies can reduce - or even prevent - the impacts of depression.
Carving out time for yourself and something you love has never been more important, as we all continue to feel the effects of working from home. The work/life balance has never been blurrier, and establishing something fun to do outside of your regular responsibilities can help reinforce key boundaries that help you find a balance that works for you.
---
Before we dive into our recommendations for new hobby's to take up this year, let's start with the two key things (in our opinion) that you need to consider when looking to try something new:
How you want to learn your hobby - do you want your hobby to be something you can do as and when you choose, or are you looking for a longer-term course option to help keep you on track? And do you want to be able to do your hobby at home, or would you prefer to be in-person with other people around you?
What hobby you want to learn - the all-important choice! Do you want to dip into something creative, like painting, photography, or pottery? Or focus on skills that can be practically applied, such as cooking and sewing?
Don't worry if you feel overwhelmed with choice, especially when it comes to activities! We'll provide a few examples of each below, all chosen from our Obby Marketplace, which offer different activities and learning formats so you can find the one that suits you.
---
If you're looking for a mindful approach try...
Mindful Painting with MasterPeace
If you're looking for a mindful approach to your new hobby, then MasterPeace's Coached classes are a great place to start! The Belgravia-based studio practice 'mindful painting', focusing on the power of creativity to help people relax and unwind.
In their 90 minute class you'll get to paint a picture of your own from your phone; projected onto your canvas with the help of a personal projector. Your painting doesn't need to be perfect, or even finished during your session, you'll be given all the tools and materials you need to go away and finish your piece in your own time. Or you have the option to return to their beautiful studio in Eccleston Yards for just £10 during a Freestyle session, where you'll have 90 minutes of independent painting time. Either way, their Coached sessions will help give you the mindset and skills you need to go away and start practising mindful painting yourself!
MasterPeace also offer their own Painting Kits, which you can purchase via our Marketplace. They offer artist-guided video instructions on how to paint a pre-drawn canvas; with everything you need to complete your painting provided in a kit that can fix through your letterbox! Perfect if you need a little more inspiration for what to paint at home.
Location: Belgravia, London | Format: 90min Class | Price: £45pp
Book now on Obby
---
If you want to incorporate nature into your new hobby try...
Building A Cork Jar Terrarium with The Botanical Boys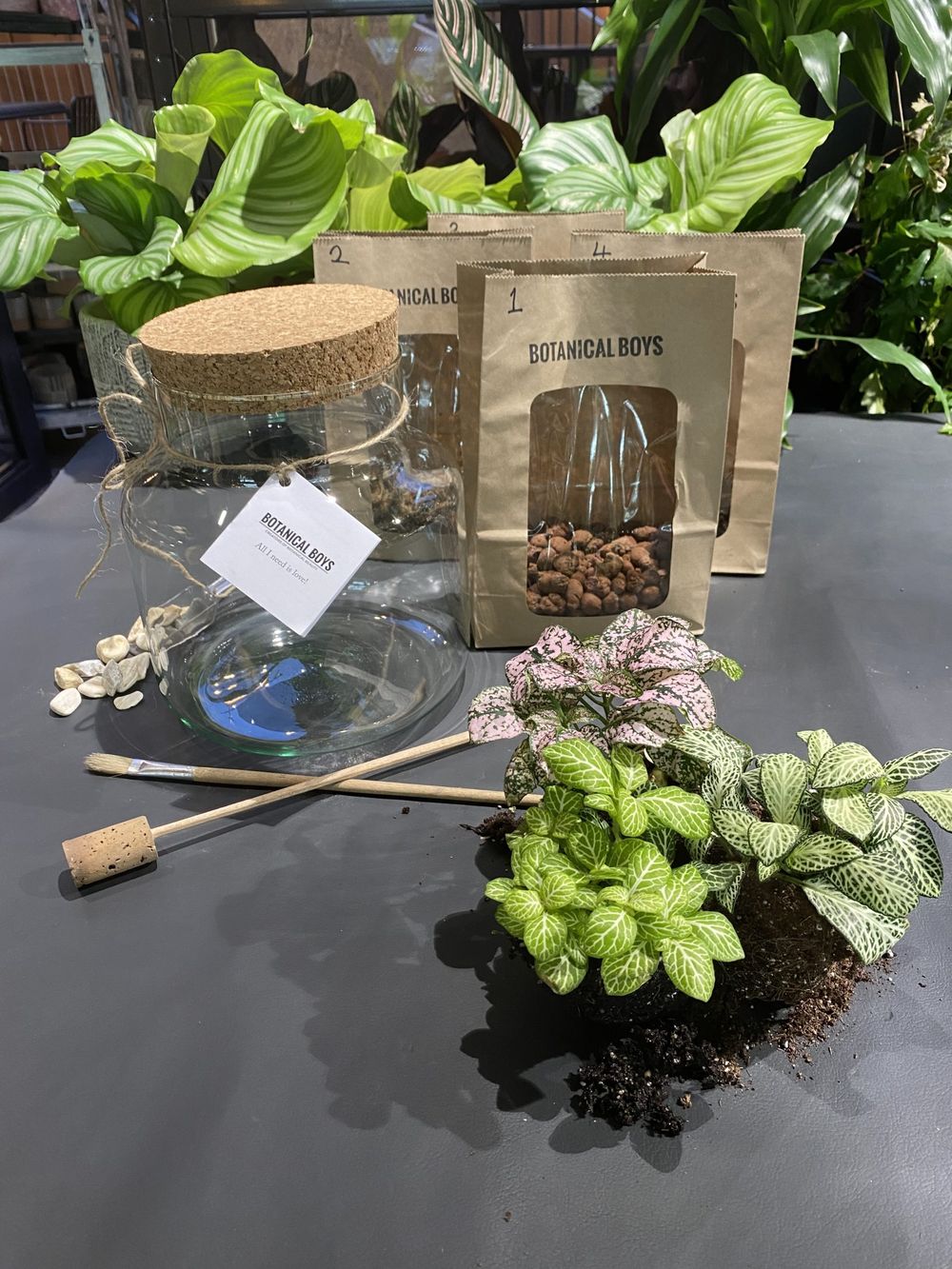 Plants have proven to have a positive impact on our well-being and health, so if you're looking to reconnect with nature with your new hobby this Terrarium kit is a great place to start! A live online class, which you can take in the comfort if your own space, it's run by The Botanical Boys, Ben and Daz. They began their journey in 2009 when they took over a terraced garden in London Fields with Japanese & formal English segments, having  had no gardening experience prior! So if you're a complete beginner, you're in good hands.
In case you're unsure, a terrarium is "a miniature environment of living plants that thrive off moisture." In the 2-hour class, you'll be taken through all the steps you need to build your terrarium from start to finish; including after-care tips, so you can continue your hobby and ensure your terrarium keeps flourishing well after your class.
Location: At Home | Format: 2hr Live Online Class | Price: £78pp
Book now on Obby
---
If you're looking for a therapeutic experience try...
Making Your Own Candles with Old Bexley Soap Co.
If you're looking for a hobby that you can easily fall back into when you're looking for some 'me time', then this kit from Old Bexley Soap Co is a great place to start. In this Candle Making Kit, you'll be sent everything you need to create your own quality candle with step-by-step guidance included. The kit also includes all the equipment you'll need to create your own candles in the future, so you can carry on with your candle-making - they make amazing gifts to loved ones, and are sure to make your home smell divine!
We spoke to Paula, the founder of Old Bexley Soap Co, recently about her experiences and why she got into candle-making. She told me how "by opening my essential oils, pouring a new set of candles ... it's my way of letting go of the stress of the day and taking care of myself." She started sharing her skills with the hope that others would find the same relaxation in crafting, so why not follow her lead and use the process to find some peace from the rest of your everyday stressors?
Paula and Old Bexley Soap Co also run in-person Candle-making Classes, so if you're looking to share an experience with others you have the opportunity to do so.
Location: At Home | Format: Learning Kit with Instructions | Price: £55
Book now on Obby
---
If you want something to share with loved ones try...
Leatherworking with YUSSICO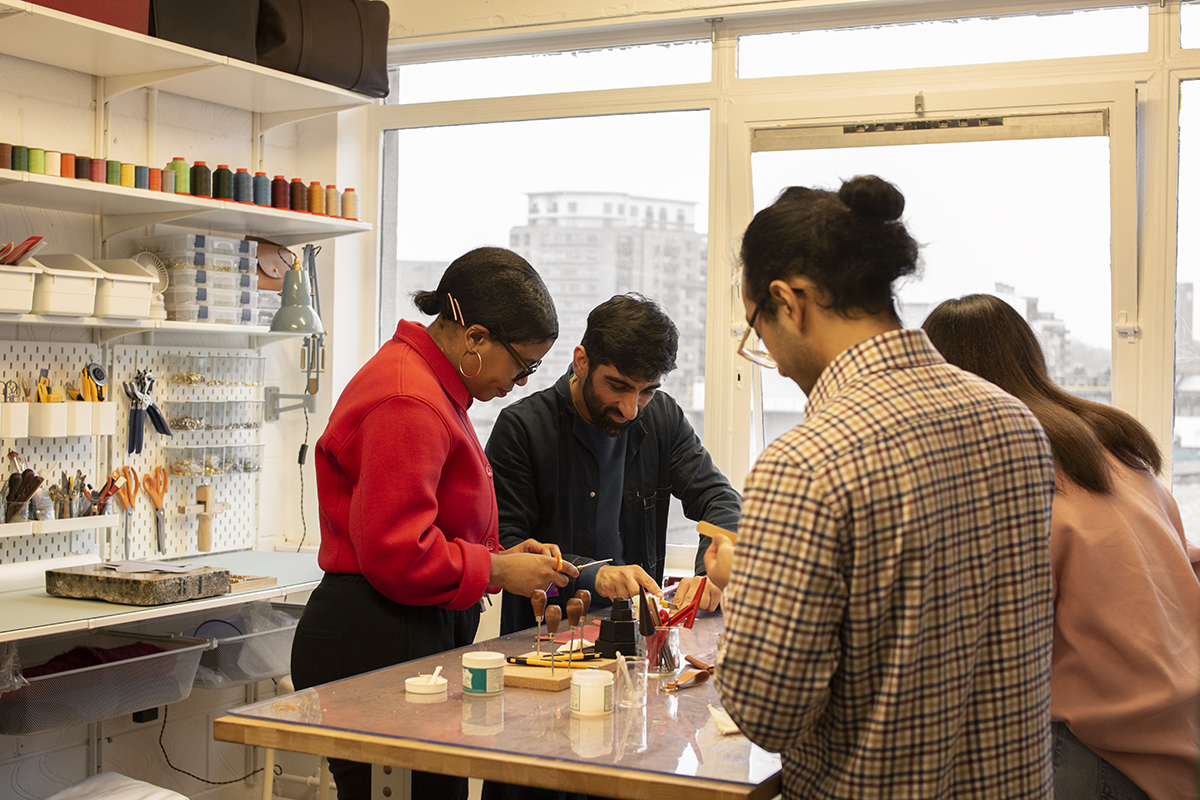 While leatherworking might not be the most obvious hobby for you to try in 2022, this workshop from YUSSICO aka Yousef - who made the leap from lawyer to professional craftsman - will show you how it's a craft you can easily get into!
From his gorgeous studio (as pictured above), you'll learn one of the oldest crafts known to mankind! After a quick intro from Yousef, you'll learn the crafting process and how to create your chosen leather piece which is suitable for all abilities, ages and genders. You can choose to either keep your piece for yourself, or monogram it and gift it to a loved one.
Yousef is keen for everyone to take what they learn from this workshop to start making leather goods at home with minimal tool investment, so you'll learn skills you can take home to continue your new hobby on your own! This class is great to do with either friends or family, so you can learn something new together, or you can continue the hobby on your own and gift your creations to your loved ones. The opportunities are endless with what you could create!
Location: Deptford, London | Format: 3hr Workshop | Price: £89pp
Book now on Obby
---
If you're looking for something a little off the beaten track try...
Glassblowing with Blowfish Glass
If you're looking for something a little left-field to try as your new hobby, then not try your hand at glass-blowing? This day-long masterclass is from Blowfish Glass, founded by renowned glass-artist Bethany Wood and home to Elliot Walker; winner of S2 of Netflix's Blown Away. In it, you'll be able to go from complete novice to glass-making addict as you learn each step needed to create 3 gorgeous glass pieces you'll get to take home!
Whilst not for the faint-hearted, the workshop also offers the chance for you to come back for more sessions - so if you do fall in love with the process, you can come back for more sessions.
Location: Stourbridge, West Midlands | Format: 6hr workshop | Price: £320pp
Book now on Obby
---
Need more advice?
Hopefully, these ideas on how to find a new hobby in 2022 will help you out if you've been stuck! If you're still looking for the perfect hobby, be sure to take a read of some of our other amazing guides and best round-ups below. We're sure you'll find something useful, oh - and don't forget to share the love.