School Profile
Gabriela Szulman Art is run by, you guessed it, Gabriela Szulman - an artist, maker and teacher. With a background in 3D design, ceramics and mixed media and collage, Gabriela creates prints and collages, greeting cards, jewellery and scarves with images inspired by memory, nostalgia and a love of everything vintage.
Gabriela invites her students to delve into their creativity and discover skills they didn't know they had. She loves to share her creative journey through teaching, and has been doing so for many years.
Gabriela is passionate about creating an environment that is free from the distractions of everyday life. Students get absorbed by creating and making in her creative space, and Gabriela comments that they often find themselves in a meditative flow where they are purely focused on the pleasure of just doing. This is what students come to expect from Gabriela's classes, and she doesn't disappoint.
The Challenge
A loyal member of the Obby community, Gabriela Szulman Art started using the Obby platform in it's first year, and has grown as Obby has. The challenge came in the form of COVID in early 2020.
In the space of a day, all upcoming in-person classes were cancelled and Gabriela, like many of Obby's teachers, were faced with a new territory - at home learning.
As her students were forced to stay at home, Gabriela was also. However, unlike the benefits the Furlough scheme could bring for some businesses, Gabriela needed to keep her income stream going with as little break as possible as a self-employed artist and teacher.
Although helped by the commission work Gabriela does, she still needed to find a way to keep her classes going through the unknown stretch of what was to become 4 months without in-person classes.
The Solution
Within 3 weeks of lockdown 1.0, Obby built the tools to run live online classes via their platform with minimal effort for teachers, and lots of help on hand (remember the days when no one had heard of Zoom?!).
The process of creating and managing online classes were built to match how in-person classes are created and managed via the Obby platform, so Gabriela simply had to add her new online classes, get bookings, and click start!
Initially Zoom was integrated with the Obby system, meaning there was no set-up for Gabriela in Zoom, and her classes were automatically created and run via the Obby platform on her website, easing her transition to teaching live online.
Since then, Gabriela has been able to take control of her own Zoom account and has more freedom and control of her online classes.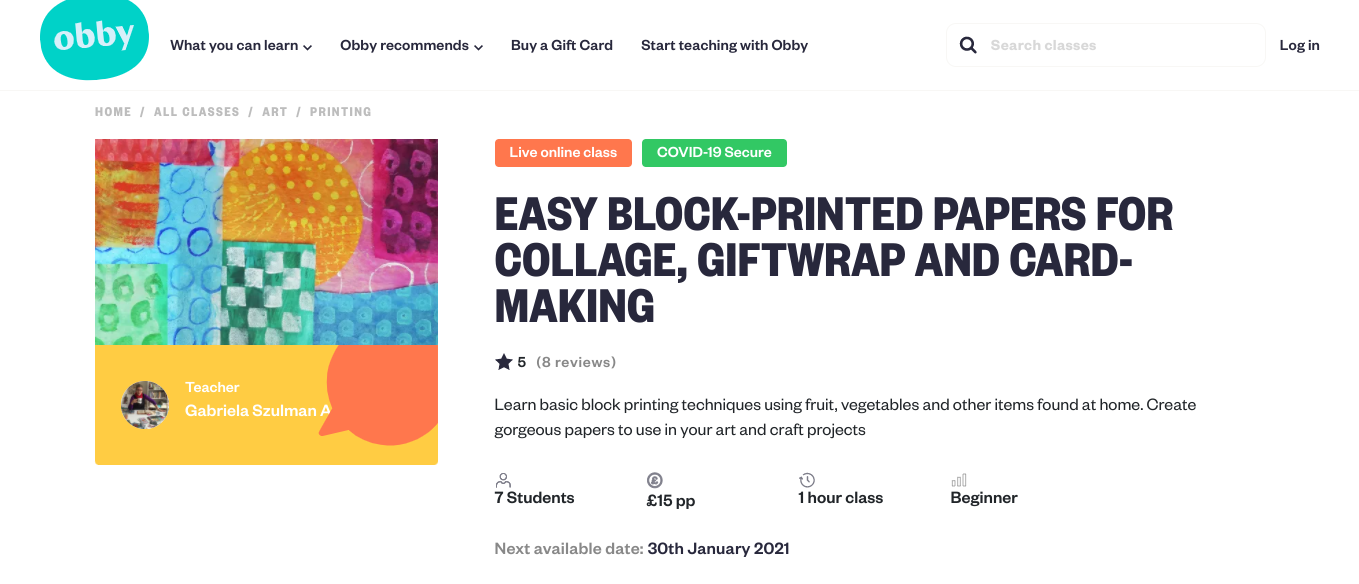 Using Obby's new live online class feature, Gabriela could keep teaching and her students could keep learning. Forward on 9 months, and Gabriela is still teaching a mix of both live online and in-person classes, bookable on her website and via the Obby Marketplace.
The Results
Since joining Obby, and since the ability to run live online classes, Gabriela Szulman Art has run over a thousand classes, with hundreds of bookings sold and managed via the Obby platform.
Gabriela can now adapt her teaching and her students can adapt their learning to be in-person, live online, or both - giving Gabriela and her students the flexibility to teach, create and make in their own way.
Learn more about how teachers are using Obby to grow their businesses