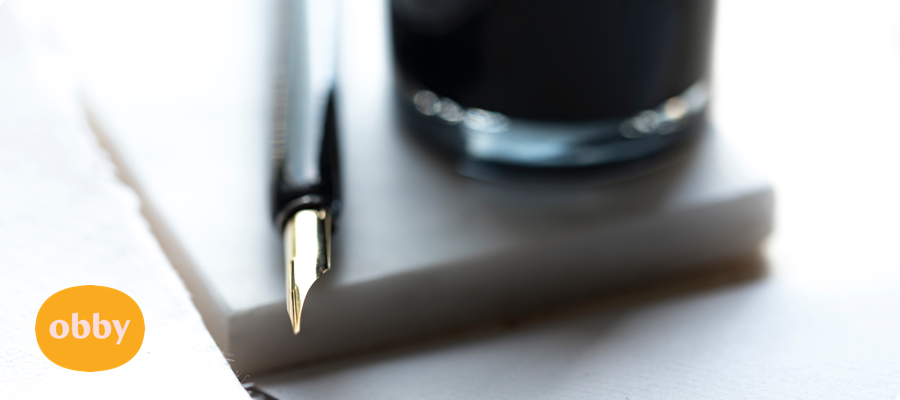 After having a few lessons, you are feeling calligraphy ready. Ready to step out into the world and start making art from humble words. We've put together a dream pack, full of all the things you'll need to start your calligraphy journey.
WRITING IMPLEMENTS
It goes without saying, you're going to need pens. You can either start with the traditional nib and straight pen. The nibs are interchangeable and come in various different shapes so you can achieve the desired letter formation. With this traditional, you'll also need ink, which we explain below. You can, however, start with an all-inclusive pen, which has been developed along with the modern calligraphy movement. The Tombow Fudenosuke Brush Pen is a great one to start off with and works very much in the same way as a traditional nib and ink. You can get it in hard or soft, although the hard one is probably easiest to start off with as a complete novice, as it's easier to control.
Nibs are notoriously tricky to pair with. They are an essential part of your calligraphy journey because as you begin and develop your skills, your nibs will open you up to different styles and looks that you may not have been able to get using a singular nib. There are loads of brands out there, but as far as recommending perfect nibs, they are very much on a trial and error basis. For beginners, the ones from Brause are tailored to suit your needs. However, we do recommend starting with an inclusive pen, just as they are a little easier to master.
These are a lot less fiddly when it comes to choosing than nibs. You want to make sure you get one with a universal insert, that fits all nibs. Also, you want to get one that's comfortable for you to hold and one that looks good for you as well. A little like choosing a wand, this is the straight pen you'll have for all your calligraphy making magic, so you want to get the right one.
INK
Anything that stains paper can be classed as being calligraphy ink. There a wide range of inks that you can get your hands on, in all sorts of glorious different colours. One of the most popular inks for beginners to start with is the Speedball India Ink. This ink, in particular, is waterproof when dry, so no need to stress about smudging or anything like that, and you can add other layers on top of it, in different colours should you so wish.
PAPER
Paper is rather essential when it comes to calligraphy, as you have to make sure you find a good one, that is thick enough to hold the ink but also smooth enough so not to create feathering effects or dragging of the nib when you begin.
We recommend the Canson watercolour pad. This particular paper has two textured sides, so the smoother side can be used for smoother calligraphy as well as watercolour use, and the more texture sides can hold layering and pointed pen calligraphy a little better.
Another pad we recommend is the Rhodia dot calligraphy practice paper pad. Perfect for modern calligraphy practice, Rhodia paper is smooth and strong but great for tracing over guides too. The paper is marked with a grid of dots which helps with forming, positioning and spacing your modern calligraphy lettering without being too constricted by lines.
Alice Gabb's recommends the Daler Rowney layout paper as the best practice paper. The paper is bright white and thin enough that you can put a grid sheet underneath the top page and see through it perfectly. It is SO SMOOTH, which means no snagging on upstrokes and it does not make calligraphy inks bleed, thus giving you perfect crisp lines. Buy it here from Alice Gabb's online store.
GUM ARABIC
This is a key trick up your calligraphy sleeve, as it is what you need to thicken inks. If your ink is bleeding on certain papers, a few drops of this will fix it (start with one and see if that works, then gradually add more if you need it).
FINETEC ROSE GOLD INK PALETTE (BECAUSE THIS IS THE REAL REASON WE ARE ALL STARTING TO LEARN CALLIGRAPHY)
This is by far the best metallic ink palette out there and includes all the colours you need for that perfect rose-gold! Fantastic shades and very long-lasting. Made of mica, a natural mineral that offers a wide variety of metallic shades. Activate with a little water on the palette and apply to the nib with a brush. Adheres to all absorbent surfaces, such as paper, wood, gypsum, etc. Get yours from Quill London.