What you will do
Learn what to eat and how to cook to help manage your migraine symptoms.
Get top tips from a Registered Nutritional Therapist and book a free personalised consultation.
Take away a good understanding of how nutrition and lifestyle changes may work for you.
What defines a migraine? Migraine is a neurological condition that can cause multiple symptoms. It's frequently characterised by intense, debilitating headaches. Symptoms may include nausea, vomiting, difficulty speaking, numbness or tingling, and sensitivity to light and sound. Migraines can last for hours or days, they often run in families and affect all ages. Paying attention to your diet may be an important defence against migraines. Working to limit foods that may trigger your migraines and eating a healthy, nutritious diet may help you manage your migraine symptoms. Unprocessed foods with no additives or preservatives are a good place to start. Foods such as brightly coloured fruit (particularly non-citrus kinds such as blueberries and melon), vegetables, brown rice, fish and poultry can be rich in your diet and use natural sweeteners such as maple syrup and vanilla extract when needed . However some foods that may trigger migraines could be red wine, caffeine, some dairy products including aged cheeses, chocolate, yeast extract and some food preservatives. Vitamin B-2, or riboflavin, may help decrease the frequency of your migraines. Vitamin B-2 can be found in animal products such as salmon and red meat. It's also present in grains and mushrooms. Both nutrition and lifestyle may be important as you work to manage your migraine symptoms, and you may therefore find it helpful to seek personalised advice from a Nutritionist Therapist. Keeping a food diary to track what you eat and drink, as well as how you feel afterward can also help identify specific foods or ingredients that may be triggering or contributing to your migraines.
Our evening cookery class is an introduction to nutritional cooking which may help manage migraine symptoms. The ingredients are incorporated into exciting and tasty recipes in a simplistic way, and you will take away an understanding of foods in your diet that may trigger or contribute to your migraine symptoms.
You will learn to cook a wide range of simple, healthy dishes using fresh and easily available ingredients. You will discover the health benefits of selected herbs and spices with an explanation of the importance of certain nutrient groups which will support your body and wellbeing.
KitchenJoy Cookery School have joined forces with Rachel Alderson, a Registered Nutritional Therapist, who will be holding an in depth nutrition and lifestyle discussion with the class on managing the symptoms of migraine. You will also qualify for a free call with Rachel to find out how personalised nutritional therapy may support you.
Select a class time
Thu 13 Feb 2020, 7:00pm - 9:30pm
None of the dates work for you? Let the host know and you will be notified when new dates are added.
You will only receive an email from us if new dates are added for this class, you will not receive any marketing emails, and that's a promise!
Obby Guarantee
We ensure quality. If your class doesn't reach your expectations, we'll give your money back.
Class location
Chiswick
26 Brackley Road
Chiswick
W4 2HN
London
Gallery (7)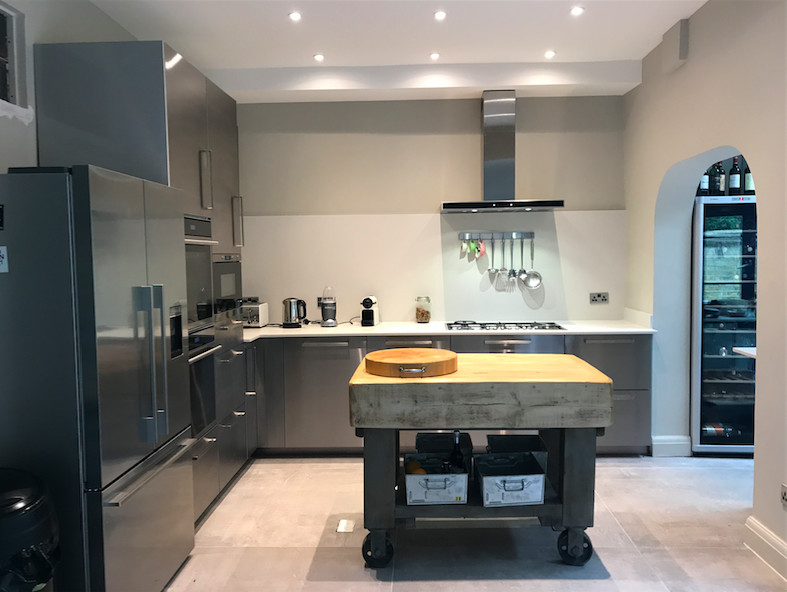 About your host, KitchenJoy
Joy started out her career in Corporate I.T Banking Technology but when her young daughter became ill and the medics could not diagnose the cause, Joy turned to alternative medicine to find a cure. She enrolled at Westminster University to study Natural Medicine and with the help of a Naturopath, they found out her daughter was allergic to Aspartame which is an artificial sweetener found in many processed foods. Joy and her daughter changed their lifestyles completely, and enjoyed plant based foods & organically sourced poultry, fish & grass fed beef. After extensive travel to far flung countries, Joy encountered many cuisines and returning back to London, decided to take up a full time career offering Nutritional & Medicinal based cookery classes, founded on her travel experiences, and past Medicine course.
Joy then embarked on an 18 month journey enrolling at Institute of Optimal Nutritional College (ION) in Richmond for one year on Nutritional modules relating to food, health & wellbeing. Whilst studying at ION, the construction of the cookery school, an extension at Joy's house in Chiswick began. Joy wanted to make the space personal, yet professional, practical and chic. October 2017 - KitchenJoy was launched with a number of exciting nutritional classes offered and the passion of Joy's culinary skills and personality, make KitchenJoy an event to remember!
Notes
Please advise dietary requirements on booking the class.
Flexible cancellation policy
Any class can be cancelled and fully refunded within 24 hours of purchase. See cancellation policy.